Choosing the right backpack for your outdoor adventure goes far beyond finding a pack that can simply hold all your stuff. You have to think about how long your trip will be and the weather you'll be hiking in; which items you'll want within reach and which ones you can do without until nighttime; and even whether or not you'll be taking side day trips during a longer trip.
In this article, we're going to talk about the different backpack options out there, including all of the features to consider. We'll also explain how to find the best size and fit, and tell you what to watch out for to make sure you don't buy a backpack that's going to cause you pain.
Types of Backpacks
Before you can focus on the details and fit of your backpack, you have to figure out what type of backpack you need in general. Capacity is a big consideration and knowing what type of hiking you'll be doing will help you figure out how large the backpack should be.
Capacity
Capacity refers to the size of the backpack, and the capacity you need will be determined by how long you'll be on your trip and how much weight you're willing and able to carry. While capacity is usually measured in liters, you may find some backpacks that have it measured in cubic inches. As a reference, 1,000 cubic inches is equal to slightly more than 16 liters.
Day or Overnight
1 to 2 nights

20 to 50 liters

1.5 to 4.5 lbs empty
The day or overnight backpack is the smallest one out there, and it's built to carry just enough food and gear for a night (or two, if you're an ultralight packer). Some hikers will also take a day pack on a short hike that only lasts an hour or two if they want to take along their water reservoir and some basic safety gear.
Weekend
2 to 3 nights

50 to 60 liters

2.5 to 5 lbs empty
Weekend backpacks are great for efficient packers who have gear without the bulk and who want to keep their load light on a short trip. It's still possible to over-pack a small, weekend backpack, though, so you'll have to pay close attention to what you're bringing. Keeping your pack light takes some creative pre-planning, plus the self-discipline to trim down what you take along.
Multi-Day
2 to 5 nights

60 to 80 liters

2.5 to 5+ lbs empty
A major outdoor store will often have a big selection of multi-day packs. These backpacks are best to use on a trip spanning three or more days in warm weather. You can also use this size pack for skiing in the backcountry as well as shorter trips (one-day, overnight and two-night trips).
Extended-Trip
5 or more nights

70-80+ liters

4 to 6+ lbs empty
You'll want an extended-trip backpack if you're going on a winter hike that's longer than one night. You need this extra space to handle all of your winter clothing layers, a warm sleeping bag and a four-season tent (which will have additional poles).
An extended-trip backpack is also a good idea for adults who are going backpacking with young children, since you'll end up carrying a lot of their gear. Heading out on the Appalachian Trail? This classic extended-trip experience lends itself to some specific backpacks. You can check out our top 6 recommended packs for the details.
Smell Proofing
If you live in bear country, smells can kill! Be sure to check out our top smell-proof backpacks for further information on this topic.
Tactical Backpacks
If you are looking for something on the tactical side, be sure to check out these top tactical backpacks for on the go.
Frames
The type of frame you choose – if you have a frame at all – will be based on the type of hiking you're doing and how heavy a load you'll be carrying.
Frameless
If you're into ultralight travel, consider a frameless backpack. You'll be able to hike quicker because your load will be lighter. You can also look for a backpack with a removable frame to give you more options depending on your goals.
Internal-Frame
Internal-frame backpacks often have load-supporting technology that allows the load to be transferred to your hips. Internal frames hug the body to keep you stable even when you're going off-trail or when you're on uneven, rugged terrain.
External-Frame
You'll want an external-frame backpack if you're carrying a heavy or irregular load. These packs have great ventilation and often have several features that make it easier to organize your gear.
Women-Specific Packs
Women's backpacks are specifically designed for a woman's smaller frame, and they also work well with younger hikers, both male and female. The torso dimensions of a woman's backpack will be shorter and narrower than that of a man's pack. The shoulder straps and hip belts will also be contoured differently to accommodate a woman's frame.
Backpacks for Kids
Youth backpacks will have smaller dimensions and capacities, and they usually have adjustable suspension so that the child can continue to use the pack as they grow. Women's backpacks and small men's backpacks may also work well for a young backpacker.
Bringing a Baby or Toddler?
Although you probably won't be multiple days on the trail here, a good baby hiking backpack is a wonderful thing! Don't let being a parent get in the way of the great outdoors.
Features
Outdoor backpacks have all sorts of features, and these details will have a big impact on how well the pack works for you. It's important to prioritize features, especially those that help with organization, over style.
Access
The longer you're going to be out on the trail, the more access will be a priority. If you're only hiking for a few hours, you won't need to access as much of your gear as you will if you'll be hiking for an entire day. Large backpacks with better access will also make it easier to get to your items when you're back at camp.
Top-Loading Backpacks
Most backpacks will have top-loading access, and some packs will have pockets with varying deepness. A good rule of thumb is to put your least-needed items or the ones you'll only need at the end of the day all the way at the bottom.
Panel Access
There are some packs that have a zipper-access front panel that will fold down to expose the pack's entire interior. You can also find packs with a side zipper to make it easy to grab items that are in the bottom.
Attachment Points
Attaching your gear to the outside of your pack is sometimes a necessity, like if you have large gear or you can't fit everything in your pack, and other times it's simply nice to have certain items within reach.
Crampon Patch
If you're going to be traveling with crampons, look for a pack with a reinforced crampon patch that will keep the crampons from making holes in your pack.
Daisy Chain
A daisy chain is webbing that's stitched to the exterior of the pack, and its purpose is to provide several loops for attaching all sorts of gear and tools.
Loops and Straps
If you're going to be traveling with any tools, like an ice axe or hiking poles, you'll want a pack that has at least one set of tool loops. You may also find a backpack with straps that connect via a clip, and their purpose is to tighten around gear, like your hiking poles, to lock in place.
Hydration Reservoir
Just about any outdoor backpack will have a space for your hydration reservoir, which is separate from the other storage areas. There should also be at least one hose portal to run your hose through, and possibly a loop on one of the straps to keep the hose close to the backpack. Some reservoirs also come with a small clip toward the top to ensure the reservoir stays in place.
Padding
Some lightweight packs, especially those with a minimal hip belt or lumbar pad, can make your hips or lower back sore. If this is a concern or if you experienced pain in these areas with another pack, look for one with extra padding in the hip belt.
Pockets
The more pockets, the better, because you'll be able to organize your items in a way that makes sense for you, and you'll also be able to reach for items you need while hiking without having to dig through your bag.
Hip Belt Pockets
Hip belt pockets have limited space, but they're excellent for small items you want within reach, like snacks or tissues.
Shovel Pockets
Shovel pockets are flaps on the front of the pack that are closed with a buckle on the top. These pockets create easy-to-access areas for lightweight items like your jacket or map.
Front Pockets
Sometimes shovel pockets will have smaller front pockets attached to them, which can be used for small items without any bulk.
Side Pockets
Backpack side pockets usually have elastic instead of zippers for super-easy access. When the pockets are empty, they'll lay flat so they don't get in the way. This is a good place to stash your phone, extra water bottle and anything you want to grab quickly while hiking, as well as oversized items like your tent poles or hiking poles. If you need to secure items a bit more, use a carabiner that you attach to a zipper or loop.
Rain Cover
If you think it might rain during your trip, look for a pack that comes with a rain cover. You can also purchase rain covers separately – just make sure to get one that fits the size of your backpack. Even though pack interiors may be treated with a waterproof coating, water can still get through the seams and zippers, and the exterior fabric can absorb water, which can make the pack heavier. A rain cover will combat this. Another option is to get waterproof stuff sacks that you can use to bundle together all of the items in your backpack. If you're expecting wind, waterproof stuff sacks in your pack might be a better option than a rain cover, because the wind can peel the cover back, exposing your backpack.
Removable Daypack
If you're going to be heading off on a day hike during your longer hike, look for a backpack with a removable daypack.
Sleeping Bag Compartment
A sleeping bag compartment can hold your sleeping bag if you don't want to use its stuff sack. Or, if you don't have a sleeping bag on your trip or you are going to use the stuff sack, the compartment can be used to hold easy-to-reach gear.
Top Lid
If you're going to be taking a day trip during a longer trip, look for a pack with a detachable top lid. The top lid can be removed and turned into a hip belt pack for a short trip.
Ventilation
Backpacks, especially those with internal frames, can make your back sweaty after a while. Look for a backpack with a mesh panel to help with airflow and keep you cooler. A frame-supported backpack with a tension-mesh suspension system will keep the pack itself a few inches from your back. Some packs will also have a ventilation chimney built into the back panel, which also helps with airflow.
Zippers
It's best if your backpack has two zippers on the larger compartments. You'll be able to zip them together and put a lock through them, which can help your peace of mind if you're going to be camping with or near people you don't know well. It's also helpful to lock the zippers together if you're going to be checking your backpack on a plane – just make sure to use TSA-friendly locks that they can release without breaking in order to check your bag.
Tips for Loading Your Pack
If you're still not sure which features you'll want or need, it helps to plan out how you'll be loading your pack.
Bottom
This is where you'll put your sleeping bag, as well as any items you'll only be needing at night. Don't stash your flashlight or headlamp here, though – you'll want them within easier reach.
Middle
This is where you'll put your heaviest items, like your food, cooking set and stove. They should be close to the spine so that they're supported well. You can then put soft, lightweight items, like your extra clothing, around these heavier items to keep them in place.
Top
This is where you'll put lightweight items and any essentials you want to be able to easily access.
Outer Pockets
The outer pockets are best for holding smaller items you want to be able to access, including:
Compass

First aid items

Headlamp

Map

Snacks

Sunscreen

Sunglasses

Toilet paper and trowel
Outer Straps
The outer straps can be used to secure large items, like your sleeping pad, tent poles and hiking poles.
How to Fit and Size a Backpack
Knowing what you're looking for in a backpack is a great first step. Once you've narrowed down your options, you'll want to try the backpack on to assess how well it fits. When it comes to backpack fit, it's your torso length, not your height, that you have to pay attention to. You also want to make sure that the pack fits snugly on your hips.
Torso Length
Grab a friend and a flexible measuring tape, then follow these steps to measure your torso:
Find your C7 vertebra, which is the most prominent bump on the back of the neck. Tilt your head forward to make it easier to find.

Place your hands on the top edge of your hip bones and reach your thumbs behind you. Picture that there's a line that runs from the lower part of your back and down between your thumbs.

Using the measuring tap, measure from the C7 vertebra to the "line" between your thumbs.
Backpacks come in different sizes, ranging from extra small to large, which will fit all sorts of torso lengths. There's no torso length standard, though, and they'll vary by brand. In general, these are the pack sizes you'll come across and how they relate to your torso length:
Extra Small: Up to 15 inches

Small: 16 to 17 inches

Medium/Regular: 18 to 19 inches

Large/Tall: 20+ inches
There are also backpacks that will have adjustable suspension that you can set to fit your torso. This is a good option if you seem to be in between sizes. However, adjustable suspension will add some weight to the backpack.
Waist Size
Most of the backpack's weight, at least 80 percent, will be supported by your hips, which is why the waist size is so important. Hip belts usually accommodate a range of sizes, ranging from inches in the mid-20s to the mid-40s. If you have a narrow waist, you may need a smaller backpack in order to cinch the hip belt as much as you need. There are also packs with interchangeable hip belts that you can swap out if you need a different size.
Straps
Load Lifter Straps
Load lifter straps are stitched into the top of the shoulder straps and connect to the top of the frame. They're meant to form a 45-degree angle between the shoulder straps and the backpack. If you keep them snug, they'll stop the upper part of the backpack from pulling away from your body, which will protect your lumbar area (otherwise, the pack will sag on your lumbar region).
Sternum Strap
The sternum strap connects the shoulders and goes across your chest. Using this strap can increase your stability and, when you don't want to buckle the hip belt or strap, it'll take some pressure off your shoulders. It's best to use the strap when you're walking on uneven terrain, because the pack will shift more as you move and can make you lose your balance.
Adjusting the Fit
It's always a good idea to try a backpack on in the store and ask one of the specialists to help you. However, if you're going to be doing it on your own, here's how:
Put about 20 lbs of gear in the backpack, packed appropriately. This will help you determine how well the weight is dispersed in the backpack and against your body.

Loosen all of the straps. You're going to adjust them to fit you in the next several steps.

Put your arms through the backpack straps.

Position the hip belt on your hip bones – it shouldn't be completely above or below the hips, but somewhere in between.

Clip the hip belt buckle, then pull the tails forward to make them more snug them. Most of the pack's weight should be on your hips, not your shoulders.

Pull the shoulder straps so that they're snug – you can do this by pulling down on the tails of the straps.

Use the straps on the sides of the hip belt to adjust the pack so that it's pulled in toward your lower back.

Use the webbing on the top of the shoulder straps – the load lifters – to pull the backpack closer to your upper back. Don't make them too tight – they could put too much pressure on your shoulder joints.

Position the sternum strap so it's in a comfortable place across your chest, clip the buckle and then tighten.
Ultimately, you want the backpack to fit snugly without being tight; you want a majority of the weight to sit on your hips; and you don't want there to be any irritating or painful points. Here are a few things to pay attention to:
The hip belt should be snug, but it shouldn't pinch the skin on your hips. Moving should be comfortable even when the belt feels secure.

The shoulder straps should have a fit snug around your shoulders. There shouldn't be a gap between the straps and your shoulders or back.

The load lifters should make a 45-degree angle with the pack's back panel. If the angle is much different – under 30 or over 60 degrees – the backpack is probably not the right size or fit for you.

Once you've made these adjustments, your shoulders shouldn't feel like they're carrying any weight.
If it seems like buying a backpack is a time-consuming process, that's because it is! Your outdoor backpack is an essential piece of gear, and finding the right one means getting through your trip without injury or pain. Don't rush through this – finding the right backpack means convenient, supportive trips in the future.
Backpack Review Directory
The following is a complete A-Z listing of our entire review inventory on backpacks, sorted by brand:
Arc'Teryx Backpacks
Montane Backpacks
Black Diamond Backpacks
Camelbak Backpacks
Dakine Backpacks
Deuter Backpacks
Exped Backpacks
Gossamer Gear Backpacks
Granite Gear Backpacks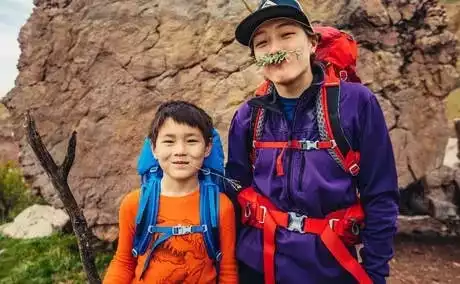 High Sierra Backpacks
Marmot Backpacks
Mystery Ranch Backpacks
Teton Sports
ULA Backpacks
Sling Backpacks