Although the primary purpose of any jacket is to keep us warm, being too warm while skiing or exploring the snowy countryside can be dangerous. So, the best ski jackets enable you to stay dry and warm even if you're climbing a steep slope.
A jacket is only a top layer of the three-layer principle that suggests a skier should always have three layers of clothes on the upper body. It's also the most important component of this principle because it protects you from the elements.
The level of protection you're going to need depends on the types of outdoor activities you want to perform. That's why in this article, we're going to supply you with all the information you need to find the best ski jacket for your favorite winter activities.
How is a Ski Jacket Different From a Winter Jacket?
Technically speaking, a ski jacket is a type of winter jacket made to increase the mobility of the skier and prevent excessive perspiration. Winter jackets can be either casual or technical, and ski jackets fall into the second category.
Like all technical jackets, ski jackets are designed with functionality in mind, which is why they are considerably lighter and more breathable than casual winter jackets.
Also, the weather protection capacities of these jackets aren't the same since regular winter jackets don't always offer adequate protection against the elements. On the other hand, most ski jacket models are waterproof fabrics such as Gore-Tex or H2NO.
The design of ski jackets differs from the conventional winter jacket design because models made for skiers have helmet-compatible hoods or interior pockets that are large enough to hold ski goggles.
Read our guide to the best North Face ski jackets to learn more about the features of this jacket brand.
Types of Ski Jackets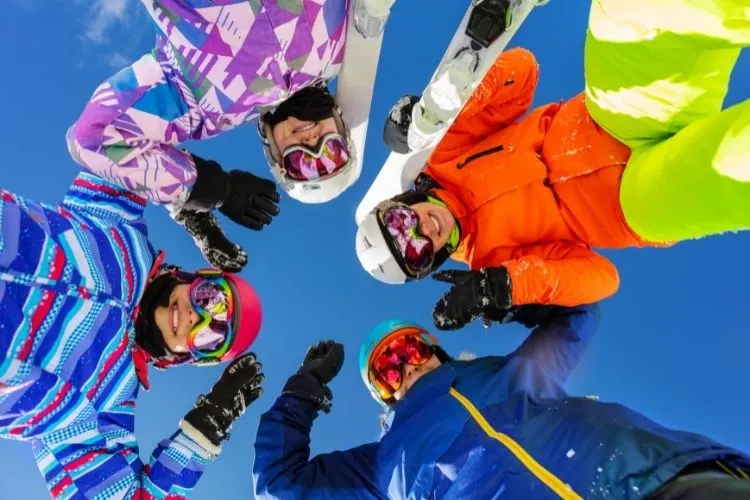 Although they all serve the same purpose, ski jackets are divided into four major categories. Each of these categories has different characteristics that make it suitable for different types of outdoor activities.
Softshells
This is the least common type of ski jacket characterized by a high level of breathability and mobility. They're only suitable for dry snow areas with moderate weather conditions. However, softshells aren't weatherproof as they offer a minimal amount of protection at temperatures below 32F.
Shells
Their lightweight construction allows a skier to wear several clothing layers under the jacket. The weather protection capabilities of these jackets are significantly better than those offered by softshell models, as they're both waterproof and windproof.
However, the lack of an insulation layer makes shell jackets a poor fit for recreational skiers who want to remain warm at all times.
3-in-1 Jackets
This is by far the bulkiest and heaviest ski jacket type that limits your mobility. It is also the most affordable type of ski jacket you can get that keeps you warm and protects you against harsh weather conditions. 3-in-1 jackets have an insulation layer and outer shell protecting you from wind, rain, or snow.
Insulated
The performance abilities of these jackets depend on the model's insulation type. So, opting for a down ski jacket will limit your mobility, but it will make you better prepared for low temperatures.
A model that has synthetic insulation can keep you warm even if the insulation layer gets wet, but they're not an ideal choice for backcountry skiing in freezing temperatures.
Browse through our guide to the best ski and snowboard backpacks to find a model that can carry all the supplies you might need during a backcountry day trip.
Number of Layers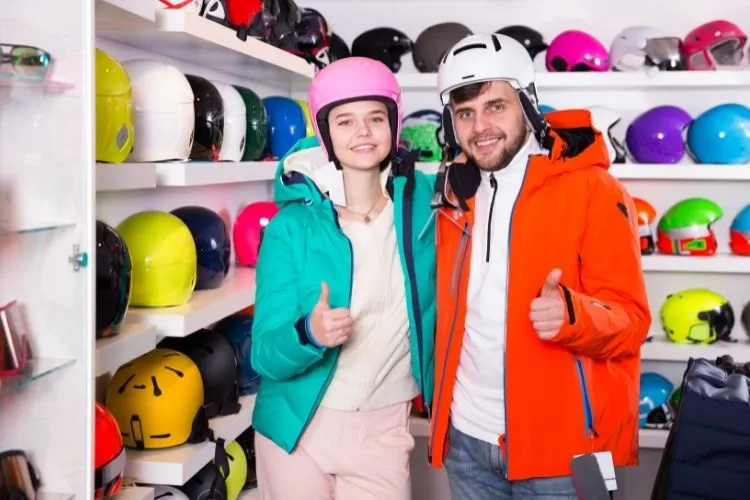 Knowing which type of outdoor activity you'd like to perform will help you determine if you need a two-layer or three-layer ski jacket. Two-layer (2L) models are more affordable and better suited for days on ski resort trails, while the three-layer (3L) models are designed for skiing in unmarked areas.
2L
The face fabric is paired with the weatherproof membrane to ensure a lightweight but sturdy construction. These jackets usually have a separate interior mesh liner that adds to their weight. The price range of 2L ski jackets spans from $150 to $450.
3L
Heavy-duty construction of these jackets merges the face fabric, weatherproof membrane, and fabric liner. They're less heavy than 2L models and provide you with more mobility, while at the same time, they're designed to keep you dry and warm.
However, the least expensive 3L models cost almost as much as premium 2L ski jackets.
Check our guide to the best ski boot bags if you're looking for a way to store your equipment.
Water-Resistance Level
Staying dry while you're on track is paramount, so the ski jacket you choose should be able to resist frequent exposure to moisture. Hence, you should avoid softshell ski jackets as they don't have a waterproof membrane to prevent the fabric from soaking up the moisture.
All other ski jacket types have some sort of water protection, although the efficiency of that protection largely depends on the model's price range. The least expensive options tend to use affordable waterproofing materials that can't withstand prolonged exposure to high amounts of moisture.
That's why jackets equipped with Gore-Tex weatherproof membranes are your best option since they don't lose their properties over time. You should keep in mind that some industry-leading brands have their own technologies that perform equally well as the Gore-Tex material.
Go to our guide to the best ski masks that will protect you against cold weather conditions.
Breathability and Insulation
Your should adjust your ski jacket to the type of activity you'll be performing. Downhill skiing doesn't involve a high amount of strain, and it is unlikely you're going to start to sweat while skiing on resort slopes.
Consequently, the jacket's breathability shouldn't be one of your primary concerns if you're planning to use it on relatively short and moderately steep trails. Staying dry is much more difficult if you're backcountry touring since it's a much more strenuous activity than downhill skiing.
Softshell jackets are the best option for this type of activity because of their high level of breathability, but the lack of a weatherproof layer limits their range of applications.
Opting for a three-layer shell jacket will provide you with adequate protection against the elements and prevent overheating at the same time. Also, jackets that have a synthetic insulation material are more breathable than models with down insulation.
Read our guide to the best packable down jackets if breathability isn't your top priority.
The Best Ski Jacket Brands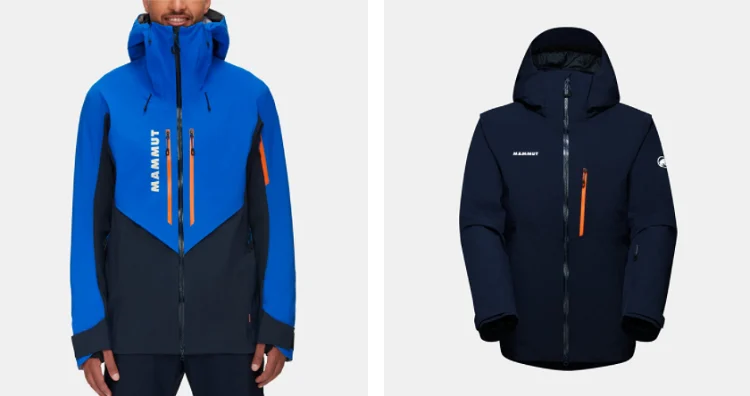 It is hard to say which brand produces the best ski jackets because there are so many models that perform admirably in challenging weather conditions. Companies like Mammut, Arc'teryx, or Moncler offer a wide range of models made of high-quality materials that are equally well suited for resort tracks and alpine touring.
Ski jackets produced by either of these brands are expensive, and you should consider models made by Colombia or The North Face if you're looking for a more budget-friendly option. Even if you opt for one of the more affordable brands, you'll still have to spend between $300 and $400 to get a warm and breathable ski jacket.
You should keep in mind that these jackets grow heavier and less durable as their price decreases, so you might end up with a model that cannot offer sufficient protection against moisture or wind if you opt for the least expensive option.
Go through our comparison of Mammut vs. Arc'teryx jackets to find out which brand makes better ski jackets.
The Key Aspects to Consider While Choosing a Ski Jacket
Aside from the visual appearance, there are a number of factors you need to consider while selecting a ski jacket model. The context in which you're going to wear the jacket or the amount of gear you're planning on carrying with you is among the factors that can help you find the model that meets your needs and fits your budget.
We've selected some of the most important features of ski jackets that can assist you in evaluating their quality and determining if they're the right pick for you.
The Jacket's Denier Value
The denier value indicates the thickness of the jacket's face fabric and enables you to know how durable a specific model is to the daily wear and tear. Jackets with sturdy construction usually have D values above 100, but their weight can limit your mobility.
In case you're searching for a lightweight and sturdy jacket, you should consider models with denier values around 70. The information about the thickness of the face fabric isn't always available, but in this case, you can check the jacket's intended use to estimate its durability.
Functionality Level
Jacket-to-pants attachment systems, powder skirts, or helmet-compatible hoods are among the features that improve the jacket's functionality. For instance, a powder or snow skirt is a piece of elastic fabric designed to keep the snow out if you fall.
Helmet-compatible hoods are a standard feature on most ski jackets that allows you to stay on the track even in challenging weather conditions. Getting a model equipped with a Recco reflector might be a good idea if you're planning to ski off-trail.
The Number and Location of Pockets
The storage space you'll have at your disposal while skiing is going to be limited to your jacket if you don't carry a ski backpack. That's why the model you choose should have a sufficient amount of space for your phone, car keys, a snack, a water bottle, or climbing skins.
A ski jacket with just one or two hand pockets and one inside pocket should meet the needs of most skiers who prefer to stay on resort slopes. Getting a model with five or more pockets might be a good idea if you need to carry multiple items with you.
The Overall Weight of a Ski Jacket
How heavy a particular model is going to be, depends on the ski jacket type you choose. Insulated and 3-in-1 jackets usually weigh more than 2lbs, making them a good fit for short ski runs.
Shell jackets are your best option for backcountry touring because of their ability to keep you dry and warm without adding a ton of weight to your shoulders.
Ultimately, the jacket's weight should be adjusted to your skiing style, as both heavy and lightweight models can be effective in different contexts.
The Jacket's Size and Fit
Besides the weight, the jacket's fit can also affect your mobility. A relaxed fit model will allow for more layering, but it will also limit your motion range. On the other hand, an athletic fit shell jacket will maximize mobility, but it will cap your layering options.
The jacket's fit also depends on the manufacturer, as some brands tend to produce tight-fit models, while others offer loose models that provide plenty of layering space.
Checking the model's intended use might help you figure out its fit because backcountry ski jackets tend to be tighter than those designed for ski runs.
Price Range
The prices of ski jackets span from a couple of hundred to more than a thousand dollars. That's why defining the price range you're aiming for can make it easier to find the right model.
The quality of the weather protection membrane and virtually all other ski jacket features depend on the price range you opt for. Models that cost more than $700 are built from lightweight and durable materials that allow you to stay outdoors for hours without getting wet or cold.
Despite being warm and offering excellent weather protection, inexpensive models are often bulky and heavy, which limits their range of applications.
The Advantages of Ski Jackets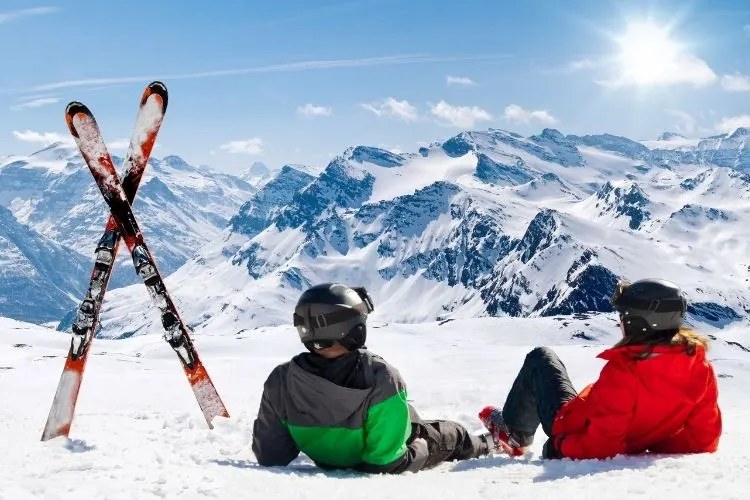 Made from Durable Materials
Even the least expensive ski jacket models are made from durable materials that keep their properties for at least several seasons. However, you should keep in mind that both entry-level and high-end models start to lose their water protections abilities over time.
Multiple Layering Options
Ski jackets enable you to choose how many layers of clothes you want to wear. A breathable shell jacket allows you to stay cool while covering steep portions of off-piste trails, while 3-in-1 models provide you sufficient space to add multiple clothing layers.
Suitable for Different Types of Outdoor Activities
The broad range of available options enables you to choose a ski jacket model that is best suited to your style of skiing. You should opt for a lightweight, breathable and sturdy model if you're a freestyle or a cross-country skier, while an insulated or a 3-in-1 model should meet the needs of most downhill skiers.
Excellent Organization Options
Most models have a variety of hand, chest, and interior pockets that are large enough to store the items you need while skiing. Ski jackets that have more than five pockets reduce the need to carry a skiing backpack by allowing you to carry all the essentials with you.
Great Low-Temperature Performance
Some ski jacket models can keep you warm even when temperatures are in single-digit Fahrenheit. However, the level of warmth these jackets can provide depends on the model and its features.
The Disadvantages of Ski Jackets
More Expensive than Common Winter Jackets
The average price of a winter jacket spans from $100 to $300, while a ski jacket can cost anywhere between $150 and $1,000.
Weatherproofing Layer Wears Out Over Time
Water-resistant jackets lose their ability to repel moisture after several seasons, and you need to replace them if their weatherproof membrane can no longer keep the jacket's internal layers dry.
Selection Criteria
Choosing the best ski jackets for this article wasn't an easy task because there are so many models that at least deserve to be mentioned. That's why we've set strict search parameters that helped us choose versatile and functional ski jackets that are suitable for different skiing types.
Also, instead of focusing on hardshell or insulated models, we included models from each ski jacket category with the aim of creating an overview of the available options. Here are some of the most important criteria we use to select ski jackets featured in this article,
Weather Protection Potential
The models featured in this article were selected based on their ability to protect a skier from the elements. Their weatherproof membranes ensure that you're going to stay dry and warm even when facing snow, rain, or strong winds.
Functionality Level
The location of the pockets, multipositional hoods, or jacket-to-pants attachment systems are among the features that helped us pick the ski jackets included in this article.
Brand Recognition
Ski jackets produced by The North Face, Patagonia, or Arc'teryx are among the best on the market. That's why brand recognition played an important role during our ski jacket selection process.
Top 5 Ski Jackets
Which ski jacket you're going to choose depends on your skiing style since there's no need to get a breathable and lightweight model if you're just planning on downhill skiing at a resort.
On the other hand, a 3-in-1 jacket might be too warm and too heavy if you're a freestyle skier who frequently performs flips and spins. The purpose for which you intend to use the jacket will determine which model you should pick.
It is worth adding that ski jackets aren't designed for just one type of outdoor activity, and you can wear them in different contexts. We've shortlisted some of the best ski jackets that are suitable for skiing enthusiasts and professionals, so let's take a look at their properties.
The North Face ThermoBall Eco-Snow Triclimate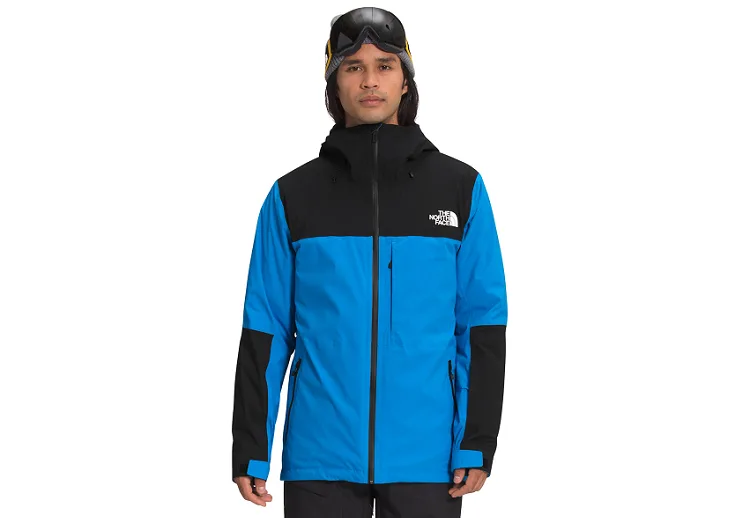 The DryVent™ face fabric makes the North Face ThermoBall Eco-Snow Triclimate 3-in-1 jacket breathable, windproof, and waterproof. In addition, the jacket's seams are sealed, which prevents the water from reaching its internal layers.
Synthetic insulation is made of eco-friendly materials, and it continues to keep you warm even when it gets wet. This North Face model has pit zips on its sides that provide you with instant ventilation during challenging descents.
The jacket weighs 2lbs 3.3oz, and it might be too heavy for high-intensity outdoor activities. Check our NanoPuff vs. ThermoBall comparison to find out which one is better.
Helly Hansen Odin 9 Worlds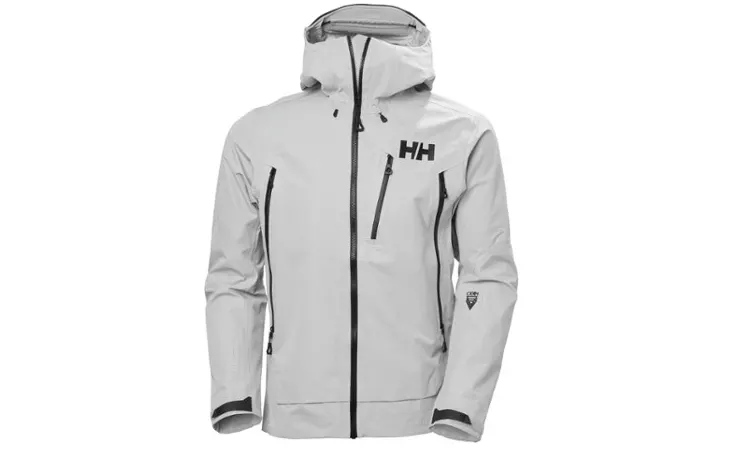 The Helly Hansen Odin 9 Worlds is made for mountaineers, which means that it meets most needs of backcountry or freestyle skiers. Its 3-layer construction consists of the HELLY-TECH® professional face fabric and LIFA Infinity Pro weatherproof membrane.
Its hood is helmet-compatible, and you can place it in three different positions. The HH® 'Gear Locker' pockets are spacious enough to store ski mittens and similar accessories, while the chest pocket has a waterproof zipper.
This jacket doesn't have a snow skirt or a jacket-to-pants attachment system. Go through our guide to the best Helly Hansen ski jackets to learn more about their performance capabilities.
Arc'teryx Sabre AR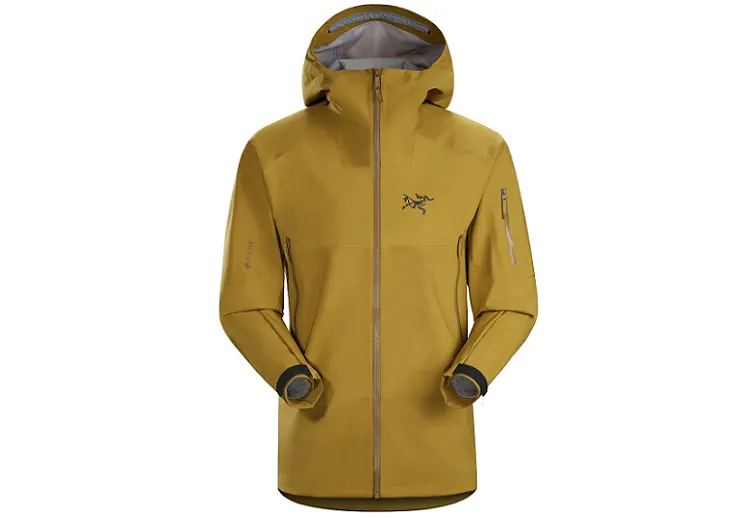 Arguably, one of the best ski jackets on the market, the Arc'teryx Sabre AR offers a perfect balance between warmth, weather protection, and mobility. The 3-layer Gore-Tex breathable laminate shell protects you from rain, snow, or wind while preventing overheating.
Its powder skirt adds another level of protection from snow and cold air, while its Slide-n-Lock mechanism enables you to attach it to your ski pants. You can use this lightweight jacket for different types of winter sports without having to worry about your mobility and movement range.
You can read our full Arc'tery Sabre AR review for more information about this remarkable ski jacket.
Patagonia Snowshot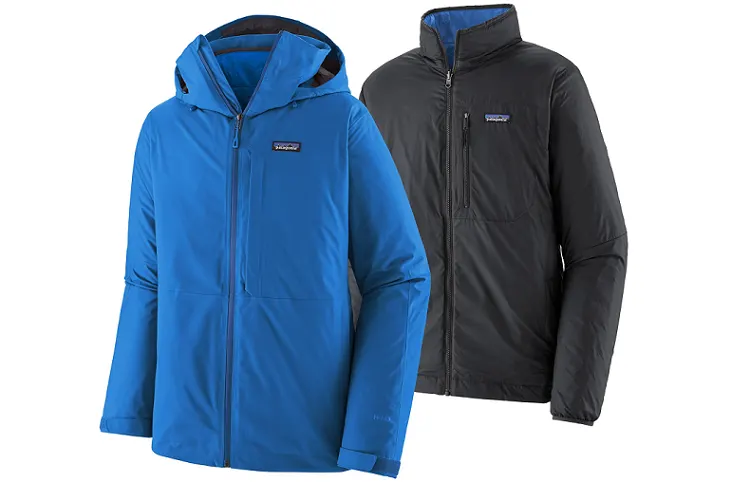 Although slightly heavier than high-end ski jackets, the Patagonia Snowshot is still a great choice for backcountry skiers. Its 2-layer shell is made of Patagonia's H2No® Performance and polyester micro till materials that provide the user with complete protection against the elements.
The Snowshot also has a removable 60g Thermogreen polyester fiber insulation and tricot mesh lining that makes the jacket warmer and helps deal with internal moisture. Patagonia's model is equipped with a Recco reflector that can be useful for skiers who don't always ski on marked trails.
Browse through our Columbia vs. Patagonia jacket comparison to find out which brand makes better jackets.
Outdoor Research Skyward II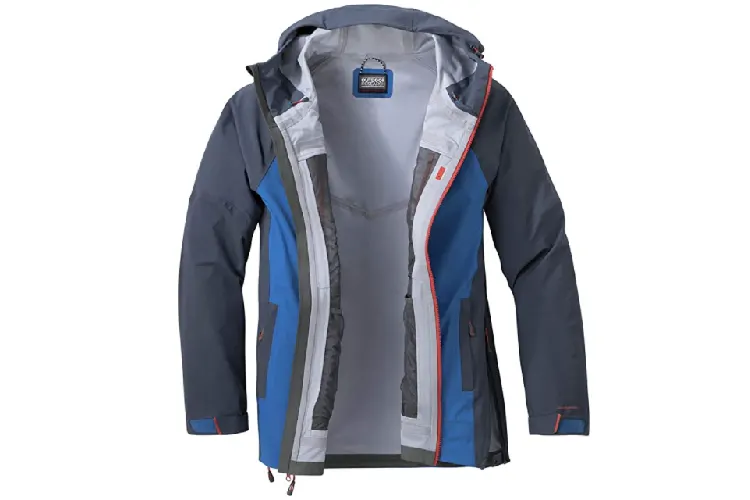 The nylon and spandex face fabric ensure that Outdoor Research Skyward II isn't going to limit your movement range. This flexible hard shell is ideal for backcountry skiing because it is made of fabric that enhances your movements and protects you from the elements at the same time.
The 50-D polyester lining fabric protects the jacket from wear and tear. Moreover, the TorsoFlo™ underarm vents allow you to regulate your body temperature during steep climbs or long descents.
The pockets are located in such a way that you can access them quickly, even if you have a hip belt and a harness. Read our Outdoor Research Realm Jacket review if you're searching for a hardshell jacket.
FAQs
Question: Can I Wear a Ski Jacket for Snowboarding?
Answer: Yes, but you first need to check if a specific model limits your movability.
Question: Are Ski Jackets Treated With DWR Water-Resistant?
Answer: No, jackets with an outer shell treated with DWR aren't always water-resistant, as some models are only water repellant.
Question: Do I Need a Ski Jacket with a Recco Reflector?
Answer: Even though this feature is not essential, it is certainly helpful because it might help rescuers locate you faster if you get lost in the mountains.
Question: How Often Should I Replace a Ski Jacket?
Answer: You should consider getting a new ski jacket after 150 days of usage, so if you spend approximately 30 days on resort ski trails every year, you'll have to replace your ski jacket once in five years.
Final Thoughts: How to Know Which Ski Jacket is the Right Choice for You?
Winter sports involve different levels of physical activity, as downhill skiing is much less intense than freestyle or backcountry skiing. The ski jacket you choose should keep you dry and warm, but it should also allow you to perform specific outdoor activities without any restrictions.
That's why insulated or 3-in-1 jackets are a better choice for skiers who intend to stay on marked ski runs, while softshell and hardshell models are a good option for more intense and extreme activities.
So if you need a ski jacket you can use at a resort piste, we recommend the North Face ThermoBall Eco Snow Triclimate because of its ability to keep you dry and warm.
Experienced skiers that want to ski in challenging conditions should consider models like the Arc'teryx Sabre AR or the Helly Hansen Odin 9 Worlds. We hope that this article has helped you find the best ski jacket for you.
Share your opinions with us in the comments or continue reading the Ventus Alpha jacket review to learn more about this Black Crow model.