Some say it's hard to have a good time camping without some cans of cold beverage. Some say it's really hard to have a good time camping without fresh food. Coolers, as a result, are a big determinant of enjoyable camping trips.
From your run-of-the-mill Walmart ware to specialty, tank-like contraptions, there is a broad spectrum of best coolers for camping on today's market, from soft-sided coolers to bear resistant models, but all of them promising to keep food and beverages cold. Here, we'll go into detail about what makes a cooler ideal for camping, and which three deserve the price to the coolest cooler.
The Best Coolers for Camping Criteria
Insulation Factor: The first and only job of a cooler is to keep things cold. Especially food and beverages. If it can't do that, it's just heavy box to lug around. The best coolers on today's market use exceptional insulation materials on the body and lid, and techniques capable of keeping ice frozen like an igloo for a full week.
Durability Factor: Coolers have a harder job than simply staying cool, however. When relying on them outdoors, they have to work well under duress. That means that a cooler built to last, one that you won't have to replace every summer, will be much more valuable. For this purpose, the bear resistant models are one of the best choices.
Price Factor: There is also an enormous price discrepancy between low- and high-quality coolers. The Yeti, heralded by many as today's cooler king, can't be found for anything less than $200 (and that's for the smallest size, which holds a 12-pack). Meanwhile, you can run to Walmart and pick up a 60-quart cooler for a fifth of the price.
Price, insulation, and durability are the three primary considerations when purchasing your new coolest cooler. There are plenty of other minor features—drain valve, weight capacity, carrying ability—that also hold sway. With these factors in mind, here are our top three choices.
#3. The Yeti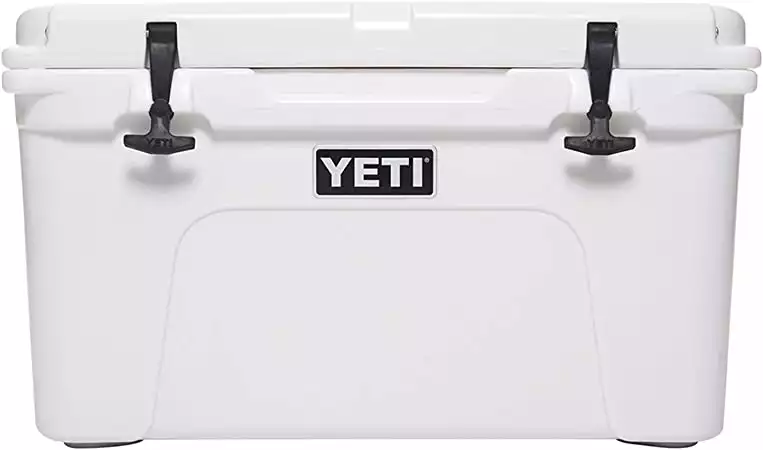 YETI Tundra 45 Cooler | YETI
The YETI Tundra 45 combines versatility with durability. This premium cooler is infused with that legendary YETI toughness — a durable rotomolded construction and up to three inches of PermaFrost Insulation.
Check Price
Buy at Amazon.com
We earn a commission if you click this link and make a purchase at no additional cost to you.
As alluded to above, the Yeti is considered by many to make the best coolers for camping, but they come at an eyebrow-raising price tag. Yeti's Tundra 45, a mid-sized heavy-duty cooler, runs for $380, meaning for many, it would be the most expensive item in one's camping gear.
Despite the price, at the time this article was written, nearly every single size of Yeti cooler was sold out of stock on their website still find them here. The rationale for inspiring so many people to spend such a large amount on a cooler is that once you buy a Yeti, you're probably done cooler shopping for the rest of your life. That right! These models are gonna keep your cans and food cold for a while.
Insulation
Yeti Tundra coolers have two inches of polyurethane foam on every side of the cooler except the lid, where it has three inches. It claims to keep ice frozen like an igloo for a week straight, which independent tests confirm. Having the right temperature will never be a problem with these models.
Durability
The Interagency Grizzly Bear Committee tested and approved Yeti coolers as certifiably bear-resistant and durable (as long as you lock the padlock slots on the front two corners). They also claim to sustain the weight of a 500-pound man, so, assuming you weigh less than that, the cooler is safe to sit on as well.
It comes with a five-year warranty, and most of its parts can be replaced on Yeti's website, but not the main hinge. This, ironically, is a drawback in terms of longevity not seen in some cheaper-made counterparts. Still, its aluminum-rod hinge, designed not to overextend, is far less likely to encounter problems than the competition models.
All this toughness, however, does lead to quite a heavy portable cooler. The Tundra 45, for example, weighs 25 pounds unfilled.
Other Features
Although the military-grade nylon rope handles aren't likely to wear out in the coming decades, no Yeti cooler comes with wheels. The makers prefer instead to highlight the Yeti's rubber feet, which firmly plant it.
Even the smallest, most mobile of the Tundras come with a metal bar where something more flexible would be ideal. Durability and insulation are near unparalleled, but transportability is not Yeti's strong suit. For the latest pricing, be sure to check out this product listing.
Try:
#2. Coleman Xtreme 70 Quart 5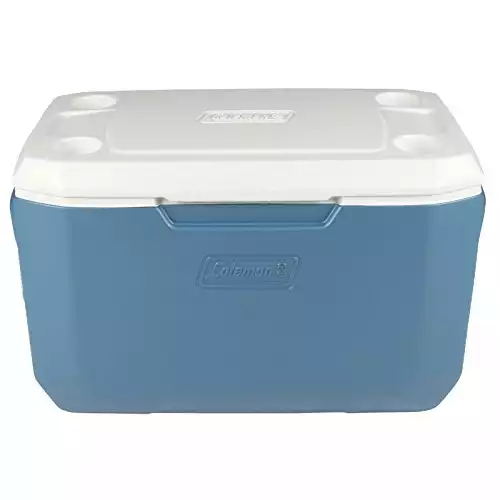 Although many Yeti owners might scoff at the idea of their modern marvel being compared to a thrifty Coleman, the Xtreme 5-day line, for a significant price cut, will likely provide all you need in a cooler, which is to keep your items at the right temperature, so long as you're gentle with it. You can find it on Amazon for just $60.
Insulation
Compared to others at its price point—even compared to other Coleman coolers—this cooler is incredibly well insulated. It keeps ice frozen for as long as a week, going beyond its five-day guarantee. This article tested its insulating capabilities and deemed it the best low-priced choice on the market.
Like the Yeti heavy-duty cooler, it too has two-inch insulation surrounding it, though it uses its "ThermOZONE" material instead for good retention of the cold temperature.
Durability
This isn't an indestructible and durable force like the Yeti, but it will hold up under proper care.
Coleman's wheeled counterpart to this cooler, the Xtreme 50 Quart 5 Wheeled, almost made the list instead. However, this wheeled cooler durability creates too big of a liability for regular use. Its wheels are held on by a plastic pin and its periscope handle collapses under minimal pressure, making it not very durable. Because of this, the simpler (and therefore less error-prone) 70 Quart 5 models are preferable.
The 70 Quart is weight tested for 250 pounds, meaning an adult or a couple of kids will be fine using the lid as a chair. Every part of the cooler can be replaced fairly inexpensively, so while it doesn't have a notable warranty or exceptional build quality, longevity with this cooler is still possible.
Other Features
This cooler doesn't have a lot of frills, which undoubtedly makes it an unsexy alternative to the Yeti models, but in practical application, simpler is often better.
Its drain valve is sufficient and placed low enough on the cooler to be used easily without tipping. Its two-way handles provide for easy gripping, although plastic is far from the ideal weight-bearing material for a large cooler such as this. Check out more about this cooler here.
#1. The Grizzly Cooler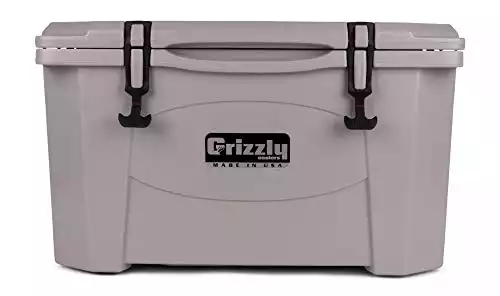 Grizzly 40 Cooler | Amazon
Get you and the crew into bigger adventures with the G40. 40 quart capacity for a longer journey, food, drinks, and ice. Whether you're off to the lake, the plains, mountains, or anywhere the road takes you, bring along G40 to make your team complete.
Buy at Amazon.com
We earn a commission if you click this link and make a purchase at no additional cost to you.
02/14/2023 03:04 pm GMT
You can think of the Grizzly ads the Yeti's rugged redneck stepbrother. Their designs are very similar, they both offer exceptional insulation, retention, and toughness at a high price point, but in a few ways, Grizzly takes its toughness to a new, unmatched level.
Despite being slightly more affordable than the Yeti, it's still quite expensive for a cooler, especially if you are planning to use it just for your drinks and beverages. The Grizzly 40 retails at $299 here.
Insulation
The Grizzly is built out of similar materials and design, but it does less boasting about its ability to keep ice igloo frozen. This article tested the Yeti and the Grizzly and found that both were able to keep ice frozen for 8 days in hot Florida weather.
Durability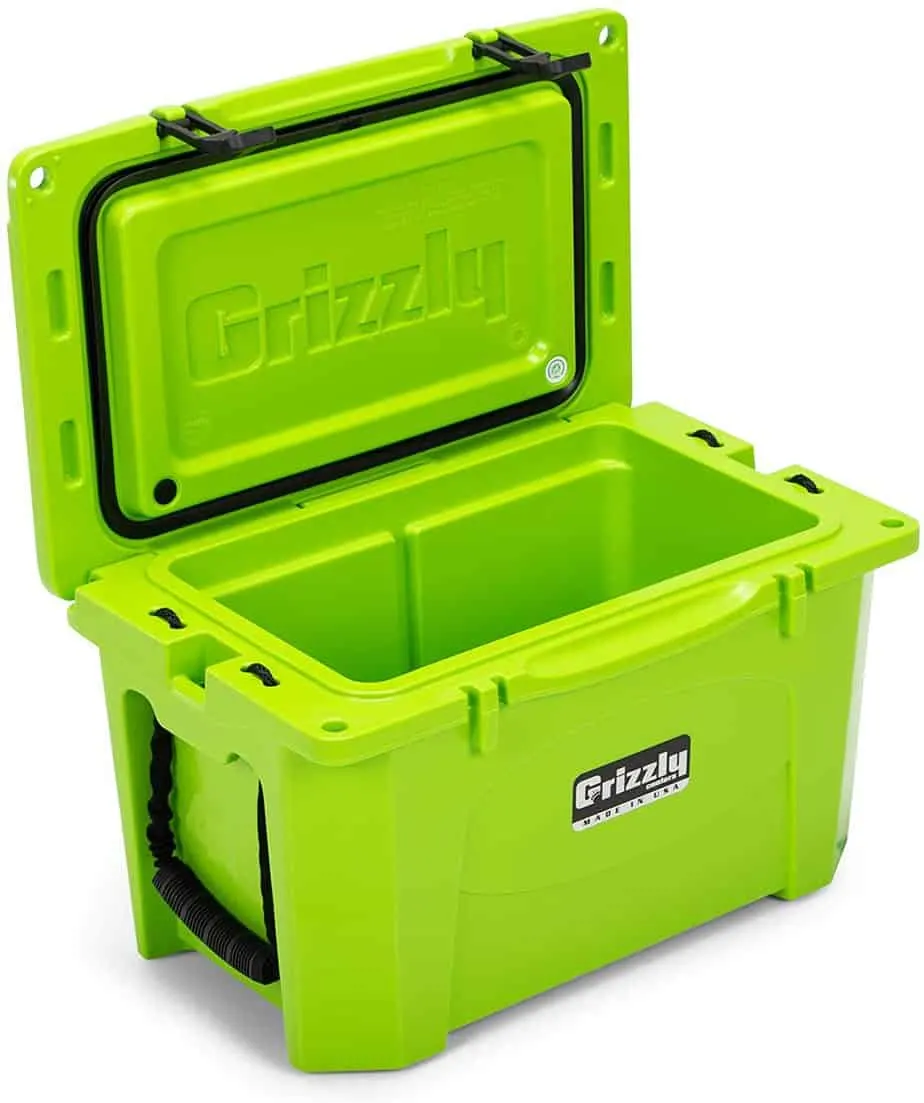 Like the Yeti, the Grizzly is certified bear-resistant by the IGBC when it's locked using its padlock slots. You can be sure that your food and drinks will be safe. Grizzly, however, has taken proving their cooler's ability to withstand abuse to an entirely new level.
Here's the Grizzly 16 as a bulldozer attempts to crush it. It's safe to say that you and whatever sumo wrestlers you might be camping with are safe using the Grizzly Cooler as a chair sitting on the lid.
In terms of longevity, the Grizzly promises exceptional build quality, but unlike the two aforementioned coolers, it backs this up with a lifetime guarantee. This more than anything makes it the most reliable long-term purchase.
Other Features
If you took the brand labels off Grizzly and Yeti, you would have a difficult time telling them apart. Both have rope handles for carrying and both have similar rubber clasps, along with the corner locking holes. Both are constructed using tough roto-plastic and have rubber feet to prevent unwanted movement.
The Grizzly has a much larger drain valve, two inches in diameter. The smaller models also have protruding handles built into the cooler itself, guaranteeing that they aren't going anywhere. Its insulation is also pressure injected in an environmentally friendly fashion.
For the best pricing I've found online, check out this listing.
Final Thoughts
Any of these three coolers will adequately chill what needs to be cold, like your drinks or beverages, and they'll withstand duress while they're at it. Either the Grizzly or the Yeti would likely be the last cooler you'd ever buy, but as nice as they are, we don't all go camping or tailgating enough to necessitate a $350 cooler.
Ultimately, however, Grizzly's lifetime warranty and its superb durability make it the soundest long-term investment.
Looking for other options? Try: