In this article, we'll be reviewing 5 of the best backpack cooler options available on the market right now and help you choose the best one based on your needs, preferences, and budget.
Backpack coolers today are smart, easy to carry, and have ample capacity. Thanks to the excellent designs offered by leading companies, the weight distribution in backpack coolers has improved significantly. This helps reduce stress on your muscles and makes it easier to carry your stuff on long camping trips.
Before we get into the details of the best backpack coolers, here is a quick comparison of their features and price:
Monoculars bring the nature and wonders of the outdoors closer to you. Check out the best monoculars for hiking you can buy in 2021!
What is a backpack cooler, and why would you need one?
A backpack cooler is a type of portable cooler which is designed to be carried on your shoulder like a regular backpack, but it contains a large insulated space to store foods and drinks. The backpack design allows the weight to be equally distributed across your shoulders, chest, and back. This helps reduce muscle strain and fatigue and makes it easy to carry your backpack on all terrains.
The main purpose of a backpack cooler is the same as a regular cooler, but the key difference is that a backpack cooler can be taken almost anywhere without a hassle.
For example, taking a backpack cooler to a beach is much more viable as it is easy to hang it on the shoulder rather than pulling a cooler with wheels that get stuck in the sand. Even on hiking trips, it will be much easier for you to carry around a backpack cooler and move more freely than you would with a regular one.
The convenience you get with backpack coolers is second to none. They are available in many sizes and can be big enough to carry up to 52 cans and keep them cold for 72 hours. Backpacks come with convenient shoulder straps, comfortable weight distribution, and made of durable material to keep your drinks chilled even in hot weather.
One of the most asked questions about hiking is how to pack your bag. Today, we'll help you get to the bottom of this with our quintessential guide on how to pack a hiking backpack to perfection!
Best Overall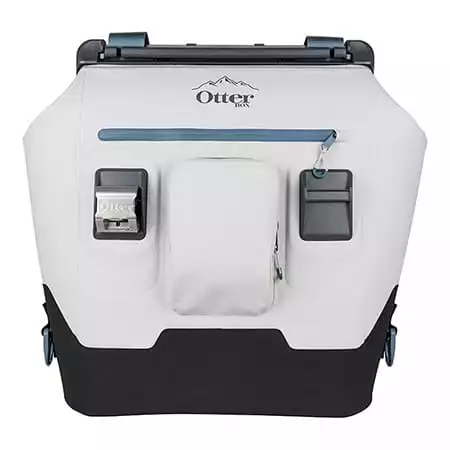 Things to Consider When Buying a backpack cooler
There are many different things to consider when buying a backpack cooler, especially for outdoor activities such as hiking.
Comfort
A backpack cooler is a combination of a backpack and a cooler. Some backpack coolers come with thick shoulder straps to tackle the weight; some come with extra padding on the shoulders, and some with extra support for the chest and waist.
You need to be sure of how long you will be carrying a backpack and where you will be taking it. If that's all sorted, it will be easier to make your decision. For example, if you regularly go on hiking trips with groups of people and need to carry a good amount of refreshments, make sure to opt for backpack coolers that offer extra padding.
Pockets
Extra pockets to store your mobile phone, wallet, and other important items are also an important component in a backpack cooler. The extra pockets in a backpack cooler are often placed away from the main carriage for ease of access and to keep them from getting wet.
If you are hiking and need to carry your mobile phone and wallet in your backpack, you will need a dry place to store these items for safety. If that's the case, make sure you go for backpacks with extra pockets independent of the main carriage to ensure no water permeates through the fabric and damages your electronic items.
Size
Backpack coolers come in different shapes and sizes. This will depend on your preferences and you can get backpack coolers today in rectangular, square, spherical, and even duffel shape.
Backpack coolers come in all sizes from 10 qt to 50 qt. Please make sure you know your size requirement before going for the buy. I would recommend going for a bigger size than you plan to get as you might need one for future use, especially as you get more friends and family into the outdoor life.
Weight
Some large backpacks can get heavier by the amount of food or refreshments you store. For that reason, there are a variety of backpacks available on the market, from hard shells to soft shells. Hardshell backpacks are generally heavier.
If you are sure that you will be carrying a heavier load, then I would recommend getting a backpack that doesn't weigh a lot. At the same time, it must have ample support and padding to reduce stress on your shoulders and the rest of the upper body.
Easy Access
It is always better to have wide and easy access to your goods stored in the backpack. That is not just limited to the main compartment as you would need to have easily accessible waterproof pockets as well for your electronic and precious items.
The last thing you want is to have pockets situated in a place where there's a risk of your items getting damaged. So make sure to have a thorough inspection of the pockets and the main compartment. Hooks and straps installed with a backpack are always a good addition, especially in situations where you encounter rough terrain.
Materials, Design, and Build Quality
The build of a backpack cooler can make a big difference. If you are going for a premium or professional quality backpack cooler, you will want the nylon to be a minimum of 600 TPU. With that level of toughness, the backpack will be able to endure UV radiation and withstand everything else.
For the interior, you will need to make sure that the backpack has a food-safe liner installed to keep your food items safe. With a food-safe liner, you will not have to worry about carrying meat without putting it in a plastic bag.
Ice Retention
The main point of getting a backpack cooler is to keep things cool and fresh for use. This makes the ice retention capability of a backpack the most important aspect of all.
Premium backpacks can hold ice for over 48 hours in ideal weather conditions, but they are quite expensive than standard backpack coolers, which can only retain ice for a maximum of 24 hours.
If you are looking to keep your beers cold for over a day, I would recommend getting a premium backpack cooler. If you are a casual camper who needs a backpack to keep things cool and fresh for only some hours, then a regular canvas backpack can do the job.
Use
Lastly, how are you going to use your backpack? It is also very important to identify the trip you are planning to take your backpack cooler. Some backpacks are better suited for a beach getaway, while others are suited to take it off on a hiking trip. So before making your decision know your preferred outdoor adventure before buying the backpack cooler.
One good thing about a backpack cooler is that it can be taken to almost anywhere, but knowing why and where you need it, sure makes a difference while buying it.
Looking for a standard cooler to go along with your long-haul trips? Here is our list of the best coolers for camping in 2021 !
Best Backpack Coolers
YETI Hopper Backflip – Keep Your Drinks Chilled for Longer!
The YETI Hopper Backflip is one of the most sought-after backpack coolers in the premium category. YETI is a big name in the cooler industry and is known for its quality after all these years.
The YETI Hopper Backflip comes with a 25 qt capacity and can store up to 20 cans with a 2 to 1 ice ratio. That is great to ensure an ample supply of drinks on the go.
The YETI Backflip has a standard size with dimensions of 13 x 6.5 x 15 inches. It can easily fit a beer case and 3 large YETI ice packs. Each YETI ice pack weighs around 4 lbs with dimensions of 11 x 8 x 2 inches.
On the outside, the backpack is made up of YETI DryHide shell, which is a high-density fabric that is waterproof. The fabric is sturdy enough to avoid punctures, tears, mildew, and UV damage. The inner liner is FDA-approved which means you can safely store your food items.
It is insulated by a closed-cell rubber foam which ensures ice retention for up to 48 hours in favorable conditions (90 ° F). The zipper installed is of the highest quality and is water-resistant too to avoid rust damage.
The YETI Hopper is designed with comfortable straps and ensures equal weight distribution. It also features chest and waist straps for comfortable lifting.
One drawback of the YETI Hopper Blackflip is that it gets very heavy when loaded and that sometimes can be an issue when you're carrying it for a long period.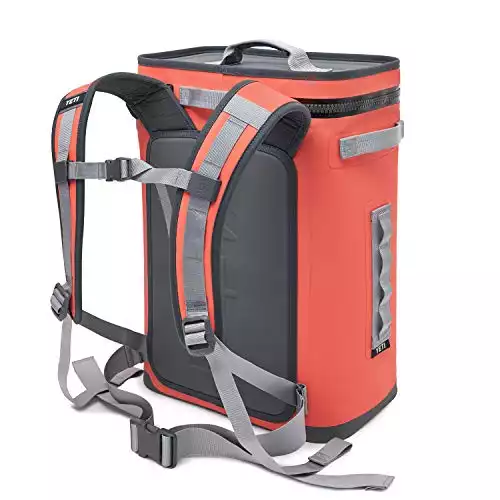 Pros
Ample space for storing items

Ice retention up to 48 hours

Chest and waist straps for even weight distribution
Cons
Pricey

It tends to get heavier when loaded
Polar Bear Cooler Backpack – Superior Comfort While Carrying!
The Polar Bear Cooler Backpack is a lightweight backpack that can be carried along while hiking, cycling, and even camping.
Polar Bear Cooler Backpack has a rather large size with dimensions of 18 x 12 x 7 inches. It can retain ice for up to 24 hours in ideal conditions and has a capacity of 14 qt that is ideal for a group of 3.
The outer layer comprises high-quality nylon with double hemmed seams and anchor stitches, making it waterproof and weatherproof. The zip used is heavy-duty, rust-proof, and weatherproof. The backpack also features a waterproof side zip pocket to store electrical items.
The inner lining of the backup features an FDA-approved double-coated nylon lining to make the food stored in it safe and secure. The backpack has adjustable shoulder straps and a padded backrest with two extra mesh pockets on the side for storing water bottles. Safe to say, this is one of the most comfortable backpack coolers available in the market.
My main concern with the Polar Bear Cooler Backpack is the relatively low storage capacity despite the size. I would recommend buying this if you're a casual hiker who only needs a cooler for a few hours.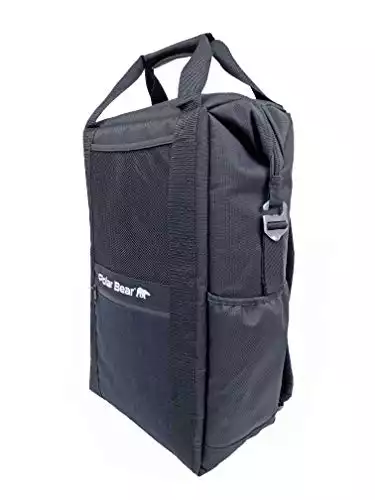 Pros
FDA approved double nylon coating on the inside

Lightweight and comfortable to carry

Padded shoulder straps with padded back strap
Cons
Relatively low storage space
Tourit Backpack Cooler – The Durable Choice
The Tourit Backpack Cooler is a relatively new entry on the market, but it has left its mark with quality and durability.
The Tourit Backpack Cooler is a light and extremely durable yet soft backpack. The company offers a lifetime guarantee on the backpack, which I am sure explains a lot about the quality.
The Tourit Backpack Cooler is made of a leak-proof, durable fabric with dimensions of 18 x 14 x 10 inches. Despite the size, it weighs just around 4.6 pounds. The cooler has a volume of 21 qt and can easily hold up to 31 cans along with ice.
The outside is made of a durable and strong fabric that makes the backpack resistant to water, punctures, tears, and UV damage. It is ideal for camping, cycling, hiking, and other outdoor adventures.
The backpack also features an FDA-approved strong liner with the capacity to retain ice for more than 24 hours. It also has pockets to store electronic items and other things to avoid the risk of getting wet.
The Tourit Backpack Cooler features a shoulder strap, an adjustable chest strap, and webbing to store extra goods when needed. One nice feature for beer lovers is the built-in bottle opener.
One drawback of the Tourit Backpack Cooler is that the insulation takes up a lot of space which makes the storage area a little smaller. Some users also complained about the zipper having small teeth which get jammed with dust, dirt, and sand accumulation.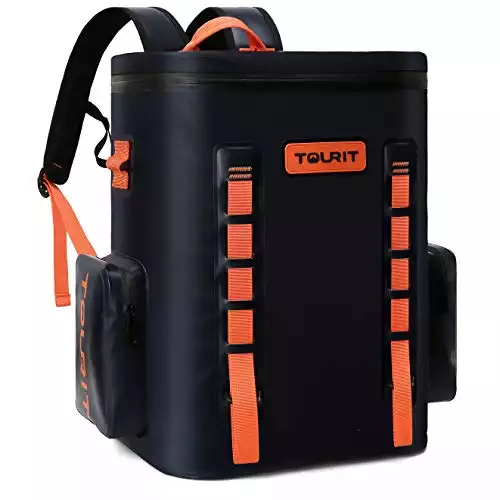 Pros
Durable weatherproof fabric

Lifetime warranty

Excellent insulation

Comfortable to carry
Cons
Insulation takes up a lot of space making the storage compartment smaller

Zipper gets jammed
Coleman Soft Backpack Cooler – Best Value for Money Backpack Cooler
Coleman is known for providing great products at reasonable prices and the Coleman Soft Backpack Cooler is a great example of that. If you go outdoors now and then, this is one of the best value-for-money backpack coolers you can buy today.
The Coleman Soft Backpack looks like a regular backpack with dimensions of 15 x 2 x 19 inches. It has a volume of 15 qt which can fit up to 28 cans with ice. It can retain ice for a good 12 hours and users have reported even more in some cases.
The outside of the backpack is made of strong and durable nylon and is capable of taking a good amount of stress before failing you. There is also a large zippered pocket on the outside where electronic items and important documents can be stored without getting wet.
The inner compartment is lined with an antimicrobial layer that protects against molds and mildew. The Coleman backpack is also leak-proof and FDA-approved. It features padded adjustable shoulder and waist straps for ease of carrying.
The drawback here is the size of the backpack so this is not something you can take for long hiking trips.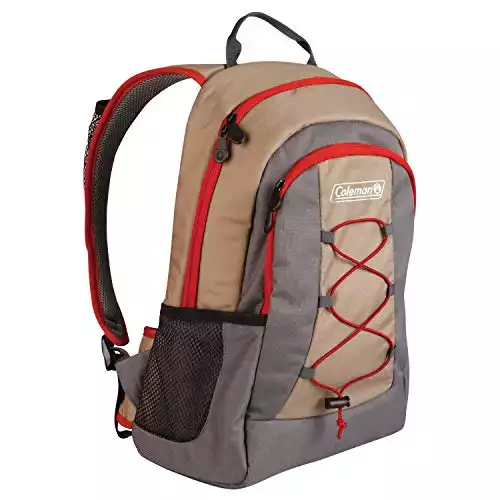 Pros
Value for money

Durable

Antimicrobial inner lining

Padded shoulder and waist straps for support
Cons
Small in size

Not great for long excursions
Otterbox Trooper – Best Overall Backpack Cooler
The last backpack in our review has the largest storage capacity. The Otterbox Trooper is a premium backpack cooler with a very distinctive design and features. It has a wide opening on the top making it easy to access. It also has a leak-proof seal to keep your items secure and cold with good insulation.
The outside of the Otterbox Trooper is made of TPU-coated nylon making it dustproof and waterproof, as well as puncture, tear, and UV resistant. It weighs around 7 pounds with dimensions of 21 x 17 x 11 inches and has a storage capacity of 30 qt.
The insulation in the Otterbox Trooper is remarkable. It is capable of storing ice for 2 -3 days in ambient temperatures. On the inside, it is lined with food-grade material to keep your food items safe.
It has 2 waterproof pockets to store electronic items and other important documents which can. It also has an accessory mountable system that allows you to mount necessary accessories like a bottle opener, which, by the way, is already provided.
The Otterbox Trooper has a padded shoulder strap along with waist support for a safe and injury-free carrying experience. That said, it does tend to get heavier which can be a bit of an inconvenience especially when carrying it for longer periods.
Best Overall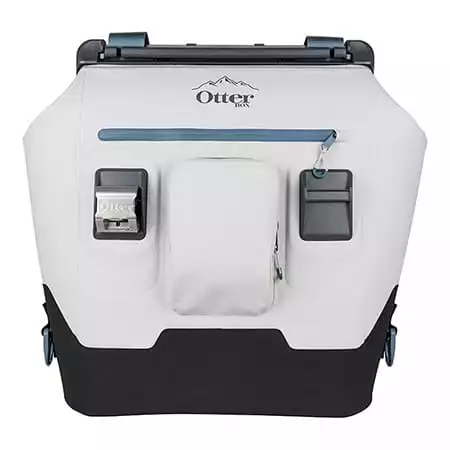 Pros
Outside is made up of TPU coated nylon for durability

Large storage capacity

2-3 days ice retention
Cons
What's a good multi-tool? That's not an easy question but we've covered all the important aspects to finding the best multi-tool for your outdoor needs !
Frequently Asked Questions
Question:

How do you pack a backpack cooler?
Answer: A backpack cooler can be packed in almost any manner. The most effective way to pack one according to my experience is to keep solid items at the bottom such as cheese, fish, chicken, meat, and other items.
You can then apply a layer of crushed ice and store drinks on top. Please remember to use up the perishable items first before going to the other items in case of a long haul.
Question:

How do cooler backpacks work and how are they different from the normal cooler?
Answer: Insulated backpack coolers keep the contents stored cool in two ways:
Some backpack coolers increase the space between the inner and outer layer to minimize heat transfer

Some backpack coolers have a foam core between the two layers to reduce heat exchange
The only difference between a backpack cooler and a regular cooler is that you can wear a backpack cooler as a backpack and don't need to lift or drag it along with you during hikes.
Question:

How long does ice last in a backpack cooler?
Answer: It completely depends on the backpack cooler. On average a backpack cooler can have ice retention of 16 to 30 hours. That said, the weather plays a vital role in the ice retention capacity of any cooler.
Question: Can a backpack cooler be used to store hot food?
Answer: Yes, a backpack cooler can be used to store hot food. The basic rule of a cooler is to retain the energy of the item stored inside it. Be it hot or cold, it works in both scenarios.
Ever wondered what foods you should and shouldn't take on your hiking trips? Take the guesswork out of the equation by checking out our guide on the best foods to take hiking !
Conclusion – Which Backpack Cooler Option Is the Best?
As we always say here, your needs, preferences, and budget will dictate your choice, and this applies to backpack coolers as well.
As someone who is frequently outdoors on hiking trips with different groups, I prefer the Otterbox Trooper . It gives me enough storage capacity and ice retention to store a lot of food and drink items that can last me over a day in hot weather.
Sure it tends to get heavier when the load capacity is at its maximum, but we carry around the backpack in turns so that solves the issue for me.
For casual hikers or outdoor enthusiasts who need a backpack that has the decent storage capacity to last them a few hours and is reasonably priced, the Coleman Soft Backpack is the best choice. You can't go wrong with a backpack that you need now and then but it does the job well.
At the end of the day, your choice will depend on your preferences and budget. I hope this review has helped you make your decision or at least helped you understand what to look for in a backpack cooler.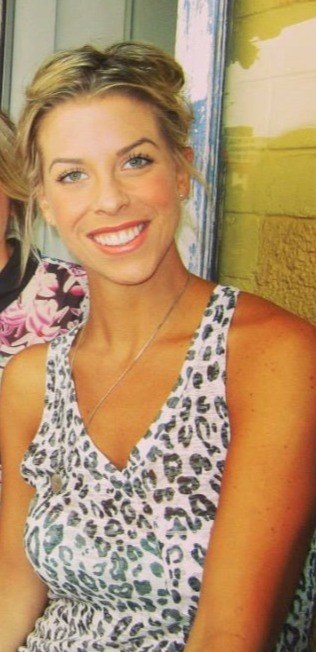 Jodie Chiffey loves the outdoors. If you aren't sure where to find her, check the nearest dirt trail. She loves being outdoors and spends a good deal of time reviewing products like clothing, footwear, and other outdoor gear.
Jodie is a full-time blogger who reviews a lot of the products for us. She writes many of our backpacking gear reviews, outdoor skills advice, and information, and helps visitors find the best destinations for backpacking, camping, hiking, and a lot more.
If Jodie's friends have a travel or outdoors question, they know who to ask and that's why we featured on our website. Now you can get the same great advice her friends enjoy, so you know where to go and what gear to take with you.