If you're often spending your time outdoors, you need efficient and reliable protection for your vulnerable electronics. This Otterbox Symmetry vs Defender comparison will help you decide, which of these top-class protective phone cases is better for you.
A smartphone should be a vital part of your outdoor equipment. Besides being a handy substitute for a traditional camera and wristwatch, in combination with quality digital maps and GPS, your cell phone can also serve as a useful tool for better orientation, not to mention the crucial aspect of emergency communication that should never be underestimated.
But to provide you with all these important services, your smartphone must be first of all safe and sound throughout your whole adventure, which is sometimes much easier said than done. A top-quality protective case for your smartphone is simply a must for any climber, hiker, camper, hunter, or trail runner.
But how to choose the one that's best for you when there are some many different Otterboxes out there? Today we'll discuss two products from one of the best-renowned and best-selling manufacturers on the market: Otterbox Symmetry vs Otterbox Defender.
We'll take a look at all the important details that make these products unique including their price, design, and ease of use, and help you choose the one that's going to serve you better.
Bottom Line Up Front Summary:
The main differences between Otterbox Symmetry vs Defender are:
Otterbox Symmetry is slim and smooth, whereas Defender is significantly more rugged and robust.
Otterbox Symmetry is slightly cheaper, whereas Defender is more expensive.
Otterbox Symmetry is more suitable for those who care about stylish design, whereas Defender is a heavy-duty choice with fewer design variations on offer.
Otterbox Symmetry is easier to install/uninstall, whereas Defender requires a bit more effort.
Otterbox Symmetry is a one-piece two-material case, whereas Defender is a multi-layered case made of several detachable parts.
Editor's Choice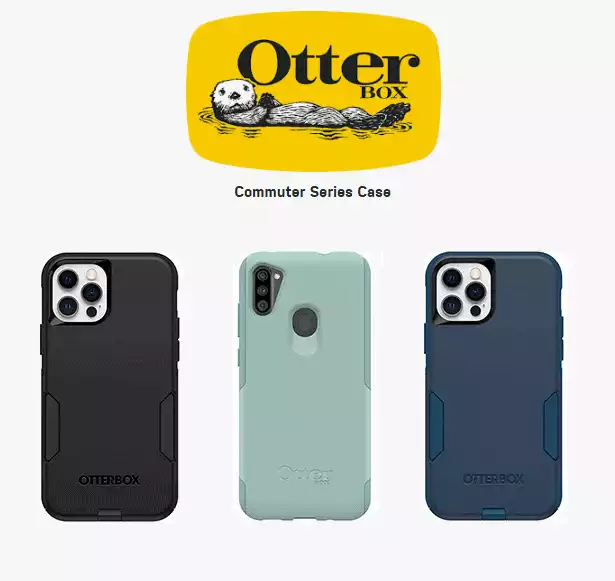 Why Go with Otterbox?
There's Otterbox...and then there's the knock-offs. In my testing, I haven't found a more durable, rugged outdoor case. That said, rugged might not be what you need. Break proof, splash proof, now with all kinds of styles (even minimalist ones). The Otterbox is unlikely to disappoint.
Check Otterbox Deals!
We earn a commission if you click this link and make a purchase at no additional cost to you.
Exploring Otterbox Symmetry and Defender features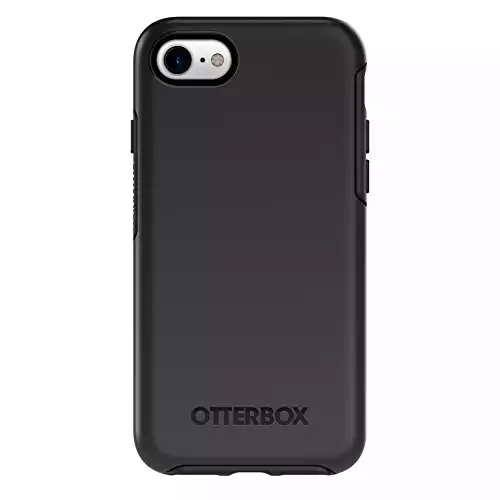 Symmetry Series Case | OtterBox
You don't have to choose between a protective case and a stylish one. Symmetry Series is the slim and protective case that shows off your style. All of your phone's buttons, features and functions work flawlessly. And, Symmetry Series is easy to remove and install. Opt for an awesome black or go with awesomely clear. Symmetry Series is the expressive case that's slimmer than ever, and as protective as always.
Check Price
Buy at Amazon.com
We earn a commission if you click this link and make a purchase at no additional cost to you.
Design
When you're looking for a protective case that should keep your smartphone safe in the great outdoors, its design definitely shouldn't be your main concern. Fortunately, you don't have to choose functionality over the looks anymore – Otterbox produces cases that work and look great at the same time.
So, will you prefer Symmetry or Defender? Many protective cases look very similar despite their different features and qualities, but Otterbox Symmetry and Defender can be distinguished at very first sight. While Symmetry is visibly slimmer, smoother, and more compact, Otterbox Defender is a heavy-duty case that sports a massively rugged design composed of a hard shell and synthetic rubber sleeve.
If you're after fancy designs and stylish color combinations, Otterbox Symmetry will satisfy your needs with more options to choose from including transparent (clear case), ombre, floral patterns, cute Disney characters, and luxuriously looking metallic edge finish.
Who said that you couldn't look stylish while in nature? Otterbox Defender is significantly less style-oriented, but that doesn't mean that it looks bad or boring. Besides the most popular black, grey, and dark blue designs, it also comes in nice girly colors and with realistic natural camouflage.
If you like to carry your smartphone around in your pants pocket, Symmetry will provide you with more comfort since it's thinner and its surface is almost completely smooth. For the detailed comparison, let's focus on protective cases for the new iPhone SE (2nd generation, 2020) for a moment: While Symmetry for iPhone SE 2 measures 5.74 x 2.98 x 0.47 inches and weighs 1.76 ounces, Otterbox Defender for iPhone SE 2 measures 5.91 x 3.12 x 0.57 inches and weighs 2.39 ounces.
As you see, Defender is significantly more robust, which might be a deal-breaker for some users who light to travel light.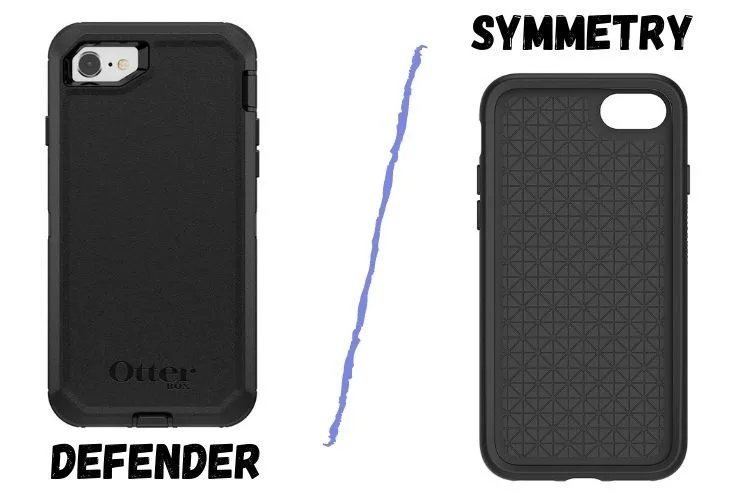 Texture
Otterbox Defender is composed of multiple layers for ultimate protection. This makes it feel somewhat huge and clumsy, and it can be a bit difficult to get it out of your tight pocket or small backpack compartment. But at the same time, its rubber-like finish provides for a nice grip that makes the Defender case hold firmly in your hand or on any possible surface.
Otterbox Defender also comes with an integrated belt clip which can be also used as a practical stand for watching media or video calling. Contrary to that, thinner and sleeker Otterbox Symmetry is relatively smooth and slippery (its sides are rubbery but the back is plastic). It makes manipulation with your phone a bit easier, but it can also be problematic in an outdoor environment – especially in combination with moisture.
Protection
Protective cases are, logically, expected mainly to protect your phone, so this is the most important feature to consider when you're making your decision. But is the most protective case always the best for you? The truth is that some of us invest in a heavy-duty case that they don't actually have any use for.
If this happens to you, you might end up being frustrated with some of its unavoidable weak points (bulky design, less convenient manipulation) without enjoying any of its real benefits. So, which of these protective cases should you end up buying?
First of all, all Otterbox cases undergo massive testing that includes UV exposure, extreme temperature, pocket wear simulation, skids, abrasion, drops, and many more procedures that simulate the hard life of an outdoor fanatic's smartphone. Both of the cases we compare today are therefore reliable and easily overshadow most of the common phone cases on the market.
However, when you're comparing Otterbox Symmetry vs Defender, the difference is quite obvious – yes, Defender is definitely the more durable and protective of these two cases. If you're expecting to drop your phone on a hard floor, smash it on the rocks in your pocket, and scratch it through the thick bushes during your hiking adventures, Defender is probably your best choice.
On the other hand, if you're always keeping your phone safe in your backpack and not pursuing any extreme activities, you should be perfectly fine with the lighter and more elegant Symmetry case, which is still much more protective and safe than most of the brandless cases out there.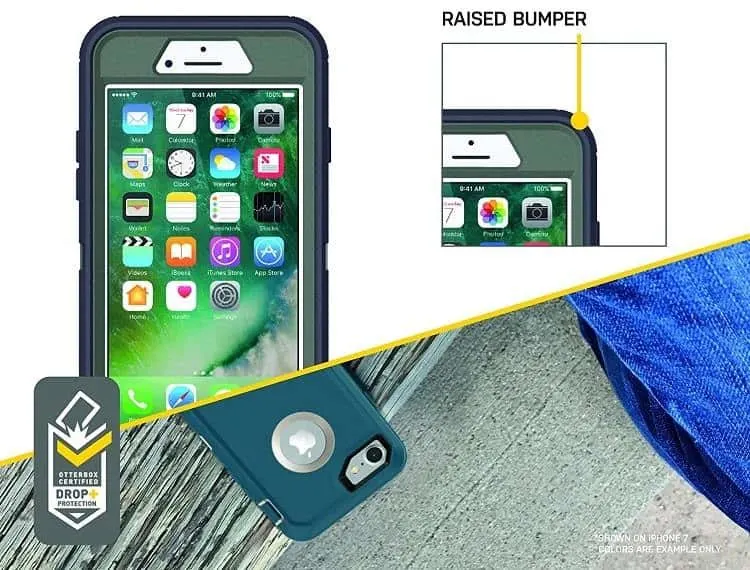 Functionality
While heavy-duty protective cases can literally save your smartphone's life (repeatedly), sometimes they slightly interfere with some of the phone's features or control elements, which makes its use a bit uncomfortable. In general, the bulkier your case is, the higher is the risk of some functional drawbacks.
In our comparison, Otterbox Defender is obviously the bulkier protective case – and it shows. Numerous customers report inconvenient access to the edges of their screens, which can be a huge problem when you're typing a text or an email. The phone's fingerprint sensor is also covered by a thin protective layer, and some users claim it makes its proper use very difficult (or almost impossible).
Otterbox also provides a compatible Defender screen protector, which sometimes has to be bought separately, but some customers claim it was so thick that it made their touch screens pretty much useless, so they had to peel it off. Otterbox Symmetry is lighter, slimmer, one-piece protective case that is perfectly suitable for everyday use.
In general, it doesn't affect manipulation with your phone, although some users claim their side buttons were somewhat hard to control through the case. Smooth plastic back also makes Symmetry perfectly suitable for use with your magnet-based car mount.
Smartphone compatibility
All Otterbox phone cases come in a wide range of versions that fit most of the contemporary smartphone models on our market. Just make sure that you'll pick the one that really fits your phone because their differences might be bigger than it seems. I like my Galaxy s21 Ultra 5g Symmetry series case personally. Here's a quick overview of some of the supported phone types:
iPhone SE 2, iPhone 11 (including Pro/Pro Max), iPhone 8 Plus, iPhone 7 Plus, etc.
Samsung Galaxy S20+, Samsung Galaxy S10 Ultra, Samsung Galaxy S10e, etc.
Google Pixel 4a, Google Pixel 4, Google Pixel 4 XL, Google Pixel 3a, etc.
iPad Pro, iPad 7th Gen., iPad Mini, iPad Air, etc.
Most of the Otterbox supported smartphones and tablets can use both Defender and Symmetry cases, but to stay on the safe side, check the availability of the desired version before you finalize your decision.
How to fit the Otterbox Symmetry and Defender onto your phone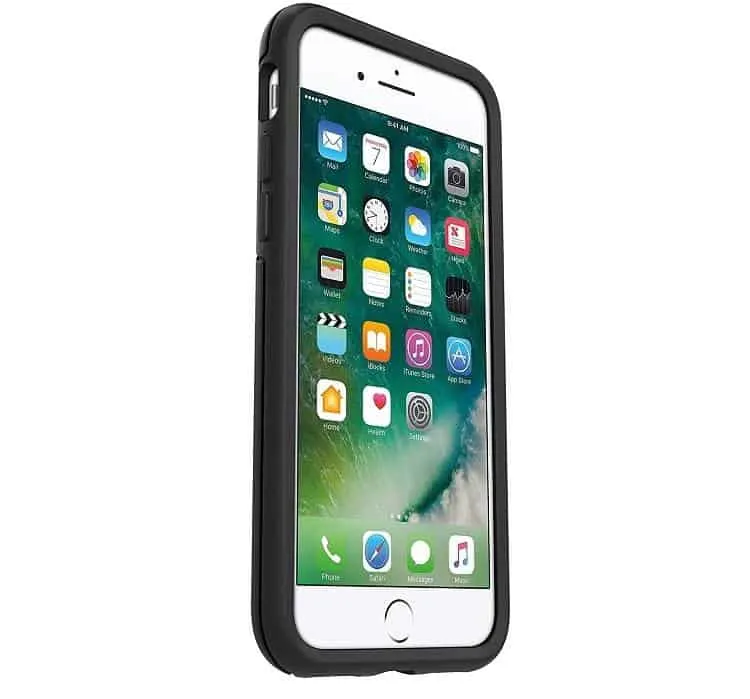 Both phone cases fit snugly onto your phone and don't need any adjusting or additional securing once they're in their place. However, their initial installation is quite different due to their different construction. Otterbox Defender consists of two parts or layers, and to fit it in place, you'll have to:
Detach the outer rubber sleeve and separate two parts of the hard shell
Insert your smartphone into the back section
Take the front frame and push both parts together
Replace rubber sleeve
If you're using a separate screen protector, make sure to assemble all parts in the correct order, so that none of them would obstruct the other during the installation.
With Otterbox Symmetry, installation is much more simple. This one-piece protective case just needs to be pushed onto the backside of your phone – of course, make sure you're not putting it upside down since the case has special openings for your camera and side buttons.
Great Pick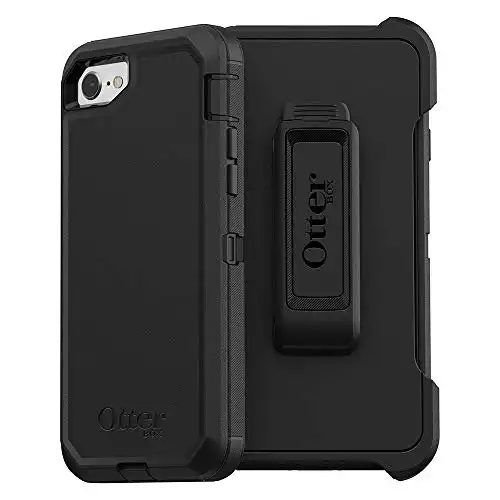 Defender Series Case | Otterbox
If you need a new cover for your phone when taking part in outdoor pursuits like hiking, climbing, hunting, and kayaking this is the perfect option for you! A great balance of durability and price.
Check Price
Buy at Amazon.com
We earn a commission if you click this link and make a purchase at no additional cost to you.
Comparing Otterbox Symmetry and Defender pricing
The difference in prices of these protective cases is not extreme, but if you're on a budget, Otterbox Symmetry can cut your expenses by approximately one third in comparison with the more robust and multilayered Otterbox Defender.
The exact price always depends on the make and size of your smartphone or the chosen design. Regular seasonal sales and discounts can sometimes help you get the products cheaper than usual.
But in general, both of these cases are very affordable and reasonably priced – especially if you consider the price range of the products they're supposed to protect (just imagine saving your iPhone 11 from fatal destruction with a $30-$50 protective case…)
Pros and Cons
Defender Pros
High level of protection
Includes integrated belt clip
Multilayered design for extra sturdiness
Good grip, non-slippery finish
Compatible with many devices
Defender Cons
Bulkier and harder to manipulate with
Can complicate the use of fingerprint sensor and other features
More expensive than the competition
Fewer designs to choose from
Takes more effort to install
Symmetry Pros
One-piece design is easy to install
The price is right
Compatible with many devices
Many designs to choose from
Symmetry Cons
Less effective protection
Not very good for heavy-duty outdoor use
Can be slippery
Otterbox Defender Series & Otterbox Symmetry Case Alternatives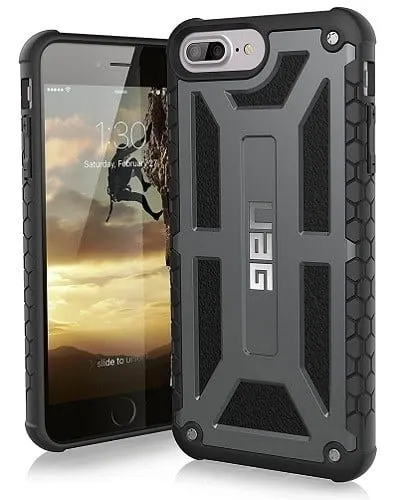 UAG Monarch is a lightweight yet very tough rugged case that would surely be loved by all outdoor enthusiasts. UAG stands for Urban Armor Gear, a manufacturer famous for its five-layered construction consisting of a shock-proof core, a plate of polycarbonate, top-grain leather, and metal frame wrapped in a sturdy rubber finish.
While this can imply that you're going to deal with a thick and bulky casing, in reality, this case adds only very little thickness to your smartphone.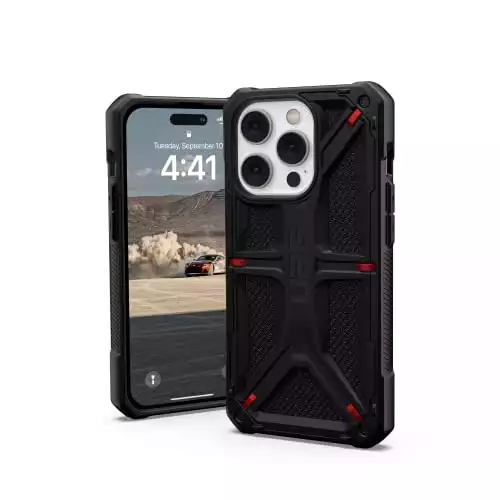 URBAN ARMOR GEAR UAG Designed for iPhone 14 Pro | Amazon
UAG Monarch Series is built with quality materials consisting of 5 protective layers. Starting with UAG's signature armor frame and shock-resistant core, layered with top-grain leather, a polycarbonate shear plate, and alloy metal hardware-all wrapped in impact-resistant rubber. Monarch cases feature upgraded side grips with honeycomb traction designed to provide a firmer grip, as well as oversized tactile buttons for precise use.
Buy at Amazon
We earn a commission if you click this link and make a purchase at no additional cost to you.
05/26/2023 09:14 am GMT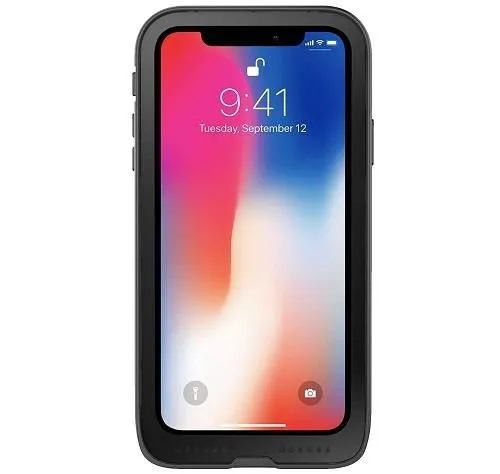 If you're spending your time outdoors mainly kayaking or pursuing some other activities that involve direct contact with water, you might prefer getting yourself a top-quality waterproof phone case. Pelican Marine is a range of IP68 waterproof phone cases that offer full protection for a 30-minute long continuous submersion up to 2-meters underwater.
Aside from keeping your phone safe from the water, it will also protect it from dirt, dust, snow, drop, and scratches. It also boasts very well balanced sound ports for perfect audio quality.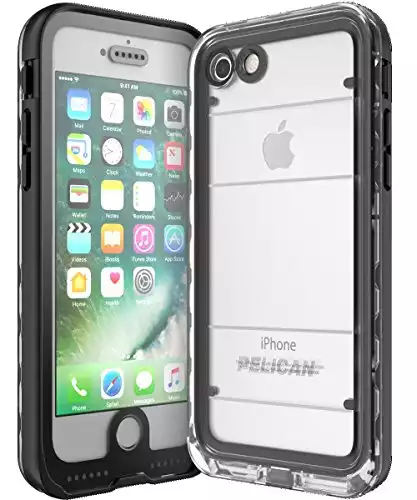 Pelican Marine Waterproof iPhone 7 Case | Amazon
The Pelican marine case shields your smartphone from the elements: water, snow, dirt, and dust. Their slim five layer Shell protects your smartphone and its screen from scratches, impacts and drops. Pelican products, the leader in mission-critical equipment protection, has been trusted by professionals for over 35 years.
Buy iPhone7 case at Amazon.com
Buy directly at Pelican.com
We earn a commission if you click this link and make a purchase at no additional cost to you.
02/14/2023 10:34 am GMT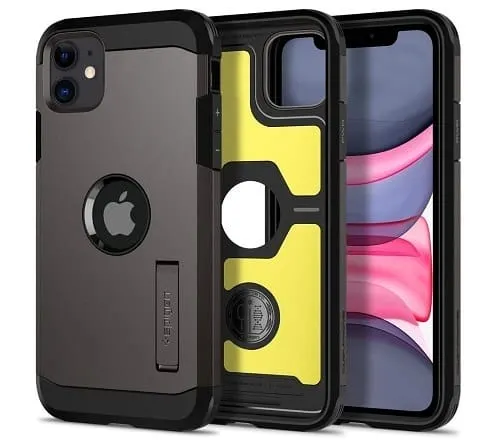 If you're looking for a cheaper, less bulky yet still very reliable alternative for Otterbox Defender, Spigen Tough Armor is ticking all the boxes.
This robust heavy-duty protective case is perfect for all your outdoor adventures and allows you to use your phone as a full-fledged part of your equipment without hesitation. For extra fall protection, this innovative case uses an air cushion system that absorbs most of the shock. For improved functionality, this case also sports tactile buttons.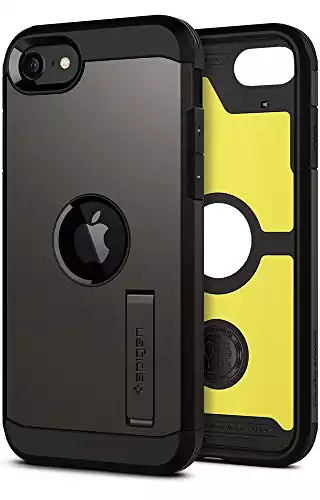 Spigen Tough Armor | Amazon
All-new foam technology for an extra layer of shock resistance. Combination of TPU and Polycarbonate for dual protection from drops and scratches.
Buy at Amazon.com
We earn a commission if you click this link and make a purchase at no additional cost to you.
02/14/2023 10:34 am GMT
FAQs
Question: Does Otterbox Defender series protect the screen?
Answer: Otterbox Defender can be bought separately or in a set with a screen protector. But even the protector-free version is offering your screen an increased protection thanks to its raised bumpers.
Question: Does Otterbox Symmetry protect the camera?
Answer: Yes! A slightly raised bumper around the lens of your smartphone's camera protects this vulnerable area from the damage in case of a sudden drop or hit.
Question: Is Otterbox Symmetry/Otterbox Defender compatible with wireless charging?
Answer: Of course. Although these rugged phone cases might look a bit clumsy, their thoughtful details allow unobstructed use of all delicate features of your smartphone, including all I/O points of access.
Question: Which Otterbox is the strongest?
Answer: Otterbox is currently one of the best selling brands of heavy-duty cases on the market. Each of their cases is meticulously tested and should help your smartphone endure high drops, hard hits, and scratches of all sorts. However, if you're looking for the case with the hardest construction and most protective features, we advise you to go with Otterbox Defender Pro – an upgraded version of Defender that comes with even more texture and protection.
Our Verdict: Otterbox Symmetry vs Defender Series – Which is better?
If you're looking for a protective phone case that can keep up with all your outdoor expeditions, you should always opt for robustness to sleekness, sturdiness to stylishness, and durability to the convenience of easy use. That is why we're picking the Otterbox Defender as the winner of this comparison.
Great Pick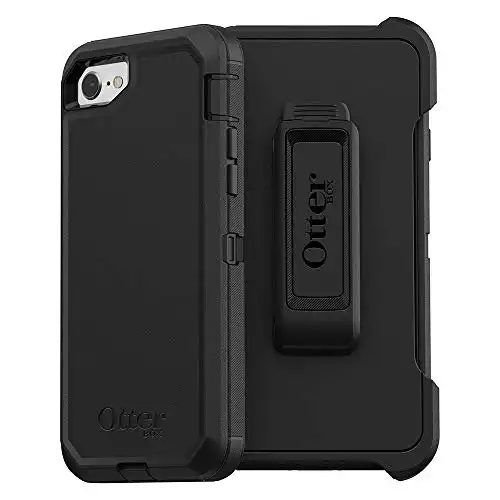 Defender Series Case | Otterbox
If you need a new cover for your phone when taking part in outdoor pursuits like hiking, climbing, hunting, and kayaking this is the perfect option for you! A great balance of durability and price.
Check Price
Buy at Amazon.com
We earn a commission if you click this link and make a purchase at no additional cost to you.
The Defender is a fully protective case that keeps your precious smartphone safe in all the different situations that you might come across in the great outdoors.
Although its bulkiness can make storing or recovering from your pocket and backpack slightly more difficult, being sure that your main communication or orientation tool is always safe and ready to use is definitely worth some minor inconveniences.
That being said, the Otterbox Symmetry still has a lot to offer including better price, more designs to choose from and easier installation. It's just more suitable for your everyday life and can expose its limits when confronted by some of the more extreme outdoor conditions.
We hope that this comparison helps you find the phone case that meets all your expectations and, most importantly, provides your phone with the protection it deserves.
Must Try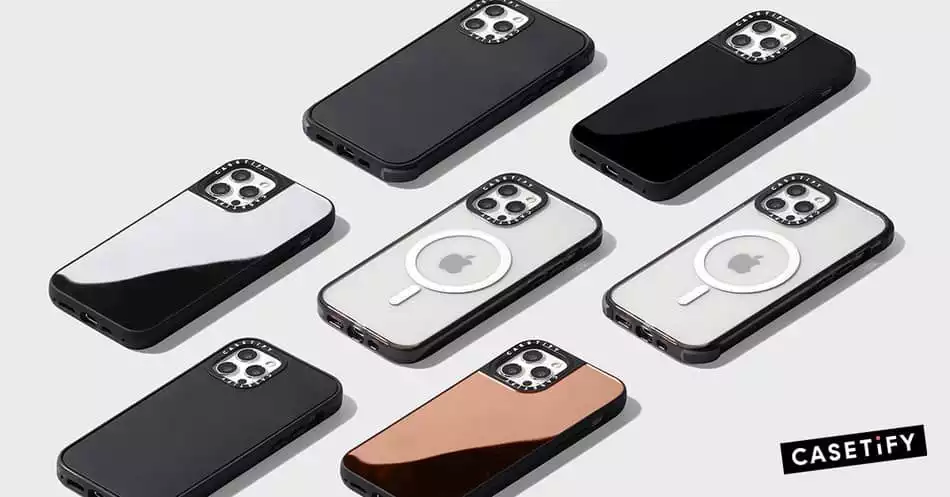 MagSafe Compatible Impact Cases | Casetify
One of the new features of the iPhone 12 Pro Max is MagSafe. These cases will allow you to freely utilize the MagSafe functionality plus they are customizable. The supported technology extends to a family of beloved CASETiFY products, including the best-selling Impact Case.
Check Price
We earn a commission if you click this link and make a purchase at no additional cost to you.
Still undecided? Take our phone case quiz!
Other Otterbox Series Compared
Otterbox Case Series Compared to External Case Brands
Further Reading on Outdoor Tech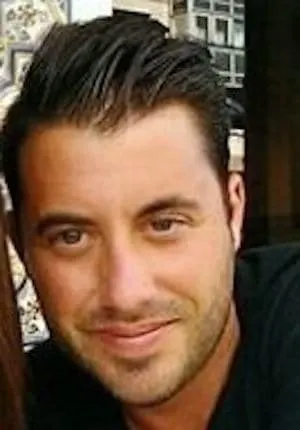 David is a strong advocate of outdoor-related activities and has many years of experience backpacking and hiking around the world, including the Italian and Austrian Alps in Europe as well as central and southern Asia.
Locally, he has also led many groups cycling through Vermont, Nova Scotia, and Wisconsin. David constantly uses and tests the latest gear for the outdoors, which in turn allows him to help others make more informed buying decisions. He's excited to share more of his knowledge and to see others enjoying the great outdoors more because of his advice and recommendations.