For many, the outdoors offer escape from the daily grind: our jobs, our email accounts, our many social media accounts. In this day and age, for better or worse, leaving at home all our gadgets that come along with our interconnected lives isn't always an option.
Sometimes in backcountry or out on the trail, most of us would be in more trouble than we'd like to admit if forced to get by without any modern technology.
So along these electronics come, into our backpacks and onto our camping trips. To satiate these devices' need for frequent charging, many have turned to the clean, constant power emitted by the sun.
Portable solar panels, as an industry, have made impressive strides in a relatively short lifespan. Today, several low-cost options exist that use a small surface area to capture a surprising amount of power. Once powered, many rival the charging speed of your wall outlet.
Qualities of a good solar charger
Before discussing specific items on the market, it's important to talk briefly about what qualities we should look for in a solar charger.
Portability: Size matters. So does every extra ounce of weight when you're backpacking. More surface area doesn't always mean more power, and the solar panels that can generate more with less will be inherently more valuable. A flexible option to consider are foldable solar panel systems, allowing you to leverage more surface area (when you need it), with an ergonomic "packable" design.
Charging power: If you're in a precarious situation and you need your device powered right away, you don't want to be stuck with a charger that's going to take half a day in the sun to do any good. The maximum power output of the charger (often measured in Watts) is arguably its most important characteristic.
Affordability: Plenty of excellent products are available for under $150. While investing in quality is always a good idea—especially for something to be relied on in emergencies—it shouldn't cost you a fortune in this case.
Value: It should be noted that even when price is removed from the equation, there is a compromise needed between these factors. The most powerful charger won't be the most portable, and a compact, supercharging device certainly won't be the most frugal.
Utility: Like most other outdoor purchases, you want a firm idea of what this will be used for prior to purchasing. Do you typically stick to car camping? If so, portability probably shouldn't be a big factor for you. Do you backpack with no other device than your smartphone? Then you probably don't need the most powerful chargers capable of powering e-readers and tablets.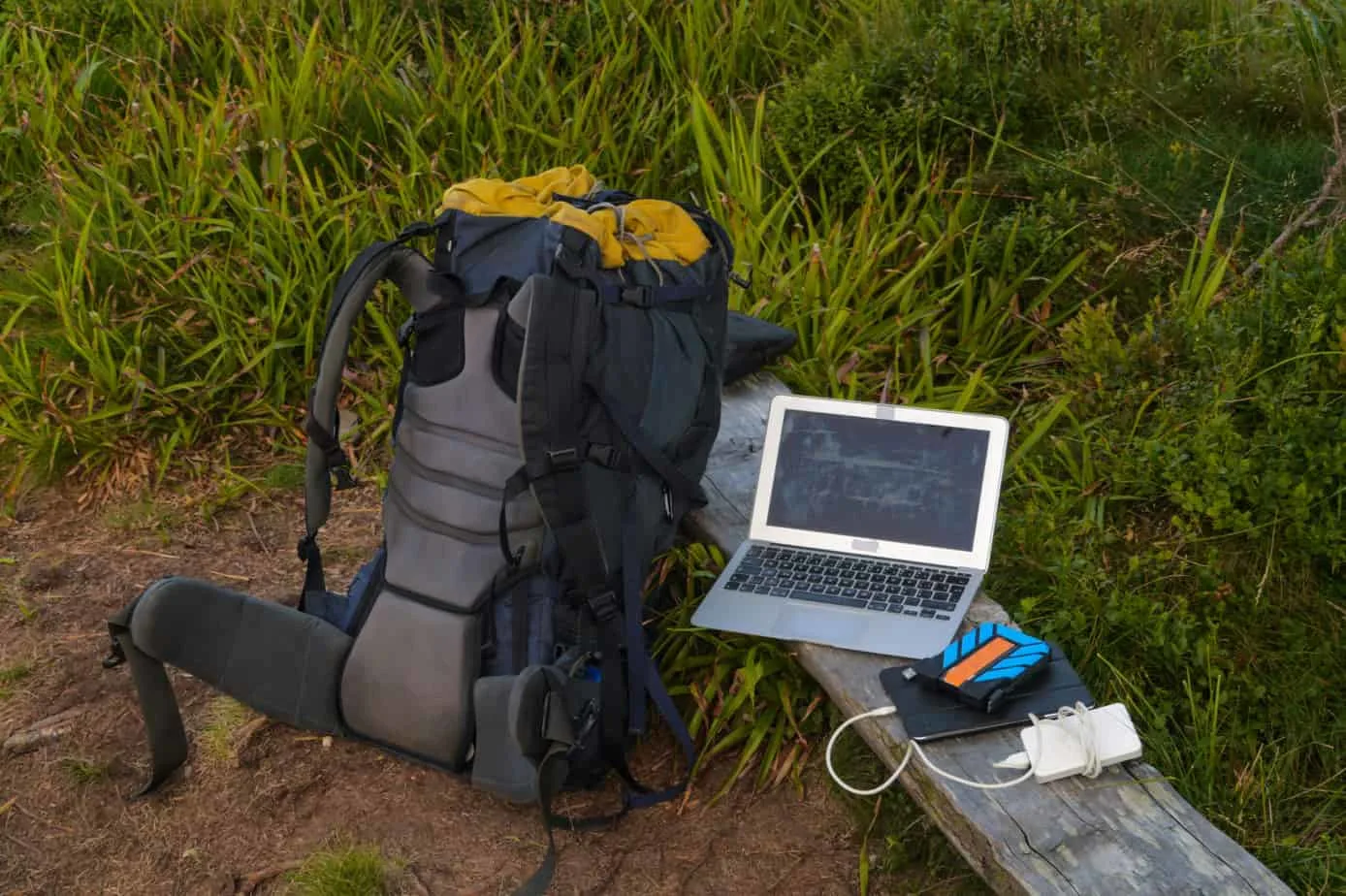 In light of this, here are, in our opinion, the three best portable solar chargers for camping on today's market.
The Best Solar Chargers for Camping
In more ways than one, the JOOS Orange set the standard for on-the-go solar power chargers. While it's by no means the smallest or lightest device on the market, its technical prowess is the envy of its rivals. Its ability to both direct charge devices and store energy for later use gives it a distinct advantage over other options too.
Size
At 24 ounces, it's lightweight enough to not be a burden on backpacking trips. It measures approximately 8.5" x 6" x 0.75".
Design
Shaped like a small cutting board, it doesn't expand for use or fold down for storage. It includes a security cable hole so you can lock it and leave it. Adjustable legs on its underside allow it to be positioned toward the sun.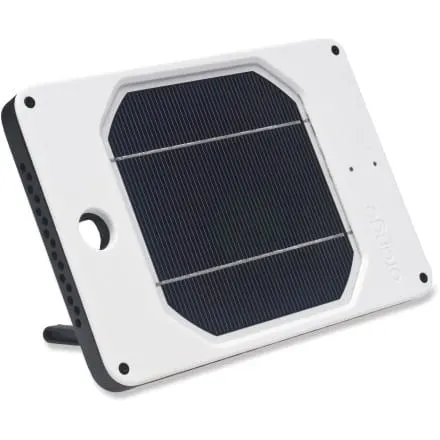 Durability
It doesn't come with a case, but for all intents and purposes, it doesn't need one.
One of Orange's most notable strengths is its toughness. Waterproof with a tough polycarbonate casing, the charger operates in temperatures as low as -4 Fahrenheit and as high as 140 F. No degree of altitude or humidity affects it.
Charging Power
Its charging power is fine for small devices: it has an output of about 6.2 watts, enough to charge a smartphone in about an hour. While smaller can be more convenient, it's important to keep in mind that a smaller surface area will generate less solar charge (might take longer to charge your devices).
Its built-in battery provides a distinct advantage over many competitors too. The importance of being able to store solar energy when you truly need it cannot be overstated. In other words, when things go south, you don't want to be hoping for good weather. Better to have the charge already built up by yesterday's sun.
Value
Retailed at around $149, it's not the thriftiest choice, but its website makes bold claims about its value. It claims to charge at least three and a half times faster than any equally priced competitor, for instance, and that it's simply "the best solar charger under the sun."
No aspect of the charger is perfect: it could be lighter, it could be more compact, and it could certainly have more charging power. Taken together though, it's hard to argue against the claim that this is an exceptionally well-balanced solar charger suitable for almost any mobile need.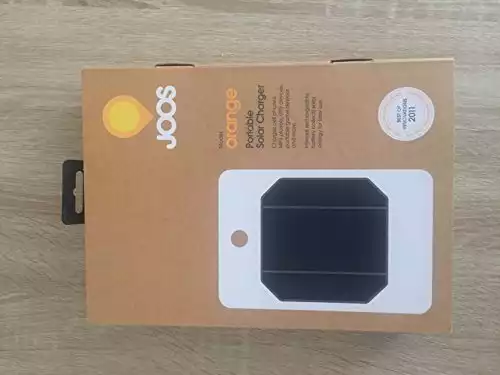 Solar Joos Orange Portable Solar Charger | REI
This gives you power anywhere without the compromises of other portable solar chargers. It's tough: Super durable and waterproof, it reliably delivers power where and when you need it. The JOOS Orange works in real-world light conditions (low light, in the shade and even light rain) it works fast:
Check Price
Buy at Amazon.com
We earn a commission if you click this link and make a purchase at no additional cost to you.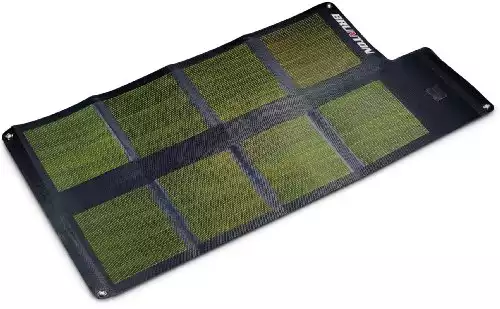 Brunton Solaris Foldable Solar Power Array | REI
Utilizes the most efficient flexible, thin-film solar technology and compact two-panel design for maximum performance and portability. Ideal for variable conditions, especially low-light wooded and cloudy coastal situations, this is the solar panel of choice for researchers in the arctic, expeditions to the Himalaya, and photo journalists working in the undeveloped world.
Check Price
Buy at Amazon.com
We earn a commission if you click this link and make a purchase at no additional cost to you.
Comparing the Solaris with the JOOS Orange provides for a stark contrast. While the Orange gives modest, reliable charging power for small devices no matter the situation, the direct-charging Solaris, for considerably more moolah, gives you nearly five times the charging power.
Design
The Solaris comes in the often seen blanket-style solar panel setup, folding up to a pleasingly compact 8.5" x 11" x 2" package (21.5" by 37.5" when unfolded). While it's not as wear-and-tear as the JOOS Orange, its size makes it a fine choice for short-distance or car camping.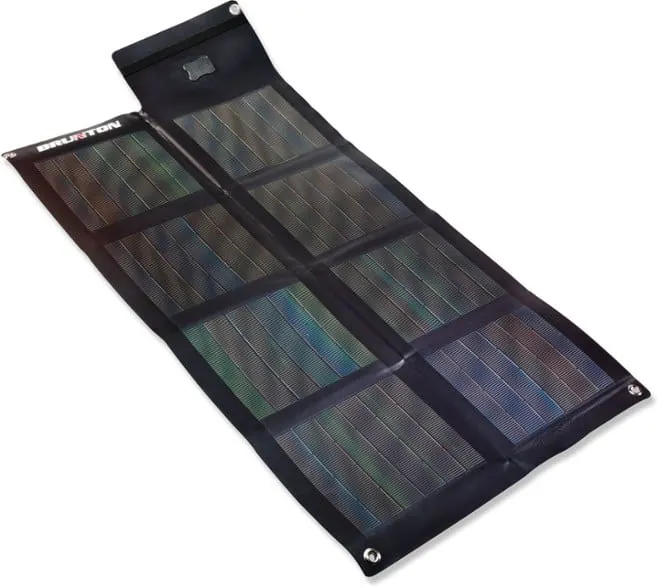 Charging Power
Here's where the Solaris really distinguishes itself from the pack. Compared to the 6.2 Watt output of the JOOS Orange (which, as a reminder, is very good for compact panels), the Solaris has a maximum output of 26 Watts.
In practical terms, this means you can bring a lot of heftier devices to life with this thing. DSLR camera batteries and tablets would be easily managed, although laptops would likely take the majority of a day to charge. The Solaris 26 makers claim smartphones can expect to be fully charged in under an hour.
It's also important to keep in mind that this is a direct-charge panel, meaning it doesn't have a battery pack like the JOOS does to store power for later use. This means you'll need to either buy an external battery to bring with it or hope for sunny weather.
Value
Around $550 retail (or around $350 on Amazon). The extra price may be worth the boost in power for many though. If you have a laptop, a high-powered camera or another device that sucks more juice than a smartphone, this might be the wattage you'll require if you're set on using solar. A JOOS Orange simply won't cut it, unless you've got a full day to spare.
Last but not least is the Anker 14W, a compact, no-frills direct charger with a considerable surface area, low cost and high power output.
As with the Solaris 26, the big disclaimer here is that while it's a third of the price of the JOOS Orange, it's a direct-charge panel, meaning that there's no battery that stores up the charge. You can only charge your devices while this is out in the sun (unless you bring a battery pack). So be wary, if you need to power a device at night or on a rainy day, you'll be in trouble.
Design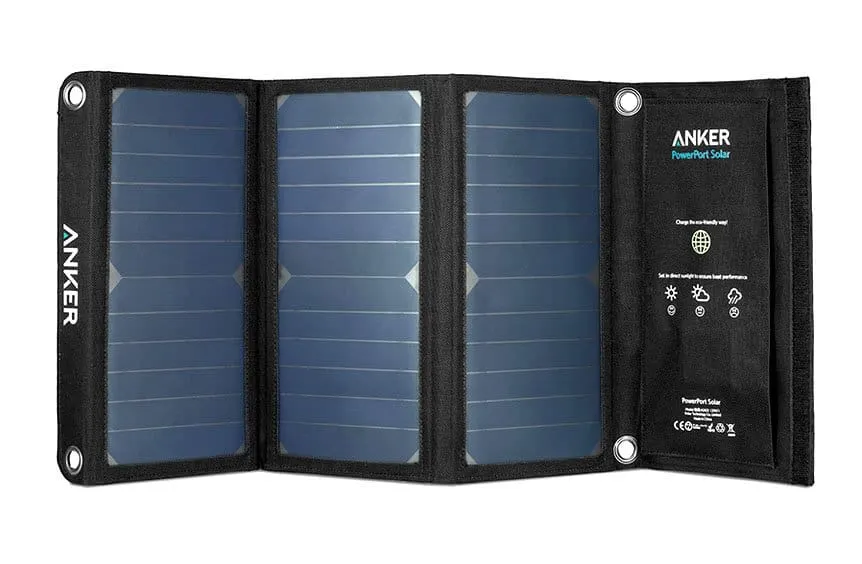 Another blanket charger, the Anker's polyester canvas adds a degree of durability sufficient for backpacking, but not the reckless disregard the JOOS affords. It's fairly compact (11" x 6.9" folded) and weighs 1.8 pounds.
Metal-rimmed eyeholes on each of its four corners allow for easy mounting. It's equipped with two USB ports, letting you charge multiple devices at once. With a 14W output, that's actually a realistic endeavor.
Charging Power
As mentioned above, the Anker has a robust charging speed (14W), which will make charging smartphones an easy task. Tablets and similarly powered devices won't be insurmountable either, although it would likely take several hours to get a full charge.
The lack of an internal battery means that you'll need to shell out money for an external battery source or be at the mercy of Mother Nature. If you're in a far-flung area and need to power a device in an emergency, praying for good weather isn't the safest practice.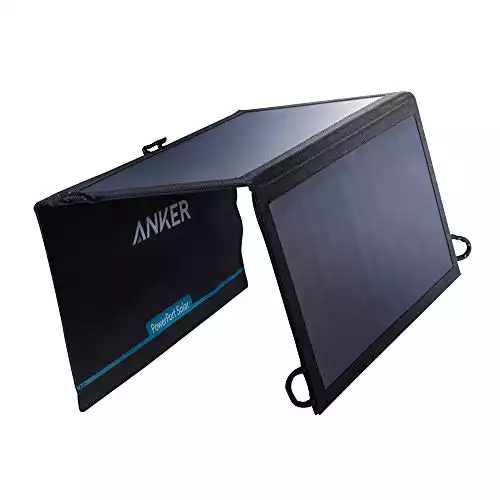 Anker 15W Dual USB Solar Charger | Amazon
When you're out enjoying the great outdoors, enjoy yet another perk: free limitless power. Simply spread out the solar panels or attach to your pack to start repowering your gadgets.
Buy at Amazon.com
We earn a commission if you click this link and make a purchase at no additional cost to you.
Value
At around $49, this is an investment most outdoor enthusiasts can make without much burden. Although it shouldn't be relied upon too heavily without an accompanying battery pack (unless you'll be using it somewhere with an overwhelming amount of direct sunlight), it would be a good companion on most camping trips.
Some Final Tips on the Ideal Solar Charging System
While all of the above devices are a good start in general, it's still important to take your personal usage needs into consideration.
The most important consideration is likely to get smart on your personal electronics power demands. For example, a GPS with rechargeable battery might have a capacity of 2000-2400 mAh, while a smartphone might range from 1200-2100 mAh.
Further read: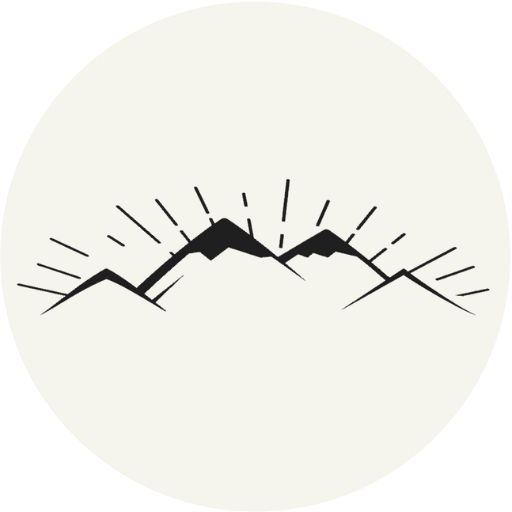 The All-Outdoors Guide team is comprised of enthusiastic experts that enjoy helping others that aspire to be better at outdoor fun. Part of that is making sure you have the right gear and information when it's time to go out and have fun. Some of our team have accomplished amazing feats like climbing 6000 feet to the top of mountains, others have explored every dirt trail they could find and we even have some people that have backpacked solo on various continents. No matter what our readers want to learn and do, our team is here to help them accomplish those goals.