Oh, the great outdoors. At least, they're pretty great when you have the right gear. Without the proper equipment and research an outdoor adventure, whether a short trip or a long haul, can become dangerous or, at the very minimum, uncomfortable. And when one is uncomfortable, one can make mistakes and that's never good.
Take gloves, for example, and how much protection and grip they can add to your growing list of outdoor equipment. Proper insulation, too, can make all the difference; It can get cold outside, and hands are usually the first to feel the effects from such harsh conditions.
There are many kinds of gloves by many different manufacturers but choosing the right pair depends entirely on your needs, destination, and preferences. It may seem like a tall order choosing from the wide selection the world of outdoor adventure has to offer but we're here to help with this 2018 guide to buying and choosing the best hiking gloves for you.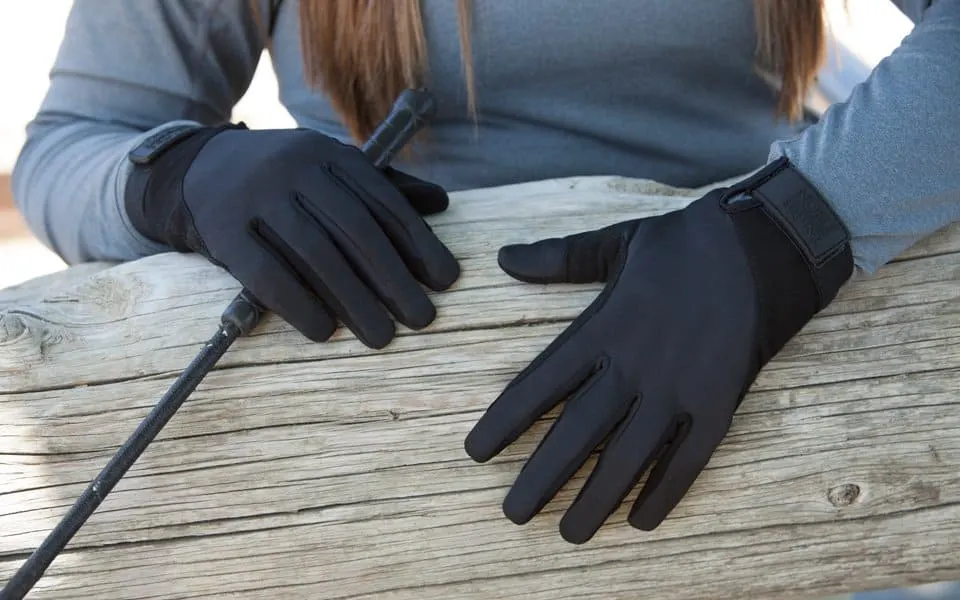 Three-season Gloves
One of the first things people should consider when on the hunt for a proper pair of hiking gloves is whether or not it's going to get cold.
We're not talking a crisp morning chill or late night freeze but rather a full-on winter landscape, complete with snow and howling winds to boot. Conditions like that need the strongest, most durable gloves available but most hikers tend to shoot for nicer weather. That's where these three-season gloves come into the picture.
Dividing gloves into 3 season and 4 season may seem simple enough for the average Joe but the options certainly don't end there and may leave the consumer feeling a little overwhelmed. From within the 3-season category we've divided the options even more to make choosing the right purchase even easier.
Fleece
Fleece is a great material for the average hiker who isn't expecting rain but, even if the forecast is wrong and the sky starts to leak, it tends to dry pretty quickly. Fleece is also lightweight, breathable, and comfortable.
Read More: The Top 3 Best Touchscreen Gloves: Stay Connected and Warm!
Black Diamond Midweight screentap gloves
Black Diamond, a company that pops up frequently on our list, is a well-known and reputable brand that makes durable and reliable gear. Perhaps one of their best designs includes the Midweight Screen Tap Fleece Gloves.
These gloves are fitted with a thick fleece providing warmth but also allowing touch screen versatility, all while keeping hands away from howling winds and bitter temperatures. The shell is designed using a Polartec Power stretch fleece while the palm offers patches of real goat leather for a strong grip on anything from trekking poles to phones.
Features
Fabric treated with DWR for long-lasting use.
Touch Screen capability with UV-powered technology.
Strong goat leather palms.
Pros
Touch screen capable.
Well-fitting.
Comfortable.
Cons
Seams can blow out.
Can get drafty.
Grips could be better.
Non-waterproof.
Tech Specs
The North Face Denali Etip Gloves
The North Face is another well-known brand and for good reason. Their Denali Etip Fleece gloves offer a sleek design while keeping hands and fingers warm but still offering plenty of freedom of movement.
These gloves offer warmth and stretchy fleece for maximum comfort while adding the benefit of 5 finger touch screen capability using conductive technology. Perfect for hikers who are tech-savvy, rely on their phones for navigation or photography, or maybe just that pesky friend who can't stop texting.
Features
Superior Grip with Synthetic gripper palm.
Knuckles and fingers reinforced with Nylon Taslan.
5 finger touch screen compatibility
Pros
Stylish.
Warm.
Good grip.
Dries quickly.
Cons
Bulky.
Non-waterproof.
Wears quickly.
Tech Specs
Waterproof
Rain can be the deciding factor when weeding out the hobbyists vs. the adventure seekers. A hiker who simply enjoys the outdoors every once in a while might look at the forecast, see rain, and not even attempt a hike. An adventurer, on the other hand, doesn't care.
They look at the situation and only see more fun, another challenge to conquer. For this special breed, fleece just won't cut it. They need waterproof gear. Nobody wants soaked, pruned hands on the trail, not even the most hardcore of hikers.
SealSkinz Dragon Eye Gloves
Sealskinz has a lot of products, most of which are completely waterproof, including their gloves. Their Dragon Eye glove design features a sleek yet firm outer layer that remains breathable despite its waterproof ability. Velcro straps around the wrists offer security and comfort.
These gloves are honestly great on and off the trail, serving as a nice pair of street gloves or even some quick insulation when shoveling the driveway. They fit firm but are great after taking the time to break them in.
Features
Touch screen compatible index fingers.
Waterproof, windproof, and breathable.
Waterproof inserts.
Anti-slip-liners.
Pros
Waterproof.
Velcro straps.
Durable.
Breathable.
Cons
Frays around the wrist area.
Poor sizing options.
Tech Specs
Outdoor Research Revel Shell Mitts
Next on our list comes a great gear choice from Outdoor Research, a company that knows what they're doing when it comes to outdoor adventures. The Revel Shell gloves are a mitt style so even though you won't have much space to move your fingers, these will keep them warm, dry, and comfortable.
The Revel Shell design uses a pre-curved construction to conform to the natural curvature of your hands while the palm is crafted using Synthetic Alpine Grip for increased durability. They are also ultralight and compressible, meaning even ultralight backpackers may take a second look at these well-crafted mitts.
Features
Waterproof yet breathable.
Palms made with synthetic Alpine grip.
Lightweight.
Fully Seam-taped.
Removable Leash.
Pros
Waterproof.
Good grip.
Good insulation
Cons
Shells can separate from wrist-strap.
Holes can develop around seams
Bulky
Tech and Specs
Mountain Hardwear Plasmic Gore-tex
Mountain Hardwear didn't spare any expense with their line of Plasmic Gore-tex gloves. Offering a waterproof design that isn't too large or bulky, along with a sleek and roomy build, this line of gloves may be just what a skier or hiker is looking for, especially if they love using their phones on the trail; Sensor technology allows for touch screen compatibility.
Working much like a lightweight shell jacket, these gloves keep hands warm and insulated with a Gore-tex insert that is both waterproof and windproof, all without sacrificing strength or durability.
Features
Waterproof, windproof, and breathable.
Gore-tex design allows ultimate weather protection.
Tricot Lining adds warmth and slows moisture build-up.
Non-slip synthetic palm designed with Stimulus technology for touch screen compatibility.
Pros
Waterproof.
Good grip.
Tricot lining.
Cons
Not as warm as other gloves in this category.
Poor sizing options.
Sensor technology can go out quickly.
Tech and Specs
Weight- 3.1oz.
Tactical
Tactical gloves take it to a whole new level. Think Rambo but milder and more restrained. Real outdoor enthusiasts may love fleece gloves when the time calls but ultimately, and rightfully so, they just love the special modifications and details put into the design of these gloves. Below are our tactical glove recommendations.
Outdoor Research Ironsight Sensor Gloves
Outdoor Research makes another appearance as we showcase their Ironsight Sensor gloves, a tactical design that features a quick-drying and breathable material with dexterous leather for a solid grip on anything, including poles, tent stakes, or even a campfire beer.
The palms and fingers are designed with slip-free grip pads and seamless Precision Grip construction, all of which combine to provide superior performance. For extreme outdoor enthusiasts or even just the dedicated beginner, these tactical-style gloves offer amazing performance at a wallet-friendly price.
Features
Lightweight.
Breathable.
Slim-fitting and Tactile.
Carabiner Loop.
Movement-mirroring stretch.
Pros
Stylish.
Touch screen compatibility.
Good grip.
Cons
Can get uncomfortable.
Seam placement could be better.
Fingers can be too tight.
Tech and Specs
Weight- 2.3oz.
Tactical Gear Hellfox Gloves
Second on our tactical glove list is the sleek and comfortable Hellfox Glove series, complete with molded hard knuckles for increased strength and protection. Also, with polyurethane palm and fingers, gaining one's grip has never been easier.
Hellfox Gloves mix soft and hard materials for a combination that is truly unique. Hard enough to protect vital areas of the hands and fingers but dexterous enough to provide ample comfort and space for optimum movement.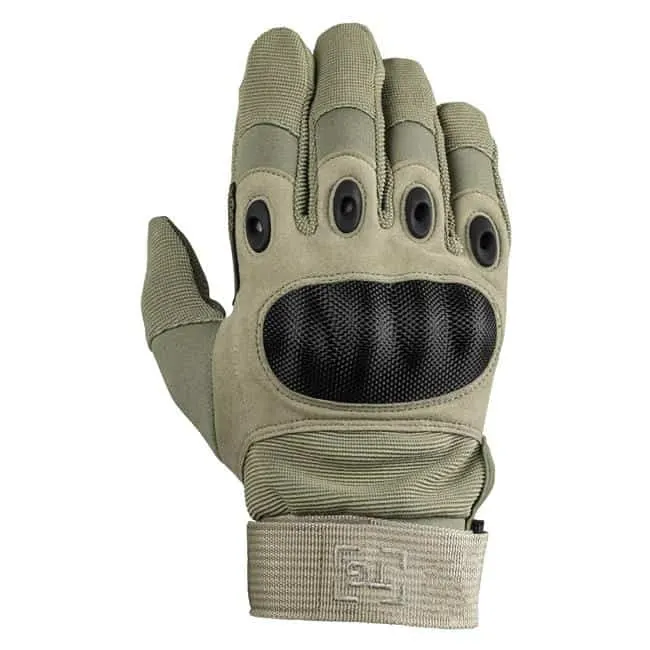 Features
Polyurethane palm and fingers.
Reinforced knuckles.
Adjustable wrist-strap.
Increased flexibility with specifically placed Neoprene.
Pros
Good grip.
Comfortable.
Strong and durable.
Cons
Knuckle-guard could be placed better.
Can be tight for large hands.
Wrist-strap can break easily.
Tech and Specs
Mechanix Wear M-Pact
Perhaps the most tactical and reinforced pair of gloves on our list is the M-Pact by Mechanix Wear. With both impact protection and impact resistance, not to mention quality EVA foam padding, the M-Pact glove series may be the perfect fit for the outdoor junkie who goes to the extreme.
The M-Pact has a lot more going for it than just some of the finest reinforcement technology around. It also keeps the possibility of pinching and crushing in mind, offering Thermoplastic Rubber knuckle guards and full-length finger protection from such disasters. These gloves are bound to get dirty, as they're designed to conquer even the toughest of terrain, but no worries; They are machine washable.
Features
Secure wrist-fitting with Thermoplastic Rubber.
Form-fitting TrekDry construction keeps hands cool and comfortable.
Synthetic leather palm for increased performance.
Dissipates high-impact energy with D30 palm padding.
Machine Washable.
Pros
Good grip.
Comfortable.
Good ease of finger movement.
Cons
Expensive.
Rubber knuckles can wear down quickly.
Seams can come apart after prolonged use.
Tech and Specs
Side By Side Comparison
| | | | | | |
| --- | --- | --- | --- | --- | --- |
| Brand | Model | Weight | Waterproof | Touch screen capable | Intended use |
| Black Diamond | Midweight Screentap | 2.8oz | No | Yes | 3-season |
| North Face | Denali Etip | 2.5oz | No | Yes | 3-season |
| Sealskinz | Dragon Eye | 4.3oz | Yes | Yes | 3-season |
| Outdoor Research | Revel Shell | 3.5oz | Yes | No | 3-season |
| Mountain Hardwear | Plasmic Gore-Tex | 3.1oz | Yes | Yes | 3-season |
| Outdoor Research | Ironsight Sensor | 2.3oz | No | No | 3-season |
| Tactical Gear | Hellfox | 2.5oz | No | No | 3-season |
| Mechanix Wear | M-Pact | 1.8 oz | No | No | 3-season |
Four-season gloves
The adventure junkies and mountaineers simply love the great outdoors, no question about it, and cold bitter weather hasn't stopped them before and probably won't in the future. For these brave adventure seekers, however, a 3-season glove system won't do the trick.
That's why we're continuing this buying guide with the toughest gloves available. From battling whipping winds to hiking the tallest mountains, these gloves are tested to withstand the most brutal conditions while keeping hands and fingers warm and frostbite-free.
Outdoor Research Alti Gloves
Outdoor Research makes our list yet again and for good reason. Their heavy-duty designs, especially when it comes to full 4-season protection, stand strong among the competition. The Alti Glove series proves this with their 3DFit technology for exceptional ergonomics and, because of their implementation of PrimaLoft material, a level of warmth rivaled by few.
The Alti Glove series has a lot going for it. First of all, it's built with the long-lasting material that is Gore-Tex and packed even tighter with Primaloft insulation to really up the game when it comes to warmth and insulation. Secondly, these gloves really drive to be optional.
By that we mean these gloves aren't only touch screen compatible but, if conditions worsen, you can simply take that option away for full 4-season compatibility. That's right, the touch screen option is simply just that, an option. Not tech or phone savvy? Just throw the liner on and you're on your way.
Features
Waterproof, windproof, and breathable.
New 3DFit technology provides increased dexterity.
Touch screen compatible.
Pros
Waterproof.
Good grip.
Warm.
Comfortable.
Cons
Seams can rip easily.
Poor sizing options.
Liner and shell not sized proportionally.
Tech and Specs
Black Diamond Mercury Mitts
One of the most popular year-round mitts falls under the guide of, once again, Black Diamond.
A waterproof design that links Primaloft insulation with a goat leather palm, complete with Kevlar stitching, makes for one comfortable and durable pair of high-performance mitts.
These mitts come with an assortment of in-depth design features and construction that will keep out even the most persistent rain or snow. The design also features a split-finger liner with high-loft fleece and a BDry insert that adds even more punch to moisture resistance.
Features
Waterproof.
Lightweight.
Abrasion-resistant shell with four-way stretch.
Goat leather palm with Kevlar-stitched palm patch.
Pros
Waterproof.
Removable liner.
Warm.
Comfortable.
Cons
Poor dexterity.
Bulky.
No wrist leashes.
Tech Specs
Mountain Hardwear Torsion Gloves
Mountain Hardwear is at it again but with even stronger, more durable gloves.Their Torsion glove[/easyazon_link] series offers serious protection from cold winds while still being quite breathable. This is due to their design, which boasts a wind-blocking Deflection shell and Thermal Q Elite insulation.
The torsion gloves really are a jack-of-all-trades when it comes to what they have to offer, including goat leather palms for easy gripping on almost anything and an outer shell that will keep the most bitter wind at bay. These gloves aren't waterproof but they are water-resistant, which is plenty more than some adventure seekers need.
Features
Windproof and breathable.
Carabiner loops.
Polyester tricot lining.
Nose-wipe patch on thumb.
Pull-on webbing loops at wrist.
Pros
Wrap-around leather reinforcement.
Thermal Q Elite insulation.
Breathable.
Cons
Poor sizing options.
Non-waterproof.
Bulky.
Can wear and tear easily.
Tech Specs
Read More: The Ultimate Best Cold Weather Gloves for Hiking
Black Diamond Soloist Mitts
Black Diamond, yet again, makes our list with their strong and flexible Soloist glove series. These gloves are designed with waterproof material, easily removable liners for when temperatures get warm, and a lightweight build that will keep weight to a minimum.
Like some other gloves on our list, these are designed with a goat leather palm that is reinforced with Kevlar for intense gripping, even standing up to a challenging mountain when rappelling is a must. The shell, which is completely waterproof, can be used alone on warmer days and the PrimaLoft Gold insulation dries quickly and still insulates when wet.
Features
Waterproof.
Lightweight.
4-way stretch.
Removable Liner.
Goat leather palm with Kevlar stitching.
Pros
Waterproof.
Removable liner.
Kevlar stitching.
Good mobility.
Cons
Could be warmer.
Fingers can fit tightly.
Bulky thumb design.
Tech Specs
| | | | | |
| --- | --- | --- | --- | --- |
| Brand | Model | Weight | Waterproof | Intended Use |
| Outdoor Research | Alti | 10.9oz | Yes | 4-season |
| Black Diamond | Mercury | 9.2oz | Yes | 4-season |
| Mountain Hardwear | Torsion | 4.1oz | No | 4-season |
| Black Diamond | Soloist | 8.3oz | Yes | 4-season |
Final Thoughts
As one can see, there is a large and sometimes overwhelming array of selections when it comes to the proper hiking gloves to bring on an outdoor adventure. There's waterproof, touch screen capability, warmth, comfortability, 3-season vs. 4-season, and even more to consider when making the right purchase on the right gear for your hands.
After all, the hands do tend to feel the effects of intense conditions first and, because of their vulnerability, it is only smart to protect them before even thinking about anything else. We hope this buying guide has helped ease the confusion and bewilderment that may come along with trying to find the perfect gloves for a perfect hike.
Recommended Reads: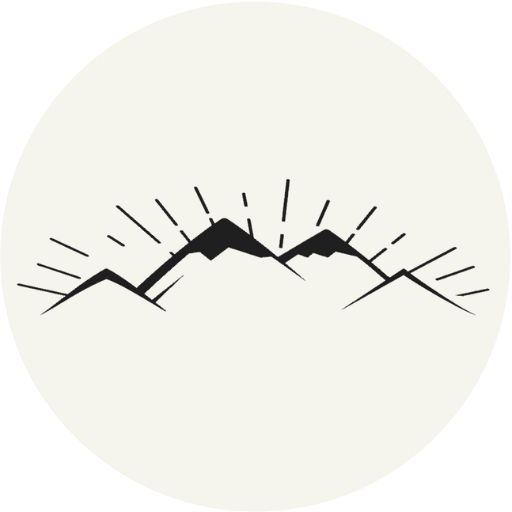 The All-Outdoors Guide team is comprised of enthusiastic experts that enjoy helping others that aspire to be better at outdoor fun. Part of that is making sure you have the right gear and information when it's time to go out and have fun. Some of our team have accomplished amazing feats like climbing 6000 feet to the top of mountains, others have explored every dirt trail they could find and we even have some people that have backpacked solo on various continents. No matter what our readers want to learn and do, our team is here to help them accomplish those goals.