Outdoor activities and freezing cold weather don't always go hand in hand for most people. But, what if the adventure freak inside you is making you restless at home? Will you succumb to it or let the urge go?
Well, worry no more. You'll not find yourself in such a situation ever again.
The Montane Alpha 100 insulated jacket is here to help you brave the chilly winds outside while you enjoy walking, playing, or spending quality time with nature during extreme cold weather conditions.
In this article, I'll provide you with a detailed Montane Alpha 100 review. However, before getting to the review, let's cover some useful tips on choosing an insulated jacket. Keep reading to find out more.
How to select an Insulated Jacket?
If you have the right insulated jacket, even the coldest winter days won't be able to stop you from enjoying your favorite outdoor activities. But, easier said than done, picking the perfect insulated jacket from the wide-variety of insulated jackets on the market is not a cakewalk.
Once you hit the market to search for the 'perfect' insulated jacket, you will find yourself in a tight spot, not because you won't find a jacket to serve your purpose, but because you will have ample of options at your disposal. So, in order to make a good choice, you must do a little research beforehand.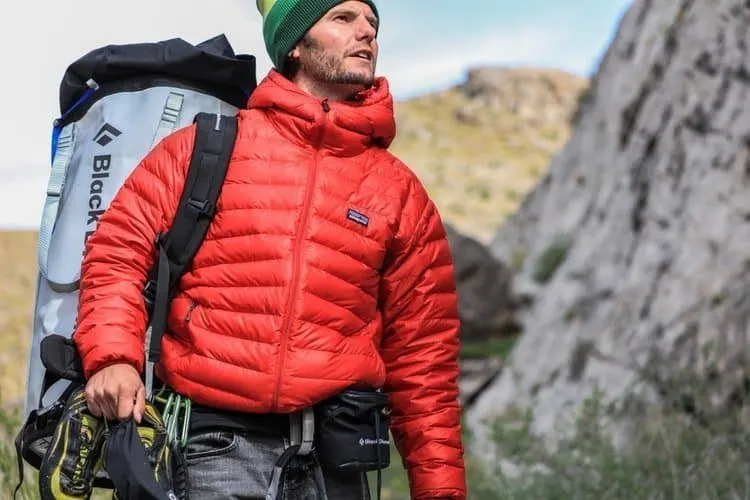 Don't worry; you don't need to spend hours together in front of your computer screen to find out the best jacket. All you need to do is quickly read these easy tips that I have put together to help you make a wise choice.
Here are some basic things that you need to understand in order to select a well-insulated jacket:
Keep yourself informed
The first and foremost thing you need to follow is keeping yourself updated and well-informed. The market is going to serve you hundreds of options on a platter. To keep yourself from making a bad choice, you should research well about your potential choices. Understand different types of technologies used to create the jacket such as waterproof technology and insulation.
Understand the types of insulation
Basically, there are two kinds of insulation utilized in a jacket, namely, synthetic and down. Where the basic mechanism that keeps you warm in the jacket is the same, only a few things vary. Both types of jackets trap air and heat generated from your body in tiny spaces to keep you warm.
Down insulation
The down insulation uses the plumage of ducks and geese which is basically the fluffy layer covered by the feathers. It is one of the most effective measures to trap air. Besides being warm, down is extremely lightweight.
Both these features make down insulation jackets, the warmest, as well as the lightest. However, there is a downfall with these jackets too. You can't wear them in wet weather as they lose their insulation capabilities in wet weather. They also take a lot of time to dry. You can't wear these jackets in extremely humid weather.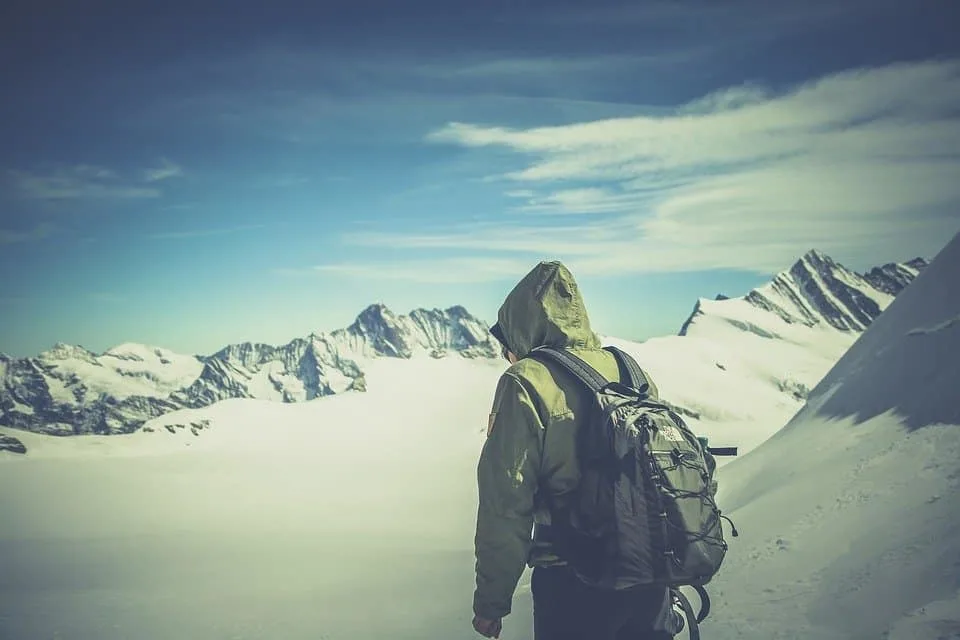 Another thing to keep in mind while buying a down jacket is the fill-value. It is the value that is used to rate down's quality. In the markets, you will find jackets with 450-fill, 600-fill, as well as 800 fill. Select the jacket with the highest fill-value as it would be the warmest and most useful.
Synthetic insulation
Coming to the synthetic jackets, their insulating unit is made of polyester. Synthetic insulation is less warm as compared to down insulation. One benefit with synthetic insulation is that it works even in wet weather or highly humid conditions. In terms of affordability too, synthetic jackets score more than down jackets.
Hybrid insulation
Both, down and synthetic insulation has their sets of advantages and disadvantages, and to garner the benefits of both these kinds of insulation, the manufacturers have come up with hybrid insulation.
These jackets are a combination of down and synthetic. The areas that are more susceptible to wetness such as the collar, shoulder, and hem are covered with synthetic insulation, whereas the core is covered by down insulation to make the jacket warm.
Water-resistant down
To make down efficient in wet and humid weather, manufacturers have come up with an interesting method. Water-resistant down or treated down comprises of a water-resistant coating at a molecular level. These jackets are indeed the best choice for wet and humid climatic conditions.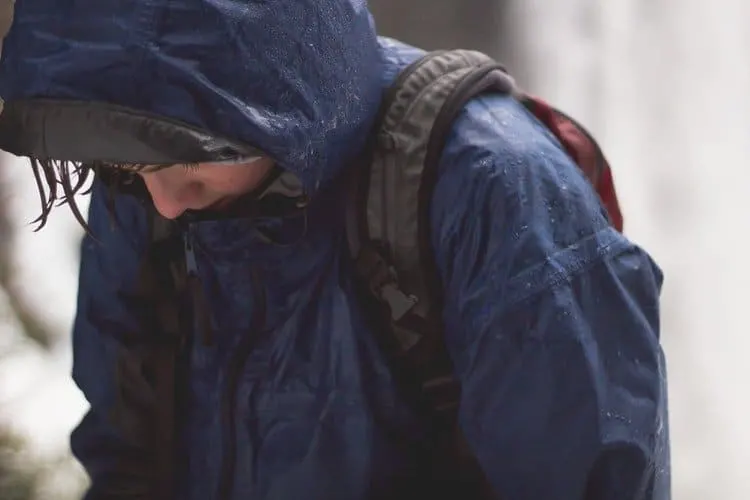 Pay attention to DWR treatment
Insulated jackets are treated with DWR or Durable Water-Repellent treatment. A polymer is coated over the face fabric which forms spikes or pegs that are visible on a microscopic level. These spikes prevent the water droplets from spreading all over the fabric. Instead of spreading on the fabric, the drops roll off the fabric. These jackets are waterproof.
You need to pay some extra attention to enhance the durability of these jackets as they tend to wear down and lose their effectiveness due to certain factors such as dirt, smoke, grease, bug spray, etc. These agents tend to clog, as well as flatten the pegs.
To make them work for you again, you should just wash them and dry. You can also put DWR treatment on your jacket yourself with the help of certain products available in the market. I tried it and trust me; it was super-easy.
Test the waterproof or breathable membrane
A waterproof or breathable membrane protects the jacket in wet weather. The fabrics treated with this special membrane don't allow water to pass through them, but water vapors know no boundaries. So, make sure you test the waterproof capability of the jacket before you make the final purchase.
Know the waterproof rating
When you shop for a jacket; pay special attention to the waterproof rating of the product. The markets will offer you many choices like 10K, 15K, etc.
The jackets rated between 5K to 10K are rainproof, those between 10K to 20K are waterproof, and the jackets with a waterproof rating of more than 20K are the most effective ones as they will protect you well even in the wettest weather.
Check the weight and breathability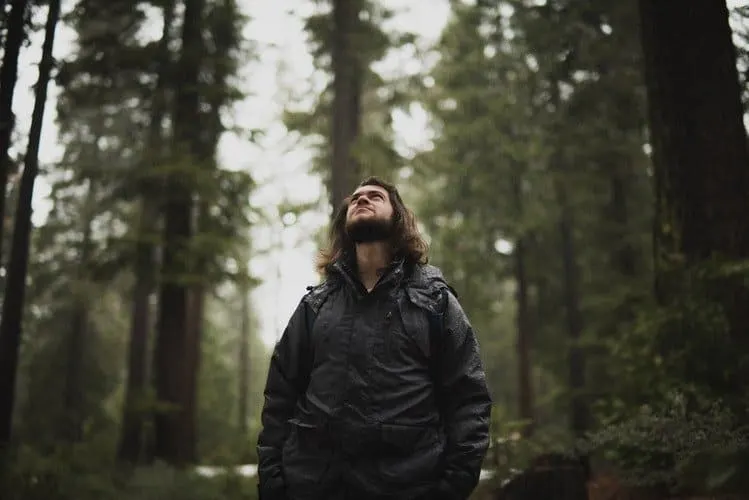 It is a good idea to select a jacket that is lightweight and breathable. Majority of lightly insulated jackets are breathable. The manufacturers incorporate latest designed features that make sure you get nothing but the best.
You should look for jackets that not only offer you good insulation but also facilitate airflow and wick moisture to provide you with added comfort. However, the majority of jackets that are lightweight and breathable provide less warmth and wind resistance. So, make sure you thoroughly check the weight and breathability factor of the jacket before you make the final purchase.
Well, now that you understand quite a few things about how to buy the perfect insulation jacket, let's take a detailed look at the Montane Alpha 100. One of the best insulation jackets on the market.
Here's the detailed Montane Alpha 100 review based on my personal experience with the product.
Montane Alpha 100: One of the best insulation jackets
Montane is one of the best brands when it comes to clothing and equipment for sports and other outdoor activities in harsh weather conditions. Since the past 21 years, the brand has been catering to the needs of adventure junkies who don't shy away from challenging themselves irrespective of how harsh the weather is. By offering them clothing and equipment to enhance their performance, the brand has become one of the most coveted outdoor gear providing brand on the market.
With innovative design theories and use of quality materials, Montane has earned a very solid reputation.
Touted as one of the best insulation jackets, Montane Alpha 100 is laden with many features. Designed specifically for winter climbing, it is a loyal companion of mountain climbers. The jacket can be worn on all-day routes without feeling the slightest discomfort.
Here's a quick table to introduce you to the basic specifications of the jacket.
| | |
| --- | --- |
| Type of Jacket | Insulation jacket |
| Price | – |
| Fabric | PERTEX Quantum outer fabric |
| Insulation | POLARTEC Alpha 100g insulation |
| Lining | PEAQ Hyper, PEAQ Synthetic |
| Zips | YKK reverse coil |
| Sizing | Small, Medium, Large, X Large, XX-Large |
| Weight | 574g, 602g, 632g, 664g, 698g |
| Ideal For | Mountaineering, Mountain Walking, Ice Climbing, Fast Alpine |
Notable Features:
Use of PERTEX Quantum Matte as the outer fabric
Lightweight outer fabric offers great comfort
Polartec Alpha 100g insulation offering excellent breathability and warmth
Articulated arms simplifying reach-high movements
An adjustable hood which can also be removed when you are not using it
Handwarmer pockets featuring Polartec Alpha 100g insulation
2-way YKK reverse-coil front zip running the full length of the jacket
Montane penny cord locks on the lower hem sides
Durable Water Repellency (DWR) treatment to keep the jacket dry
Amazingly packable; it can be packed in favorable weather conditions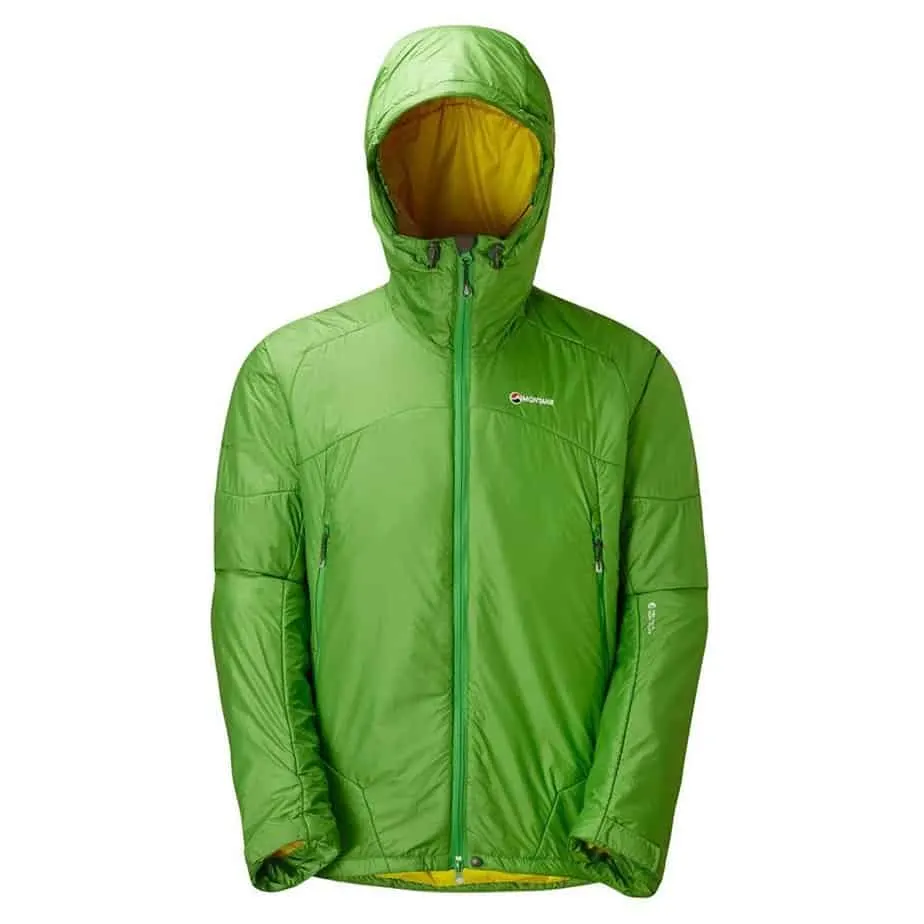 Fabric
The Montane Alpha 100 Jacket uses PERTEX Quantum Ripstop fabric which possesses excellent grip. The water-repellent and quick-drying fabric make it easy for you to wear this jacket even in wet weather and excessive humid conditions. The outer layer also offers amazing wind resistance.
The outer fabric is resistant to abrasion, and hence, you don't need to worry about wear and tear.
Insulation
The Montane Alpha 100 is a synthetic insulated jacket. It is insulated by Polartec Alpha 100g insulation with a remarkably packable insulating fill. The amazingly breathable insulation provides desired warmth.
The open and woven construction does not hinder its prime function of keeping you warm during extreme weather conditions.
Inner Construction
The plush inner feels very easy on the skin. The manufacturers have used PEAQ Synthetic Liner which is a quick drying fabric. It is very comfortable against the skin. The brushed fine microfleece featured on the inner collar near the mouth and chin further enhances comfort and warmth.
A breathable mesh material is placed strategically on certain areas like torso and underarms to let the air pass.
Design Features
The jacket design is very upscale. There are many design features that make it a versatile option.
The jacket flaunts a tailored "active mountain" fit. This particular design feature keeps the hem of the jacket from raising while you reach up high.
The adjustable helmet-compatible lycra hood comes with three points of assimilation, as well as a wired peak. The hood can also be removed when not in use.
The two deep A-line pockets keep your hands warm with the help of POLARTEC Alpha insulation. The external pockets feature zips to ensure that the inner stays warm. The cuffs come with adjustable hooks and loops that makes it very easy for you to use it with mittens or gloves.
A 2-way YKK reverse-coil zip runs the entire length on the front.
Sizing and Weight
The jacket is available in many size options ranging from small to XX large. The available sizes include Small, Medium, Large, Extra-Large, and XX Large.
The weight of the jacket varies according to the size of the jacket. A small size jacket weighs 574 grams, a medium size jacket weighs 602 grams, a large size jacket weighs 632 grams, and Extra Large and XX Large jackets weigh 664 grams and 698 grams, respectively.
Pros and Cons
Like everything, the Montane Alpha 100 has some advantages and some disadvantages. Let us look at the pros and cons of this product.
| | |
| --- | --- |
| Pros | Cons |
| Well insulated | The material can accumulate perspiration, especially under the armpits in case of excessive sweating |
| Highly breathable | Not waterproof |
| Water resistant | Pockets not easily accessible when wearing a hip belt and carrying a backpack |
| Wind resistant | |
| Highly resistant from abrasion | |
| Dries quickly | |
| Extremely lightweight | |
| Can be packed in a backpack easily | |
| Many size options available | |
| Can be used for several activities such as ice climbing, mountaineering, mountain walking, etc. | |

Common questions on Montane Alpha 100
I have put together some questions that even I had before purchasing the Montane Alpha 100. I am sure the answers will help you decide whether you want to go ahead with the product or not.
Q. How can I take care of my Montane Alpha 100 Insulation Jacket?
A. The outer fabric of the Montane Alpha 100 Insulation Jacket features DWR coating and to maintain this coating; you need to take extra care of this jacket. Here is how you can clean and take care of your insulation jacket:
Machine-wash the jacket in warm water at a temperature of 30 degree Celsius or 86 degrees Fahrenheit.
Don't use bleach or fabric softeners.
Don't dry clean the jacket.
Q. What can I use to clean Montane Alpha 100 Insulation Jacket?
A. I recommend you to use Nikwax Tech Wash to clean this jacket.
Q. What is the best way to restore the DWR of this insulation jacket?
A. Regular use of the jacket can hinder the DWR coating and hence, you should re-proof it occasionally. The best way to re-proof the layer is using Nikwax TX Direct.
Conclusion
So, what do you think after reading the detailed Montane Alpha 100 review? I hope you will agree that it is indeed one of the best insulation jackets on the market today. With Montane Alpha 100 jacket, you don't need to worry about adding multiple layers to your body to protect yourself from the jaw-breaking cold weather, whether you are planning to spend a day skiing with your friends or hiking alone.
Further read:
Top 3 Best Packable Down Jackets for Camping (And Cold Nights)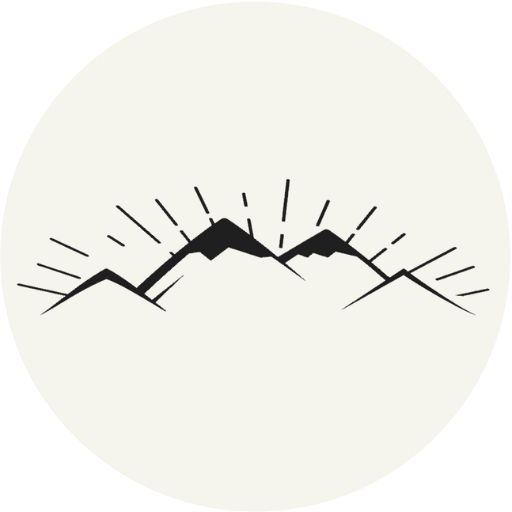 The All-Outdoors Guide team is comprised of enthusiastic experts that enjoy helping others that aspire to be better at outdoor fun. Part of that is making sure you have the right gear and information when it's time to go out and have fun. Some of our team have accomplished amazing feats like climbing 6000 feet to the top of mountains, others have explored every dirt trail they could find and we even have some people that have backpacked solo on various continents. No matter what our readers want to learn and do, our team is here to help them accomplish those goals.