The North Face produces a whole range of different outdoor gear but their apparel line is easily what they're best known for. The TNF emblem on the chest of jackets and fleeces is easily recognizable and the brand remains a trusted source of winter clothing for casual use as well as sportswear.
Finding winter outerwear that is appropriate for sports or physical activity is difficult. Normal parka-style winter jackets made for casual wear are often too thick and restrictive. Thinner jackets may make movement easier but aren't often warm enough to wear without layering, which leaves you feeling restricted yet again.
Skiers often have a trickier time with jackets as this activity requires you to have unencumbered movement in the legs, core, and arms. Thankfully TNF has a few different jackets that are ideal for skiing and similar winter sport activities.
Here are the top 3 skiing jackets produced by The North Face.
TNF Thermoball Snow TriClimate Parka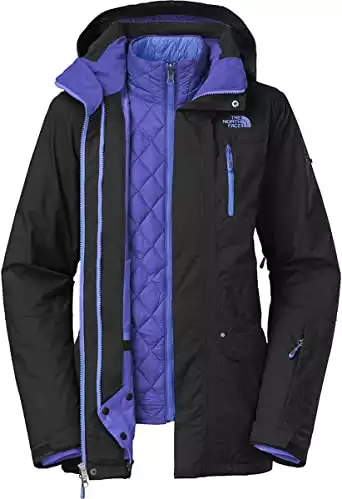 Sometimes one jacket just isn't enough for frigid cold ski trips. Layering up is a must but finding the right combination of a jacket and parka that will keep you warm without being too bulky is tricky. The North Face solved this issue by creating their Thermoball Snow Triclimate 3-in-1 Parka. This 3-in-1 outerwear set features a Thermoball liner jacket with PrimaLoft technology for maximum warmth.
Specs:
Available in 5 sizes-small, medium, large, XL, and XXL
Four color choices – TNF Black, Diesel Blue, Fiery Red, and Zinc Grey
Average weight about 48 oz
Shell center back length – 31″
Liner jacket center back length – 28.5″
Shell made of 176 g/m² DryVent 2L 100% dobby nylon pinstripe
Liner made of 45 g/m² 100% nylon
Insulation is 11 g/m² PrimaLoft ThermoBall (synthetic)
Features:
Insulated liner and shell for maximum reduction in body heat loss
Zipped in liner stays in place and prevents bunching or twisting under shell
Thermoball technology makes parka super compressible and lightweight
Thermoball offers more insulation than traditional down parkas
Parka has TNF's Signature Fit, which is roomy enough for layering but still maintains an athletic fit
Numerous pockets for gear/tool storage
Adjustable and removable jacket hood is compatible with most helmets
The Thermoball Snow is completely waterproof and even has sealed seams to ensure you're going to stay dry in even the wettest snow. Both the liner and shell are surprisingly breathable, keeping you comfortable under a warm winter sun or while sweating from a strenuous ski adventure. Underarm vents help keep sweating and overheating at bay.
Being a parka, the Thermoball Snow is loaded with pockets. This is ideal for cross country or adventure skiing in the backwoods as you'll be able to carry important gear right on you. There is a normal zippered check pocket and handwarmer pockets complete with a super-soft liner.
There are additional double hip flap pockets. Inside the jacket, you'll find an internal media pocket to protect electronics like your mobile phone and two other internal mesh pockets. There is also a specific goggle pocket so you don't accidentally lose or scratch your goggles.
The zip-in style of this parka makes it compatible with other TNF liner jackets if you decide you don't want to use the Thermoball liner. This 3-in-1 parka is priced at $349, which is acceptable for the versatility, durability, and warmth this model offers.
TNF Bombay Jacket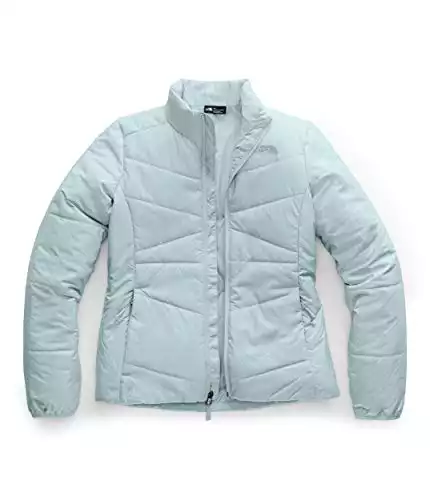 For those warmer, casual ski trips the Bombay jacket is an excellent choice. The North Face created this jacket as a mid-layer for very cold weather but it works perfectly on its own as well. This jacket doesn't have a super high loft, but it plenty soft and compressible.
It's insulated with Heatseeker, which is synthetic insulation created by TNF with the main purpose of trapping warmth. This jacket has great water-resistance and will keep you dry if you happen to tumble in the snow.
Specs:
Available in 5 sizes-small, medium, large, XL, and XXL
9 color choices – Vista Green/Asphalt Grey, Fiery Red/Asphalt Grey, Zinc Grey, Bomber Blue/Urban Navy, Asphalt Grey, Caper Berry Green, TNF Black, Hot Chocolate Brown, and Diesel Blue
Average weight about 16.9 oz
Center back length – 27.5″
Made of 68 g/m² 100% polyester taffeta plain weave + durable water-repellent (DWR) finish
Insulation is 100 g of TNF's Heatseeker
Features:
Functions as a truly classic ski jacket with none of the extra frills that some don't need/want
Has a relaxed fit for freedom of movement and the ability to layer under
Is a full zip-up jacket, making taking it on or off easy
Has dual zippered hand pockets
Internal media pocket will protect your phone
Elastic cuffs keep out snow
You can easily layer a light fleece under the Bombay or wear it under a hardshell jacket for those very cold winter days.
This jacket looks great and isn't so bulky that it's troublesome to wear while working outside on your gear, setting up camp, or just wearing casually around town during an errand run. Essentially it's a pretty basic jacket and only has the necessary features the average skier needs.
The Bombay retails just $99, which is a real steal of a price. This model looks and works like a high-end technical ski jacket but without the price tag. Since it can be easily used in layering, either over or under (or both), it really is a must-have workhouse piece for any outdoor enthusiast.
TNF Mendelson Jacket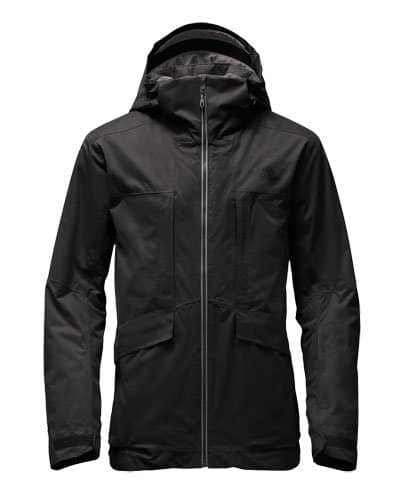 If you need something more than Bombay but don't want to deal with the dual-layered 3-in-1 Thermoball Snow, the Mendelson Jacket might be the right fit for you. This insulated ski parka has a ton of useful features that will allow you to spend the most time out on your favorite ski trails. It handles bitter cold and wet weather, making it a very popular choice for the serious TNF ski fan.
Specs:
Available in 5 sizes-small, medium, large, XL, and XXL
3 color choices – TNF Black, Hot Chocolate Brown, and Diesel Blue
Average weight about 37 oz
Center back length – 31″
Shell made of 168D 209 g/m² DryVent™ 2L—56% polyester, 30% recycled polyester, 14% nylon
Shell fabric made of 210D 168 g/m² DryVent™ 2L—100% polyester
Lining made of 100% recycled polyester taffeta with durable water-repellent (DWR) finish
Insulation is PrimaLoft Silver Insulation
Features:
Full parka length insulated jacket designed for skiers
Has TNF's Signature Fit, tailored for alpine adventures
Sealed seams keep out all water and wind
The Helmet-compatible hood is adjustable and removable
Double handwarmer, hip, and chest pockets
Adjustable underarm vents to prevent overheating
TNF "autofit" gloves can be worn over or under gloves
Numerous internal pockets, including media, mesh, and goggles pockets
Four-way snap powder skirt with elastic
Essentially the Mendelson offers everything the Thermoball Snow 3-in-1 does but without the removable layer. This is an advantage for those in very cold climates as you'll be able to get even more warmth since you'll be able to easily add a mid-layer to this parka without it getting too bulky.
This jacket is not really for casual use or for a warmer winter day, but most appreciated by the serious skier or outdoor enthusiast that is having trouble staying warm.
The Mendelson retails for $399, similar to most TNF parkas. Spending nearly $400 on a jacket may seem like a lot but many customers find that this model is worth every penny of its high price tag. This parka has expedition-quality construction but toned down just a bit for the skier that doesn't let frigid winter days stop them from heading outside.
The North Face certainly makes some amazing jackets, and the models featured here are just 3 examples of the quality apparel the brand produces. Whether you're new to skiing, have been a lifelong skier, or just are an adventurer that does a little bit of everything and needs an athletic winter jacket, any of the above 3 would be perfect.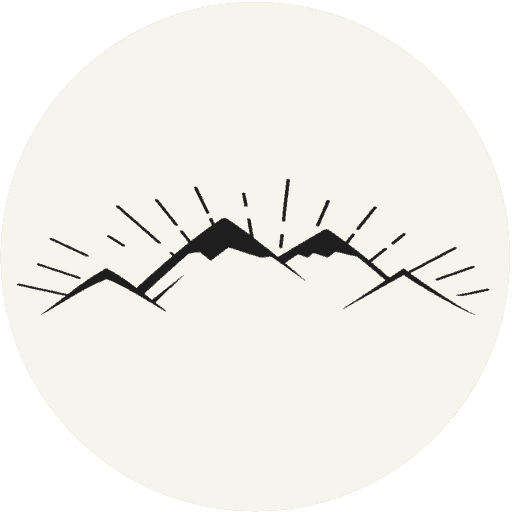 The All-Outdoors Guide team is comprised of enthusiastic experts that enjoy helping others that aspire to be better at outdoor fun. Part of that is making sure you have the right gear and information when it's time to go out and have fun. Some of our team have accomplished amazing feats like climbing 6000 feet to the top of mountains, others have explored every dirt trail they could find and we even have some people that have backpacked solo on various continents. No matter what our readers want to learn and do, our team is here to help them accomplish those goals.