Ski masks are a versatile piece of gear that is necessary for very cold weather or for those that are at an intermediate level or higher. You might also find that you need the type of face protection ski masks offer for alpine or downhill skiing more than cross country skiing, as the former is often faster.
Ski masks also do more than just protect your face from the cold. They also help with sun protection. It's common knowledge among outdoor enthusiasts that sunburns are still completely possible, even in the dead of winter.
While you might be cold, if the sun is out then there is a chance of sun damage to the skin. Really sunny days are beautiful for skiing, but the reflection from the sun bouncing off the snow onto your face can leave you feeling chapped or worse.
Whether you're buying your first ski mask or looking to replace your old one, here are four different options to choose from, ranging from a top Nike Ski Mask to some brands you may not know about yet.
Outdoor Research Gorilla Balaclava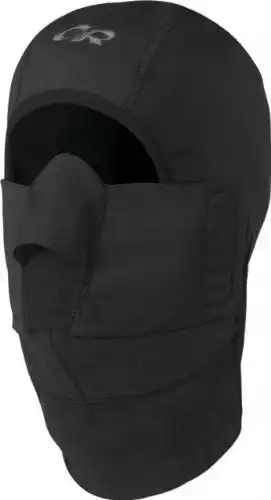 Outdoor Research was founded in 1981 by Ron Gregg with the goal of designing better gear for the serious outdoorsmen. While they produce gear appropriate for a number of different activities, they still remain especially popular amongst skiers. It comes as no surprise that their ski masks are quite popular.
The Gorilla Balaclava is designed for severe mountaineering conditions, offering an excellent combination of warmth and durability. It is a two-part face mask which consists of the traditional balaclava along with a removable face mask.
Goggles can be worn over the mask either way. Using this balaclava with a face mask plus goggles will give you 100% face protection from the elements.
To wear the Gorilla you simply pull it over your head and secure it with multiple hook-and-loop closures to get a close fit. It's easier to get this balaclava on and fitted without the face mask. The removable face mask is attached with very strong velcro which is perfect for a long day outside.
The mesh breathing port in the face mask can frost up in very cold weather, an issue very few masks of this type don't have. Being able to take off the mask and warm it up under your arm is very useful.
The Gorilla Balaclava is made of a blend of 94% polyamide and 6% spandex, plus a very soft fleece interior to prevent chafing. It only comes in small, medium, and large unisex sizes which, thanks to the spandex, should work for anyone ranging from teenagers to petite women up to very large men.
You can find this balaclava for under $45 from some retailers when on sale.
Nike Ski Mask – Men's Pro Combat Hyperwarm Hood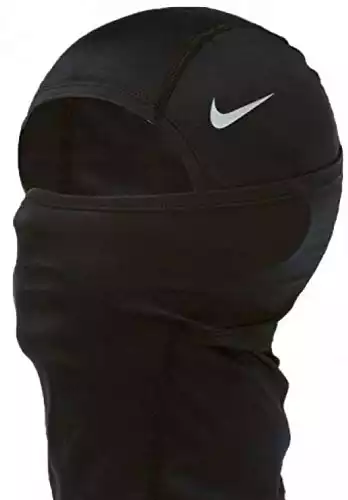 Nike might be a popular street and athleticwear brand, but they do have some cold-weather gear that is great for skiers. Their Pro Combat Hyperwarm Hood might not sound like something you'd wear under your ski goggles, but don't let the name fool you. This is a great all-around winter face mask that will keep you warm but dry on those less frigid winter days on the hill.
The Pro Combat hood is made with Hyperwarm technology, which focuses on heat retention, while the Dri-FIT material ensures sweat and moisture get wicked away from the skin. Dri-FIT is made of a blend of 85% nylon and 15% elastane. Nike added flat-lock construction so are no annoying seams.
This Nike ski mask is overall very close-fitting which is ideal if you like to wear a hat over your face mask. It's also quite versatile in terms of how you can wear it. You can use it as a full-face hood, which extends down into the neckline, or pull it down to just cover your neck when it's a little warmer. Others roll this hood up onto the head as a beanie if it really gets toasty.
This face hood is only available in black and in one unisex size. It retails for about $30, depending on the retailer. If you primarily ski on mild winter days and also go to other activities like winter running, hiking, biking, and more, then this model will suit your needs very well.
It might not be able to take on harsh winter days when the wind really bites but otherwise will do very well.
Burton Anon Optic MFI Snow Goggle and Mask Kit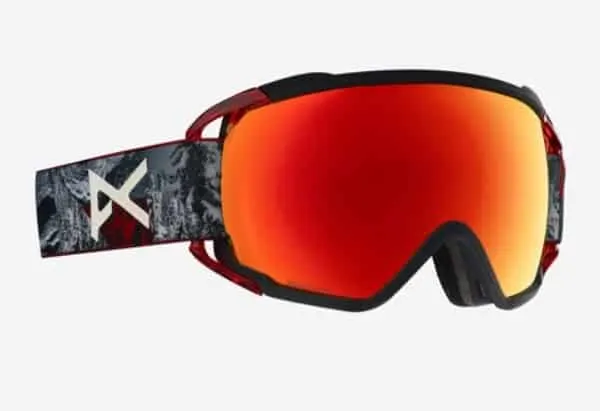 If you're looking for a face mask and also need a new pair of goggles for skiing, then the Burton Anon Optic MFI Mask Kit is ideal. This kit comes with everything you need for total face protection, including the anon. Mig goggles, MFI face mask, extra lens, and a microfiber storage bag for all of it.
The goggles in this kit are the men's anon. MIG goggles integrate with Burton's Magnetic Facemask Integration (MFI). Through the use of magnets, these goggles snap right to the facemask. The MFI facemask alone is a made of quality material that is soft and comfortable to wear for long periods of time. Together these two pieces of gear work flawlessly.
This kit would work best for skiers that already wear goggles regularly or participate in a number of different winter activities like snowboarding or snowmobiling. This kit retails for less than $150 which is very reasonable for the quality of materials and high-tech magnetized design.
You get plenty of color options and the overall look of this model is often very appealing to a younger crowd. If you already need to buy goggles, you may as well buy your goggles together in this kit and get the close-fit advantage of the magnetization closure.
Mountain Hardwear Power Stretch Balaclava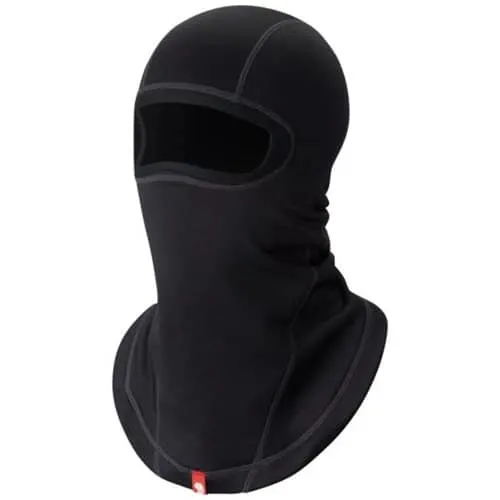 Another major brand name for winter sports is Mountain Hardwear. Mountain Hardwear has been producing gear for every outdoor activity you can imagine, with its own line specifically designed for skiers. They have a few face mask and balaclava options, with one particularly popular model – the Power Stretch Balaclava.
The Power Stretch would originally be designed with alpine climbers in mind, but it seems to be the most popular among customers that do snow sports like skiing and snowboarding. The stretchy design is easy to put on and stays in place, both very important features for a skier to have in the face mask. It can easily be worn under a helmet, goggles, or hat.
Mountain Hardwear also stitched this mask with a flatlock construction so you don't have to deal with irritating seams.
Mountain Hardwear made this balaclava with a blend of 88% polyester and 12% lycra spandex. It comes in only one size which is unisex in design. This combination of materials feels great against the skin and stands up to harsh weather, as well as provides moisture-wicking and warmth. The Power Stretch retails for $35, but can often be found on sale for under $25 depending on the retailer.
A ski mask may not be needed during every ski trip, but you'll be much happier having it on hand if the weather turns colder than you anticipated. Many ski masks can easily be stowed away in your pocket or backpack when not in use. Even if you haven't yet needed a ski mask the fairly low cost for total face protection warrants having one of these four models on hand in the event you decide you need them.
Further read: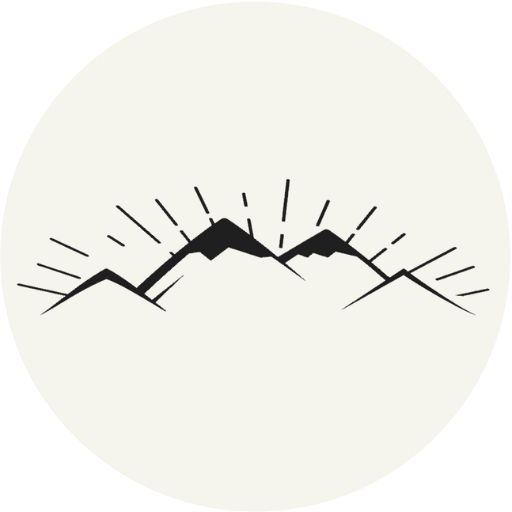 The All-Outdoors Guide team is comprised of enthusiastic experts that enjoy helping others that aspire to be better at outdoor fun. Part of that is making sure you have the right gear and information when it's time to go out and have fun. Some of our team have accomplished amazing feats like climbing 6000 feet to the top of mountains, others have explored every dirt trail they could find and we even have some people that have backpacked solo on various continents. No matter what our readers want to learn and do, our team is here to help them accomplish those goals.