Nothing will ruin a day of skiing like cold, numb hands and fingers. Aside from the discomfort, there is also a danger of developing the initial stages of frostbite, often referred to as frostnip. It is particularly important to keep your hands adequately protected when skiing for two reasons.
Firstly, you will be traveling at a faster speed which can make the wind chill bitterly cold. Secondly, you won't have the option of sticking your hands in your pockets for a quick warm-up like you could if you were hiking or snowshoeing.
The majority of people wear gloves for outdoor winter activities, but you may want to rethink this choice if you are a skier. Mittens have a few advantages over gloves. For instance, mittens are warmer than gloves since the body heat from your hand is all trapped together rather than being separated by each finger.
Another warmth consideration has to do with the fit of mittens. Mittens are often looser which means they are actually warmer. You may not know, but too tight gloves actually restrict heat and will lead to colder hands.
Gloves do offer an advantage of dexterity but this issue can be remedied by wearing glove-style liners under your mittens. Many mittens also have touchscreen compatibility making it possible to use your phone while wearing them.
If you're planning on skiing in extremely cold temperatures or have found that keeping your hands warm is a struggle with gloves, consider buying a pair of mittens. Here are 3 options especially useful for skiing and similar winter sports.
Gordini Aquabloc Down Gauntlet II Mittens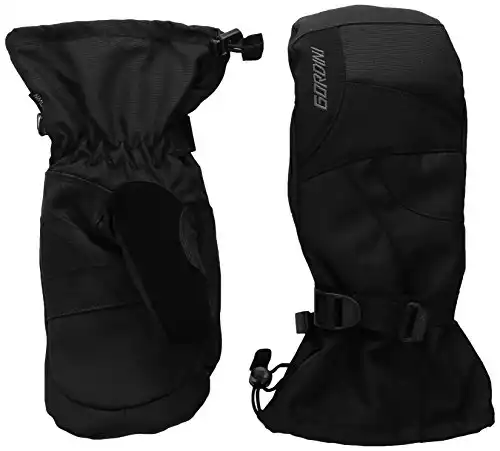 If you believe in the "Jack of All Trades, Master of None" figure of speech, you can rest assured that Gordini is a master in the art of creating gloves and mittens. While other companies dabble a little in every aspect of outdoor apparel, Gordini focuses on making gloves and mittens suitable for outdoor athletes looking for the best in cold protection.
The Aquabloc Down Gauntlet II is just one example of a well-crafted pair of mittens that are particularly useful for skiers. These are incredibly durable, exceedingly warm, and look quite "techy" to boot.
Specs and Features:
Available in three colors – Black, Gun Metal/Black, and Gun Metal/Burnt Sienna
Men's sizing from Small to X-Large
Shell made of a 3 layer heavy denier shell with
Dura-Grip palm and Stick-Grip thumb
Wind- and waterproof for dual weather protection
Gauntlet length mittens to keep out snow
Insulated with 600 fill Naturaloft
As the Aquabloc name suggests, these mittens are totally waterproof. Not only is the shell waterproof but Gordini also added their signature Aquabloc insert which is breathable, waterproof, and windproof. Essentially your hand has two different layers of water and wind protection between it and the elements. It comes as no surprise that these gloves are so loved by skiers and winter outdoorsmen of all types.
The Naturaloft insulation is actually a mix of 70% goose down and 30% waterfowl feathers, so this is no a synthetic blend. This mix is very warm and offers the same benefits of natural down insulation over synthetic.
The mittens are fairly light, despite being gauntlet length and fairly bulky looking at first glance. You won't have a problem gripping your ski poles with these. The Dura-Grip and Stick-Grip additions on the palm and thumb also help you keep a firm grip on poles.
Little extra touches like the traditional gauntlet cinch closure on the back of the mittens and a drawcord bottom really help to keep out any snow. Overall these gloves look great and perform extremely well, making their $50 retail price worth every penny.
Swany Legend II Touch-Screen Mittens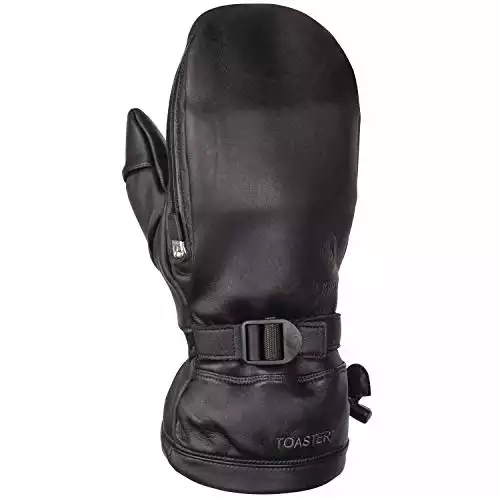 Swany is another brand that focuses solely on gloves and mittens. They have quite a selection but the Legend II stands out because of its tech-friendly inner fleece liner. If you don't ski in extremely frigid temps, these gloves would be ideal.
Specs and Features:
Available in two colors – Black and White
Available in women's sizes S to L and men's sizes S to XL
Designed for general snowsport use
Traditional leather gloves for a sleek, fashionable look
Built-in polyester liner
Insulated with 80 grams synthetic Fiberfill Loft
Touchscreen compatible
Zippered glove access
Cuffs straps for keeping out snow + fleece storm cuffs
These fully leather mittens certainly look beautiful and feel great on the hands. While leather is more prone to scratching than nylon, this isn't as much of a concern while skiing. These mittens are highly water-resistant and will keep your hands dry in the snow. Its ability to handle wind isn't mentioned but it's assumed since these are leather wind shouldn't be a concern.
The major selling point of these mittens is one very cool feature that allows for touchscreen compatibility. There is a built-in, non-removable glove liner inside that has touchscreen compatible fingertips. On the side of the mittens there is a zipper which when unzipped allows you to use your phone without actually taking anything off. Once you're done, simply move your fingers back inside the mitten and rezip.
The Swany Legend 11 mittens retail for a reasonable $115. For the overall quality and ability to use touchscreen devices, it is worth it to consider these for average winter temperatures.
Outdoor Research Alti Mittens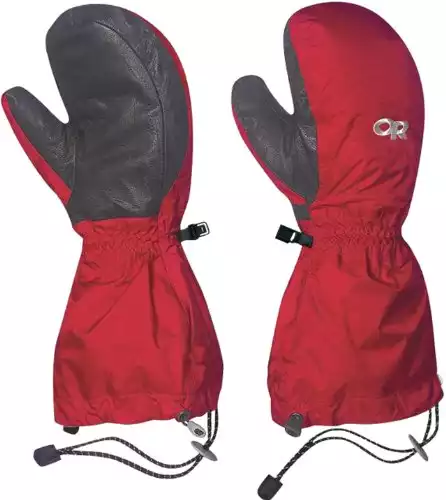 Let's say you've tried out heavy-duty mittens in the past but they just couldn't handle the frigid, harsh winter temperatures of where you live and ski. Once you start hitting below zero winter days you need more than a typical pair of mittens to keep you warm – and that is where the OR Alti Mittens come into play.
Outdoor Research is a popular brand for the more serious outdoor adventurers. They produce apparel and accessories for essentially every activity, from lightweight summer hiking clothing to gear for extreme arctic winters. The Alti Mittens are one product of theirs that falls into the latter category.
Specs and Features:
Available in three colors – Black, Chili, and Lemongrass
Men's sizing from S to XL
Won 2014 Outside Magazine Best Winter Survival Gear Award
Dual insulated with Primaloft on the back and thumb + fleece on the palms
Designed with a pre-curved shape mimicking the natural hand
Thumbs have a 3 panel stitched design for maximum dexterity
Comes with removable liner mittens, complete with built-in pockets for hand warmers
Outdoor Research chose to go with two insulation types – Primaloft and a basic insulating fleece. Primaloft is a synthetic insulation that is resistant to water but also doesn't lose insulation properties when damp.
It also dries quickly if wet which makes it ideal for winter gear. OR added Primaloft to the at-risk parts including the back of the hands and the thumbs. For the palm, they used a simple fleece that is warm and, more importantly, won't interfere with a grip like using Primaloft would have. It also blocks cold transfer when gripping poles.
The shell of the mittens is heavy-duty ripstop nylon while the palm is Pittards Armortan leather. The nylon shell ensures durability while the leather palm keeps a steady grip on poles and tools, even when dampened by snow. The gauntlet tab and drawcord wrist closure help to keep out any snow while skiing or working on skis/removing trail debris.
The Alti Mittens are seriously cold-resistant and originally designed for extremely low alpine temps that would be experienced during expeditions. The quality of these mitts brings their retail price up to $199. This may seem extreme but for those arctic conditions, you will be glad you spent the money.
Mittens really don't get the recognition they deserve in winter sports. While the lack of dexterity could be an issue for certain sports, it isn't an issue for skiing. If you are often skiing in bitter cold temperatures, it's worth it to try out a pair of mittens. Just don't forget to buy a thin pair of glove liners to go with them!
Further read: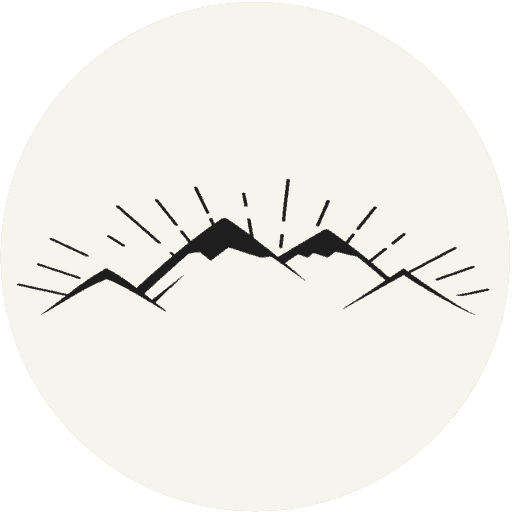 The All-Outdoors Guide team is comprised of enthusiastic experts that enjoy helping others that aspire to be better at outdoor fun. Part of that is making sure you have the right gear and information when it's time to go out and have fun. Some of our team have accomplished amazing feats like climbing 6000 feet to the top of mountains, others have explored every dirt trail they could find and we even have some people that have backpacked solo on various continents. No matter what our readers want to learn and do, our team is here to help them accomplish those goals.