Camping trip with a tent as the shelter is the traditional route, and will likely always be the most popular choice, but more and more enthusiasts are beginning to switch to hammock camping. Hammocks might typically be seen as something you'd lounge in on a summer day in your backyard, but they are surprisingly advantageous for campers and backpackers.
Hammock camping is particularly popular with ultralight backpackers, as the combination of a hammock and tarp ends up weighing less than the vast majority of tents. Even though some advanced UL tents may weigh the same or less, they take up more room in a backpack and are significantly more expensive than a comparable hammock + tarp setup.
Hammock fans also find that night's sleep is far more restful and no longer having to worry about waking up with a sore back makes every trip far more enjoyable. With a hammock, you don't have to worry about finding a camping spot free of rocks or debris, and you don't have to spend money on expensive sleeping pads and pillows just to get quality good night's sleep.
While the actual hammock you choose is very important, taking the time to find the right hammock tarp is equally vital. You can get away with a cheap $20 hammock to sleep in, but you certainly won't get away with a fragile or leaky tarp.Not all tarps are created equal, and these 5 options are easily right up at the top of the best hammock tarp list.
Kammok Kuhli Hammock Rain Tarp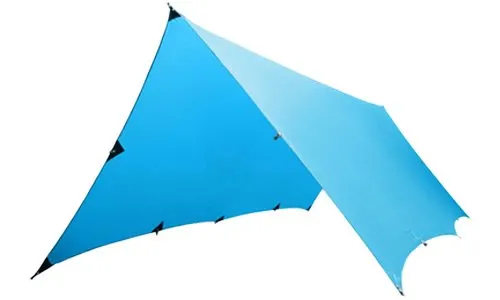 Kammok is a Dallas-based company specializing in all aspects of hammock camping gear. One of their most popular hammock tarps to keep you dry is the Kuhli rain fly hammock.
Specs
Retails for $159
Colors – Stone Gray, Roo Red, and Nakuru Blue
Made of 15D PU-coated ripstop nylon fabric
Total dimensions – 144″ x 108″
Packed dimensions – 8″ x 5.75″
Weighs only 1lb 4oz
The Kuhli tarp is about as versatile as you can get when it comes down to configurations. There are a total of 16 different guy out points on this tarp, all of which reinforced for durability. There are also heavy-duty grommets on the tent stakes with dedicated tarp poles or just your everyday trekking poles.
All of the guylines are included for a complete setup, though you can add more if you wish. The guylines included are reflective for nighttime visibility safety.
This tarp can handle heavy rain showers with ease. The 15D nylon may seem weak but don't be fooled. When properly lined out and taut, it will shed rain easily thanks to the DWR coating. Kammok went an additional step by also taping all seams to ensure zero leaks occur. This hammock tarp comes in its own stuff sack and is easily unfolded/folded.
MacCat Gen4 Hammock Tarps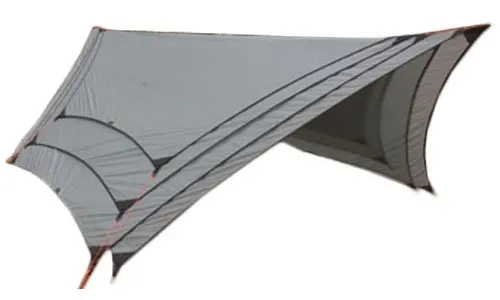 MacCat may not be as well known of a name as some of the others on this list, but don't let that put you off. This brand was one of the first to perfect the catenary-cut, hexagonal shape tarps that are so widely popular today. Their Gen4 models come in a few different options, all of which test out very well.
Specs
Retails from $99.95 to $164.95
Sizes range from 125″ x 84″ to 144″ x 104″
Weights range from 9.6oz to 14.4oz
Available in Standard, Deluxe or Ultra Silpro or SilNylon
Optional OES ProSeal seam sealing available on all models
If you're looking for a no-frills durable tarp that has numerous buying options, these Gen4 hammocks are a good choice. MacCat made a few changes to their Gen4 tarps compared to the past Gen3s. While all tarp sizes are the same, these tarps weigh up to 10% less than comparable tarps due to a change in material construction.
They are also far more compact so you save more space in your pack. The ridgeline of the tarp is reinforced for longevity and will remain quite taut when properly set up.
These tarps come in SilPro or SilNylon, both of which are excellent material choices. The SilPro tarps are a 20D x 50D ripstop polyester that has been completely infused with silicone, making this fabric completely waterproof and weather-resistant.
It is super strong, extremely lightweight hammock and the silicone prevents annoying fabric squeaks associated with some nylon tarps. Many users also find that SilPro does need tarp tensioners to keep it taut- simply set it up and forget it.
Eagles Nest Outfitters ProFly Rain Tarp
A well-known name in the hammock camping world is Eagles Nest Outfitters, often just referred to as ENO. ENO produces some of the best serious hammocks on the market, and their Pro Fly rain tarp is one of their most-loved hammock coverings.
Specs
Retails for $79.95
Colors – Navy, Grey, Olive, Black and Limeaid
Total dimensions – 10′ 6″ x 6′ 4″
Weighs 22 oz
Made of 210D ripstop nylon
While some hammock companies try to make the biggest, worst tarps possible, ENO knows that sometimes less is more. If you are hammock camping in anything but extreme conditions and don't want to spend over $100, there should be options. The ProFly Rain Tarp is priced extremely well for its quality and will stand up to years of use.
The ProFly has 6 different guys out points and is streamlined to allow for proper water-shedding. The PU-coated Nylon has no problem keeping the rain at bay and the taped seams go a long way in helping to prevent any leaks.
It offers plenty of headroom while in it or using it for overhead hammock shelter.
The price, size, and versatility of this model make it perfect for campers that want to take an additional tarp for gear storage, socializing area, or make-shift kitchen. For those concerned about weight, this tarp is also available in SilNylon for a slightly higher price.
Warbonnet Outdoors Superfly Hammock Tarp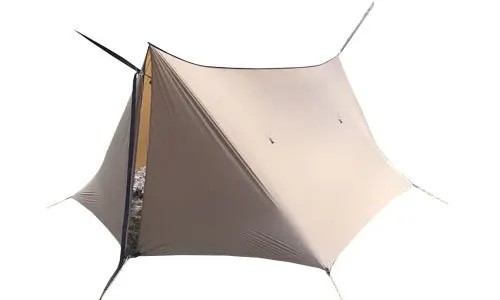 If you're already a fan of hammock camping and really want a "bombproof" tarp that can handle essentially any weather conditions, the Superfly Hammock Tarp with doors is a winner. Warbonnet Outdoors knows the ins-and-outs of hammock and tarp making, with an eye for quality design. This tarp is proof enough that this brand knows what the serious hammock camper needs.
Specs
Retails for $140
Colors – Olive Brown
Total dimensions – 11′ x 10′
Made of 30D 2000mm NeverMist™ Silnylon
Weighs just 1lb 3oz
The Superfly is a big tarp that can easily cover any of the Warbonnet hammocks, as well as other brands. It is the largest tarp provided by this company and is one of few true winter tarps on the market.
The immense size of the tarp isn't just to cover an XL hammock, but actually to reach nearly down to ground level to prevent windchill during fall and winter camping. It has a door entrance but these doors can be folded up out of the way in good weather.
Due to the versatility, size, and strength of this tarp, it is a great choice as an all-season model as well. Since hammock tarps are so versatile compared to tents, you don't need to necessarily worry about having "too much" tarp. The only concern would be the added weight. If weight isn't a concern, this tarp would be perfect for the camper that doesn't want to deal with tarps for every season or weather condition.
The 5 tarps featured here are all by well-known brands, most of which specialize in hammock design already. Hammock camping can be an absolute blast and even life-changing for die-hard tent campers. Before you head out to the great outdoors to try out your new sleeping arrangement, be sure the tarp you are going to rely on is trustworthy.
FAQs About Hammock Tarps
What size tarp do I need for my hammock?
When choosing a tarp for your hammock, always allow 30 cm. from both sides to cover your hammock in order to have proper coverage.
Is the tarp waterproof?
Depending on the model you choose, a tarp can be waterproof and providing protection for wet conditions.
Will a tarp hold water?
Waterproof tarps will completely protect you during rain and moisture, whereas water-resistant tarps will withstand the water into the fabric for a short period of time.
Recommended Reads:
Looking for the best hammock underquilt and outdoor gear like the Sea to Summit Escapist Tarp? Say no more! These are the Best Hammock Underquilts that you're going to love when taking your next outdoor adventure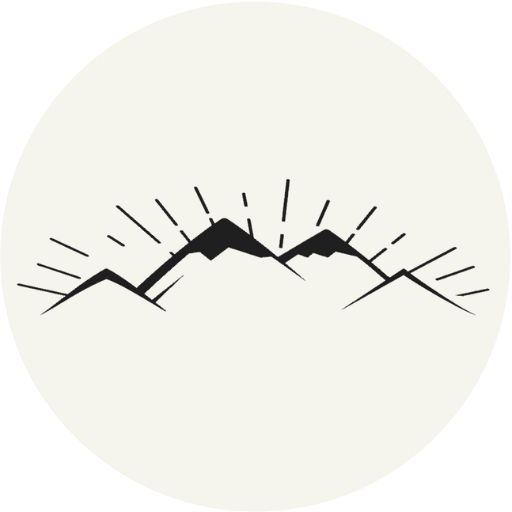 The All-Outdoors Guide team is comprised of enthusiastic experts that enjoy helping others that aspire to be better at outdoor fun. Part of that is making sure you have the right gear and information when it's time to go out and have fun. Some of our team have accomplished amazing feats like climbing 6000 feet to the top of mountains, others have explored every dirt trail they could find and we even have some people that have backpacked solo on various continents. No matter what our readers want to learn and do, our team is here to help them accomplish those goals.