New hammock campers are often left with one of two first impressions after their first night – amazed at how comfortable they were and how restful they slept or feeling irritable and annoyed that they had terrible night's sleep and woke up cold.
Sadly this happens fairly often for those that don't research hammock camping but is 100% preventable. One of the most common complaints about hammock camping is feeling cold and being unable to conserve body heat. However, this issue comes down to your choice of gear.
After all, there are plenty of die-hard hammock campers that still go out on trips in the dead of winter in frigid cold temperatures. The trick is that they always take along an appropriate underquilt.
Hammock under quilt is a piece of gear that is basically essential to most hammock camping trips, save for those in the heat of the summer. Just as its name suggests, an ultralight hammock underquilt is a quilted material that is placed under the hammock itself, rather than just under your body.
The issue with hammock and heat retention is that if you use just a sleeping bag with no underquilt, your body weight will compress the bag, leaving hardly any insulation between you and the hammock.
In a tent setting, this isn't so much of an issue as the tent floor and the ground underneath acts as a buffer, helping to prevent body heat loss. This is especially true if you add in a sleeping pad. With a hammock, you are laying against a durable but fairly thin material, and on the other side is the cold air.
An underquilt effectively blocks the cold temperatures and acts as additional insulation to trap body heat. This is far more effective than simply using a thicker sleeping bag or a sleeping pad within your hammock.
Most hammock campers will agree that you should add an underquilt if there is a chance of nighttime lows reaching 40-45 F. In the middle of the summer you actually might quite enjoy having a bit of a breeze under you while you get a night's sleep, but typically on cool nights, you should pack along your underquilt.
Under quilts essentially all perform the same function, but there are some models that are better constructed, higher quality, and overall have higher performance than others. If you are looking to purchase your first underquilt to complete your hammock camping set or are just interested in replacing your old one, here are the top 4 models to consider.
What are the benefits of using a hammock under quilt?
Enjoy a relaxed and undisturbed sleep
The hammock under quilt is extremely comfortable, meaning that you can enjoy your sleep away from the ground and you can keep as warm as you need.
Say goodbye to cold, uncomfortable nights
The warm and cozy nights of sleep ahead are a result of the hammock underquilt being able to block out the incoming cold from the harsh weather. It keeps your body heat in, and they are very comfortable while hammocking.
Hammock underquilts are lighter
Even though hammock underquilts look bulky when they are open, they are much lighter than sleeping bags. They are designed to be able to replace sleeping bags and even tents. This means that if you're on a hike, you will easily be able to pack this on your back and keep moving. They are lighter and take less space.
Experience nature at its best
Most people want to go outdoors and camp to be able to experience the fresh air and the openness of nature. You can do this with a hammock and hammock underquilt. It allows you to catch the gentle breeze and view unbelievable skies all night long.
Simple to install
Hammock underquilts are generally very simple to use, carry and install. All you have to do is set up your hammock and wrap the underquilt around it. The hammock underquilt attaches to either end of the hammock with hooks.
What features should you look at in a hammock underquilt?
Material
Hammock underquilts are generally made from various materials. The key is that they all need to achieve the same goals; warmth, comfort, featherweight, and water resistant. The best materials are those that are durable and are of very high-quality. Look for a feature called DWR finish, which means that the material is water repellent. Generally, nylon is water resistant. Often you will see the term 'ripstop nylon shell' which means that the material is durable. This ensures protection from snags and tears.
Insulation
Hammock camping in colder weather means that you need a hammock underquilt, but just how much insulation will you need? Insulation is determined by the type of weather that you are going to be using your hammock underquilt in. You can select either synthetic or down fill insulation.
Both insulation methods work well and are unique. Some prefer to choose down filled insulation as it has a fantastic warmth to weight ratio. Synthetic insulation means polyester insulation that is very effective at keeping you warm, even in wet conditions.
Size
Size is one of the most important factors to consider when buying a hammock underquilt. First and foremost – the underquilt needs to suit your hammock. Some hammock models are known to be longer or wider than others, and this needs to be considered when choosing your next hammock underquilt.
The quilt needs to fit your body. Generally, you will find underquilts that come in full-length sizes as well as torso sizes. The full-length is the most common one to go for as it covers your body from head to toe. The torso underquilts keep your body very warm, but your feet may be more exposed.
Durability
Hammock underquilts are usually quite durable, but it is important to double-check just how durable they are. You can do this by checking if the hammock underquilt is made from a ripstop fabric material like nylon. This will ensure that the product will last a long time.
Take care of your hammock underquilt and make it last even longer by taking proper care of it and cleaning it regularly. Store it uncompressed to ensure that the insulation does not get damaged and ensure that you read all guidelines from the supplier to help your hammock underquilt last longer.
Weight
The weight of your hammock underquilt should be considered as it directly impacts the outdoor activities that you will be doing. The heavier your underquilt, the more there will be to carry on your next hike. Remember the lighter the underquilt, the better it travels. When you analyze the weight of a hammock underquilt, look for portability, space, and ease of packing.
Temperature rating
Each hammock underquilt has a temperature rating. These are directly related to the period of the year that you wish to use the hammock underquilt like winter or fall etc. The hammock underquilt needs to be suitable for various temperature ranges, especially for the lower temperatures.
Price
Hammock underquilts definitely have quite a price range on them. Remember that you want something that is of a decent quality that won't break the bank. We have created a list of the top 10 hammock underquilts below, that cover affordability and quality.
What type of hammock underquilts are out there?
There are basically two types of hammock underquilts out there. These are named in direct relation to their insulation. They are:
Down hammock underquilts
Synthetic underquilts
The down hammock underquilt
Down hammock underquilts are generally the preferred choice amongst many outdoor fans. This is because they are designed to keep you very warm, and when compressed, they are much smaller to store.
They do have disadvantages that you should be aware of. This includes the performance of the underquilt being lowered when it gets wet. If the hammock underquilt cannot be dried out, it is impossible to use. So be wary of this if you are camping in a very rainy region. Despite the inability to stay very dry, these hammock underquilts have amazing insulation capabilities.
The synthetic hammock underquilt
Synthetic underquilts are not as comfortable as the down hammock underquilts in dry conditions. They are also more difficult to store and transport as they do not compress as well as the down hammock underquilts.
Having said this, they are significantly cheaper, and they are ideal for casual campers. Down hammock underquilts are premium, but they also require a lot more effort to try and keep them clean. The best advice to give is if you're on a budget, get a synthetic hammock underquilt.
What is the ideal hammock underquilt length?
Hammock underquilts come in an array of sizes and lengths. This could be one of trickiest things to try and get right. Sizes do make a massive difference in your outdoor experience, and it should not be taken lightly.
The length of the hammock underquilt is one of the most important ways to regulate the warmth inside the hammock. Length also affects the weight and size of your hammock underquilt so remember that the longest is not necessarily the best choice. If you're taking long, through hikes, the longest option would not be viable. Remember that whatever is being purchased has to be hiked in and out. So try to find the lightest possible solutions.
You get various lengths like these:
Full-length
These stretch across your entire body, from head to toe. This means that they stretch from one end of the hammock to the other. This is the best choice for campers that are going out in the winter months.
Three-quarter length
This size is ideal if you are outdoors in ever-changing temperatures. You want the hammock to stay cool when you need it to and warmer at night. A good idea would be to have this type of hammock underquilt and wear thick and heavy socks with it. This also means less bulk in your backpack.
Half-length
This is not recommended for winter outdoor activities, but it can be very useful and ideal if you're looking for an ultralight solution. You can use this easily in the summer months, and it is much lighter to carry. There are many to choose from, so if you want a half-length hammock underquilt, ensure that you only use it in warmer seasons.
At what temperature should you add a hammock underquilt?
Hammock underquilts are added at various temperatures at the discretion of outdoor enthusiasts, as the temperature is always relative. We have, however, noted some general temperature guidelines for hammock underquilts below.
For a temperature that is 30°F and below, you will most definitely need a hammock underquilt. For degrees that range between 30°F and 50°F, you may want to consider a hammock underquilt but some people feel that it is not completely necessary. You will typically not need a hammock underquilt for temperatures that are 50°F and above.
How do you fit a hammock underquilt to a hammock?
Most of the hammock underquilts out there are made so that it is very easy to attach it to the hammock itself. You're outdoors, and the last thing you want to worry about is something that is difficult to mantle.
You generally need a few hooks and some camping rope. The hooks are often sold with hammock underquilts, and they are usually mitten hooks or S hooks. The goal of attaching a hammock underquilts is to have it suspended under the hammock with a minimal air gap between the hammock underquilt and the hammock. You also need to try and achieve minimal tension on the hammock underquilt.
Steps to attach a hammock underquilt to a hammock:
Get the suspension cord and fold it in half.
Use the folded end and pass it through an outer ring of the hammock suspension strap.
Drop two micro-biner ends through this loop.
Cinch tight to ensure a girth hitch is formed on the ring.
Pass one micro-biner through one of the hammock corner rings. The other micro-biner
needs to go through the exact opposite hammock ring.
The hammock's ribbon corner loop needs to go through the corner loop on the underquilt.
Then, attach the corresponding mico-biner to the hammock's ribbon loop.
Draw the end of the cord until the hem of the underquilt mirrors the hammock's end seam.
And that's it! You're ready to go.
Remember to always follow the guidelines from your hammock underquilt instruction manual as each underquilt works differently.
Outdoor Vitals Aerie 30°F Down Underquilt/Sleeping Bag
This hammock underquilt is one of the most popular, and that is no surprise. It is most definitely one of the best on the market. It can be used as a sleeping bag as well as an under quilt. Many campers also use this as a technical blanket too.
The underquilt is ultralight which means that it is very easy to carry about. It weighs no more than 1.7lbs. The product is very warm and has a drawstring to help you tighten the bag around you. It's rather durable and comes with a limited lifetime warranty.
Pros
It has multi-usage
Durable and tough
Lightweight
Great design
Cons
Odor
Under freezing temperatures, you may need to have an extra blanket at hand
OneTigris Hammock Underquilt
OneTigris is a brand that is known for producing super-quality underquilts. It has amazing features that make it a great pick.
The underquilt is designed to help protect against 40°F which means that it is ideal for three seasons of the year. It is lightweight and is highly portable. The insulation is also high-level on this hammock underquilt which means that you will also feel warm most of the time.
It is made of ripstop nylon shell material which means that it is highly durable. It's very easy to construct which is a must when looking for an underquilt.
Pros
Warm
Durable
Highly repellent
Easy to construct
Affordable
Ideal for three seasons
Cons
Does not contour the body fully
ENO Eagles Nest Outfitters – Vulcan Underquilt, Ultralight Camping Quilt
This is one of the most comfortable quilts out there. It is designed to help campers feel warm whenever in colder temps. The underquilt is used for colder temperatures and has synthetic insulation. The underquilt also contours to your body which adds to the comfort factor.
It is highly functional as it is designed to keep you warm even below 35°F. It has a nylon shell which means that it is highly durable and very tough. The water repellent feature is rather dominant and works well, meaning that your hammock underquilt will last you a long time.
Pros
Lightweight
Warm and comfortable
Durable due to synthetic material
Longevity
Highly water resistant
Cons
More expensive than others on the market
Eagles Nest Outfitters Ember 2 Underquilt
The Eagles Nest Outfitters underquilt is one of the best out there. The hammock underquilt was designed to last at least four seasons which means that it is highly durable and the buy is a high value-for-money.
The hammock underquilt is highly versatile and can withstand a range of weather. It can fit in with lighter sleeping bags which means that it can offer additional warmth. The underquilt can be used for various hammocks as it is universal. It also contours to your body and has a very easy setup process.
Pros
Durable
Lightweight
Ideal if you are a casual camper
Water-resistant
Very warm
Boasts longevity
Cons
Needs an extra sleeping bag
Ideal for warmer months only
SnugPak Hammock Quilt with Travelsoft Insulation
The Snugpak Hammock Quilt is one of the most popular solutions if you're an outdoor enthusiast on a budget. There are plenty of people out there that prefer to go camping on the weekends for fun, and if you're one of these people – this is the hammock underquilt for you.
It is made from heavier materials than others, so if you're planning a long hike with quite a bit of activities along the way, this would not be the ideal choice. The Snugpak also does not have a temperature rating.
Pros
One of the best budget-buys around
Durable
Makes you feel snugger with a cocoon-like wrapping style
Cons
Heavier than other hammock underquilts
Go Outfitters The Adventure Underquilt
Go Outfitters is one of the most user-friendly hammock underquilts out there. The product is made to make your life easier. Managing as well as easy to construct is simple. The design helps keep you warm most of the time and the underquilt contours your body easily.
The underquilt is lightweight which makes it easy to carry. It is very comfortable, and if you run into rain, there's no issue. Go Outfitters is also well-waterproofed. The hammock underquilt is also versatile as it fits with more than one type of hammock.
Pros
High-quality
Affordable
Water-repellent coating
Easy to construct
Cons
Thermodown 15 Degree Down Sleeping Quilt
The Thermodown 15 Degrees Down hammock underquilt is not a double sleeping bag that provides warmth, comfort, and versatility all in one. The underquilt acts as an insulated sleeping bag, as well as an underquilt and, is available in various colors.
If you're outdoors on a colder evening, don't worry. This product has cinch cords as well as a collar to ensure that you keep warm at all times. The 15-degree function can be used for winter and if it is quite warm, the underquilt can simply be opened for ventilation. Because it opens up flat, it can also be used as a blanket if need be.
The only drawback on this product is that this underquilt is not quite as warm as other cold weather ones. Some campers may need to add a sleeping pad to it to get the ideal temperature in the colder months.
Pros
Versatile as it acts as a blanket, and sleeping bag as well as an underquilt
Color options are available
Works well for backpacking
Cons
Not as warm as other hammock underquilts
Kindle Underquilt
The Kindle is one of the most user-friendly hammock underquilts out there. It has a simple setup process and is ideal for both outdoor experts and casual campers. The model has the ability to fit with many different kinds of hammocks due to its lateral adjusters.
The underquilt is also very lightweight which means that it is easy to manage and store. It provides comfort and is adjustable which is always a plus when you are traveling with more than one person. It is highly durable and works well in most environments.
Pros
Multi-functional
Lightweight
Durable
Comfortable
Affordable
Cons
It does not cover the entire body
Uboway Outdoor Hammock Underquilt
Uboway has made a very impressive hammock underquilt. It is made of nylon which is a highly durable material and it also makes the underquilt resistant to water and moisture. The product has many materials that are designed to keep you warm during colder camping days.
The underquilt is very simple to construct and its lightweight features make it easy to store and carry on a backpack. It is also a very efficient hammock underquilt when it comes to thermal stability.
Pros
Easy to pack and store
Made of premium materials
Versatile
Lightweight
Cons
Not as warm as other underquilts
Eagles Nest Outfitters Blaze Underquilt
Eagles Nest Outfitters (ENO) is one of the most well-known hammock and hammock accessory manufacturers. They have a very large, loyal fanbase, and for good reason. ENO consistently produces high-quality hammocks and hammock equipment. It comes as no surprise that they have a few different quality underquilts.
One of ENO's most impressive underquilts is the Blaze. The ENO Blaze is a 750 fill duck down insulated underquilt, designed for temps down to 30F. They sell this as a 4 season capable underquilt, when combined with other gear appropriate for winter temps.
The down used in the Blaze is real duck down that has been sustainably sourced. It features Downtek technology which drastically increases the natural water repellency of real down. The shell is made of ripstop nylon finished with a DWR finish.
The Blaze has shock cord suspension rails and is very easy to get exactly right under your hammock. This underquilt weighs 24 ounces and is 6′ 6″ long.
It retails for $299.95, which many find is very reasonable for the quality of the Blaze. If you need a super warm underquilt and don't want to wait for a custom made one, this is a good route to go.
Kammok Koala Hammock Underquilt
Kammok was founded out of a need for tough hammock gear after the founder experienced a fall in the middle of the night due to a failure in his equipment. Kammok is growing quickly and can now be found through major outdoor retailers like REI.
It goes without saying that when a brand specializes in one type of gear, they can truly become masters. Kammok is top-notch quality and their Koala underquilt is a perfect example of the great products this brand creates.
Despite being a cute name the Koala underquilt is seriously warm and well-designed. The Koala is designed for those chilly nights. It is highly resistant to water/moisture and features Kammok's CustomFit adjustments, making it easy to have this quilt roomy or quite snug depending on your tastes.
The Koala also has Insotect Flow, which is a design Kammok created that helps regulate the flow or distribution of body heat. This helps spread the warmth and thereby reduces the chances of a cold spot. Kammok additionally makes this bag in either a synthetic or down option.
The synthetic bag is good down to 40F, weighs 27 ounces, and is 84″ long. The down bag is 80″ long, weighs 23 ounces, and is good down to 30F. There is a $100 price difference between the two, with the synthetic at $229 and the down at $329.
Enlightened Equipment Revolt 30 Degree Underquilt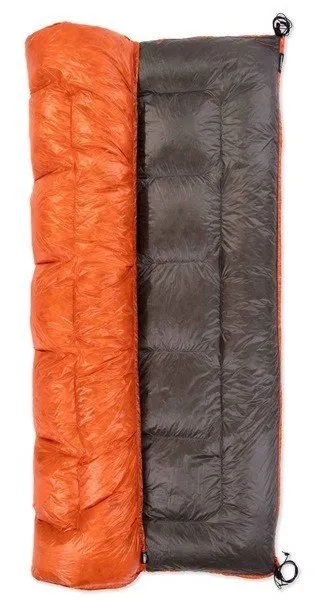 Enlightened Equipment is dedicated to creating lightweight, functional camping gear, primarily designed with ultralight backpackers in mind. They have a variety of hammock gear, including their Revolt 30 Degree Underquilt.
The Revolt 30 Degree Underquilt is a customer-designed model, meaning you get to choose the length, color (inside and out), as well as down type. You can also choose different temperatures, though the 30-degree model is a versatile choice.
The Revolt underquilt has a high fill and is designed with KARO baffles for maximum warmth retention. It has a high loft and incredible insulation, but remains easy to use and allows for any type of positioning. The Revolt is truly made with ease of use in mind, letting you easily readjust it even when you are already laying down.
Enlightened Equipment includes a Silnylon stuff sack for packing, a 100% cotton bag for storage at home/in the off-season, as well as 2 shock cords for suspension. You can also opt to include 2 mini carabiners.
Prices do vary based on what options you select, but an 850 fill down, regular length 30F Revolt will cost roughly $240 (For the latest prices and discounts, check here) and weighs about 14.05 oz. This is a custom made quilt so keep in mind that it may be a few weeks before you get your product.
Underground Quilts Zeppelin 20 Degree Underquilt

Underground Quilts (UGQ) is a small cottage company that focuses on hammock gear, including top quilts, tarps, and underquilts. Despite being a fairly new company, having been founded in 2011, they have quickly made a name for themselves. Of the two underquilts they offer, the Zeppelin is a particularly great choice.
Similarly to the Revolt underquilt, the Zeppelin is available in a plethora of different colors, lengths and fill. However, you also get the choice of additional fill, type of suspension system, and whether you want a storage sack or not.
All Zeppelin underquilts are made of extremely durable materials, including your choice of a DWR outer shell. The inner shell is made of M10, a silky soft materials that are also DWR treated. This underquilt has an impressive loft with 10 different baffled chambers sewn in.
All Zeppelin quilts are made to order. A 20F 850 fill regular length Zeppelin will cost about $209.95. With all the various options the Zeppelin is a great way for a more experience hammock camper to get exactly what they need.
In Conclusion
Now that you have seen the top 10 hammock underquilts for sale at the moment, you can choose which one is the best for you. Many are great on this list, and as you can see, your choice will be altered depending on the conditions you will be using the product in.
Most underquilts on the list are highly durable and versatile. They are also lightweight and make it very easy for you to carry and still keep warm at night. Some are also ideal for over four seasons, which gives you the ability to choose one that has a long lifespan.
So when you buy your hammock underquilt, remember that you can get a lot of value for your money, especially if you purchase a slightly more expensive product that is designed to last longer. If you're on a budget and want a hammock underquilt for casual camping, you can do that too.
Watch the temperature ratings on each and remember that if your hammock underquilt is going to be used in snow or freezing temperatures, that your choice should be one that will keep you warm all winter long.
Look for something that is easy to set up as well as something that is versatile. If you can get a universal hammock underquilt that would be ideal for the long-term. There are no brand-specific or preferred products in this list, so be sure to have a look at the features more than the brands when you make your choice.
And that's it!
We wish you well on your quest to find the best hammock underquilt for your outdoor adventure needs. Do be sure to share which one you purchased and why.
Happy hammocking!
This Might Interest You: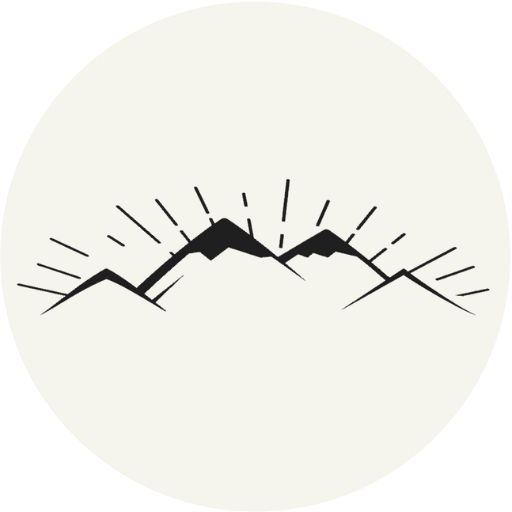 The All-Outdoors Guide team is comprised of enthusiastic experts that enjoy helping others that aspire to be better at outdoor fun. Part of that is making sure you have the right gear and information when it's time to go out and have fun. Some of our team have accomplished amazing feats like climbing 6000 feet to the top of mountains, others have explored every dirt trail they could find and we even have some people that have backpacked solo on various continents. No matter what our readers want to learn and do, our team is here to help them accomplish those goals.