Enlightened Equipment is a small company located in Minnesota, dedicated to providing super lightweight, functional katabatic gear. Ultralight backpackers and hammock campers may already be familiar with the equipment Enlightened Equipment offers their audience.
This company really sets itself apart from other big brands by focusing on fewer but extremely well-made UL gear. You'll also find that EE offers an extreme range of customizable products, something rare to find from big-name brands.
Where EE really shines is with its range of quilts. While newcomers to hammock camping or simply those that don't experiment past sleepings sack may not be aware of how useful quilts are.
Similar to the quilts you'd use on your bed at home, camping quilts are a replacement for sleeping bags, though you may use them in addition to sleeping bags as well. They are super versatile and once you get the hang of them, often are warmer and lighter than other options.
Enlightened Equipment has a whopping 57 different models of quilts, ensuring you will be able to find the right one for your setup and preferences. The Revelation quilt is recommended by EE for campers that need something lightweight and highly versatile. This model is one of their more popular choices and showcases some very cool features.
Design and Construction of the Revelation Quilt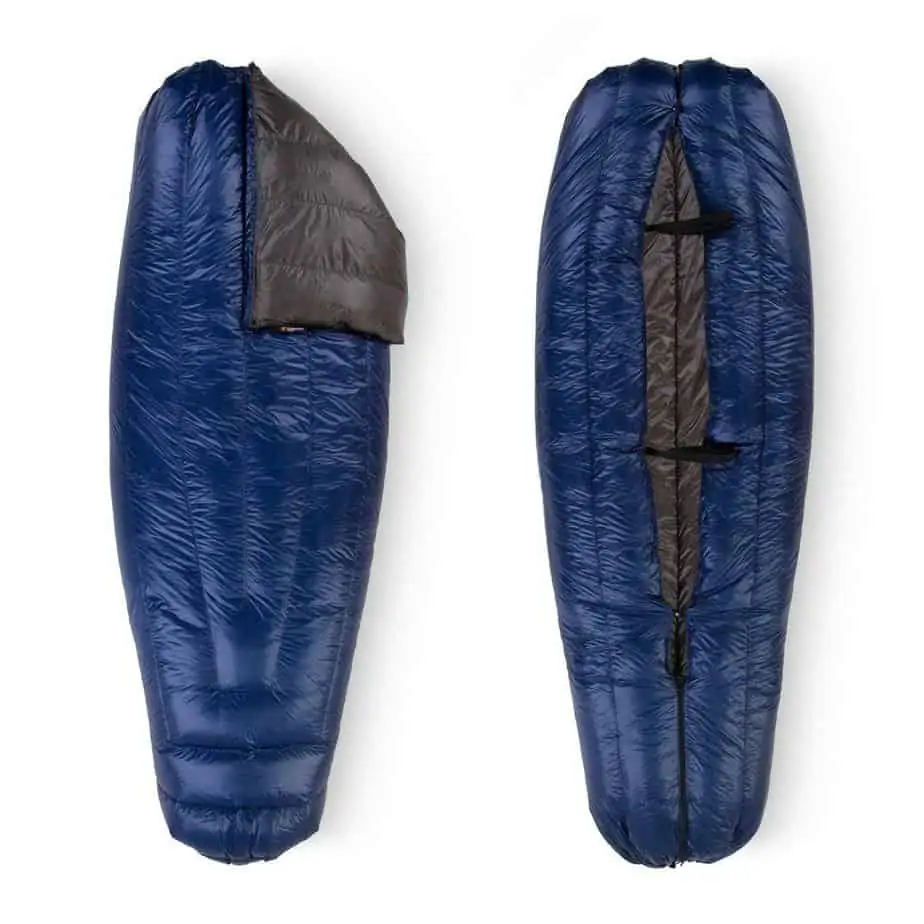 The Revelation quilt liner combines lightweight and high functionality, making it a great and comfortable quilt with a blanket for anyone. If you're new to using a quilt you'll wonder why you never tried it before. If you're a long-time fan of quilts you'll find that the Revelation is an overall excellent piece of gear for instances when versatility is key.
The main features of the Revelation include:
A 20″ zipper + drawstring combo for easy opening and closing of the foot box
Elastic strap pad attachment system includes clips for maximum security
Button snap + drawstring neck closure allowing mummy bag fit
Unique U-shaped baffles help prevent down from shifting
The natural half-taper shape fits the body more ergonomically
Down sourced only from ethical RDS certified suppliers
Zero PFC DownTek technology aids in better moisture resistance
Designed with 10D durable nylon fabric for durability and comfort
The additional option for 20D ripstop nylon for maximum toughness
Comes with a silnylon stuff sack, 100% organic cotton storage bag, and 2x elastic straps
On The Shelf retail price of $270 (check here for the latest price) for a Revelation 20 (prices vary for custom)
With the details out of the way, let's get into why you might want to purchase a Revelation quilt.
Advantages of the Revelation Quilt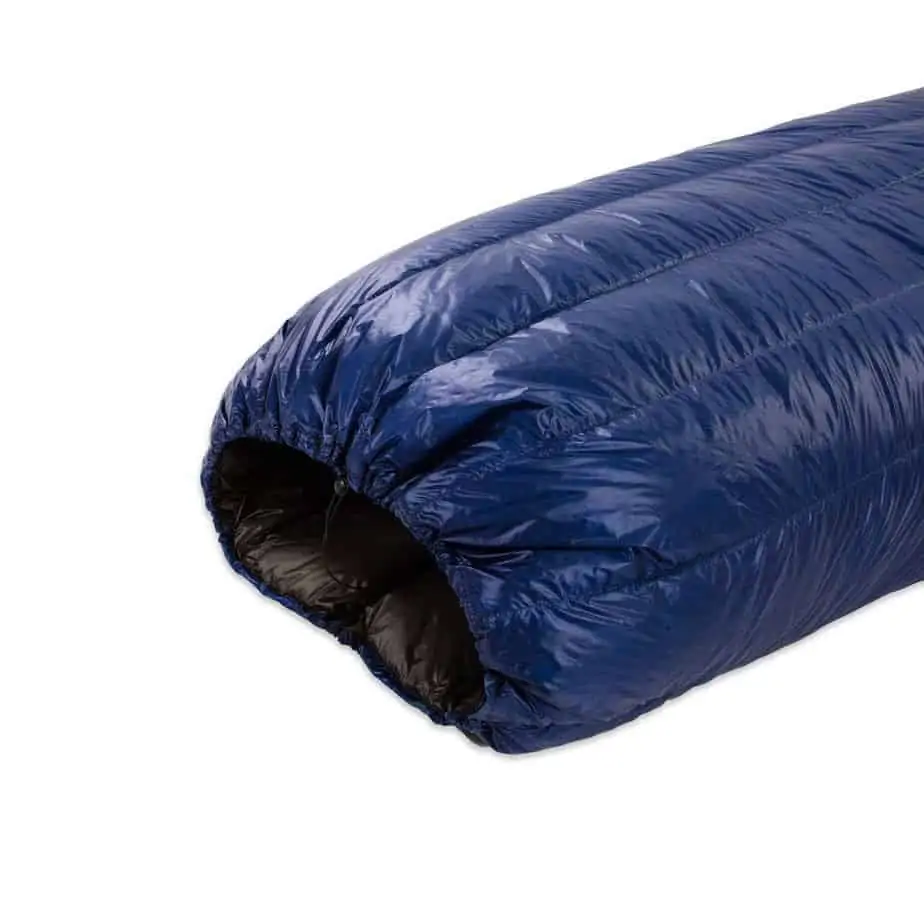 The four main advantages of the Revelation quilt include the following.
Highly Customizable With Functional Features
By far the biggest selling point for the Revelation, along with the majority of EE quilts, is that you can easily design your own custom quilt. There is an incredible number of combinations, including fill, comfort ratings, length, width, and colors.
For fill ratings, you'll have the choice of 850, 800, or 950. Temperature ratings include a 50F, 40F, 30F, 20F, 10F and 0F. Basically, you can create a Revelation perfect for a mild summer and frigid winter or something that will work most of the year for your purposes. The only downside may be condensation when the weather is not so good!
Most sleeping bags only offer a couple of options for extra length or width. EE takes this to a whole other level by offering five-length options and four-width options, which are all interchangeable. For length, you'll have the XShort (5′), Short (5′ 6″), Regular (6′), Long (6′ 6″), and the XLong (7′). For widths you'll have the Slim (50″), Regular (54″), Wide (58″) and XWide (64″).
As far as colors go there are 16 options for the exterior fabric, 9 options for the interior fabric, and 8 options for the 20D weather-resistant stripes (optional feature). Note: all materials are water-resistant and you are going to love them!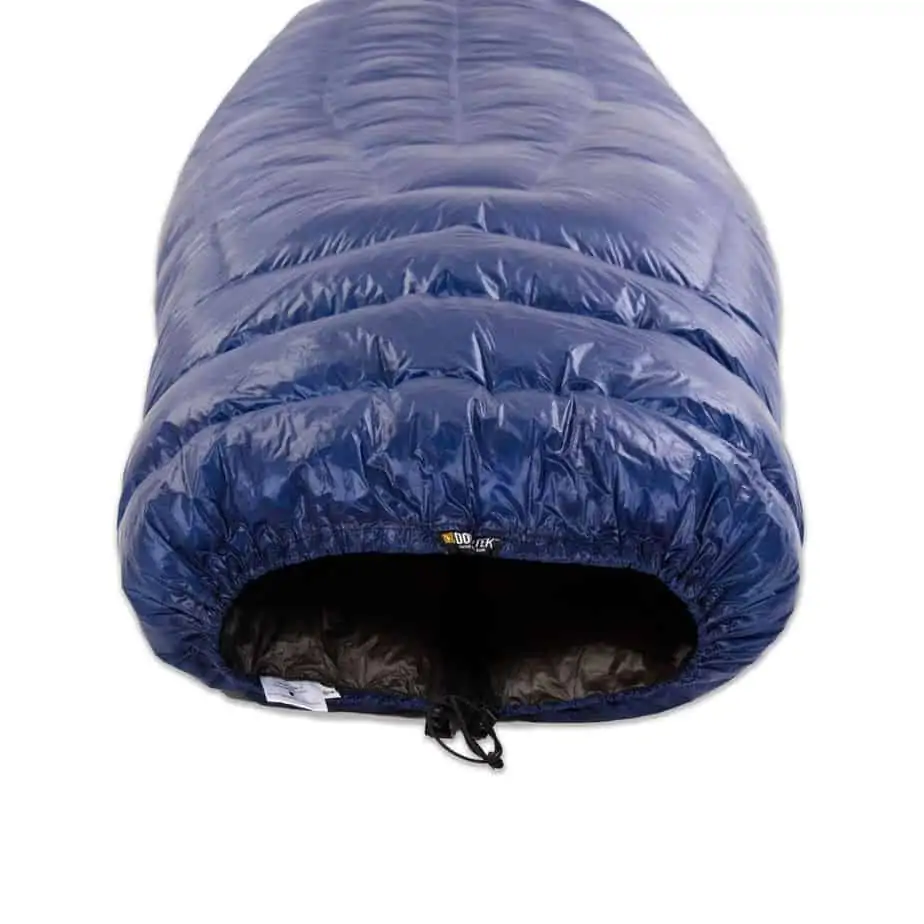 Reasonably Priced Compared to Similar Products
All things considered, a custom Revelation will be priced very competitively compared to sleeping bags and quilts with the same warmth rating. When it comes to EE pre-made quilts that are already on the shelf you'll find they cost less than other quilts, along with being a higher performance model. Overall the Revelation is a very smart buy if you're on a budget.
Impressively Lightweight and Compact
While the exact weight of your Revelation will vary due to the variance in custom features, the typical Revelation 20 quilt will weigh just about 19 ounces with the webbing straps and stuff sack. If you're only taking the quilt alone you can expect a little over 18 ounces.
The Revelation isn't the most ultralight quilt but it still is impressively light compared to other quilts and bags in its category. You'll also find that the Revelation compresses down to quite a compact size. You can easily shove it down into the bottom of your backpack without a problem and there is always extra room for another person, just in case.
Great Alternative to Sleeping Bags
Though it isn't an advantage only of the Revelation quilt, it's worth reiterating that this quilt is an excellent alternative product to sleeping bags. Sleeping bags will never fall from popularity, and they certainly are a great way of keeping warm, but for those that don't like the limited designs of bags or struggle to find ones that truly are warm, a Revelation is a great option.
The incredible versatility of a quilt means you can use it in almost any way you can conceive, whether you're in a tent, hammock, bivvy, or sleeping in a cabin.
Downsides of the Revelation Quilt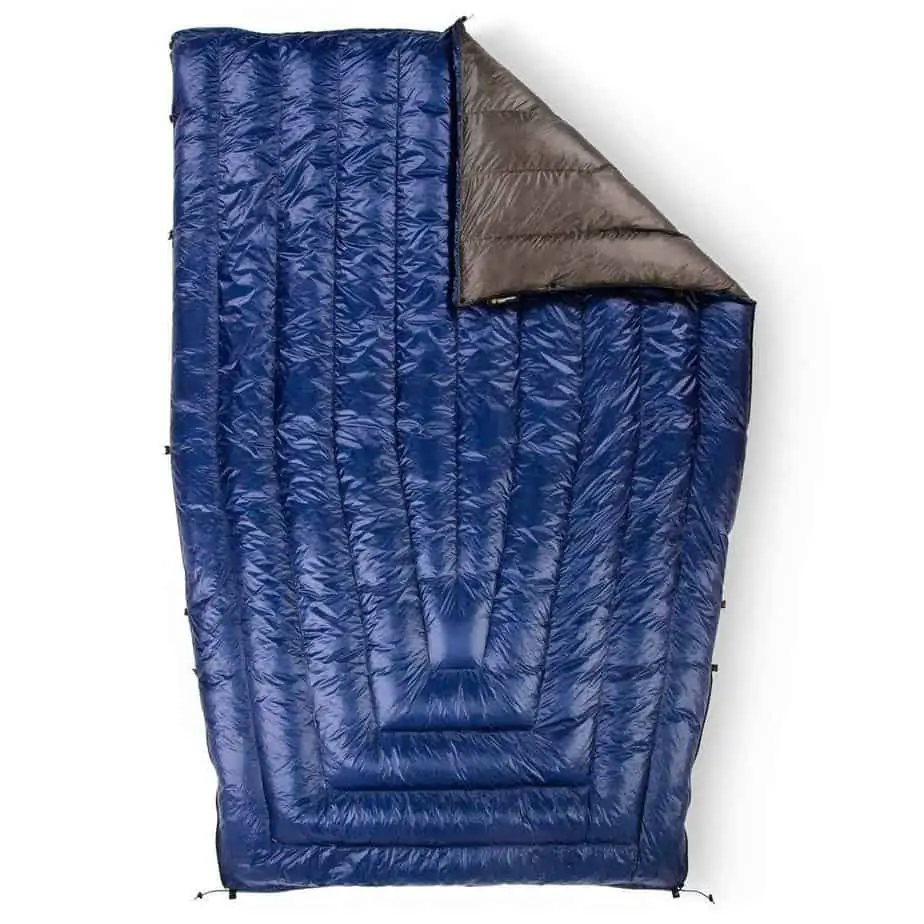 Though this is easily a 5 star model of the quilt, there are 3 things to keep in mind if you plan on purchasing a Revelation of your own.
Down Requires Specialized Care vs Synthetics
While not a particular disadvantage, if you are new to real down products you should be aware that your Revelation quilt needs to be treated more carefully than synthetics. It certainly isn't a high-maintenance or fragile product, but rather just has different cleaning needs.
Although the U-shaped baffles help eliminate cold sleeper spots, some customers do find that the downshifts a bit more than other quilts. Be sure after hanging your quilt to dry you carefully brush the down back into place before storage or use.
Strap & Button Design Takes Practice
A big difference between the Revelation quilt and a sleeping bag is the lack of a body-length zipper for getting in and out. Instead, you will have a small zipper in the foot box, with the remaining quilt utilizing buttons and straps. While there isn't anything wrong with this design, it naturally takes a little more getting used to compared to a plain zipper.
Extended Wait Time for Custom Orders
While EE does have a few Revelation quilts pre-made on the shelf ready to purchase, chances are high you probably want a custom quilt. The only downside about custom orders and this applies to any company really, is that you'll have to wait longer to get your product.
All Revelation quilts are handmade by EE, and excellently sewn. This means you can expect a wait of 5 to 7 weeks before it ships. This isn't too unreasonable, but you should keep in mind that if you have a camping trip coming up soon you may not get your custom quilt in time.
Overall the Revelation quilt is an incredibly well-made piece of gear that may make any diehard sleeping bag user question what they've been doing this whole time. When versatility and maximum warmth are important you'll find yourself reaching for this model. Also, if you are new to hammock camping and are tired of trying to use a bag, the Revelation quilt is a great product to get you started off.
FAQs About Quilts
Question: Do I need an outdoor quilt for sleeping?
Answer: Yes. If you are planning on staying outdoors for camping during cold weather, you can either use a tent or an outdoor quilt for sleeping. Quilts are much easier to install and provide warmth and a cocoon feeling, whereas tents need a special mattress for sleeping.
Question: Can I put a quilt in a tent?
Answer: Yes. Quilts are excellent outdoor gear as you can use it as a blanket during warm weather, and you can also install it inside a tent, for extra coziness during chilly weather.
Question: Can I get a custom-made quilt from Enlightened Equipment?
Answer: On the official page of Enlightened Equipment, you can choose several styles: short/regular, regular, regular/wide, and long/wide, and also the preferred color of your quilt. They have also included a temperature choice, so you can find the ideal for your future outdoor plans.
Further read: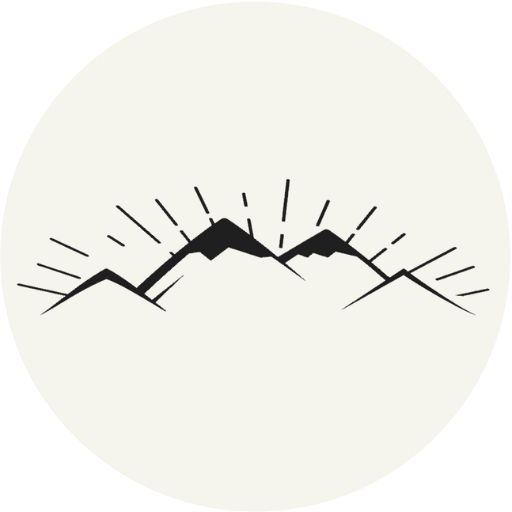 The All-Outdoors Guide team is comprised of enthusiastic experts that enjoy helping others that aspire to be better at outdoor fun. Part of that is making sure you have the right gear and information when it's time to go out and have fun. Some of our team have accomplished amazing feats like climbing 6000 feet to the top of mountains, others have explored every dirt trail they could find and we even have some people that have backpacked solo on various continents. No matter what our readers want to learn and do, our team is here to help them accomplish those goals.