Summer days are meant for escaping, and we know there's no better feeling than waking up to a gorgeous sunrise early in the morning after you've camped out.
To enjoy your morning, though, you have to get a good night's sleep first, and that starts with your sleeping bag.
In this article, we're going to start by explaining what temperature ratings are and how they're determined.
Then we'll talk about a few details to consider when buying a warm weather sleeping bag, including comforter-style versus mummy bags.
Then we're going to tell you about 10 of our favorite warm-weather sleeping bags, followed by some advice about how to handle a colder-than-expected night at camp.
Temperature Ratings
If you're going to be camping in warm weather or during a balmy summer, a 32 degree or higher bag should work just fine. These bags won't weigh much at all, either – they can be as light as one pound – and they compress down tiny, too.
Keep in mind that temperature ratings are a guideline more than an exact science.
EN Standards Testing
EN Standards testing is marked with an "EN" that precedes a number, like EN13537. That EN mark means that the sleeping bag has gone through a thermal manikin test using a human model that's been designed specifically for this type of testing. The test measures the amount of insulation in the sleeping bag. A sleeping bag with an EN tag is typically more expensive because the testing itself is pricey.
Temperature Rating Parameters
Tests are conducted assuming the following:
The user will be using a sleeping pad
The user will be in a tent
The user will be wearing a layer of thermal underwear
Temperature testing is based on a man or woman who is 25 years old. Men typically sleeping "hotter" than women, meaning that women may require more insulation to achieve the same level of comfort. People also have different levels of self-insulation, which is another reason why the rating is merely a guide.
Types of Temperature Ratings
There are four different kinds of temperature ratings and you need to know what they mean so you can read the sleeping bag label properly:
Comfort: A female can sleep comfortably and in a relaxed position.
Extreme: The minimum temperature a female will be able to sleep in for six hours without risking death from hypothermia; frostbite is possible.
Lower Limit: A man can sleep in a curled position, uninterrupted for eight hours.
Upper Limit: A man can sleep with the hood and zippers open, his arms outside of the bag, and not sweat.
Some outdoor pros feel it's best to look at the comfort rating as the more realistic rating and to use this as your guide so that you stay safe and comfortable.
Mummy vs. Quilt Sleeping Bags
As you look for the perfect warm-weather sleeping bag, you'll come across two styles: mummy and quilt. Odds are you're going to choose a quilt-style sleeping bag, but it's still important to know the differences between the two styles.
Mummy
These cocoon-like sleeping bags zip you up snugly and have a hood-like head wrap to lock in even more warmth. These sleeping bags are typically warmer than quilt-style sleeping bags. They're also more constricting and don't give you a lot of freedom when it comes to your sleeping position. For warm-weather camping, a mummy sleeping bag may be too toasty and snug.
If you're going to buy a mummy bag, consider getting one specifically for your gender. Women and men are shaped differently, and a women's sleeping bag will have more space at the hips and less space at the shoulders to keep you snug. The sleeping bag will also be shorter in length. Plus, women tend to be colder at night than men, so women's sleeping bags often have more insulation in the foot box or the upper body area.
Quilt
Quilt sleeping bags are like large blankets. They may be rectangular without even a zipper, or semi-rectangular but with a foot box and/or something to close the sides of the sleeping bag on cooler nights. For warm-weather camping, quilt blankets give you a lot more flexibility to move around and adjust your sleeping position and open up the side for more airflow.
You'll notice that a lot of lightweights, warm weather sleeping bags are zipper-less. Not only does this make them easier to climb in and out of, but they're also a bit lighter to carry since zippers can add weight. Plus, you don't have to worry about the zipper breaking over time.
How Sleeping Bags Keep You Warm
The sleeping bag itself doesn't create warmth; your body does, and then the sleeping bag simply traps that warmth to keep you cozy. The more insulation and less interior space, the better for cold nights, but if you're going to be camping in warm weather, you can buy a sleeping bag with more interior space and less insulation, since you won't need nearly as much of your body heat to stay warm.
Other Considerations
Warm weather sleeping bags aren't nearly as technical as cold weather sleeping bags, but they're still should be some thought behind your purchase. In addition to temperature rating and preferred style, here are three more details to consider.
Price
Your sleeping bag is going to be one of the most expensive pieces of camping gear you own. A budget-friendly bag can cost as little as $150, or you could spring for a high-end bag upwards of $500.
Return Policy
Check the return policy before you guy. Often, you'll be able to return a sleeping bag that has not been used, so long as you fall within the return time period, like 30 days. Test the sleeping bag at home before deciding if you're going to keep it or not.
Weight
If you're backpacking instead of just packing up the car to drive to a campsite, weight is going to be a big consideration when buying a sleeping bag. Your sleeping bag is among the heaviest items you'll be carrying, along with your backpack itself, your tent, and your sleeping pad.
Best Warm Weather Sleeping Bags
There's more variety in warm-weather sleeping bags than you may expect. Some of them lay flat like a comforter, made to feel just like your bed at home.
Others are mummy-style without being too warm for a July or August night.
Also, many of these will double as a liner for when you go camping during the spring or fall when the weather's dropped.
The Feathered Friends Flicker 40 UL sleeping bag is versatile and has a full-length zipper, plus drawcords at the foot box and neck collar. When unzipped, it's large enough to cover two adults. You can also wrap the sleeping bag around you to use it like a hoodless mummy bag.
Fill: 950+ goose down
Weight: 20 oz.
Temperature Rating: 40 degrees Fahrenheit
Full Review: Read our full Feathered Friends Flicker Review for more detailed information.
Where to Buy: You can find the Flicker UL over at FeatherFriends.com at this listing (exlusively sold here).
The light insulation in the Helio Sack makes it perfect for camping in warm weather because it won't make you too toasty while you sleep. It also travels well because it's compact when packed, and the durable water repellant on the shell is both moisture- and stain-resistant.
Use this bag when you expect warm, calm weather – if there's a storm, the temperature will drop below what this bag can handle. You can also use it as a liner in another bag to add warmth.
Fill: Synthetic
Weight: 1.5 lbs.
Compressed Volume: 3 liters
Temperature Rating: 55 degrees Fahrenheit
This three-season mummy bag is great for ultralight backpackers and is designed for warm – not extreme – temperatures. It has a silky fabric that feels nice even during hot weather. Dual zippers help with ventilation and make it easier to get in and out, and the goose down fill has been treated with Dow Defender to block the water in wet conditions. Keep your most important items protected thanks to the internal stash pocket.
Fill: 650+ goose down
Weight: 1.6 lbs.
Temperature Rating: 40 degrees Fahrenheit
The best thing about the Sea to Summit Traveller Sleeping Bag is that it can be zipped together with another Traveller bag to become a massive quilt. The bag has a cinch cord at both the top and bottom, plus a full-size zipper that lets you open it fully.
Fill: 750+ loft RDS certified ULTRADRY Down
Weight: 13.7 oz.
Compressed Volume: 1.55 liters
Temperature Rating: 50 degrees Fahrenheit
The Marmot NanoWave Sleeping Bag was designed with a comfy blanket construction that doesn't have any cold spots. There's also a durable water repellent finish that protects the shell, causing moisture to bead and roll off. Additional features include a brushed lining in the chest and foot box and a full-length zipper with a zipper guard.
Fill: Polyester fibers
Weight: 1 lb. 13 oz.
Temperature Rating: 45 degrees Fahrenheit
Full Review: Read our full Marmot Nanowave 45 Review.
Rectangular and roomy, The North Face Dolomite 40 Sleeping Bag has an old-school look with modern features. Its Heatseeker Eco synthetic sleeping bag insulation will work even when damp to keep you warm. There's also a wraparound footbox zipper and you can fully unzip the bag to lay it out flat.
Fill: Heatseeker Eco synthetic fibers
Weight: 1 lbs. 9 oz.
Temperature Rating: 40 degrees Fahrenheit
The Big Agnes Buffalo Park 40 sleeping bag is extra-wide, rectangular, and designed to mimic the comfort of your own bed at home. Hand pockets in the top corners make it easy to wrap the bag around your shoulders, and there's also a pillow barn to keep your pillow from slipping away. The double zipper allows entry from either side.
Fill: Thermolite polyester fibers
Weight: 2 lbs. 15 oz.
Compressed Volume: 8.2 liters
Temperature Rating: 40 degrees Fahrenheit
This two-season sleeping bag has DriDown insulation that keeps moisture at bay while still being able to compress down small. It's fast-drying; has a smooth, durable shell; and offers all-over warmth without any cold spots.
The thermal comfort hood has drawcords at different widths located at the head and the neck, and the collar is designed to seal out drafts. There's also a natural-fit foot box with extra room.
Fill: 600-fill DriDown
Weight: 1 lb. 12 oz.
Compressed Volume: 6.3 liters
Temperature Rating: 40 degrees Fahrenheit
Where to Buy: You can find the Kelty Cosmic 40 exclusively via this Kelty listing here.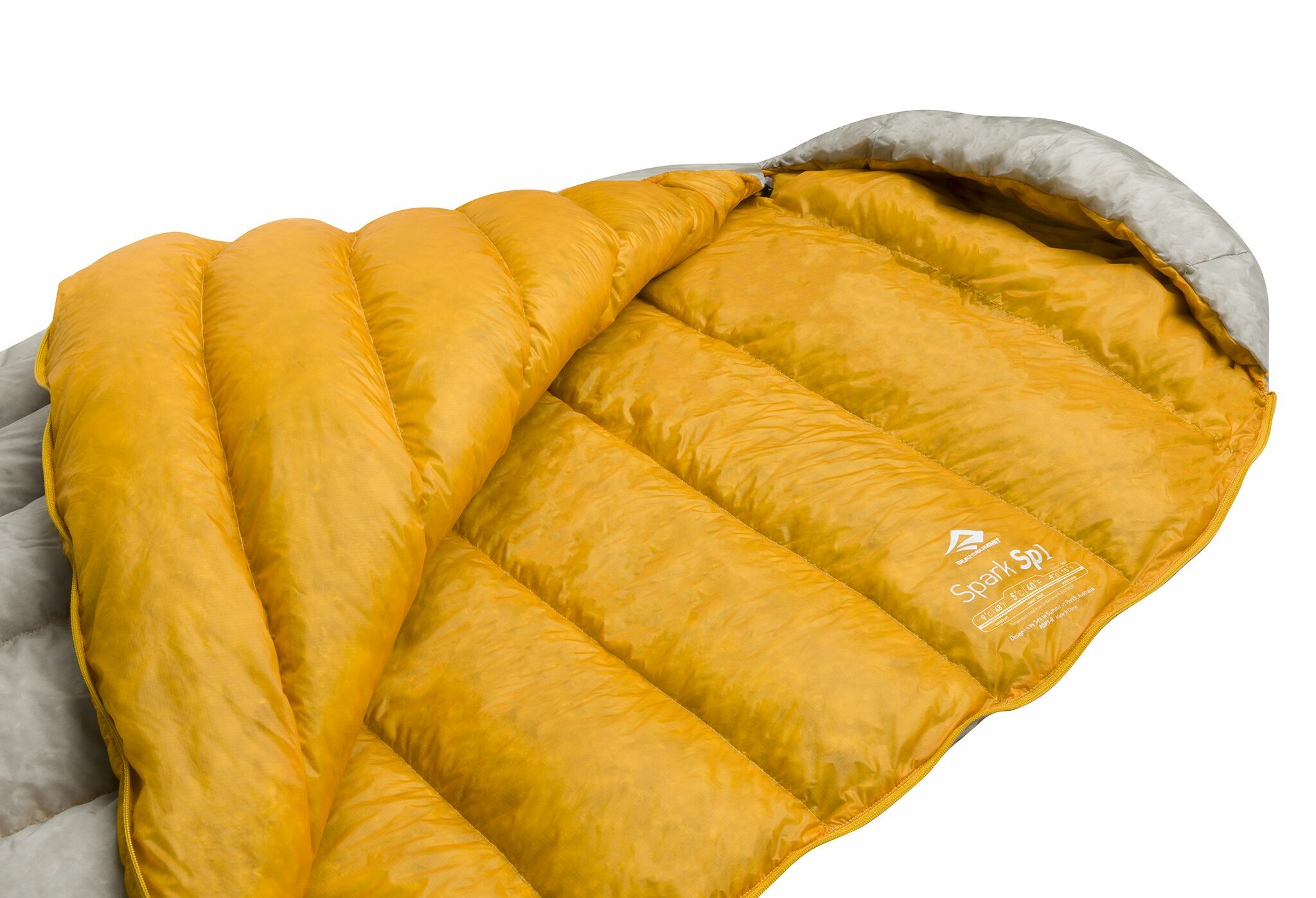 Extremely lightweight sleeping bag and highly packable, the Sea to Summit Spark UL Sleeping Bag packs in warmth without weight. The water repellant treatment protects the down fill from moisture, and the partial length zipper on the left side cuts down weight. On chilly nights, use it as a liner in another sleeping bag.
Fill: 850 goose down
Weight: 12.3 oz.
Compressed Volume: 1.55 liters
Temperature Rating: 46 degrees Fahrenheit
Where to Buy: The only place I've been able to find the Spark UL is via Sea to Summit directly here.
One main drawback of a lot of quilt sleeping bags is that your head can get cold. With Exped's HyperQuilt, though, this problem is solved thanks to its poncho style. The hooded head opening is nine inches from the top of the quilt, and using the hood will hold the quilt in place as you sleep.
Fill: European goose down
Weight: 18.02 oz.
Compressed Volume: .9 liters
Temperature Rating: 36 degrees Fahrenheit
Summary: My Top 3 Summer Sleeping Bag Picks
Uh Oh – It's Colder Than I Expected
It's okay! Even if you have an ultralight sleeping bag, you can still find ways to stay warm on an unexpectedly chilly night:
Put on a down jacket with a hood before getting into your sleeping bag.
Wear a wool base layer, including a hat and gloves.
Eat a meal right before you go to sleep.
Drink plenty of water.
Put a hot water bottle inside your sleeping bag, down by your feet.
Put some pine needles under your sleeping bag – they'll act as a natural insulator.
Warm weather sleeping bags are an excellent way to stay comfortable and just the right amount of warmth on a mild night. It's always a good idea to come prepared, though – keep a few must-haves on hand in case the temperature plummets.
Further, read: