One of the most popular types of camping for trips lasting longer a few days is hammock camping. If you are the kind of person who likes to go on longer outdoor adventures while keeping your pack nice and light, then hammock camping may be the optimal choice for you.
Typically, there are two of choices that you have. Either on-ground, tent camping or hammock camping. Both of these systems have their merits and demerits and it all really comes down to personal preference. Some people find it more comfortable to sleep when they feel the solid ground below their back while some people prefer the gentle swaying of a hammock lulling them to sleep.
A tent is usually a bulkier gear to carry, not to mention heavy too.
So, for those wanting a lightweight outdoor experience, a hammock is a solid option when choosing between the two. While a tent has the benefit of providing natural insulation, a hammock typically lacks this luxury. With that being said, there are ways to mitigate this problem by packing extra insulation in order to keep hammock camping comfortable.
When you are camping in colder weather in a hammock without insulation, you will most likely wake up in the middle of the night chilled to the bone. That's why it is essential to bring some type of insulation to keep you from experiencing a sleepless night. A lot of people will use a cool-weather sleeping bag, but from experience, I can tell you that this doesn't always work.
You can also use a sleeping pad to keep your back separated from the fabric of the tent. This is a great option that usually works fine, but if you want to take your hammock camping to the next level, you will need gear that is specifically created for hammock camping in cold weather for longer periods of time.
In this outdoor review, we are going to discuss the Outdoor Vitals Mummy Pod Sleeping system. This is an innovative product that makes hammock camping much easier without breaking the bank.
As hammock camping popularity increases, people are using different ways to battle the cold. Campers started using sleeping pads but it did not provide as much insulation and they quickly realized they needed to retain maximum warmth.
Which leads us to the fact that an under quilt as well as a top quilt is the most effective approach to staying warm while hammock camping. This method is effective, yet expensive. A decent under quilt costs about $90 and a top quilt costs about $100. Also, more gear means more weight in your pack, which is typically formidable.
Outdoor Vitals has delivered a product that solves this problem. The Mummy Pod sleeping system combines the functionality of an under quilt as well as a top quilt with a fair price tag.
Features
This Mummy Pod sleeping system from Outdoor Vitals is a patented product and replaces an under quilt and top quilt with just one ultralight unit. This gear is available in 2 different models: The 800+ Fill Power Down (StormLoft Down) and Stormlight Microfiber. Within these models, there are also different models based on the temperature rating and size.
This gear has Denier Rhombus Rip-Stop Polyester shell or outer fabric and the fabric is lined with Denier Polyester with DWR treatment. A typical Mummy Pod is mummy shaped with anti-snag YKK zipper located in the center.
The design is vertical baffle grid and there is the added feature of shoulder baffles as well. There is an included suspension system to prevent the quilt from sagging, bunching up or moving around too much. It comes packaged in a compressible stuff sack.
Dual Purpose
2 Different Models
Submodels based on temperature rating and size
Denier Rhombus Polyester outer shell and Denier polyester inner lining
Mummy-shaped sleeping bag
Central Zipper
Vertical baffle grid design
Extra shoulder space
Water-repellent outer coating
Included suspension system
Highly Comprehensible
Dual Purpose
This versatile outdoor gear can be used not only for hammocks but also on the ground. It uses the same materials for both these styles of camping which means that you do not need to modify or buy multiple pieces to use this multipurpose unit.
Different Models
As we mentioned previously in this review, this Mummy Pod gear is available in 2 models with each having sub-models differentiated based on their temperature rating and size. In this guide, we will go over both the categories individually and list some differences between the two.
Outdoor Vitals 800+ Filled Power Down (StormLoft) Mummy Pod
The main distinguishing factor about this model is the type of insulation it uses. Here Duck Down is used for insulation and the fill type is 800-Fill Power StormLoft DWR Treated Down. It has two models based on temperature rating. One that is 0° Fahrenheit or -17° Celsius and another which has a temperature rating of 15° Fahrenheit or -9° Celsius.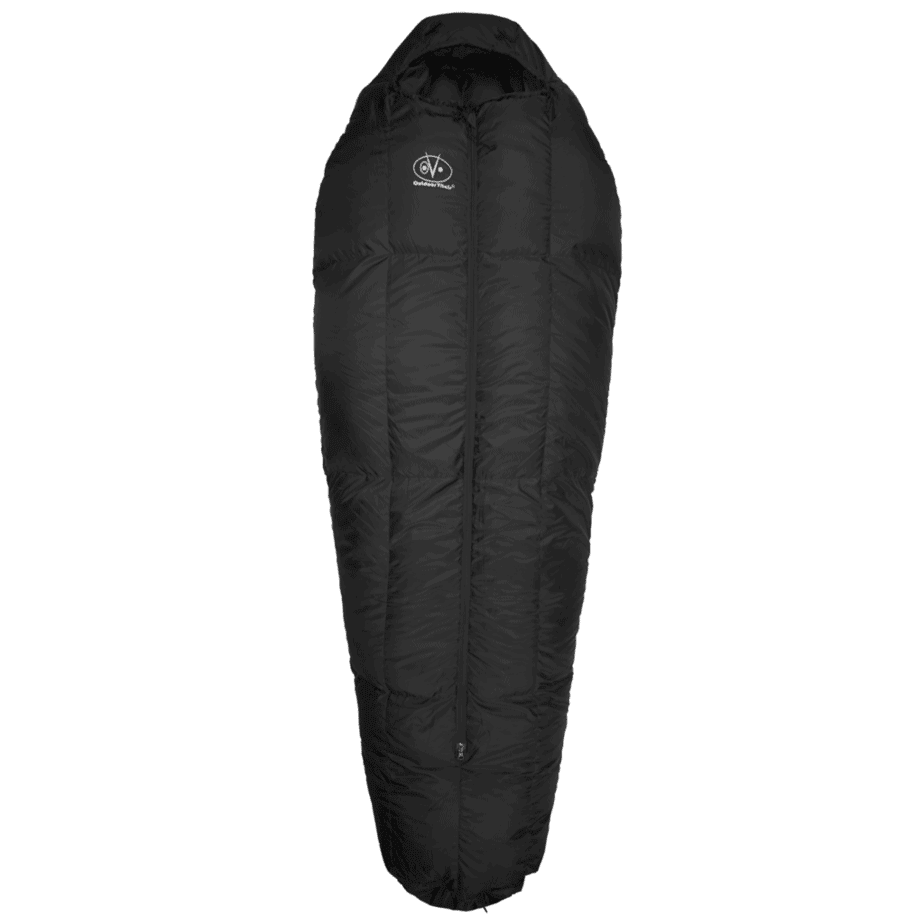 Based on size there are again two models of this outdoor gear available and those are 'Regular' and 'Long'. The Regular size accommodates people 6 feet and below while Long is meant for people 6 feet 6 inches and below. The length of the unit for Regular and Long is 75 inches and 81 inches respectively. The shoulder girth dimensions are 66 inches for Regular and 70 inches for Long.
The shell is made of 20 Denier Rhombus Ripstop Polyester and the lining is made of 20 Denier Polyester. This outdoor gear is made exclusively for men.
Outdoor Vitals StormLight Microfiber Mummy Pod
In this model synthetic insulation is used and the fill type is StormLight 0.7 denier synthetic hollow fiber. The available temperature ratings are 15° Fahrenheit (-9° Celsius) and 30° Fahrenheit that is -1° Celsius. The sizes available are Regular for 6 feet and under, and Long-wide for 6 feet 6 inches and under. The shell is made of 75 Denier Rhombus Ripstop Polyester and the lining is made of 50 Denier Polyester. This model is unisexual.
| | |
| --- | --- |
| StormDown | StormLight |
| | For relatively warmer temperature |
| | |
| | |
| | |
Multipurpose Footbox
Outdoor Vitals have a uniquely designed and patented foot-box design. This foot-box design allows the foot-box to be used as a mummy sleeping bag by zipping it up on the ground and that will ensure that your feet are warm as well due to the presence of insulating baffles.
However, you can also leave the foot-box unzipped and this can allow the hammock to be out of the bottom of the bag and seal. It also helps to provide air circulation if you want and prevent you from overheating your legs and feet if it gets warm. Either way, it is an excellent feature.
Anti-snag zipper
One of the most common problems with anything having a zipper is that opening and closing it can feel like walking on eggshells. And despite being careful when operating a zipper, there are still snags. Outdoor Vitals also eliminated this problem by installing anti-snag zippers which actually do what they are supposed to do and makes using zippers on this gear a synch.
Central Zipper
If you have used zipper quilts then you know the frustrating experience of trying to find the zippers on the sides as you fumble in the dark with either numb or sweaty fingers. The central position of the zipper makes the task of finding it easy even in the dark. Also, the zipper flow is nice and smooth.
Drawstrings
This gear has top and bottom drawstrings. One of these drawstrings is located through the foot-box and the other through the shoulder baffles. These drawstrings can be adjusted to tighten or loosen the foot-box or the shoulder baffles.
Water-repellent
This gear has an outer coating that is specially formulated by Outdoor Vitals making this outdoor gear waterproof. No dew or melted snow or even rain will seep through the material. This gear dries quickly when washed.
Vertical Baffles
The presence of vertical baffles on this gear is not just for aesthetic reasons. The purpose of these is to lock down the synthetic microfibers. This gets rid of random cold spots and it ensures that the insulation is evenly distributed throughout.
Shoulder Baffles
This Mummy Pod is designed to be extremely comfortable and warm. This idea is reinforced by the presence of a feature such as the shoulder baffles. These shoulder baffles ensure extra shoulder room and insulation. It also has a flap which ensures that your face and neck is not touched by the zipper preventing any itching or uncomfortable sensations. The shoulder baffles have drawstrings that can be used to adjust it.
Light-weight
This Mummy Pod sleeping system is highly compressible and is easy to stuff in your backpack. For the StormLoft, the weight of the gear is somewhere around 8 pounds including the sack and the combined weight of the sleeping bag and the sack is somewhere around 5 pounds in case of StormLight. So, it is pretty light, highly compressible and easy to fit in your backpack without occupying too much space.
The Setup of the Mummy Pod Sleeping System
The Mummy Pod Sleeping bag comes with an included suspension kit so setting up your Mummy Pod when using it with a hammock becomes extremely easy. Firstly, set up your hammock. Once your hammock is set up, we can now get the Mummy Pod going.
The easiest way to go about the setup is by first laying the Mummy Pod onto your hammock. Just spread it out on the hammock nicely. Initially, the central, full-length zipper is all the way zipped up and it needs to remain that way but go ahead and unzip the foot-box zipper.
Now all you got to do is put your hand through the hole of the foot-box and slide the entire sleeping bag onto your hand and get your hand out through the head–hole. So, the entire unit should be like a loop around your arm. Unclip or untie one side of the hammock and now slide this 'loop' straight through that end and pull it all the way toward the other end. Stretch it out and clip or tie back the hammock end.
Once that is done, the suspension system comes into play. The suspension system consists of two bungee cords and four cord locks. Take one of the cords and slide the cord lock onto the very end of it. Do that on the other side as well. So now you have a cord having cord locks on both the ends.
Feed this structure through the carabiner at the end of your hammock and bring the cord back out and pass it through the hanging tabs that are present on the foot-box of the Mummy Pod, bring it back out and lock it with the cord locks. Follow the same step on the other side as well and then once everything is in its place, you can go ahead and tighten it up. Congratulations now you have a fully functioning outdoor Mummy Pod gear to keep you warm and cozy.
A few tips that we live by for a good night's sleep in your Mummy Pod sleeping bag are the following: Try to tie your hammock a little tighter that will just ensure a better sleep. Another thing is that when sealing the foot-box, once you zip it up and you can tighten it up with drawstrings. When doing that, try not to pull it too tight because you don't need to. Don't tie a knot at the end of the drawstring as that might damage your gear.
Reasons why you should buy the Mummy Pod Sleep System Right Now (And Few Reasons Why You Should Not)
Pros:
This outdoor gear is lightweight which makes it easy to carry in your backpack without feeling any discomfort or pain. If you're planning an outdoor adventure where you will be walking a lot, then you most definitely do not want your backpack to be heavy and weigh down your shoulders. So, this outdoor gear is perfect for people looking for a lightweight option.
These Mummy Pods are very compressible and also the sack they are stored in is highly malleable and this allows it to fit into your backpack easily without taking up much space.
Multi-functional: As we mentioned in this outdoor guide before that this outdoor gear is an innovative product that can be used for hammock camping as well as for ground camping without making any drastic changes to the product.
This gear acts a replacement for an under quilt as well as for a top quilt. That is an excellent feature as it reduces the amount of gear that needs to be carried for a good hammock camping trip. This also cuts down the expenses as instead of buying a top quilt and an under quilt, you now just have to buy a single gear. You can even use this outdoors equipment as a sleeping bag. To use it as such, just unzip the central zipper and foot-box zipper, tuck yourself in and zip everything back up. It really is that easy.
Setting-up this gear is an easy task and you don't need to follow complicated instructions. Just slide and tighten. Even a child can set this gear up without any fuss.
The included suspension kit may not sound like a big deal compared to other features we discussed in this outdoor review but it plays a really big role in setting up of this gear. Using the cords and cord locks present in the suspension kit, you can adjust your Mummy Pod to be as tight or as loose as you need it to be.
Water-repellent: The outer shell of this gear is coated with a specially formulated Vitals DWR coating. This makes your Mummy Pod waterproof.
The vertical baffle grid pattern of this outdoor gear, as mentioned before in this outdoor review, helps to evenly distribute the insulation throughout the entire Mummy Pod and inhibiting presence of cold spots.
The shoulder baffle is a pro feature as it provides extra insulation to the face and the neck and the fact that it has a drawstring helps to adjust the unit if you want extra shoulder room.
The center positioning of the zipper on this product makes it easier to locate the zipper. No more awkward fumbling to find the zipper.
There used to be a lot of complain about the use of zippers as they would not work smoothly or get jammed, but with this anti-snag zipper, Outdoor Vitals solved that problem as well. The flow of this zipper is surprisingly smooth and as the name suggests there aren't any snags here.
There are quite a few options to choose from when buying a Vitals Mummy Pod. You can choose your gear based on the temperature that you will be in and also on your size.
The patented foot-box is a great feature of this gear. The foot-box can be zipped if you want to use it as a mummy sleeping bag or it can be unzipped if you want to use it as a hammock sleeping pod. The presence of baffles on the foot-box ensures extra warmth and the drawstrings help to personalize your adjustments.
This gear is available in various colors.
Cons:
The sleeping position when in the Mummy Pod seems to be the only complaint here. Usually, people sleep diagonally at an angle when using a hammock because It is typically the most comfortable position to sleep in when using a hammock. But when using this gear, the position becomes straight. So basically, your knees hyperextend and your body is in a somewhat concave shape. The head and legs rest higher than the torso. Hammock campers call this Banana sleeping position. This is not one of the most comfortable sleeping positions. Outdoor Vitals suggest that you can combat this problem by placing a pillow or cushion beneath your knees or sleeping on your sides rather than your back. But still, this seems to be a problem for some people.
| | |
| --- | --- |
| PROS | CONS |
| | |
| | |
| | |
| Under and top quilt replacement | |
| | |
| | |
| | |
| | |
| | |
| | |
| | |
| | |
| | |
| | |
Rarely, you find a product that has very few disadvantages and the Outdoor Vitals Mummy Pod sleeping bags fits the bill. In this outdoor guide we found that with the improvement of one feature, this Mummy Pod sleeping bag can be a near flawless product.
How to Buy It?
Outdoors Vitals does not believe in retail selling as they don't want additional mark-ups on their gear, so they sell their products directly to their customers without any additional prices. This helps save their customers around 40% on their purchases. You can buy this gear through Amazon here, or you can buy it directly from their website, https://outdoorvitals.com/.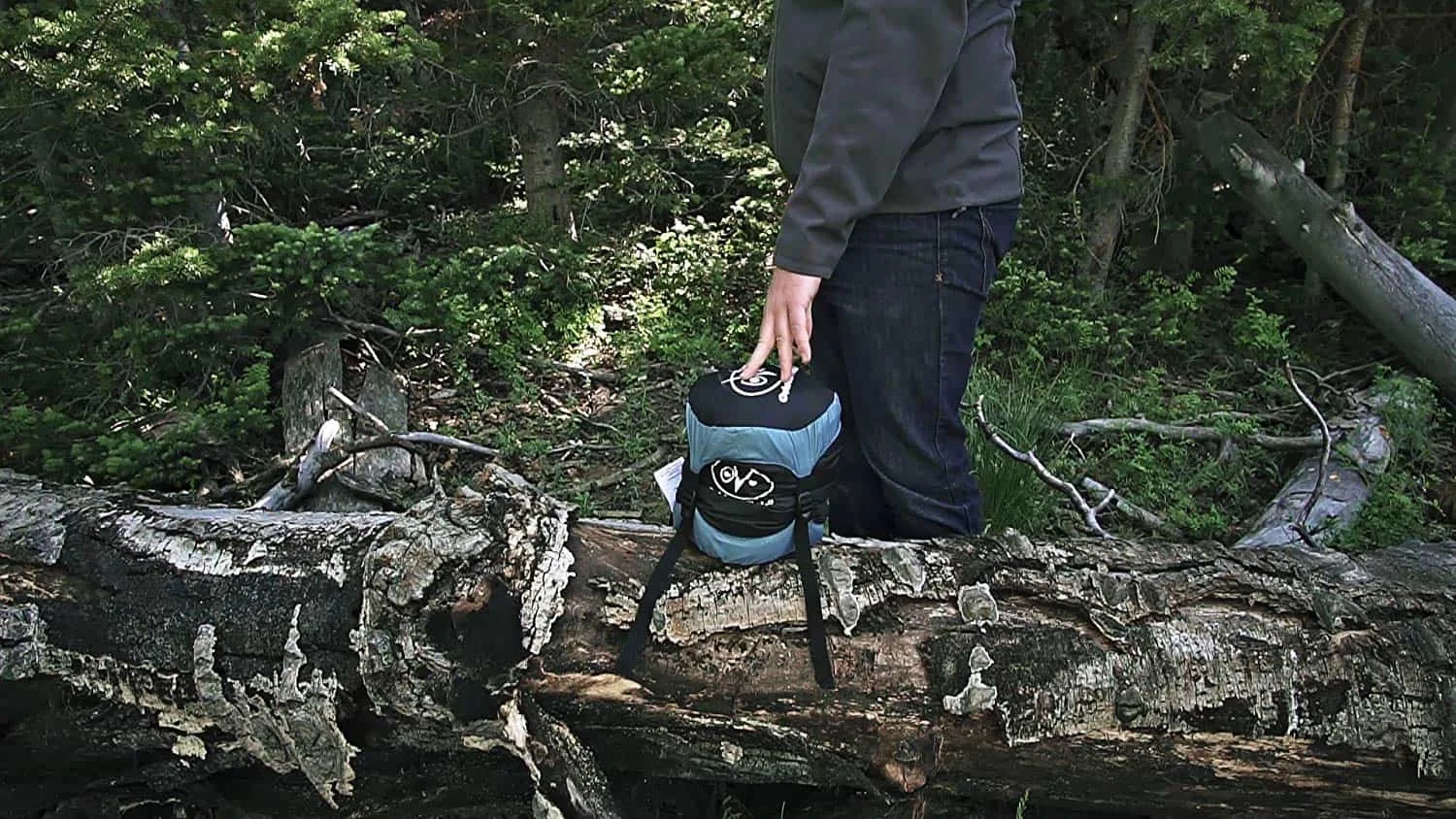 FAQ's
This product is unisex across the board.
Will this product work in rain or snow or fog?
No, as we mentioned earlier in the outdoor review that this product is entirely waterproof. So, it won't allow water in any form to seep in. You can use this outdoor gear in wet weather as well.
Can you get in a comfortable diagonal position in this mummy pod?
No. This bag is not designed for diagonal lay, you have to sleep straight. But you can tuck some pillows under your knees or lay on your sides.
Will this bag fit a 6'2" male?
Yes. There are two models available. A Regular that is designed for people 6 feet and under and the other Long or Long wide that is designed for people 6 feet 6 inches and under. So yes, the Long or Long wide will fit you easily.
Honest Review
This was one of those products that had a ton of great features without any major downsides. The intelligent design of this outdoor gear made it an instant hit with us and coupled with its practicality, it won us over.
We especially love how light this gear feels and how easily it can fit into your pack. Usually, most campers have to make do without certain gear because they need to fit their tents or under quilt and over quilts in their backpacks, but with this Mummy Pod, you don't need to make that kind of sacrifice.
The durability of this product is an added bonus and the little sack it comes in is durable and light.
We like how it is reasonably priced and has a multi-functional use. It can be used for hammocking or as a sleeping bag on the ground. If you are a tent camper and want to give hammock camping a try then we recommend this gear because if you think that hammock camping is not your cup of tea then you can easily use this gear like a sleeping bag. This way your hard-earned money does not go to waste.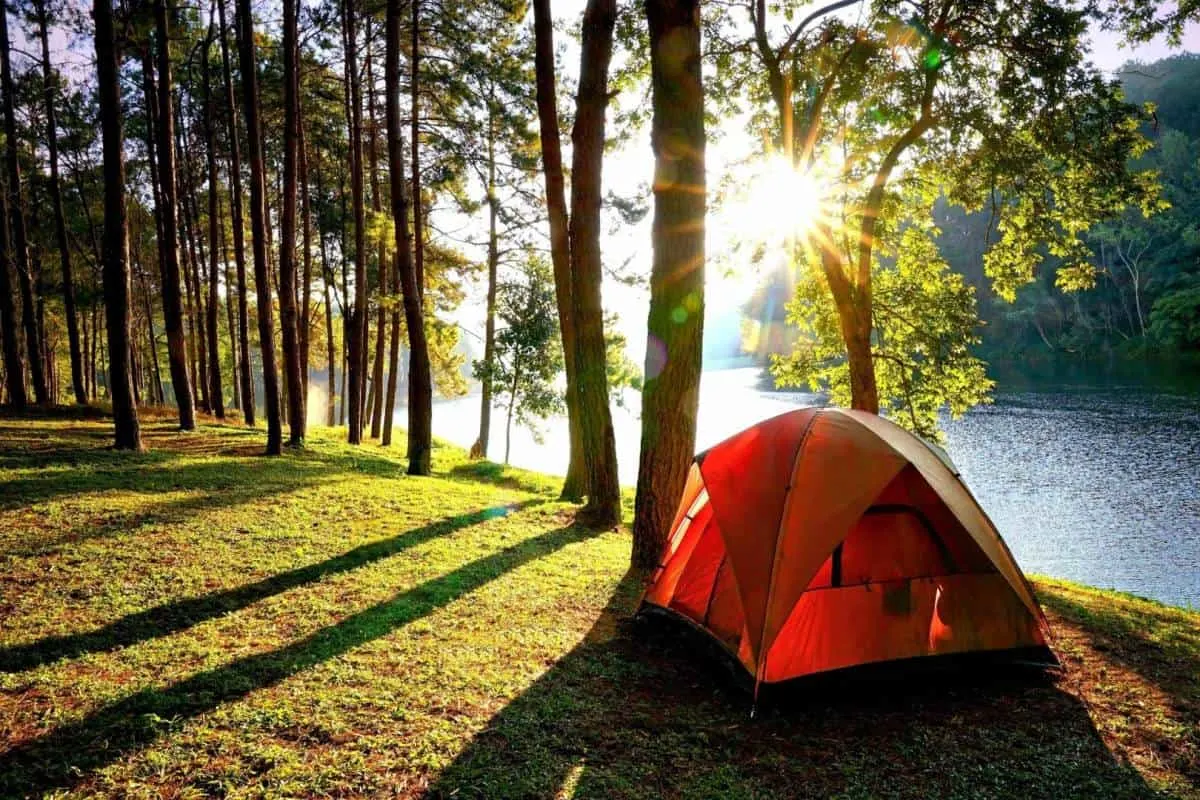 We loved the vertical baffles on this gear. The baffles here lock the insulation down and you don't feel random cold spots or hot spots as the insulation is evenly distributed. The shoulder baffles are great too and not at all confining. The shoulder baffles are in fact quite roomy. So, no complaints there.
Another great feature is the foot-box. Outdoor Vitals acquired a patent for their unique creation of foot-box. The zipper on this bag can be zipped or unzipped and is super comfortable either way. The drawstring is also an added bonus. If you are the kind of person who likes to tuck themselves in, the drawstrings are great, because you can adjust the tightness of this bag as needed.
The zipper does not snag and finding it in the middle of the night is an easy job. The zipper flows as smooth as a hot knife through butter.
The waterproof property of this gear makes sure that it is not limited by wet and cold climates. The water or dew condensation slides right off and the Mummy Pod dries very quickly.
The thing that we truly love about this gear is how easy it is to set it up. Setting it up does not seem like rocket science and it is a really easy and time-saving process. The included suspensions kit on this product ensures a stronger and firmer build.
So that concludes our outdoor review for Outdoor Vitals Mummy Pod sleeping system and if you do plan to buy this product then go right ahead because it is worth its money.
And as always, Keep calm and adventure on!
Further read,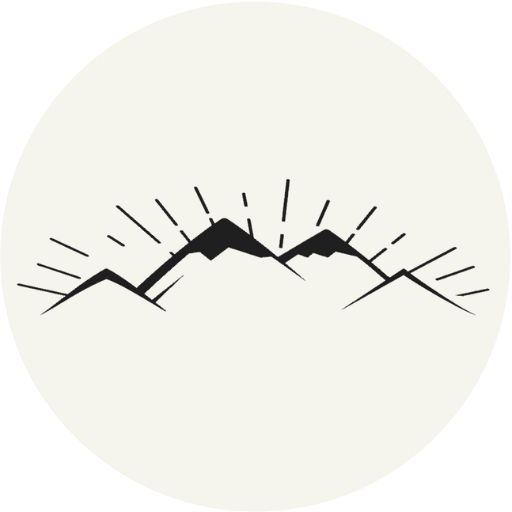 The All-Outdoors Guide team is comprised of enthusiastic experts that enjoy helping others that aspire to be better at outdoor fun. Part of that is making sure you have the right gear and information when it's time to go out and have fun. Some of our team have accomplished amazing feats like climbing 6000 feet to the top of mountains, others have explored every dirt trail they could find and we even have some people that have backpacked solo on various continents. No matter what our readers want to learn and do, our team is here to help them accomplish those goals.