Finding the perfect rain jacket can be quite hard. When you are spending your money, chances are that you want a rain jacket that is not only going to offer top-level performance, but also one that is of great value. An effective raincoat is going to keep you dry and help to ensure that you are ready for your next outdoor adventures.
Things to Consider
Water Resistant vs. Waterproof — One of the first things that you should consider is whether you are looking for a jacket that is water resistant or waterproof. When something is water resistant, the fabric is coated with a special material making it resistant to water. It can be soaked through if subject to the elements for long and it is not 100% waterproof. However, if something is waterproof that means that you should not going to have water leak through at all. There are a number of different materials that are waterproof.
What You Will Be Doing — Think about what you will do. This will make choosing the right rain jacket easier. If you are going to be walking around a lot or moving, then you want something that offers a more flexible material. However, if your main goals are to stay dry then any raincoat could potentially work.
Consider the Elements — A final consideration that you will want to make is to check out the weather for where you will be primarily using the raincoat. Consider the temperature and the elements. This will help you to determine if you should be looking for a jacket that features multiple layers or not.
Don't worry! Finding a great rain jacket does not have to be tough. We are even taking the guesswork out of the equation by offering you a review and comparison of two of our favorites!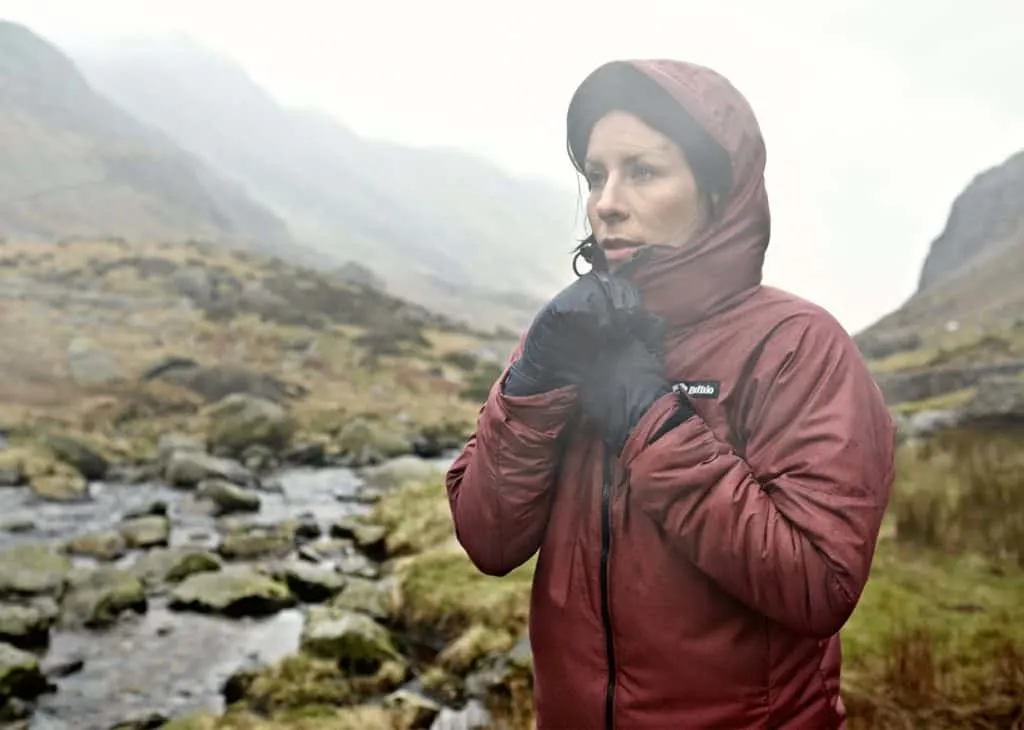 Main Differences Between Marmot Precip vs Patagonia Torrentshell
The main differences between Marmot Precip vs Patagonia Torrentshell are:
Marmot Precip has a mesh pocket design, whereas Patagonia Torrentshell has more secure pockets.

Marmot Precip is lighter, whereas Patagonia Torrentshell has a thicker outer layer making it warmer.

Marmot Precip costs $100, whereas Patagonia Torrentshell will costs you $129.

Marmot Precip has high-quality protection for extreme weather, whereas Patagonia Torrentshell is the best option for travelers.

Marmot Precip has a removable hood, whereas Patagonia Torrentshell has a microfleece layer against the neck
The Marmot PreCip
Marmot Men's PreCip Lightweight Waterproof Rain Jacket | Backcountry
The Marmot Men's PreCip Eco Jacket is a reliable rain shell for keeping covered from wet weather when you're backpacking and hiking. Marmot made this jacket with waterproofing and environmentally friendly fabric. Its NanoPro membrane provides waterproof, breathable protection, and fully sealed seams prevent a single raindrop from seeping through.
Check Price
Buy at Amazon.com
We earn a commission if you click this link and make a purchase at no additional cost to you.
The Marmot PreCip (read my full review here!) is a high-end jacket that features everything that you will need to be able to brave the elements. This jacket offers high-quality waterproofing and features a design that is both comfortable and flattering. It is a great jacket for commuters as well as those who enjoy being in the outdoors.
Marmot – About the Company
Marmot was dreamed up by two University of California Santa Cruz Students. Dave Huntley and Eric Reynolds went on a class trip to Alaska in 1971 where they were doing work on a glacier. While they were there, the idea of Marmot was born. The mountainous areas of Alaska are home to a unique large ground squirrel called the marmot. These animals are very social which is part of what made them so appealing.
The two began making prototypes of different down products in their dorm room. The first was a vest. They also created three sleeping bags, a sweater, and a parka.
They opened a store in the spring of 1973 in Grand Junction, Colorado called the Marmot Mountain Works. In addition to selling their goods, they decided to teach cross-country skiing. Then in the spring of 1974, they started Marmot.
PreCip Jacket
There are a few notes about performance that need to be mentioned when discussing the PreCip jacket from Marmot.
One of the things that you will want to think about is the overall performance of this jacket. It is a great jacket to be used as a rain jacket, or even as a windbreaker. It is the perfect choice for those living in the Northwest part of the United States as it is versatile enough to be worn regardless of the day that they are having.
Plus, you will never again have to worry about a sudden shower ruining your day. It has a nice waterproof shell and comfortable lining that make it a favorite among those who wear it.
Additionally, the PreCip jacket is not the most breathable choice. If you are an avid outdoorsman/woman you will understand this phrase better than most. The problem with rain jackets that are not breathable is that you get that nice layer of sweat against your skin when you wear them for long periods of time.
A Little More Detail on the PreCip Jacket
The PreCip Jacket is a great choice for anyone who is hoping to find a high-quality rain jacket that they will actually enjoy wearing. The material is flexible enough that you will be able to complete all of your daily activities. Plus, it is readily available on a large number of different retailers.
Men's, $100-120 (full price, but you can find it on sale if you look)
The Men's PreCip Jacket comes in a wide range of colors. The jacket retails for $100 for the regular sizes S-XL and features fourteen different colors from the plain and simple colors like Black and Slate Gray to the bright and fun colors like Macaw Green (featured above) and Mars Orange.
Thanks to the expansive choice for colors, you are sure to find one that you are going to love. Larger sizes including Tall styles in sizes M, L, and XL; or size XXXXL cost a little bit more at $120.
The women's Marmot PreCip jacket is available in sizes XS-XXL. It comes in thirteen colors and has all of the features of the men's with the addition of a tailored waistline that keeps you feeling confident and looking slim. Some of the colors include Goldeneye, Vine Green, Living Coral, and Patina Green. This is certainly a jacket that most women would find a great staple piece to keep in their wardrobe.
Not only does Marmot offer the PreCip jacket for men and women, but they also offer it for children. The boy's style will keep your little adventurer dry on those rainy days. Plus, since it works as a windbreaker, it is the perfect jacket for busy families who are always on the go. You can literally shove it easily into the bottom of a backpack. The boy's Precip jacket comes in seven colors including Arctic Navy, Mallard Green, Tomato/Sienna Red, and Emerald to name a few.
The girl's PreCip jacket offers your budding fashionista a chance to have a jacket that is functional and that she still loves. There are many great colors to choose from, currently, there are actually eight, including Teal Tide/Malachite, Patina Green, Grape, and Sangria. Your daughter will be able to find her favorite color no matter where on the rainbow that it fell.
Design
The PreCip Jacket offers you a sleek style of a rain jacket. It has great features and is made from a waterproof material that you can be sure that you are not going to end up wet, regardless of the elements. The jackets are made for men, women, boys, and girls so you can find one that will work for everyone in your family.
Weight
The Marmot PreCip is a nice jacket for packing and traveling thanks to its lightweight. The average weight of the jacket is just 10.3 ounces. It has an awesome compact stuff size so that you can literally pack it in any bag and take it anywhere with you.
Insulation
The Marmot PreCip does have a nice interior lining, but it is not insulated. This just means that it is great for spring, fall, cool summer days, or warm winter days. However, it is not a great jacket to wear in the extreme cold.
Features
There are a couple of features of the PreCip that you should familiarize yourself with. One of the best features on the PreCip is the hood. This hood features a unique design where the hood and collar are separate pieces. You can remove the hood if that is not something that you want. There are a number of pull cords and velcro areas that allow for you to adjust the hood to meet your needs as well.
In addition to the hood, the PreCip features a number of pockets. There are two hand pockets that are a nice size. However, they are made from a mesh material which means that they are not the most durable pockets. These would not be pockets that I would suggest using to carry your phone or valuables.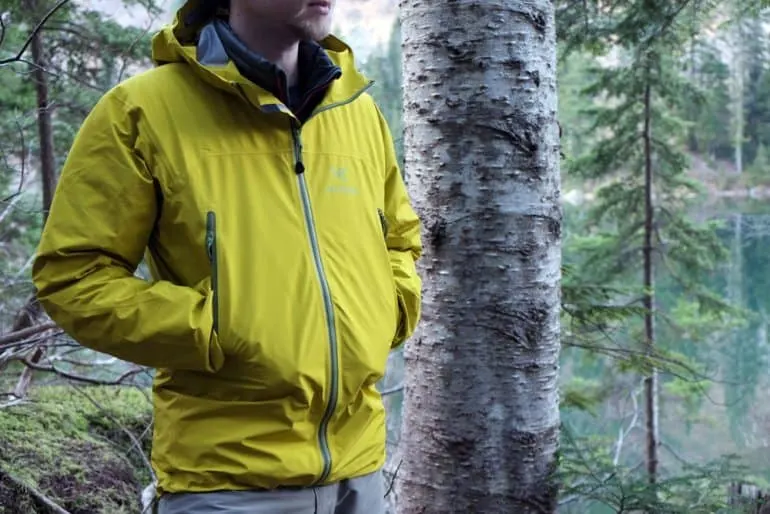 Construction
The PreCip is well constructed for the most part. The layer features the NanoPro waterproofing material. This material is great at keeping water away but does not allow for your body to breathe.
Marmot seems to have understood this issue because there are pit zippers that help to allow the body to breathe. In addition, velcro was used in some places where a zipper or snap would have been a better choice to make the jacket last longer. However, everything seems well manufactured and all pieces seem to be of top quality.
Pros
Average high-end pricing.
Lightweight.
High-quality weather protection.
A great hood that you can remove if wanted.
Cons
The high-end price tag (while the price is reasonable for a high-end product, it is still a high-end product which means that it is expensive).
It's not very breathable.
The velcro seems a little cheap and could potentially not work as well as other material choices would have.
The interior coating does not last as long as the shell.
Overall Impression
I have to admit that I have a jacket problem. I love buying jackets for myself and my family. In fact, I like having multiple styles of jackets and no two of my jackets are the same so that I have what I need no matter what I am doing or where I am at.
I love the Marmot PreCip. It has quickly become a favorite of mine since it very versatile. I love that it is perfect for travel. It can be used as a windbreaker and raincoat, this means that each of us only need to pack one jacket when traveling. It isn't Arc'teryx or North Face, but a definite go-to jacket that I will be sure to have on hand for years to come.
The Patagonia Torrentshell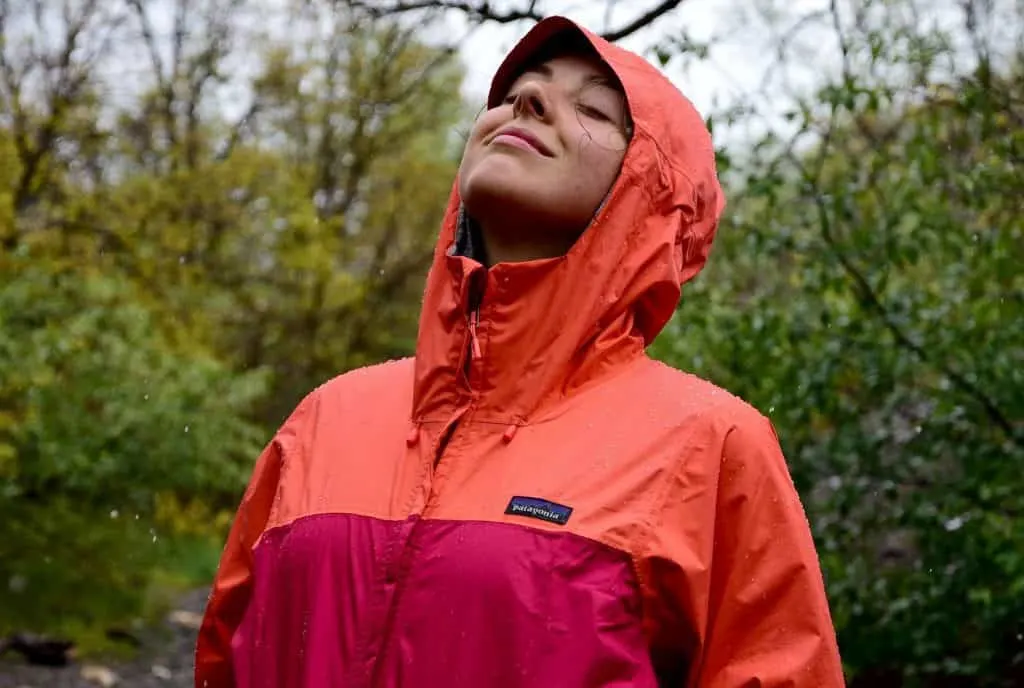 The Patagonia Torrentshell is a great choice for a raincoat. It is a high-end choice that features a highly technical waterproof material. This jacket is so popular that if you are visiting the Pacific Northwest it seems to be the assigned uniform. It is made from lightweight materials and offers good protection from the weather in a reliable fashion.
Read here my full review of the Patagonia Torrentshell!
Patagonia – About the Company
Patagonia was first started as Chouinard Equipment in 1973. The company was started in Ventura, California by Yvon Chouinard. In 1989 they sadly went bankrupt, but what could have been the end was really only a brief pause. This did not stop the company and it re-emerged as Black Diamond Equipment. They sold climbing equipment, gear, and clothing.
From the humble beginnings of a climber's dream to the reality of the large-scale company that Patagonia has become today, Patagonia has become known as one of the most beloved brands of outdoor gear and clothing.
The company has often taken a stand against things that they determine to be injustices and has even boycotted and refused to participate in trade shows and events based on moral principles.
Patagonia Torrentshell Jacket
The Patagonia Torrentshell jacket offers top-quality performance. It is lightweight, but that does not stop the jacket from performing well. It is a great jacket to have if you are going to be in persistent wind or rain. The jacket features a 2.5 layer waterproof design and that actually keeps water out. In heavy rain, the exterior jacket does seem to absorb some of the water which means that you might end up feeling damp if there are heavy rain conditions.
The jacket is also packable which makes it a great choice for travel. The breathability of the jacket is better than most, as it has zipper vents but, you will notice that you feel clammy when you are starting to sweat from working hard or being active. This can be annoying because you might end up feeling hot when you are out in the rain or in humid climates.
The pockets are solid nylon which is great for carrying things but makes the jacket a little less breathable.
A Little More Detail about the Patagonia Torrentshell
The Patagonia Torrentshell is the go-anywhere raincoat. You will find yourself traveling, wearing it to block the wind, and staying dry when it is raining. The jacket features a sturdy design and has fans around the globe, but seems to be the official uniform of the Pacific Northwest where the weather is often drizzly. One of the best things about the Torrentshell is that it offers a style for men, women, boys, and girls.
The men's Torrentshell is a great choice for anyone who needs good solid rain protection. The jacket also blocks the wind well. The men's design features twelve color choices for you to choose from. Some colors are solid, while others are color-blocked which gives the jacket some additional stylish features that others do not have. Some of the colors available include Black, Navy Blue with Paintbrush Red, Balkan Blue, and Fire with Big Sur Blue.
The women's jacket features a neatly tailored design that helps you feel feminine and flirty while staying warm and dry. The Torrentshell comes in twelve colors, some solid and some color-blocked, including Arrow Red, Tomato, Lapiz Blue with Navy Blue, and Vjosa Green.
The boys' Torrentshell is a great choice for your child. You will find that the coat is a great purchase for older siblings so that you can use it as a hand-me-down. It holds up to even the most active children and still looks great even after some rough wear and tear. This jacket comes in a wide variety of colors that change based on the retail for which you are looking at them.
The girls' Torrentshell offers a sleek and sophisticated design with a tailored waist. This jacket is a great choice for anyone who is looking for a jacket for their adventurous daughter. It holds up well and provides years of use, so this again is a great choice for someone who has multiple children and wants a hand-me-down. Thanks to the cinched waist, it still feels girly enough for even the biggest princess.
Design
Patagonia's Torrentshell jacket is made with your busy and active lifestyle in mind. You can really accomplish anything while wearing this jacket. The designs are fashion-forward and the jacket is featured in a number of colors. Plus, there are designs that are catering towards men, women, boys, and girls.
One of the best things about the overall design is the attention to details and specifics. Of course, there is also the fact that you can choose one of a wide range of colors and color choices that you might not see on other jackets.
Weight
The weight of the Patagonia Torrentshell is heavier than some other jackets that are considered to be of the same class and style. It weighs in at 11.3 ounces which is not that much weight and make it a great candidate for travel and packing.
This jacket can actually be stuffed into the left-hand pocket. This means that you can throw it literally anywhere and carry it with you. I find that mine fits perfectly in my everyday purse and that it also fits nicely in backpacks when we are on the go.
Insulation
The Torrentshell jacket is not insulated but it has a nice lining. Another feature that it has which makes it more comfortable is a special fleece patch at the back of the neck. This keeps your neck warm and allows for you to not have annoying or rougher material on the neck.
I should mention that there is an insulated version of the Torrentshell that you can check out as well. This version has a $279 price tag and is only available for men and women. That being said, if you are looking for a great waterproof jacket that has insulation, this might be a good choice to check out.
Features
The Torrentshell offers a great hood design. This is something that Patagonia is often known for as their innovative hood designs function well and are comfortable. The hood is fully adjustable. One thing to note is that they kept the storage pockets simply.
There are only hand pockets. If you are used to using an interior pocket, this could be a deal breaker but for most with the thicker outer shell, the hand pockets suffice.
Construction
The Torrentshell is constructed using high-quality materials and a special design. This is one jacket where you can literally get years of wear. One of the best features is the overall stability of the outer layer. The material is thicker than most and offers a great overall construction that is meant to last. The inner materials can break down over time, but it takes years for them to get there.
Pros
A lightweight jacket that is easily packable in its own pocket.
Good high-quality weather protection with moderate conditions.
Very high quality and durable materials even though the jacket is very lightweight.
A nice microfleece layer against the neck to make the jacket more comfortable.
Cons
The high price tag is more expensive than other high-end raincoats.
There is little breathability.
There are storm flaps that seem to cause the zipper to get caught.
Overall Impression
After I purchased my first Torrentshell, I was determined to never own another raincoat again. While I have tried other raincoats, I always end up coming back to my Torrentshell. I have had it for years and I am just now to the point where it needs replacing.
To be honest, I do not plan on ever buying another raincoat again because I love this one so much. I also love that I can purchase one for everyone in my family and that we can all have great wind and rain protection in a comfortable-to-wear coat.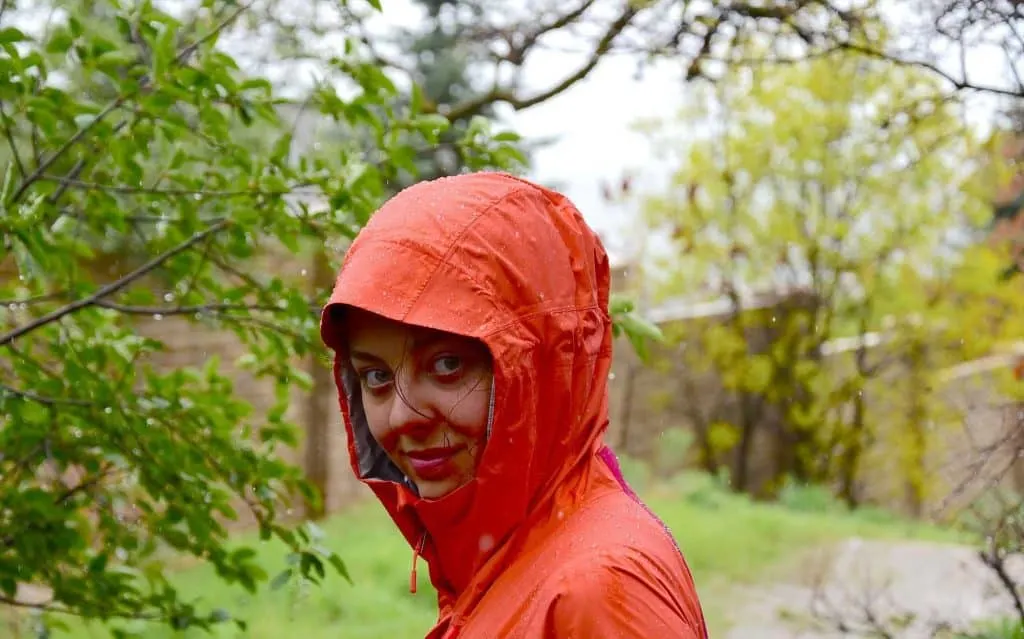 Conclusion
Finding the perfect rain jacket for your family should never be a struggle. The Marmot PreCip and the Patagonia Torrentshell are two solid choices that you will want to consider. They each have their own benefits and can certainly protect you from the weather elements.
Which of the two is better is more of a personal choice than an overall impression. There are some features and design things that you might want to consider when looking at a raincoat. These can help you to make the best decision based on your overall needs.
Read here all about the best Patagonia jackets!
A Side by Side Comparison of the Marmot PreCip and the Patagonia Torrentshell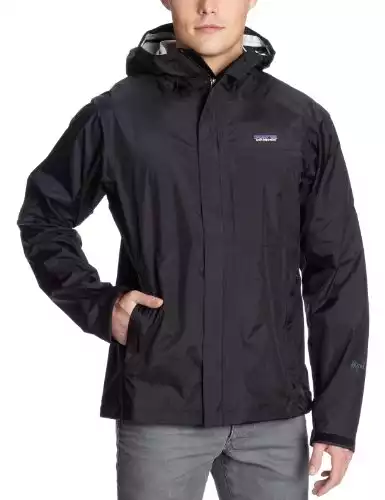 Pricing
The men's and women's Marmot PreCip will run you $100. The men's and women's Patagonia Torrentshell costs a little more at $129. The children's Marmot PreCip costs $70, while the Patagonia Torrentshell runs $100. So if you are looking to save money, you might want to check out the Marmot PreCip instead of the Patagonia Torrentshell.
Performance
Both the Marmot PreCip and the Patagonia Torrentshell feature high levels of performance. The Torrentshell does have a thicker outer layer than the PreCip which means that it is a little bit warmer of a jacket. This is a great feature if the area that you are in is cold, but it might problem some if you live in an area that is hot.
Breathability
The Marmot PreCip is a little more breathable than the Patagonia Torrentshell because of the mesh pocket design. That being said, the pockets are not as secure or stable on the PreCip as they are on the Torrentshell. So, when it comes to this you will want to consider which is more important to you…that the jack is breathable or that you can use the pockets to secure and store your valuables.
Special Features
Both the Marmot PreCip and the Patagonia Torrentshell[/easyazon_link] are very easily packable. The Patagonia actually packs inside of the left pocket which makes it a better choice if you are an avid traveler or someone who wants to just throw your jacket into a bag to carry with you.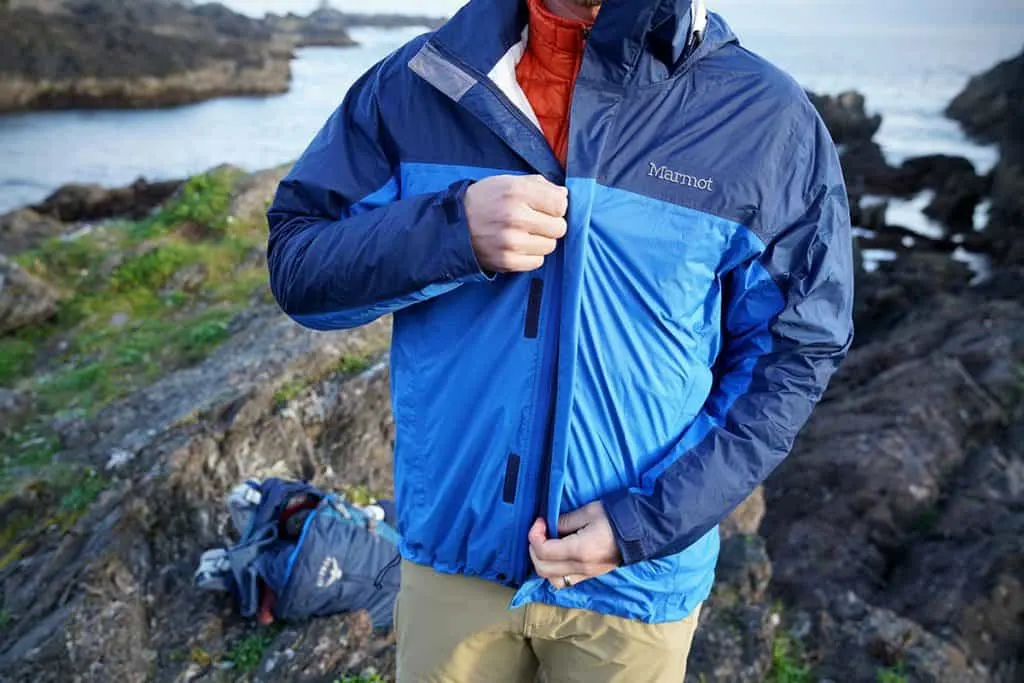 Design and Style
The Marmot PreCip and the Patagonia Torrentshell are both nice-looking rain jackets. Both of them feature women's versions that are more tailored and streamlined which leaves women looking thinner and shapely. The girls Torrentshell is also tailored, but the PreCip is not. So, if your daughter is conscious and cares about how things look, she might prefer the Torrentshell's style and fit over the PreCip's.
Being able to see the features in a clear way should help you to be able to purchase your perfect, future raincoat. Knowing what you want and finding the perfect features in a rain jacket is essential to finding the one that you will keep around for years!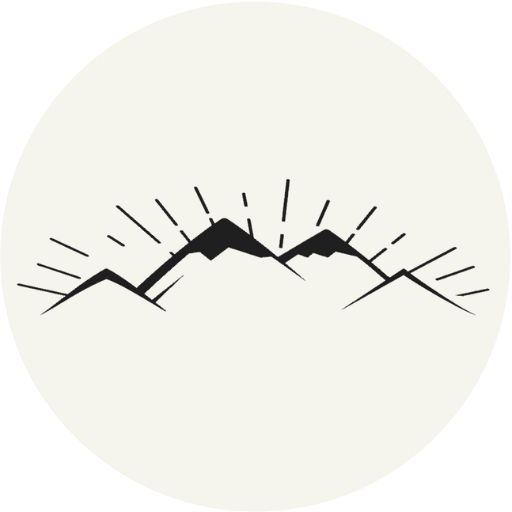 The All-Outdoors Guide team is comprised of enthusiastic experts that enjoy helping others that aspire to be better at outdoor fun. Part of that is making sure you have the right gear and information when it's time to go out and have fun. Some of our team have accomplished amazing feats like climbing 6000 feet to the top of mountains, others have explored every dirt trail they could find and we even have some people that have backpacked solo on various continents. No matter what our readers want to learn and do, our team is here to help them accomplish those goals.