When you become an outdoor enthusiast, your whole world starts to focus on your newfound passion. All your free time starts to be taken up by your hobby, you start to make new friendships that share your interests, and you start to notice that all your new adventure buddies are wearing Patagonia Better Sweaters, and you start to wonder why.
Not only is Patagonia one of the top outdoor gear and clothing brands, but Patagonia Better Sweaters are one of their most popular products. And for good reason. This sweater is stylish and can be worn around town or out on the mountain trails. It's warm, made up of recycled materials, and can last you for decades with proper care.
You can wear the Patagonia Better Sweater over a t-shirt on warmer days or between your base layer and outer layer when out skiing on the slopes on a cold day. The sweater does come at a fairly high price, so you must consider all the factors involved before making your purchasing decision.
Bottom line upfront summary: The Patagonia Better Sweater is a versatile and functional sweater with both hand and chest pockets. It's warm enough to wear comfortably in spring and on cool days but doesn't hold up too well in the rain and wind.
It's a bit stiff but made of recycled materials, fairly breathable, and incredibly durable for a sweater. It's stylish and comes in a variety of colors. Overall, I'd say it's worth the money and an excellent addition to your closet.
Top Features of the Patagonia Better Sweater
Made of 100% recycled polyester fleece

Made in Thailand and Sri Lanka

Available for

men

with sizes of XS to 3XL

Available for

women

with sizes of XXS to XXL

Available in a range of colors

Midweight fleece

Casual fit

4-5 zippers

Hip length

Ironclad Guarantee

Popular styles available: Better Sweater Jacket, Better Sweater Vest, Better Sweater ¼ Zip
Advantages of the Patagonia Better Sweater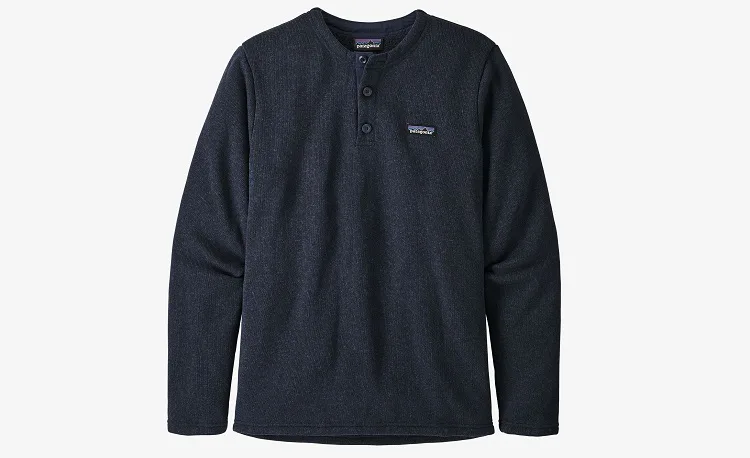 Sustainability
Due to Patagonia being environmentally focused in all that they do and produce, the Patagonia Better Sweaters are made up of 100% recycled polyester fleece. This fabric is moisture-wicking, keeping you dry when you start to heat up from running, hiking, or any other outdoor activity. It's easy to wash and comfortable.
To make sure that the lowest consumption possible was used in the making of the Better Sweater and that the people involved in the process are properly cared for, Patagonia has been working with BLUESIGN and Fair Trade. Patagonia is physically taking action to make the world a better place. That alone is worth supporting their brand.
Durability and Quality
When reading about a Patagonia product, you know it'll have "durability" in the advantages section because these made-to-last products don't disappoint. The founder of Patagonia grew up as an outdoor enthusiast, knows what the market needs, and produces a quality that many companies can't compete with.
Patagonia is known to try and test its products before releasing them onto the market. Anything that doesn't uphold their standard won't be released. You can have peace of mind that your money is going into something you'll have for years to come.
The Patagonia Better Sweater feels good and looks good, highlighting its amazing quality. The zippers glide with ease and feel far from flimsy.
Ironclad Guarantee
If you feel unsatisfied with your Better Sweater after you've bought it, or you find a manufacturing flaw (which is rare), you can return it to the company and ask for a refund, repair, or replacement. With Patagonia, you have a lifetime warranty on your products.
If your sweater has damage to it due to wear and tear, Patagonia is happy to repair it for only a small fee (and if you're lucky, for nothing at all).
Warmth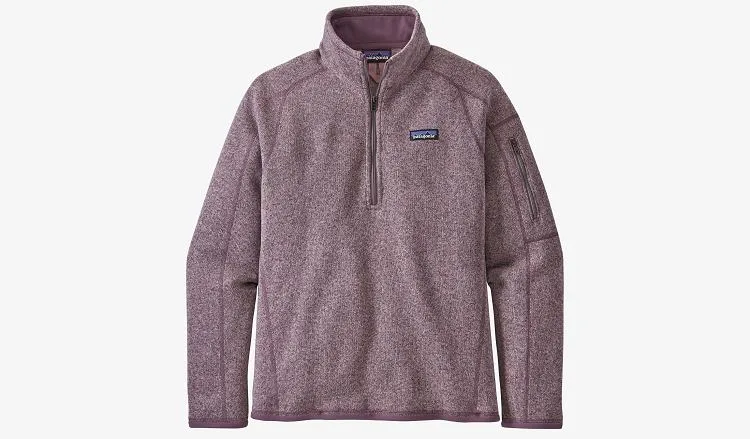 Although the Patagonia Better Sweater is made of excellent quality and materials, it is still a sweater and provides the warmth expected from a sweater.
The Better Sweater is perfect for spring and cool weather, but it won't give you all the warmth you need on a cold, snowy day. Thankfully, it's an excellent mid-layer, which you can sandwich between a Patagonia baselayer and a Patagonia jacket.
This next-to-the-skin feel Better Sweater is perfect to wear over a t-shirt, and it's my go-to "in case it gets chilly" jacket whenever I leave the house in the late afternoon or evening.
The collar can zip up to your chin, blocking out the breeze from moving down your back and keeping you snug. The pockets are also encased in fleece, guaranteeing warm hands when tucked inside of them while you're out walking your dog, hiking, or shopping around town.
Comfort and Versatility
The Patagonia Better Sweater is here to impress when it comes to comfort and style. The fleece lining the inside of the sweater is soft to your skin and cozy to wear.
Created with adventure in mind, the Better Sweater is flexible, giving you mobility and freedom in your tasks.
This sweater's purpose is to be warm and comfortable, so it's not all that breathable. An easy and quick way to counteract overheating would be to unzip your sweater and let the breeze in.
I love the color variety in both the Men's and Women's Better Sweater options, with some styles having up to 13 color options to choose from! They also boast a versatile and stylish look. Patagonia is known for its modern products, and the Better Sweater is no different, giving you the freedom to wear it out in your town, at barbeques, lunch dates, and outdoor activities.
You're going to have your Better Sweater for years to come, so make sure to get the most wear out of it.
Disadvantages of the Patagonia Better Sweater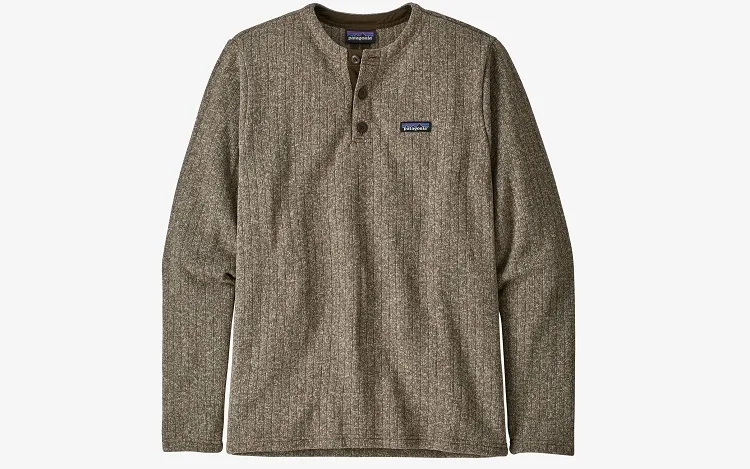 Not Weather Resistant
The Patagonia Better Sweater wasn't designed to be waterproof; that's what jackets are for. However, I didn't expect it to soak up as much water as mine did when I was caught in the rain and expected some level of protection. My lesson has been learned, and the next time I leave my house on a gloomy day, my Patagonia Torrentshell will be coming along with me.
I have found that the Better Sweater isn't my first choice on a windy day either. Although the thick fleece keeps me warm, the wind still has a way of rushing through it. Depending on how cold the wind is and how long I'll be outside, plays a big role in whether I'll be facing the day in my Better Sweater or not.
Pilling
As with all fleece clothing, you're going to find those little balls of fluff on your Better Sweater. These sweaters are vulnerable to pillage, so keep a lookout for that and make sure to care for your sweater properly by using a Sweater Stone. It only requires a little bit of easy maintenance.
Top Patagonia Better Sweater Styles
Patagonia Better Sweater Jacket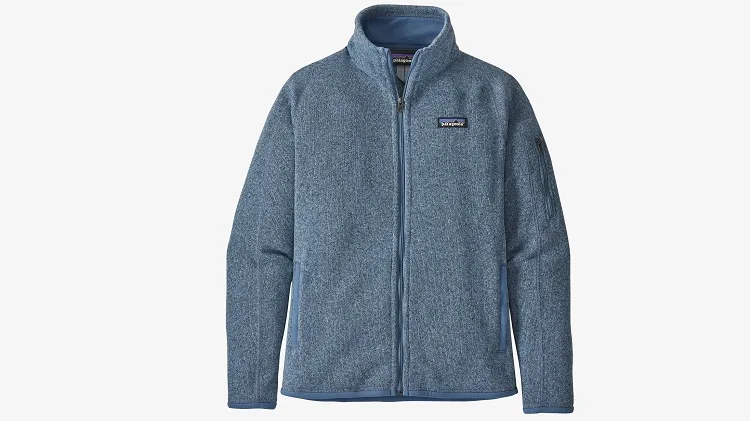 I love this Patagonia Better Sweater Jacket and have to prevent myself from solely wearing it in fear that my friends think it's the only item I have in my cupboard. This quality piece of clothing is warm, cozy, and has a blanket feel ideal for cool weather. It has 2 fleece pockets for your hands and one on the sleeve, which are all zippable, as well as 2 interior zipper-less pockets.
The Better Sweater Jacket doesn't come with a hood, but it has a stand-up collar. It's an attractive, fairly slim fit that is hip-length, but it lacks breathability and isn't waterproof. However, the full zip allows you to have the sweater open if you need to cool down.
Pros of Better Sweater Jacket
Warm and comfortable

Many pockets

Good quality

Full-length zipper

Slim fit

Stand up collar

Hip-length
Cons of Better Sweater Jacket
Poor breathability

No hood

Not waterproof
Patagonia Better Sweater ¼ Zip
The 100% recycled polyester fleece Patagonia Better Sweater ¼ Zip is a mouthful to say but a delight to wear. The ¼ Zip is available in 13 different colors and is very versatile. It's warm, comfortable, and easy to move around in. It has a wind flap under its main zipper for a bit of extra wind resistance.
The zipped pocket on the chest is convenient and ideally situated for your phone. You can finally run while wearing earphones with a cable connected to your phone without worrying about it dangling at your waist and getting in the way.
This Better Sweater doesn't zip all the way down and therefore doesn't open up, which is perfect for keeping you extra warm, but you may find yourself heating up quite quickly due to its low breathability.
The ¼ Zip is slim fitting, so if you like your clothes a little loose, it'd be better to size up on this one.
Pros of Better Sweater ¼ Zip
Convenient pockets

Slim fitting

13 different colors to choose from

Versatile

Wind flap

Great for cold weather
Cons of Better Sweater ¼ Zip
It can feel a bit too snug on people who prefer baggy clothes

Low breathability
Patagonia Better Sweater Vest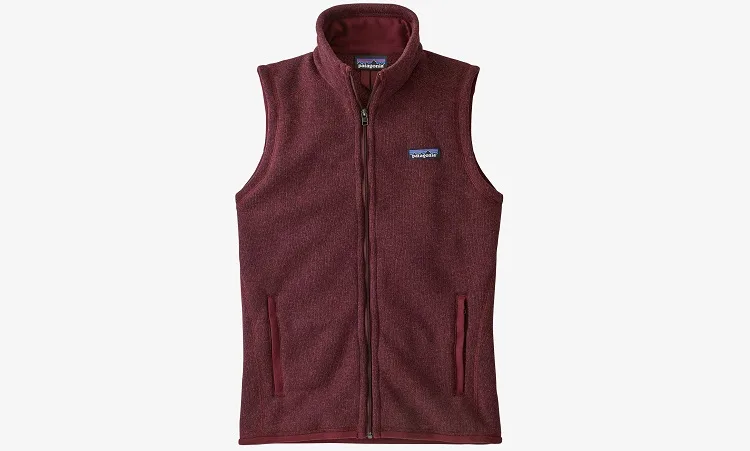 If you're big on backpacking and need the right Better Sweater to fit into your bag, the Patagonia Better Sweater Vest is an excellent choice! Available in sizes from XXS to XXL in the women's section and with 5 colors to choose from, you can find the vest that best suits you.
There are external and internal pockets for both the men's and women's vests. Quite frustratingly, only the men's vest has a chest pocket. I would have appreciated that extra pocket to pop my phone into before starting my run. Carefully thought out are the vest's arm openings. They're soft and hold their shape. The missing arms suit a larger range of temperatures. You'll be kept cool while keeping your core warm.
Pros of Better Sweater Vest
Easier to pack

Large range of sizes

More than one color is available

Soft and strong arm openings

Versatile
Cons of Better Sweater Vest
Women's vest doesn't come with a chest pocket

Not as warm as the other Better Sweaters
Patagonia Better Sweater Alternatives
The Patagonia Better Sweater isn't for everyone due to its price and what it has to offer. If this is true for you, here are some other sweater options for you.
Arc'teryx Covert Cardigan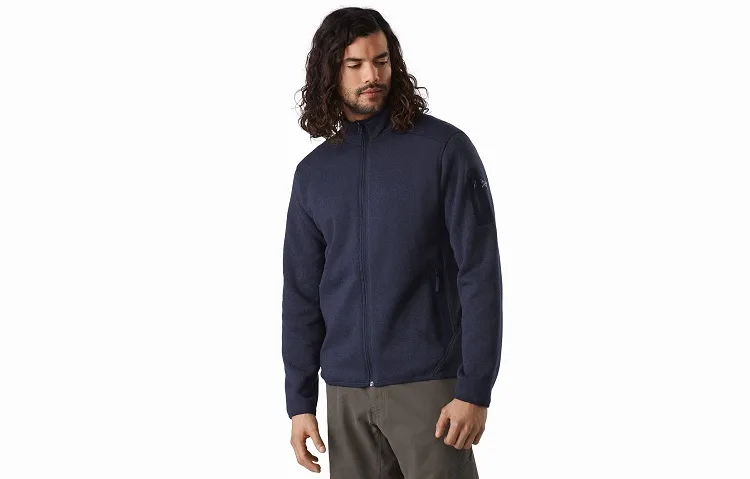 If you're looking for a clean, modern design, you'll find it in the Arc'teryx Covert Cardigan. Thanks to its sleek look, you can wear this cardigan casually but also for casual business events. It's a high-quality cardigan that is durable, comfortable, and very warm. This product is available in sizes from XS to XXXL and has a couple of color options to choose from.
I found this cardigan to be a lot more breathable than the Better Sweater and a better option if you want to wear something warm to the gym, but it lacks the convenient chest pocket that the Better Sweater has. It's also baggier. Two things that have bothered me about the Covert Cardigan is that when I wear it zipped up over my t-shirt, it makes my shirt ride up, and I have to pull it back down constantly. It also pills quite badly.
Pros of Arc'teryx Covert Cardigan
Sleek look

Versatile

Warm, comfortable, and durable

Breathable

A range of sizes and colors
Cons of Arc'teryx Covert Cardigan
Bunches up my undershirt

Baggy

Lacks a chest pocket

Pilling
REI Co-op Groundbreaker Fleece Jacket 2.0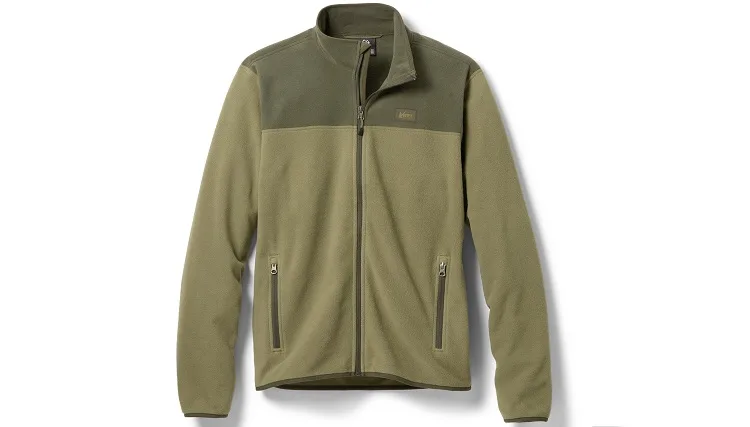 If you're looking for a budget-friendly alternative to the Better Sweater, then check out the REI Co-op Groundbreaker Fleece Jacket 2.0 for an affordable price of under $50! It may be cheap, but it doesn't under-perform and can be used all year round. It's well worth its price; however, a lower price tag means lower quality. It definitely doesn't compare to the Better Sweater in regards to quality.
This fleece jacket has 3 zippers in total – 2 zippers for the deep hand pockets and 1 zipper to open and close the jacket. It's a great fit, lightweight, not too thick, nor not too thin. The fabric is soft, which allows you to push the sleeves up to your elbows if you feel too warm or are working with water.
I have found that the zippers tend to stick, preventing them from opening and closing smoothly. I'd also enjoy it if the collar were a bit longer so that it could fold over. When fully zipped up, the collar irritates my throat, and it leaves a red mark.
Pros of REI Co-op Groundbreaker Fleece Jacket 2.0
Deep pockets

Inexpensive

Lightweight

You can push the sleeves up
Cons of REI Co-op Groundbreaker Fleece Jacket 2.0
Zippers can stick

Lower quality

Uncomfortable collar when the jacket is fully zipped up
Cotopaxi Abrazo Half-Zip Fleece Jacket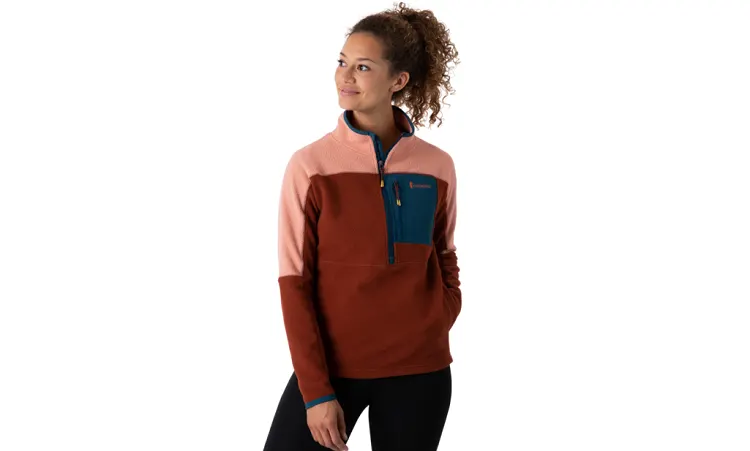 I just love the detail on the Cotopaxi Abrazo Half-Zip Fleece Jacket! It's so trendy and retro. It's the kind of pullover that I could wear with jeans or gym tights. This jacket is made with recycled fleece and has elastic binding in both its sleeve cuffs and collar. It has 4 zippers – the main half zipper, 2 hand pocket zippers, and a chest pocket zipper, making it functional.
There are different color styles to choose from, none of them subtle, which could be too bold for some people. It's also not as warm as the Better Sweater, but it's just as cozy.
Pros of Cotopaxi Abrazo Half-Zip Fleece Jacket
Great color styles and design

Many zippers

Recycled fleece

Elastic binding
Cons of Cotopaxi Abrazo Half-Zip Fleece Jacket
No subtle colors

Not very warm on its own
FAQs
Question: Is the Better Sweater Good For Skiing?
Answer: Yes. It's a great mid-layer sweater for skiing. The polyester fleece keeps you warm and cozy, the deep pockets keep your hands warm, and the high collar keeps the draft out. The zipped pockets will keep your keys and phone safe while on the slopes.
Question: Does Patagonia Better Sweater shrink?
Answer: Due to the polyester in the Better Sweater, it shouldn't shrink. I cold wash mine and then hang it on the washing line to dry. However, I only wash it when it's really necessary to prolong its lifespan.
Question: Is the Better Sweater Worth It?
Answer: Yes, definitely. The Better Sweater is made to last. Although some maintenance is required due to the pilling, the comfort, warmth, quality, durability, and versatility make up for it.
Patagonia Better Sweater Review: Conclusion
The Patagonia Better Sweater comes at a fairly high price tag. However, considering the Ironclad Guarantee, the excellent quality, comfort, durability, and eco-friendly materials and processes involved, it's a sweater like no other. It's great for skiing and hiking while still fashionable enough to wear out shopping or on lunch dates. You can get your money's worth out of this sweater because it's so versatile.
If it's a bit bland for your personality, check out the Cotopaxi Abrazo Half-Zip Fleece Jacket that I've discussed in this article. It's one of my favorite alternatives as a young outdoor enthusiast.
Further Reading: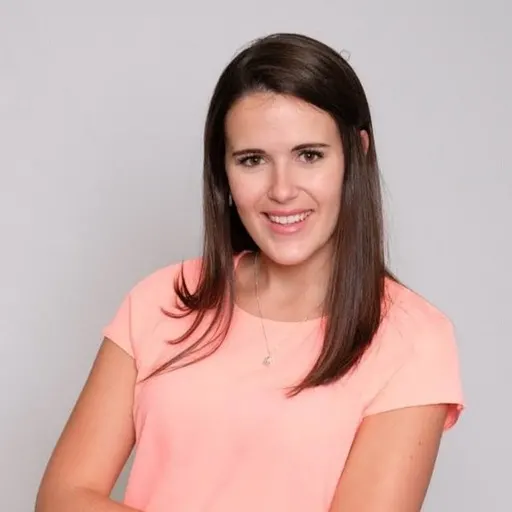 Keri-Beth is an outdoorsy South African freelance writer. She loves camping, hiking, and wandering in nature. She knows how to navigate in the wild and she'll show us how to get there. In her spare time, she enjoys photography and going on other adventures with her husband, who is a professional drummer.