Underwear is the unsung hero of hiking clothes and a critical hiking base layer. This vital piece of clothing helps protect our most delicate parts, but many outdoor enthusiasts don't pay much attention to them while gearing up for a trip.
On this occasion, I share with you the best men's underwear for hiking and the most comfortable materials to choose when planning your next hike.
#1
Smartwool NTS Micro 150 Boxer Brief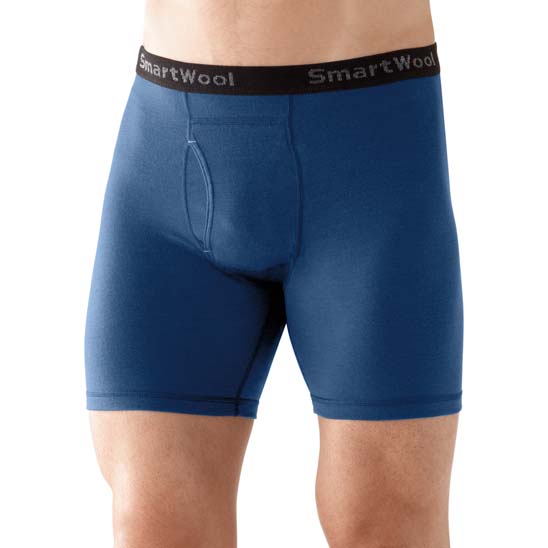 Material:
100 Percent Smartwool Merino
At $45, the Smartwool Merino NTS Micro 150 Boxer Brief is one of the most expensive brands of premium hiking underwear, but it delivers with excellence and is definitely a great men's performance underwear. With a perfect fit and soft waistband for maximum comfort, this undergarment offers superior design and construction to keep you fresh and dry. It is made from 100 percent Merino wool, making it super soft and gentle on the skin.
Flatlocked seams help to reduce chafing in all the delicate places where your skin might come in contact with the garment. One of its innovative designs is the sideways waistband stitch which effectively eliminates any friction with your backpack.
Because it is made of Merino wool, Smartwool NTS Micro 150 Boxer Brief offers exceptional anti-odor protection compared to synthetic brands with special chemical coatings to reduce microbial growth. The only downside is that these boxer briefs are not as durable as synthetics and don't dry as quickly.
Also, the price tag is hefty for a single pair of shorts. It's not like its self-washing or will last longer than sturdier man-made fabrics. But if you can afford it, it's a great fit that makes for delightful experiences on the trail.
What we like:
The fabric is naturally odor-resistant
Flatlock seams ensure zero chafing
Comfortable and superior fit
What we dislike:
The price is an outrageous price
The material is not durable
It requires longer drying time
Where to Buy SmartWool Underwear
There are a few online retailers to compare and check out if you are looking for the best prices, service, and selection:
Material: 94 percent nylon, 6 percent lycra
In the last couple of years, Ex-Officio has become a popular brand in the premium underwear industry, and their ExOfficio Mens Give-N-Go Boxer Brief is one of the best hiking apparel on the market.
This underwear is boxer-briefs, the preferred undergarment for outdoor travels such as hiking. It's made from nylon and lycra, making it lightweight, highly durable and elastic. The material will get dry in under two hours, making them ideal for wash and wear routines when space is a luxury.
With the ExOfficio Men's Give-N-Go Boxer Brief, you don't have to worry about traveling with a single pair of underwear or two, as it will dry up quickly in the hot sunny afternoon or chilly night conditions. The undergarment features Ex-Officio's proprietary Aegis® Microbe Shield™ antimicrobial treatment to make it odor-resistant so that you can stay fresh and clean for longer.
At $26, the ExOfficio Men's Give-N-Go Boxer Brief is a bit on the high side, but its durability and sturdy construction are worth the extra cash. One great thing about the Aegis® Microbe Shield™ is that it lasts longer than silver-ion treatments used on most synthetic fiber as a molecular bond holds it tightly to the fabric surface.
These boxer-briefs also offer decent breathability. They are perfect for use during warm weather for hiking, trekking, mountain climbing, backpacking, running, and everyday use.
What we like
The fabric is highly durable
The construction is solid
Features a long-lasting antimicrobial treatment
Ultra-lightweight, making it easy to pack
What we dislike
Not as comfortable as brands of comparable quality
It's expensive
Where to Buy ExOfficio Boxer Briefs
The following retailers have a good selection:
On Amazon

: ExOfficio is generally well-stocked on Amazon, officially selling via this channel (not all brands do). Definitely check here for the latest prices FIRST, as I typically find good deals on bulk packs.
On REI.com: REI is another great online retailer to check out, especially if you are a Co-op member as you can save extra with member dividends. Check this listing here.
On Backcountry.com: Backcountry also has a good selection of ExOfficio briefs. Check this listing here.
Directly on ExOfficio.com here
Materials: Merino wool 83 percent, Nylon 12 percent, Lycra 5 percent.
Icebreaker Anatomica Boxers offer superior comfort. The combination of natural and synthetic fibers used in the construction of these boxers gives it the combined characteristics of the three.
It offers exceptional moisture-wicking, breathability, and soft texture which has made Merino wool the darling of quality undergarments all over the world.
Nylon gives it a durability that beats that of Merino wool while Lycra provides elasticity, making it stretch with your moves and reducing chaffing by adhering to your body. The Icebreaker Anatomica Boxers feature a branded elastic waistband, flatlock seams, and a fly.
What's more, these boxers enjoy the superb odor-resilience of Merino wool, nylon's durability, and the stretchy comfort of Lycra. Whether on the trail, mountain, backpacking, running, or everyday use, the Icebreaker Anatomica Boxers are a great option for use in cold weather as the Merino wool helps to lock in warmth. However, this boxer is not perfect.
The low level of nylon makes it less durable than you would want, it has a short warranty period and comes with a hefty $45 price tag. But it dries very fast and offers superb comfort.
What we like
It's comfortable to wear
Offers odor-resistance
It's lightweight light
Fast drying time
What we dislike
Poor durability
Short warranty period
Where to Buy Icebreaker Anatomica Boxers
On Amazon

: Amazon has a good selection of sizes (eligible for Prime one-day shipping as of this writing).
On Backcountry.com: The other reliable retailer I've found is Backcountry. They offer 20% off a customers' first order. Check this listing here.
Material: 70% Polyester, 30% Polypropylene
The Arc'teryx Phase SL Boxer is a tightfitting boxer brief ideal for fast-paced, outdoor trips. Because of their tight-fitting design, they do a great job of holding the boys in place regardless of how fast you move.
These undergarments combine the durability of polyester and the stretch of polypropylene to deliver snug but comfortable hiking underwear that ensures your delicate parts are kept dry, fresh, and firmly secured regardless of how high-powered your activity is.
The material is extremely light and fast drying. Plus, it's breathable, offers increased freedom of movement, and a trendy elastic waistband, as well as flatlock seams, ensure minimal chaffing and discomfort.
Although it doesn't feature a fly, it is perfect for warm weather hiking and other high-intensity activities like running and others. The downside to this boxer is that it has no anti-microbial protection, so it might not be the best underwear if you plan to spend several days on the trail. The price tag is also somewhat expensive.
What we like
Superior fit and comfort
It's lightweight
It's highly supportive
Features flatlock seams
Fast drying
What we dislike
Maybe too tightfitting for some
Lacks a fly
It's expensive.
Where to Buy the Arc'teryx Phase SL Boxer
On Amazon

: I definitely always check Amazon first, as they typically have Phase SL available as a Prime product with best in class pricing.
On Arc'teryx: When in doubt, go straight to the source. The advantages of ordering direct are working with the brand for directly for customer support, returns, warranties, etc… Check out this listing.
Materials: Polyester 90 percent, Elastane 10 percent
The Under Armour Men's Original Series Boxerjock are one of the best hiking underwear. The underwear offers the breathability and durability of polyester while elastane gives it a 4-way stretch for increased comfort and freedom of movement in any direction during your hikes.
These boxer briefs also feature Under Armour's innovative moisture transport system which reduces the drying time and keeps you dry and fresh. This apparel features a mesh fly panel for optimal stability and easy bathroom breaks, and it fits snugly to your skin to reduce chaffing.
Some people might find this underwear too short for comfort. However, it's a great choice as it provides enhanced durability, fast drying time, and excellent flexibility. But it might chaff you a little due to the length.
The Under Armour Men's Original Series Boxerjock is perfect for hiking in warm conditions and helps keep your delicate parts in place due to its snug feel. It's breathable and stretchy, but lacks antimicrobial protection, which can be a big deal if you intend to go on a multiple-day hiking trip.
What we like
Comes with a fly for quick bathroom breaks
It's breathable
The fabric is durable
Short drying time
What we dislike
Short length
Lacks anti-microbial treatment
Where to Buy the Under Armour Boxerjock
Materials: Nylon Spandex combination
If traveling light is important for your trip, Lapasa's two-pack boxer briefs will suffice for your adventure, even if you will be spending three months in the wilderness.
The nylon-spandex combination is a perfect mix for durability and stretch. The fabric has great moisture-wicking characteristics as well as a 4-way stretch for increased range of motion. Stability is achieved with a flatlock elastic waistband which prevents the fabric from riding up.
The material is highly durable and dries quickly whether hand washed or machine washed. These Lapasa boxers won't wear easily, even after several washes. Plus, the construction is great, durability impressive, and comfort is excellent. Breathability and odor-resistance might be a problem, but you can always wash one and wear the other.
The good news is that the drying time is low, so you will have your boxers fresh and clean and ready to serve you in no time. These boxers are perfect for hikes, runs, mountaineering, backpacking and even for everyday use in warm weather. The fit is snug and cozy, and the moisture-wick is impressive.
What we like
Ergonomic fly for quick bathroom breaks
The fabric is durable
4-way stretch that conforms to your body and movement
It's comfortable
Fast drying
Two pairs for the price of one
What we dislike
No odor-resistance treatment
Occasional riding
Where to Buy
On Amazon: Check on Amazon
Material: 100 percent Merino wool
Apex Men's Merino Wool Boxer Briefs are made from 100 percent Merino wool, making them soft, warm, and gentle on the skin without any itching. It is constructed to be form-fitting from the waist to the bottom of the thighs to give adequate stability and hold everything in place while in the outdoors.
Like everything made from Merino wool, these boxer briefs are naturally odor-resistant, moisture-wicking, temperature regulating, breathable and they are also durable enough for machine washing. An ergonomic fly helps you take bathroom breaks easily.
The material is light, effectively reducing chaffing and heat rash. It might not dry as quickly as synthetics, but the snug and comfortable fit and affordable price make it a great choice.
What we like
Ergonomic fly for quick bathroom breaks
Reduced chaffing
Anti-microbial
It's breathable
Perfect for cold weather as it locks in warmth
What we dislike
The fabric is not durable
Takes too long to dry
Where to Buy
On Amazon: Check on Amazon
Material: 100 percent Merino wool
According to Woolx, these boxer briefs are no smell boxers! Their claim is not far-fetched though. This underwear is made from 100 percent Merino wool. Merino wool has a natural odor-resistance, soft texture, and high breathability.
The fiber has excellent moisture-wicking abilities, making it top choice underwear during wet or cold weather conditions as it will keep the water away from your skin while keeping the body temperature stable.
In addition to its superior antimicrobial abilities, Woolx Basix boxer briefs are durable enough for machine washing and drying without shrinkage or damage. This snug-fitting design features an elastic waistband and an ergonomic fly for quick bathroom breaks at any time of the day or night.
Whether for hiking, running, mountaineering, or everyday use, Woolx Basix Men's boxer briefs are comfortable and does a great job of preventing your delicate parts from unnecessary jostling on the trail or road. However, it takes a bit too long to dry and comes with a high price tag.
What we like
Natural antimicrobial resistance
Comfortable fit
Machine washable.
What we dislike
Longer drying time
Less durable compared to synthetics underwear
It's expensive.
Where to Buy Woolx Boxer Briefs
On Amazon: Check on Amazon
Material: Nylon 77 percent, Spandex 14 percent, Polyester 9 percent
The Saxx Quest 2.0 boxer briefs are designed for epic adventures, according to the marketing campaign.
These boxer briefs are highly durable, breathable, and stretchy. The construction features flat seams for reduced chaffing and moisture-wicking to keep you fresh and dry for longer. Plus, the 4-way stretch makes it more comfortable, fitting, and offers increased freedom of movement in all directions. It is highly durable and dries quickly.
What we like
Quick drying
Breathable material
Non-chaffing
A snug and comfortable fit.
What we dislike
High price point
Lacks antimicrobial treatment.
Where to Buy Saxx Quest Boxers
On REI: I had the best luck finding these on REI. If you are a member, you can also save extra with the REI dividends. Check this listing here.

On Amazon

: Definitely also check Amazon in case they have a good deal.
Materials: Merino wool 86 percent, Nylon 14 percent
The Ibex Woolies 1 Boxer Briefs offer superior performance and comfort in the outdoors, making them one of the top favorites among avid hikers and mountaineers. These boxers are made of ultra-thin fabric, which makes them lightweight, soft, and gentle on the skin.
Like every Merino wool fabric, the Ibex Woolies 1 Boxer Briefs offer spectacular odor-resistance, moisture-wicking, breathability, and comfort. Nylon makes it durable and dry within a short period. The boxers feature a wider waistband, flatlock seams, and a fly.
These high-performance boxers can be worn all year round, especially in temperate weather conditions. They are excellent for the rigors of hiking, trekking, mountaineering, and other high-intensity outdoor trips.
What we like
Offers superb comfort
It's breathable
Naturally odor-resistant
Moisture-wicking
What we dislike
Where to Buy Ibex Merino Woolies
On Amazon: Check on Amazon
Which Is the Best?
Most of the underwear on this list have impressive characteristics. While the Merino underwear offers higher comfort, breathability, and antimicrobial resistance, the synthetic brands provide higher durability and lower dry time.
Comfort is a general feature of all, but different construction processes and quality of materials has a huge impact on how dry and fresh you feel down there after wearing your hiking underwear for a long period.
A true contender for the title of best budget underwear out there, the REI Boxer Briefs are a no-frills, no-fuss pair of undies that offer great value for money despite a few notable shortcomings.
Using an 87% polyester and 13% spandex blend, these briefs are amply stretchy and durable but lack the naturally antimicrobial qualities of their pricier, merino-based competitors. One aspect that may appeal to many is the more regular, classic fit of this product — if you're not a fan of compression briefs, the slightly looser feel of REI's Boxer Briefs might just win them your vote.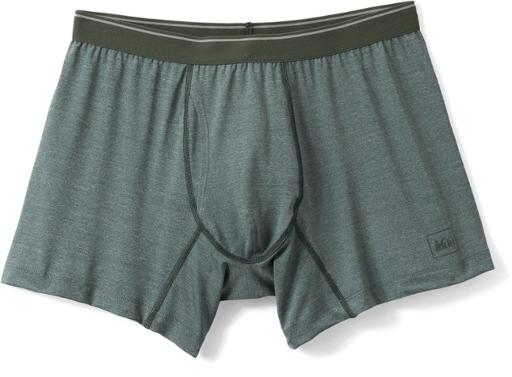 Otherwise, these boxers do everything reasonably well without quite scaling to the heights of more expensive models in terms of performance. In a nutshell: a solid bet for those on a budget, but a compromise for those who want the best their money can buy.
Pros
Reasonably priced
Wick well
Breathable
Comfortable
Made with durable materials (92% polyester, 8% Spandex)
Cons
Material doesn't contain antimicrobial properties
Inseam a little short (4.75 inches)
Where to Buy
Pick these boxers up directly via this REI listing here.
For those not too fussed about the naturally antimicrobial properties and super-soft feel of merino, the Under Armour Compression 6" Shorts pose an attractive synthetic alternative. Using 90% polyester and 10% elastane, these ultralight briefs are high-wicking, breathable, durable, offer plenty of stretch, and compress better than many other items in our review.
They also use flatlock seams and a 6" inseam that together make chafing far less likely than with regular underwear or standard length briefs that fail to cover that chafe-prone hotspot at the midpoint of the inner thighs.
The downsides? Well, although these briefs use an anti-odor treatment that works perfectly well1 on the first few outings, its efficiency is sure to decline after 10 or so washes. Also, in an effort to keep the design as smooth and sleek as possible, Under Armour have chosen to omit a functional fly — something that may be a deal-breaker for some would-be buyers.
Pros
Excellent wicking capacity
Compression style ideal for hiking
UPF 30+ sun protection
6" inseam
Breathable
Anti-odor treatment effective while it lasts
Cons
Not naturally antimicrobial
No fly
First things first: the name of these boxers is something of a misnomer. While the HH Warm are made with thicker materials and thus run a fraction warmer than many other items in our review, these undies also hold their own in toastier temps and do a good job of keeping things fresh and sweat-free down below.
These boxers also have a number of other factors working in their favor, most notably a performance-minded blend of antimicrobial merino, high-wicking proprietary LIFA, and a little more stretch than many other merino briefs with lower elastane content.
But it isn't all good news… For those with larger leg muscles, the relatively narrow leg opening on these boxers may make things a little too tight for comfort; and, for those who prefer to do their peeing without the inconvenience of undoing their belt or the top closure on their pants, the lack of a fly opening will maybe exclude this otherwise functional pair of briefs as a viable option.
TIP: If these boxers make it onto your shopping list, beware that the sizing runs a little small and shoot at least one size up from what you'd take in your normal underwear.
Read our full Helly Hansen Jackets Review.
Pros
Naturally antimicrobial properties
HH's LIFA hydrophobic technology fabric provide excellent moisture wicking
Nice blend of merino and synthetic fabrics gives the best of both worlds
Flatlock seams
Comfortable
Cons
No fly
Very tight fit in thighs for larger-muscled users
While not marketed to hikers quite so categorically as other items in our review, the Saxx Kinetic Briefs do pretty much everything a hiker could ask of their underwear.
Using an 85% nylon and 15% spandex blend, these briefs are both more durable and stretchier than many of the merino-based products in our review, and as such are cut out for the rough and tumble and lunge-like moves many of us are more likely to be cutting on more demanding hikes.
Other performance-oriented features that earn these briefs their place on our list include flatlock seams, a semi-compression fit, antimicrobial treatment, and excellent breathability.
Sadly, these briefs aren't naturally antimicrobial so will lose some of their odor-resistance over time, but otherwise they're a good bet for those who don't necessarily want to buy a pair of briefs that are especially suitable for the great outdoors while lacking the more casual, stylish, relaxed look and feel of briefs made for everyday use.
Pros
Very stretchy owing to 15% spandex content
High-wicking fabric
Flatlock seams
Antimicrobial treatment relatively long-lasting
Semi-compression fit
Cons
No fly opening
Not naturally antimicrobial
Where to Buy the Saxx Kinetic Boxers
Made with 72% merino wool, 22% nylon, and 6% elastane, the Smartwool PhD Seamless Boxer Briefs tick all the boxes that need ticked on the material front.
Not only does the high merino content make them soft, comfortable, and naturally antimicrobial, but the additional nylon adds durability and strength while the elastane gives them enough flex and stretch to cope with whatever shapes you might happen to be cutting while out on the trail.
Beyond the materials used in these briefs, there's a lot more to love. They're high-wicking, breathable, dry very fast and use, as the name suggests, a seamless design that's ideal for those prone to chafing in or around the underparts.
And the downsides? Other than their slightly hefty price tag, we've been unable to turn up a single one!
Pros
72% merino wool
Nicely stretchy
More durable than most merino-only garments
Wick well
Breathable
Very comfortable
Cons
Where to Buy Smartwool PhD Boxers
And The winner is…..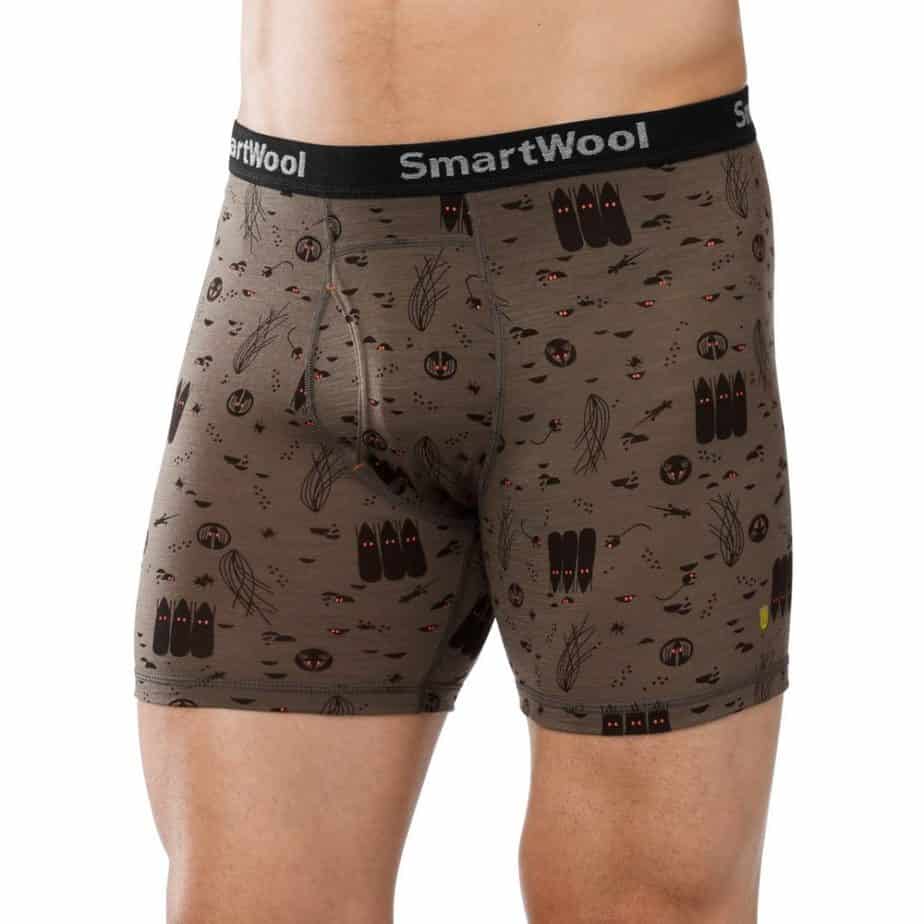 With100 percent Merino wool, ergonomic designs, flatlock seams, waistband stitches placed sideways to reduce friction with a backpack or any load you are bearing on your back, and Merino wool's legendary antimicrobial resistance, Smartwool NTS Micro 150 Boxer Brief delivers as promised.
This underwear is a perfect fit, comfortable, moisture-wicking and highly breathable. While it comes at a premium price, its value shines through in the level of comfort and freshness they provide your most delicate parts in the harsh conditions of the outdoors.
Why Hiking Underwear Matters
Hikers will go above and beyond to get the best hiking gear they can afford, only to settle for cotton briefs when it's time to buy hiking underwear.
But cotton is a terrible fabric if you are adventuring outdoors, especially when there is a high chance of getting sweaty or wet. Cotton has a high affinity for moisture, and it will stay wet if you are unfortunate enough to get it wet.
Dampness not only causes itching and discomfort for the boys, but it can also breed microbes and odor, two things you don't want if you are short of supplies or far away from civilization.
In short, your choice of hiking underwear can make or break your hiking experience, and that's why you need to buy quality.
Whether you are going for a day trip, a weekend hike through the National Park near you, or a three-month long expedition in the jungles of the Amazon, nothing beats a great pair of comfortable underwear that is breathable, fast drying, anti-microbial, and durable.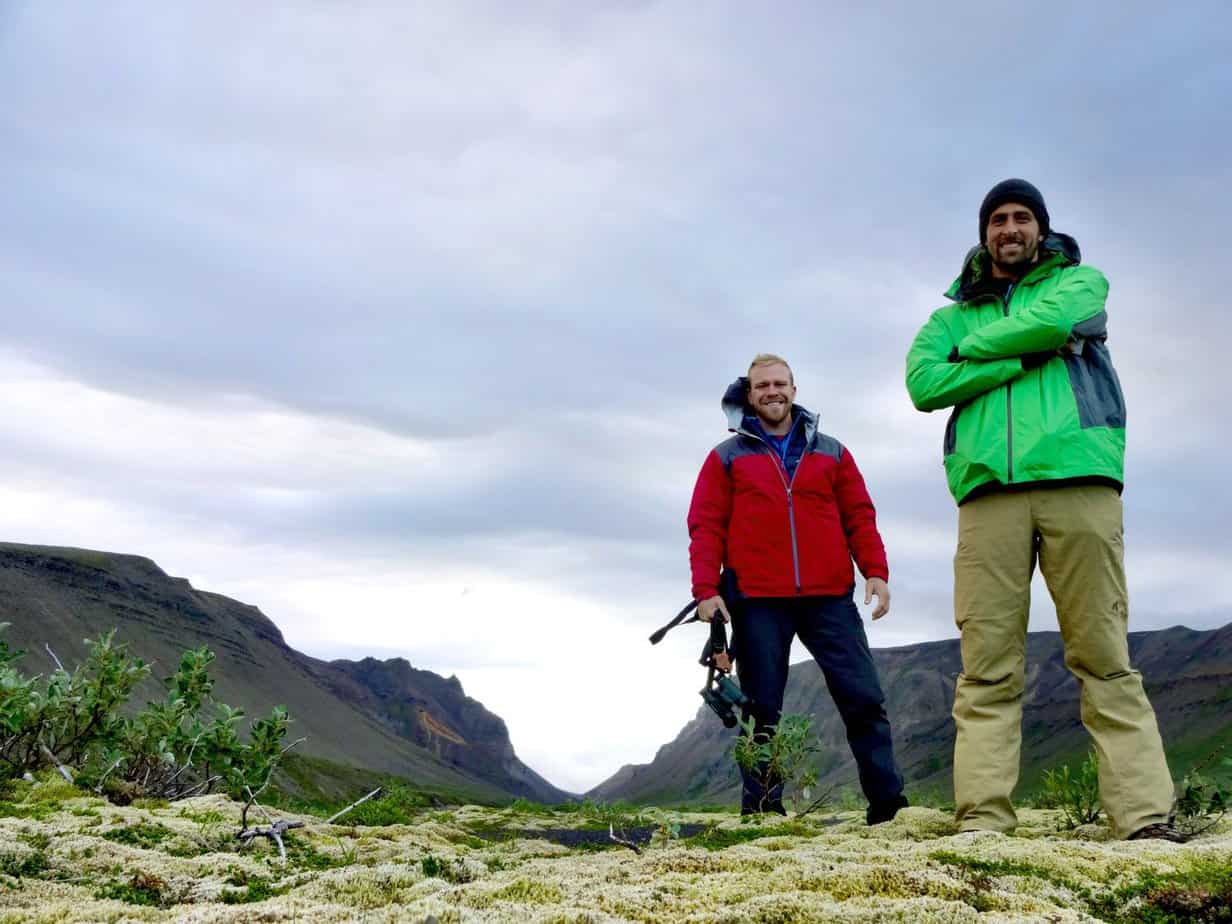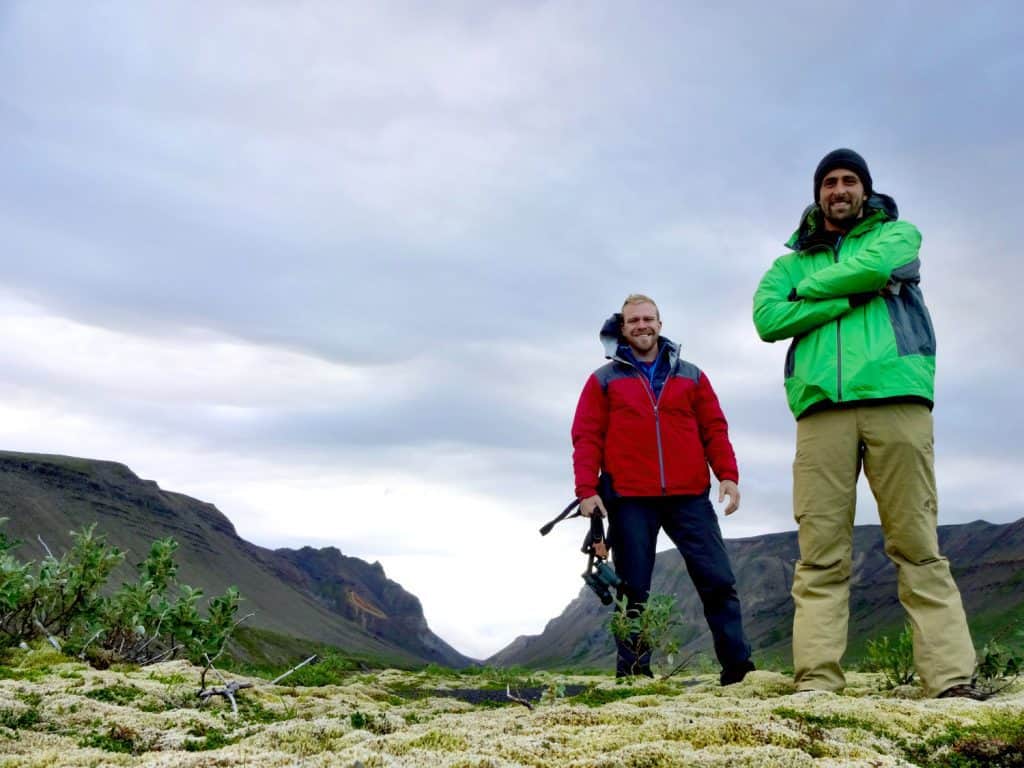 If you are shopping for hiking underwear, don't settle for less. Your hiking experience will be greatly curtailed if your underwear keeps getting bunched up, chafes your skin, slips down, retains moisture, lacks support or provides too much support, is smelly or itchy, or gets torn halfway through your trip.
The fact that your underwear is out of public view doesn't mean you should dress shabbily down there. Your comfort is paramount, and you owe yourself a reasonable amount of ease, even though the outdoors can be quite unforgiving.
In this article, we will look at the top ten hiking underwear you should be rocking in 2019. It's important that you don't make price your primary goal when buying travel underwear.
What you should look for is value. Plain and simple, cotton can be dirt cheap, but it offers less comfort when you are in the outdoors.
If you don't want your legs to be chafed or develop a nasty odor down there, then it's better to invest in top quality undergarments made from Merino wool or synthetic materials such as nylon or Lycra.
The price for a pair of boxers on this list may seem outrageous, but the comfort and breathability they offer is well worth the price tag.
What to look for when you are buying hiking underwear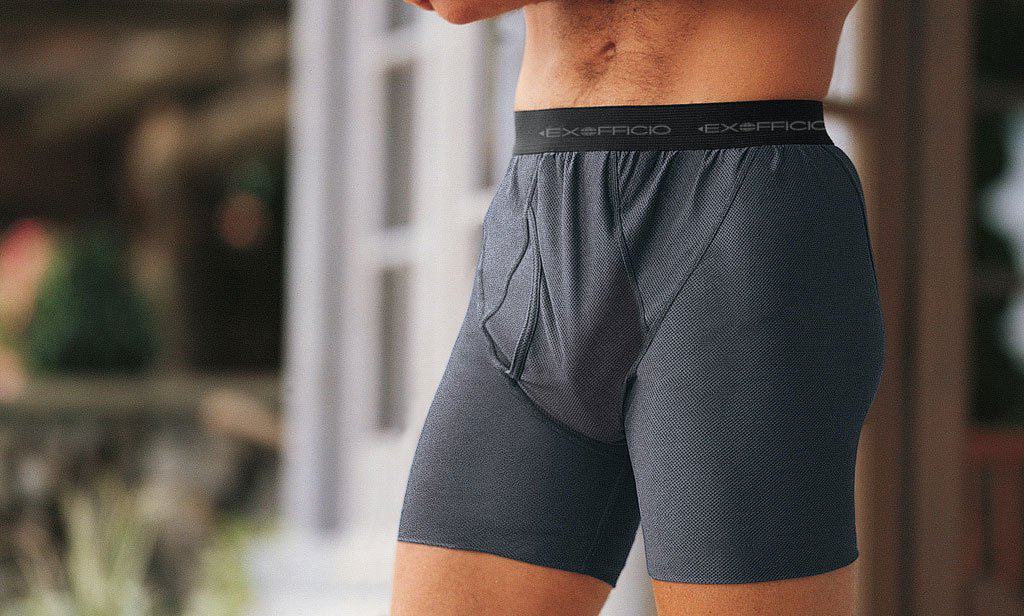 First, let's examine the important factors to consider before buying hiking underwear.
Material
The main reason why you would want to splurge on high-quality undergarments is for maximum comfort, and one of the most important factors for comfort is material.
The ideal hiking underwear should be made of fabric that doesn't create constant abrasion with the skin, thus reducing friction, chafing, or rubbing after prolonged use.
The material should be breathable, quick-drying, anti-microbial, and moisture-wicking. Fabrics made from Merino wool and synthetic fiber such as nylon, lycra, or polyester offer these qualities. Most makers of premium hiking underwear also add some elastic fiber like Elastane or Spandex to their underwear to give it some degree of flexibility.
Elasticity ensures that the garment conforms to your body and stretches whenever you move, rather than chafe your skin, thereby increasing comfort.
Should you buy Merino wool or synthetic underwear? It depends.
Merino wool is a natural fiber with several impressive characteristics. The fabric is naturally antimicrobial, soft and tender on the skin, offers warmth even when wet, more breathable, and can wick moisture away from the skin, a feature that makes it perfectly suited for wet conditions. However, Merino wool is not durable and may quickly wear and tear under heavy use. Plus, it's more expensive.
On the other hand, synthetic underwear such as nylon, polyester, lycra, polypropylene or a combination of these are more durable, last longer, and dry faster. They are also more affordable compared to Merino wool. In terms of comfort, Merino wool underwear leads the pack, but they might not be durable enough to withstand heavy use.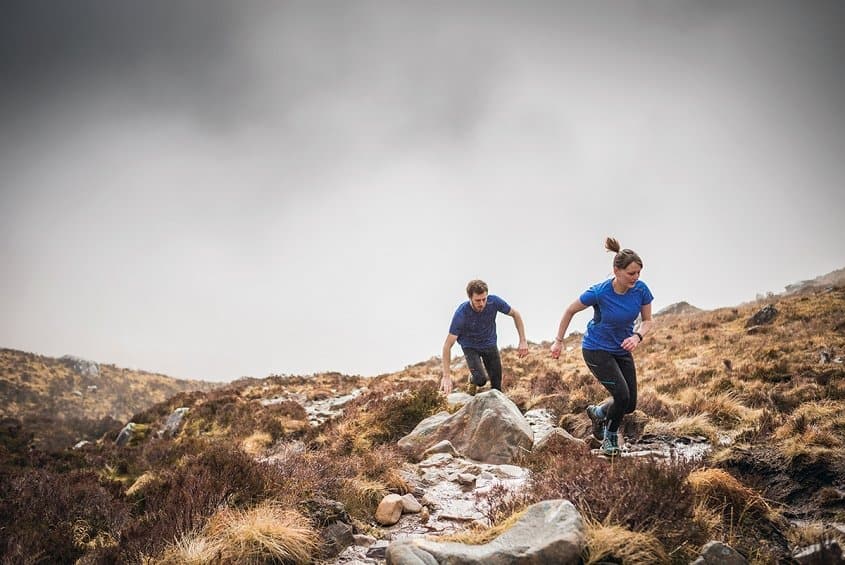 Durability/Construction
It makes no economic sense to cough out top dollar for luxury underwear if they can't stand the rigors of the outdoors, and this is why durability and construction are important.
Many experts and users swear by the comfort which flat-lock seams provide. Flatlock seams have a smaller surface area, which reduces contact and friction with your skin, thus reducing the risk of chafing and bruising.
When you are outdoors, washing your underwear with a mechanical washer might not be possible, and you may have to wash manually.
Synthetic underwear offers more durability and will hold their own even after extensive and rough use. Merino wool, on the other hand, needs special fabric care and may fall apart before synthetics.
Antimicrobial Protection
Hiking underwear that is antimicrobial will save you from a lot of itchiness, odor and keep you and your boys happy for the duration of your trip. If you will be going out for several days and packing light is the best option, antimicrobial underwear keeps you fresher longer, especially because you will get sweaty and grimy, prime conditions for germs to thrive.
Merino wool is naturally antimicrobial, and this makes it comfortable to wear for longer without any foul smell. Synthetics can also be treated with antimicrobials, but these will wear off over time with regular washes. Meanwhile, polypropylene can quickly get smelly when damp, so you might want to steer clear of the fabric if you will be traveling during the wet season.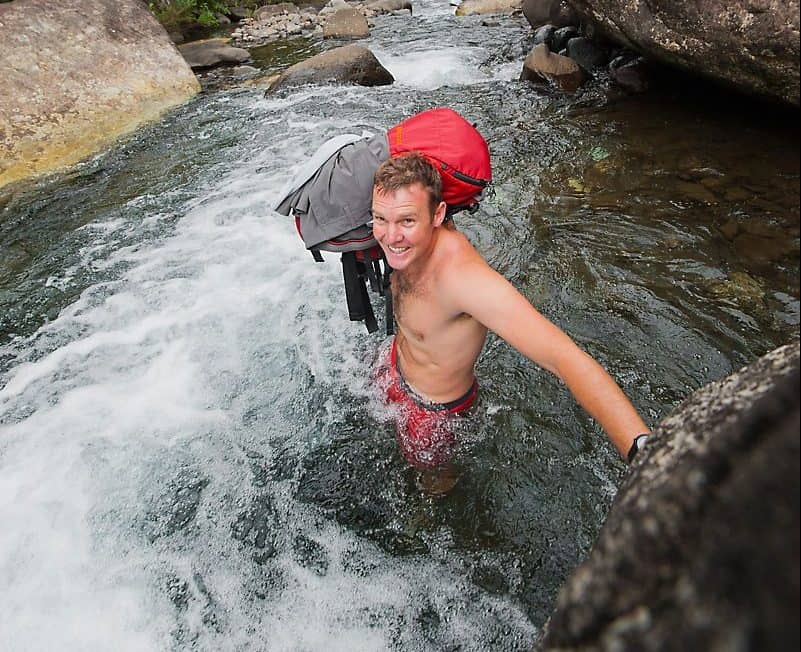 Style
While there are several styles of underwear for men, the ideal hiking undergarments are boxer briefs, as per several experts.
Boxer briefs are tight fitting, making them efficient at moving sweat away from the skin surface to the outer layer of the fabric. This feature might seem unimportant, but it can help keep your delicates dry, fresh, and comfortable. Additionally, the tight fit means chaffing is greatly reduced.
Drying Time
When you are on the trail and have only two pairs of underwear, drying time becomes an important issue. With the right set of hiking underwear, you can make do with two pairs if the fabric will dry fast enough before the other pair needs washing.
Plus, faster drying time means you can wear the underwear while wet and it will still offer some level of comfort. Synthetic fabrics dry faster compared to Merino wool, but both can still be worn with some level of comfort while wet. Drying time is an important factor to consider if you are traveling through tropical environments where humidity is higher, or rain is unpredictable.
Final Word on the Best Men's Hiking Underwear
Underwear should be an important part of your gear when preparing for hikes. While there are many cheap cotton boxer-briefs on the market, you will do well to invest in one or two pairs of quality hiking underwear.
It's hard to enjoy the beauty and glory of the great outdoors if you are itchy or smelly down there. Don't be the hiker who shortchanges himself. Your boys deserve delicate care which cannot be provided by knock-down cotton briefs that go for $5 per 6-pack.
If you can invest in the best boots, backpacks, survival kit and other outdoor equipment, you can surely find the extra cash to buy one or two pairs of these beauties. You will be surprised to discover how great it feels when you don't have to worry about your underwear getting stinky after five days of wear.
Further Reading on Hiking Gear