If you love the outdoors, then there is an excellent chance that you will spend most of your time out in the wild, enjoying the scenery and crisp air that comes with it. Carrying a rain jacket when you're out hiking is not always convenient for everyone, especially if the weather forecast doesn't warn of imminent rain. This additional weight can also get to you as you hike along steep trails.
However, despite weather reports – thanks to the state-of-the-art technology in the meteorological universe – anything can happen, and rain may come.
The best option for you – apart from using a rain jacket – is to get your hands on the best rain poncho for hiking. They are excellent alternatives because they are not only lightweight but slip on easily, thus covering you and your backpack when the rain starts falling.
1.
Charles River Apparel Pacific Poncho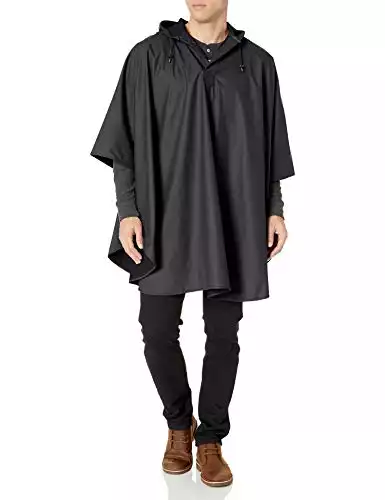 If there is any brand that delivers excellent products, you have to give it to Charles River Apparel. The Pacific rain poncho is a fiery gear created to provide comfort and protection each time it rains.
It is slightly heavier than most of the ponchos you would ever see around in the market; you can trust this product for solid protection against rainfall. It seems the Pacific Poncho was created with the interest of the hikers in the minds of the producers.
Design and Features of Pacific Poncho
The size of the Charles River Apparel Pacific Poncho is 52" x 80". Individuals who have a height of 5'8" will love this poncho as it reaches their knees. When seated, the poncho can reach the knees of persons who are about six feet tall.
The product is made of premium New Englander Polyurethane outer layer and a knit inner layer. This layer makes it resistant to water, wind and ensures you are kept warm whenever it rains. It is lightweight when placed on the back, and the product is not heavy.
It can put up with you and your hiking backpack without being hit by the rain. There are seventeen colors of this rain poncho type that you can buy depending on your preferences.
You can wash the Pacific Poncho with your hands, and spread it outdoors to drain water by hanging inside out. Pacific Poncho has a hood in combination with grommets and pulls tabs at the brim, which ensure the exposure of the face and tightening around the face.
The rain poncho has two buttons on the neck which enables any head, irrespective of the size to fit in the poncho. It has also snap closures under the arm which makes it easy for the user to undress without stress. Its seams are there to guard against water inflow, and there is a storage pouch sent with the rain poncho to be used for its packing when you are not using it.
Note: When you receive your Pacific Poncho, there is a foul smell of chemicals emanating from the package, it is essential you unwrap it and expose it to the air to allow the chemical odor to leave the product.
Benefits:
Size: 52" x 80"
It has a hood coupled with thinning straps
It has snap buttons on the neck
It has snap buttons under the arms
There are 17 colors. You can choose your favorite color according to your preferences.
Disadvantage:
The generic hood size is likely to be too large for small head-sizes.
2.
JTENG Waterproof Ripstop Hooded US PVC Camouflage Raincoat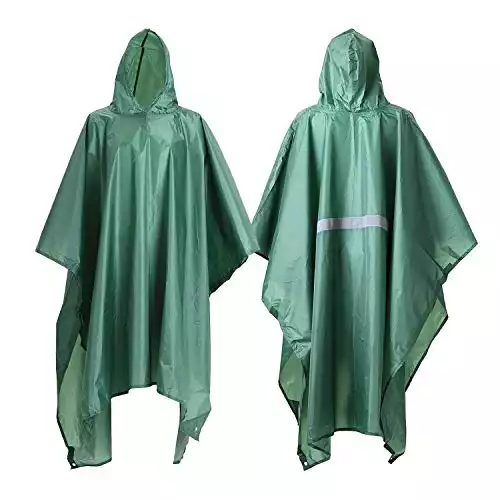 JTENG Rain Poncho is the perfect rain poncho for individuals who want longer ponchos. This product is a military-grade poncho ready for use, especially during an emergency.
You can trust this product to protect you when you go on hiking, and you will be glad about your purchase of this fantastic rain poncho. This rain poncho can perform the role of a floor mat, sunshade, and a blanket when you go for your hiking.
Design and Features
Made of 100% rip-stop polyester, the Jteng rain poncho can protect you from various snags when you go on a hiking journey. The material has an incredible look and feels great on your body. It has a length of 59 inches and a width of 55 inches.
Individuals who are taller than six feet will not have issues wearing it with their backpacks on their backs. The rain poncho's neck has a zip that makes it for persons with bigger head sizes to use it as well.
However, its hood is a standard size with an overhang which offers the forehead of the user protection against rain and ensures the prevention of rain from gaining access into the hood. The rain poncho also has cuff buttons to close the wrists as well.
On the hem of this rain poncho, you will see grommets that permit you to attach thread and utilize for other commitments like a stretcher or a rainfly.
The rain poncho is available in black, maple, green, and camouflage colors. You can select based on your preferences. The product is also shipped along with a storage bag which can be used to keep it whenever it is not in use.
It is noteworthy to discuss its lightweight as the material used in its production does not have an impact on its overall size. It has also had an excellent breathability feature as well. If you can afford its cost, the price is worth every penny spent on its acquisition.
Advantages:
It has a bigger size measured at 59" x 55."
The product is armed with features for emergency cases. It would be modest to say that is the reason the poncho was created in the first place.
It has a neck zipper for every head size.
It comes with a storage bag meant for its packing when not in use.
Made of durable and high-quality materials.
Disadvantage:
Meant for individuals with a large purse as it is expensive.
3.
Snugpak Patrol Poncho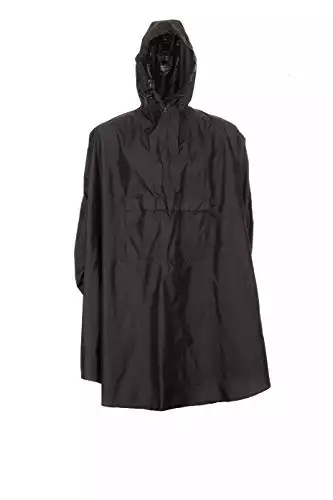 The Snugpak Patrol rain poncho is specially made for two purposes: to cater to your needs and your backpack when you go on hiking.
One of the major features of this rain poncho is that it protects big backpacks without stress, and worth every penny spent on it. The price is justified as you are paying for the quality and the additional space. However, this is one of the best rain ponchos for hikers.
Design and Features
The Snugpak Patrol rain poncho is designed to offer protection for our backpacks and our bodies and has sufficient space to cover the user and the backpack that the person is carrying. Individuals who are six feet tall will enjoy this impressive rain poncho.
It has a hood with a drawstring which ensures your head is protected whenever it rains. This amazing rain poncho has sleeves, and its cuffs are sealed with elastic. It is made with Paratex material, a potent waterproof material.
This rain poncho has a pocket in the front concealed by a storm flap. This pocket can be used to keep your important gadgets such as your mobile phone or other tools when you go on a hiking adventure. The pocket is also capped with the Velcro flap, and this poncho is available in two colors; black and olive. This rain poncho is shipped along with a stuck sack and can be used as a contour pillow when you want to sleep.
Features
The rain poncho has sleeves
Offers protection for your body and backpack.
It is made of premium and top-quality waterproof material
It has a pocket with storm flap in the front.
Defects
Its major disadvantage is that the rain poncho can be too long when you wear it without carrying a backpack.
4.
Frogg Toggs Men's Ultra-Lite Ponchos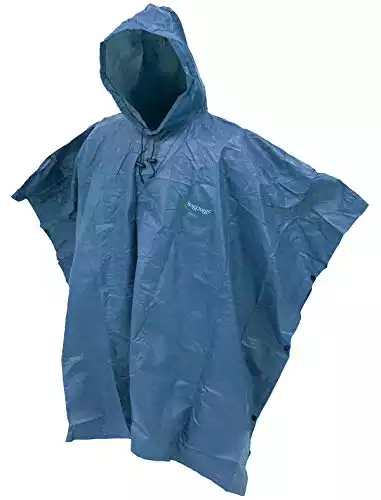 When you take a closer look at the outer part of the Frogg Toggs DriDucks Ultra-Lite rain poncho, it shares a striking resemblance with a Halloween costume. If you are participating in extended hiking activities, this rain poncho will captivate you with its incredible prowess.
You will love the feather-light poncho as you are assured of its high-quality breathability features when you are on strenuous hiking activities.
When you wear this rain poncho, you enjoy the calmness it brings as you will not be sweating profusely like an individual under duress. Due to its superior attributes, the Froggs Toggs Ultra-Lite rain poncho has earned its place in the list of the best rain ponchos for hikers.
Design and Features
Made of Polypropylene, the Frogg Toggs Ultra-Lite Rain Poncho is a delight to own. It is measured at 36 inches long and can reach the knees of a person whose height is about 5'8". You can count on this product to accommodate your backpack and your entire body.
There is a hood linked to the poncho which ensures your head is properly concealed. It also has a drawstring with big pull-tabs which provides the hood is sufficiently hooked around the head. You can find snap button beneath the arms to pull off the poncho easily.
The Frogg Toggs Ultra-Lite Rain Poncho is made up of ultra-lightweight materials, and its weight is around 8.8 ounces when placed on a scale. It is available in khaki and dark green colors, and you will like its well-ventilated feature. It also comes with a stuff sack. Fashion enthusiasts may not love this rain poncho; it is essential to be cautious when opening the poncho as it may snag and tear when you apply brute force.
Pros
It is made of ultra-lightweight materials
Renowned for its special ventilation features
It has a hood attached with drawstrings
Stuff sack also included in the package
It is available at a reasonable price
Cons
It can be easily torn during the process of unpacking it.
5. Frogg Toggs Action Poncho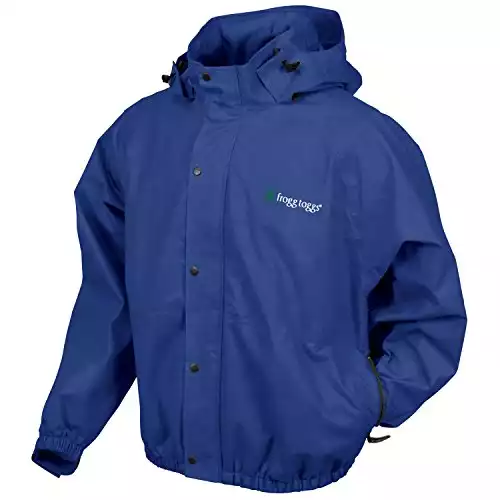 When it comes to ventilation and coverage, you have to give it to the Froggs Toggs Action Rain Poncho. Frogg Toggs brand achieved an uncommon feat in this aspect of ventilation and coverage, and also ensure the price is affordable for everyone who is interested in purchasing the rain poncho. This unique rain poncho can function as the shield to make sure the rain did not affect and also help you to shut out the circulation of air.
Another amazing feature of this rain poncho is its durability, an important factor usually considered by most hikers. The length of this rain poncho is also an added advantage.
Design and Features
The length of Froggs Toggs Action Rain Poncho is 40 inches, and its width is measured at 52 inches. With this measurement, your body, as well as your backpack are covered and protected from rain. The weight of the poncho is around 8 ounces, and the ventilated nature of the poncho offers you a smooth feeling when you move through difficult terrains.
This rain poncho has adjustable snap buttons that can be manipulated to ensure proper management of airflow. Its hood can be adjusted according to your needs; you can also use drawstrings to modify the hood size to fit your head. A storage sack is also included in the package when you buy it.
It was manufactured with durable and lightweight materials. When you put on this amazing rain poncho, you don't feel like you are wearing a rain poncho as it is not heavy on your body. If you notice a foul smell when you buy the poncho, the best solution is to open it and spread the poncho outside for maximum exposure to let the aroma disappear.
Pros
The price of this rain poncho is affordable
Renowned for its lightweight material composition
It has impressive water–resistant ability.
Available with a storage sack.
Cons
Its one-size hood is not a one-size-fits-all.
6.
STORMTECH PCX-1 Adult's Aerolite Packable Poncho
uk/dp/B004KMNYYI?tag=aoglasso-20
One of the most beautiful Rain Ponchos you would ever find is the Stormtech Nylon Packable Rain Poncho PCX . Available in various colors, it is the most attractive ponchos in the league of rain ponchos. It possesses spacious pleats that ensure it aligns with the body without stress. Its standard size can cater to people of various sizes and heights.
Design and Features
The length of the StormTech Aerolite Rain Poncho is 37 inches while its width is 50 inches, and a weight of 8.1 ounces. It is produced with the Nylon Taffeta material and Durable Water Resistant (DWR) with a coating.
The material used in the production of this rain poncho is durable and thick. Though it is not as blustery as the Frogg Toggs poncho, you can ignore the fact that it has decent air circulation via the openings at the sides.
This rain poncho has snap buttons along its sides, as its hood is linked in such a way that it can align with heads of different sizes. It also has a drawstring that is used for tightening across the face, as there are no pull-tabs or cord stoppers. The rain poncho is available in five colors and includes gold color. You can use this product as an emergency apparatus for several needs as it has grommets.
Benefits
It is durable and waterproof
It is a beautiful poncho to behold.
Made with lightweight materials, and not heavy on the body.
The storage bag is also attached
Cons:
There are no cord stoppers on the hood drawstring
There are more than ten rain ponchos in the market, but with the reviews of the selected rain ponchos enumerated in this article, it is critical to read and make use of the professional advice offered here to make an informed decision.
7.
Mil-Tec Men's US Waterproof Ripstop Hooded Nylon Festival Poncho
uk/dp/B01N4SVTKO?tag=aoglasso-20
This military-simulated rain poncho is one of the best you could ever find for your protection. It is one of the best rain ponchos that offer you premium protection whenever rainfalls.
This military-styled waterproof rain poncho has snap buttons and grommets. It is also one of the best items that should be in your bag when you go on hiking. However, this rain poncho is heavier than other listed ponchos discussed in the list. It is specially created to handle emergency cases while you go on a hiking adventure.
Design and Features
The Mil-Tec US waterproof rain poncho is designed to serve as a military poncho. When you check its size, you will notice that it was produced to be used for several purposes. Individuals who are taller do not have issues with its length as it reaches the knees of the average tall person. It has also had a considerable width as well as height. This poncho also has a hood stitched on it and coated with waterproof tape to prevent the impact of water.
This military-style poncho has snap buttons along its sides. It also has six eyelets along the side to ensure the use of the rain poncho for other hiking uses like a sunshade, rainfly, etc.
It is also shipped along with a corresponding carry pouch, and its ripstop Nylon material is renowned for its thickness and durability. The use of this material makes the rain poncho a bulky one, and also watertight on the body. You will love the internal waist belt of this rain poncho to ensure firmness around the waist.
Benefits
Incredibly watertight and durable
It has six eyelets on the side used for tying down.
It is long and remains the best choice for taller individuals.
It comes with a carry bag.
Cons
• The rain poncho is expensive. Persons with the financial capacity to purchase can afford to buy this military-styled rain poncho.
8. LinenLux Rain Poncho Jacket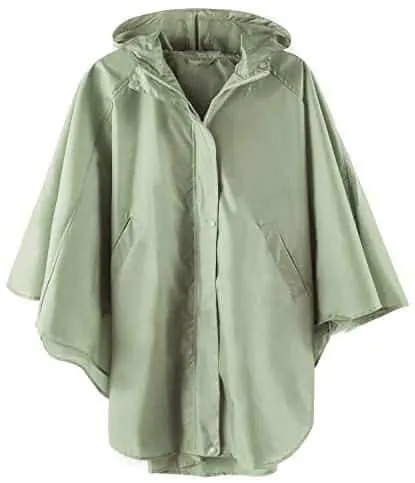 If you are concerned about your safety in the rains whenever you participate in activities such as hiking, fishing, and other adventurous activities, getting the LinenLux Rain Poncho Jacket is a wise decision. Hikers will fall in love with this incredible rain poncho especially when it rains heavily or drizzle.
This rain poncho offers protection for hikers and their belongings without coming in contact with the rain. If you are searching for a rugged product that can protect you during a rainstorm, this rain poncho is a perfect choice.
Design and Features
The LinenLux Rain Poncho is renowned for its versatility as it can be used to escape ugly hiking experiences. The reason behind the versatility of this product is the waterproof fabric and its creative designs. You can use this rain poncho as a rain shelter, backpacking tent, or sleeping bag when you find yourself in damp locations.
One of the best advantages of using this rain poncho is that it can be used as a stretcher to move an individual in case of an injury. When a tent is made, this rain poncho can be utilized as a tarp for the enclosing of the equipment. You can also use it as a storage sack for the preservation of your items.
It is breathable and waterproof, and also renowned for its ability to dry quickly and eco-friendliness. When you are anticipating a sudden downpour, you can arrange it in a backpack. You will fall in love with its loose sleeve, as it also has an extended bodysuit that conceals the entire body to avoid being drenched in the rain.
The rain poncho is created from heat-sealed seams which ensures its durability and makes it water-resistant. You have nothing to be scared of when it rains as you have a decent rain poncho that protects you from heavy rain. The material used for its production is 100% Polyester Pongee. It has a size of 9.8 inches X 6 inches. Its weight is 9.60 OZ.
Benefits
It has an excellent choice for indoor and outdoor actions and it is created from eco-friendly materials.
You can use this rain poncho every season. Spring, fall, winter, and summer.
You can use this rain poncho for several activities such as camping, cycling, mountaineering, hiking, and trekking.
Disadvantages
The manufacturer is yet to find the perfect recipe for the production of the right size for taller persons.
9.
Rain Ponchos 2 Packs for Adults with Drawstring Hood and Sleeves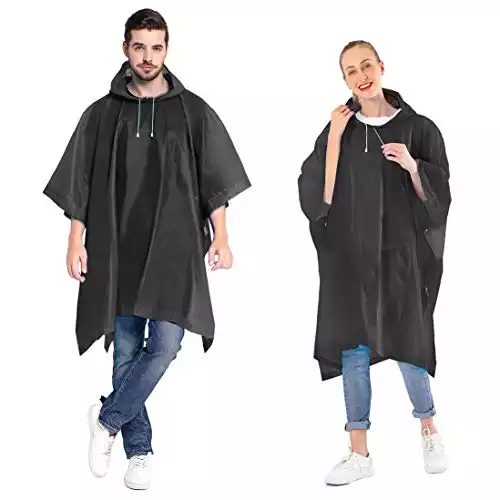 This product can be used as a rain poncho, as well as a rain jacket. That is a double bonus for anyone that buys it. It can be used for several adventurous activities and known for its uniqueness. You will love the incredible ultra-super performance of this rain poncho when you travel on long hiking journeys.
It is the best poncho for hikers as it has excellent sleeves and a drawstring hood. With a long structure that ensures the whole body is entirely covered, you are assured that rain will not affect you when it pours. The rain poncho is created with the EVA coating which protects the material from fading.
Design and Features
With a chest width of 49 inches and a height of 45 inches, this rain poncho is a perfect choice for individuals who use XL sizes and below.
Its welded seams coupled with drawstring hood and sleeves ensure the protection of the user and the backpack from rainfall. It has a breathability feature and can be reused. It is made up of lightweight material and renowned for its durability.
It is a premium product with a unique quality and can be used on numerous occasions. It can also serve various purposes; its drawstring hood ensures the body is kept warm and dry. During an emergency, this rain poncho is one of the best you can use. It is also great for daring activities such as traveling, camping, hiking, etc.
This rain poncho manufacturer had the interest of the hikers in mind when they created this product. You will like the seal on this poncho which shields you from rainfall.
Pros
This rain poncho is safe for use and non-toxic
It can be used easily and durable.
It is made of EVA material which prevents it from fading.
It is soft, waterproof, and lightweight
It is eco-friendly
Can be used as a rain jacket as well
Its large size makes it a perfect choice for different people of various sizes.
It has hoods with stiffened straps which makes it comfortable for users.
Defects
The size of the hood may be large for individuals with small heads.
How to choose the best rain poncho for hiking
The numerous waterproof materials used for rain ponchos are highlighted below:
Breathable Laminates
Breathable Laminates are also referred to as waterproof, breathable fabrics as they are composed of a mix of several nylon exteriors and a varying mixture or combination of layers. The underlying layers are composed of several plastics and fabrics that let vapor pass outwards, yet remain watertight from the outside in.
Sil-Nylon and Sil-Poly
Both Sil-Nylon and Sil-Poly are relatively inexpensive, but convenient choices. They are simple fabrics, and that is why they are very affordable. Polyester or nylon is inundated with silicon to create a waterproof, durable fabric.
Cuben Fiber
Cuben Fiber is a material that is composed of a sandwich of fibers and plastic Mylar. Rain ponchos made from this material are not only incredibly lightweight but also waterproof.
However, it is going to cost you a small fortune. Another drawback is that it is susceptible to puncturing.
PU Coated Nylon
PU Coated Nylon is another waterproof material that is used in making rain ponchos. Ponchos that come with PU Coated Nylon have nylon fabric on the exterior – which provides excellent wear resistance and superb durability – and polyurethane on the inside, which is waterproof.
Rain ponchos made with PU Coated Nylon may feel somewhat clammy and sticky in humid weather, and this makes them a poor option at such times.
Sil-Nylon
Sil-Nylon is a combination of silicone and nylon. It is a synthetic fabric used in the production of lightweight outdoor gear; this material is created by imposing a thick woven nylon fabric with liquid silicone from two sides.
The silicone significantly enhances the tear strength of the product; this material is water-resistant and not breathable.
However, they are available in diverse colors depending on the preference of the user. Among various variants are crisp sil-nylon which is renowned for its light texture, brittleness, and noisiness. Some types of sil-nylon are created from the stronger 66 nylon and utilized for the production of hot air balloons and parachutes.
PVC
PVC is another fabric that can be used as a standalone material or as a layering material for rain ponchos. Some of the best rain ponchos out there are made from PVC. Even though they are very cheap, they still work and can easily be repaired using duct tape.
What to look for in a rain poncho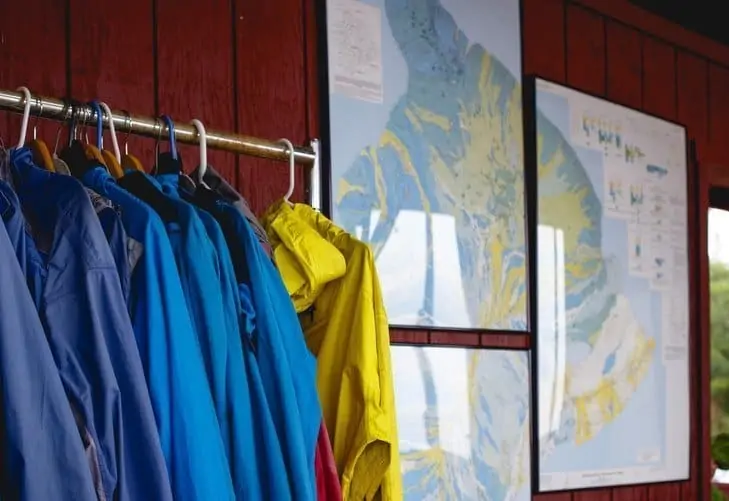 You should not go out there and purchase a rain poncho or go online to order one without having specifications or a checklist that you can follow. This will prevent you from making bad decisions when the time comes for you to buy your rain poncho:
1: Resistance
This has to do with your preference, though the best rain poncho should be windproof and waterproof to last you several days if you are an avid outdoor camper or outdoorsman. This factor must not be ignored as you need to have a rain poncho that helps you avoid being drenched by the rain when you are hiking.
2: Material
This should be the first thing to check. You should get a rain poncho that is made of a lightweight and breathable fabric or material. If you always camp out, your gear needs to be durable at all times.
3: Design
You should also pay attention to the design of the rain poncho you wish to purchase. There are several rain ponchos out there with varying designs and colors; however, you need to consider the outdoor activities you will be involved in before going for a particular design.
4: Durability
It is highly crucial for you to check the zippers, Velcro, clasps, seams, strings, etc. on your preferred rain poncho.
5: Features
There are various features that each rain poncho has, you need to be careful about your selection as your choice should also be based on the fact that the features of the rain poncho you are about to purchase can meet your specific needs.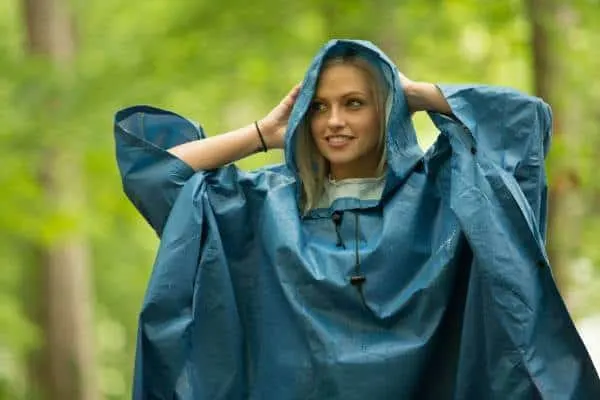 Benefits of using rain ponchos
There are several waterproof options for backpackers, and they include umbrellas, coats, etc. So, what makes a rain poncho an excellent choice for backpackers? This is because:
Ponchos are easy to repair and are inexpensive
Rain ponchos are airy and flowy, thus significantly minimizing sweat inside the gear
Ponchos are much cooler to wear when hiking in summer than jackets
Rain ponchos can be thrown over your backpack and your body, thereby protecting your gear from the elements
You do not have to take off your bag before throwing on the rain poncho while you hike
Other advantages of using rain poncho are as follows:
1: Water-resistant
Wearing a rain poncho leaves you dry, even when you're trekking in the rain. A good rain poncho comes with a hood and pockets that are exclusively designed to keep water out, thus ensuring that your gadgets or other important stuff are kept from getting wet.
2: Flexibility
If there is one outdoor material that has practicality and flexibility, it is a rain poncho. Not only can you make use of the cloak as a cover, but you can also use it as a makeshift hammock, mat or tent.
3: Lightweight and breathable
Rain ponchos are usually made of lightweight and breathable materials. This means you will be able to move along the trail or climb hills without feeling like you're wearing a bulky jacket.
4: Convenience
Camping and hiking outdoors call for the use of both hands to hold other important stuff. You will not have this freedom when you hold an umbrella or a soaked jacket.
This is what makes a rain poncho an excellent alternative when camping outdoors or hiking in the woods.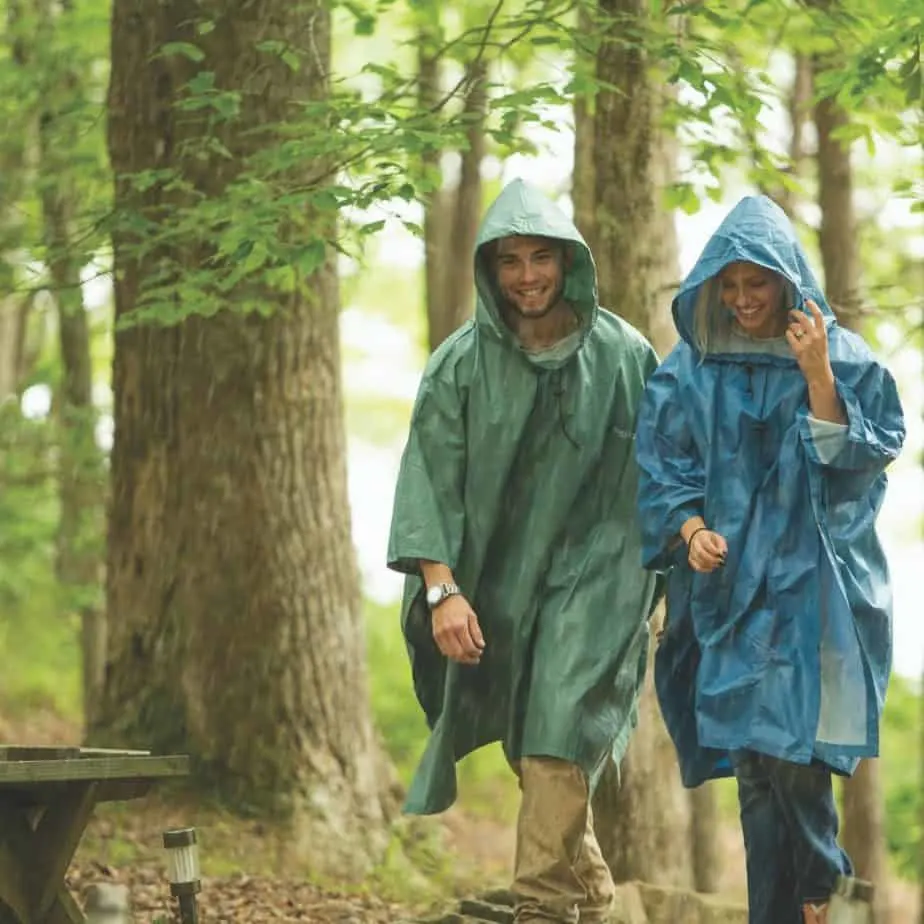 Drawbacks
However, despite the remarkable benefits that come with the use of a rain poncho, there are a few drawbacks that must be mentioned. They are as follows:
Rain ponchos do not provide adequate protection from windchill in cold weather
Ponchos are light enough to tear or rip during canyoneering, i.e. they are not durable enough to withstand abuse
Rain ponchos are flowing and large cloaks that can hinder or obstruct movements during activities such as mountaineering, climbing, etc.
Not all rain ponchos have pockets; this is one of the advantages that a waterproof jacket has over a rain poncho.
Rain ponchos are known for flapping especially when the wind on the mountain is rife and strong.
Ponchos are a poor choice for you if you will be doing a lot of climbing when hiking. They are also not durable enough for canyoneering or winter activities. This is because rain ponchos leave a lot of room that allows biting or chilly winds to penetrate your garments underneath the poncho.
There are many rain ponchos available for sale on different platforms; there is a need for you to know the features of each of these products before you purchase your rain poncho.
Having knowledge about these products will help you to make informed decisions, and buy the best rain poncho for your hiking experience. Here is a review of some of the best rain ponchos we have selected and examined over a specific period.
Final Cover: Best Hiking Ponchos
A rain poncho is an excellent lightweight option for staying dry while camping, trekking, and orienteering. The list above should provide you with enough information for you to make an educated and informed purchase of the perfect rain poncho. Let us know which rain poncho you prefer and why!
Recommended Reads: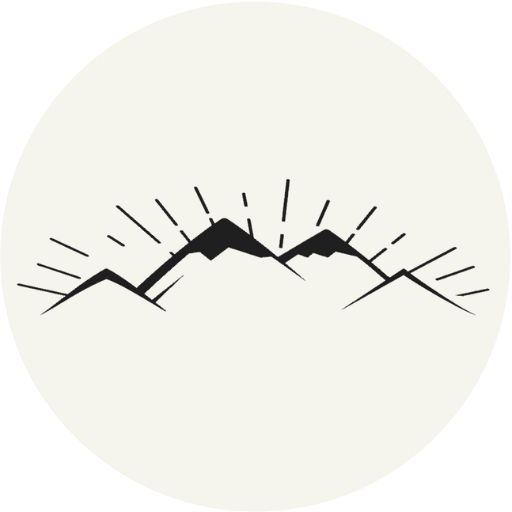 The All-Outdoors Guide team is comprised of enthusiastic experts that enjoy helping others that aspire to be better at outdoor fun. Part of that is making sure you have the right gear and information when it's time to go out and have fun. Some of our team have accomplished amazing feats like climbing 6000 feet to the top of mountains, others have explored every dirt trail they could find and we even have some people that have backpacked solo on various continents. No matter what our readers want to learn and do, our team is here to help them accomplish those goals.