Nearly every hiker has experienced foot pain at some point during a hike.
In fact, roughly 75% of people, in general, will experience foot pain during their life. Sore feet and blisters are one of the worst issues to develop during a hike, quickly turning an otherwise enjoyable activity into one that is anything but fun.
Thankfully, I've found 3 of the best insoles for hiking you can take to help keep your feet comfortable and fully supported.
First things first – the most common reason for experiencing foot, arch, or ankle pain while hiking, especially when absent from your day-to-day activities, is improper shoe fit.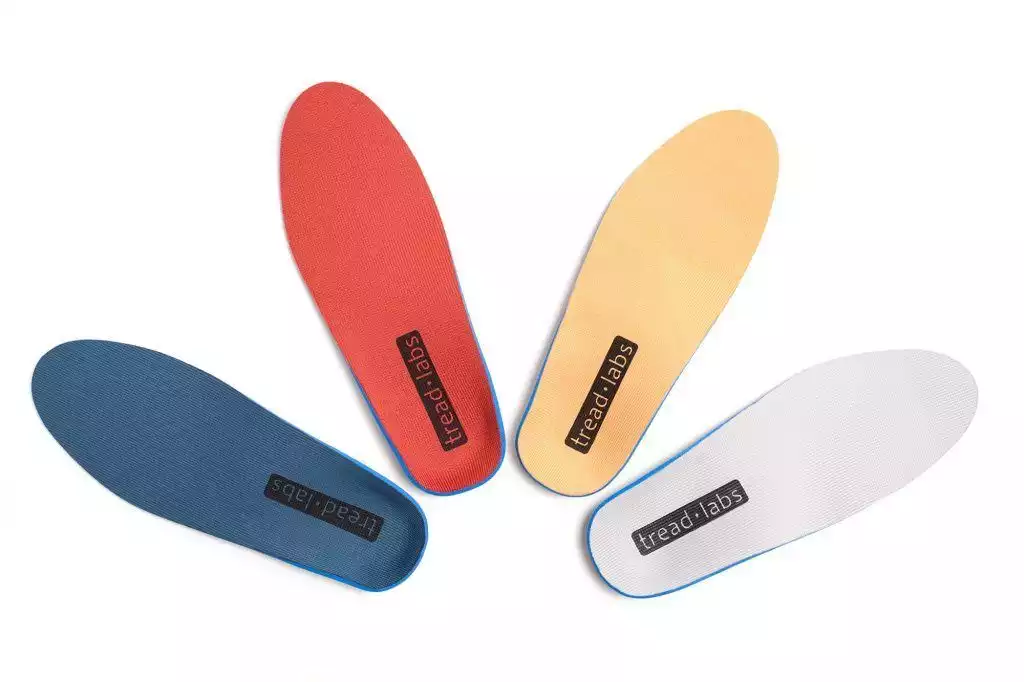 Worried About Insole Sizing
I was too! Of all the insole brands out there (and there are many good ones), Tread Labs has the BEST insole sizing matcher. My insoles fit like a charm. No frustration, just comfort and support.
Match Your Insole
We earn a commission if you click this link and make a purchase at no additional cost to you.
Most people that deal with foot soreness are wearing shoes that are not the right size or perhaps just simply chose a pair of shoes that aren't contoured in a way that matches their foot.
Shoe fit when it comes to hiking shoes is vitally important. Your choice of shoe or boot must fit very well and provide a foundation of stability. Keep in mind that things like sock choice can also have an effect on fit. If your summer hiking shoes work great with thin socks it doesn't mean they will fit great when you move up to thick wool socks.
If you suspect your shoe might not be fitting right you must have this issue addressed first. Your shoes must fit properly and offer balance on their own before sole insoles will be helpful. Consider hiking foam insoles to be the finishing touch to your hiking footwear. It is there to help add a little more comfort, but it will not make a shoe with poor fit better.
Ideally, you will have your hiking shoes or boots fitted, in-store, by an experienced outdoor gear employee. If your shoes fit great but you still want a little extra "something", then you can consider using a cushioning insole.
The two main reasons people want new insoles for hiking are to either add more custom orthotic arch support or to help reduce foot fatigue by adding an additional comfortable, cushioning suspension layer. If this sounds like you then chances are one of these following 4 best hiking insoles will give you the comfort you are seeking.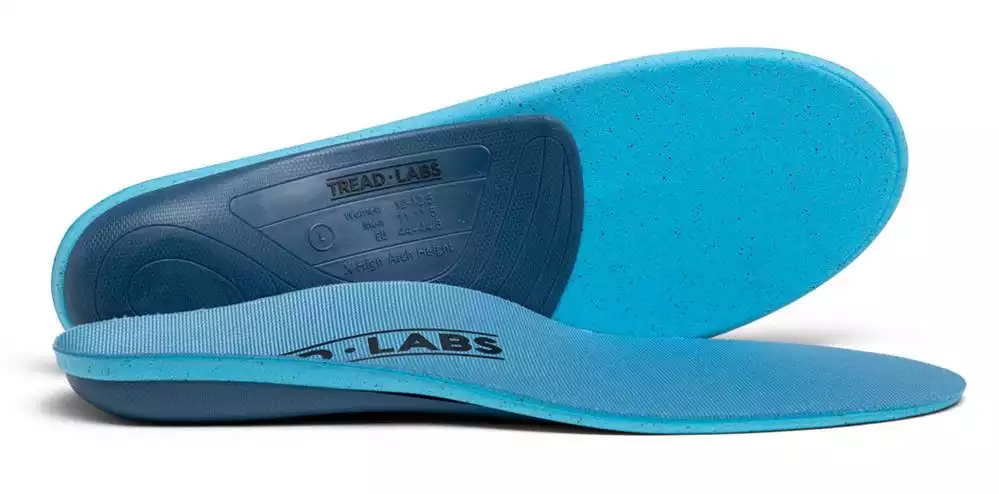 Stride insoles have been replaced by Pace Insoles | TreadLabs
Get the relief you need to get back to your life. We're hard on our feet. It shows up all over our body — knee pain, back pain, hip pain. It's all connected. And if you suffer from plantar fasciitis, you know how your feet feel can impact ... everything.
Check Price
We earn a commission if you click this link and make a purchase at no additional cost to you.
This is a NEW recommendation for 2021.
Tread Labs Stride offers a superior FIT every time. Not only are the insoles well designed and durable, but they use a unique Find Your Fit tool here which matches you to the perfect insole based on your arch dimensions and activity profile.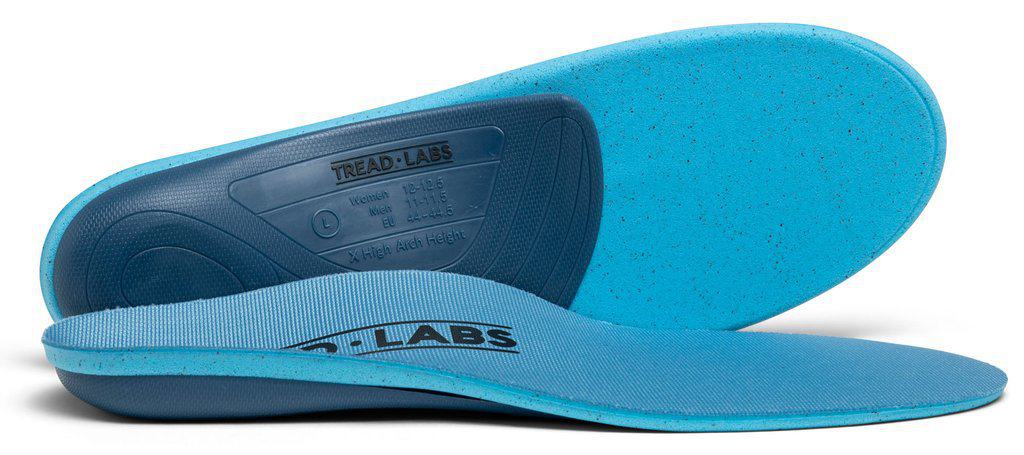 Key Benefits of Tread Labs Stride
Semi-customized fit with options for EVERY type of foot arch (from flat feet to high arches and everything in between)
Trim to fit the ability
Medical grade heel support
Molded arch support that is highly durable, even after repeated use
Works to correct overpronation
Works to relieve pain caused by fasciitis
Low friction material for blister prevention
Perfect premium insoles to wear all day long, even with your work boots
Where to Buy? You can pick up a pair of Tread Labs directly via their sizing tool here.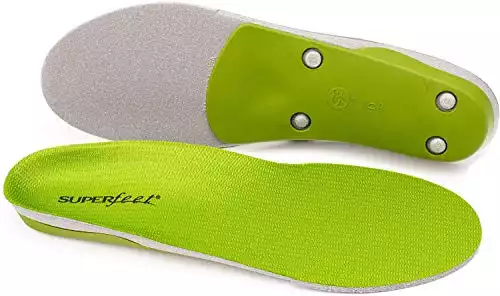 Superfeet Professional-Grade High Arch Orthotic Shoe Inserts Insole | Amazon
These full-length, professional-grade Superfeet Premium Green performance insoles will keep you on your toes and on-the-go all day long. A deep and wide heel cup provides extra cushioning and exceptional support over long distances or during instances of repetitive impact. A high-profile shape and arch-support provides better stability and supports your foot for reduced stress.
Buy at Amazon.com
We earn a commission if you click this link and make a purchase at no additional cost to you.
02/14/2023 01:24 pm GMT
Up first is the Superfeet Green full-length insole. Superfeet Insoles & Footwear is a very well-known brand and the Green insoles model is one of their most highly rated insoles. While not specifically designed for outdoor or hiking use, Green insoles still outperform many "athletic" style insoles thanks to the EVA foam used in their creation.
Specs and Features
Retails for around $29.99 up to $50 check this listing for the latest live prices
Sizing ranges from Men's 4.5/Women's 6 up to Men's 13/Women's 12.5+
Insoles are sold as unisex within a size range (trimming will be required)
Made of synthetic materials and a manmade sole
Finished with an odor-controlling coating to prevent smells concerns
Green features Superfeet's deepest and widest heel cup
Offers incredible support and proper foot posture
Stabilized cap at insole base supports the rear foot and adds stability
Different arch types designed to help alleviate foot and arch pain, heel pain, and symptoms of plantar fasciitis
There are five main factors at play that make Superfeet Green such a great choice. The first two factors are the stabilizer cap for the plantar fasciiti and deep heel cup design. Both of these are located on the heel of the insole, no surprise, and offer shock absorption as well as stability. The deep heel cup really helps lock the foot into place, ideal even for dealing with heel spurs.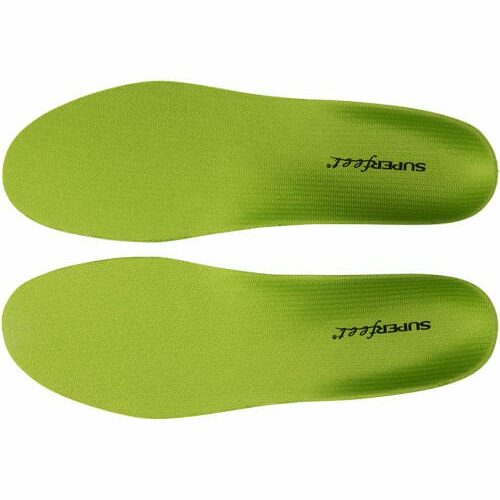 The third factor is the overall biomechanical, ergonomic shape of the insole, which helps alleviate stress on the feet, ankles, and legs compared to a factory insole. The fourth factor is the high-density memory foam material used. This closed-cell foam gives a cushioned bounce and reduces foot fatigue. Lastly, the fifth factor is the non-toxic, natural coating to prevent bacteria as well as odor from forming.
The Superfeet Green insoles are excellent comfort insoles for hiking since the design focuses on stabilization and cushioning support. You will get a cushioned effect, but more importantly, your heel will stay in place and you'll be able to more effectively traverse the terrain in your favorite hiking boot (boot insoles) / or hiking shoe (shoe insole).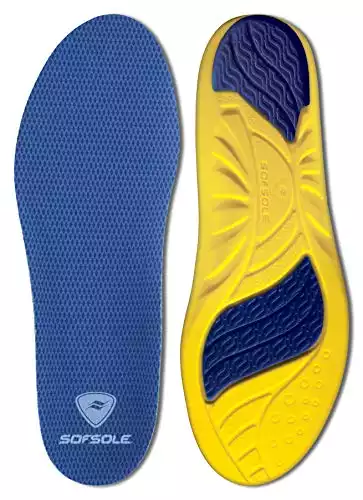 Sof Sole Women's Insoles | Amazon
With its neutral arch and design, the Athlete fits naturally in most types of footwear and supports you no matter where the day takes you. Whether you're a rookie to insoles or a foot care veteran, this all-purpose insole will give your feet and body the energy and support to stay on your feet everyday. Provides increased performance.
Buy at Amazon.com
We earn a commission if you click this link and make a purchase at no additional cost to you.
If you don't particularly have any issue with your current shoe or insole, but just need a replacement, then the Sof Sole Athlete Full Length may be exactly what you needed. While many insoles tend to try and pack in a bunch of features, these Sof Sole insole inserts are fairly basic in design.
Nevertheless, it has close to 2,000 positive reviews proving it could be a great choice for the casual hiker looking for cushioning and shoe insert support.
Specs and Features
Retails for around under $20, check this listing for the latest live prices, depending on sizing and retailer
Both men's and women's versions available
Men's sizing ranges from 7-8.5 up to 13-14
Women's sizing includes 5-7.5 and 8-11
Features a neutral arch design that works with most foot types
Built-in gel pads in heel and forefoot for shock absorption and comfort
Insole treated with Hydrologix to manage moist and improve breathability
Ideal for walking shoes, running shoes, cross-training, and casual hiking shoes
Sof Sole Athlete is really designed for the average person, with an average foot shape, that wants an insole that performs better than the one their shoe/boot came with. The neutral arch design means it won't work for everyone, but is a welcome change for those with an average foot that aren't looking for any type of additional arch support.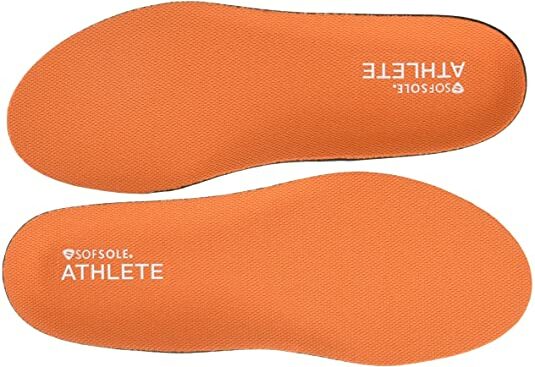 Overall the Sof Sole Athlete is a very lightweight insole, with sufficient padding and stability. The careful place of gel pads in just the heel and forefoot helps keep weight down without sacrificing comfort.
The price and sizing options help ensure they will have whatever size you need, though you may need to do some trimming to make them fit your shoe properly. For the price, the Sof Sole Athlete is an excellent bargain.
Need a bit more? Make sure you check out these two orthotic insoles: Sof Sole AIRR Orthotic Insoles insoles for flat feet (flat foot orthotic insole), or the Sof Sole Arch insoles for people with high arches!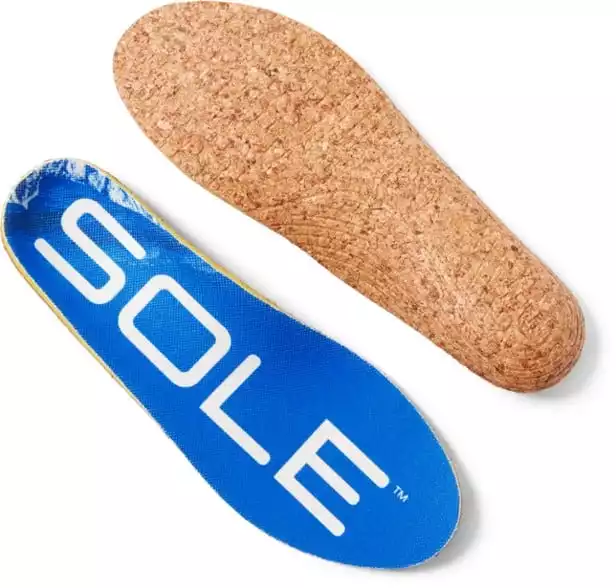 SOLE Performance Thick Insoles | REI
Ideal for long hours spent standing, hiking or working, the SOLE Performance Thick insoles deliver plush cushioning and balanced support to keep your feet happy on the move.
Check Price
We earn a commission if you click this link and make a purchase at no additional cost to you.
Sole is a performance company that focuses on insoles/footbeds as well as their own line of footwear. While other insole companies tend to cater either specifically to serious athletes needing custom molded insoles or, on the opposite end of the spectrum, casual use only in your everyday street shoes, Sole Performance fills the "in-between".
While the brand certainly produces some high-tech inserts designed for strenuous use, you'll also find some of their sports insoles to be ideal for hiking. Their Performance Thick insole is a perfect example.
Specs and Features
Retails for around $50 for any size check this listing for the latest live prices, though they may go on sale periodically
Unisex sizing ranges from Men's 5/Women's 7 up to Men's 11/Women's 13
Additional Men's sizing in 12 to 14
Additional Women's sizing from 5 to 6
Features a custom moldable recycled cork sole base for orthopedic support
Can be used in conjunction with custom orthotics
Designed to help balance and stabilize, while reducing pressure points
Helps to reduce plantar fascia strain
Natural heel cradle cushion and thick design offer comfort but maintain a close feel
The top of the insole features polygiene anti-microbial top sheet to reduce odors
The cork sole of this insole is unique but allows for custom molding to ensure you get a perfect fit. The use of cork also helps keep the weight of these insoles down, despite being fairly thick. The insole itself is made of a high volume Softec foam as well as Polygiene permanent odor control.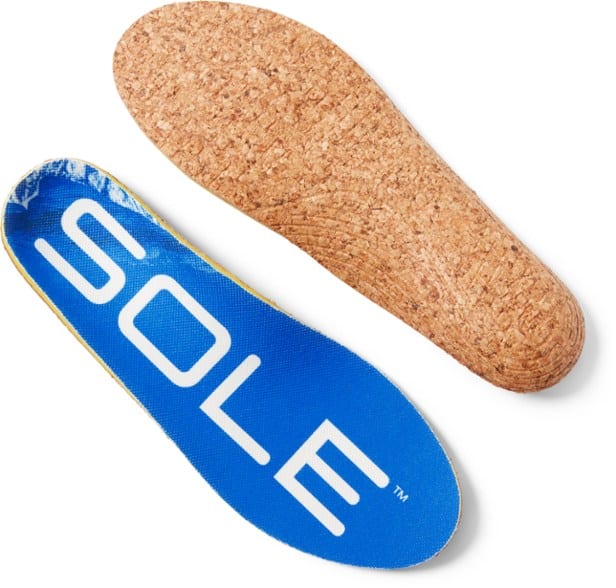 Overall the Sole Performance Thick is an ideal choice for older hiking boots or shoes whose previous insoles have worn away. This model is also a great choice for those that really crave a cushion effect but worry about how much-added weight normal thick footbeds add.
Final Step: So Which Insole is Best for Hiking?
Remember – if you're experiencing unusual foot or knee pain during your hikes, the first step is to check if your shoes are still fitting you properly. If you've had your pair for a while then it's probably time for a new set. Also, if you're experiencing sudden foot or knee pain it is also wise to visit your podiatrist to ensure there isn't some injury or ailment that isn't obviously visible.
Insoles can really help bring up your level of comfort up a notch, but only if your shoes already fit well. If you love your current footwear but just wish it has a little extra oomph, then check out one of the above featured three best insoles for hiking.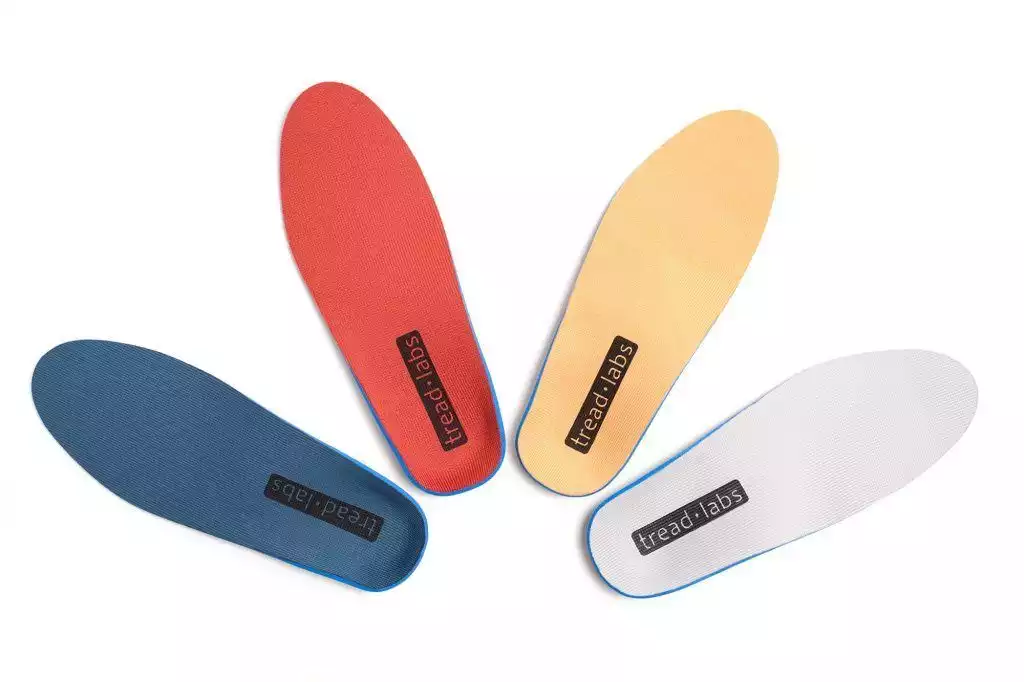 Worried About Insole Sizing
I was too! Of all the insole brands out there (and there are many good ones), Tread Labs has the BEST insole sizing matcher. My insoles fit like a charm. No frustration, just comfort and support.
Match Your Insole
We earn a commission if you click this link and make a purchase at no additional cost to you.
Further Reading on Hiking Footwear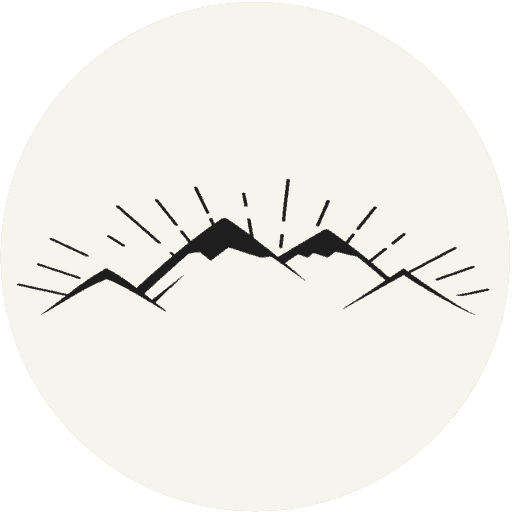 The All-Outdoors Guide team is comprised of enthusiastic experts that enjoy helping others that aspire to be better at outdoor fun. Part of that is making sure you have the right gear and information when it's time to go out and have fun. Some of our team have accomplished amazing feats like climbing 6000 feet to the top of mountains, others have explored every dirt trail they could find and we even have some people that have backpacked solo on various continents. No matter what our readers want to learn and do, our team is here to help them accomplish those goals.