Hiking is undoubtedly a wonderful activity. The fresh air, seeing the variety of flora and fauna, getting exercise. Sadly, many hikes end up cut short due to improper footwear.
Sore feet, blisters as well as rolled ankles and knee pain are all common issues hikers experience when they don't wear the right shoes.
When it comes to hiking footwear, the type of hiking you are doing dictates what type of boot you will need. Generally hiking boots differ from hiking shoes by being a bit sturdier and offering ankle support. Based on studies done, women tend to be more prone to injuries involving the ankles and knees, particularly older women.
"Hiking boots offer more support to the ankles and knees which makes them a great choice for women, especially beginner hikers."
I enlisted the help of my wife to review a wide array of hiking boots and give me her honest opinion (she actually helped write this article, too!). I tried to select some of the highly recommended options, either those with high reviews or personal recommendations from fellow outdoor enthusiasts.
Core Features of a Good Hiking Boot
There are 5 main features you will want to look for when choosing hiking boots:
Light Weight: The last thing you want is a bulky boot that wastes your energy. Plus, should you need to take them off and slip into something more comfortable at camp, it's nice to have something lightweight to put in your pack.
Breathable: This is SO important, especially for trekkers and multi-day hikers. A breathable boot is worth it's weight in gold. Your foot should breathe and no boot should be so restrictive that your foot is entirely sealed.
Water Resistance: This is a hard balance to strike in light of the above feature, but it is nonetheless important. Wet feet are uncomfortable, and in some cases, dangerous. A fully waterproof boot is not always necessary, but at a bare minimum, you need some water resistance to get through puddles, rain squalls, etc..
Ankle Support: Ankle injuries are the most common hiker adversaries. A good boot should (almost by definition) provide strong ankle support. However, many brands don't take this seriously.
Arch Support: Prolonged hiking with poor arch support can lead to painful feet and in some cases become debilitating. Arch support is a close second only to ankle support.
With these 5 core features in mind, the following boots are the top recommendations…
The Top Well Rounded Hiking Boots for Women
Let's take a look at 5 different sets of the best hiking boots for women.
KEEN Women's Targhee II Waterproof Hiking Boot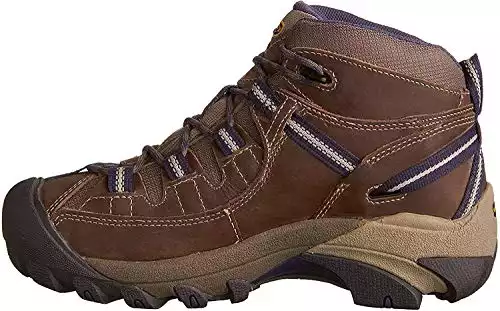 Keen has long-been a favorite brand of outdoor sandals but has developed a solid fan base for their hiking boots. Keen is all about innovation and comfort. This hiking boot falls nothing short of this.
The Keen Targhee ll is made of high-quality, waterproof nubuck leather. It weighs 14.69oz which reduces foot fatigue on long hikes. The sole of the boot is made of a high-density rubber with lugs that dig into terrain thanks to their multidirectional placement.
The Keen. A dry interior ensures your feet can breathe to ensure comfort during long hikes in hot weather. Despite wicking away moisture, the interior also repels water.
This boot has a foam footbed as well as amazing arch support. Many people who use this boot note that the foam molds to their foot over time, ensuring a custom fit. The EVA midsole also has great suspension and gives each step more of a bounce, helping to reduce fatigue.
The Targhee ll boot also has a special ESS shank built into the midsole which ensures each step you take is stable. The S3 heel "stands for Shock, Suspension, and Stability" and helps prevent injuries to the ankle.
If you hike regularly in wet or damp terrain, this boot would be a perfect choice. Not only is it waterproof but it also has aggressive traction that reduces chances of slipping, even in wet environments.
Similarly, this boot is also perfect for women who hike in rocky areas as the Keen. The protect toe protection also helps prevent tripping. You can find these boots for a good price right here.
LOWA Women's Renegade GTX Mid Hiking Boot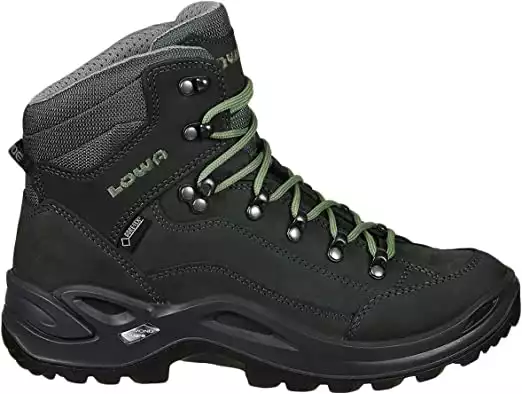 LOWA has a firm reputation as a premier European supplier of boots for outdoor enthusiasts. You can be assured that if you choose this boot you'll be buying high-quality, performance footwear that also was manufactured using environmentally-friendly materials.
Right off the bat, you'll notice that this boot is made of beautiful leather and nylon. Similar to the above Keen boot, this Renegade is also crafted of nubuck leather. Nubuck leather is not only beautiful but incredibly durable.
This midsole of this boot is manufactured with their Monowrap technology which simultaneously provides more comfort and stability while reducing weight.
The interior of the shoe uses a "climate-control" footbed, including perforations within the lining, so with each step sweat is wicked away and the air is circulated. The lining is made of a special GORE-TEX which prevents blisters and hot spots. Covering this GORE-TEX is a very soft leather that molds to each person's individual foot.
The Vibram sole of this boot and the built-in rubber lugs mean this hiking boot is perfect for a variety of terrain. LOWA also recommends the Renegade GTX for light backpacking so won't have to buy new boots to explore this complimentary hobby. You can find these for an excellent price here.
Asolo Stynger GTX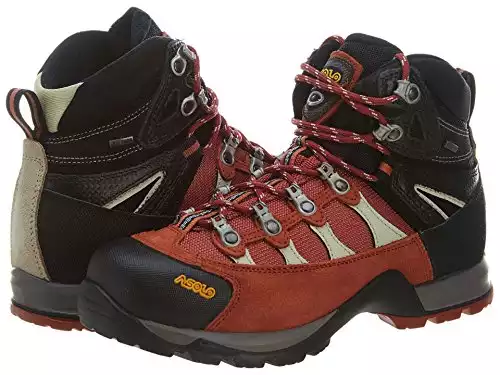 Asolo created a favorite boot for women with their gender-specific design. Many women find low-quality hiking boots to be too roomy and wide for their feet. The issue is that many companies just scale down men's boots rather than refiguring the original model.
The Stynger GTX is specifically made to fit the average woman's foot anatomy, which quite often has a more narrow heel and an arch that is longer than a man's boot. Wearers claim that this boot noticeably hugs their foot, especially the heel, making them very stable despite having an accommodating fit.
This shoe does have a bit less padding than the other boots listed but can be easily remedied with a store-bought cushion insole.
These boots don't have very aggressive sole yet this doesn't seem to affect their ability. The Stynger GTX has amazing traction and can easily handle anything from sand to wet rock. This boot does do well in wet environments but are very breathable at the same time. If you hike in many different areas with changing weather, these boots will hold up very well.
If you are a woman with a slim foot that has issues finding proper fitting boots, the Stynger GTX might be the perfect fit. This boot is also versatile as a backpacking boot and can be used up to packs of 35lbs+. Check out this listing to compare prices.
Vasque Breeze 2.0 GTX
The Vasque Breeze 2.0 GTX is made for both men and women but the lasts are gender-specific to ensure a more comfortable fit. If you have a wider foot and find that most women's boots are too narrow, you'll be happy to know that Vasque offers different widths.
Overall the Breeze 2.0 (full review here) is a very sturdy boot and has a comfortable interior with great arch support. Despite being comfortable to wear right out of the box the boot is made to accept custom insoles in case you have specific foot issues like extra high arches or need orthopedic support.
As the name suggests, the Breeze 2.0 has amazing breathability and has amazing ankle support, something rare in boots with upper mesh panels. Hikers who have weak ankles will feel very stable.
The boot has a Gore-Tex lining as the name suggests which is a trusted material. The sole of this shoe is great for anything from pavement to snow but needs to be broken in before tackling slippery terrain.
If you need a great boot that fits like a glove on wider feet, repels water, and can handle nearly any terrain, the Vasque Breeze 2.0 GTX will be a great option. Many hikers mention that this boot will last for years and only grows more comfortable as you wear them.
These boots are also versatile enough for light backpacking. Be sure to check out this listing for the pricing and sizing options.
Patagonia Women's Drifter A/C Mid Waterproof Hiking Boot
Patagonia is a California-based clothing company that manufactures some amazing footwear for people who love the outdoors. Quality and style go hand-in-hand with this high-end brand. If you're a woman that likes a bit of color in her footwear, you'll enjoy the pop of purple in this boot. The Drifter weighs 15.7oz and is a medium-width shoe, ideal for the average woman.
This boot's exterior is a combination of nubuck leather and breathable mesh, making this a very durable but breathable choice. Because of the leather upper, this boot is waterproof to an extent. Due to the mesh, it would be more suitable for drier hiking terrains.
The footbed of this boot is created with women in mind and is manufactured with recycled EVA material. The Drifter also has Patagonia's Air Cushion Plus for support and shock absorption. This cushion also ensures the boot has a snug yet comfortable fit for a woman's generally more slender foot.
If you are environmentally-conscious you'll be happy to know that Patagonia uses recycled materials in many of its products. The EVA footbed is 20% recycled, the Bi-Fit insole is 80% recycled and finally, the Vibram outsole is 30% recycled.
The Patagonia Drifter WP is perfect for new hikers who want something that is versatile enough to tackle a wide variety of terrains and will outlast other typical beginner boots. If you already have hiked a bit and want to upgrade from your sneakers or hiking shoes, this boot would be a great option.
You can find these boots for a decent price at this listing, so be sure to check it out if you are interested.
A Few Final Thoughts on Selecting the Right Pair
When it comes time to invest in a pair of hiking boots, take your time when shopping. Even the best boots won't work for you if you buy the wrong type of your foot (for example, high arches with a boot lacking in arch support).
Shoe size is also critically important when choosing boots. You might be able to get away with a size a smidge too big or too small with sneakers but this won't be the case when you're an hour into a strenuous hike. Take into consideration if you'll be using extra thick or layered socks while wearing the boots as this might mean you need a half-size up.
Hiking can be a truly amazing hobby when you are outfitted properly. Investing in a solid pair of reliable, tested hiking boots will ensure you have a wonderful time enjoy the great outdoors.
Looking for Something Different?
We also have a few other guides that may prove useful to you:
Looking for Good Hiking Socks? Don't leave camp without these.
Cold Weather Hiking? Check out our guide to the top insulated hiking boots.
Hot Weather Hiking? See this resource for the top breathable hot weather boots.
Something for Light Hikes? We have compiled the top hiking sandals here. Don't knock it until you have tried it!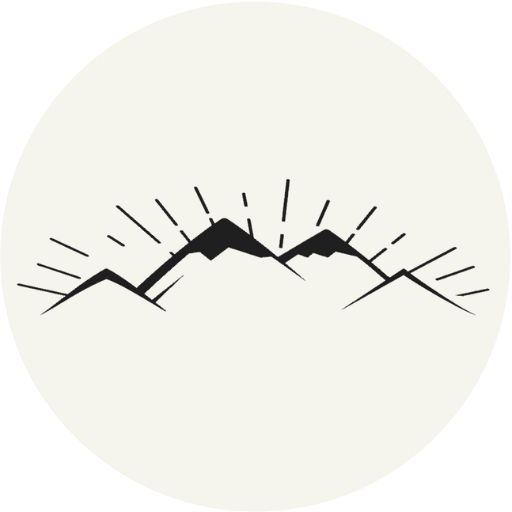 The All-Outdoors Guide team is comprised of enthusiastic experts that enjoy helping others that aspire to be better at outdoor fun. Part of that is making sure you have the right gear and information when it's time to go out and have fun. Some of our team have accomplished amazing feats like climbing 6000 feet to the top of mountains, others have explored every dirt trail they could find and we even have some people that have backpacked solo on various continents. No matter what our readers want to learn and do, our team is here to help them accomplish those goals.