Shopping for new hiking boots can be a daunting experience.
Different brands, prices, features, and sizes make finding the perfect hiking boot a chore that many people do not look forward to undertaking. Fortunately, it doesn't have to be that difficult thanks to one of the best mid-weight hiking boots available.
Vasque, a leader in outdoor footwear, introduced the first Breeze and Vasque Breeze LT hiking boot in 2004 and changed the world of hiking boots in the process. Based on the success of the original Breeze, Vasque introduced the Breeze AT GTX hiking boot in 2013.
TL;DR: An improved version of the original Breeze Vasque boot, the Breeze AT is much lighter than the original boot and is much more breathable thanks to a Gore-Tex breathable waterproof membrane.
The best way to describe the Breeze AT is to think of it as the perfect cross between a trail running shoe and a full-fledged mountain boot.
The design is lightweight, agile, stable, and will protect your feet from water while tearing up the trail. For a more "traditional" hiking boot from the same company, check out my review of the Vasque Sundowner here.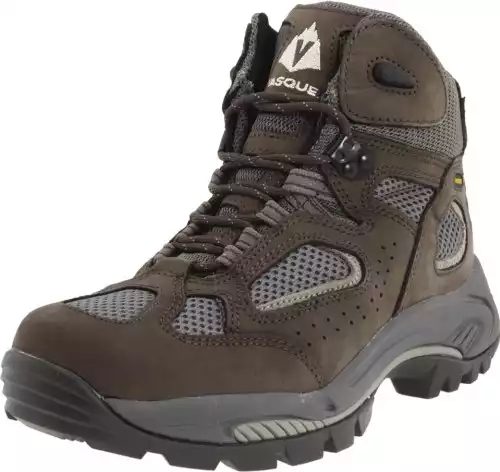 Key Features of the Breeze AT GTX
The Vasque Breeze AT GTX hiking boot is available for both men and women. Both versions of the boot include the following key features:
Gore-Tex breathable waterproof membrane that keeps feet dry in wet weather and from moderate precipitation while allowing feet to breathe as sweat moisture is wicked away from the sock and released outside the boot.
Nubuck leather upper is designed to protect feet from sharp rocks and other hazards. With use, this high-quality leather upper will mold to the shape of the foot for a custom fit that is difficult to find in a hiking boot. The upper also features a synthetic air mesh designed to improve air circulation around the foot.
Arc Tempo Last is an asymmetric curve that accommodates high arches. A tapered toe box with lots of vertical toe room and a medium-volume heel area allow hikers to move quickly over technical terrain by forcing weight into the toe with every step.
Molded toe bumper protects toes from impact during a hike.
EVA foam foot bed provides superior cushioning for long hikes where comfort is just as important as functionality. The midsole is also made of EVA foam and also includes a molded TPU plate for additional support.
Vibram Contact sole provides the traction needed for steep ascents and descents. This highly durable sole design is exclusive to Vasque products and is one of the best overall soles available in any hiking boot.
Performance Review
The Vasque Breeze AT GTX hiking boot excels at supporting your weight whether you are enjoying a brisk walk along a trail or tackling steep terrain with a large frame pack.
The cushy midsole does an excellent job of absorbing pack weight and trail hazards (due to the TPU plate and high-quality EVA foam under the heel).
Support and Ventilation
When carrying heavy loads over rough terrain, the padded ankle and easily cinched metal lacing hooks provide superior ankle support no matter what kind of terrain you're taking on.
The large mesh vents on the forefoot, tongue, sides, and ankle provide exceptional air flow. When combined with the breathable Gore-Tex lining, excessive foot perspiration is a thing of the past.
The patented Vibram sole has a large heel brake and large rectangular and oval lugs that maintain traction even when traveling over mud, rock, or other slippery surfaces.
Lightweight
A pair of these boots only weighs 2 pounds 9 ounces (men's) and 2 pounds 6 ounces (women's) make these one of the most durable, yet lightest weight hiking boots on the market today. The lightweight design of this boot cannot be overstated.
If you're current hiking boots are a little on the heavy side, you will be amazed by how much less fatigue you feel when moving along the trail wearing a lightweight boot such as the Vasque Breeze AT GTX hiking boot.
Comfortable
Designed to maximize breathability while moving over varied terrain, the Breeze 2.0 is extremely comfortable to wear for long periods of time (even with a heavy backpack). It's worth noting that the design of the boot seems to be most comfortable for hikers with a narrow foot, low volume feet.
For hikers with wider feet, it may be advisable to check the Vasque St Elias Hiking Boot. Although slightly heavier, the St Elias is better suited to larger feet.at
Water Resistant (but not really "waterproof")
Despite the fact that the Breeze 2.0 includes a waterproof Gore-Tex liner, the amount of mesh present in the boot can result in wet feet depending on how much moisture is present.
Although some hikers complain about getting wet feet while wearing this boot, this is the unfortunate trade-off that occurs when mesh is used to reduce weight and improve airflow.
In normal circumstances, the waterproofing of the Gore-Tex liner is adequate enough to keep your feet dry but if water splashes onto parts of the mesh upper, water can (and will) get into the boot. IF waterproofing is a big issue, I'd look into the pure Gore-Tex waterproof version.
Additional Leverage
The Arc Tempo technology used in the Breeze AT GTX is also noteworthy. By tilting the foot forward in the boot, hikers gain additional leverage with every step taken. This feature works very well and is generally well-received by people who have tried the boot.
One thing to note about Arc Tempo, however, is that the forward tilt of the foot tends to push the toes into the toe of the boot. Sometimes, this can be uncomfortable so it is best to try on these boots before purchasing whenever possible.
Many people have found that they prefer to wear this boot ½ larger than a normal shoe to prevent the toes from being forced into the toe. Just something to keep in mind when ordering the Vasque Breeze AT GTX.
Easy to Break-In
Aside from the toe issue mentioned above, the Breeze AT GTX is an extremely comfortable boot. It is lightweight and breaks in quickly. After only two hikes totaling about 30 miles, the boots were almost fully broken in.
Any minor discomforts around the collar of the boot will work themselves out during this time and the boots definitely become more comfortable as they are worn more often.
Durable
Durability is also a concern for hikers – especially when investing a significant amount of money into a new pair of hiking boots. This isn't a problem for the Breeze AT GTX. Even after hundreds of miles of use, this boot shows no visible signs of wear despite kicking more than a few rocks.
Color Customization
The Vasque Breeze 2.0 GTX hiking boot is available in assorted colors for both the men's and women's model. Whether you are an avid backpacker looking to replace a pair of worn out boots or you are a novice outdoor enthusiast looking for high-quality footwear for your next excursion, the Breeze AT is up to any task.
Where to Buy Vasque Breeze AT GTX?
Pricing can vary wildly for these boots. They tend to be pretty high (unless special deals are going on) in traditional retail box outlets. I've had the best success with these online retailers recently:
Vasque Breeze GTX Alternatives to Consider
Still not decided? Check out our buying guides below.
Also check out some other options our team has reviewed here (some other Vasque Breeze points and competing hiking shoe brands):
Vasque St Elias GTX Review: Great leather boots with Gore Tex liner, excellent weather protection and versatility for uneven terrain.
Lowa Renegade GTX Review: A durable, heavier boot (and wide width), but with more ankle protection, weather protection and added traction.
Oboz Bridger BeDry Review: Great waterproof boots when you know you'll probably get wet and need solid weather protection & wet trail weather traction. A bit more of a narrow fit.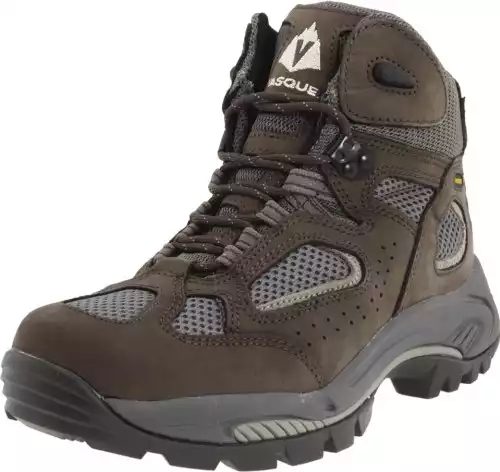 Further Gear Review & Hiking Boot Advice: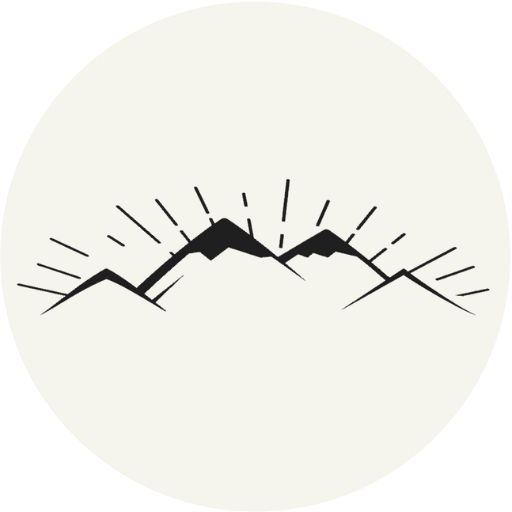 The All-Outdoors Guide team is comprised of enthusiastic experts that enjoy helping others that aspire to be better at outdoor fun. Part of that is making sure you have the right gear and information when it's time to go out and have fun. Some of our team have accomplished amazing feats like climbing 6000 feet to the top of mountains, others have explored every dirt trail they could find and we even have some people that have backpacked solo on various continents. No matter what our readers want to learn and do, our team is here to help them accomplish those goals.