Today we're going to be diving into the wonderful world of hiking boots. If you're like me, you're constantly finding new trails to hike, and as a byproduct, constantly having to buy new hiking boots. One brand I've been particularly fond of lately is Bass Pro Shops. Thus, they are going to be the focus of today's article!
I'm going to go over the top things to look for in your hiking boots, give you my personalized recommendation of boots, drop a couple of alternatives to consider, and go over some frequently asked questions. By the end of this article, you'll be a certified pro! Let's begin.
Bottom Line Up Front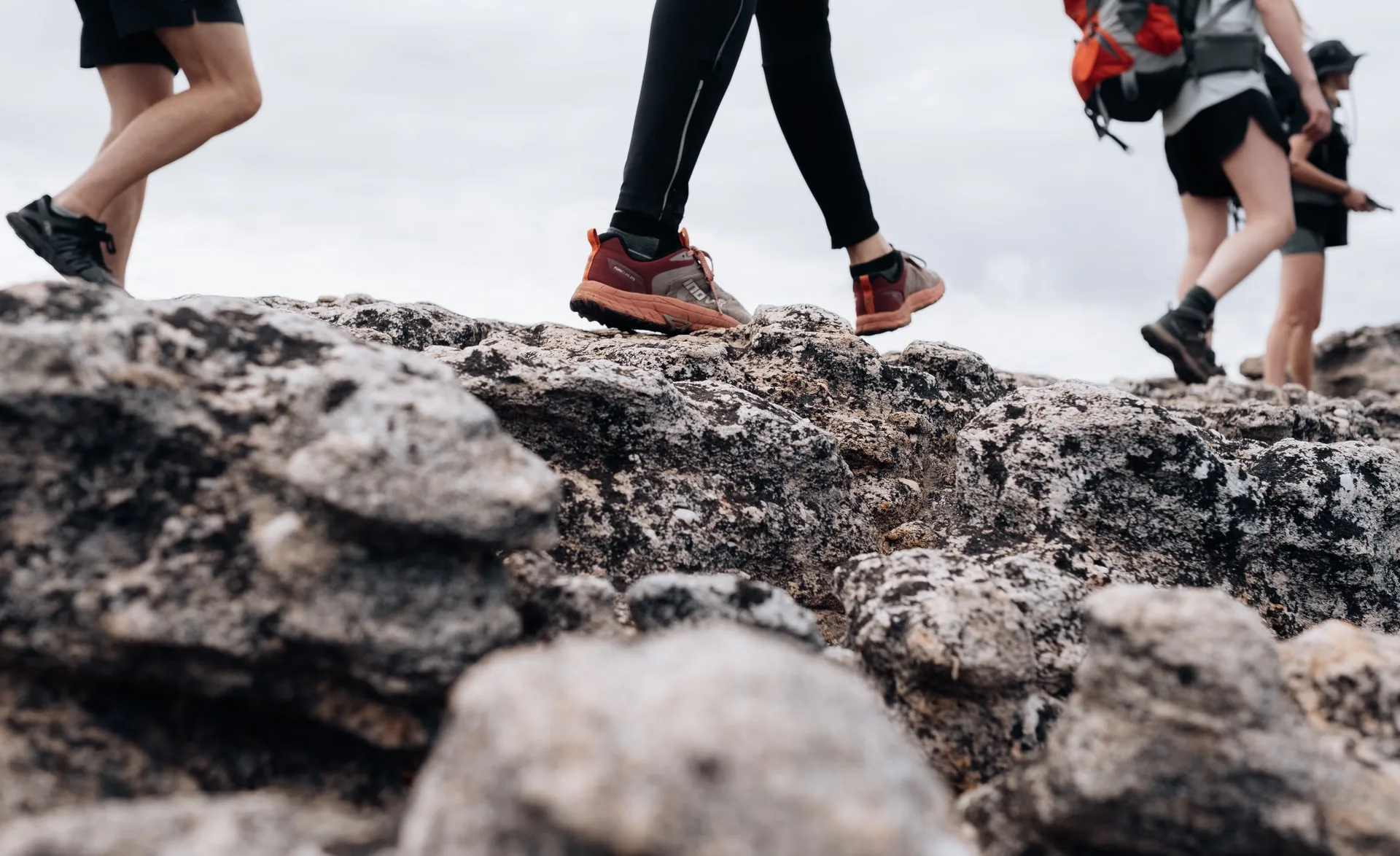 Spoiler alert, my favorite hiking boots on this list are the Cabela's 360 Mid GORE-TEX Hiking Boot. They're built with Gore-Tex, Ortho-Lite Soles, and Vibram Outsoles. This means they're comfortable as anything and provide great protection against the harshest elements, including water and snow. If you're looking for the best of all worlds, go with this shoe.
However, there are several hiking boots in this article that I'd recommend for different purposes. Ready to check them out?
My Picks at a Glance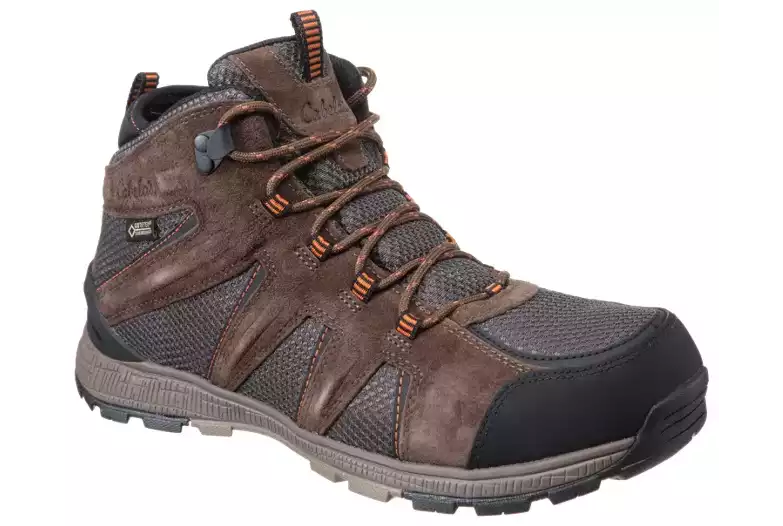 Cabela's 360 Mid GORE-TEX Hiking Boots for Men | BassPro
A technology-packed mid-height hiker for outdoorsmen, Cabela's 360 Mid GORE-TEX Hiking Boots for Men give hikers superior breathability, comfort, and protection on the trail.
Check Price
We earn a commission if you click this link and make a purchase at no additional cost to you.
Things to Look for in Hiking Boots
Let's start by going over my buying criteria. What do I generally look for in a solid hiking boot?
Hiking Style
The number one thing I always consider when looking for new hiking boots is the hiking style. By this, I mean what type of hikes am I planning on doing? I like to divide boots into three styles… Backpacking, trail running, and mountaineering.
Backpacking shoes are generally all-purpose. They work great for long-distance hikes up mountains or along flat plains.

Trail running shoes tend to get a bit more specific. They don't have ankle support, which means that if you're doing more technical trails, it can be easier to get a sprain. However, where these shoes shine is in their light weight and breathability.

The final style of hiking boots is mountaineering. These shoes are heavy-duty and are meant for surviving the most enduring adventures.
Fabric Type
The next thing I generally look for in a hiking boot is the fabric type. Is it made out of Gore-Tex? Or leather? Or simply a more breathable material?
These choices can make all the difference when you're out in the field and it's pouring rain or dumping snow. One pro-tip to keep in mind is that you may have to re-treat your shoes every couple of months, depending on the material. This means you will have to spray them again to ensure they stay waterproof.
Cut Size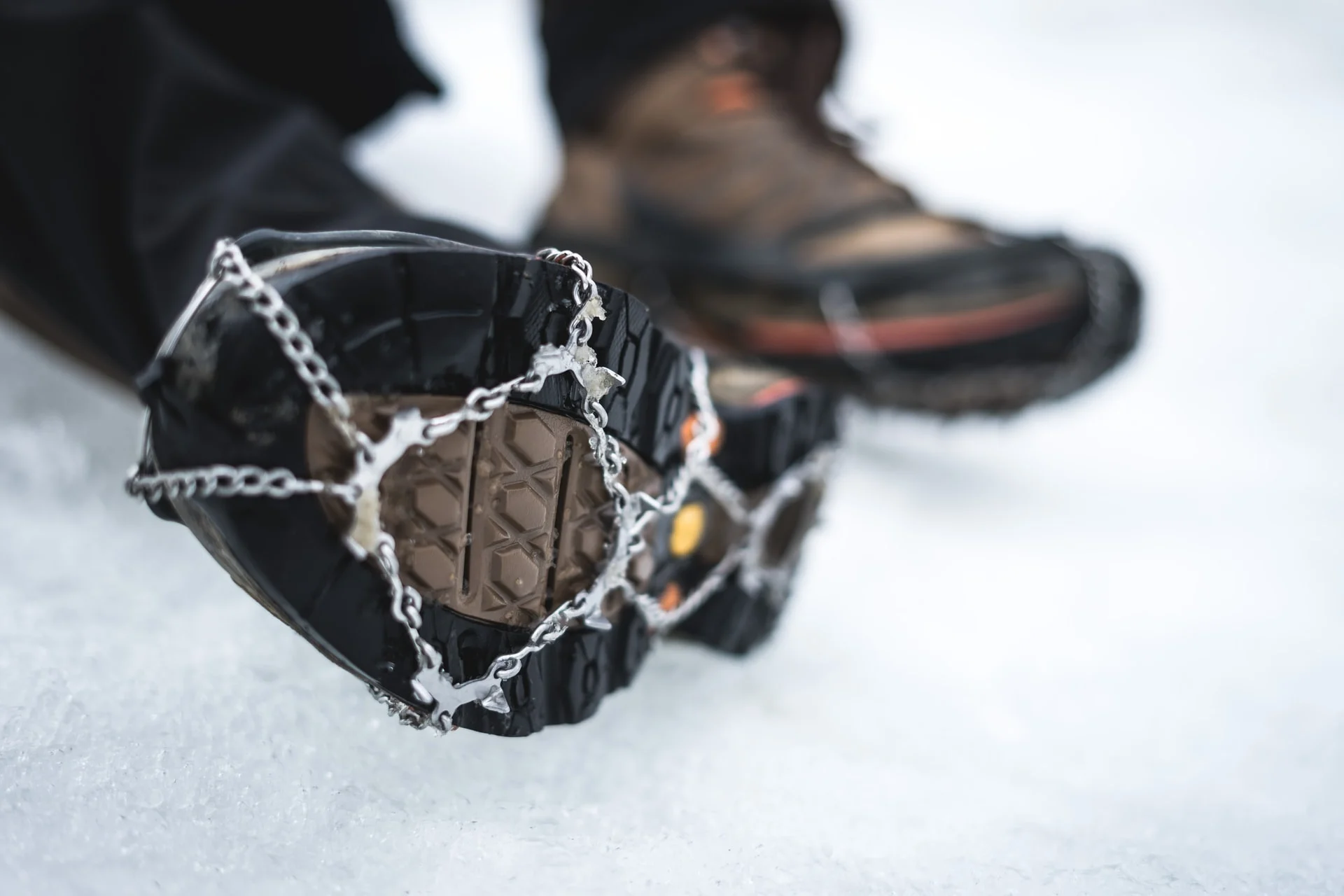 The cut size of a hiking boot is essentially how tall the edges are. Although this may not seem too important at first glance, it can actually make a big difference in your hiking experience. I generally prefer hiking shoes that are cut higher, mainly because I'm particularly clumsy and prone to ankle injuries. The higher cut provides support so you won't bend your ankle.
For me, this is important because I do a lot of solo exploring. The less risk I can give myself in the field, the better. However, if you're into trail running or being ultralight, you may want to lean towards a lower cut.
Outer Grip
One of the first things I do when picking up a hiking boot is flip it over to see its grip. You generally want to lean towards a grip that's more rugged, so you'll be able to stick to tricky rocks and edges better. If your sole is mainly flat, you're going to slip much easier and lose grip.
I also like to look at the actual material the outsole is made out of. If you're buying your hiking shoes at a place like Walmart or Target, chances are that grip is going to get worn out and tear apart much easier. However, if your material is made out of something like Vibram or Omni-Grip brands, you'll have something much more reliable on your hands.
Design
The final thing I take into account is design. By this, I mean how does the shoe generally look, fashion-wise? I'm not trying to look like a dweeb on the trails, and hiking fashion is slowly becoming a more popular trend, with brands like Timberland and North Face on the rise.
I generally lean towards getting more neutral colors, like black, blue, or grey, so that they can go with a variety of clothes. If you get a shoe that's bright orange or pink, chances are it's going to stand out a little too much.
Best Bass Pro Hiking Boots
Now that we have a general idea of what I look for in a hiking boot let's reveal my top lineup. They are ordered from highest cut to lowest cut.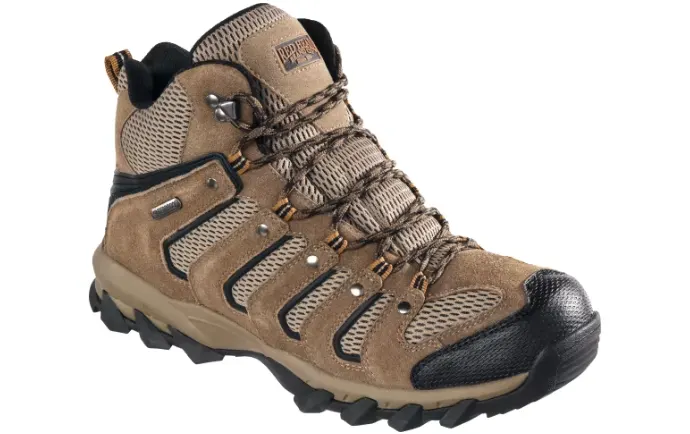 The first hiking boots I want to look at are easily some of my favorites on this list. The RedHead Front Range Hiking Boots are the best of both worlds. They're cut high, lightweight, and durable. In terms of material, they're built with leather and suede, so they do need to be treated every once in a while.
The bottom is also tough and able to withstand a variety of terrain. The thing I like most about these shoes is how you can remove the soles to clean them up if you step in mud or even just want to wash them if they get too stinky. Not many hiking shoes do this.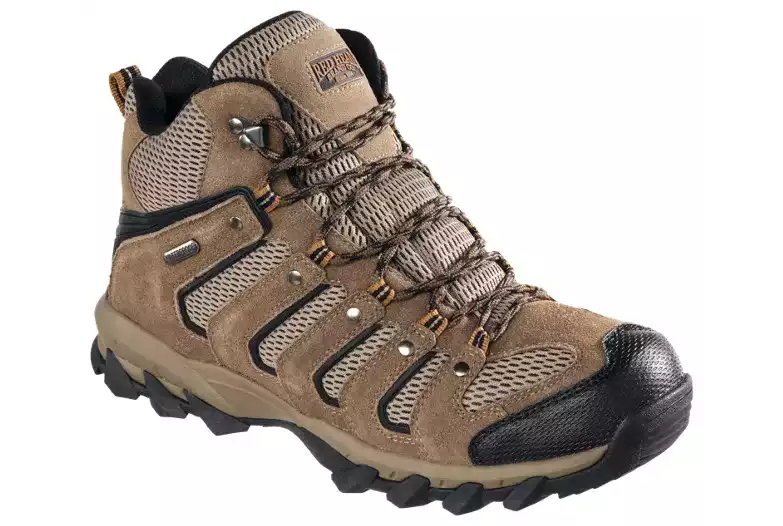 RedHead Front Range Hiking Boots for Men | BassPro
A mid-height hiker that combines lightweight durability with waterproof protection, RedHead Front Range Hiking Boots for Men keep feet dry and comfortable outdoors.
Check Price
We earn a commission if you click this link and make a purchase at no additional cost to you.
Pros
Waterproof, tough, and high cut

Removable soles

Budget-friendly
Cons
Not as waterproof as I'd like. Good for small splashes, but not downpours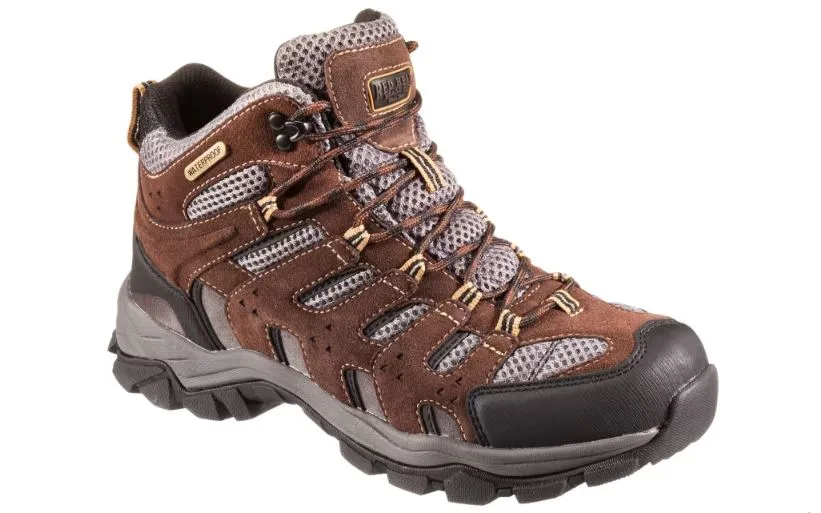 The next shoe I'd like to take a look at is the Cabela's 360 Mid GORE-TEX Hiking Boots. Fun fact, Cabela's is actually owned by Bass Pro now, so you can count on the reliability factor. These hiking boots are some top-of-the-line shoes, as they're built with Gore-Tex, Ortho-Lite Soles, and Vibram Outsoles.
It's always a good sign when your hiking shoes are built with several brand names because it allows specialization. These shoes are waterproof yet breathable, shock-absorbing yet supportive, and grippy yet soft on the feet.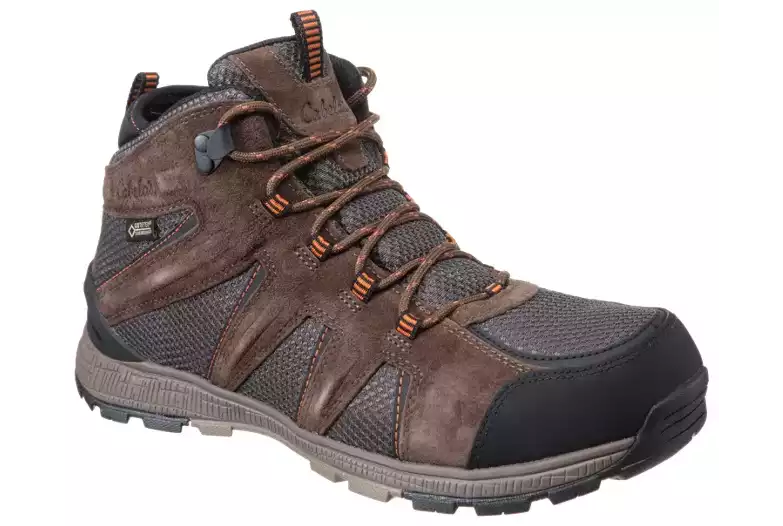 Cabela's 360 Mid GORE-TEX Hiking Boots for Men | BassPro
A technology-packed mid-height hiker for outdoorsmen, Cabela's 360 Mid GORE-TEX Hiking Boots for Men give hikers superior breathability, comfort, and protection on the trail.
Check Price
We earn a commission if you click this link and make a purchase at no additional cost to you.
Pros
Built with several name brands

Extremely reliable

Comfortable on the soles with shock absorption
Cons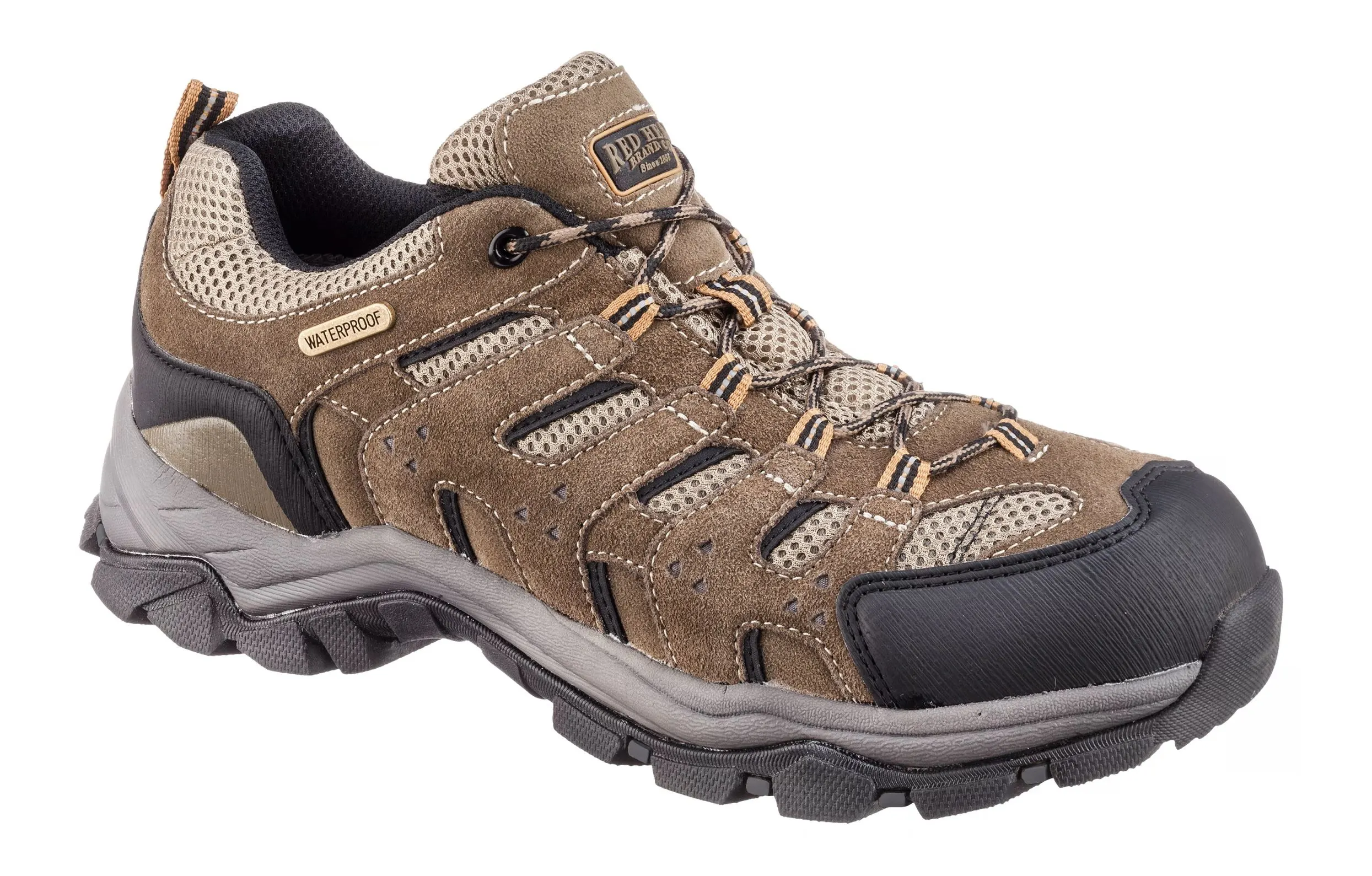 Now let's take a look at some lower-cut hiking boots. Back to the RedHead brand, the Overland Low Waterproof Hiking Boots are both lightweight, waterproof, and built to last.
My favorite part about these boots is the toe cap that's tough as nails. In those rare instances where you kick a rock head-on, this boot will protect you. (However, I may be biased because I just came off a broken toe a few months ago.)
Another thing I like about these hiking boots is the built-in EVA midsoles, which are great for shock absorption. If you're a fast hiker, this could be a clutch choice.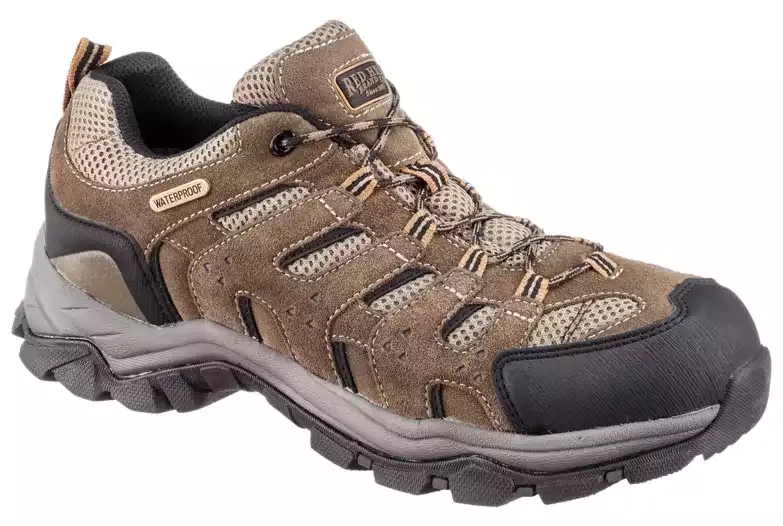 Pros
Solid toe cap

Lightweight and waterproof

Great design/style
Cons
Not a lot of available sizes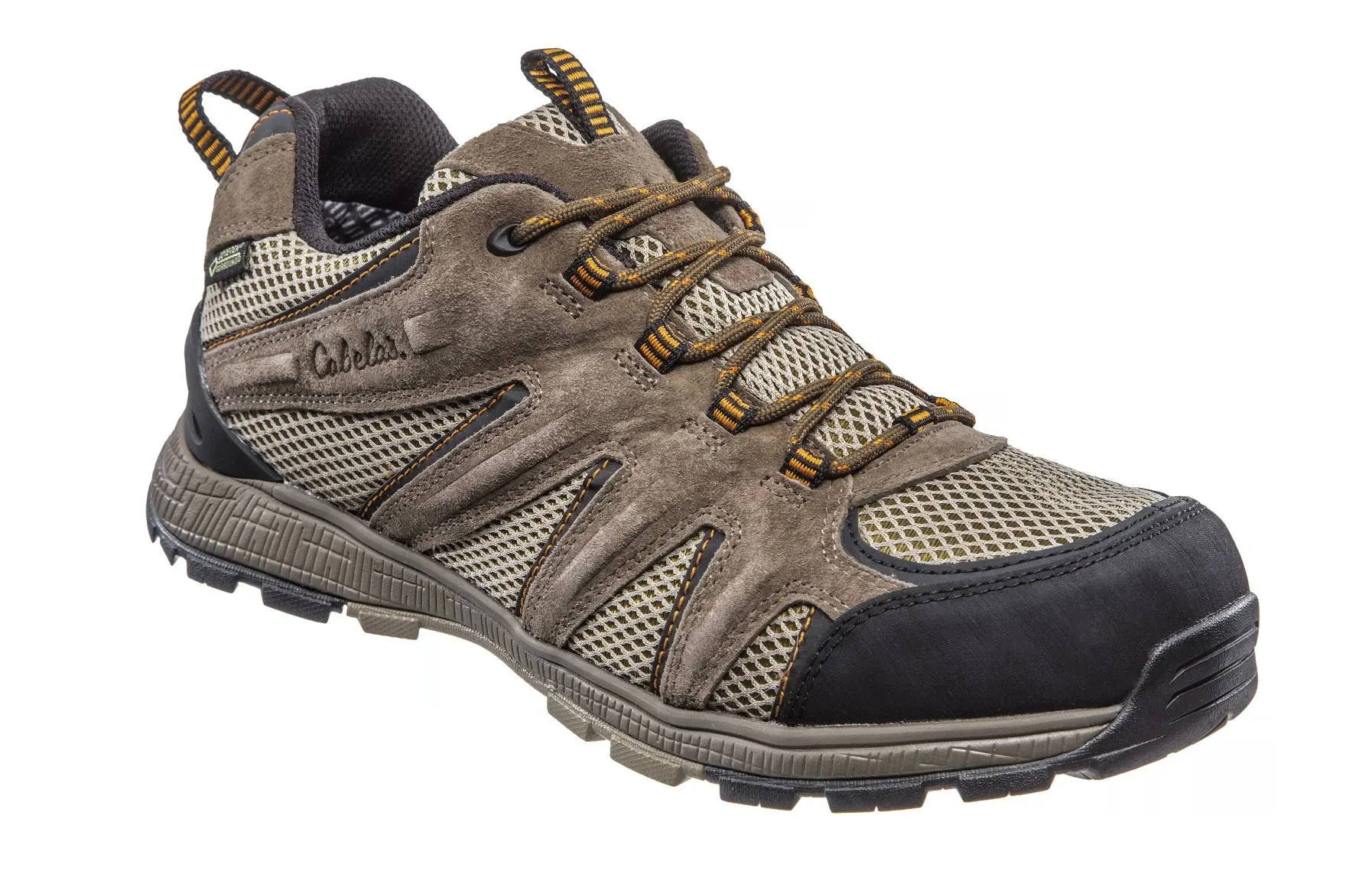 The Cabela's 360 Low Gore-Tex Hiking Shoes are the smaller cut equivalent of the Mid Gore-Tex Hiking Shoes. The main difference is that these shoes are fairly more ventilated. They have built-in side ventilation, which helps keep your shoes from getting too sweaty.
However, at the same time, they're waterproof with their gore-tex design. I'd pick up this pair over the Mid-range boots if you're looking for something a bit more lightweight and aren't too worried about your ankles.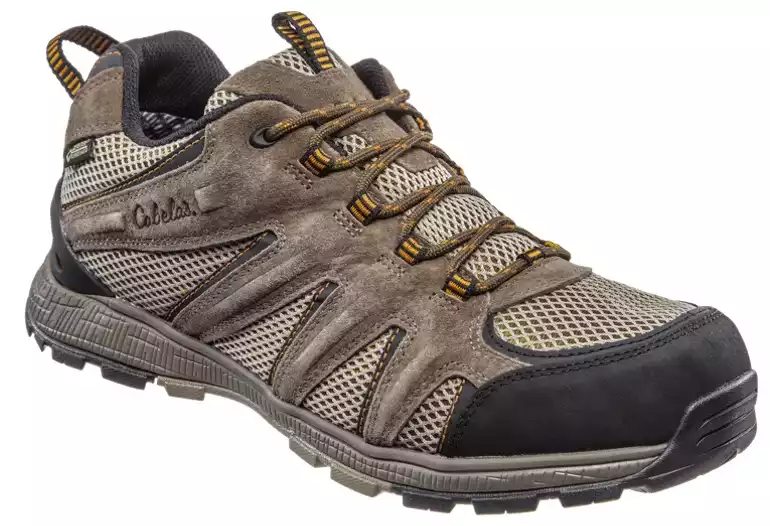 Pros
Side ventilation is solid

Lightweight/gore-tex

Good grip on the bottom, built with Vibram MegaGrip
Cons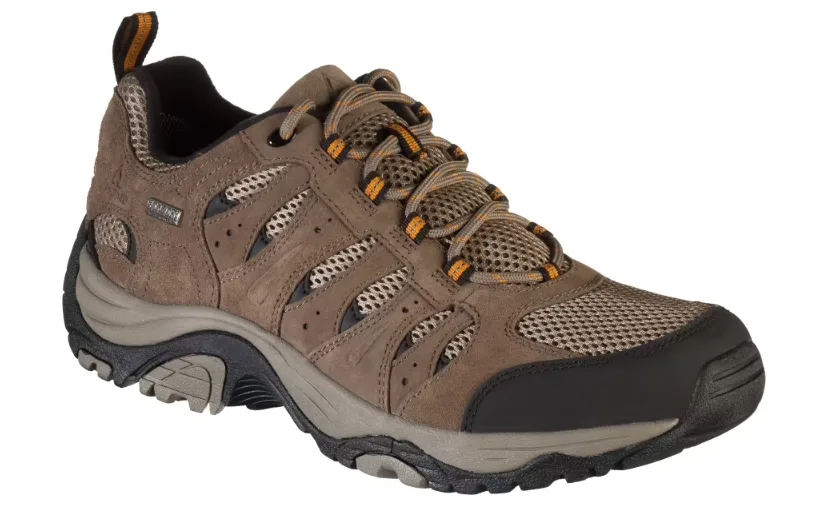 The Ascend Lisco Low Waterproof Hiking Shoes are the last shoes I want to put light to on this list. Arguably the most comfortable shoes on the lineup, these shoes got EVA midsoles that help absorb the shock while hiking.
These hiking shoes also have 4MOST DRY-PLUS membranes in the boots that help keep the moisture out while you're hiking. If you're looking for your next hiking shoes that can also double as work shoes, these might be the most comfortable option for you.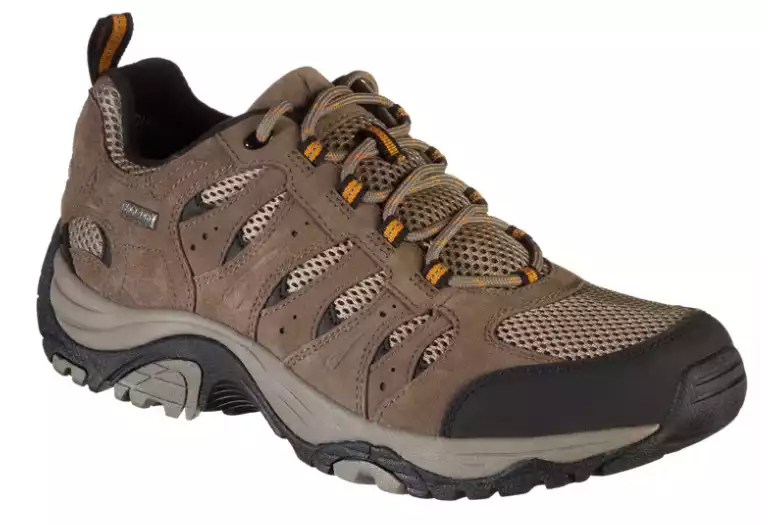 Pros
Comfortable hiking shoes

Budget-friendly

Brand owned by Bass Pro Shops
Cons
Alternatives to Consider
Not all hiking shoes are created equal, so let's look at some stand-out options to consider.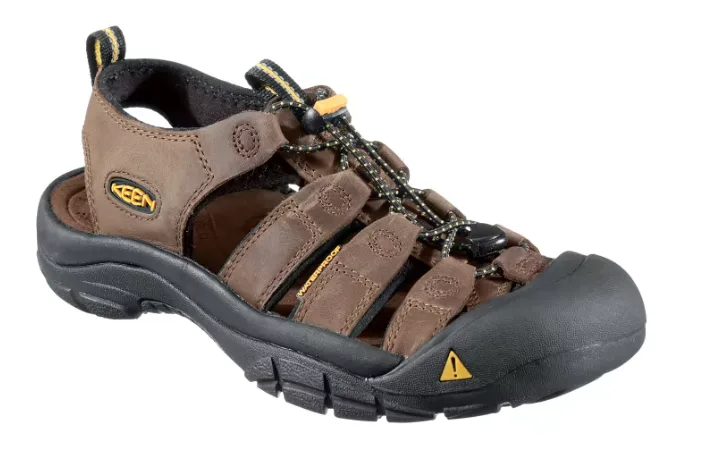 If you're looking for a more niche hiking shoe, the KEEN Newport Leather Hiking Sandals are a great option. These babies are perfect for those hot summer hikes where you can't be troubled to wear socks. I also enjoy these shoes when I'm going to be on trails that traverse rivers or exploring rocky beaches. There's nothing better than getting your feet a little wet while hiking.
These things are also durable as anything. Whether you're exploring the sharpest volcanic rocks or trudging through salt water coves, these things will hold up. I even bring them with me on backpacking trips to throw on because they're so lightweight.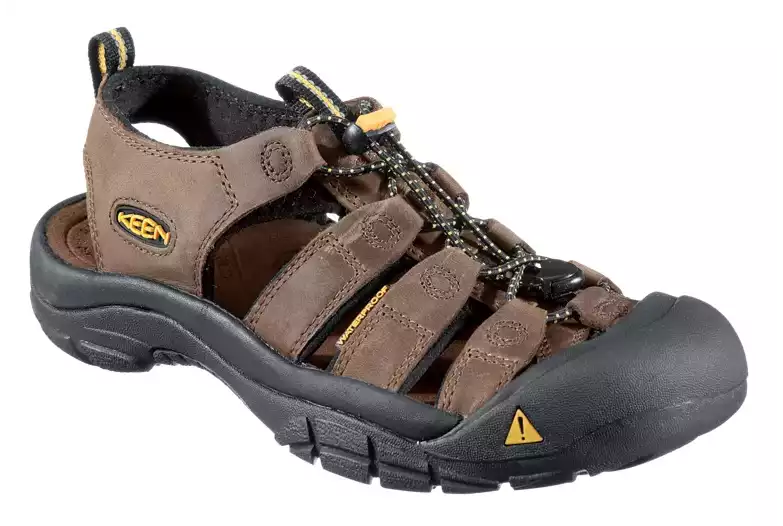 KEEN Newport Leather Hiking Sandals for Men | BassPro
The original KEEN hybrid of trail shoe performance and water shoe durability, the Newport is designed to perform in the most adverse conditions, including saltwater and dirt abuse, without sacrificing comfort or style.
Check Price
We earn a commission if you click this link and make a purchase at no additional cost to you.
Pros
Great for water-based adventures

Extremely durable

The leather build looks slick
Cons
Very pricy for sandals, but worth it in my opinion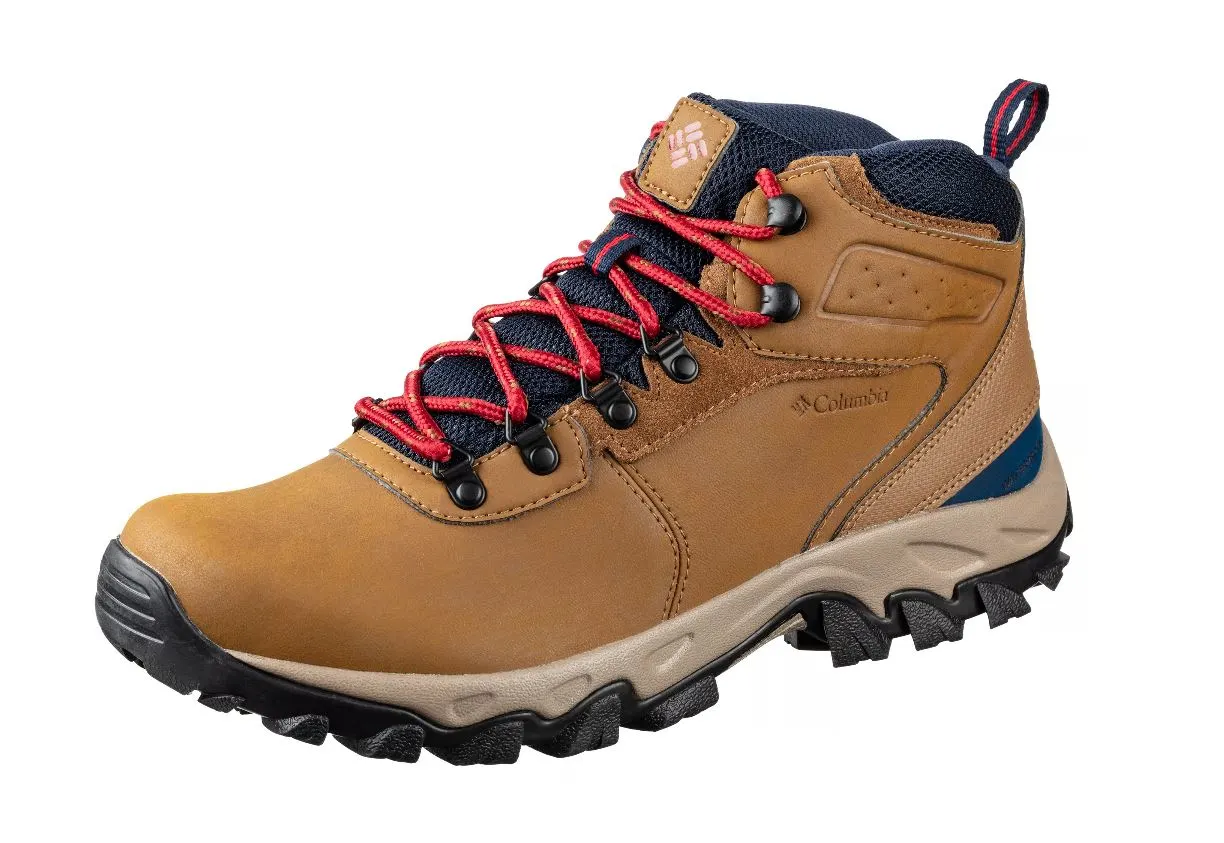 The final shoe I want to drop on this list is the Columbia Newton Ridge Plus II Waterproof Hiking Boots. I think these shoes are the biggest competition to the big dog Cabela's 360 Mid GORE-TEX Hiking Boots I reviewed above. I would say the biggest difference is that these shoes look way slicker. They're made with polyurethane-coated leather and suede and come in multiple colors (Light Brown/Red Velvet and Cordovan/Squash.)
However, don't let the style make you think these shoes won't hold up. They're the top reviewed hiking shoes on Bass Pro Shops for a reason. They've got Omni-Grip traction, Techlite midsoles, and are basically waterproof.
Waterproof + Durable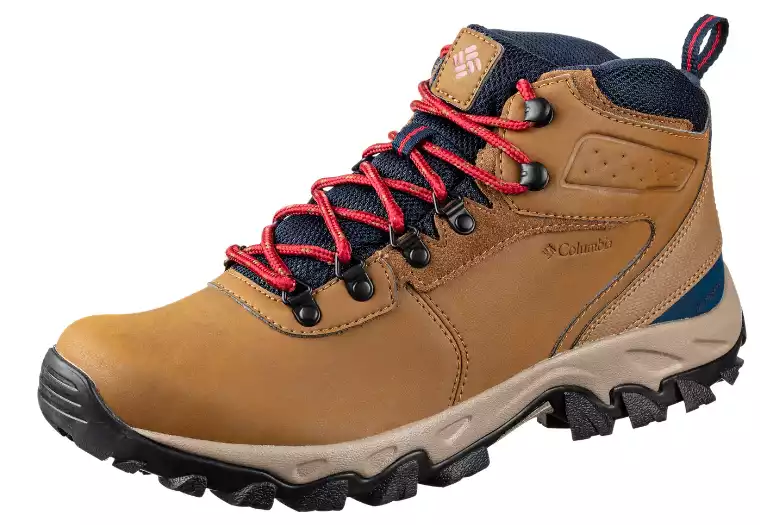 Pros
Great sense of style

Built by several reputable brands

Budget-friendly
Cons
Need to be broken in before they're comfortable
FAQs
Question: Are RedHead and Ascend shoe brands owned by Bass Pro?
Answer: Yes, both of these brands are owned by the parent company Bass Pro. Thus they have a reliable reputation and have been around for years. They are also generally a tad cheaper than the competition yet maintain a similar style.
Question: Where can I order Bass Pro or Cabela's hiking boots?
Answer: You can purchase these shoes online or in one of over 170 retail locations in the United States. Although you can always return your hiking shoes if they end up not fitting right, I generally prefer to purchase hiking shoes in person. That way, I can try them on and ensure they feel comfortable and fit perfectly, especially because these shoes are really going to be put through the wringer, durability-wise.
Question: What is the warranty policy on Bass Pro hiking boots?
Answer: The warranty policy for their hiking boots lasts for one year. This means that if there are any major manufacturing defects, you can get them replaced free of charge. I've found the best bet is to take them directly into the stores to see if your boots qualify before sending them in the mail.
Question: Are Bass Pro Shops hiking boots waterproof?
Answer: It generally depends on the specific model, but for the most part, their hiking boots are partially waterproof. This means if you're trudging through snow or it's raining, you'll generally be safe. However, if you're dunking the hiking boots underwater or in a severe storm, you might want to look at some waterproof socks to pair them with, or you'll end up with cold feet.
Question: Are Bass Pro Shops hiking boots reliable?
Answer: Yes, their shoes in the brand name RedHead are generally reliable footwear. Some models are better than others, and I would say the best way to make a decision is to look at the reviews. Keep in mind that Ascend is also part of the Bass Pro Shops brand, and these shoes are generally quality as well.
Conclusion
Overall, my top recommendation from this list would be the Cabela's 360 Mid GORE-TEX Hiking Boots. Since they're cut high and built with so many reliable, specialized brands, I would argue they have the longest life expectancy. However, they are the priciest option here- but I like to think of hiking shoes as a long-term investment, and I'd rather put money upfront into something that is going to last than something that will break apart easier.
My next top shoe would be the KEEN Newport Leather Hiking Sandals, mainly because it's nice to have a sandal that's durable for watery conditions or simply when it's hot out. Either way, there are lots of great options on this list for anyone from any budget. I hope this article was helpful for you. Happy hiking!
| Product Image | Product Name / Primary Rating / Price | Primary Button |
| --- | --- | --- |
| | | |
| | | |
| | | |
| | | |
| | | |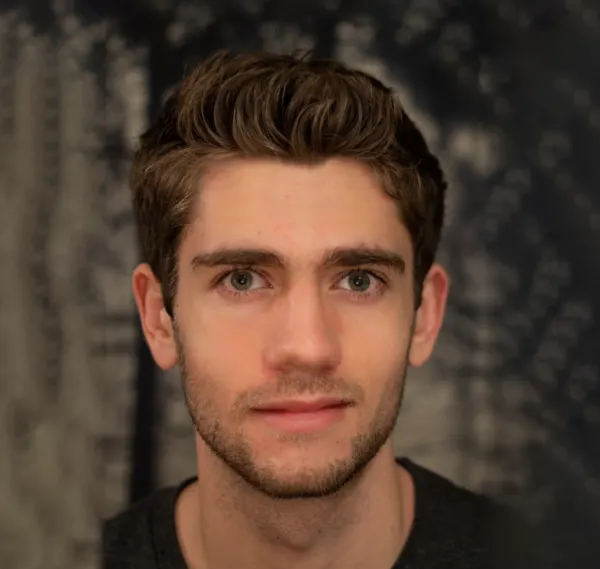 Nicholas is an adventure photographer who's been traveling North America for the past four years shooting landscapes from Washington all the way down to El Salvador. His passion for photography and the outdoors started in Colorado, where he grew up exploring its vast mountain ranges. Today, he hopes to share his lifelong experience with the outdoors with others and hopes to inspire people to explore more.