There's probably no piece of hiking gear more important than a good pair of boots. They're one thing you absolutely have to get right.
If your tent's too flimsy, you can reinforce it with a tarp or extra guy ropes. An undersized rucksack can be accessorized with external pouches and straps for extra carrying capacity. But without a RELIABLE pair of hiking boots, you are up a creek without a paddle.
Whether you are working in the backwoods, trekking through the brush, or on a job site (best work boot), steel toe hiking boots are worth investing in.
My Bottom Line Summary Up Front:
Continue reading for my full analysis…
Finding the Best Steel Toe Hiking Boots
Hikers have a wider range of footwear to choose from than ever before. From ultralight shoes and even sandals to hardshell winter boots designed for use with crampons, there's a pair to suit practically everyone. Boots are a very personal thing and every hiker has their own tastes – in style, materials and features. One feature some people insist on is a steel toe cap.
With so many high-tech materials now available a steel toe cap might seem old-fashioned or even crude. There's no better way to add some protection, though, and that can be very valuable. Here are some situations when you'll be happy to have a steel shell around your delicate toes:
On the job: Hiking boots are comfortable and give you good grip and mobility. That makes them an increasingly popular alternative to traditional work boots – but sometimes you need the protection work boots offer. If you're around heavy equipment or working with heavy objects a reinforced toe cap is vital. For work, you need something that's ANSI Z41.1-1991 compliant.
In the rocks: Scrambling and bouldering are lots of fun, but loose rocks can be a major hazard. But a foot in the wrong place and it can get trapped or even crushed if a lump of granite chooses that moment to shift. Steel toe caps will protect you from injury.
In the woods: Splitting firewood with an ax has its hazards – you probably don't want to find out what that blade would do to your toes. Clearing brush from a campsite with a machete also has potential to go wrong. Any protection you can get is welcome, and steel toe caps are a big help here.
Some hikers still think of steel toe caps as being unattractive and potentially uncomfortable, but with modern designs, these aren't really concerns. It's usually impossible to tell from looking at a boot whether it has a steel inner shell or not, and a well-shaped toecap with a decent lining won't compromise comfort at all.
Obviously, there's a weight penalty but this doesn't add up to much, so if you're planning activities that might put your toes in danger a pair of steel-capped boots make perfect sense.
Steel Toe Hiking Boots for Different Activities
Obviously, there's more to it than just deciding to get steel-toed boots and heading out to buy a pair. You also need to consider all the same factors as with any other pair of hiking boots. These include:
Weight: Are you planning ultralight backpacking trips with some rock scrambling thrown in, or do you need heavier boots for rougher ground?
Season rating: Some boots are for summer use only. Others are built for extreme ice climbing. Most are somewhere in between.
Activity: Are you looking for standard hiking boots, or do you need to be able to use them with gaiters or crampons?
Our Top Recommended Steel Toe Boots for Hiking
Finding the right boots can take a while, and there's no substitute for trying on as many pairs as it takes to find one that suits you, but to start narrowing the field here are some of the best steel toed boot on the market.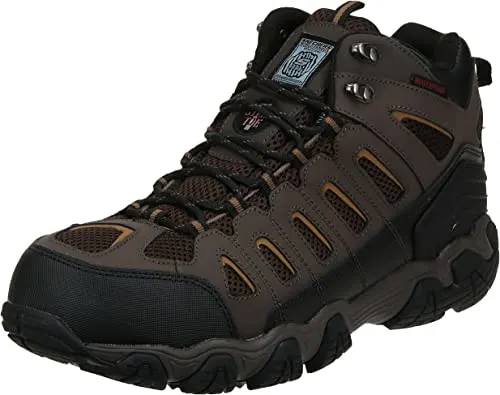 Features At A Glance
Leather uppers with mesh vents
Memory foam footbed
Breathable waterproof liner
ASTM-compliant toe cap
Can double as a steel toe work boot
Skechers footwear is aimed at performance, whether it's for fitness, outdoor activities or work. The Blais-Bixford packs two of these into one. Selling for less than $100 as of this writing – but with discounts easy to find – it's a lightweight hiking shoe, perfect for trekking where you don't need a lot of ankle support.
If you enjoy walking long-distance trails, for example, these will do very nicely. They don't have any excess weight and they're designed for comfort as well as safety. They also make a good work shoe, especially if you need plenty of grips.
The Blais-Bixford is a modern, low-ankle style of boot. It's built on a contoured rubber sole with contrasting insert treads and gives excellent grip on wet, hard surfaces or in the mud.
The uppers are smooth full-grain leather with plentiful mesh fabric vents for breathability. Protective bumpers at the toe and heel protect the leather from scuffing, and there's an extra external reinforcing layer running most of the way around.
Lacing is via tape loops, which eliminate potential pressure points from traditional eyelets or D rings, with speed-lacing hooks at the top. The tongue is fully sewn-in and equipped with generous gussets, while the ankle collar is adequately padded.
Inside the boots are lined with a breathable waterproof membrane (waterproof boot). Because they're quite low they won't keep your feet dry if you go wading, but they protect well against wet grass or shallow puddles.
The bit you can't see is the ASTM-compliant steel toe cap, which makes the Blaise EBZ a ANSI Z41.1-1991-standard work boot as well as perfect hiking wear. They also have an ASTM Electrical Hazard (EH) rating, meaning they're great for wear around power tools or other shock hazards.
Verdict: Light and comfortable enough for a long summer hike; tough enough for a double shift in a metal shop. A great general-purpose safety hiking boot. Be sure to check here for the latest pricing.

Skechers for Work Men's Blais-Bixford Steel Toe Hiking Shoe

Skechers is an award-winning global leader in the lifestyle footwear industry that designs, develops, and markets lifestyle footwear that appeals to trend-savvy men, women and children. The company's success stems from it's high quality, diversified, and affordable product line that meets consumers' various lifestyle needs.

Check Amazon Price Check eBay Price

We earn a commission if you click this link and make a purchase at no additional cost to you.

02/14/2023 04:34 pm GMT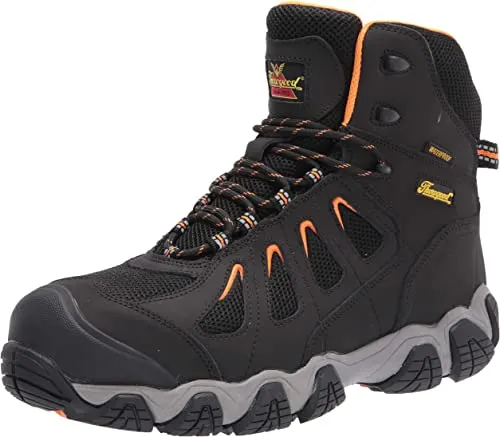 Features At A Glance
Dual density sole
Reinforced fiberglass shank
Full leather upper
Dri-Lex waterproof lining
ASTM-compliant electrically safe steel toe cap
Traditional hiking boots still have their fans, and in fact, seem to be making a bit of a comeback. If you prefer the all-leather look of a classic boot the Thorogood Heritage is probably going to grab your attention. This is very definitely a high-end boot, with a list price of $289.95 as of this writing, but as usual, you get what you pay for and check here for discounts.
These top quality steel toe boots for hiking are perfect from summer through to non-mountain winter weather, with a high level of comfort complemented by excellent protection.
The Heritage uses a dual-density sole with a traditional appearance. The tread is deep but well-shaped to eject mud and small stones. The sole is molded to the uppers, which gives a more waterproof join than a traditional stitched welt, but the overall effect is retro in a good way.
The uppers themselves are full-grain oiled leather, beautifully tanned for suppleness, and securely stitched. Heavy brass hex eyelets handle the lower lacing, with robust speed hooks at the top. The ankle collar is well cushioned and covered with a lighter, softer leather, while internally the Dri-Lex breathable waterproof lining extends all the way to the top.
In terms of safety, the sole is reinforced with a fiberglass shank, which is there to stiffen the boot for rough ground but also resists piercing from below. The discreet steel toecap is fully OSHA compliant and the boots are also EH rated.
At 35 ounces per boot, these are amazingly light for the level of protection they give. They're also supremely comfortable even straight out the box; broken in, they make long hikes effortless. They're sturdy enough that you can use them for scrambling or light mountaineering too.
Verdict: An excellent all-round pair of boots, combining a traditional appearance with modern materials where it matters. Built to last a lifetime, and they look incredibly good too. Check the latest prices and deals here.
Best Safety Boot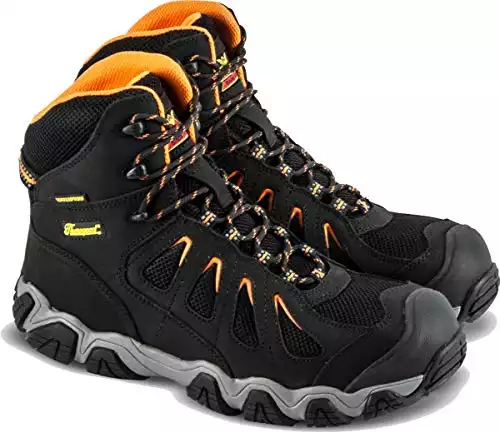 Thorogood Crosstrex Series
When your job takes you from office to outdoors, you need double duty shoes. These waterproof brown tumbled full-grain leather sport hikers give all day comfort with extra shock absorbency. The composite safety toe protects your foot from impact, and patented outsole offers superior traction and resistance to slips—no matter how far off-road the job takes you.
Check Amazon Price
Check Zappos Price
We earn a commission if you click this link and make a purchase at no additional cost to you.
02/14/2023 02:04 pm GMT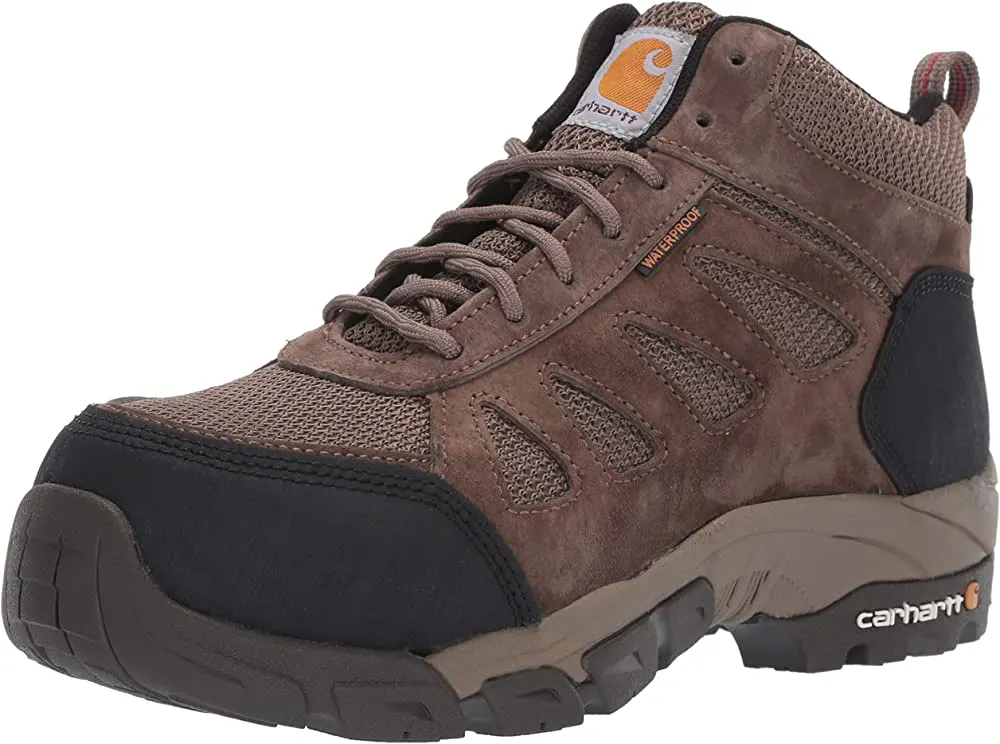 Features At A Glance
Anti-slip slip-resistant rubber sole
Full leather upper
Breathable waterproof membrane liner
ASTM-compliant steel toe cap
Carharrt has a reputation for producing quality workwear, and their Waterproof Hiker combines that legendary toughness with the comfort and mobility of a high-end hiking boot. A more modern style than the Thorogood, it retains the full leather upper for chemical and abrasion resistance but adds protective bumpers at the toe and heel.
The sole is geared to construction sites and designed for slip resistance on oily surfaces but is equally good on a wet rock. With these Carharrt have produced what's simply an all-around great boot.
If you're familiar with hiking boots there's nothing really new in the design here. A robust, fairly stiff leather shoe is topped with a more flexible tongue and ankle section, giving a good blend of support and mobility.
The tongue is well gusseted to keep water out, something these boots do particularly well – you can splash around deep puddles all day and your feet will stay warm and dry. Riveted loops take the lower lacing with speed hooks on the ankle cuff. The collar is lightly padded and very comfortable.
Like the Heritage, these boots are a lot lighter than you'd expect given how sturdy they are. In fact, they're an ounce lighter than the Thorogood's. Either boot will save you a lot in fatigue at the end of a long day. We think these have the edge in robustness, and they also win on price – expect to pay around $149.95 as of this writing – and don't trail by a lot in looks.
Verdict: As close to bomb-proof as boots get, and remarkably comfortable as well. If you work or play in a wet, muddy environment your feet are going to love these. You can view the latest pricing here.
The next few options are some other great options to check out as well (but outside our official top 3)…
Best Lightweight Steel Toe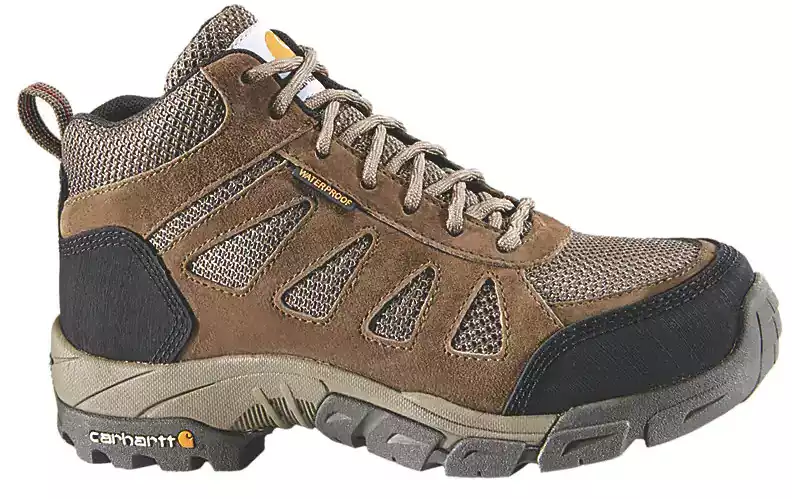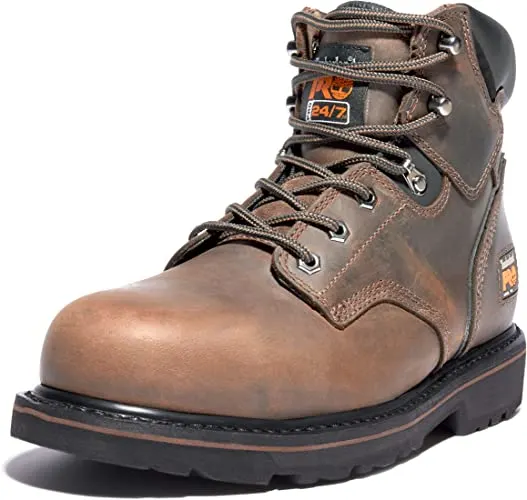 Summary: High quality cowhide steel toe boots for hiking, oil resistant, dampness wicking and ready to wear day one (no break-in period needed).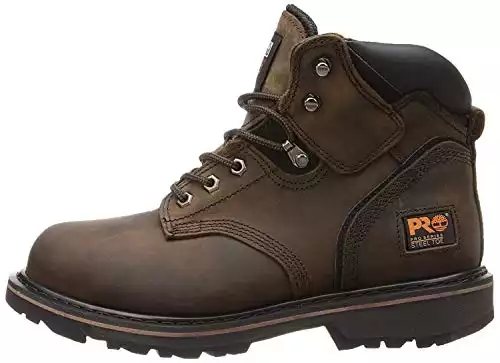 Timberland PRO Men's Pitboss 6" Steel-Toe Boot | Amazon
Our Pit Boss is everything a steel toe boot should be: Safe, tough & comfortable. These leather work boots meet ANSI safety standards and feature slip-, oil- and abrasion resistant outsoles for traction & padded top collars for comfort.
Buy at Amazon.com
We earn a commission if you click this link and make a purchase at no additional cost to you.
02/14/2023 03:39 pm GMT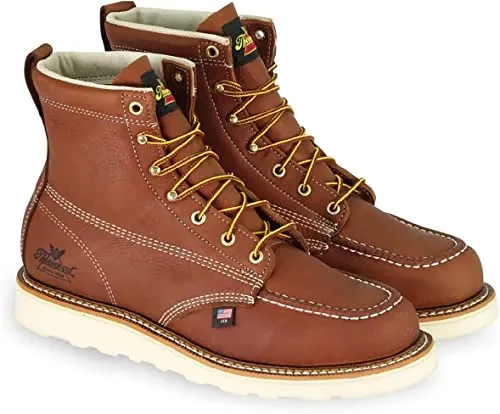 Summary: 100% full-grain leather treated with tobacco oil, a double thickness footbed, and slip resistant outsole, these are the best 100% leather work boots we've tested. They aren't cheap but will last forever (100% USA-made).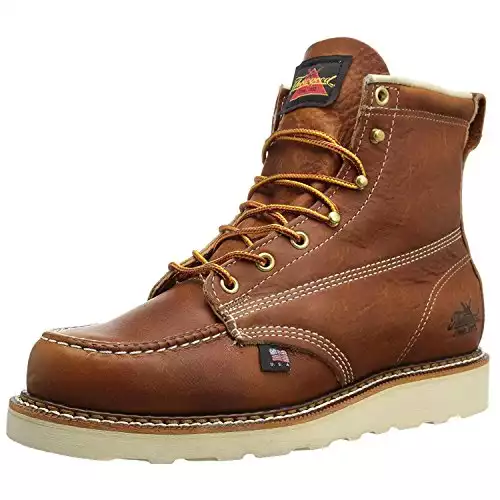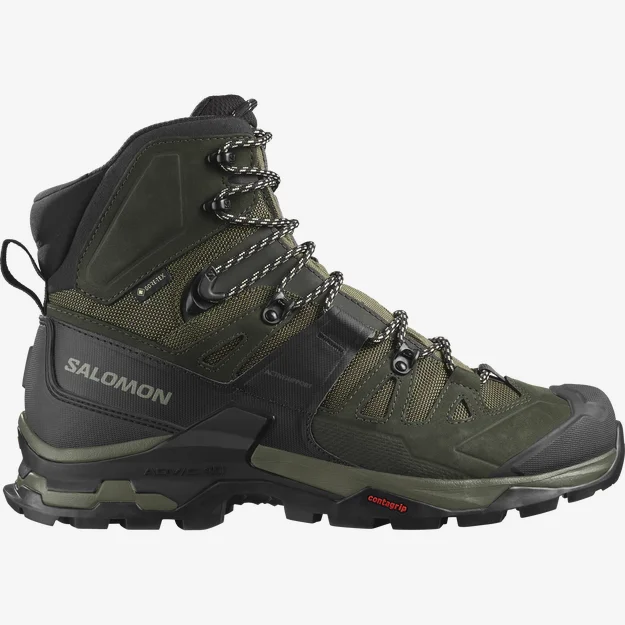 Summary: if you are looking for excellent ANKLE SUPPORT, these are the high ankle boots you need. High quality, premium grade, and from a reputable brand.
Further Reading Hiking Boot Options & Composite Toe Tactical Boot Choices: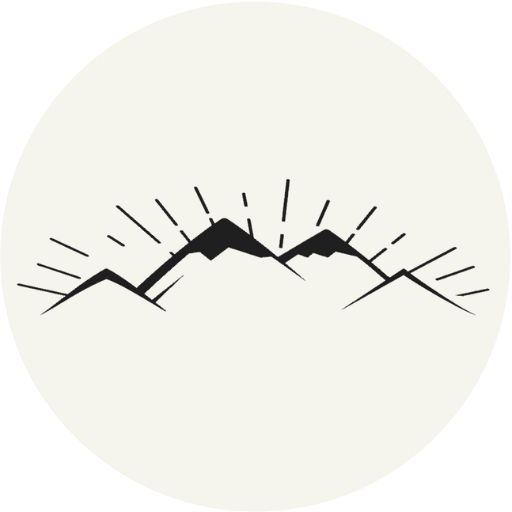 The All-Outdoors Guide team is comprised of enthusiastic experts that enjoy helping others that aspire to be better at outdoor fun. Part of that is making sure you have the right gear and information when it's time to go out and have fun. Some of our team have accomplished amazing feats like climbing 6000 feet to the top of mountains, others have explored every dirt trail they could find and we even have some people that have backpacked solo on various continents. No matter what our readers want to learn and do, our team is here to help them accomplish those goals.