Buying a new tent can be a time-consuming process. In many ways, finding a new tent is like looking for a new home.
There are lots of nitty-gritty details that can pop up, and there's nothing worse than realizing that your tent isn't like you thought it would be when you in the middle of the woods. Luckily I'm here to help guide you through the process so that by the end of this article you'll know exactly what to get!
Today we'll be diving into tents by the Bass Pro Shop brand. I'll start off the article by giving you my main recommendations right up front, in case you're short on time. But if you're willing to stick around for a bit, I'll be breaking down what to look for in a tent, types of camping, ranking my favorite Bass Pro Shop tents, and answering some frequently asked questions. Let's begin!
Bottom Line Up Front
If you're looking for a sturdy tent that's relatively portable, I'd look no further than the Bass Pro Shops Eclipse 9×7 Dome Tent. It's the strongest tent on the lineup with a completely waterproof tarp floor. This means it can hold out in the strongest conditions while sleeping 4 people or 2 very comfortable people.
It's also small enough to take on long hikes if you don't mind a little extra weight. The tent is easy to set up and has reflectors, interior pockets, a rainfly, and a sturdy carrying case. Overall, I'd say it's the perfect tent for the all-around camper.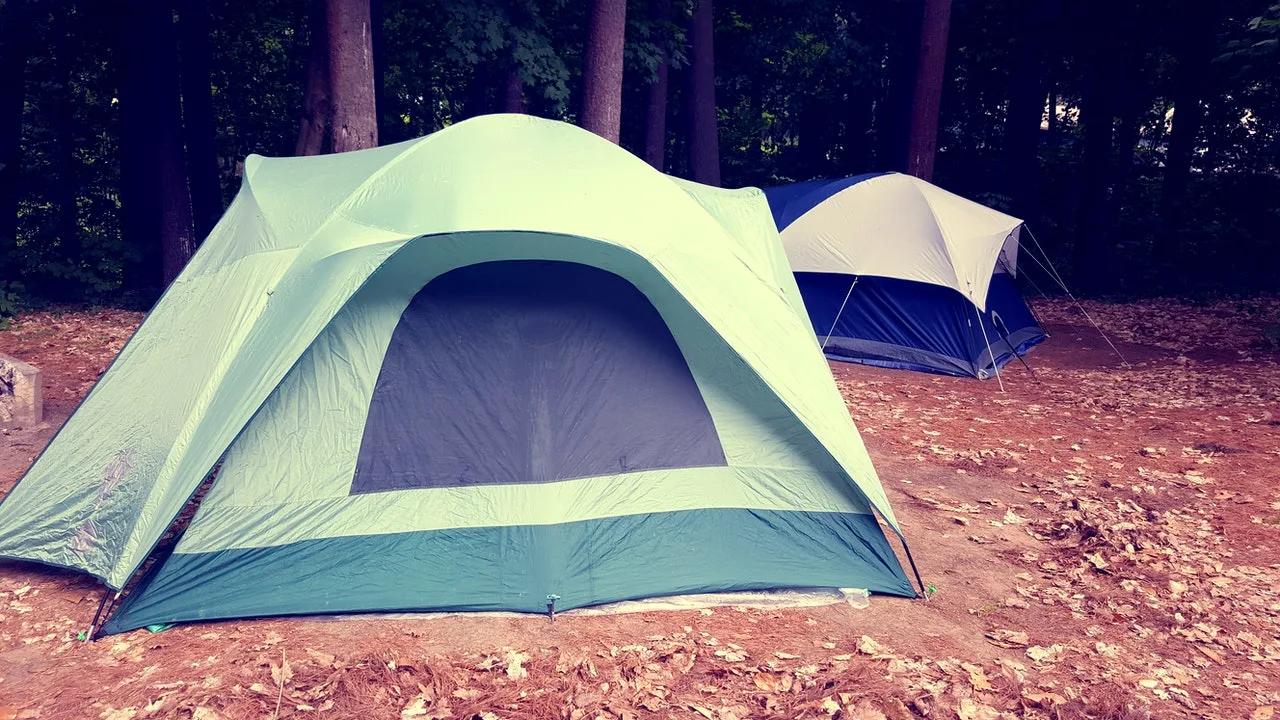 | Product Image | Product Name / Primary Rating / Price | Primary Button |
| --- | --- | --- |
| | | |
| | | |
| | | |
| | | |
| | | |
What Is Bass Pro Shops?
Bass Pro Shops is an outdoor gear company that was kicked off in 1972 by Johnny Morris. He started the company by selling fishing tackle outside of his father's liquor store, and eventually grew it to one of the largest outdoor companies in the world. Today Bass Pro Shops has over 150 shops across the United States and Canada, has over 40,000 employees, and is a parent company of Cabela's.
It's a brand that's known for its quality and has even become a bit of an icon in some streetwear communities. Bass Pro Shops also hosts several Outdoors Skills workshops to help customers improve their skills in the fishing, hiking, and hunting worlds.
What To Look For in a Tent
Let's start by breaking down the key components to look for in a camping tent. Depending on your method of camping, you might find some components more helpful than others.
Size
The most important thing to look for in a tent is its size. "How many people are going to be sleeping in it?" is an important question to ask. As a general rule of thumb, I would say that the number of people recommended by tents is accurate.
However, they generally lean on the side of being more cramped than roomy. With this in mind, if you're not comfortable being on the verge of snuggling with someone, I'd recommend adding one "ghost" person to your tent size to add more room.
On the other hand, if you're thinking about getting a single-person tent for two people (perhaps if you're a couple or are comfortable snuggling), I wouldn't recommend it. The single-person tents are very small, and you absolutely wouldn't have room to keep any of your gear inside the tent. If it rains or animals decide to raid your gear outside, you're simply out of luck.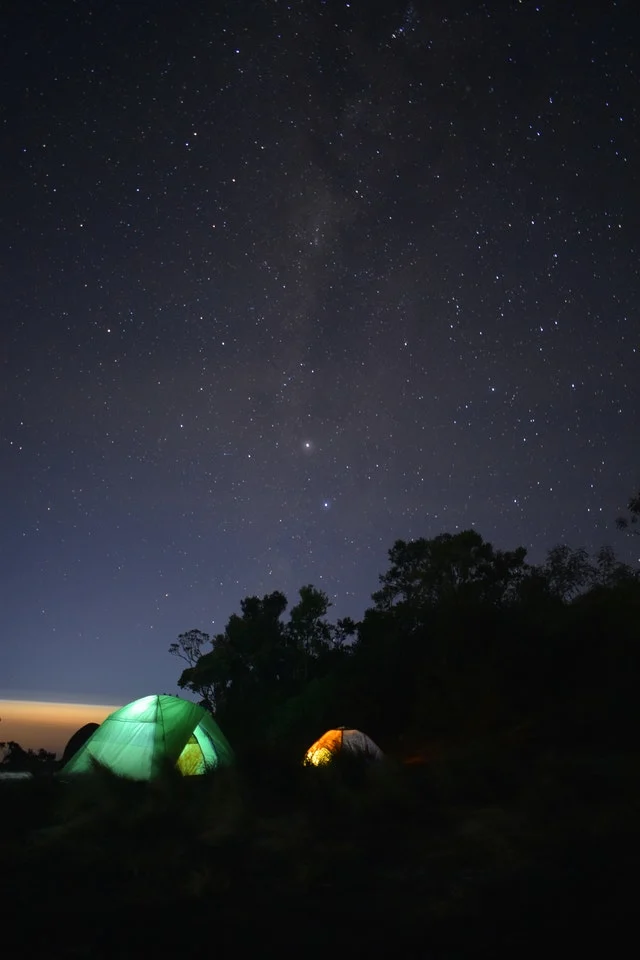 Weight
The weight factor of choosing a tent may or may not be an issue, depending on what type of camping you are doing. For example, if you're doing ultralight backpacking for weeks at a time, weight becomes an extremely important factor as you're trying to save as much energy and room as possible.
However, if you're simply car camping and going to be setting up the tent 50 100 feet from the vehicle, weight isn't too much of a factor. Keep in mind that lighter-weight tents generally go up in price, as they are made with more premium materials.
Conditions
When looking for a tent, knowing the type of conditions you are going to be dealing with can be extremely helpful. If you're going to be camping in winter/storm conditions, I would recommend going with a tent that has a strong waterproof exterior, rainfly, and stakes. Else you risk ending up wet, cold, or having your tent blowing away. However if you're going to be camping in sunny conditions without rain,
Another add-on to keep in mind with tents is a footer. This is essentially an extra layer of material (much like a lightweight tarp) that you can put under your tent. The purpose of the footer is to prevent the main tent from tearing with sharp rocks or objects underneath.
Most tents don't come with one, as they are often sold separately. If you're going to be camping where it's rocky or there aren't established spots, a footer could be a good idea.
Doors/Windows
Doors and windows are something of a luxury in the camping world but are nonetheless something to keep in mind. I prefer windows that are on the side of the tent, so I can get a cross airflow at night if it's cold, and I won't have to worry about drips leaking through on the top.
Doors aren't usually an issue for me, but if you're camping in a tent with 4+ people, it can be helpful to have multiple entrances so things don't feel nearly as cramped.
Comfort Features
Today lots of tents have all sorts of bells and whistles that aren't part of the "traditional" tent setup. Most of these features add extra weight and size to the tent and aren't necessary. However, if you're looking for a comfortable experience, you may be interested in some extra features. A few notable features included porches, extra pockets, built-in lights, and even wifi.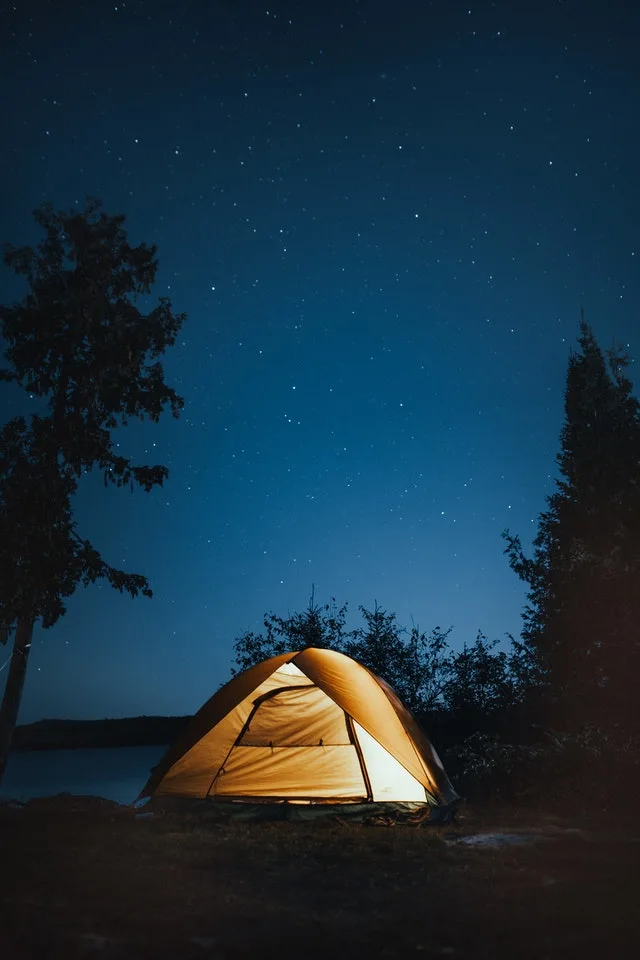 Types of Camping
Alright! Now that we have dived into some important features to look for in camping tents, let's dive into the different types of outdoor camping. This will help you decide which of the above components to look for when browsing tents.
Ultralight
If you're an ultralight camper, you're most likely looking for the lightest and most versatile gear possible. Generally, ultralight campers will go out for several days at a time and have packs that are designed to conserve as much energy as possible. This means cutting corners in the luxury department and opting for maximum efficiency.
This also means that you're probably not too weary about the price point because ultralight setups can get fairly expensive. If you're looking for an ultralight tent, I'd prioritize weight and size over everything else.
Backpacking
The backpacking tents are similar in style to that of an ultralight tent, however, they aren't nearly as extreme. I would argue that backpacking tents are essentially "entry-level" ultralight tents. They're designed to be small and efficient, but not to the point of extremes. If you're looking for a backpacking tent, I'd aim for a tent a good size for the suitable conditions you are going to be experiencing. Doors/windows aren't much of an issue here.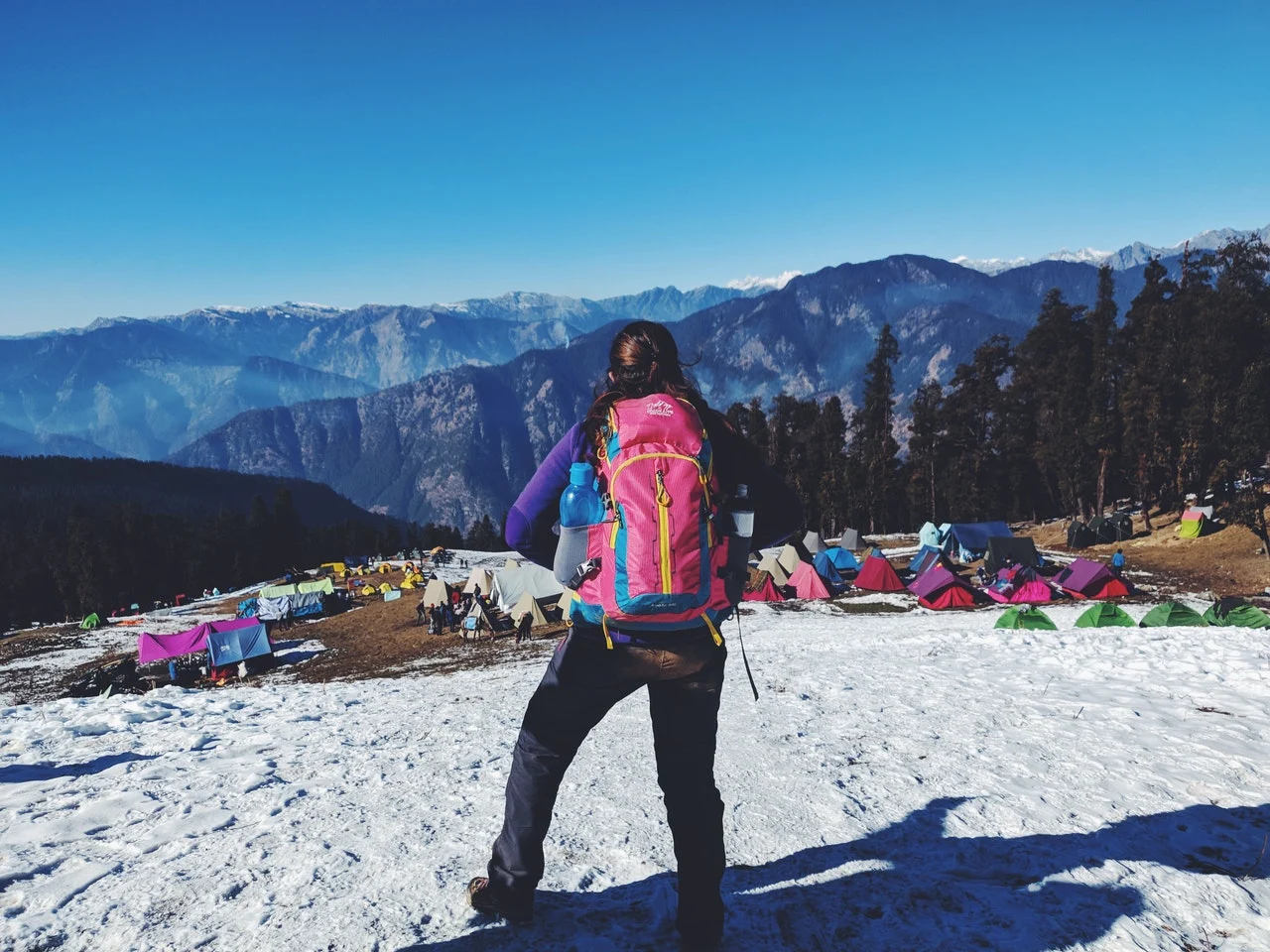 Car Camping
Car campers are probably the most common form of camping. Unlike the name suggests, this doesn't mean you're necessarily sleeping in the car, but close to it. Generally, car campers don't hike more than a mile with their gear, as the car is usually within close access.
If you're just getting into camping, it's nice to have the peace of mind that your car is right next to you if something goes wrong. For example, if the weather gets bad, you get injured, or animals/bugs begin to become a problem, it's easy to leave.
Car camping tents are generally not very concerned about weight but prioritize size, conditions, and doors/windows.
Glamping
The top-tier level of camping is glamping, which is essentially one step below staying inside a hotel. Glampers aren't necessarily concerned with "roughing it," but still want to get the outdoors experience. This means they prioritize comfort and size over everything. If you're looking for a glamping experience, look for what makes you feel happy and excited to get out there.
The Best Bass Pro Shops Tents
Now let's break down the best tents from Bass Pro Shops! I'm going to list these tents in order from smallest to largest.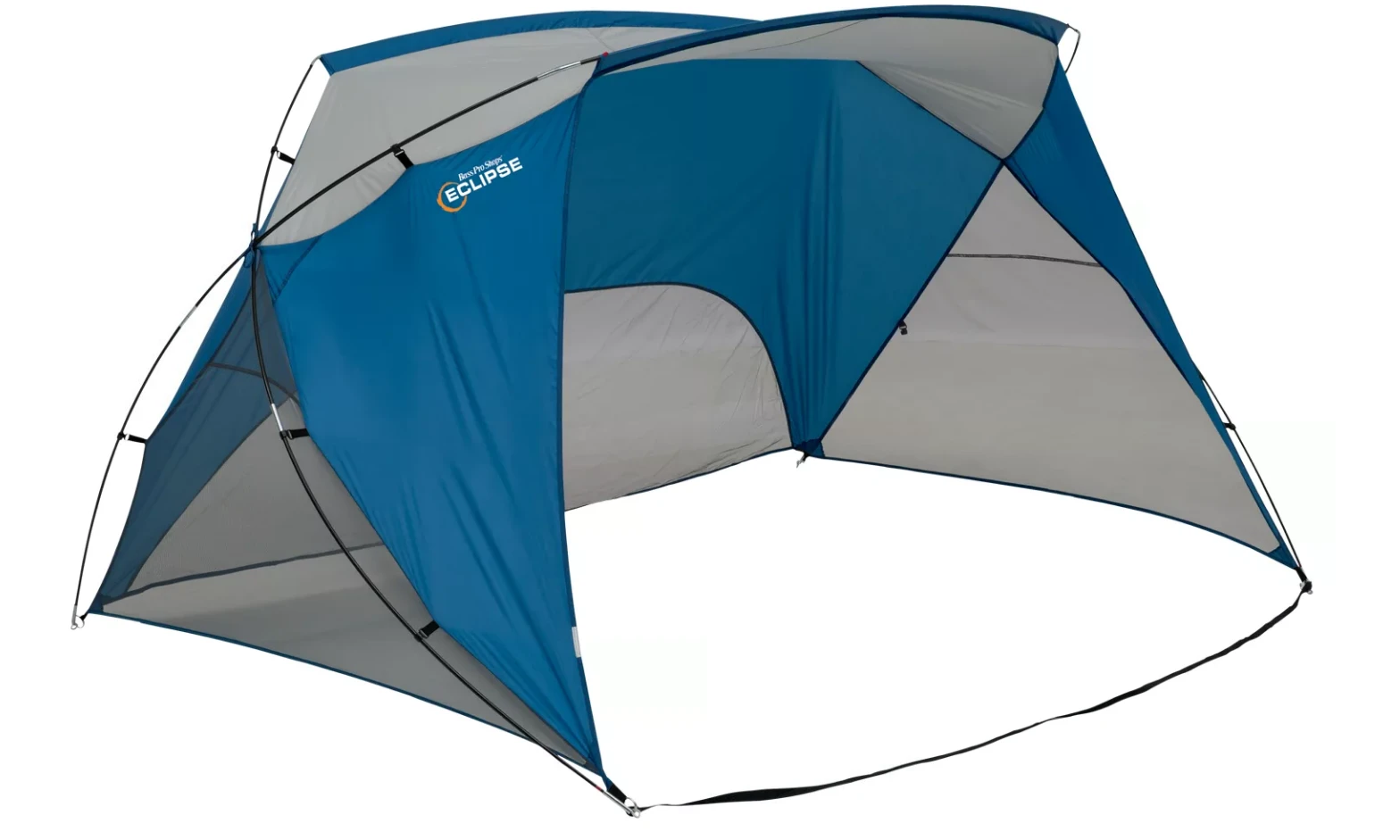 The first "tent" I'd like to go over isn't exactly a traditional tent, however, I feel it's important to include. The Eclipse Instant Shade Shelter is basically half a tent that's designed for relaxing on the beach or outdoors. You can get some much-needed shade, while still enjoying the view. It's also fairly lightweight and portable while providing a built-in UV-resistant coating that's also waterproof in the event of a little rain.
The shelter comes in a cool blue color and can seat up to three people. It weighs about 6lbs (9'L x 5'11″W x 5'2″H,) and comes with a carrying case and stakes to set up.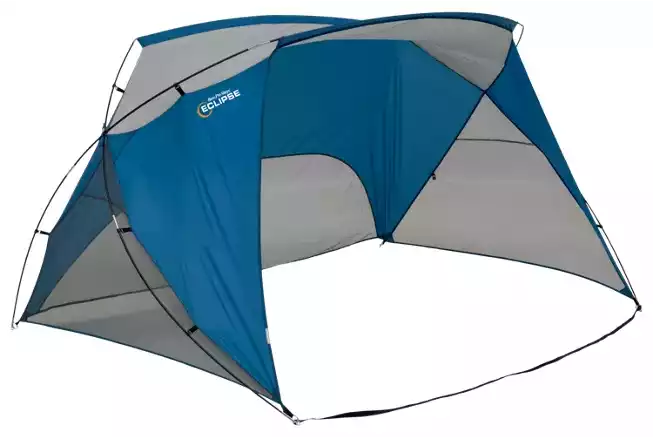 Eclipse Instant Shade Shelter | BassPro
This instant shade shelter pops up and tacks down in a jiffy to provide the shade you need! Great for protecting infants and toddlers, stashing a cooler, or just taking a break from all that fun in the sun. Made of lightweight poly taffeta with a water-resistant polyurethane coating and UV shield.
Check Price
We earn a commission if you click this link and make a purchase at no additional cost to you.
Pros
Portable/Easy to Setup

UV/Water-Resistant

Doesn't Block the View
Cons
Isn't Protective for Overnight Sleeping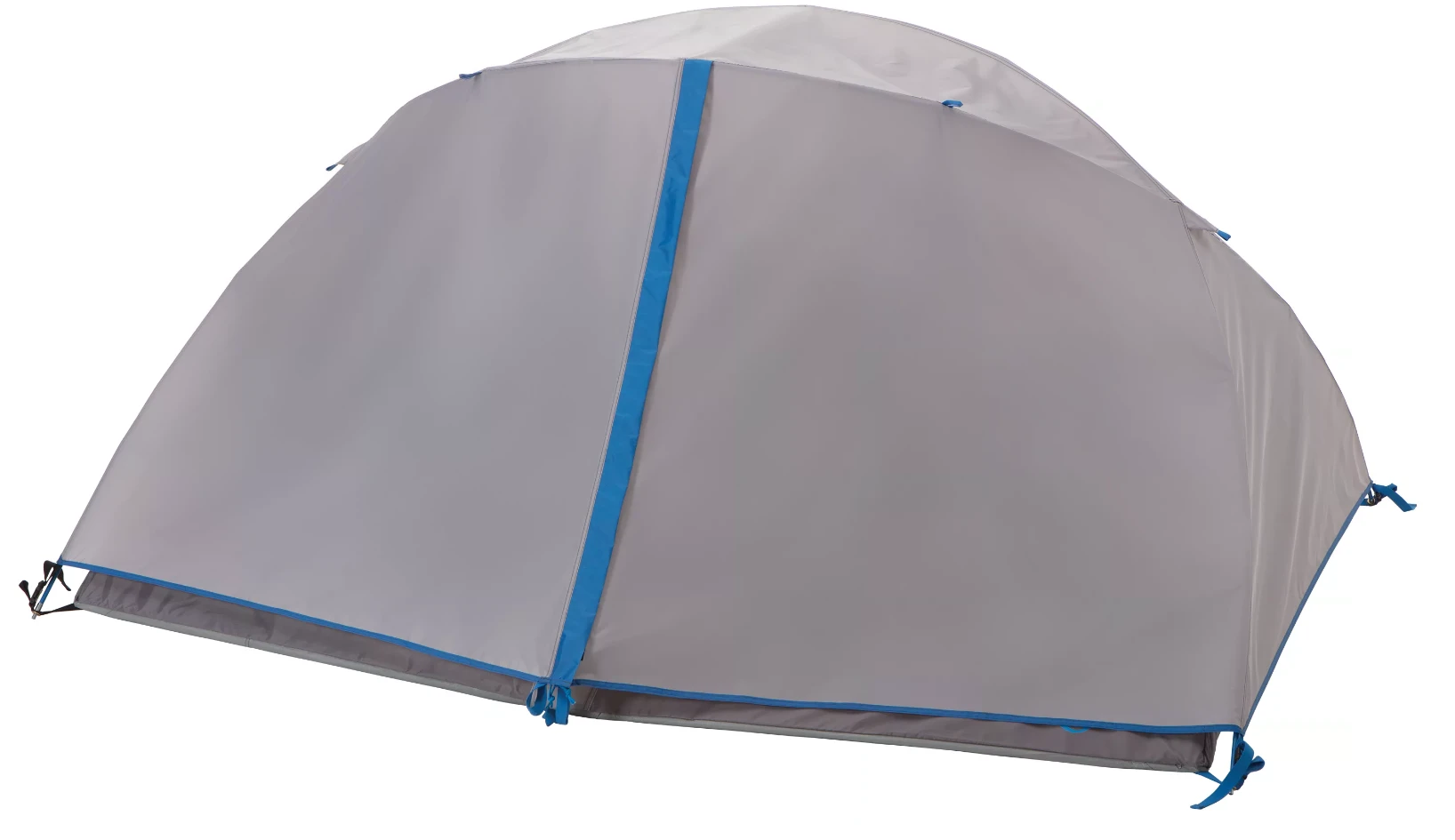 The Eclipse 2-Person Backpacking Tent is my favorite "ultralight" tent on the lineup. Primarily because I generally like to get out and have a solid (far away) adventure when camping, and this tent allows me to do that. It's lightweight, sturdy, and small enough to fit in my backpacking backpack.
One thing I particularly enjoy about having a two-person tent is the privacy that comes with it. Even if I am simply glamping with some friends, I much prefer to have my own space to retreat to at the end of the night, instead of sharing a larger, roomier tent with others. I'll usually get a better night's sleep and can relax.
The tent weighs 6lbs 5oz (7′ x 5′ x 3'6″,) and comes in a Blue/Violet hybrid color. The tent also comes with a carrying case, rainfly, interior pockets, and reflective cords that are useful for finding your tent in the dark.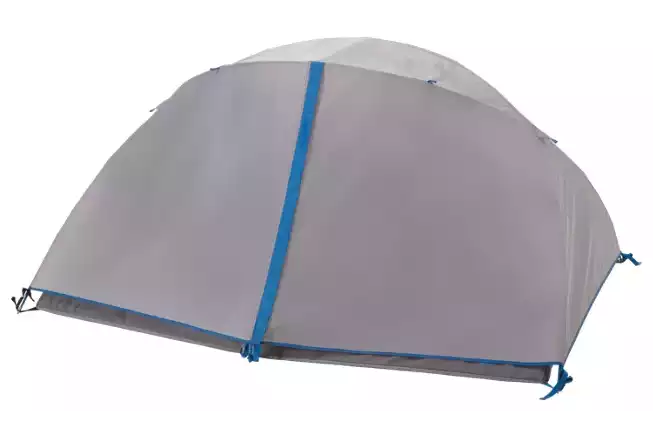 Eclipse 2-Person Backpacking Tent | BassPro
Featuring the versatility to offer a comfortable camping experience in any weather through the summer, this lightweight tent offers airy comfort with its large no-see-um mesh wall and roof panels. Made of a tough 190T polyester taffeta with 800mm PU coating, the tent's walls and rainfly offer sure protection in less-than-perfect weather.
Check Price
We earn a commission if you click this link and make a purchase at no additional cost to you.
Pros
Lightweight and Portable

Airy, Yet Sturdy for Rough Conditions

Private
Cons
Isn't meant for "comfort" camping

Isn't as strong as the dome tents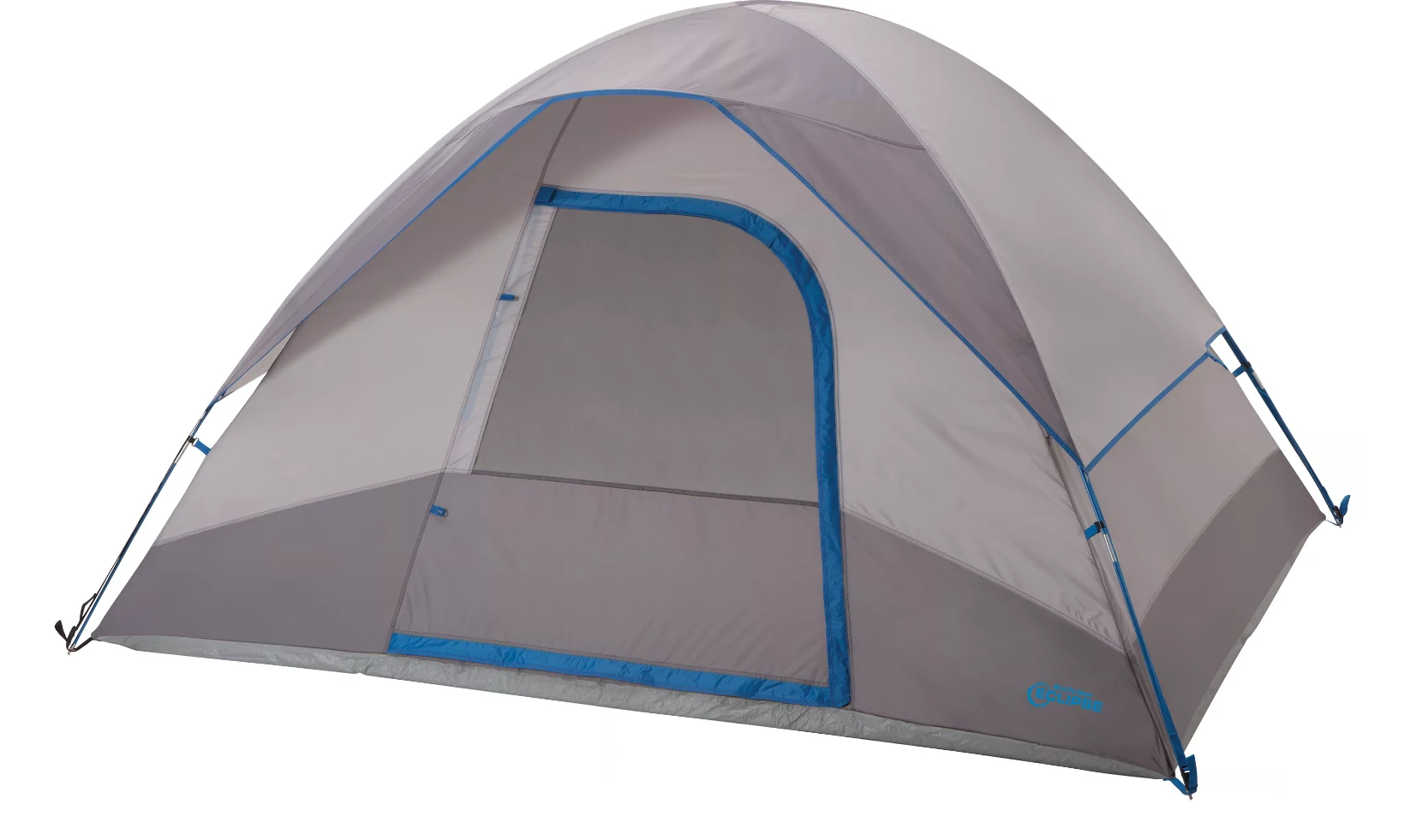 The Eclipse Dome Tent is the perfect tent for car camping adventures with a small group of friends. The tent can sleep 4 people or two people with lots of gear. The tent is supported by a fiberglass pole frame, along with a tough waterproof material to keep you out of the rain. My favorite part about this tent is how easy it is to set up, and how strong it is against the weather.
It's the perfect tent for weekend camps and comes in a blue/purple hybrid color. The tent wights 8lbs (9×7), and comes with reflectors, stakes, and a carrying case.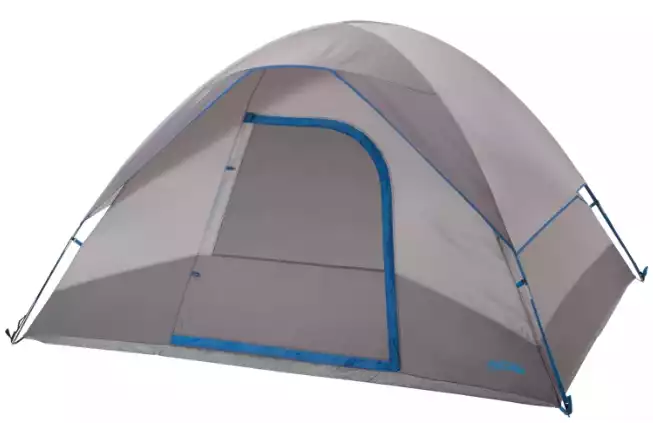 Eclipse 9x7 Dome Tent | BassPro
A great tent for a weekend campout, the Bass Pro Shops Eclipse 9x7 Dome Tent offers great camping performance without emptying your wallet.
Check Price
We earn a commission if you click this link and make a purchase at no additional cost to you.
Pros
Strong Tent for Strong Conditions

Sleeps 2 (Very) Comfortably or 4 (In a Pinch)

Easy to setup
Cons
Isn't optimized for portability, but can be carried small distances
Moving up in size, the Eclipse Voyager 6-Person Tent with Screen Porch is the ultimate luxury camping tent. If you're not concerned about weight and are ready to have a carefree, relaxing weekend in the sun, this camp will be perfect for you. It comes with a full-screened front porch, which is a great place to keep gear away from animals at night, or simply provide more room to hang out away from bugs.
The tent can sleep 6 people fairly comfortably, but I'd try to keep it at 4-5 if you truly want to have a luxurious experience. The tent is sturdy but isn't exactly lined for maximum storm protection. With that in mind, I would only use this tent if you know the conditions are going to be decent.
The tent weighs 18lbs 2oz and has a 10x9ft sleeping area. The tent also comes with a heavy-duty carrying bag and a rainfly.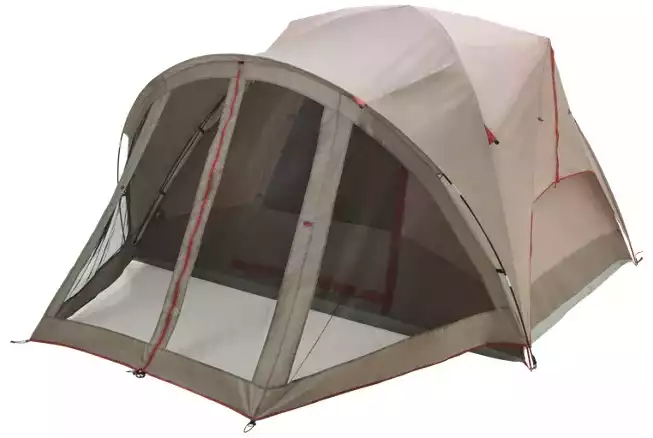 Pros
Roomy with lots of sleeping room

Screen Porch is good for protecting gear

The rear window is a nice feature
Cons
Quality isn't strong for rough conditions

Extremely heavy, not meant for hiking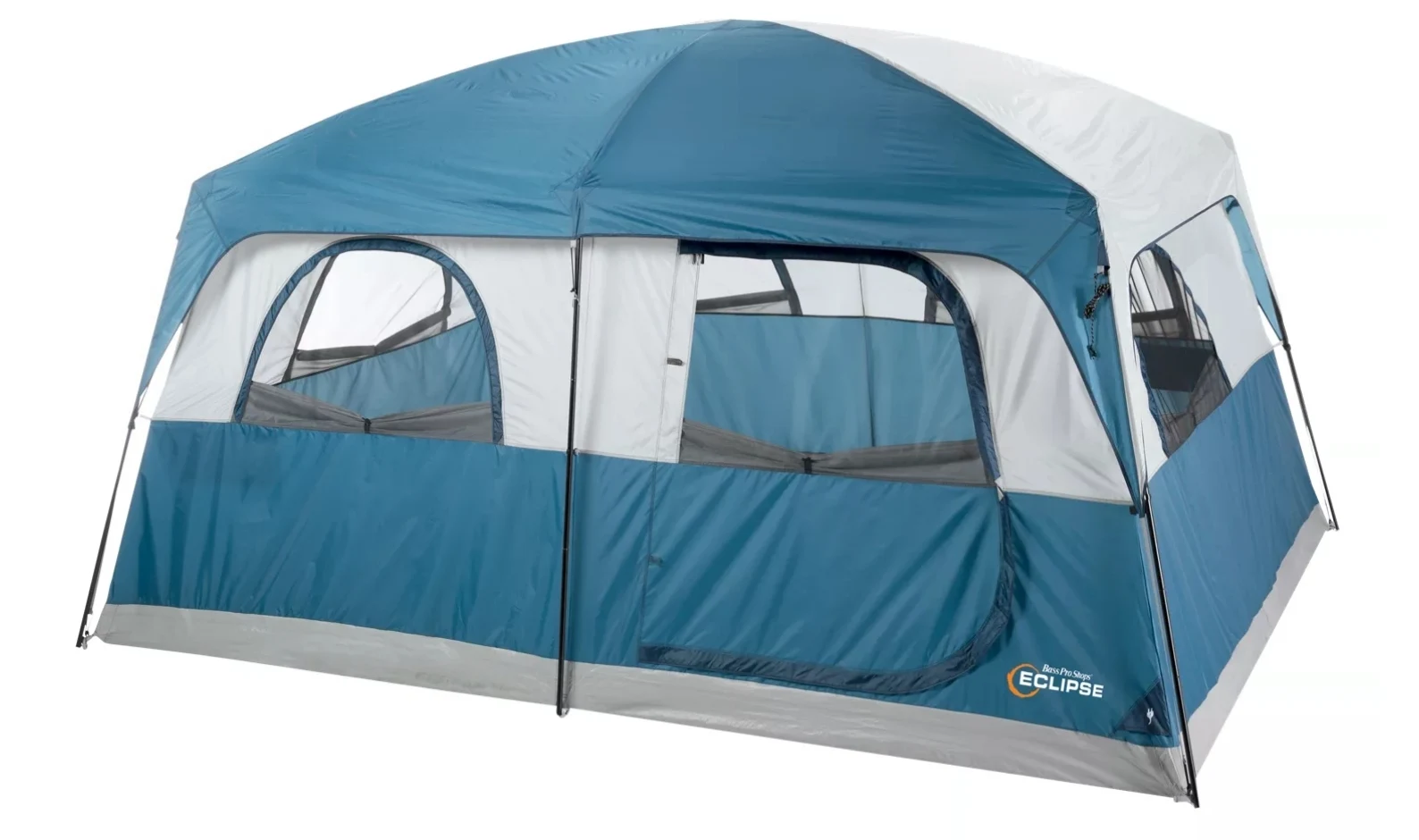 The final tent on my list is the Eclipe 10-Person Cabin Tent. This absolute monster of a tent is perfect for big families or gatherings. It's even got a divider section in the middle for the parents who want to sleep separately from the kids. My favorite part about this tent is that at its highest it's about 7 feet tall, which means for most people you'll have enough maneuverability to stand up. To me, this is awesome and generally unheard of for tents.
The material is fairly decent as well, and the tent will hold up against light rainstorms. My only gripe is that it can take a bit of time to set up, especially the first time. The tent weighs 30lbs 6oz, (14x10ft.), and comes with a strong case to hold it.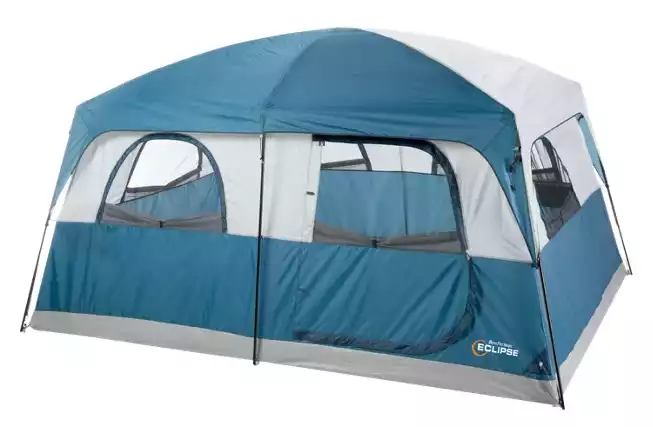 Eclipse 10-Person Cabin Tent | BassPro
With large mesh windows, lots of room, and a built-in room divider, the Bass Pro Shops Eclipse 10-Person Cabin Tent gives families a great place for weekend camping.
Check Price
We earn a commission if you click this link and make a purchase at no additional cost to you.
Pros
Most people can stand up inside it

Divider with lots of sleeping room

Study against light rains
Cons
Very heavy

Difficult to setup
FAQs
Question: Are Bass Pro Shops Tents reliable?
Answer: Yes, Bass Pro Shops Tents are generally reliable. If you're camping in the summer, spring, or fall, you'll most likely be covered unless a freak storm comes. However, I wouldn't recommend this line for winter camping, as they aren't built for rough conditions.
Question: What's the difference between Bass Pro Shops tents and Cabela's tents?
Answer: Bass Pro Shops and Cabelas are owned by the same parent company, so their tents have a similar quality in terms of their build. They are created to be reliable for the general camping audience. However, if you're looking for more niche tent setups like ultralight or winter gear, keep in mind that they're not built for that.
Question: Are Bass Pro Shops tent sizes accurate?
Answer: Well, it depends on the size of the tent, but a general rule of thumb is that they are big enough for the listed number of people to fit snuggly. If you want more room to sprawl out or don't want to be right next to your buddy, I'd recommend adding a "ghost person" to your tent size for more room.
Question: Are Bass Pro Shops tents easy to set up?
Answer: Yes. All Bass Pro Shops tents come with an easy-to-follow guide that will walk you through the steps to set up the tent. Even if you've never set up a tent before, you shouldn't have trouble setting these up.
Question: Where can I get a Bass Pro Shops tent?
Answer: You can order a Bass Pro Shops tent online via the manufacturer's website, or in-person at a Bass Pro Shops or Cabela's store. If you go to their website, you can find a store locator to find one easily. I prefer to buy tents in person, where I can physically see the size of the tent.
Best Bass Pro Shop Tents: Conclusion
Overall, if you're looking for your next great tent for an outdoor adventure, Bass Pro Shops has a wide variety of tents to fit your every need. Whether you're an avid backpacker or simply looking for a large setup to cater to your family comfortably on the weekend, the company's got a reputation for quality builds.
My favorite tent on the lineup is the Bass Pro Shops Eclipse 9×7 Dome Tent, which is essentially the perfect tent for all sorts of adventures. It's small enough to bring along in the backpack but large enough to be sturdy, comfortable, and roomy for low-key hangouts.
| Product Image | Product Name / Primary Rating / Price | Primary Button |
| --- | --- | --- |
| | | |
| | | |
| | | |
| | | |
| | | |
Thanks for checking out this guide, I hope it helps you find your next great tent for the great outdoors!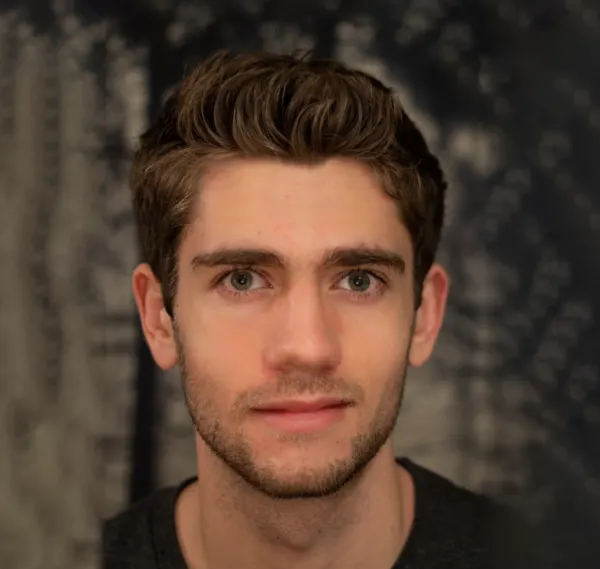 Nicholas is an adventure photographer who's been traveling North America for the past four years shooting landscapes from Washington all the way down to El Salvador. His passion for photography and the outdoors started in Colorado, where he grew up exploring its vast mountain ranges. Today, he hopes to share his lifelong experience with the outdoors with others and hopes to inspire people to explore more.