Saddle up and ride! Camping is a hugely popular activity, especially in the spring and summer months. While some choose to go backpacking or car camping, others look forward to getting out their motorcycle and exploring.
Camping from a motorcycle can be a wonderful experience, and for many a preferred option over staying at a hotel.
Whether you're brand new to motorcycle camping or just looking for a new tent to add to your gear, here 3 amazing models to choose from.
#1 Lone Rider MotoTent v2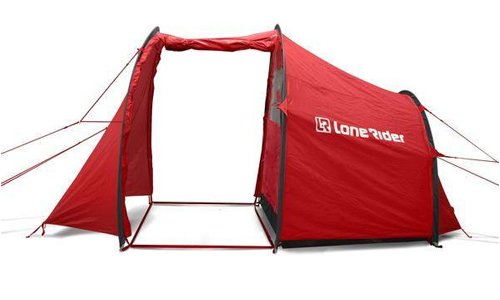 You can really use any tent for motorcycle camping, but if you can choose a motorcycle shelter designed for motorcyclists by motorcyclists, wouldn't you? Adventure riders often find that regular tents lack certain features that would be useful.
The Lone Rider tent team sought to produce shelters that are lightweight and durable while protecting both rider and motorcycle from the elements.
The MotoTent v2 is the current full-size tent offered by Lone Rider. This tunnel-shaped black and red shelter is the perfect size for one or two riders (two-person tent) and one adventure motorcycle. The built-in garage keeps your bike out of the rain and allows for a covered space for working on it. Even with a larger adventure motorcycle, there is still plenty of room in this vestibule area to store your gear.
MotoTent Features:
Retails for under $450 (€399.00)
Comes with a carrying bag and a footprint
Fast one-way, color-coded pole setup
Lightest tent + garage model available on the market
6'+ center height offers plenty of headroom for moving around the bike
Dual doors – one towards garage + one rear entrance
A huge garage vestibule offers plenty of space for a motorcycle + gear
3 season tent with complete waterproofness (zippers included)
Detachable inner tent design
Reflective tape on carrying bag for added safety while riding
Reflective guylines for additional campsite safety
Specs:
Weight – 13lbs
Packed dimensions – 2′ x 7.8″
Total dimensions – 183″ x 87″
Floor dimensions – 59″ x 79″
Garage dimensions – 95″ x 55″
Peak height – 79″
Materials:
Fly – 210T ripstop polyester, treated with CPAI 84 fire retardant and a 10,000 mm DWR coating
Floor – 190T ripstop polyester, treated with CPAI 84 fire retardant and a 10,000 mm DWR coating
Poles and Pegs – Aluminum poles 7001-T6 (heavy duty Aircraft Grade)
Overall the MotoTent v2 is a pretty average 2p tent. One particularly stand-out feature is the option to expand the garage.
The detachable inner tent design is genius for working on your motorcycle on the go, particularly in wet weather conditions where condensation is likely. Simply remove the inner tent wall to make the tent into one large garage. If you've ever had to pull over and work on your bike in the rain, you'll really appreciate this feature.
While the Lone Rider tent does weigh 13lbs, which is fairly heavy when compared to normal camping tents, it isn't an issue since you won't have to carry the tent any distance. Compared to similar models with a motorcycle garage, it's on the lower end of the scale.
The reason for the weight is a combination of the heavy-duty materials used and the aluminum pieces included. The durable carrying bag adds some weight as well but protects the tent well while remaining compact on the back of the motorcycle.
#2
Big Agnes Superlight Seedhouse SL1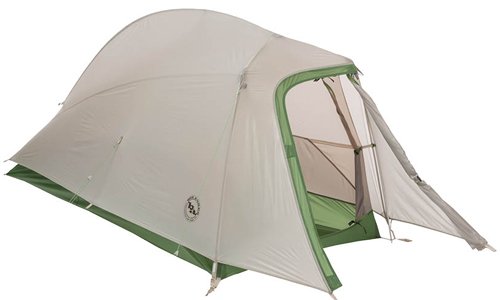 Big Agnes has been around for just 15 short years but has already achieved the same level of success as other outdoor companies that have been around for 50+. This company produces a range of different outdoor gear but they're most well-known for their tents.
They have a huge selection of different models – from massive 6+ person capacity car tents to durable but tiny 1 person tents designed for serious mountaineering in winter. For the solo motorcyclist, the Seedhouse SL1 is worth a look at.
The Seedhouse SL1 is designed for ultralight backpackers but the combination of ease of use, price and reliability make it perfect for adventure riders needing something to keep them dry. Sure, it doesn't have a garage for your bike, but it more than makes up for this missing feature.
If a garage is an absolute must for you, you will be happier with a different model but for the lone rider that only camps out in good weather conditions or isn't concerned about rain, you can't get much better than this one.
Big Agnes recently updated their Seedhouse SL1 to an improved design, including steeper walls and an added vestibule. The steeper walls help to shed rain better and bounce wind gusts away. It also gives the interior of the tent a more spacious feel, relative to the actual square feet.
The added vestibule and bivy was a no-brainer as having a covered area to remove dirty boots or wet clothes before entering the tent is a priority. A vestibule is especially useful for riders that don't want to have to change dirty, dusty clothes inside their sleeping quarters. Not to mention a dry-entry vestibule also prevents rain from getting into the tent.
Features:
Updated vestibule and sidewalls
Door and vestibule zippers have storm flaps
Vertical door design adds more space to the vestibule
Reflective tape on guylines and tents corners for nighttime visibility
Built-in media storage pockets with headphone port
Additional interior mesh pockets for storage
3 season tent, completely treated with DWR coating
All seams taped to prevent leaks
Pole clip design makes setup and takedown fast
Gear loft loops for expansion (sold separately)
Specs:
Weight – 2lbs 15oz
Packed dimensions – 18″ x 5″
Floor area – 20 sq feet
Vestibule area – 5 sq feet
Ceiling height – 39″
Materials:
Canopy – Nylon + mesh
Fly & Floor – 1200 mm DWR coated ripstop nylon
Poles – 9mm DAC Aluminum Featherlite
Pegs – Superlight DAC J stakes
Even though this tent only sleeps a single person, it doesn't have the claustrophobic feeling that many 1P tents have. Its peak ceiling height is 39″ so the majority of people can comfortably move around and sit up inside. Since BA redesigned this model with steeper walls, it feels even roomier inside.
Not only did this redesign open up the tent, but it didn't add additional weight. The vertical-shaped entrance/exit door inside the vestibule also adds to the increased volume of the tent.
The Seedhouse SL1 is compatible with a gear loft- an excellent feature for the camper who will be out on their adventure for an extended period of time. The triangular gear loft is sold separately, and this will also accept the Big Agnes Entertainment Center loft or PowerCase/Loft.
The tent offers enough space already for basic gear storage space. There are a total of 3 interior storage pockets for organizing tools, snacks, and other smaller items. The vestibule is only 5 sq feet but it is possible to keep some items there as well.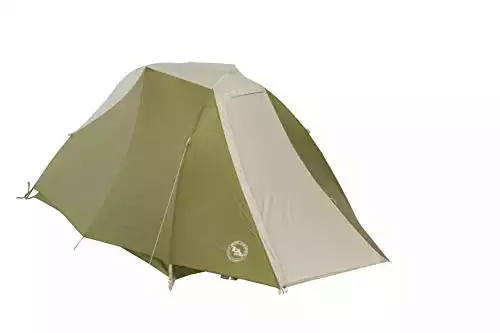 Big Agnes Seedhouse Superlight Backpacking Tent | Camp Saver
Seedhouse SL tents have become the signature series in our backpacking line; superlight pieces of gear designed to stand the test of time and the backcountry. Like a gin martini or a peanut butter and jelly sandwich, Seedhouse SL tents are simple, efficient, and classic.
Check Price
We earn a commission if you click this link and make a purchase at no additional cost to you.
#3 Redverz Atacama Expedition Motorcycle Tent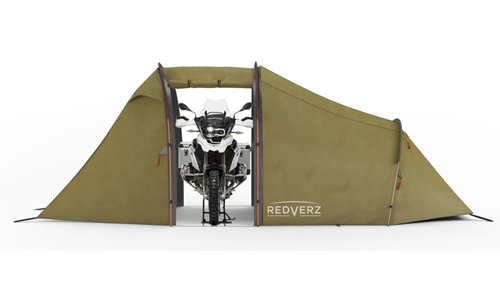 If you liked the idea of the MotoTent v2 being designed for riders and motorcycle touring, but want more, the Atacama Expedition tent by Redverz is going to need to be on your wishlist. This luxury tent is certainly not cheap but if you're a diehard adventure rider that really puts their shelter through the wringer, it will be worth every penny on your next camping trip.
Redverz Features:
Sleeps up to 3, most comfortable up to 2
4 doors, including rear entrance
Larger-than-normal garage bay spacious enough for most full-size adventure motorcycles and Harley Ultras Classics
Comes with dual groundsheets – one of the sleeping bay and one for garage
Steep vertical walls increase space in the sleeping bay and garage
Hybrid floor design combines taped seams with bathtub curves
Highly waterproof and ideal for serious wet weather camping and weather protection (including high winds)
The tent body provides plenty of ventilation, making it comfortable for warm weather camping
Retails for $599
Redverz Specs:
Weight – 14lbs 6oz
Packed dimensions – 21″ x 9″
Floor dimensions – 95″ x 92″
Sleep area – 54 sq ft
Vestibule area – 58 sq ft
Garage dimensions – 38″ x 93″
Garage storage dimensions – 62″ x 46″
Peak height – 77″
Materials:
Canopy/Tent Body – 75D 190T/P + mosquito mesh
Fly – 68D 210T ripstop Polyester + 4000 mm coating
Floor – 70D 190T polyester + 10,000 mm coating
Poles – Aluminum 7001 T6 w/ shock cord
Despite how large and structural this tent seems, it is extremely fast to set up as it only uses 3 poles. There are color-coded pole sleeves and clips so even after a tiring ride and sunlight fading, you don't have to struggle to get into your shelter. This tent isn't freestanding and is a hoop design. It holds up very well against strong winds and sheds rain easily.
If you have a larger than average adventure bike, this tent will likely be able to accommodate it, even with panniers left on. There is door access straight to the garage but also 3 other doors so you can enter and exit without having to scoot by the bike.
The extra doors are also useful for camping partners as each person can leave the tent without having to bother the person next to them.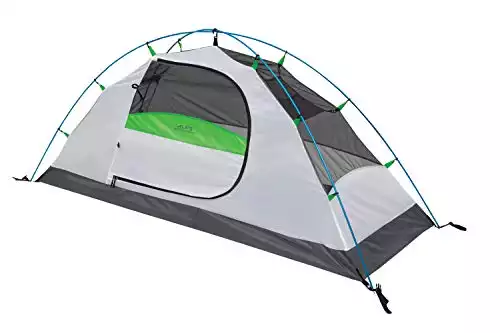 ALPS Mountaineering Lynx 1 | Moosejaw
The Alps Mountaineering Lynx tent is on our best sellers list; it's a must-have for your next adventure.Weatherproof fly buckles on for maximum adjustability and protection.
Check Price
Buy at Amazon.com
We earn a commission if you click this link and make a purchase at no additional cost to you.
Summary: Only fits 1 person, but maximal use of space and extremely lightweight (one of the best lightweight tents) at only weights 4 lbs and 4 ounces. Pick this up directly via Moosejaw here.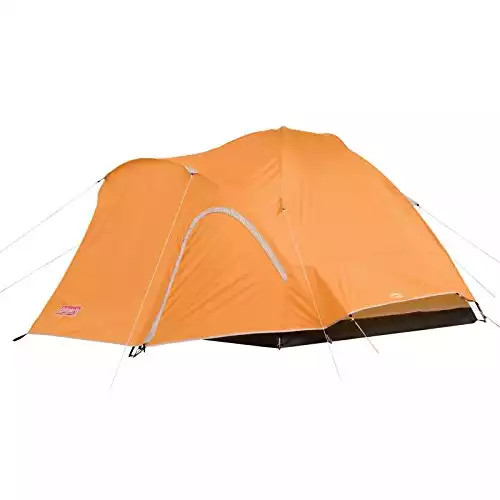 Coleman Hooligan Backpacking Tent | Amazon
Quickly set up camp after a long day on the trail with the Coleman Hooligan 3-Person Backpacking Tent. Weighing only 11.8 pounds, this lightweight camping tent packs down small and is easy to carry.
Buy at Amazon.com
We earn a commission if you click this link and make a purchase at no additional cost to you.
02/14/2023 01:49 pm GMT
Summary: Uses Coleman's proprietary WeatherTec system, full-length rainfly, the large vestibule for motorcycle or motorbike, mesh inner for maximum ventilation, and extremely affordable.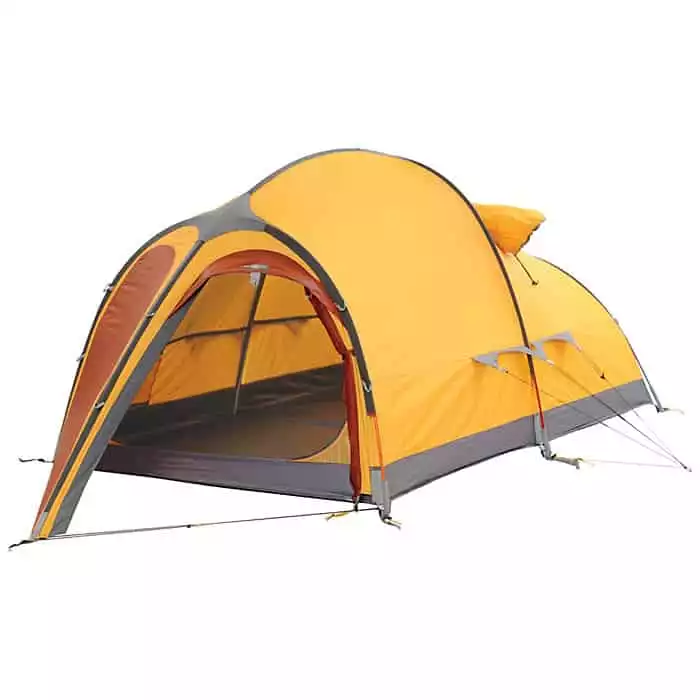 Exped Polaris Tent | Moosejaw
The Polaris Tent by Exped. A single wall tent with a vestibule for wet gear room to cook and space to sit out a storm. Supar sturdy and freestanding thanks to a new pole design. Strength and aerodynamics make Polaris the perfect the expedition tent.
Check Price
Buy at Amazon.com
We earn a commission if you click this link and make a purchase at no additional cost to you.
Summary: Unique "ridge tunnel" design, aerodynamic cuts, two integrated vestibules (one for bike, one for camping gear), fully waterproof and storm-resistant! Pick this beauty up at MooseJaw right here.
Final Thoughts
Just because any tent can conceivably work for a motorcyclist or motorbike, it doesn't mean that tent choice isn't important.
Adventure motorcyclists and motorcyle campers don't have the luxury of being able to choose any size or weight tent like car campers can.
The time spent on researching tents carefully before purchase will be well worth the effort once you're out on the road and ready for some shut-eye.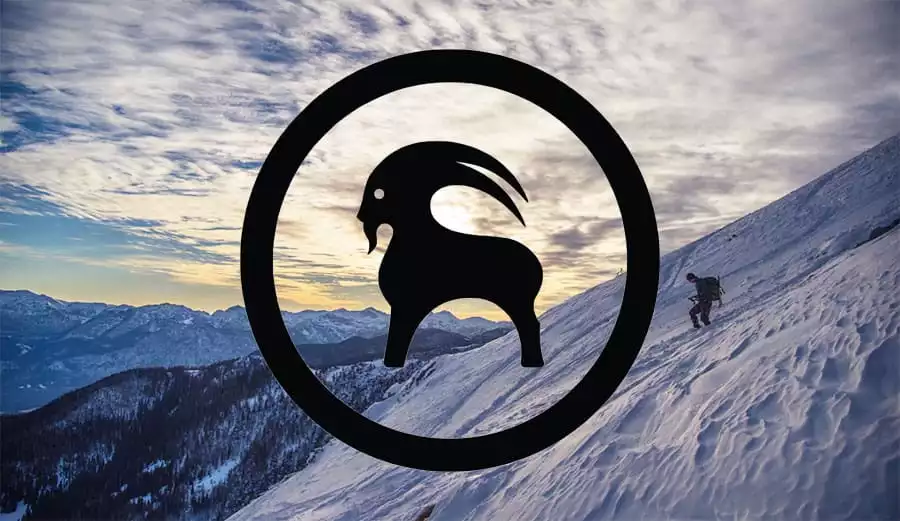 Discover an amazing brand: Backcountry
Outdoor gear and clothing from big brands to the small and undiscovered. Find everything you need for your next adventure at Backcountry.
Shop All Sale
We earn a commission if you click this link and make a purchase at no additional cost to you.
Further Reading on Tents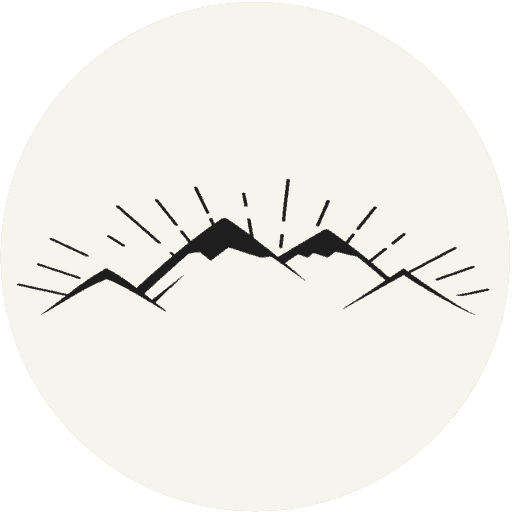 The All-Outdoors Guide team is comprised of enthusiastic experts that enjoy helping others that aspire to be better at outdoor fun. Part of that is making sure you have the right gear and information when it's time to go out and have fun. Some of our team have accomplished amazing feats like climbing 6000 feet to the top of mountains, others have explored every dirt trail they could find and we even have some people that have backpacked solo on various continents. No matter what our readers want to learn and do, our team is here to help them accomplish those goals.