Taking your dog camping with you can be so rewarding for both you and your pup. You get to enjoy the great outdoors with your most loyal friend and your dog gets to let out their wild side. Finding the perfect tent for you and your pooch can be tough though.
When camping in a trailer, your dog can rest comfortably inside without issues. However, when you are tent camping, some problems can arise. There has to be enough room for your dog and the tent must be durable enough to withstand dog claws and the mud and slobber that a dog can bring in.
There are a few things that you should look for when purchasing a tent for both you, your puppy, and maybe other people.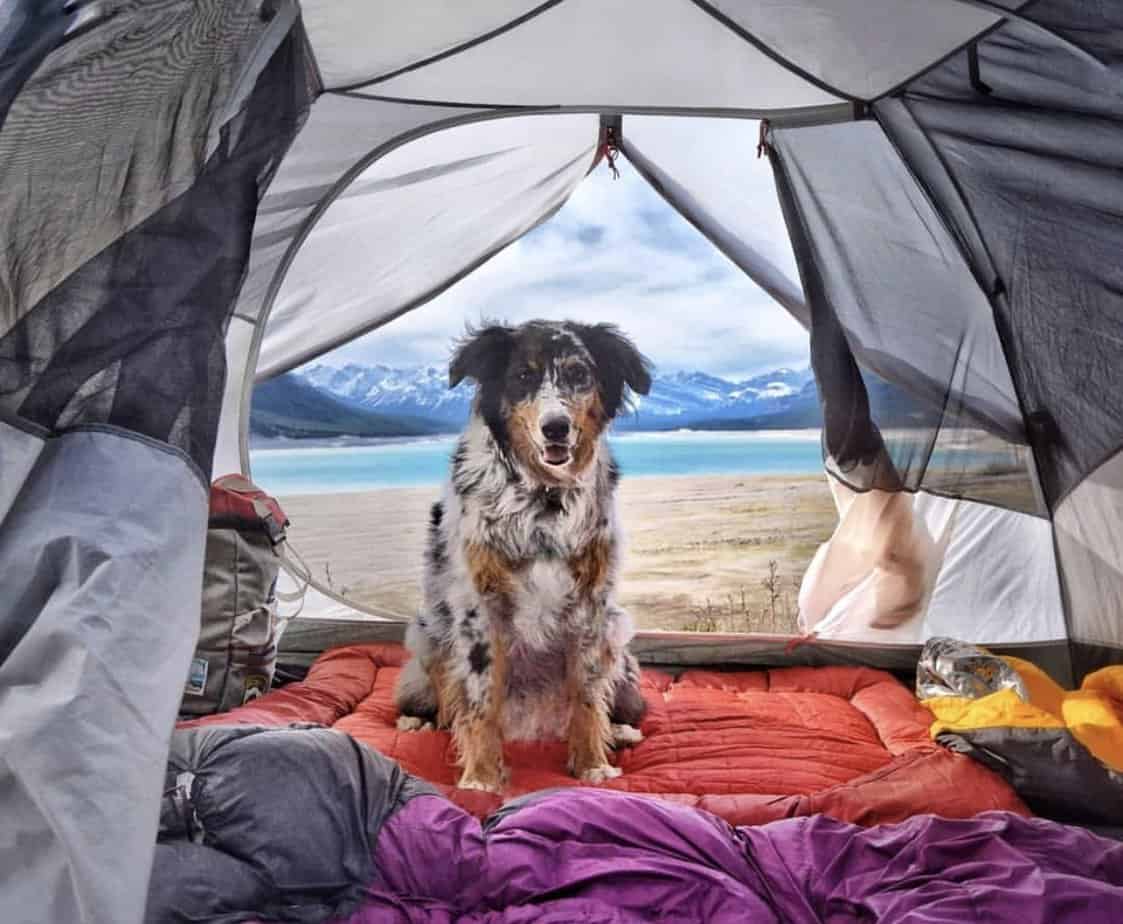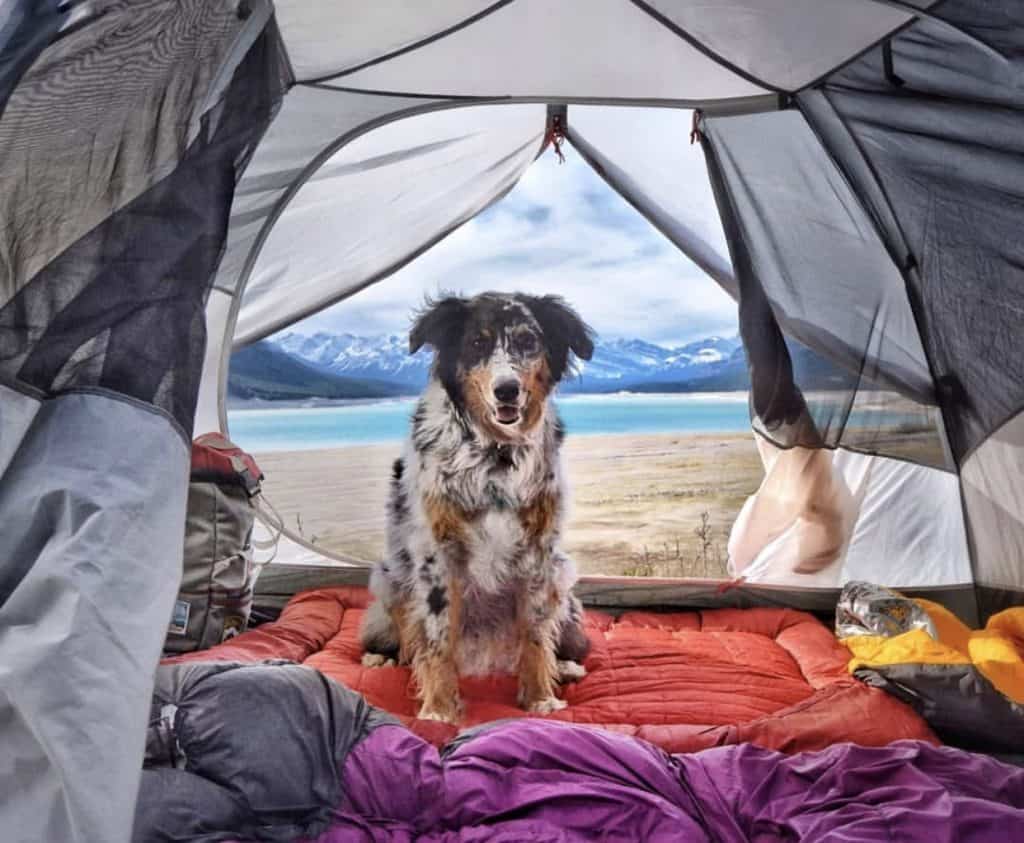 Tent Essentials For Camping With Your Dog:
Plenty of Space
You are going to need some extra space for your dog to fit in the tent with you. If you have a small dog, a tent that sleeps one extra person should be enough. Bigger dogs may need even more room, especially since they usually sleep sprawled out and can take up some space.
Durable Materials
A tent made of durable materials such as nylon or canvas is very important. If the tent fabric is too thin and flimsy, your dog's claws could puncture right through it. You also want to be able to easily clean the material because I'm sure your dog will track something inside. Although, it may still be a good idea to put down some extra blankets or a block of carpet for your pet just in case.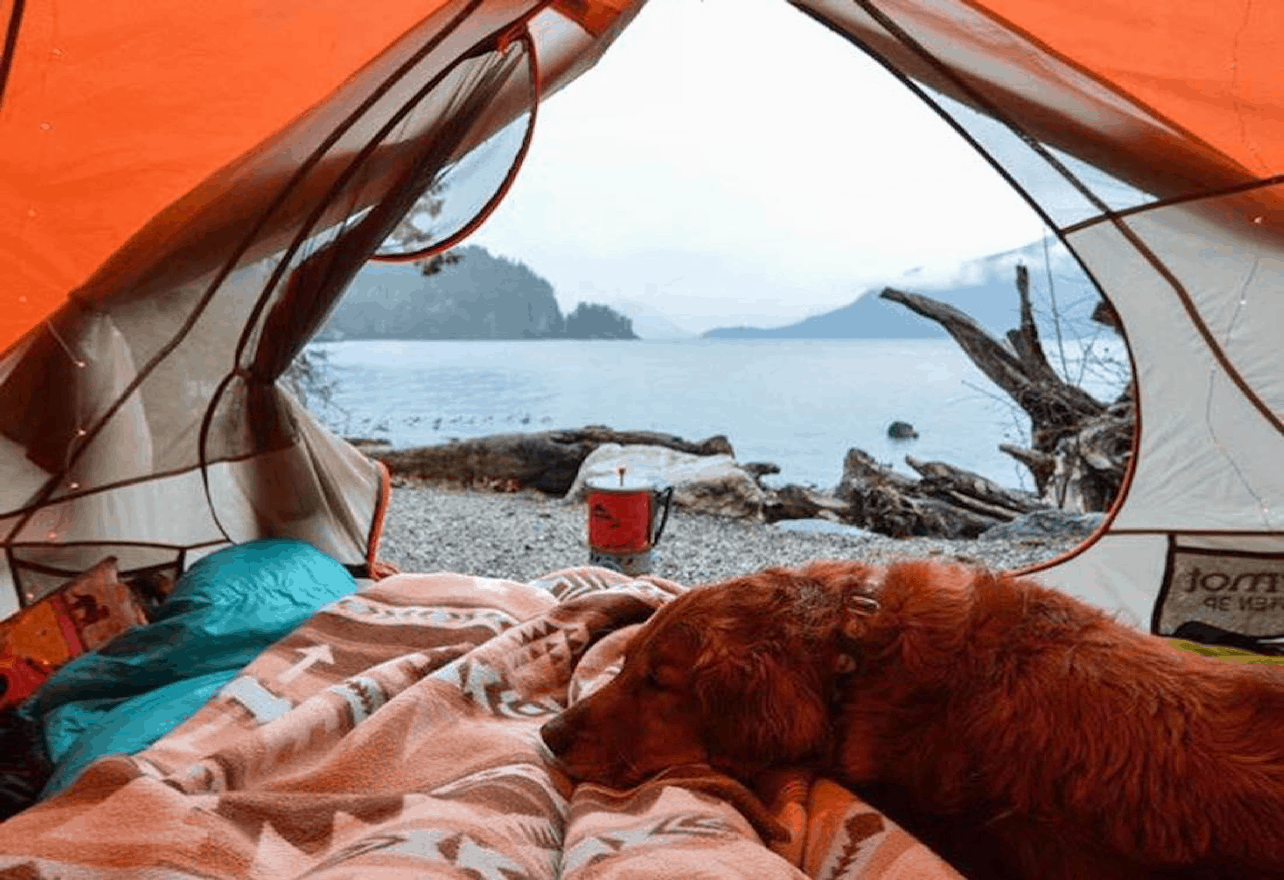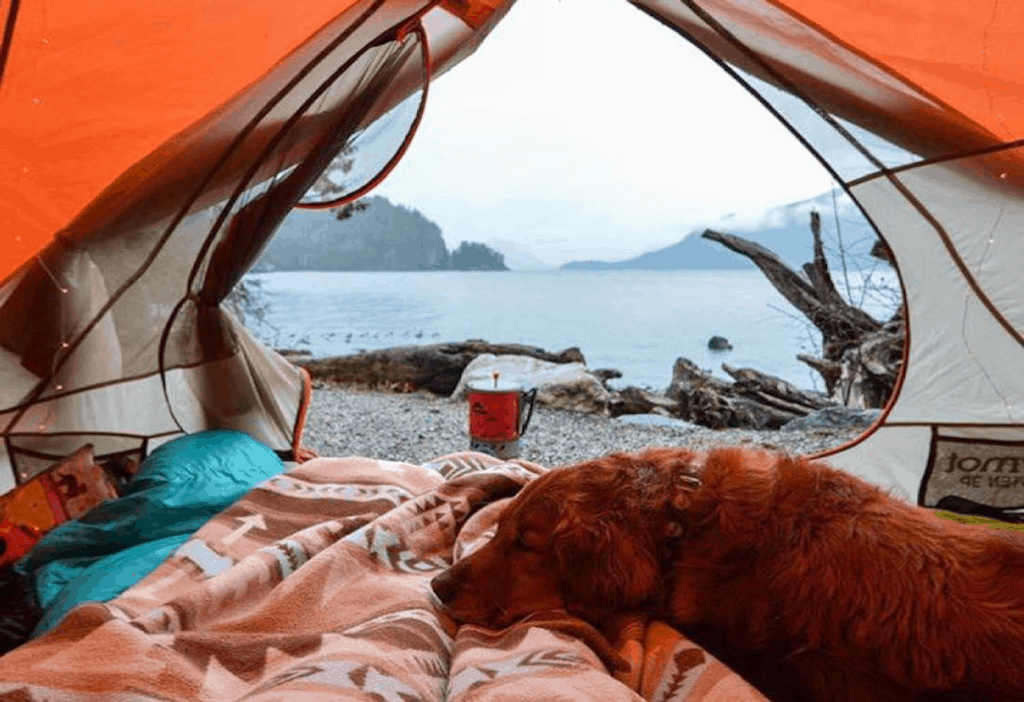 Breathable
Having your dog inside the tent with you can add some body heat. Making sure your tent has plenty of ventilation can make your tent a lot more comfortable. Especially on those summer nights where it may get really hot outside.
Maybe Includes a Vestibule
If you don't prefer your dog sleeping inside with you, it may be wise to get a large tent with a vestibule. This is essentially a separate room outside of the tent. There's usually plenty of room for your dog to sleep underneath your sleeping bag or you can throw your extra things under it and make room for your dog inside.
Below are listed some of the best tents to use when camping with your pet or pets. They have all of the essentials listed above and maybe even some extras.
Instead of trying to fit your dog inside a tent with you, you can buy them their own tent! This is the perfect size for a dog or even two dogs. If you already have a tent that you love, there is no need to purchase a whole new one. You can just purchase this affordable pet tent.
Features:
Price: $45.95 (Check current prices here)
Size: 45" L x 34" W x 28" H
Weight: 2.8 pounds
Mesh windows on all sides
Zippered door
Fiberglass rods
210D polyester cover
Waterproof
UV Protection
Pros
This tent is the most affordable out of all the tents on this list. It is under fifty dollars but is very high quality. If you already own a tent and don't want to spend a ton on a brand new one, this may be sufficient.
This tent allows your pet to have their very own sleeping area. You don't need to cram you, all your stuff, your dog's stuff, and your dog into one tent. Everything will stay more organized and clean this way.
Even though this is a tent made for your pets, it still provides just as much protection as an average tent. It is waterproof and has a UV protection coating keeping your pet safe from the elements. Along with fiberglass rods that won't blow away for the wind. There are also mesh windows that can be closed on all four sides of the tent to keep your dog cool.
This is super lightweight and easy to put up. It's very a simple x frame that you slide through the outside pole loops and pop up. Weighing in at under 3 pounds and packing into a small zippered bag you don't have to worry about this adding too much to your load.
Cons
Unless your dog is crate trained, I do not recommend this method. I got this tent for my dog last year and she dug a hole in the bottom of it and was instantly trying to get into my tent. My dog has never been crate trained or slept in an enclosure like this. It's a great idea, but not for every dog or dog owner.
If you love backpacking and bringing your dog along, this is the tent for you. It is a super lightweight, fits in all backpacks, and has a vestibule that your pet can easily fit under. If you plan to take a backpacking trip or camping trip with just you and your dog, this is the tent for you.
Features:
Price: $127.99 (Check current prices here)
Size: One man tunnel
Weight: 2.45 pounds
Double wall design
Large vestibule
Rain fly made of 15D waterproof nylon
Mesh door in front and side
Aluminum rods
Pros
The Andake is a great backpacking tent that can accommodate both you and your dog without adding a bunch of weight to your pack. Even though it has the extra storage space (or doggy space) with the vestibule, it is still more lightweight than some other one person tents. It weighs just under two and a half pounds, making it remarkably weightless.
The vestibule is very big in this tent. It almost doubles the size of it really. You can put your backpack and shoes underneath it and still have enough room for your dog. Plus the barrier between your tent and the vestibule is mesh, so you will never lose sight of your pup.
The rain fly hovers over the mesh inside layer of your tent, giving you maximum ventilation. You can leave the vestibule open for maximum airflow or close it if it gets too cold. The double walled technology also helps keep your tent from creating condensation when it rains.
You will stay dry and comfortable during storms. The rain fly is waterproof and there are plenty of adjustable wind ropes on this tent that keeps it sturdy. If it really starts raining, the rain fly has a 3000mm waterproof rating, along with the bottom.
Cons
This tent takes some practice putting it up. There are a lot of ropes and poles involved that may become irritating. However, after you get the tent set up a couple of times it becomes easier.
The HuiLingYang is the easiest tent to set up that you are ever going to find for a canine camping trip. Even with it being so easy to set up, floor space is not sacrificed. There are separate rooms and can sleep up to 4 people with extra room.
Features:
Price: $129.99 (Check current prices here)
Size: 4 person
Weight: 9 pounds
Made of polyester
Automatic pop up
Mesh windows and double doors
Water resistant
Storage area between mesh door and nylon door
Comes in six colors
Pros
Set up and take down is extremely easy with this unique tent. You literally just take it out of its round package and throw it in the air. It pops out into a tent mid-air. Lay it on the proper side and you're done. When you are ready to leave, simply fold it back up and slide it into its bag.
This tent is surprisingly roomy. You wouldn't expect that from a pop-up tent, but you can fit 4 people in this and there are small storage areas outside of the mesh doors. A smaller dog could comfortably fit in these vestibule-like areas or store your things there and snuggle up with your pet.
The nice thing about these vestibule areas is that they actually have flooring. Most vestibules are open to the ground, so your pet can't really sleep in the vestibule if it rains without this. The flooring is really sturdy as well, making it harder for your pet to poke a hole in it.
Another surprising benefit with this tent is it comes in six colors! Usually, you get one color choice or maybe two. You can be super unique with this tent, either going bright and vibrant or blend into your surrounding.
Cons
This tent is not for rainy conditions. It can withstand a little bit of a sprinkle due to it being water resistant, but it is not waterproof. You will most certainly get wet if it really rains on you. If it's really storming, this tent will most likely blow over on you.
This tent makes you feel like you are staying in a small cabin vs a camping tent. It has full-size doors, windows along every side, and a vestibule that feels like a front porch. Car camping is much much more glamorous with this tent.
Features:
Price: $499.95 (Check current prices here)
Size: 4 person
Weight: 15 pounds
Height: 80 inches
Made of polyester
Large vestibule
Hubbed aluminum poles
Mesh windows on all sides
Waterproof
Pros
The Nemo Wagontop feels extremely homey with human height doors and enough room inside to stand up and walk around. You can easily change clothes or stretch out. Entry and leaving this tent is much more comfortable since you can just walk through the door.
If you do not want your dog sleeping inside the tent with you, even though there is plenty of room to do so, the vestibule has plenty of room. The area of the vestibule is 27 square feet. Giving your pooch plenty of room to lay down with her food bowls and toys.
Storms are not an issue at all while sleeping in this tent. There are two intersections where the poles are locked together and connected to the tent. During rough wind storms, this tent will not budge. The rain fly is also made of 75D PU polyester and the floor is made of 150D PU polyester, making it waterproof.
Large mesh windows on three side of the tent and a full mesh door allow maximum ventilation. You can relax with a nice breeze flowing through your tent. Keeping you and your dog cool throughout the night.
Cons
Price is the only bad side of this tent. The Nemo falls on the more expensive side of these choices. Although, you sacrifice your budget for great quality. There are a lot of great qualities of this tent that make it worth it.
Coleman Carlsbad Tent
Sleep soundly during the day and in the middle of summer. I'm not quite sure why you would want to do that, but you could in this tent. This tent has darkroom technology that blocks 90 percent of sunlight, keeping you cool and making it possible to sleep past sunrise.
Features:
Price: $176.67 (Check current prices here)
Size: 6 person
Weight: 22 pounds
Center Height: 5 feet 8 inches
Darkroom technology
Screen room
Storage pockets
WeatherTec system (waterproof)
Polyguard fabric
Rain fly with window awnings
Carlsbad Dog Camping Tent Pros
Darkroom technology is something that I have never seen in a tent before.The Coleman Carlsbad blocks up to 90 percent of sunlight making it possible for you to sleep in on those days you stayed up a little too late. Blocking that much sunlight has also proven to reduce heat inside by 11.4 percent.
The Carlsbad tent does not have a normal vestibule. It has a whole entire screen room. It's a room outside of the tent with mesh sides and a tarp like a floor. If you don't have enough room for your dog inside the tent, they can sleep comfortably inside the screen room with enough left over room for your bags and a food and water dish.
Coleman tents are equipped with the WeatherTec system. This includes a tub-like floor with patented corner welds and taped seams. The tent also possesses a rain fly with window awnings. You are sure to keep dry in rainy weather while inside this tent.
They have built this tent with polyguard fabric, which is a double thick polyester that can withstand rough terrain. This also makes it more resistant to tears from your dog's claws. Making it a great tent for your pup to walk around in without worry.
Cons
This tent can be very heavy to carry around with you. It is by far the heaviest on this list. You most certainly will not be going backpacking with this tent. It does hold up to 6 people though. You can't expect much lighter from a 6 person tent that blocks sunlight.
It is possible to take your pet with you on your camping adventure with this dog tent. Each of these tents are unique and can fit almost any type of circumstances. Now, go out and explore the outdoors with your beloved pooch alongside.
Side By Side: Best Tents for Camping with Dogs
| | | | | | |
| --- | --- | --- | --- | --- | --- |
| | Pettom | Andake | HuiLingYang | Nemo | Coleman |
| Price | | | | | |
| Size | Pets only | One man | 4 Person | 4 Person | 6 Person |
| Vestibule | No, not needed | Yes | Storage Room | Yes | Screen Room |
| Extras | Mesh windows on all sides | Large vestibule that can fit a dog | Automatic pop up | Human height at 80 inches | Darkroom technology |
| Materials | Polyester, Fiberglass poles | Nylon, Aluminum poles | Nylon, Pop up poles | Polyester, Hubbed aluminum poles | Polyguard, Fiberglass poles |
| Waterproof | Yes | Yes | No | Yes | Yes |
With one of these tents that fits your capacity needs, you should have an enjoyable night camping with your dog. Your dog will thank you for an amazing adventure and you will be able to sleep soundly knowing that you and your dog are comfortable.
Further Reading on Canine Companion Hiking Gear: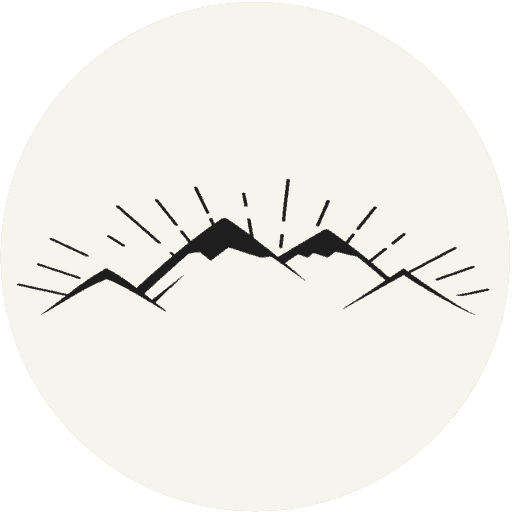 The All-Outdoors Guide team is comprised of enthusiastic experts that enjoy helping others that aspire to be better at outdoor fun. Part of that is making sure you have the right gear and information when it's time to go out and have fun. Some of our team have accomplished amazing feats like climbing 6000 feet to the top of mountains, others have explored every dirt trail they could find and we even have some people that have backpacked solo on various continents. No matter what our readers want to learn and do, our team is here to help them accomplish those goals.