It's finally camping season and your friends and family are readying for the next big adventure. Now it's time to choose a tent and you're not exactly sure where to start with such a large group of people to house.
With so many tents on the market it can be hard to find the right one to suit your needs. Will it be big enough to comfortably fit the whole crew? Is someone among you too tall to stand or fit into a regular tent? What if the weather doesn't agree with your timing?
You thought you found the right tent, but now it's pouring rain, the wind has picked up and your recent investment is leaking and toppling over with the entire family inside. This is a common mistake people make. You buy the first tent that fits your immediate needs, but don't think about the what if situations or the specific details that may make camping easier and less worrisome.
If you have no idea what to look for when it comes to weather proofing, comfort, and available tent features, don't worry. Here we have found seven of the best 12 person tents on the market used in the field and reviewed by people just like you.
In a Hurry? Need to Make a Quick Choice? If I had to pick one, my favorite tent in this category is the Coleman WeatherMaster tent available here. It is easy to assemble, comfortable, and has an abundance of added features.
1. Best Value 12 Person Tent:
Coleman WeatherMaster Instant Cabin
Unless you're new to camping and outdoor adventuring, Coleman is a name you have seen and heard for decades upon decades. They make anything from propane stoves to sleeping bags to lanterns. Making them a go to for every type of camping gear you could need.
Cabin Tent Details & Tent Features:
Dimensions: 17' x 9' with 6'8" center height
Made of polyester, polyethylene floor, and 11mm fiberglass poles
WeatherTec system
Fits 3 queen size airbeds
20 minute set up time
Weight: 31 lbs.
Two doors
Two rooms with separator (room divider)
Electrical access port
Gear pocket (great for extra tent stakes)
It's no surprise that people around the world have chosen this particular product as a favorite when it comes to quality and dependability. "Awesome," "Dependable" and "Highly Recommended" are but a few of the common reviews you will find on this portable cabin.
This 17 x 9′ tent comes with pre-attached poles that unfold, extend, click and secure within 60 seconds for quick and easy setup. Overall the tent takes about 20 minutes to set up with sewn-in instructions.
The Coleman WeatherTec system comes with inverted seams and welded floors to keep water out during the rainiest conditions. With an integrated rainfly to cover doors and windows, you can still get a nice breeze even with a sprinkle. Zipper cuffs also add protection by preventing elements from getting through the doors.
This tent has been weather tested in a rain room and all-around wind speeds up to 55 miles per hour (great tent stakes). You probably shouldn't be camping in a tent with that fast of wind speeds, but at least you know if it does happen this tent won't topple over on you.
This luxurious cabin will comfortably sleep up to 12 people (even though it's technically a 10-person) with three queen air beds. You can also separate the tent into two rooms for privacy with the room divider (includes screen room), or to use as a vestibule screen room (like a screened porch) or closed room for extra gear.
There are two entry ways, one in the front and back of the tent. The front door is a patented hinged door that makes entering and exiting very easy. While the back door is your standard zippered door.
The Coleman WeatherTec allows room for boots and extra camping gear. In the case of hiking, fishing and all around outdoor activities, separating your shoes from your sleeping area can prove to be extremely valuable when choosing the right tent for your needs. You can check out the latest pricing here.
2.
Eureka Copper Canyon 12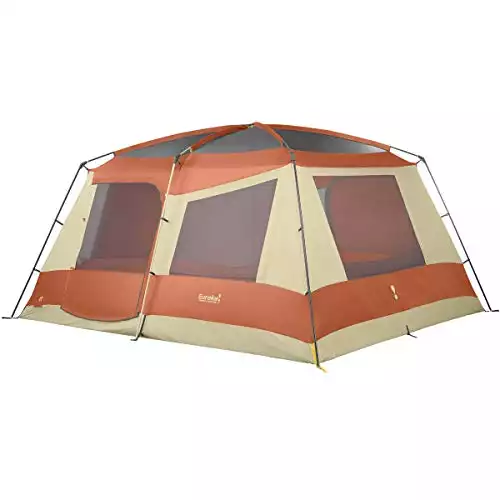 Coming through with outstanding reviews based on ease of set-up, durability, and usage, the Eureka Copper Canyon appears to be a favorite among seasoned campers looking for a bigger tent option.
The long-standing quality of Eureka products does not seem to fall short when it comes to customer satisfaction. And with 12 people in one space (spacious interior), that adds up to a lot of happy campers.
Details & Tent Features:
Price: Find current pricing here
Dimensions: 14' x 12' with 7' center height
Made of polyester, polyethylene floor, and steel/fiberglass frame
Weight: 17.1 lbs.
Six windows, including windows indoors
Two doors
One or two rooms with zippered separator
Roof vent
Electrical access port
Two gear pockets
This straight-walled, two-room cabin-style tent boasts six large windows and removable, zippered room dividers. With 168 square feet of sleeping area and a 7-foot center height, this tent comfortably fits up to 12 people with two large D-style opposing doors allowing uninterrupted access for people with separate sleep schedules.
A completely mesh roof with a vent for circulation reduces condensation and allows air to flow freely throughout the cabin (including the ground vent). Hot air can rise to the top and out of the mesh roof.
The Eureka Copper Canyon is equipped with nine sturdy powder-coated, chain-corded steel rods, making set up quick and easy. This also makes the tent stronger in high winds. There is no way the steel rods will bend.
Although the front room to this tent may be slightly too small to fit 12 pairs of shoes and 12 people, the Copper Canyon comes with a storage loft for your convenience (plenty of storage pockets). It might be advised to purchase a small shelter for the outside of the tent if you are considering sleeping the max number of people. See this listing for the best prices online.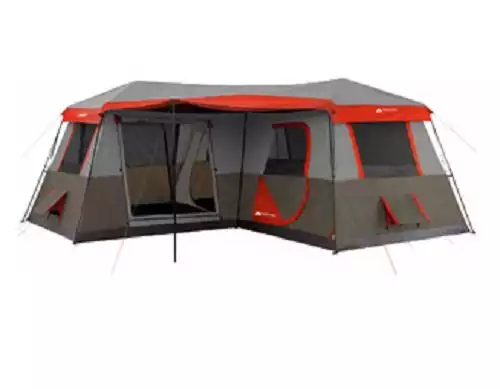 Another trusted, tried and true manufacturer of reliable outdoor gear is Ozark. Hundreds of reviews based on set up time, weather resistance and overall quality have helped to give this tent the seal of approval from nearly every single person who has the pleasure of using it.
The only down side of the Ozark 12 seems to be finding an area large enough to put it.
Cabin Tent Details & Features:
Price: Find current pricing here.
Dimensions: 16' x 16' with 6'10" center height
Made of polyester
Taped, factory sealed seams and factory welded tub floor
Fits 3 queen size airbeds
2 minute set up time with pre-attached poles (tent poles)
Seven windows +Two doors
Three rooms with separators
Electrical access port
Rain fly includes awning
Ground vents fit air conditioner
A spacious three-room 16'x16′ cabin dome tent with three rooms allows for ample privacy and space. You can fit a queen-size air mattress in each of the three rooms. Straight walls and hanging shelves for storage allow for even more floor area.
The Ozark 12 is 100% 190t polyester with a fiberglass frame and freestanding system for easy setup. You simply lay out the tent and pop-up the pre-attached poles into place. Making set up only takes about 2 minutes (pretty much a record as far as 12 person tents go).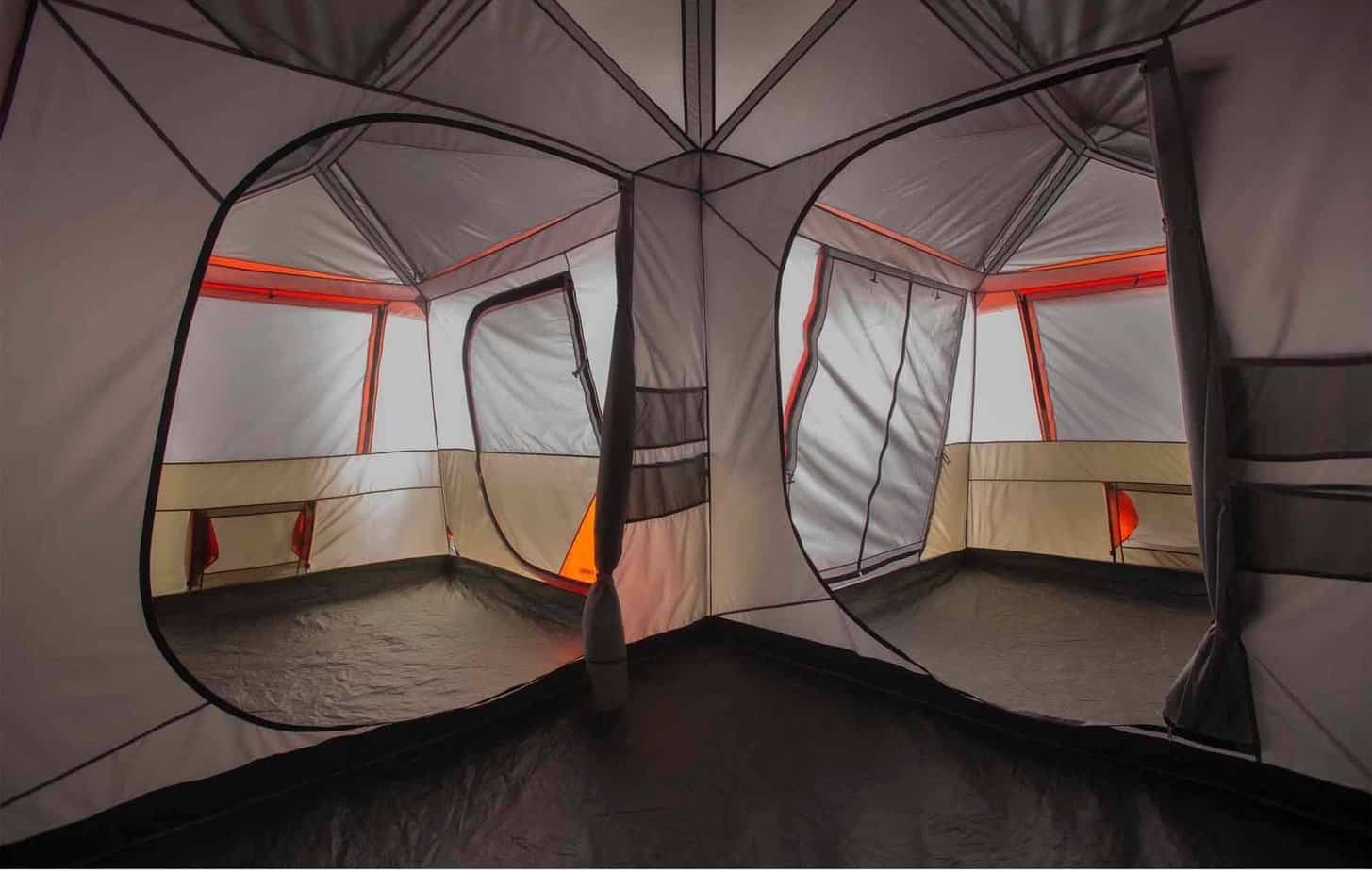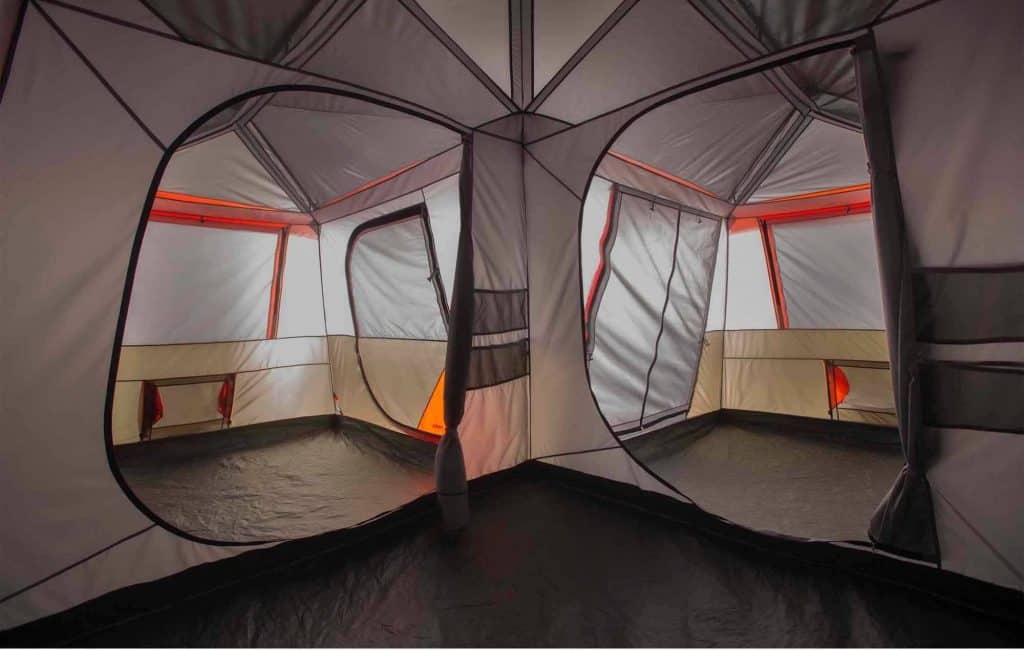 This tent keeps you comfortable with a factory welded tub floor and taped seams to keep you dry inside. The seven windows and mesh roof allows for superb ventilation, with interior room divider optionality (includes screen room). There are even ground vents in this tent that can fit an air conditioner!
With three separate rooms and dividers for privacy, the Ozark Trail 12 is perfect for extended camping trips with friends and family. Weighing in at 256 square feet of floor space, this tent comes with two entryways for easy in and out.
When hosting 12 people in a single tent, a separate area to keep your boots and shoes allows for maximum living space and a cleaner area to rest your heads. It's also nice to have the awning for rainy days when you don't want to sit in the tent all day. You can find a good price at this listing here.
4.
Core Instant Cabin Tent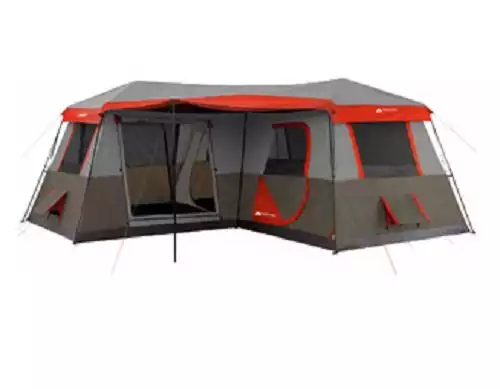 If you want something that is super quick and easy, Core may be for you. It's a simple tent that takes about two minutes to set up with easy entry doors and interior separators. Even though it is simple, protection is not sacrificed with H2O block technology.
Cabin Tent Details & Features:
Price:

Find current pricing here.

Dimensions: 18' x 10' with 6'8" center height
Made of polyester and steel poles
H2O Block technology
Fits 3 queen-size airbeds
2 minute set up a time with pre-attached poles
Two large double doors
Three rooms with separators
Electrical access port
Gear pockets and gear loft
Ground vents
Like the Ozark Trail 12, this tent is extremely easy to set up with pre-attached poles that pop up with the tent (pop-up tent). The Core Instant Cabin Tent is slightly easier than the Ozark due to its simple rectangular design compared to Ozark's L shape.
This instant tent comes with its own H2O block technology that keeps you dry through storms. The technology features sealed seams, a taped rainfly, and rain-resistant door and window seals. Making sure that rain will not be able to penetrate the tent at any point.
You will feel extra comfortable with ground vents on the sides of the tent that allow cool air to enter the tent from the ground. There is also a mesh sealing that allows ample airflow that pushes hot air out.
There is ample space in this tent with two roll-away room dividers and multiple storage areas. There are multiple gear pockets on the walls of the tent and a gear loft to put all of your things. The large double doors make it easy to get in and out by being able to double your doorway space.
You will be one of the many other happy customers of this tent. It has a 4 out of 5 star rating on amazon with reviews like "Great tent. Well designed, and yes, it really does install in about 3-5 minutes." You can find a good price at this listing.
5.
Browning Camping Big Horn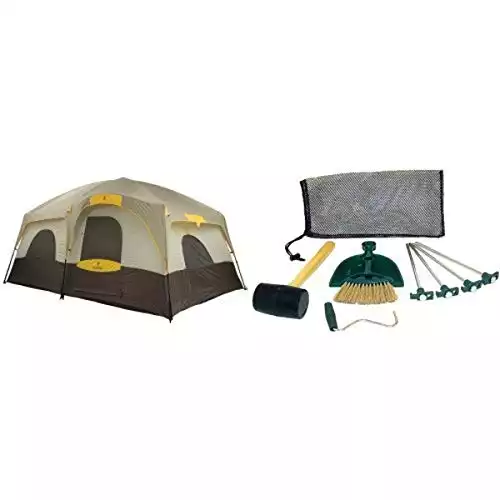 The Browning tent has magnificent reviews from its customers. They all rave about how well this tent does in severe weather conditions. One customer even said it held up through a hail storm. If you plan to camp in any type of weather, go for this option.
12 Person Tent Details & Features:
Price:

Find current pricing here

Dimensions: 10' x 15' with 7' 3" center height
Made of polyester, fiberglass poles, and steel uprights
Canopied rain fly
Weight: 34.75 lbs.
Two doors + six windows
Two rooms with separators
Gear pockets
Roof vents
This is a very straightforward tent that is easy to put together. There's no fancy shape or crazy poles. It is just a square that is put up with some roof fiberglass poles and upright steel poles. You can put this together fairly quickly.
You can expect this tent to hold up through almost any weather. There are steel upright poles that won't bend in high winds and guy ropes that hold the tent down in that wind. It also has awnings over both doors and factory sealed seams to keep you dry in the rain.
Anybody can fit in this tent and walk around effortlessly. This tent has the tallest ceiling of them all at 7 feet and 3 inches. Straight sidewalls give extra room for maneuverability and camping furniture, like air up mattresses.
There is also two doors, one coming out of each room. If you don't want two rooms and want a larger space, simply roll the wall away. Gear pouches in the sides of the tent also allow for more floor space making the tent easier to walk around in. You can find a good price at this listing.
6.
Wenzel Great Basin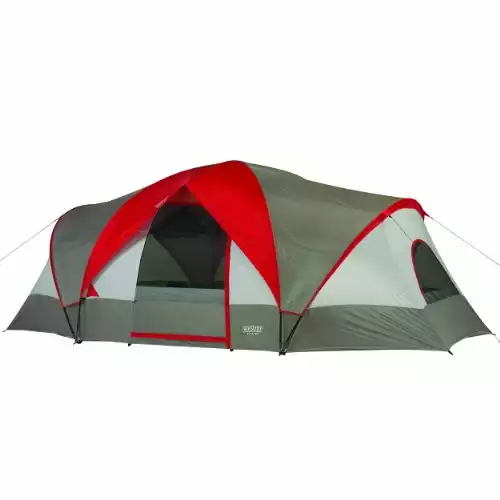 The Great Basin tent is like your traditional dome tent that is simply designed. There are no unnecessary extras or frills. This is a great tent for anyone that just wants something that gets the job done. With its simple traditional design comes a really cheap price. This is the most affordable family tent on this list.
Cabin Tent Details & Features:
Price:

Find current pricing here

.
Dimensions: 18' x 10' with 6'6" center height
Made of polyester, welded polyethylene floor, and shock cord fiberglass poles
Canopied rain fly
Weight: 28 lbs.
One door + four windows
Three rooms with separators
Electrical access port
Gear pockets
Gear loft with tent light system
Roof vents
While this tent doesn't have some of the extra features, like lots of windows, an extra door, and ground vents, it gets the job done. For a very budget-friendly price too. This tent costs almost half the price of all the other tents.
You will feel comfortable in this tent with extra rain protection and privacy. This tent features a fly ridge pole that forms an awning over the front door and rear window. You will have more privacy with two zippered room dividers for three rooms.
Seeing inside your tent when it is dark outside is no problem with this tent. They have incorporated a feature in the gear loft where you can hang your light pointing up at the ceiling. There is reflective material on the ceiling that shines the light from your flashlight throughout the tent.
You still get all of the super handy features, including gear pockets, room separators, roof vents, and an electrical access port. This tent will give you plenty of room for the whole family without the high price. You can find a good price at this listing.
7.
Tahoe Gear Gateway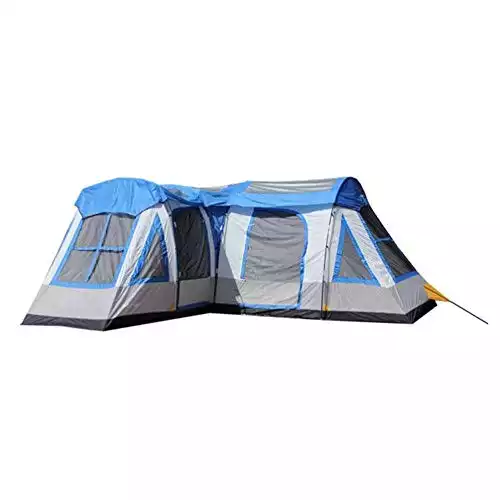 If you enjoy camping in the Spring and Fall along with Summer camping, this tent may fit your needs. It's built to keep you cool during the summer and to keep warmth in during the cooler months. Making it a great three-season tent. It is also a huge tent that adds space for comfort.
12 Person Tent Details & Features:
Price:

Find current pricing here.

Dimensions: 20' x 15' with 7' center height
Made of 1200mm polyester, polyethylene floor, and shock cord fiberglass poles
Two doors
Three rooms with separators
Electrical access ports
Gear pockets
Solar shield
Roof vents
Ground vents
If you plan to go camping in more than summer weather, this tent has you covered. The tent fabric is made to keep you warm during the cooler months with 1200mm polyester fabric body and rain fly. The thick polyester almost insulates the inside of the tent.
This tent sufficiently keeps you cool when it is hot outside as well. There are ground vents that push in cool air from the ground and roof vents that push out hot air. It is also equipped with a solar shield on the outside. This reflects sunlight so that the tent stays cool.
If you go camping in the Spring, you will not have to worry about Spring weather creeping up on you. This tent is supplied with guy ropes that secure the tent during windy weather. It also has a polyethylene floor and sealed seems to keep you dry when it is wet outside.
Easily move around in this tent with two doors at each end of the L shape and 7-foot ceilings. It features straight walls that make every corner of this tent easily accessible and with tall ceilings, anyone can walk around inside. You can find a good price at this listing.
Other Large Tent Options to Consider
Final Word on the Top Tents for 12 People or More
There are many camping tent brands and manufacturers out there that have a reputation for being the best and that's because they have been tested and used by thousands of adventurers, just like yourself, and have proven that they can weather the storms, so to speak.
Just because a tent has a trusted name on it though does not always mean you are getting exactly what you want. Try making a camping checklist of what you would like in a camping tent and the amenities it needs to have for your camping trip.
Always remember to check guarantees and warranties on any camping tent that you may purchase and make sure to keep your tent dry, clean, and in good working condition for a longer lifespan and many more seasons to come. As always, have fun and go camp!
Further Reading on Various Tents for Camping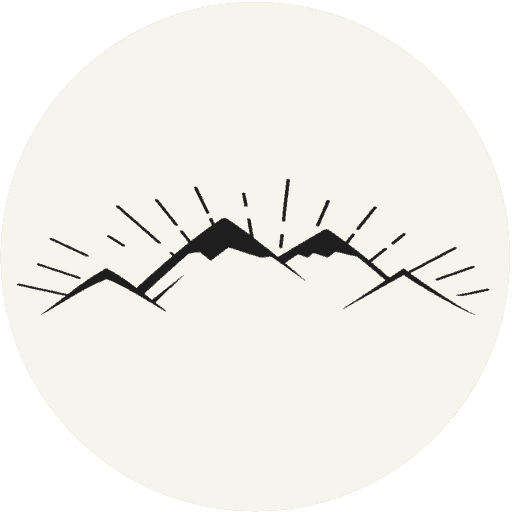 The All-Outdoors Guide team is comprised of enthusiastic experts that enjoy helping others that aspire to be better at outdoor fun. Part of that is making sure you have the right gear and information when it's time to go out and have fun. Some of our team have accomplished amazing feats like climbing 6000 feet to the top of mountains, others have explored every dirt trail they could find and we even have some people that have backpacked solo on various continents. No matter what our readers want to learn and do, our team is here to help them accomplish those goals.