Shopping for a tent isn't a process that should be taken lightly. The wrong tent can quickly turn a fun outing with family or friends into a disaster. Tents aren't exactly a cheap piece of equipment either so you will want to get the most bang for your buck.
One of the most versatile tent sizes are 4 person tents. The average person probably won't go camping alone, but probably with one or two other people. A 4 person tent offers plenty of room for a couple along with space to store gear. Being able to shelter another one or two people makes this size category ideal for the more casual camper or weekend warrior.
Top 3 Recommendations
There are a ton of 4 person tents on the market but here are the top 3 highly rated models.
#1 Sierra Designs Zeta 4 Tent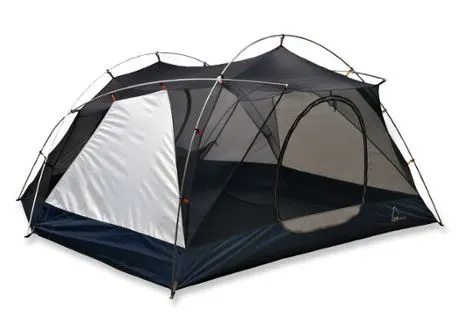 The Sierra Designs Zeta 4 is an extremely user-friendly hybrid-style tent that is surprisingly spacious and tall inside. It is popular with both new and experienced campers alike. The Zeta 4 has quite a few impressive features that make it enjoyable to use.
Main Specs:
Appropriate for 3 season use in the majority of climates
Total weight of 8lbs 9oz
Total package size of roughly 6" x 22"
Total floor space of 58.2 sq ft- dimensions are 95" x 92"
The peak height of the ceiling is 50"
Two doors for entry and exit
Aluminum poles
Primarily made from polyester taffeta
Freestanding in design with quick setup
Main Features:
Hybrid dome- and tunnel-style design for increased space
Aluminum poles are built together with Sierra Designs Swivel Hubs to make set up quick and error-free
Color-coded clips also help to make set up easy, even in low light
Secure but flexible ridgeline poles add stability in wind or heavy rain
White tent canopy allows more ambient light into tent to brighten the surroundings
Bathtub style floor prevents water from entering floor
Interior pockets for storage and organizational are on the wall, off the tent floor
Two vestibules for gear storage
Tent body is largely made of mesh which offers plenty of ventilation, even with a canopy attached
The Zeta 4 is far more user friendly than most tents and is particularly impressive in areas where high winds may occur. One downside of the tent is its lack of interior pockets for storage when compared to other tents in this category. This is more of an annoyance for some people than a true fault of the tent.
Overall the Zeta 4 is designed extremely well for usability. The Swivel Hub pole attachments are an ingenious idea that makes set up quick right from the start. Sierra Designs combination of a flexible ridgeline along with tough polyester taffeta material put up with a lot of tough use as well.
#2 Marmot Limelight 4P Tent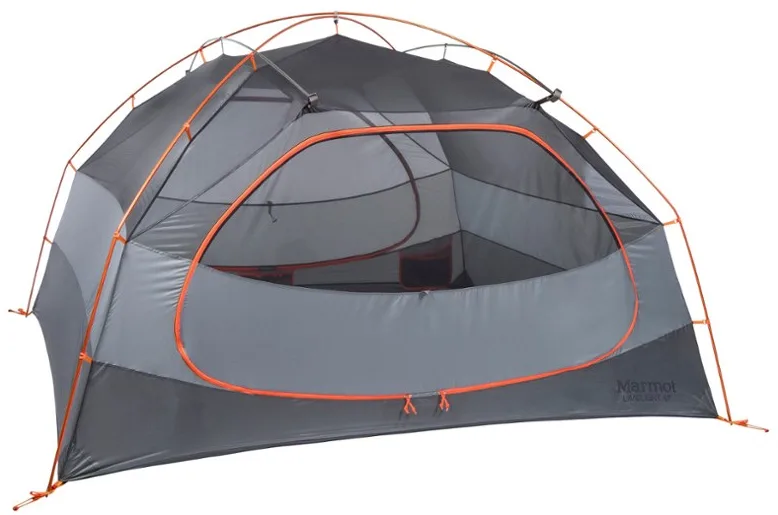 Marmot is a well-respected brand in outdoor gear so it's no surprise that one of their 4 person tents made the list. The Limelight 4P is ready to go right out of the box and is specially designed to split between 2 backpackers, making it ideal for camping with a buddy.
Main Specs:
3 season usability
2 color options- a neutral dark grey color scheme or a bright orange and blue
Double-walled design (primarily polyester materials)
Total weight of 9lbs, min. trail weight is 8lbs 4 oz
Package size is roughly 9" x 27"
Floor area of 53 sq ft (93" x 82")
Peak ceiling height of 50"
Two doors and two vestibules which are both 16 sq ft
Aluminum Pressfit poles
Freestanding
Main Features:
Unlike many tents, the Limelight comes with a footprint and gear loft
Vestibules offer plenty of room to store packs and dirty boots
Minimal poles (only 4) make set up easy, especially with its color-coding system
Poles use a Pressfit system which keeps poles strong even in winds
Rainfly is treated with a UV resistant coating for increased longevity
The tent floor is bathtub style to prevent leaks in heavy rain
Built-in vents on fly keep out rain but gives plenty of airflows
Numerous off the floor pockets for organization
Can be set up with only the poles and rainfly for day trips (weight only 6lbs 7oz)
The Marmot Limelight 4P is super versatile since it can easily be broken down to just a rainfly and pole set up. This is very useful for simple overnight trips during warm weather or as weather protection for day-long outdoor activities.
As mentioned earlier, this kit can be broken up to allow for two people to carry a portion of the gear in their own pack. This is a great feature for campers who would rather share a shelter than have to each carry a one-person tent.
There really aren't any downsides to the Marmot Limelight 4P. It's consistently rated at 5 stars and the high-quality materials means your investment in this piece of equipment will serve you for many years of use. You can check out the latest pricing for the Limelight 4p here.
#3 Mountainsmith Genesee 4 Tent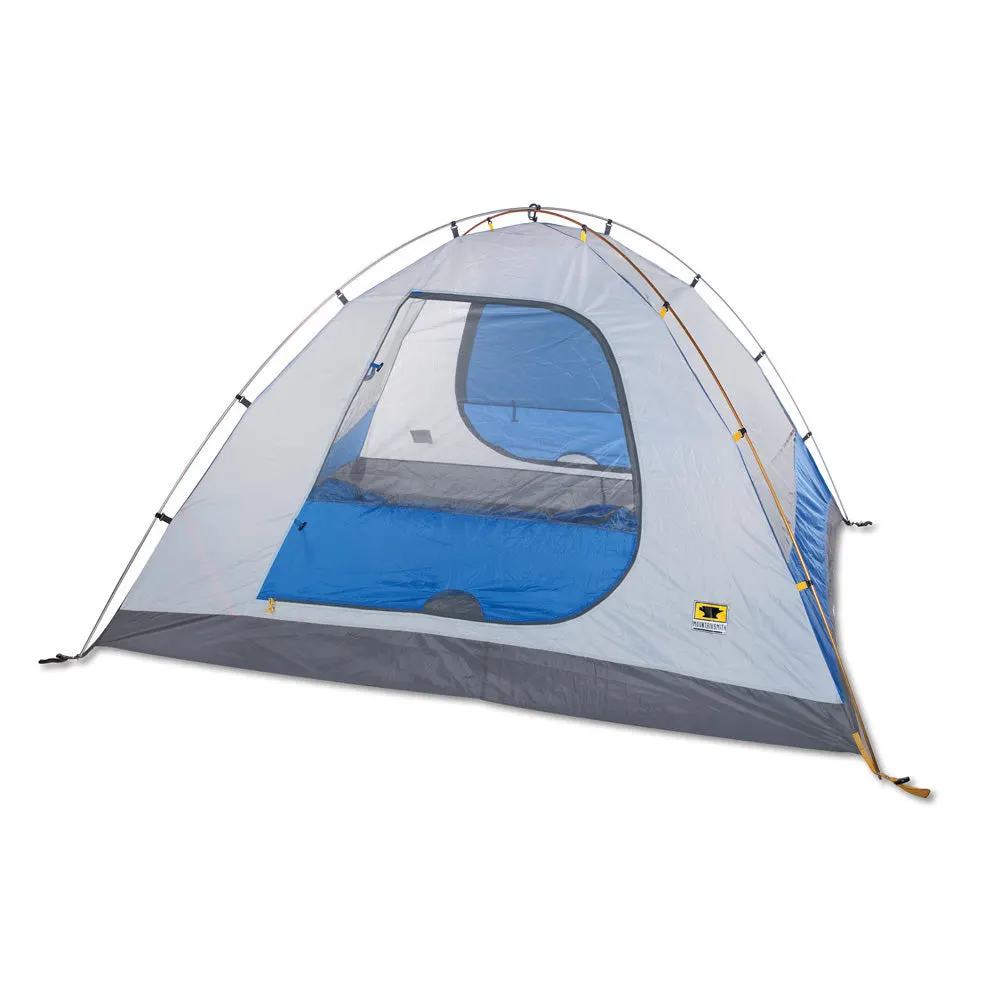 The Mountainsmith brand has been around for more than 30 years and has produced many wonderful tents in that time. One of their best 4 person tents is the Genesee 4. This model is roomy and tough enough for the trail just as it is at a campground. The Genesee 4 was even awarded a "Top Pick" in '11 by Camping Life Magazine.
Main Specs:
3 season tent
The total floor area of 56 sq ft (84" x 96")
Packed size of 8" x 19.5"
Total weight is 6 lbs 14.5 oz, trail weight reduced to 6 lbs 9 oz
Peak ceiling height of 52"
Double-walled design (primarily polyester)
Freestanding and can be used with guylines
2 Yunan alloy poles
2 doors
2 21 sq ft vestibules
Main features:
Comes with a fully detachable gear loft storage
PU coating on flooring and rainfly keep out heavy rain
Additional bathtub floor construction prevents leaks, plus all floor seams are sealed
Tent fly has built-in vent windows for airflow and light
Tent walls have No-See-Um mesh to keep even the tiniest bugs away
Various interior pockets and loops for storage
All poles are a lightweight yet strong aluminum alloy that is held in place by easy to use color-coded clips
Setup instructions are printed on the bag to prevent the common issue of losing typical paper printed instructions
Having two separate vestibules and doors mean you can keep your gear separated from your friend(s) for easy access
Comes with reflective guylines for additional support in windy weather, plus the reflective materials prevent accidentally trips when walking around at night
The Mountainsmith Genesee 4P is a very reasonably priced tent that is budget-friendly for many people. It can comfortably hold 4 people but makes a very roomy shelter for a couple. The tent is well designed and capable of taking on fairly heavy rain or high winds.
It has also tested well in humid regions where condensation or excess moisture is often a problem in a tent.
Final Word
All three of these 4 person tents would work well for almost any situation as long as you don't expect to camp in very cold or extremely stormy weather. Their lightweight and unique quick set-up designs make them user-friendly and perfect for those who don't want to struggle to get their shelter up at the campground or out on the trail.
Be sure to research prospective tents carefully before deciding on which one to go with. It's never a bad idea to double-check warranties and return policies as well.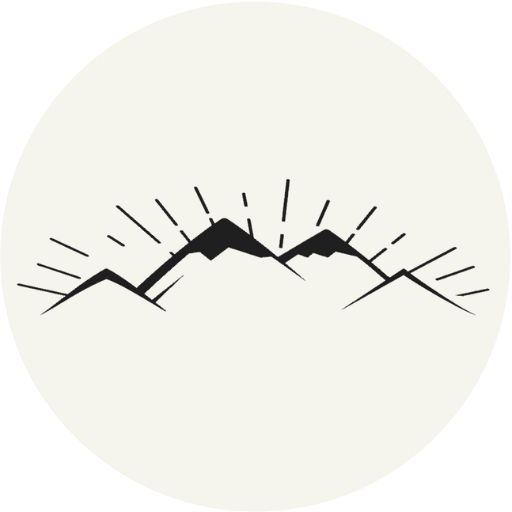 The All-Outdoors Guide team is comprised of enthusiastic experts that enjoy helping others that aspire to be better at outdoor fun. Part of that is making sure you have the right gear and information when it's time to go out and have fun. Some of our team have accomplished amazing feats like climbing 6000 feet to the top of mountains, others have explored every dirt trail they could find and we even have some people that have backpacked solo on various continents. No matter what our readers want to learn and do, our team is here to help them accomplish those goals.