If you are looking for the best camp stove on the market, there are a number of key options to consider.
Criteria to Judge a Good Camp Stove
Some people will over complicate the data and throw a bunch of numbers at you, but a good camp stove can be judged on the following five simple criteria.
Weight and Size
A camp stove should be highly portable. An extremely heavy camping stove often defeats the purpose. Even if you are driving right up to your camp-site, space in your vehicle should be at a premium. Try and limit the weight to less than 30 lbs and also keep in mind the dimensions (if space is an issue for you).
Capacity
There are some pretty nifty little camp stoves out there, a few of which I'll go over later on, but sometimes these aren't sufficient for more than a couple campers. Differences in capacity can mean the difference between spending 2 hours on breakfast versus 30 minutes. The easiest way to measure this is by the number of burners and physical cook space the camp stove has.
Time to Boil (BTU Energy)
Most camp stoves use gas or propane, but there are some notable exceptions. What's important to keep in mind is the overall number of BTUs generated by the stove. Depending on how ambitious your cooking plans are, this is a critical component to calibrate. There more BTUs the faster you can cook, at least in theory.
Ease of Assembly
How easy is it to set up out of the box? A camp stove should be pretty intuitive. You shouldn't need instructions, but if you do, they should be clear and straightforward. There is nothing worse than getting to your camp-site on the first day, just to find that you can't properly configure your sole cooking source.
Durability
A good camp stove should be able to withstand the rigors of camp life. Sounds pretty self-explanatory, but some brands just push out cheap knock-offs without thoroughly testing them first. As part of this, you'll want to keep in mind any maintenance requirements or recurring "issues" that others have noted.
My Top 5 Recommended Best Camping Stoves
Using the five criteria above, I've tested the following 6 camping stoves over the course of a full season. If you have any additional questions, please feel free to comment at the bottom and I'll get back to you.
Coleman Triton Series 2-Burner Stove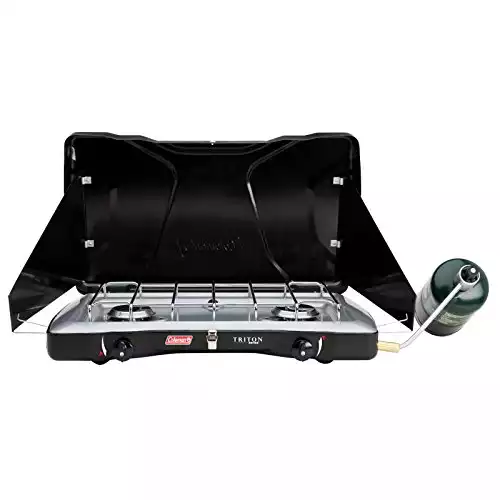 Coleman is an very reputable brand in the camping genre and most of their camping stoves are no different. One of my favorite on-the-go all-purpose Coleman's is the Triton Series 2 Burner Stove. The dual burners make it an optimal stove for cooking multiple dishes at once. I can fit a 10-inch and 12-inch pan on the stove top efficiently.
With about 11,000 BTUs for each burner, the Triton has more than enough energy for pretty much any aspiring camp chef. It also has a nice "instant start" feature, allowing you to easily start it up in the field without fumbling around with matches.
In my experience, the most frustrating camp stoves are the ones that don't start easily. Thankfully, Coleman has navigated this concern effectively. In the two years I've owned mine, I've never had to replace the starter.
Finally, space-conscious campers will like the fact that this system is compact when folded. It's slightly less than 23 inches X 14 X 6 and weighs in at just over 10 pounds.
Overall, the Coleman Triton is not a flashy camp stove but it's more than adequate for most campers. It's a good balance between a reasonable price and decent functionality. I'd definitely recommend this for first time "camp cooks" looking for two burner capacity while still being a portable system.
It will probably run you close to $99 per unit retail, but I found it here for less than that.
Camp Chef Mountain Series Butane 1 Burner Stove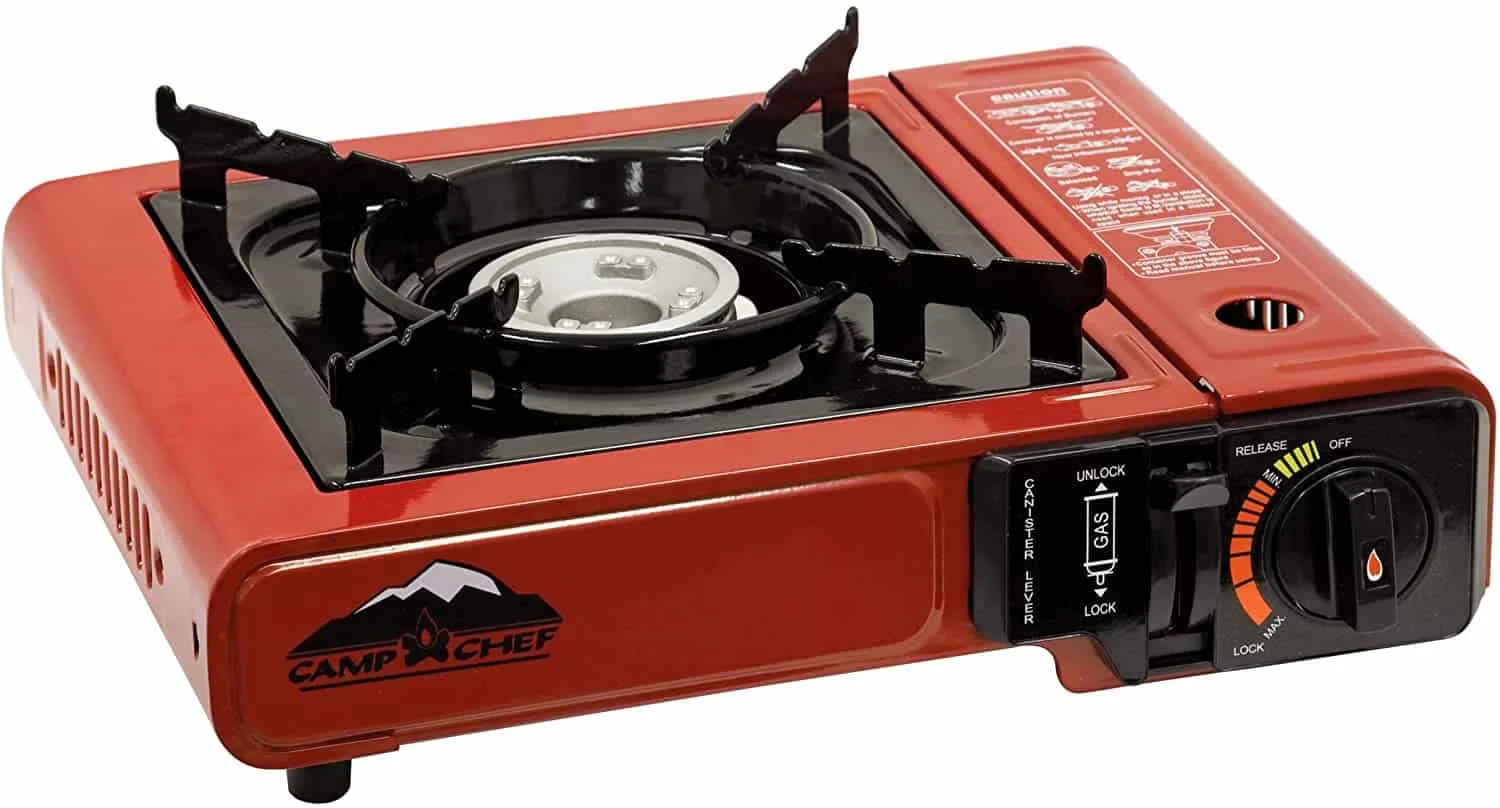 If Coleman is best known for providing reliable stoves, Chef Mountain is known for specializing in them. They provide equipment exclusive to the outdoor cooking niche. As such, it's no surprise that they deliver a superior camp stove.
I particularly like their 1 burner butane stove for more lightweight camping. If the traditional two-burner camp stove is a bit too hefty (in price OR size), this is a great happy medium.
Coming in at just under 5 pounds and 14″ x 12.6″ x 3.7″, this stove is pretty compact and lightweight. You could probably get away with backpacking with it, although it's not a "true" backpacking stove. In any case, the camp stove won't be the largest item you pack your car with, which is a nice change.
The flame quality of this butane stove is excellent. Normally, camp stoves are the primary offender when it comes to blackening the bottoms of pots and pans. Not the Camp Chef. The flame burns cleanly and evenly With 8,000 BTUs for the one burner, the Camp Chef is more than competent for most outdoor cooking needs.
It's perfect for stews and "all in one pot" types of meals, otherwise, it will take longer to cook multiple dishes. However, I've actually picked two of these on one of my more recent trips.
This was mainly to check for quality prior to this review, but two 1-burner Camp chefs are actually lighter and more compact together than some dual burners.
The only slight drawback is the lack of "wind guards" on the sides. You can certainly improvise (I use sheets of heavy-duty tin-foil), but it would have been a "nice to have" feature. This wasn't a deal-breaker for me. The quality of heat and the compact size are the critical selling points. I've purchased mine for a really affordable price at this listing, so check it out if your are interested.
Coleman Camping Coleman PerfectFlow InstaStart Grill Stove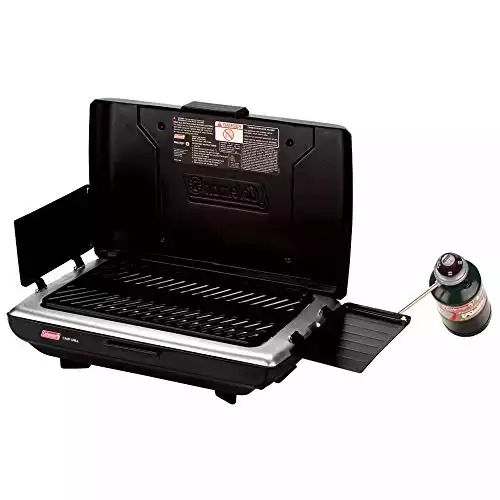 My third recommendation is another stove by Coleman. In some ways it's similar to the Triton I discussed first, but it does have some differences of note. The first thing that you'll notice is that this stove is a burner/grill combo. For a lot of recipes, it's just easier to have a grill top to work with. Although it is small, I've found it to be a very helpful addition for light grilling (think grilled veggies, lean meats, etc…).
In terms of weight and dimensions, it's roughly the same size as the Coleman Triton and other standard dual burner camp stoves. More experienced grillers will probably be concerned about cleaning up grease, etc.. While the grease trap is a smaller in size, it's very easy to clean. Just wait for the grill top to cool down and it easily comes off.
One thing to keep in mind is that you'll get about "two steaks worth" before it starts approaching the brim. Once you are in the habit of remembering/are paying attention, this won't be an issue.
The PerfectFlow sticks with the "instant start" feature, something I've already discussed that I really like. Coleman also has some very handy and remarkably effective side wind guards (as you can see from the picture). This work well, better than my improvised solutions for camp stoves in the past.
I really like this grill to expand the menu options on a camping trip. Sometimes you need something grill quickly and don't have access to or the time for standard charcoal grills at most camp-sites. More than just a showpiece, this grill actually works and works well.
It's not like grilling at home, but it comes close. In terms of price, it's right in the mid-range of sub-$100 camp stoves. You can find it for 20%off right here.
BioLite Wood Burning Camp Stove
Now for something different. The BioLite camp stove might not be for you. It's not your traditional camp stove set-up and it uses an unconventional fuel choice. However, if you are looking for something relatively lightweight with a cheap fuel source, it's worth checking out.
The principle of the BioLite is that it can use scrap wood (small kindling) as a fuel source. This is useful because you can easily forage for wood among your surroundings. The problem with a lot of these new alternative camp stoves is that they often are great in theory, but poor in actual functionality.
This is not the case with BioLite. You can't efficiently heat an entire standard-size frying pan with one of these, but you can easily heat a thermos, a small saucepan, or a small pot. I've had success heating up baked beans and canned soups in a small pot.
The BioLite weighs just two pounds and has some pretty cool side benefits. It has a wonderful little attachment that can charge electronic devices via a USB connection. While camping purists out there probably hate the idea of bringing technology out in the field, sometimes it can't be avoided.
Most of us can't be without our phones for very long, even when camping. Secondly, in a power outage, the BioLite can be a savior in a pinch.
The BioLite isn't cheap, but it's pretty nifty. If you want something to impress the friends or family (and actually works), then the BioLite is a worthy contender. You can find it here for about $130
Camp Chef Explorer 2-Burner Stove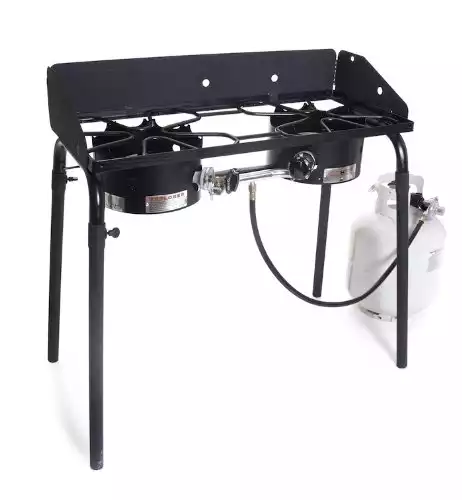 For the next recommendation, it's back to the Camp Chef brand, this time for their larger 2-burner stove. It's similar in some ways to the Triton series by Coleman, but the Camp Chef is more durable and hefty. If you compare it side by side to the Coleman, the material is a higher grade metal and it has more of a "solid feel" to it. Not to mention, it's much bigger and can handle larger-scale cooking for groups of campers.
Bigger is sometimes better. In sharp contrast, the Explorer offers two 30,000 BTU burners. It provides about 14″ x 32″ of cooking space. This is ample for larger pots of stew, pasta, large skillets, or any other larger-scale cooking operation. I've even used it as an outdoor second stovetop when guests are over during the Holidays.
You are probably thinking that this is best to take with you. To a certain extent, this is true. It weighs over 30 pounds and will take up more space than a normal camp stove. However, Camp Chef has done a great job making the system modular.
You can easily break it down, folding down into a relatively compact form. In its packed state it is roughly 36″ x 18″ x 8″. Not bad, considering the capabilities you get.
It's obviously not for everyone, especially not the casual camper. The Camp Chef Explore isn't cheap, but it's a lot more affordable than one might expect. You can find it here for less than $100.
The Best Ultra-Lightweight Camping Stove
If size and weight are your primary concerns, my favorite ultra-lightweight camp stove is included below. It's really mean for minimalist cooking to get the job done without adding unnecessary bulk and weight to your load.
Ultralight Backpacking Canister Camp Stove with Piezo Ignition 3.9oz (silvery Stove and orange box)
For trekkers, backpackers, and very light campers, having a functional and lightweight camp stove can be a godsend for multiple reasons. Yes, it's great to have a fuel source for cooking under 5 ounces, but it can also serve to boil water in a pinch.
Believe it or not, this has saved many a camper and backpacker over the years. For any trek for more than half a day, I always take this in my light "on the go" backpack. You never know.
What I like about this little stove is that it can fit a variety of different gas types and it's easy to start. I definitely had my concerns when I purchased it, but I figured $5 isn't much to spend anyway. I was very pleasantly surprised.
It provides about 3500 watts of power at optimal performance. Not a ton, but enough to get the job done and boil water. For me, it takes about 5 minutes to bring standing water to a boil with this pocket stove. If backpacking and lightweight camping are your thing, you'll definitely want to invest in this handy little camping stove. It's super lightweight, easy to use, and affordable. For about $5 you can't go wrong.
I actually have one of these in addition to my standard traditional camping stoves. Not everywhere has it for five dollars, but I've had luck purchasing mine at this listing[/easyazon_link].
Table Comparison of the Top Camping Stoves
| | | | | | | | |
| --- | --- | --- | --- | --- | --- | --- | --- |
| Model | Weight | Size | Capacity | BTUs | Ease of Use | Durability | Cost |
| Coleman Triton Series InstaStart 2-Burner | 11 lbs. | 23″ x 14″ x 8.75″ | Dual Burner | 11,000 (x2) | 9/10 | 7/10 | $$ |
| Camp Chef Butane 1 Burner | 4.8 lbs. | 14″ x 12.6″ x 3.7″ | Single Burner | 8,000 | 8/10 | 7/10 | $ |
| Coleman PerfectFlow | 14.3 lbs. | 24″ x 15.5″ x 6″ | Dual Burner (with grill) | 10,000 (x2) | 9/10 | 6/10 | $$ |
| BioLite Wood Burner | 3 lbs. | 5″ x 5″ x 8.3″ | Single Burner | Varies (uses wood) | 7/10 | 7/10 | $$$ |
| Camp Chef Explorer Series | 32.9 lbs. | 34″ x 14″ x 29″ | Dual Burner | 30,000 (x2) | 6/10 | 9/10 | $$$ |
| Ultralight Piezo | 3.7 ounces | 2.4″ x 2.6″ x 2.4″ | Single Burner | Varies (works with different fuel types/brands) | 8/10 | 7/10 | $ |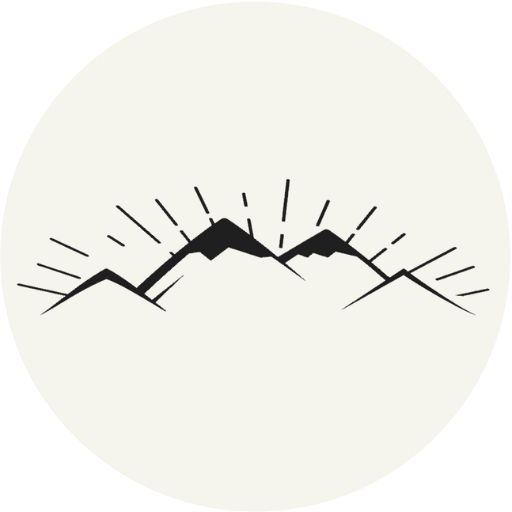 The All-Outdoors Guide team is comprised of enthusiastic experts that enjoy helping others that aspire to be better at outdoor fun. Part of that is making sure you have the right gear and information when it's time to go out and have fun. Some of our team have accomplished amazing feats like climbing 6000 feet to the top of mountains, others have explored every dirt trail they could find and we even have some people that have backpacked solo on various continents. No matter what our readers want to learn and do, our team is here to help them accomplish those goals.