Compared to other demographics of outdoors-goers, the hardy bunch of backcountry enthusiasts who can rightly call themselves "winter campers" are relatively few. This paucity of peeps who do their camping in the calendar's colder months owes not, as you might imagine, to so many of their number having met a chilly end somewhere in the wilds, but simply because winter camping is no cake-walk and one of those things — like diving with sharks or wingsuit flying, say — that for many is best experienced only vicariously.
Simply put, staying warm, comfortable, and alive when camping in the winter is far easier said than done. It requires a whole new skill set and the type of gear you would — quite literally — stake your life on. While that skill set will only come with time and training, the gear aspect only requires parting with a (fairly sizable) portion of your savings, and the best place to start doing that is by getting your hands on the best extreme cold-weather tent those savings can buy.
To that end, we're here to help…
In this article, you can look forward to a wealth of insights into the ins and outs of winter tents as we run you through all the relevant specs, features, dos, don'ts, and maybes before then moving onto an in-depth review of our pick of the best extreme cold-weather tents out there for the 2018/19 season.
Why Winter Camping is Wonderful: Seven Reasons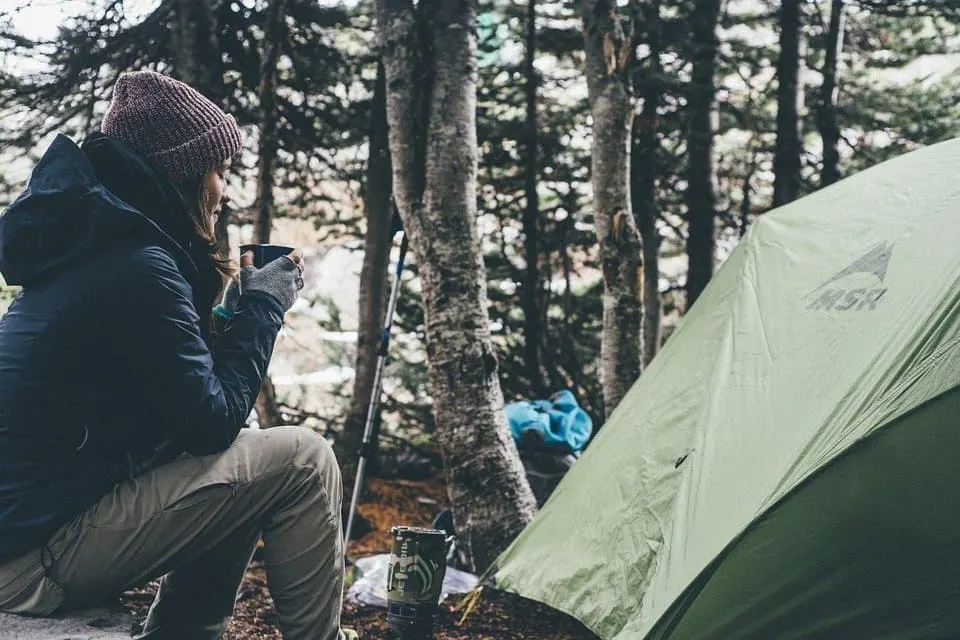 1. That smug and snug feeling of being cozied up inside your tent while the worst of winter's weather rages outside.
2. Snow-clad landscapes are like the younger, more attractive siblings of regular ones.
3. The knowledge of having taken the road less traveled, attested to by your lonely trails left in the pristine blanket of snow.
4. Quieter trails and camping areas.
5. A greater sense of achievement: most humans in the 21st century require a large, stone or wooden structure to survive winter nights, but you'll have done it in a few comparatively flimsy pieces of fabric. Give yourself a pat on the back!
6. Serious bragging rights and kudos from warm-weather campers: expect to have "Badass" appended to your name (i.e. "Badass Bob/Brenda").
7. The potential to imagine yourself and tentmates a small band of Wildlings or White Walkers from Game of Thrones.
What to Look for in an Extreme Cold-Weather Tent
A number of factors go into making a cold-weather tent worthy of the designation "bombproof" and suitable for outings in more extreme conditions, most notably weather resistance, weight, the materials used, and adequate floor space, all of which we'll go into in more detail below.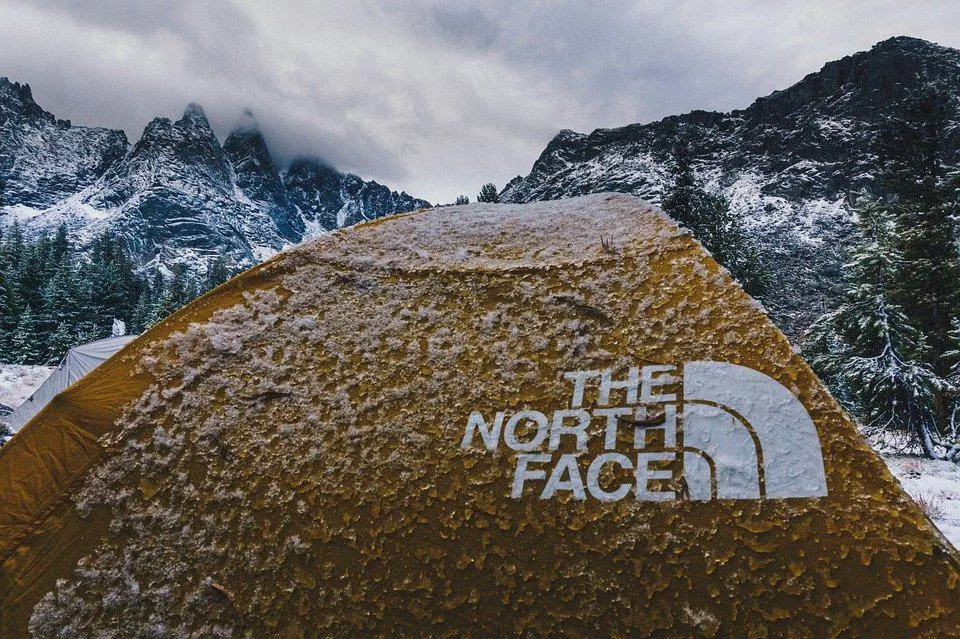 Waterproofing
While solid waterproofing is required in a tent at any time of year, in winter it needs to be more solid and reliable in order to deal with sustained exposure to rainfall and snow, which can accumulate on the tent's walls during the night and in most cases will be in contact with the floor of the tent, putting more pressure on the fabric and thus making it more likely to leak.
The waterproofing capacities of tent fabrics are commonly quantified using what is known as hydrostatic head (HH) testing.
Hydrostatic Head Testing
HH tests determine the waterproofing capacity of any textile, most commonly jackets, tents, tarps, and groundsheets/footprints. This is done by applying water pressure on the fabric using an open-ended laboratory test tube and measuring how much it can withstand before allowing water to pass through in millimeters, thus providing its HH rating: if the fabric begins to leak with 5,000mm of water pressure in the test tube, for example, then its HH rating will be 5,000mm.
The HH rating you need varies for different components of your gear. For your tent, the two ratings that matter is those given for the flysheet (aka "rain fly") and groundsheet (aka "footprint"). The following list offers a quick summary of the HH ratings you're most likely to find on tents that will help you gauge what sort of rating you'll need for your winter camping adventures:
Hydrostatic Head Ratings Applied to Fly Sheets and Groundsheets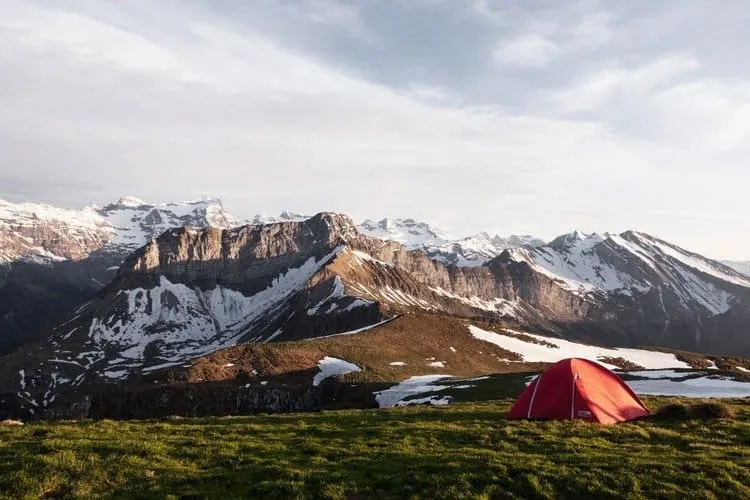 Rain Fly
1,000 HH = This is the minimal legal rating required for manufacturers to market any tent fabric as "waterproof". In reality, however, a 1K mm rating is only ever found in entry-level models intended for summer use and is capable of withstanding only very light and short-lived showers
1,500mm = A common rating for three-season, single-walled tents or fly sheets on double-walled four-season tents. Fabrics with this HH rating are capable of withstanding a combination of heavy rain, snow, driving winds, and the added pressure of objects or bodies pressed against the fabric (which makes lower-rated models prone to leakage). Unless you're headed to Patagonia or the Himalaya in monsoon season, this HH rating is more than adequate for cold-weather camping.
1,500+ mm = Bombproof: most manufacturers view an HH rating of over 1,500mm on a rain fly as excessive, but if you're especially keen to have the utmost protection a tent with this rating will provide it.
Groundsheets
Due to the added pressure applied upon them by the body weight of a tent's occupants and other equipment inside the tent, groundsheets are more liable to leakage. As such, a higher HH is required to ensure reliable waterproofing.
Most winter tents will use a footprint with an HH rating in the vicinity of 10,000, and we'd suggest that going any lower is risking unwanted, liquid-form nocturnal visitors and not worth the very small weight saving this might entail.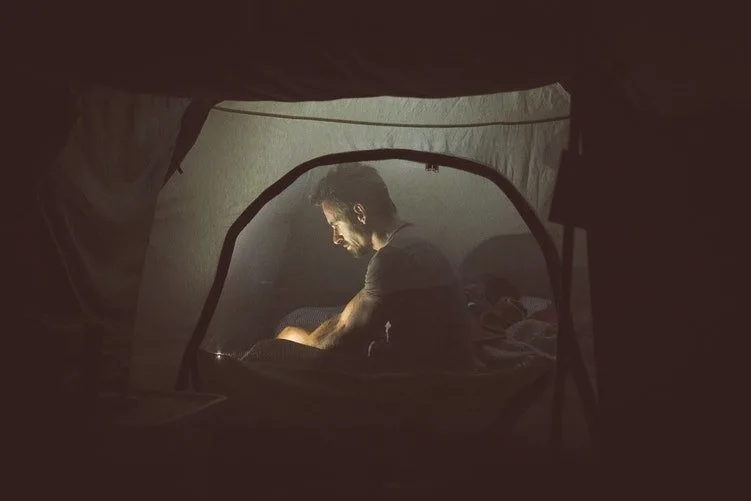 Materials
When camping in winter, snow and rain comprise only two-thirds of the potential threats to your warmth and well-being. The third threat comes in the form of the driving winds that can easily "total" your tent if its fabric or poles are in any way lacking.
Poles
Generally speaking, the more poles your tent has the more stable it will be. However, more poles usually mean more weight and, of course, more bulk. As is usually the case with any item of your camping kit, knowing your priorities is the key to finding the best product for your needs and activity type.
The materials used in your tent's poles also have a significant bearing on their practicality and reliability. The two most common materials used are aluminum and fiberglass: in a nutshell, aluminum poles are by far the better choice for winter camping as they are both lighter and more resilient and fiberglass varieties have a tendency to shatter under the pressure of strong winds.
If you happen to opt for a cheaper tent than those featured in the review below, there's a chance that it will come with fiberglass poles. If so, we'd recommend substituting these with aluminum ones if you're headed anywhere you're likely to encounter strong winds.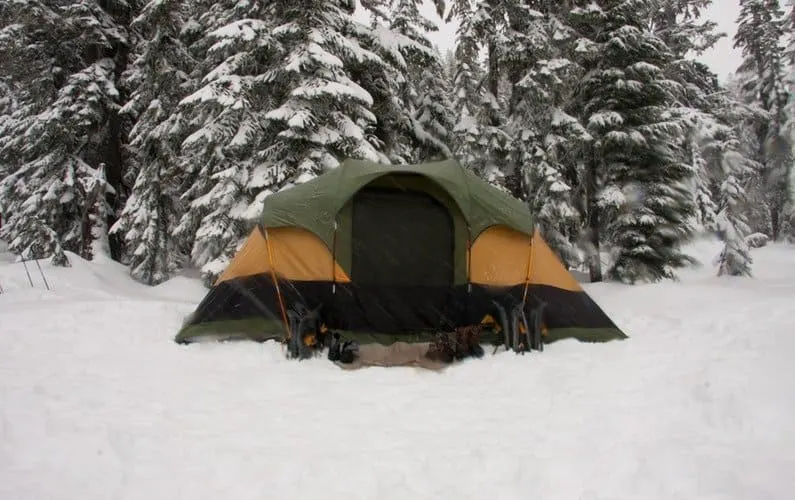 Tent fabric
The thickness of tent fabrics is quantified in something called "denier", which is often abbreviated to a simple "D" in product descriptions. In short, the thicker a fabric is — or the higher the denier count — the more weather resistance and tear resistance it will offer. In winter, the hike in toughness and durability provided by thicker materials is crucial because high winds, crampons, ice-axes, and snowshoes can easily shred or puncture thinner materials.
Beyond thickness, another key feature to look out for is ripstop material, ideally in both the tent body (or "inner") and in the rain fly. Given that this is a major selling point, if the manufacturer doesn't mention it in the product description then it's very likely their tent doesn't have it.
Finally, in addition to the hydrostatic head rating mentioned above, it's best to buy a tent with a footprint, rain fly, and inner that have a DWR (durable water repellent) finish.
This treatment causes water to bead up on the surface of the fabric rather than soaking through and, as such, will not only serve as an additional line of defence against the elements when you're inside the tent, but also — by preventing saturation — keep the tent's weight down when it's time to pack up and move on to your next campsite or back to the trailhead.
Weight
Owing to the tougher materials and extra poles used in their construction, winter tents usually weigh significantly more than three-season varieties. How heavy you need to go will depend on the type of activity you envision doing and just how much weather protection you need.
For backpacking and high-altitude mountaineering, lighter models are obviously preferable, so long as the reduction in weight doesn't entail a simultaneous, excessive drop in interior space and weatherproofing. For shorter trips or if you don't have to carry your tent too far prior to pitching up, then heavier, "basecamp" models become more feasible and attractive — if, that is, their additional weight buys you added livability and weatherproofing.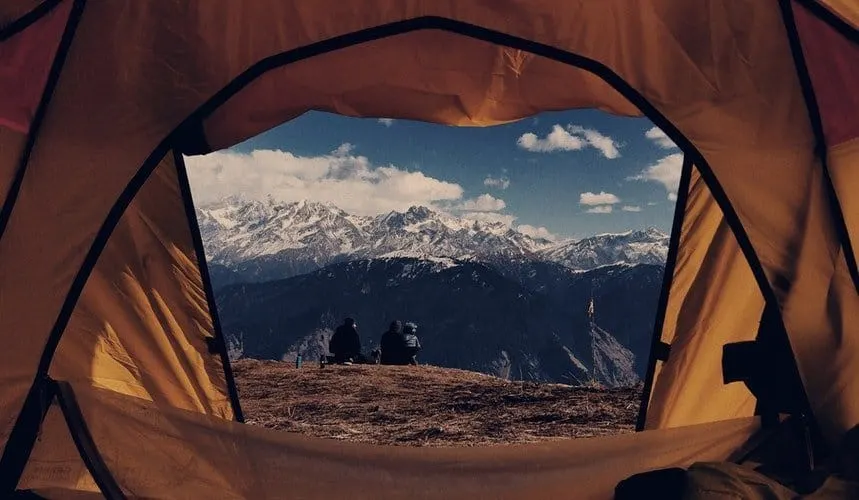 Asking yourself a few pre-purchase questions should help you determine or narrow down the parameters of the weight range you're looking to buy in:
1. Am I more likely to be traveling long distances and making long ascents or camping relatively close to trailheads?
2. Am I willing to sacrifice space and livability to cut down on weight?
3. How many people are likely to be sharing with the tent with me? And will a heavier tent be worth it when shared between three carriers?
4. How much extra internal space do I need for gear storage?
5. Would I go nuts if holed up inside a small tent for a day or two in the event of a storm?
6. What is the max total pack weight I'm willing to carry after accounting for all sleeping gear, clothes, provisions, water, and extras like crampons and an ice-ax?
7. Is an ultralight tent still going to seem like such a good idea if I get caught in a storm or whiteout?
Just the Right Amount of Space
In winter, spatial considerations take on a much more nuanced character and require more forethought than when camping in the year's warmer months. Below, we've added a shortlist of the benefits and drawbacks of both smaller and larger tents to help you decide just how big (or small) you need to go.
Benefits of a Larger Tent
More room for bulky winter gear (in winter leaving items like boots or backpacks outside at night is a bad idea!)
Winter sleeping bags are usually much bigger than three-season models
Less risk of "cabin fever" if trapped inside in a storm
More room to get dressed, put on crampons, etc.
Benefits of a Smaller Tent
Lighter
Smaller pack size
Easier to warm up with body heat
The Five Best Extreme Cold-Weather Tents for 2018
1. Big Agnes Shield 2
It's light, reasonably priced, and is built to deal with any sort of battering the elements can conjure, even in their most mischievous or malevolent of moods. Weighing in at just 3.75 lbs, the Shield 2 is the lightest tent in our review. As such, it naturally lends itself to both backpacking and mountaineering, and with a footprint of 28 square feet is a good pick for anyone who envisions pitching up on narrow, airy ledges or terraces on steep mountainsides.
As with any tent that excels in any one aspect, the Shield makes a few compromises elsewhere. The Shield's single-wall construction is the primary contributor to its very appealing lightweight, but this feature means it sacrifices a little in the way of breathability and "bomb proofing" compared to the subsequent tents in our review, and at 28 sq ft, the internal space makes it something short of palatial in its dimensions if used for two people.
As far as one-wallers go, it's a toughie, to be sure, but if your priority is all-weather protection rather than weight then the next few tents on our list will serve your purposes better.
Pros
Fantastically lightweight for a 4-season, two-person tent (3.75 lbs)
Great value for money
Small footprint makes it a good choice for mountaineering
Offers similar performance to many pricier competitors
DAC Featherlite NSL aluminum poles are both light and strong
Solid waterproofing for a single-walled tent
Cons
Tiny footprint (28 sq. ft.) also means it's short on livability if used as a two-person tent
Weatherproofing not quite as tough or reliable as heavier, double-walled models on out list
Single-wall construction means its more prone to condensation and harder to ventilate (though it does both much better than most other single-walled tents)
Browse any pictures of mountain camps on Everest, Denali, K2, Aconcagua, or any other major mountaineering peak in the world and you're sure to spot a wide spread of small yellow domes somewhere in the scene. In fact, the VE 25's popularity amongst high-altitude mountaineers is such that you could be forgiven for believing there to be some kind of injunction on using only these tents on big-mountain expeditions in extreme environments.
There isn't, of course, but such is the VE 25's reputation and performance at high altitude that many prospective big-peak summiteers don't even bother to look any further than this tried-and-tested classic when planning their expeditions.
And there's a good reason why….
Put simply, the North Face VE 25 is like any other geodesic, dome-style tent you've known, but on steroids. It weighs in at a whopping 10 lbs 13 oz, but sleeps three, has two doors and spacious vestibules, 48 sq. ft. of floor area, and is built to withstand the absolute worst any mountain can throw at it. It uses 40D nylon with a 1,500mm HH PU coating in the rainfly, 70D PU-coated nylon in the floor fabric, and 40D ripstop nylon in the canopy fabric, all of which equates to very serious weather resistance.
On the downside, the VE 25's hefty weight means you're unlikely to want to carry it terribly far, but if you split that weight between three hiking partners it becomes far more manageable.
The bottom line? If reliability and bombproof protection are your priority, they don't come much (any?) better than this. To take a little tour around and inside the VE 25, check out the video below from MSU Outreach.
Pros
Bombproof (maybe even literally)
Roomy inside (48 sq. ft.)
Large vestibule
Plenty of venting points
48-inch peak height
8 interior pockets plus stuff pockets for stowing tent doors
Very tough fabrics throughout
Cons
Very heavy (10 lbs 13 oz)
3. Mountain Hardwear Trango 2
Much like the VE 25, the Mountain Hardwear Trango holds near-legendary status among high-altitude mountaineers. If the tents in the aforementioned pictures weren't all yellow, the chances are the few anomalous entries were the bright orange and black-flashed Trango.
An old adage tells us that we get judged by the company we keep, but in while this may be true of the Trango a better rendition would be the company you keep is a good indicator of your merit. The Trango merits its place alongside any extreme cold-weather tent, packing most of the features you'll find among the hardiest of them and the pack weight you'd find in the lighter half of the overall scale. This combination gives it a very broad appeal and over the years it has found favor with winter backpackers, mountaineers, and roadside campers alike.
The Trango isn't quite as roomy as the VE 25, but offers comparable weatherproofing, only a slightly less robust build, and is intended for only two people, meaning it boasts far more square footage per person.
In terms of livability, the Trango is a winner almost right across the board — it's a little short on headroom, but has two large vestibules, two doors, enough pockets to hide an army of gophers in, and doors that roll up and down, thereby making entry and exit from the tent far easier.
In short, this is a great alternative to the VE 25 for those who want a little less weight and don't mind losing a few square feet of living space.
Pros
Very spacious and livable for a two-person tent (40 square feet)
Highly durable fabrics
Reasonably priced
2 doors and 2 vestibules
Plenty of storage pockets
Excellent weather resistance
Cons
Heavy (8 lbs 15 oz)
Lower peak height (38 inches) than competitors like the NF VE 25 (44 inches)
Slightly less space per $ than nearest rivals

Those with money to burn and an appetite for the finer things in life (or the outdoor world, at least) might just consider the fantastically well-made Jannu 2 an attractive alternative to the Mountain Hardwear Trango 2 or North Face VE 25.
The Jannu isn't as roomy as the Trango or VE 25, but weighs in at a much friendlier 6lbs and 2 oz, making for a saving of over two and a half pounds on the former and four and a half pounds on the latter. The tent's compact shape and footprint, reasonably lightweight, and very sturdy build also make it a great choice for mountaineers who anticipate nasty conditions and pitching up in small spaces.
For backpackers, this one's a little bit on the heavy side but if your next trip happens to be the Chadar Trek in Ladakh, the John Muir Trail in winter, or any time of year at high altitudes, then this would be a better option than many of its lighter competitors, most of which won't offer the same robustness, storm-readiness, and durable fabrics.
Where the Jannu lets itself down is in the value for money stakes. There's no doubting this tent's exceptional quality, but given its thirty-percent price increase on competitors like the Trango and EV 25, most buyers are likely to have only one question in mind: is the (quite significant) drop in weight worth the (very significant) hike in price?
Pros
Very well-made
Excellent ventilation
Exceptional waterproofing and wind resistance
Relatively light (6 lbs 2 oz) for a double-walled tent…
Cons
…but heavy compared to single-walled competitors
Much pricier than other two-person options
A little short on space (34.4 sq. feet) for a two-person tent
Only one door and vestibule
5. MSR Stormking
Marketed as a five-person tent, the MRS Stormking is more realistically a very spacious four-person option that, even after culling one sleeper, weighs in at a very reasonable 3.4 pounds per person. Obviously, the tent can't be divided with a pizza slicer and split between carriers, but a team of four could easily swap packs (one with poles, one with tent body, one with rain fly) and take turns to shoulder the brunt of the weight.
As a four-person tent, the Stormking would also offer 16 square feet per person, which is a relatively generous allowance compared to other four-person tents in its performance range.
Space and weigh considerations aside, this tent is a winner across the board of desirable features. It uses ultra-durable Easton Syclone poles in a five-pole, geodesic design that offers the same kind of stability as much smaller tents in fierce winds, 68D ripstop polyester fabrics, and floor fabric with a very confidence-inspiring 10,000mm hydrostatic head rating.
It also boasts two vestibules and doors, plenty of headroom, and a peak height of 64 inches, which makes it one of the most livable 4/5-person tents out there for winter camping.
While this isn't the ideal option for carrying large distances, and costs a small fortune, as a base camp or winter campsite tent it's ideal for small groups, families with kids, or anyone else who wants to keep out the foul weather but treat themselves to a more livable backcountry bolthole.
Pros
Park-your-car-in-it kinda roomy (64 sq. ft.)
Tough, five-pole geodesic design
68D polyester ripstop fly
Two-door and vestibules
64-inch peak height
40D ripstop nylon 10,000mm Durashield floor fabric
40D ripstop nylon DWR canopy fabric
Cons
Darn pricey (do they do mortgages for tents?)
Not many campers will be overly keen at the prospect of spending a night out in the snow in something that weighs a mere 10 ounces and packs down to the size of a baseball, but the awesomely portable BD Twilight makes doing so not only feasible but an altogether attractive option for the serious gram-counters or weight averse.
And this featherweight little bivy isn't just light, it's also built to withstand the very worst the winter can throw at you. It uses Black Diamond's proprietary breathable single-layer fabric "NanoShield", which boasts the highest hydrostatic head rating (1,700mm) of any breathable, single-wall tent fabric.
All in all, this is an option worth considering if weight is a particularly big issue, but if you're at all claustrophobic or want the best weatherproofing your money can buy you'd be better looking elsewhere.
Pros
NanoShield single-wall fabric is great at keeping out the wet stuff
Incredibly light (10 oz) — ideal for long-distance trekking, alpine ascents, or anyone who likes to travel fast and light
Tiny pack size
Price
1,700mm hydrostatic head
Cons
Eh, it's a little short on storage — there's no room in there for much more than you, your sleeping bag, sleeping mat, and maybe a book for bedtime reading
The frameless design leaves the potential for buildup of snow or rain on the exterior
Weather resistance is very good, but not as good as in heavier bivy bags or the tents in our review
| | | | | | |
| --- | --- | --- | --- | --- | --- |
| Tent Model | Weight | Floor plan square feet | Walls | Best Use | Value for Money |
| Big Agnes Shield 2 | 3.75 lbs | 28 | Single | Backpacking/Alpine-style mountaineering | $$$ |
| | 10 lbs 13 oz | 48 | Double | Base Camp/Mountaineering | $$/$$$ |
| Mountain Hardwear Trango 2 | 8 lbs 15 oz | 40 | Double | Base Camp/Mountaineering | $$/$$$ |
| | 6 lbs 2 oz | 34.4 | Double | Mountaineering/Backpacking | $/$$ |
| MSR Stormking | 13 lbs 4 oz | 64 | Double | Base Camp/Expedition Mountaineering | $/$$ |
| Black Diamond Twilight Bivy | 10 oz | N/A (but slightly larger than a large mummy-style sleeping bag) | Single | Mountaineering/Backpacking/Alpine Ascents | $$/$$$ |
Conclusion
Wowsers! In the above review, we've seen a selection of utterly outstanding cold-weather tents. Whether you're heading to the Himalaya or hiking the Hayduke Trail in the bleak midwinter, one of these beauties is sure to keep you adequately cozy for the duration of your trip.
Just which of these tents will prove to be the most suitable for your needs, however, depends on a number of variables: where you plan on doing your camping, how far you intend on carrying the thing, just how extreme conditions are likely to be, how many people you plan on sharing it with, and, of course, your budget.
Given that any one of these factors could rule out a tent or two from our list, it's hard to pick an out-and-out winner, but if we were choosing on the assumption that you're part of a two or three-person team looking for a nice balance between bombproof weather protection, manageable weight, and plenty of livable space, then we'd have to plump for the North Face VE 25.
The VE 25 is not so much a tent as a fortress. Granted, the weight might put off a few potential buyers, but spread out between three carriers (poles, rainfly, tent body), that weight becomes altogether more manageable.
There may well be a few moments on a particularly long or steep trail when you wish you'd opted for something a little lighter, but when you're tucked up in this bombproof beauty at night, in reams of space and safe in the knowledge that it'd take something truly cataclysmal to disturb your sleep, that added pound or two won't seem like such a shortcoming.
Further read: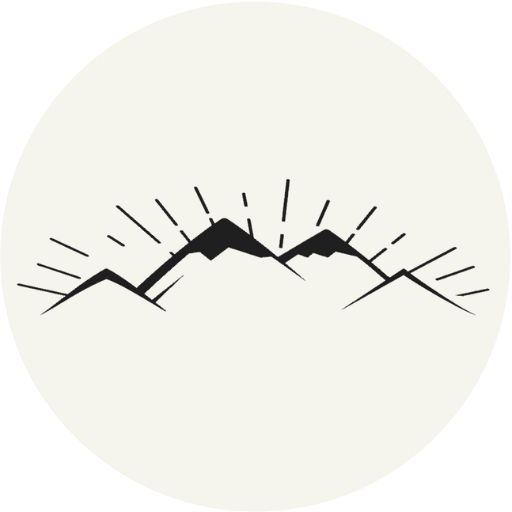 The All-Outdoors Guide team is comprised of enthusiastic experts that enjoy helping others that aspire to be better at outdoor fun. Part of that is making sure you have the right gear and information when it's time to go out and have fun. Some of our team have accomplished amazing feats like climbing 6000 feet to the top of mountains, others have explored every dirt trail they could find and we even have some people that have backpacked solo on various continents. No matter what our readers want to learn and do, our team is here to help them accomplish those goals.