Camping allows you to have the kind of fun in the outdoors with family and friends that always leads to lasting memories. There are a lot of activities you can participate in while camping and all of them are unique and a ton of fun.
Often times, when you go camping your primary place of shelter and piece of camping gear will be a tent. Tents come in many different shapes, sizes, designs, and surprisingly, not all tents come with waterproof and weatherproof capability. Nature exposes you to a wide array of potential threats including wild animals, extreme weather like heavy rain, poisonous plants, dangerous terrains, and a slew of other possibilities.
In order to make sure that you return home safely, you need to purchase a great tent that is built with durability and weather resistance in mind.
There are several tents available on the market which boasts claims of being waterproof and able to resist tough weather conditions however often times these products miss the mark by a large margin. There are a few key ways that you can easily safeguard your health while maintaining a comfortable place to lay your head while camping when is time to go sleeping.
This guide will help you determine which is the best waterproof tent that suits you for your next camping adventure. Read all of the information carefully so that you're able to make an informed and calculated decision about camping year that will save you tons of money, bumps, and bruises.
Find here the best waterproof tent for your next adventure.
Line-Up: Best Waterproof Tents of 2019
Exped Mira II

Coleman Sundome

Eureka Copper Canyon

MSR Mutha Hubba NX
Mountain Hardwear Corners
Best for Groups: Mountainsmith Upland 6
Best Fast Pitch: Marmot Limestone
Best Ultra Raintight: Teton Sports Mounts Ultra
The following section is going to list the top waterproof tents available for purchase in 2019. All of the products listed below contain all of the required features listed in the "what to look for" section. All of the tents listed will provide you with maximum protection from water and an array of other natural threats.
Use these recommendations to narrow down your options and go with the perfect waterproof tent that will keep your family safe and comfortable while adventuring the great outdoors.
#1 Best Overall:
Exped Mira II

– Perfect for Wet, Warm Weather Camping

Camping often in wet but warm weather makes choosing the right tent a challenge. The Exped Mira II is a super lightweight tent that will keep you dry and cool during spring and summer camping. It is perfect for two people or one person with a lot of gear and perhaps a canine hiking buddy. This tent is double-walled with a mesh inner wall and a removable rain fly so you can easily it out or even use this tent for summer camping under the stars in dry weather.
Specs for the Mira II include:
1 sq. ft. of space (49.2" x 43.4" footprint)
6" height
Has one vestibule that offers 14 sq. ft. of space
Packed weight is only 4.1lbs
Rain fly made from 30D PU coated nylon
Floor is 70D PU coated nylon
Uses only 2 lightweight aluminum poles
Exped's Mira II is a fairly basic 2 person style tent that is completely waterproof and performs well in windy weather. Since this tent is so lightweight it is ideal for nearly anyone, including hikers and backpackers. It will also work well as a lightwight tent for ultralight backpacking in areas in which rain or the dewy weather is to be expected. A downside of the Mira II is that it can't withstand very cold temperatures.
Though Exped has it listed as a 3 season tent, those in cooler regions may find it to be more of a 2 season tent. You can find it for close to $400 in retail stores, but it's selling for less right now.
#2
Coleman Sundome Waterproof Tent
The Coleman Sundome Waterproof Tent was designed to fit 4 adults comfortably and comes with an array of weatherproof features. The Coleman Sundome Dome Waterproof Tent is constructed using welded seams and 1000D PE floors which provide a very strong barrier against water entry.
The Coleman Sundome Dome Waterproof Tent has a total weight of only 3lbs which makes it very easy to move and transport. The Coleman Sundome Dome Waterproof Tent has porch-style doors that allow you to get a different view of your camping site without leaving your tent.
The Coleman Sundome Waterproof Tent has a hidden electrical outlet system which allows you to conveniently stay connected and power all of your favorite devices. The Coleman Sundome Waterproof Tent features a built-in ventilation system that regulates cold air and it's direction throughout the entire tent. The Coleman Sundome Dome Waterproof Tent is very compact however it delivers a multitude of great features which will help you brave the wild outdoor environment.
The Coleman Sundome Waterproof Tent contains highly waterproof polyethylene material which provides a very resilient layer of protection against the elements.
The Coleman Sundome Waterproof Tent features an array of simple yet very helpful features which make it a very unique option on the list. The Coleman Sundome Waterproof Tent is a great all-around tent that provides all of the essential capabilities that you need to thrive in the great outdoors. If you're looking for a tent that is easy to carry, durable, waterproof, stable, and constructed well, the Coleman Sundome Waterproof Tent is the perfect option for you.
Benefits
Welded floor design for maximum support and stability
Lightweight construction which makes it very easy to move
Interior storage compartment that allows you to keep track of your most valuable belongings
Integrated Electrical outlets for mobile device charging and more
Cons
Does not consist of full-mesh design standards
Integrated Rainfly does not fully cover the tent which leaves room for potential issues
#3 Best Large Waterproof Tent:
Eureka Copper Canyon

Waterproof Tent

The Eureka Copper Canyon Waterproof Tent was designed to fit 4 grown adults comfortably and features a vertical structure design that supports maximum protection in an array of different situations.

The Eureka Copper Canyon Waterproof Tent has 7ft of standing space which adds a sense of fresh air and open space into a tent that provides a lot of security safeguards. The Eureka Copper Canyon Waterproof Tent weights 23lbs in total which is quite light considering all of the premium design features and accommodation amenities which are built-in to this masterpiece of a tent.

The Eureka Copper Canyon Waterproof Tent is very easy to set-up and is built to withstand the harsh conditions of virtually any season. The Eureka Copper Canyon Tent is a very unique tent that is honestly a rarefy to come across, the well-thought-out design delivers a truly amazing tent that provides complete protection from any weather-related threat.

The sheer amount of space inside of the Eureka Copper Canyon Waterproof Tent is also something that you don't see very often, that 7ft of head clearance allows to you do a variety of normal tasks stress-free which is something a lot of other tents struggle with.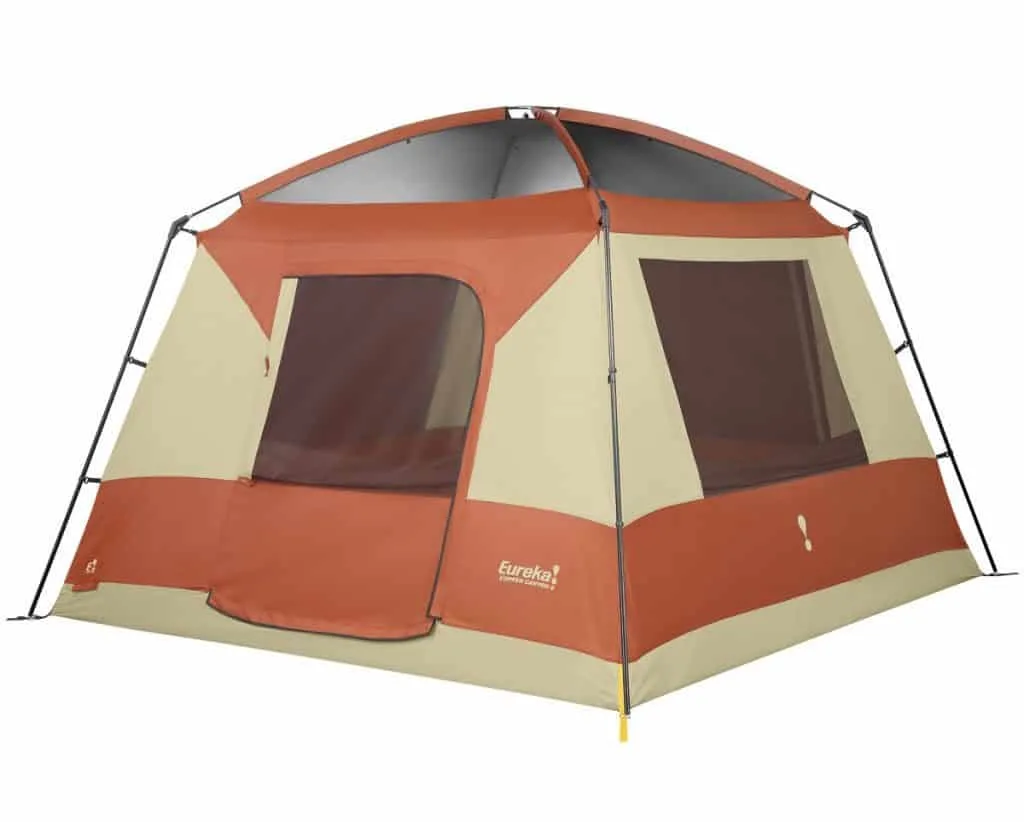 The Eureka Copper Canyon Waterproof Tent uses a rugged designed combined with weatherproof features and a Storm shield polyester rain fly which provides maximum overhead protection for the roof of the tent. The Eureka Canyon Waterproof Tent is truly a masterpiece and it's perfect for those campers who want to take the experience of home with them while camping.
The Eureka Copper Canyon Waterproof has 6 built-in windows that have adjustable viewability to provide a 360-degree view of your campsite. All of this combined with 13ft by 10ft of floor space and 7ft of vertical headroom, the Eureka Canyon Waterproof Tent is the ultimate away-from-home tent that feels just like home.
To top it all off, the Eureka Canyon Waterproof Tent has built-on doors and cross-tent ventilation to provide maximum comfort and security.
Benefits
Boasts an astounding 13ft by 10ft of floor space which makes the living conditions very comfortable.
Is built with three-season weather protection so for ultimate durability and damage resistance.
Easy set-up with a ring/pin assembly system
Constructed using a steel/fiberglass frame for ultimate support
Contains a Zippered E! Power Port for internal electrical connections
6 built-in adjustable windows that provide a 360-degree view of your surroundings
Cons
No sectioning so it's just one large interior space
Weight not optimal for backpacking and may require assistance to move
#4
MSR Mutha Hubba NX

Waterproof Tent

The MSR Hubba NX Waterproof Tent features an ultra-lightweight design that can fit 3 adults comfortably. The MSR Mutha Hubba NX Waterproof Tent comes with a unique set-up process, during assembly you have the option of choosing between two pre-set options which provide a different layout depending on your needs.

The MSR Mutha Hubba NX Waterproof Tent has a minimalist approach that delivers robust and practical functionality for an array of potential situations. The MSR Mutha Hubba NX Waterproof Tent has a built-in rain gutter system that helps to reroute excess water away from the base and roof of your tent.

The MSR Mutha Hubba NX Waterproof Tent is the perfect option for those campers who want to backpack. The total weight of the MSR Hubba NX Waterproof Tent is only 4lbs but it provides a powerful barrier between you and outside weather forces. The MSR Mutha Hubba NX Waterproof Tent is crafted using premium weatherproof material that protects you while simultaneously providing a portable place to stay.

The MSR Mutha Hubba NX Waterproof Tent has a built-in ventilation system that aids in maintaining quality air inside of the tent, the MSR Hubba NX Waterproof Tent also features a very unique frame design that combines geometry and stability to deliver an amazing tent.
Benefits
Built-in Ventilation System for superior air quality
Easy to set-up and very lightweight for maximum portability
Large interior space for 3 adults to live in comfortably
Integrated weatherproof technology to keep you protected against all potential threats
Integrated Stay Dry Doors and rain gutter system to efficiently manage the flow of excess rainwater over your
Cons
Does not come with many internal compartments, sections, or storage slots
Very bare bones design intended for extreme campers and adventurers
On the Expensive Side
#5 Mountain Hardwear Corners 6- Ideal for Group Camping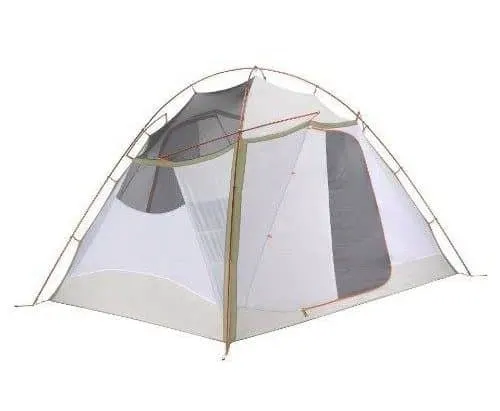 Finding a tent large enough to be the shelter of multiple people that aren't overly complicated to set up, cheaply made or lacking the inability to take on really wet weather is quite an obstacle.
Thankfully Mountain Hardware created the Corners 6, a very large and roomy tent that fits up to 6 adults comfortably in his floor space. If you often camp with your family and friends or just really need a lot of space for extended camping in one location, you're going to be very happy with this shelter.
Some specs for this double-wall tent include:
Completely waterproof 75D polyester shell with PU coating
Water-resistant inner layers for even added water repellency
Freestanding tent with the ability to use guy lines
Uses only 2 aluminum poles
The tent has two doors, both with vestibules (the main vestibule is 34 sq ft)
Vents in roof and doors
Weight: 20lbs 5 oz
83 sq ft for floor space (dimensions are 130" x 93")
An amazing height of 87"
Because this tent is so large, double-walled and has 2 vestibules, you do sacrifice lightweight for these tent features. Therefore this tent may not ideal for taking on very long hikes and without a doubt is not for someone into light backpacking.
If you use campsites that don't require far travel on foot to reach them or have one person in your group dedicated to packing the tent, you won't be disappointed with Mountain Hardware's Corners 6. Expect to spend close to $400 for this tent, although I've seen it for less at this listing.
Summary: Ideal for confortably accomodating groups of 4-6 people, plenty of space for gear, humid Summer nights with showers. NOT ideal for cold conditions (3-season tent). Find the Mountainsmith Upland over at REI here.
Summary: Ideal for pitching in a hurry with ample space for gear when that storm hits unexpectedly. While not an instant pop-up tent per se, it's close to it. Particularly useful in climates where heavy rain is expected daily, but times vary. Pick the Limestone up at REI directly here (Co-op members save additional).
Summary: The MOST watertight tent we tested. Quarters are a bit cramped with no windows, but sure to keep you dry. Pick this one up at Amazon here.
What to look for in a Waterproof Tent?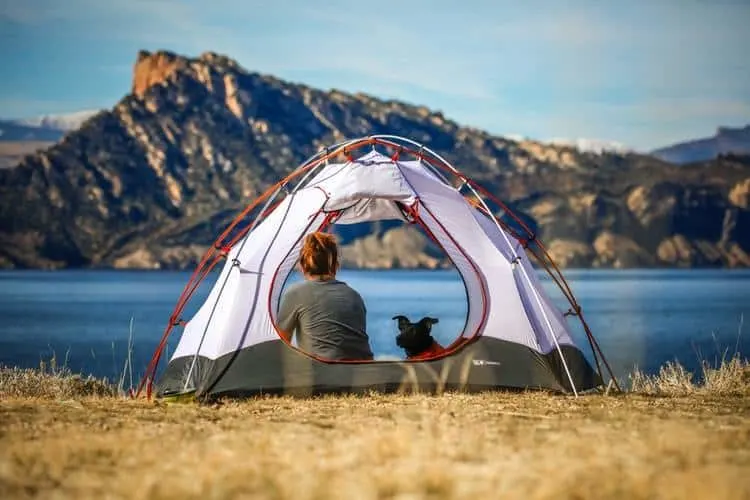 You may be asking yourself, what should I look for in order to find the best waterproof tent? The answer involves several different aspects and components all of which will be broken down in simple terms so that you can confidently purchase a great tent with a spacious interior that will protect you from the elements like heavy rain or high winds while you comfortably explore nature.
Below, you'll find sections listing the key component that matters most when purchasing a waterproof tent that will last and provide the most safety for your family.
Insulation Rating
Almost every backpacking tent comes in two primary design types which are single-wall tents and double-wall tents.
Both design options are made using a water repellent layer which aids in the process of maintaining a habitable climate inside the tent. Single wall tents tend to be more expensive when compared to double-wall tents due to the fact that their construction process uses less material fabric. Double-wall tents can do a good job at providing multiple layers of protection against the harsh elements such as wet wind, however they tend to be heavier when compared to their single-wall counterpart.
The type of backpacking tent you decide to go with will play a role in how willing you're able to adjust to adverse weather conditions. Waterproof tents come in single wall and double wall design options making it easy for you to find the perfect option that's right for your needs.
How Lightweight is the material?
Lightweight waterproof tents are very popular and for some very good reasons, they allow you to establish and maintain an impenetrable layer of resistance between yourself and the presence of water. Waterproof tents made with heavy outer layers of waterproof material tend to be prone to collecting water which can make moving it very difficult.
The best waterproof tents are made from lightweight and highly durable water-resistant shells that will provide full coverage at a fraction of the weight that tents made from traditional materials weight.
Dry Entryway Section
Most tents available on the market today come with built-in dry entryways that allow you to avoid tracking water and dirt into the main area of your backpacking tent. This is a very important feature that you need to ensure your chosen tent has in order to make your camping trip as comfortable as possible.
If you find a backpacking tent that has all of the above-mentioned features but lacks a dry entryway, even if it just some feet long, don't even consider purchasing the item. It doesnt have to be very spacious, just big enough. A well-built dry entryway is one of the most features that you'll need when buying a waterproof tent.
Which Brand Is Right for You?
There are several large companies who manufacture waterproof tents however not all of them offer the quality you would expect. Below, you'll find the top 3 brands for tents that provide the most bang for your buck, in other words, you'll be getting lots of great value by choosing these product manufacturers.
MSR Tents
MSR Tents are designed for ultra-mobility, functionality, and protection in mind which is why they offer several tents designed in different fashions for particular outdoor situations in mind.
MSR Tents come in a variety of outer shell types, material fabrications, set-up processes, and more to provide a comprehensive line of tents for those who love to adventure the outdoors despite hard wheaters such as strong winds and rain. MSR Tents are affordable, lightweight, durable, spacious, easy to use, and mobile making them one of the leading brands on the market.
Eureka Tents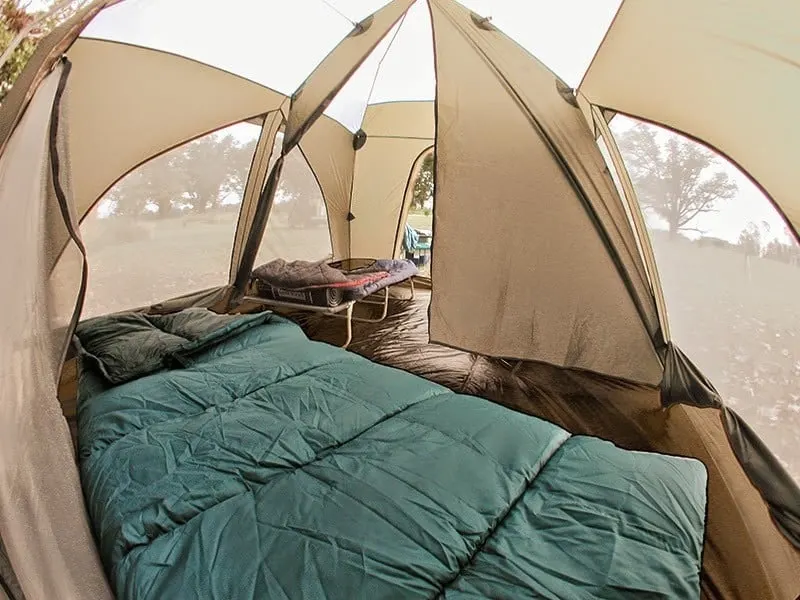 Eureka Tents are designed to provide the most full-service backpacking tent experience that you can possibly access. Eureka Tents feature a wide array of built-in accommodation, protections, and luxuries to provide a comfortable yet versatile camping experience.
Most Eureka Tents comes with amenities such as overhead protection, sectioned interiors, accessibility features, and plush material for maximum comfort. A Eureka tent for camping is great for those people who want to experience a true sense of home while camping during the sleeping time. Eureka Tents provide comprehensive coverage against an array of potential threats like rain and wind while making comfort a staple of the design concept overall.
Coleman Tents
Coleman Tents produces a wide array of with maximum capacity and ultra-camping glamor in mind. If you want to find a tent for camping that resembles a home as much as possible, Coleman Tents has the perfect selection for you to choose from. Coleman Tents are made using very intricate design features and come standard with many accessories that you won't find in high-end tents from other companies.
Coleman Tents provide the most well-rounded camping experience for large groups of people, like the six-person tent who want a comfortable yet durable tent to use while camping. Coleman Tents come in many different sizes, colors, and designs which makes finding the right one for you a breeze.
Choosing the Best Waterproof Tents – A Mini Buying Guide
There are a couple of tent features to keep in mind when looking at the best waterproof tent, especially those that need to withstand bad weather conditions . First off, you need to determine if the tent is a single wall or double wall model.
1. Is It a Single Wall Tent?
Just as the name suggests, are tents with only a single layer or shell. This shell takes care of repelling water and allowing moisture to escape from inside. For this reason, single wall tents are often more expensive due to the ventilation technology and materials used to make them good for winter camping. These models are also lighter in weight which can be a real benefit for campers depending on their outdoor activity of choice.
2. Is It a Double Wall Tent?
These are made of two layers – water repelling outer shell properly called a rain fly and an inner layer which allows breath-ability. Double wall tents are more common and fairly versatile for many campers as they are less expensive.
Due to the extra material of two layers plus the stakes needed to secure most rain fly shells you would have to carry more weight. Set up will take a little longer as well. Both types of tents can be equally good at repelling rain. It really comes down to personal choice and the budget available for a tent. Other tents feature to keep in mind include.
3. Does It Have No Seams Near Tent Floor?
Non-waterproof seams should be completely avoided. All waterproof seams should be in locations that don't come into contact with the floor of the tent or close to the floor space of the tent.
4. Does It Have Tub Flooring?
Tents will tub flooring (a solid floor space that goes up 2-3+ inches on the sides) will be the most effective at keeping you dry at your night's sleep. Bathtub floor features should be given extra weight in your evaluation of water resistant qualities.
5. Does It Have a Dry Entryway?
Camping in wet weather means a dry entryway, referred to as a vestibule, is a necessity. This ensures rain doesn't get in while you go into the tent and also gives you a place to stand out of the weather to remove wet shoes or clothing while there's rain.
6. Is It Made With Light Weight Shell Materials?
When shopping for a tent look for those that are made from the lightest waterproof materials possible. Lightweight shells will easily allow water to roll off and are less apt to collect water compared to heavyweight shells.
7. Does It Have a Removable Outer Shell?
If you have your eye on a double wall tent make sure you can totally remove that outer shell. This provides you some ventilation for the tent and makes cleaning easier. Moisture trapped inside the two layers can lead to dampness and eventually mold.
Where to Buy Waterproof Tents Online
All of the tents mentioned in this article are fantastic choices for those people who want serious protection while camping without taking any chances. Majority of the tents on our list can be found in your local outdoor or sporting specialty shop.
Keep in mind that certain tents may come with accessories or design features that only activate when shipping from the manufacturer's website. If you want to ensure that you're getting the best deal on your desired tent, visit the official manufacturer website to make sure that you're saving tons of money.
There are a lot of physical sports shop and other retail locations that carry all of the brands of tents mentioned in this article. There are also a lot of great online retail stores which make it easy for you to purchase the tent you need without waiting or running the risk of it being out of stock. Always check with your local sporting store and specialist retailer before visiting to purchase a tent so that you can make sure they have the one you need in stock.
Final Word | Finding the Best Waterproof Tents
Camping without a tent is like trying to drive a car with no gas, it simply won't work. If you plan on staying at your chosen campsite for multiple nights in a row, then all of the tents mentioned in this article are great choices that provide robust protection and living options for groups of all sizes.
If you want the most functional and luxurious tent available on the market, we recommend the Eureka Copper Canyon Waterproof Tent due to its comprehensive design standards and full-coverage protection.
The Eureka Copper Canyon Waterproof Tent is the closest thing you'll get to an RV without actually having one and its built-in electrical system just give you more incentive to purchase this tent. The Eureka Copper Canyon Waterproof Tent is a sturdy and spacious tent option that rivals some of the most premium options available.
For those people who love taking camping trips with their family in order to spend quality time and build lasting memories, the Eureka Copper Canyon Waterproof Tent is the perfect tent and provides everything you could ever imagine into one simple package.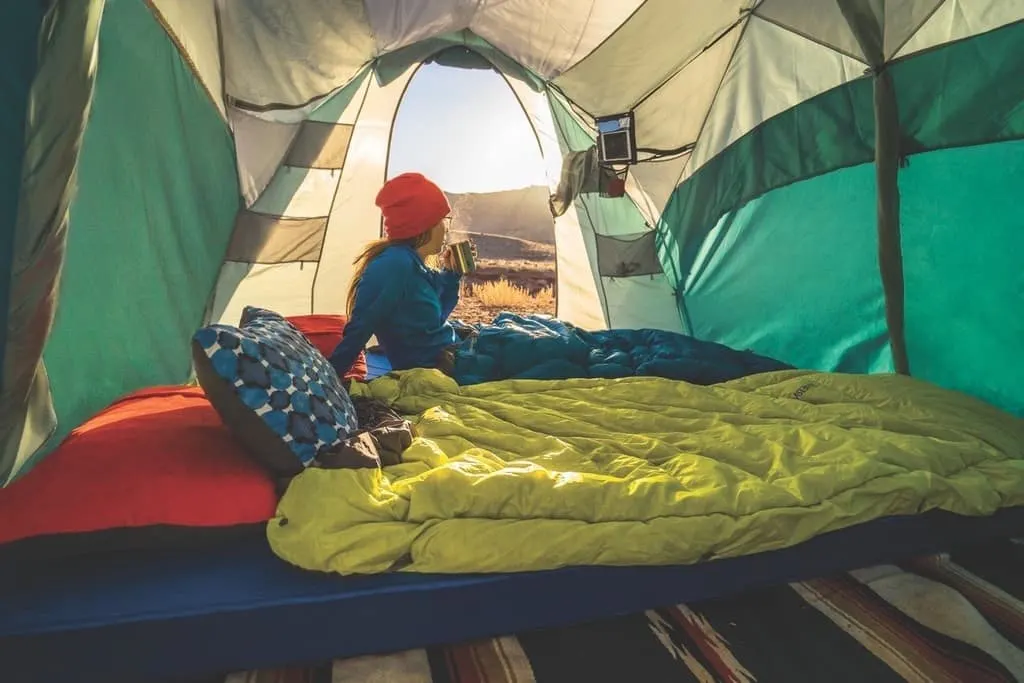 All of the various features that are included with the Eureka Copper Canyon Waterproof Tent are even more mind-blowing when considering it' relatively lightweight design and ease of set-up. For a reliable tent that is waterproof and capable of withstanding virtually anything nature can throw at it while providing your family with a comfortable home out in the woods, the Eureka Copper Canyon Waterproof Tent does everything you can imagine plus more.
If you plan on camping anytime soon, use all of the information listed in this article to make the right decision on which tent will be best for your trip. There are so many other tent options available and we've only listed a small amount. Whatever tent you decide to go with, make sure that it meets some of the minimum standards outlined earlier in this article and you should have no problem staying safe and dry.
Use this guide as a helpful tool on your journey for the perfect tent and you will never be disappointed. While the Eureka Copper Canyon Waterproof Tent won our comparison, there are so many other tents out there which provide the same if not more coverage, do a little research to find out what tent options are out there then make an informed purchase decision by using a few of the tips outlined in this guide.
Some Other Options to Consider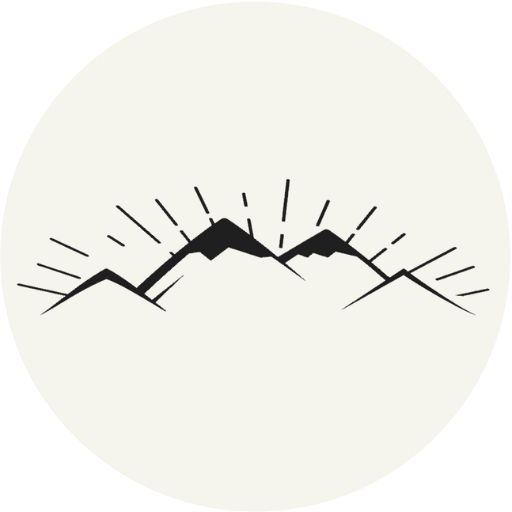 The All-Outdoors Guide team is comprised of enthusiastic experts that enjoy helping others that aspire to be better at outdoor fun. Part of that is making sure you have the right gear and information when it's time to go out and have fun. Some of our team have accomplished amazing feats like climbing 6000 feet to the top of mountains, others have explored every dirt trail they could find and we even have some people that have backpacked solo on various continents. No matter what our readers want to learn and do, our team is here to help them accomplish those goals.