Finding a one-person tent that is roomy enough to be comfortable without excessive space (which leads to excessive weight) and tough enough to take on harsh conditions can be tricky. Consider one of the three options instead.
Option #1: REI Passage 1 Tent

REI's Passage 1 tent is a classic X-pole freestanding design with a weight low enough for backpacking. If you don't want to spend an arm and a leg but want a tent that will last for years and keep you cozy, this one would be a great choice.
Specs:
Solo backpacking tent
3 season use
Packed weight – 4 lbs 3 oz
trail weight – 3 lbs 11 oz
Packed dimensions – 7.5″ x 21″
Floor dimensions – 90″ x 36″
Total floor area – 20 sq ft
Total vestibule area – 8 sq ft
36″ peak ceiling height
Single door
One-color – Sage/Platinum
Materials:
Canopy – nylon taffeta/mesh
Floor-coated nylon taffeta
Rainfly-coated polyester taffeta
Poles – 3 7001 aluminum poles (8.5 mm diameter)
Features:
Asymmetrical design with side entry
Set-up is fast with quick-attachment clips and color coding
Uses equal length and angled poles
Rainfly and floor are both seam-sealed with excellent water resistance
The floor is bathtub style with abrasion-resistant nylon
Welded construction prevents leaking through guy outline points, pole wraps, and zippers
Adjustable vents keep condensation at bay
Various interior pockets and loops for storage
Comes with a compression sack, stakes, guylines, and guyline tensioners
Passage 1 is a fairly spacious tent for being a solo capacity. The ceiling height is tall enough that most will be able to sit up and enter/exit the tent comfortably. Even people taller than average will find this tent roomy enough to sleep well and store some gear at their feet.
When it comes to design, this tent is fairly simple but made with quality materials. It is incredibly waterproof and the bathtub style floor is an excellent feature often found on higher-end tents. The vents on this tent are at a high level which really helps to draw out the warm air and provide ventilation. Waking up to a too warm tent or one with condensation beads all over the ceiling is unpleasant. With this tent, it won't be an issue.
"As an entry level solo tent, the Passage 1 is one of the best."
It is a bit on the heavy side for a one-person tent but for the price, under $150, it is an incredible deal. You can take this along with your backpacking (if you don't mind the extra weight) or just use it for casual camping. Be sure to check this listing for the latest discounts.
Option #2: Big Agnes Copper Spur UL 1 Tent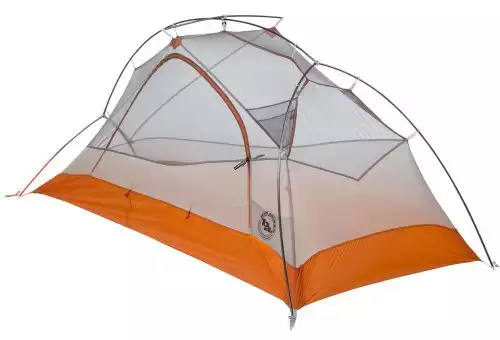 The Big Agnes Copper Spur tents are already extremely popular so it's no surprise that their one-person capacity model is equally impressive. This model is well-priced for being an ultralight solo tent and it has plenty of neat features to make any experience level of backpacker happy. For our full in-depth review of the UL2, you can read it here.
Specs:
3 season backpacking ultralight tent
Freestanding design
Packed weight – 2 lbs 8 oz
trail weight – 2 lbs 3 oz
Fly/footprint pitch weight – 1 lb 10 oz
Packed dimensions – 4.5″ x 16.5″
Floor dimensions – 90″ x 42″ x 30″
Total floor area – 22 sq ft
Total vestibule area – 10 sq ft
37″ peak ceiling height
Single door
Materials:
Canopy – nylon and polyester mesh
Rainfly-coated ripstop nylon
Floor-coated ripstop nylon
2 aluminum DAC Featherlite poles ( 1 9.0mm double hubbed pole set and 1 9.6mm cross pole)
Features:
D-shaped door and vestibule allow easy entrance/exit and access to gear storage
Zippers have storm flaps for rain and wind protection
Pole system uses H-clips and DAC Twist Clips for quick setup and roomy design
Body of tent and root vent made of mesh to allow for ventilation and keep humidity inside tent down
Ripstop nylon on fly and floor are silicone-treated with an additional waterproof PU coating
Seams are all taped with a waterproof PU
The tent has a mesh pocket for storage and includes gear loft loops (gear loft sold separately)
Guylines and webbing on tent corners are reflective for safety
Comes with a stuff sack and aluminum stakes
The Copper Spur UL 1 is a great all-around tent for really any outdoor camping situation. It is definitely a little roomier than most solo tents so you have plenty of room for gear storage. The added vestibule is perfect for keeping dirty gear and boots outside. With the vestibule staked out properly, it will also be a nice dry space for outdoor cooking when it's raining.
"Being able to break down this tent to just the fly, poles and stakes is a great feature for UL backpacking in warm weather."
Big Agnes does recommend buying a separate footprint for this tent to extend its longevity, but this would be mandatory if you plan to go without the tent body.
This is really a great little tent that is just as durable as larger capacity models in its product line. Based on the quality of materials, design, and Big Agnes's warranties, it is well worth the money. It often retails under list price here which is reasonable for a solo 3 person UL tent.
Option #3: MSR Hubba NX Tent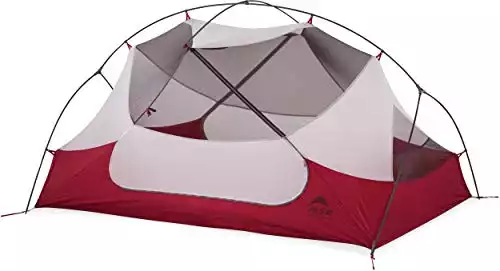 If $350 is your budget limit, the MSR Hubba NX is one of the best in its class. It is more compact than most solo tents and versatile as well. If you plan to take your tent backpacking, you will be very happy with this model.
Specs:
3 season UL backpacking tent
Packed weight – 2 lbs 14 oz
trail weight – 2 lbs 7 oz
Fly/footprint pitch weight – 1 lb 10 oz
Packed size – 18″ x 6″
Floor dimensions – 85″ x 30″
Total floor area – 18 sq ft
Total vestibule area – 9 sq ft
36″ peak ceiling height
Single door
Materials:
Canopy – 20D high-tenacity ripstop nylon and 15D nylon micromesh
Rainfly – 20D high-tenacity ripstop nylon with Durashield PU coating + silicone treated
Floor – 30D high-tenacity ripstop nylon with Durashield PU coating
Pole- 1x 9.3 mm DAC aluminum hubbed pole set
Features:
Unique pole design gives excellent headroom and general space intent
Easy set-up with a color-coded system
Super compact compression sack makes packing tent easy
Extra-large StayDry door makes entering and exiting easy while keeping out rain
Vents on rainfly and vestibule keep interior dry but warm
The ability to break down the tent too Fast & Light setup (poles, fly, and footprint) makes the tent versatile
"Even though the MSR Hubba NX has less that 20 sq ft of floor area, it feels quite roomy and uncramped."
Men and women of average size will find that it has plenty of space but those who are very large may be more comfortable in a bigger model.
The tent is a very attractive and sleek design with a red and light gray color scheme. The unusual pole setup looks a bit strange but it is extremely stable and quick to erect. This tent is not delicate in the least and can withstand storms as well as heavy rain or strong winds. It is a 3 season tent and many agree that it truly performs as such.
If you really like the option to break down a tent for warm weather camping, you are going to love the Fast & Light setup option. At only 1 lb 10 oz, even the most discerning ultralight backpacker will be pleased with how lightweight their shelter will be for warm-weather adventures.
Final Zip
Solo tents are perfect for outdoor enthusiasts that are tired of lugging around a heavy multiple-person tent when all they need is space for themselves. Car campers will really like the price point and comfort of the REI Passage 1 while more experienced campers and backpackers may prefer the Hubba NX or Copper Spur UL 1.
Looking for the Best Tent Deals? Check out our comprehensive tent deals tracker here.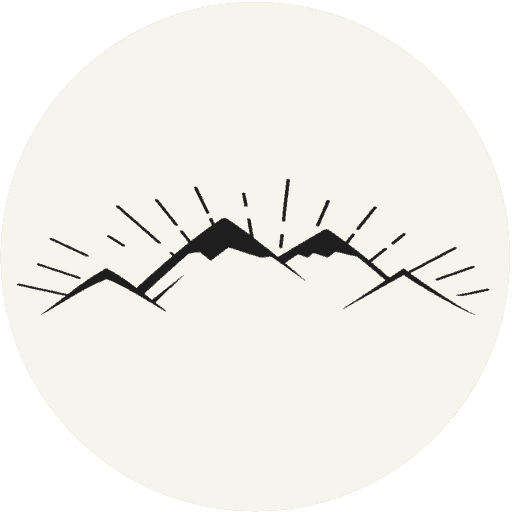 The All-Outdoors Guide team is comprised of enthusiastic experts that enjoy helping others that aspire to be better at outdoor fun. Part of that is making sure you have the right gear and information when it's time to go out and have fun. Some of our team have accomplished amazing feats like climbing 6000 feet to the top of mountains, others have explored every dirt trail they could find and we even have some people that have backpacked solo on various continents. No matter what our readers want to learn and do, our team is here to help them accomplish those goals.