One of the most popular types of camping is car camping. Car camping simply means you drive to your campsite rather than walk to it. It also includes campsite locations where you may park and then walk a very short distance to a campsite.
Since car camping is very casual in nature and doesn't require you to pack heavy gear a long ways, you can get away with luxuries you couldn't if you had to settle for a backpacking tent.
Why Car Camping?
The biggest advantage of car camping is that you don't have limits on tent weight like you would if you were backpacking on foot. This means you can go with a much larger tent or one with features you normally would have to pass on due to weight restrictions.
Another advantage is that it can open up the possibility for extending the camping season and into variable weather conditions (high winds, etc…), even partaking in winter camping! With a car close by, you have the ultimate exfil if needed.
Finding the Best Car Camping Tent for Your Needs
If you enjoy car camping and are looking for a new tent, check out these 5 best options for car campers…
Being able to put aside gear restrictions and really make your campsite feel like home is a wonderful change of pace. Even hardcore backpackers will find that going car camping on a weekend is a great way to relax with friends and family.
If money is no object, a Roofnest Top Tent is one of the best (and most innovative) durable solutions. The Roofest turns any car capable of carrying a roof rack, into a pop-up tent.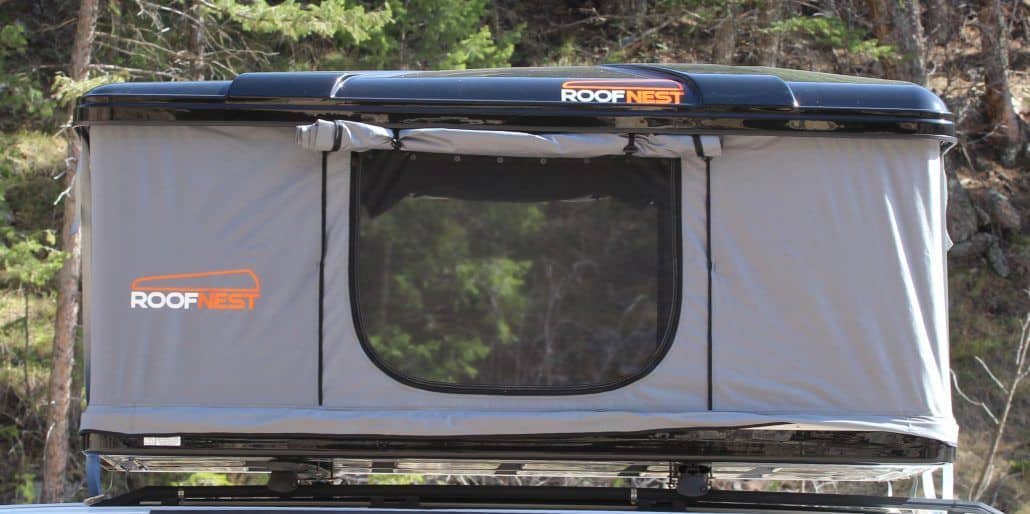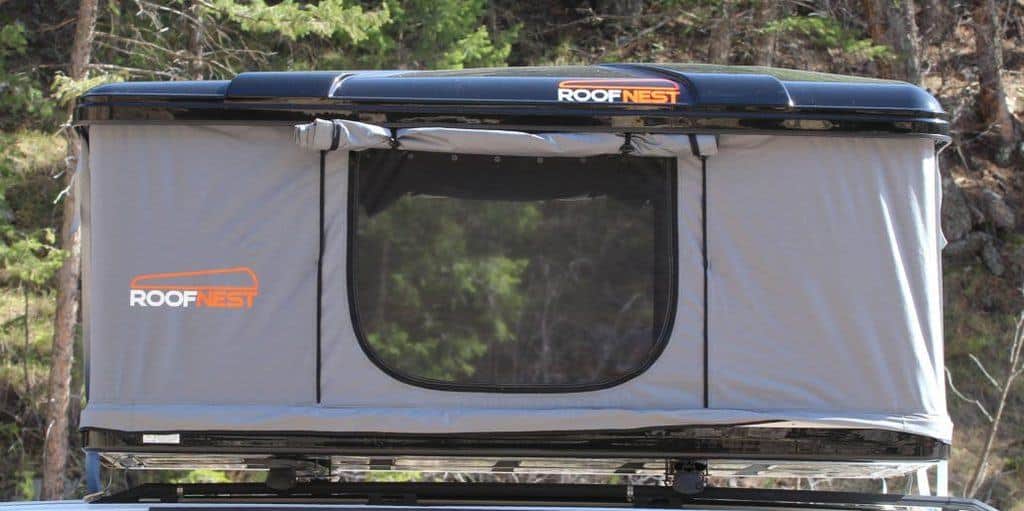 As you can see, the Roof Nest gets placed right on the roof of your car and compresses down to a slim and durable cargo box when not in use:


Fully extended, this Roofnest Eagle features 6′ 10″ x 55″ of interior space, enough for sleeping 2 campers comfortably with plenty of ventilation. The Eagle also comes with a telescoping ladder for easy access.
Roofnest Models: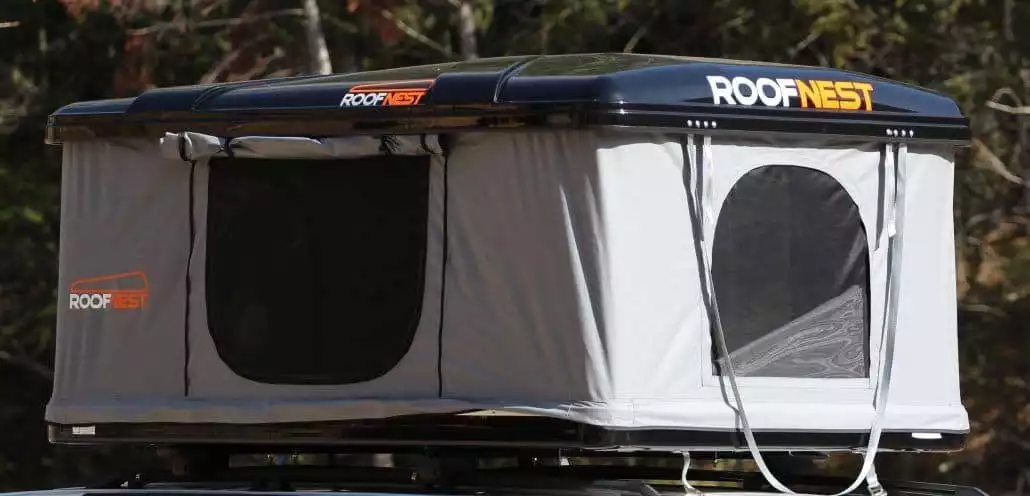 Why the Roofnest is Worth it
Look, I didn't WANT to like something this pricey. BUT, It was worth it. No need to buy a camper. Space efficient. Easy to set up ANYWHERE. This is why we've named it our most innovative camping product for 2019.
Check Latest Prices
We earn a commission if you click this link and make a purchase at no additional cost to you.
First up is REI's Kingdom 8 tent. As the name suggests this tent will sleep 8 people comfortably and offers plenty of space for a small family to get a good night's sleep.
Its main Advantages include:
Built-in room divider to separate tent into two spacious rooms
Vertical walls with a peak ceiling height of 6 feet, 5 inches
Rectangular 12' 6" x 8' 4" floor plan
Weighs 22 lbs 3 oz
Freestanding design
Has 2 very large doors with 2 zippers on each
The tent is made from bug-proof mesh ventilation (including mesh roof)
Tent fly has sealed seams and is made from waterproof polyester, mitigating condensation buildup
The tent floor is also seam-sealed
Numerous interior pockets for storage
Comes in a backpack-style carry bag, if you need it to double as a backpacking tent
Sold with all-aluminum poles and guy lines needed as well as tighteners and a pole repair kit
The major advantage of this tent is really how spacious it is. Being able to sleep 8 people is impressive but the ability to split the tent into two rooms really gives privacy AND storage space. This is great for two couples (two-person tent) sharing a tent or parents who camp with their kids but want some privacy with the divider.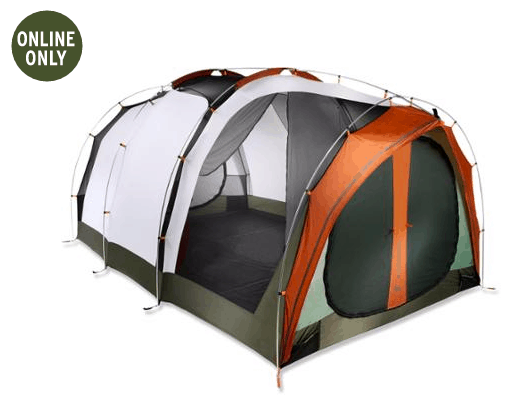 It is fairly heavy which is why it is perfect for car camping. This tent is totally bug-proof and easy for two people to set up relatively quickly. Like many REI tents, the Kingdom 8 is extremely sturdy and well made. The other great feature is the almost 360-degree mesh roof, ideal for stargazing AND ventilation!
Aside from the tent itself the poles are also very stout and will last for years. This tent is well priced (check online here) for the number of features and the sheer size of the shelter you get. If this model is too big or maybe too small for what you need, keep reading!
#3 Mountain Hardwear Yurtini
If the Kingdom 8 is actually too small for your needs, then the massive Mountain Hardwear Yurtini cabin is going to provide all the space you need. Based on the yurt shelters used by nomadic people of Mongolia, Siberia, and Turkey, the Yurtini is a modern approach to large open-floor tent structures.
Features of the Yurtini include:
A spacious 208 sq feet of floor space (like a small cabin)
Weighs 18 lbs 10 oz, making it easy for one person to move around and set up
Tall 95" peak ceiling height gives plenty of room but you can set it up at a lower height if needed
Uses super strong DAC press-fit poles
All seams are reinforced and will not stress
Tent has 3 different doors with screens to prevent insects from getting in
Two screened roof vents keep air circulation flowing and optimal ventilation
Since the Yurtini is fairly basic in design it doesn't have a significant amount of special features. This tent is best suited for groups of friends or family that want a shelter that is roomy and versatile. The open floor plan and lack of dividers mean privacy could be an issue but it also gives you numerous ways to set up sleeping bags and store gear.
Vacationers will find that this tent is roomy enough to use as a cabin for a couple- you can have your sleeping area, a gear storage area, and even room to set up a small table for meals.


Keep in mind that since this tent is lightweight tent and very tall, it is NOT best for use in windy areas. It can handle light wind and light rains but is best suited for fairly good weather camping excursions. The Yurtini camp dome cabin is also popular for campers who also go on day vacations or go to festivals often as you can use this shelter as a gathering place for friends.
The Yurtini is available exclusively at this listing, so be sure to check it out for the latest pricing.
#4 Big Agnes Wyoming Trail 4 Tent
Do you like the Kingdom 8 but think it is just too much tent for your needs? An excellent alternative is the Big Agnes Wyoming Trail 4 tent. This 4 person capacity tent is created by an excellent brand and has consistently high ratings.
The main features of the Wyoming Trail 4 include:
Two separate private rooms divided by a giant vestibule
Private rooms have a 54" ceiling while the vestibule has 64" of headroom
Packs up to 16lbs 4oz
34 sq feet of area in-tent rooms and 40 sq ft of area in vestibule
Tent fly has one large garage-style door into the vestibule while each room has its own door
Freestanding design with reflective safety guy lines
The tent is treated with PU waterproofing coating
All seams are taped with an additional waterproofing PU tape
Gear loft loops built into the tent and are compatible with other Big Agnes lofts
Different setups give versatility to the tent- i.e. "fast fly" uses the fly to quickly set up a large overhead shelter ideal for family gatherings
The main advantage of this model is how it's built with the vestibule in the middle of the tent rather than having vestibules on the ends. Having a large common area separating the rooms gives a lot of privacy, whether it's a romantic couples camping trip or just parents that don't want to hear their kids talking and laughing all night.
Despite being a car camping tent (or SUV tent) it is fairly lightweight compared to other 4 person capacity tents. This makes it easier to pack the tent a short way if you can't get very close to your campsite in a car. The fast flyweight is 12lbs which is easy for one person to carry for a while. Speaking of the fast fly option, being able to just take poles and the fly makes the Wyoming Trail 4 perfect for a busy family.
If you are on a day vacation but want to ensure you have some shade or protection from the rain (waterproof), this tent can do that for you.
Summary: Another great option with ample space for up to 6 people (six-person tent) and/or for gear and extra "roomy" camping (great for backpacking, too). You can read our full REI Base Camp 6 review for more details and/or you can pick up directly via REI here.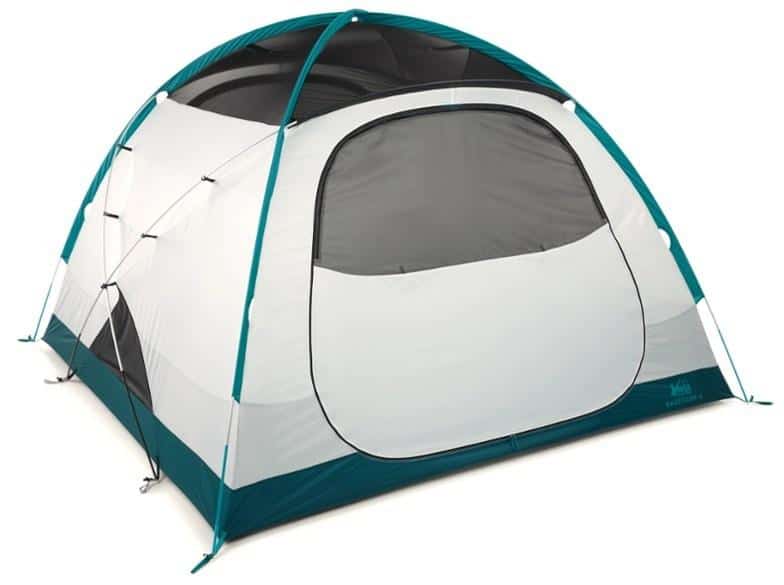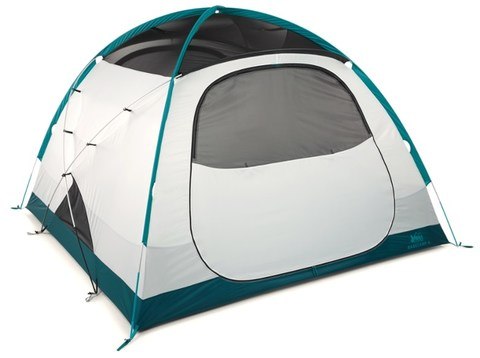 Some Other Options to Consider:
Final Advice on Car Camping
Going car camping can be a real treat since it allows you to use a more high-tech, luxurious tent since weight isn't a restriction. Since weight isn't as much of a concern it's usually best to buy a tent that is large enough for friends or family to come along.
When shopping for a tent for camping it's important to compare the various features of all and think about what circumstances you'll be using the tent most often. These three feature models are all great options for the average camper.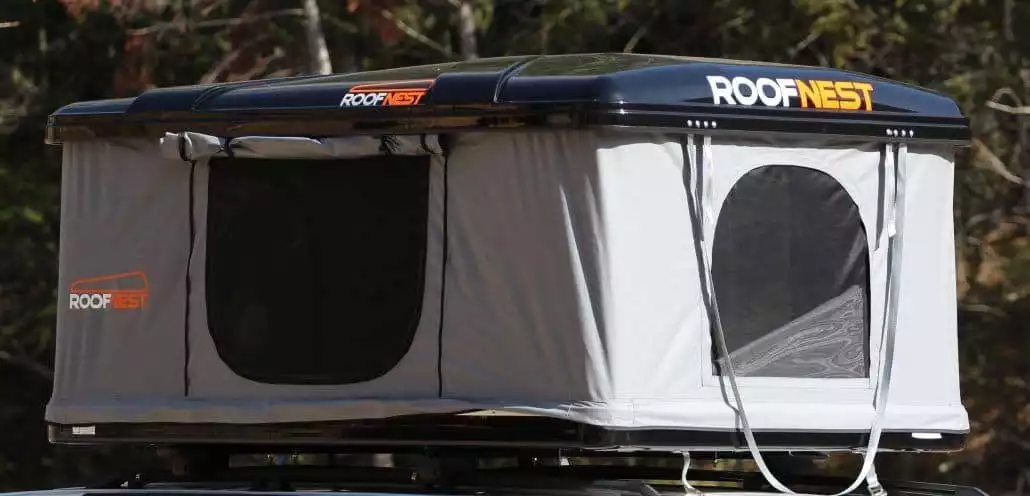 Why the Roofnest is Worth it
Look, I didn't WANT to like something this pricey. BUT, It was worth it. No need to buy a camper. Space efficient. Easy to set up ANYWHERE. This is why we've named it our most innovative camping product for 2019.
Check Latest Prices
We earn a commission if you click this link and make a purchase at no additional cost to you.
Further Reading on Tents for Camping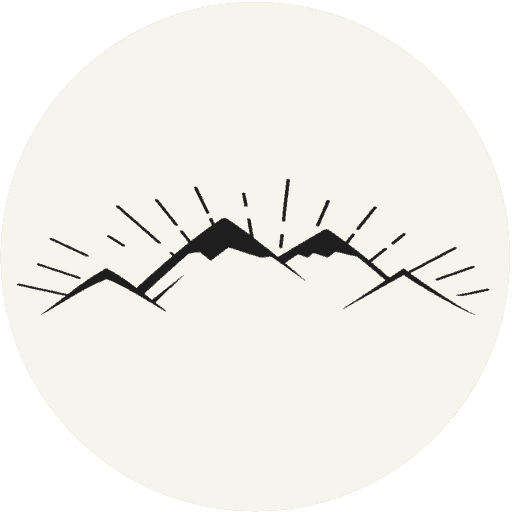 The All-Outdoors Guide team is comprised of enthusiastic experts that enjoy helping others that aspire to be better at outdoor fun. Part of that is making sure you have the right gear and information when it's time to go out and have fun. Some of our team have accomplished amazing feats like climbing 6000 feet to the top of mountains, others have explored every dirt trail they could find and we even have some people that have backpacked solo on various continents. No matter what our readers want to learn and do, our team is here to help them accomplish those goals.