Popularized in Australia, New Zealand, and across Africa in the 1950s and '60s, roof-top tenting is now making waves in North America after a rather tepid introduction in the immediate aftermath of the RTT's antipodean debut.
While a mere decade ago the options on the market for would-be RTT campers were few and none too fetching, these days a simply vast variety of RTTs available for those looking to elevate their camping experience from the grittier, down-in-the-dirt MO of traditional tent camping to something a little more generous and cordial in terms of convenience, comfort, and, in some cases, downright luxury.
Among the most notable and attractive of those options are the offerings of Colorado-based brand Roofnest. In this article, we aim to introduce you to the Roofnest catalog with an in-depth review of the Roofnest Eagle Roof-Top Tent and a brief comparison with further Roofnest models, the Sparrow, Sparrow Eye, and the Sandpiper.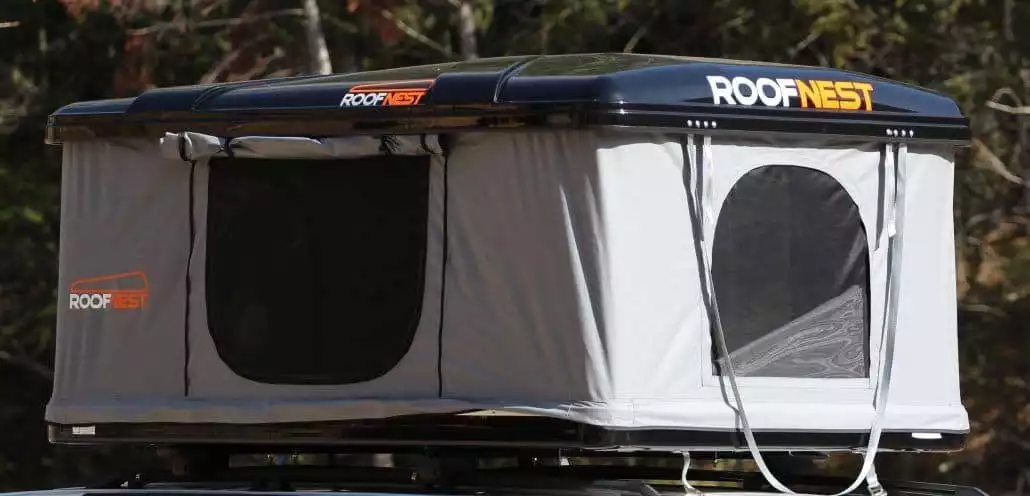 Why the Roofnest is Worth it
Look, I didn't WANT to like something this pricey. BUT, It was worth it. No need to buy a camper. Space efficient. Easy to set up ANYWHERE. This is why we've named it our most innovative camping product for 2019.
Check Latest Prices
We earn a commission if you click this link and make a purchase at no additional cost to you.
Before we get down to our Roofnest Eagle review, however, let's first take a look at some of the crucial factors to take into consideration when buying an RTT for your outdoor adventures.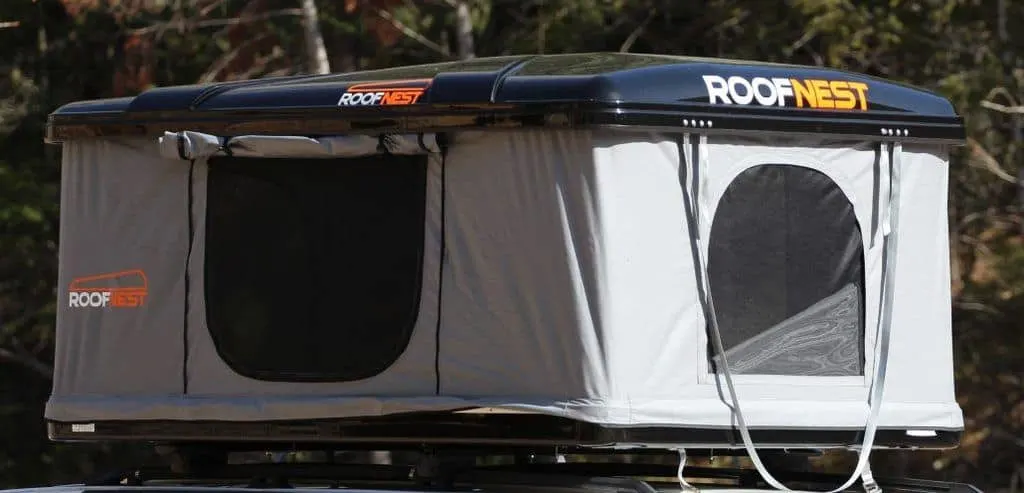 Why choose a rooftop tent?
Those who choose a rooftop tent over a standard tent usually have very good, concrete reasons for doing so. We've listed these reasons—along with a few notable caveats—with a selection of the RTT's pros and cons below.
RTT Pros
"Pitch" time—RTTs can generally be set up in a matter of a few minutes
Convenience—Instead of scouring the surrounding terrain for a suitably flat, sheltered spot to pitch your tent and then going through the whole rigmarole of ousting rocks, hammering in stakes, pegging out guy lines and so on, with an RTT you can just park up where you please, pop open your tent, and get down to getting your Zzzzs on
Portability (!)—The age-old weight problem of regular tents is nullified by the fact that your vehicle does all of the carrying for you
Comfort—Most RTTs have a thick foam floor mattress that eliminates the need for a sleeping pad
Stability—Unlike traditional tents, RTTs use thick canvas materials and sturdy frames that are attached, of course, to a very solid foundation
RTT Cons
Cost—If you were hoping to make the step up from traditional tent camping to RTT camping without breaking the bank then it may be best to look away now or, at least, think again…RTTs can cost eye-watering amounts of $ for shelters that, at the end of the day, can only be pitched in one place (i.e. the top of your vehicle) and are smaller than many models of ground tent. Definitely check here for the latest pricing, however.
Convenience—While it's all fine and well being hoisted up above the beasts and creepy crawlies to do your sleeping, when you need to nip out in the middle of the night to answer nature's calls it's not ideal to have to take on a V4 boulder problem (as the ladder on your RTT can appear circa 4 am with sleep-addled eyes and trail-wearied bones) on your vehicle in order to do so!
Compatibility—Not all roof racks are compatible with every type of RTT, meaning you may have to purchase one specially
Stays on your roof—Although this simplifies setup a great deal, it does mean you'll have to deal with added aerodynamic drag (and, thus, fuel expenditure) if you choose not to go through the fairly lengthy process of removing and reinstalling the RTT between trips
No vestibule—While it's easy to store your boots and other gear in the car while you sleep, this little sheltered storage spot for dirty kit can be dearly missed, particularly when nipping out for a late-night pee and getting up and down the RTT's ladder in your bare feet
Types of roof-top tent
There are two main types of roof-top tents out there (if, that is, we exclude the pop-top variety built into vehicles at the point of manufacturing): soft-sided, flip-open tents and hardshell tents.
Generally speaking, softshell, flip-open varieties of RTT offer roomier interiors, take up less space on the roof of your vehicle and weight less than hardshells. On the downside, they take longer to set up and are much more exposed to precipitation and dirt.
While typically smaller in terms of interior capacity and costing a bit more than softshell competitors, hardshell RTTS are usually much easier to set up, have superior aerodynamics, and offer your tent better protection while traveling between camping locations.
What to look for in a car roof tent
The trouble with purchasing an RTT is the simple fact that they all look, frankly, just a little bit awesome.
This being so, the temptation for many buyers unaware of the features and facets that make any one RTT better than the other is to opt for one of the first models they come across, basing their decision on appearances alone.
As with all things in life, appearances can be deceiving, and with that in mind we have compiled a list of the attributes you should be looking for before hurrying to the checkout or clicking the 'pay' button.
Roofnest Compatibility
Although we'll never need to carry the thing after first installing it on our vehicle, one of the most notable potential downsides to an RTT is its weight. With most models weighing in excess of a hundred pounds, having a roof rack and vehicle that are capable of supporting the RTT's weight and the additional weight of those sleeping inside it should be your first pre-purchase consideration.
Often, locating the weight capacity of your vehicle's roof rack takes a bit of digging, but in most cases you can find it in the owner's manual or by contacting the vehicle or rack manufacturer.
To ensure that any roof-top tent will be compatible with your vehicle and rack, pay close attention to the following before buying:
Tent weight: This can be found in the specs given in the tent's product description
Dynamic weight capacity (both roof and rack): This will determine whether or not your vehicle and your roof rack will be able to support the weight of the tent alone while on the move, hence "dynamic" as opposed to static. Again, this can be found in the specs supplied by the rack manufacturer and in the owner's manual of your vehicle
Static weight capacity: While the static weight capacity of your vehicle's roof isn't usually an issue (these are, after all, manufactured to withstand the force of rollovers!), it's worth checking that the vehicle will comfortably hold the rack and tent plus everything that you plan on putting inside it (i.e. X number of humans plus gear), particularly if you're in the market for a larger-capacity RTT
Rack compatibility: Not all racks are compatible with the configuration of all RTTs. Before buying a new rack, take the time to check the owner's manual to avoid any additional expense and/or disappointment

Ease of Setup
How quick and easy it is to get your RTT "pitched" varies greatly from model to model, with some varieties falling into the sub-one-minute category for a lone camper and others requiring two pairs of hands and anything up to half an hour, depending on how well practiced you are in the setup process and whether or not weather conditions are on your side.
A few general observations can be made with regard to how easy it is to set up varying types of RTT. For the most part, the most difficult to set up are flip-open, soft-sided tents with larger capacities and also those with taller peak heights, while "hardshell" models—which are typically less spacious—can be popped open and good to go in next to no time.
Dimensions and Capacity
As with any type of tent, roof-top tents generally come with a person rating (2-person, 3-person, etc.) supplied by the manufacturer. While this may help to give you a general idea of size when doing your initial research, it should not be relied upon as an accurate guide to how well any roof tent will be suited to you and your camping partners as manufacturers are often a touch on the optimistic side when according these ratings and, of course, the dimensions and spatial needs of one person can vary greatly from those of another.
The best way to decide whether or not a car roof tent will provide adequate elbow room for your car-camping crew is to do a little research, hunting down the specific dimensions in the product listing and then calculating the tent's square footage. This can be done by simply multiplying your tent's width by its length, i.e. 6 feet wide by 7 feet long equals 42 square feet of floor space.
As a ballpark guide, the amount of square footage required for full-grown adults is around 15 square feet per person, though this, naturally, will vary depending on your own dimensions and inclinations as regards personal space.
In addition to overall square footage, it's wise to check the tent's width, length and peak height will be enough to accommodate its future sleepers—particularly if any of these happen to be particularly tall—and their sleeping gear.
Performance
As with a standard tent, the overall performance of any RTT with regard to waterproofing, wind resistance, ventilation, ruggedness, and durability are important factors in determining its suitability and appeal compared to its competitors.
While RTT manufacturers are generally less forthcoming with related specifications such as hydrostatic head ratings, it's wise to check that any tent on your shortlist has a waterproof rainfly, high-denier fabrics, and enough ventilation points to increase airflow and reduce condensation inside the tent.
Features
A few added features can make your RTT all the more comfortable, convenient, and practical. The most notable of these include:
Storage pockets for stowing gear
Full zippered closures on mesh panels or "windows" to increase ventilation with ease
Multiple entry/exit points
A gear loft for storage of larger items
Roofnest Eagle Roof Tent Review
Now that we know what we're looking for in a roof-top tent, let's get down to business with our review of the Roofnest Eagle Tent, starting with…
Compatibility
Most vehicle roof racks are rated to carry in excess of a 125-pound dynamic load, meaning that all but a few racks will be able to support the 140-pound weight of the Roofnest Eagle with room (or weight, rather) to spare.
The static load capacity of every Roofnest tent is a whopping 650lbs, so unless you plan on flaunting the recommended occupancy capacity (2/3-person) and/or squeezing your collection of anvils and dumbbells in there beside you, weight should not be an issue.
Ease of Setup
The Roofnest Eagle's hardshell design, coupled with a pair of quick-release metal latches in the closure system, make it one of the easiest RTTs to set up we've ever come across.
From its streamlined, aerodynamic driving position to fully pitched should, after just a few tries, take under two minutes in total. To see how it's done, take a peek at the video below:
Another admirable feature to the Eagle is found in the zippered connections between the wall material and the hardshell fiberglass outer, which make it easy to remove the tent fabric for cleaning or waterproofing.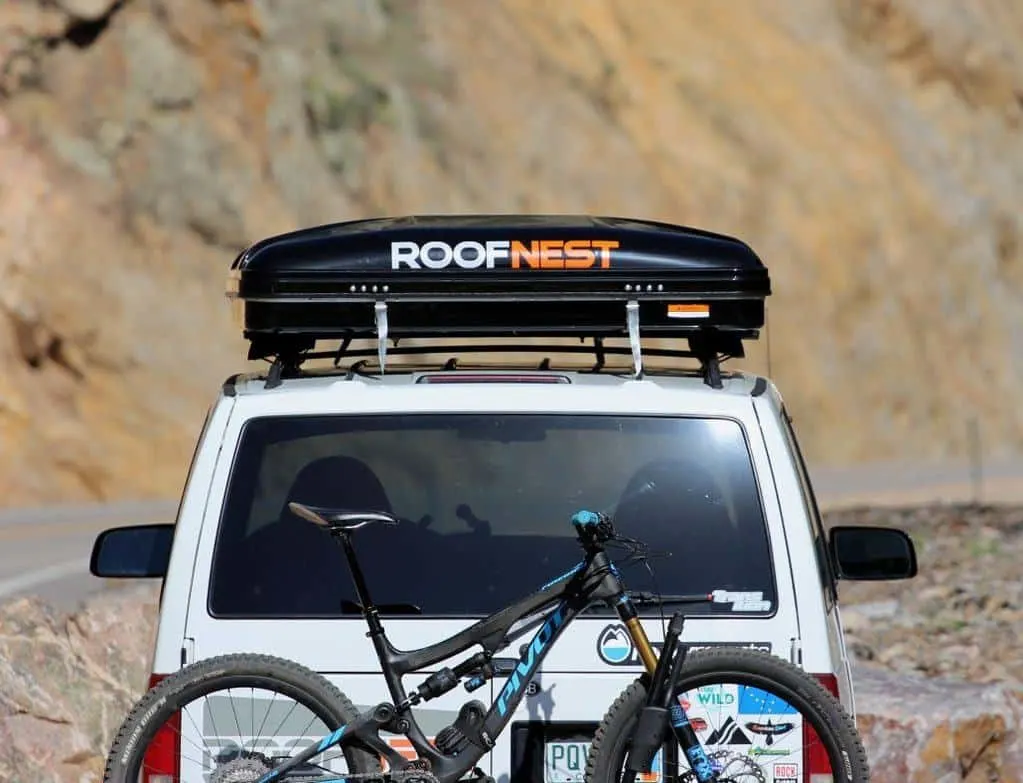 Dimensions and Capacity
Marketed as a 2/3-person tent, the Roofnest Eagle measures 53 inches wide by 82 inches long. While this would make things incredibly "cozy" for 3 fully grown adults, for two adults and a child it should be just about adequate.
While the peak height of 37 inches might seem a little on the low side, one of the most appealing features of the Eagle is that this height is maintained across its 53-inch breadth and entire length, making it far more roomy and livable than standard ground tents with similar or even superior peak heights.
When fitted to your car, the Eagle's fiber-reinforced shell measures 55 inches wide by 85 inches long on the exterior and, because it collapses down to a mere 11.5 inches in height, causes far less drag than many of its competitors—a key consideration for those likely to be travelling long distances and concerned about fuel consumption.
In terms of weight, every model of Roofnest tent is tested to hold up to 650 lbs.
Performance
The upper shell on all models of Roofnest tent is made with ABS-reinforced fiberglass. The sleek, aerodynamic design is not only easy on the eyes but keeps road noise to a minimum and greatly reduces drag compared to many competitor products.
The inside of the shell, moreover, is lined with an insulating layer and quilted fabric that combine to make the interior more comfortable and less "boxy" than other models that forego any form of lining or padding on the inner side of the shell.
The wall material used in the Roofnest Eagle is a blend of polyurethane-coated polyester and cotton that boasts a very healthy hydrostatic head waterproof rating of 3000mm. The thicker fabric also inspires much more confidence than a traditional ground tent with regard to durability and warmth.
The Eagle boasts two large windows with both canvas and mesh zippered closures at the front and rear of the tent. Large doorways on either side of the tent use a mesh screen and zippered closures which can convert into small awnings to provide a bit of shade when the sun's out.
The Eagle comes with a robust, eight-and-a-half foot collapsible ladder that can be attached to the foot of the tent to ensure it stays in place during the night or for added security when entering or exiting the tent.
Every Roofnest comes with a very comfortable, built-in 7 cm foam mattress that precludes the need for carrying a sleeping pad and feels more like a real bed than anything we've ever slept on in the wild.
Features
The convenience and performance-enhancing features included in the Eagle RTT are:
A duo of large interior pockets
Two doors
Large mesh windows
Zippered connection to the hardshell for easy removal
Anti-condensation mat
3×4' foot mat to use when getting on and off the ladder.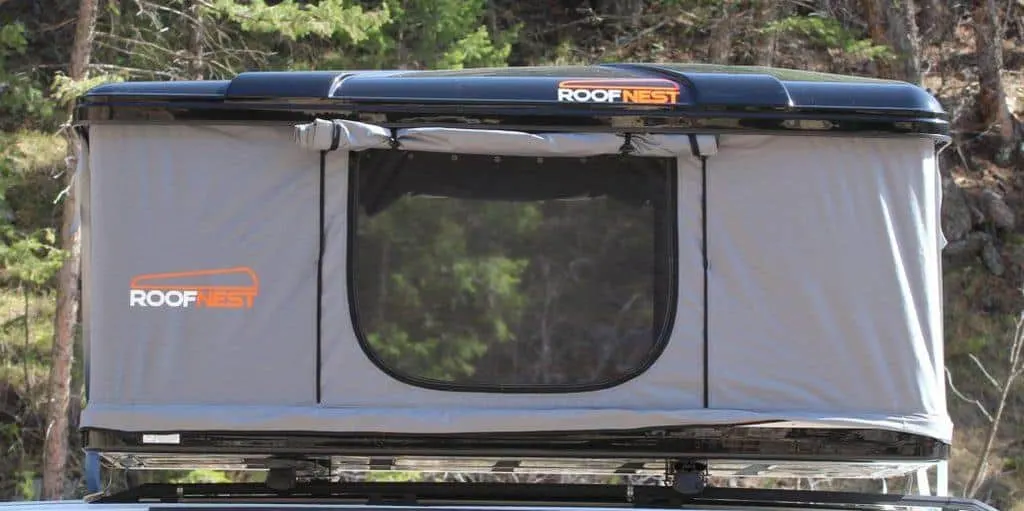 Roofnest Eagle Roof Tent FAQs
1. Where are Roofnest RTTs made?
In China.
2. Do Roofnest tents come with a warranty?
Roofnest provides a two-year warranty against defective workmanship, parts, and materials which fail under normal use, but not due to misuse, neglect, or "acts of God". One of the factors that sets Roofnest apart from competing brands is its excellent customer service. Even outwith the warranty period on your product, their customer service representatives are very helpful in offering advice on repairs and in sourcing spare parts such as struts, awning poles, and zippers.
3. How much is shipping?
Shipping costs $249 to anywhere within the lower 48 states and $399 to Alaska or Hawaii.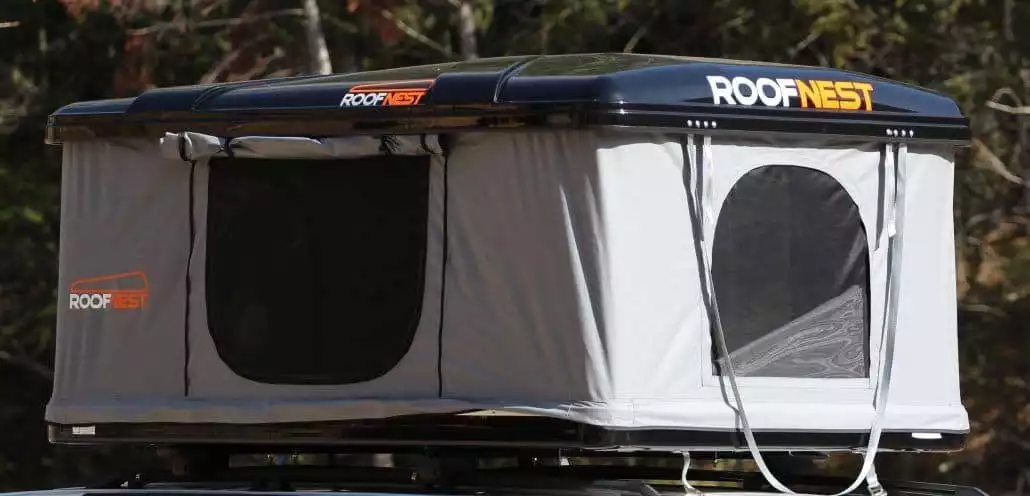 Why the Roofnest is Worth it
Look, I didn't WANT to like something this pricey. BUT, It was worth it. No need to buy a camper. Space efficient. Easy to set up ANYWHERE. This is why we've named it our most innovative camping product for 2019.
Check Latest Prices
We earn a commission if you click this link and make a purchase at no additional cost to you.
Comparison Chart: Other Roofnest Models
| | | | | |
| --- | --- | --- | --- | --- |
| Model | Dimensions | Capacity | Weight | Features |
| | 53" W, 82"L, 37" H | 2/3-person | 140 lbs | 7cm foam mattress; 4 entry points |
| | 45" W, 80"L, 36" H | 2-person | 120 lbs | Insulated lining |
| | 47" W, 85"L, 37" H | 2-person | 135 lbs | Clamshell opening for better views |
| | 48"W, 82"L, 36" H | 2-person | 120 lbs | 100lbs-capacity gear rack |
Roofnest Eagle Roof Tent: The Verdict
For many of us, the idea of making the jump from traditional camping in a standard ground tent to RTT camping is one whose appeal is tempered by a numbered of doubts and questions. When push comes to shove, the most notable of these is simply "is it worth it?"
While getting your hands on a Roofnest RTT will set you back considerably more than even the best of traditional tents out there, we can confidently say that every tent in the Roofnest range offers a backcountry sleep set up that is so comfortable, convenient, and hassle-free that it's worth every single penny.
Bottom Line: While it's an expensive toy, I personally LOVE the Roofnest Eagle. It's one of the most most INNOVATIVE outdoor products I've tested in years. Pick it up directly via Roofnest here.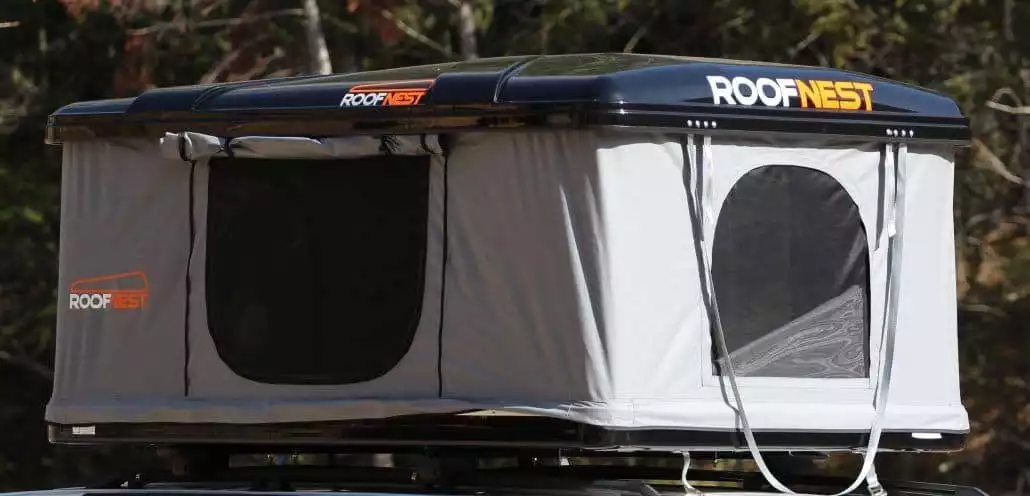 Why the Roofnest is Worth it
Look, I didn't WANT to like something this pricey. BUT, It was worth it. No need to buy a camper. Space efficient. Easy to set up ANYWHERE. This is why we've named it our most innovative camping product for 2019.
Check Latest Prices
We earn a commission if you click this link and make a purchase at no additional cost to you.
Further read: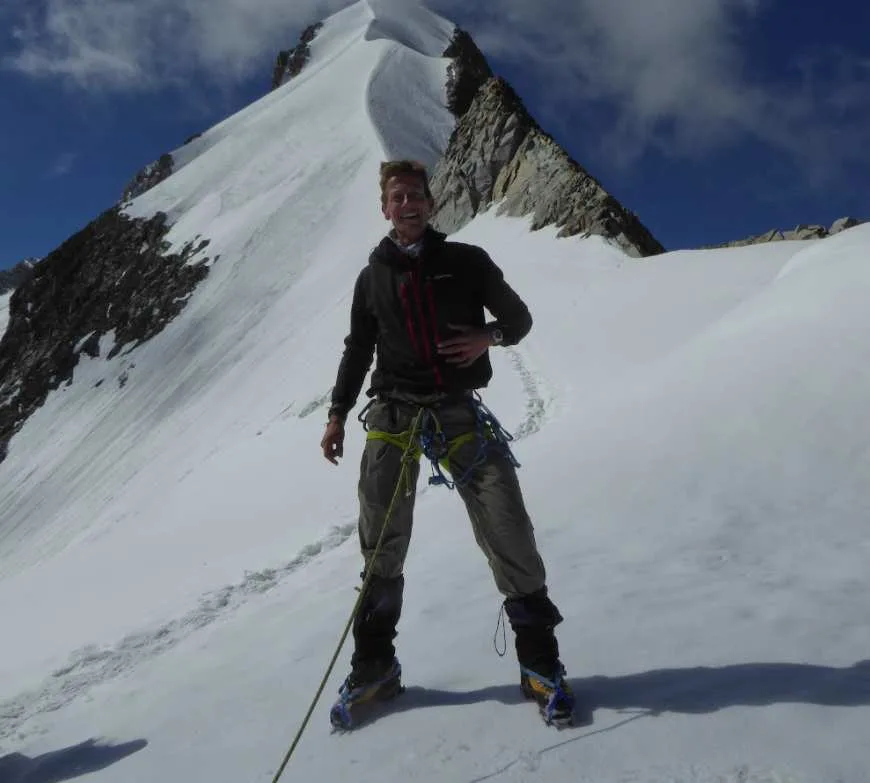 Kieran James Cunningham is a climber, mountaineer, and writer. He's climbed a handful of 6000ers in the Himalayas, 4000ers in the Alps and loves nothing more than a good long-distance wander in the wilderness.
Kieran has climbed many mountains in the
Himalaya
Karakorum
Rockies
European Alps
UK
To give some context on a 6000-foot climb—that would be a 555 story building. Keep in mind that there are no elevators to the top.
He now divides his time between the Italian Alps, the Scottish Highlands, and Brooklyn, New York.