There is nothing better than spending some time in the great outdoors. The adventures that lie ahead with a combination of fresh air are a fantastic experience. But when it comes to outdoor sleeping, things can get quite challenging if you don't have the right gear.
No one wants to sleep on the hard, cold ground when camping, and many people use tents as a solution for this. Another great solution is a hammock, where you can sleep in the trees and keep as comfy as you need to, as long as you have the right setup.
Hammocks are designed to allow you to have the most comfortable night's sleep without having to disturb nature. There are many advantages of sleeping in a hammock which include the fact that you are indeed away from the ground which means being away from the rough terrain and critters below.
Hammocks should be bought with a cover so that you don't have to worry about the rain or snow seeping in. It also means that the bugs can't get into your hammock which is one of the main things that people stress about.
This is why you should look for a hammock with a mosquito net. These hammocks are designed to ensure you don't wake up to an itchy face, and you have the most pleasant sleep outdoors.
If you are new to mosquito net hammocks, take a look at our top mosquito hammocks below. We have reviewed them to help make your purchase decision a little easier.
If you are looking for the best mosquito hammock to buy, you have come to the right place. You now know what to look for in a backpacking hammock and why you should buy one for your next outdoor adventure, so now it's time for you to have a look at our reviews and decide which mosquito hammock is best for you.
Best Overall Choice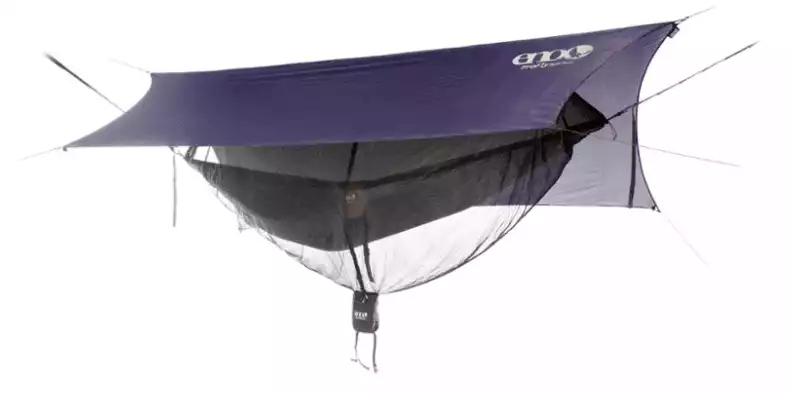 We Got the ENO OneLink System
ENO is simply the BEST brand for hammocks, including this all-in-one rainfly and bug net combo. Easy to set up, lasts forever, and fully customizable suspension system to find your perfect sleep zone.
Check Prices at REI.com
We earn a commission if you click this link and make a purchase at no additional cost to you.
ENO has a long track record in the hammock space for crafting amazingly well-designed and durable sleep systems. The ENO OneLink is the pinnacle of their product line, featuring soft breathable nylon fabric, tripple-stitched seams, and a proprietary Atlas suspension system.
What stands out for me here is the 70 deniers ripstop material, with a waterproof coating. It's simply the best hammock material out there. None of the knock-offs can beat it. Combine this with breathable AND fast-drying technology.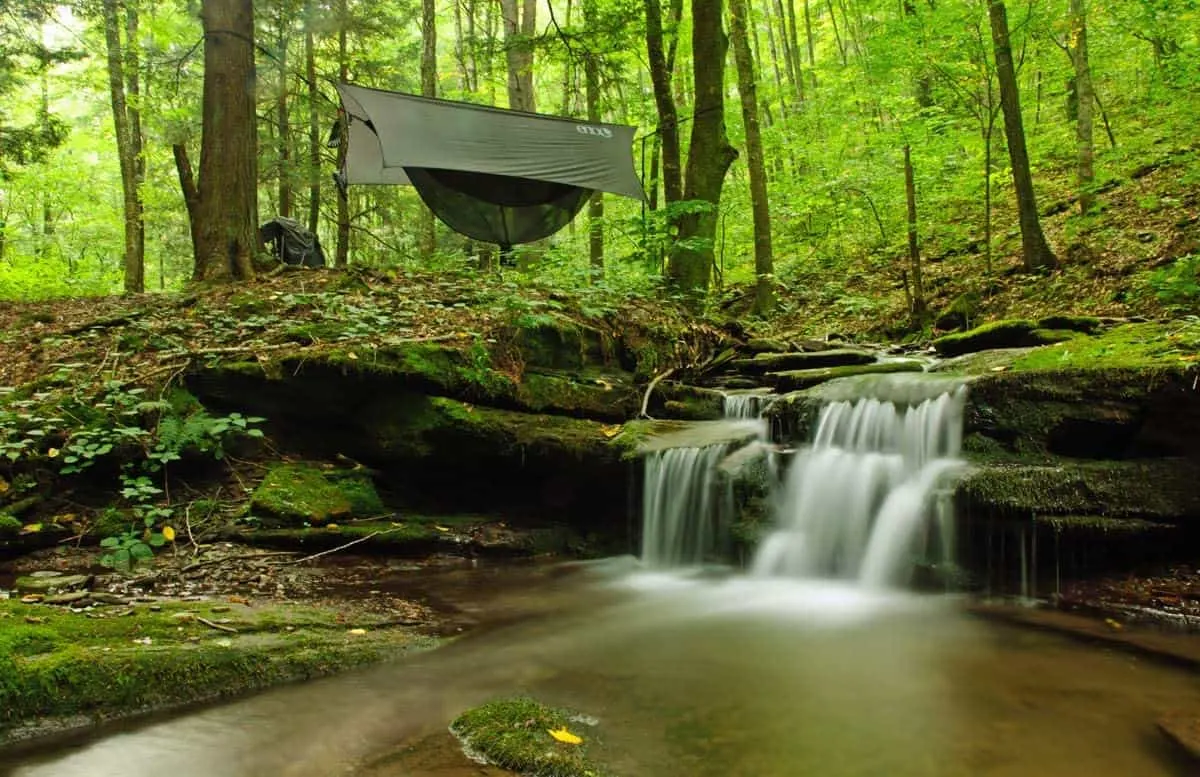 The rain fly and 360-degree bug mesh complete the package for an all-purpose hammock camping sleeping solution.
Pros
Easy setup (no knots)
Best in class hammock design (ENO brand is WAY ahead of the competition)
Suspension system with over 3o adjustment points
Proprietary SkyWeave bug net for full zippered protection (integrates directly with the hammock)
Rainfly tarp
Cons
On the expensive side (although not the most expensive)
Where to Buy: You can pick up this ENO system via REI right here (members qualify for $20+ savings PLUS free shipping).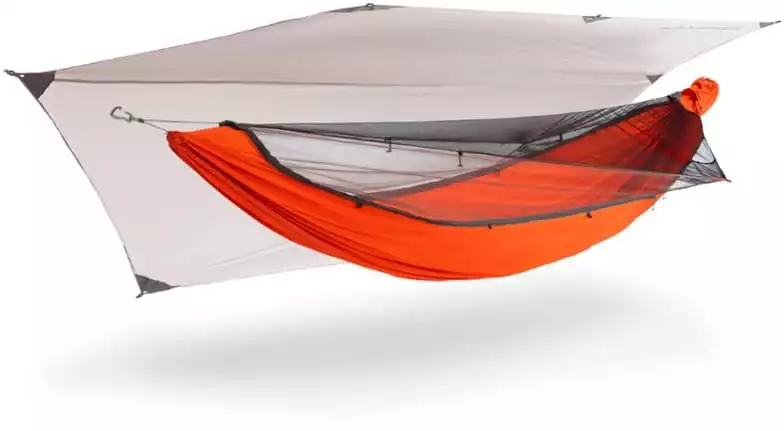 Kammok Mantis All-In-One Hammock Tent | Kammok.com
Sleep off the ground in a silky, soft hammock enclosed in a Dragonet™ no-see-um mesh canopy that keeps insects at bay. Features built-in pockets and a structural ridgeline to keep what you need close at hand.
Check Price
We earn a commission if you click this link and make a purchase at no additional cost to you.
If you want a state-of-the-art hammock system for keeping the bugs out and rain or shine camping, the Kammock Mantis IS the solution. Rated for 500 pounds and featuring plenty of pockets and little frills, the Mantis system is really the best money can buy.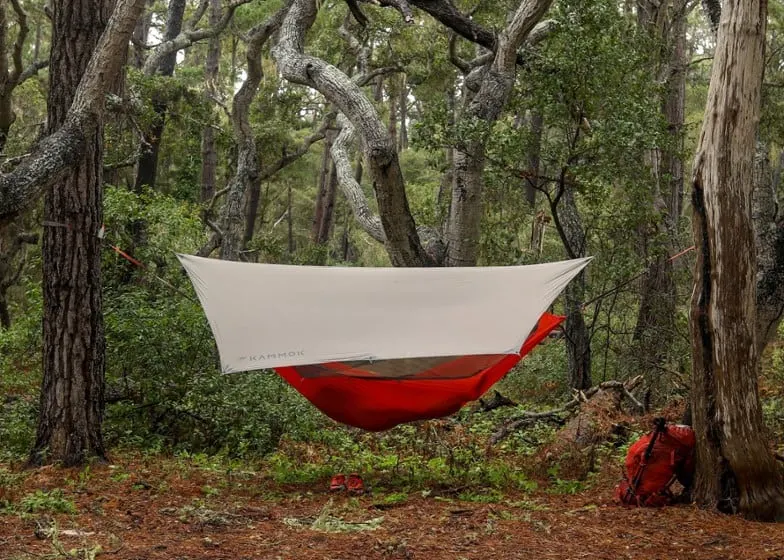 Backpacking Hammock Pros
Rated up to 500 pounds
Only 2 lbs and 12 ounces fully packed
Proprietary Dragonet net, capable of blocking even no-see-ums and small insects
Well known, established brand with excellent customers service
Backpacking Hammock Cons
Where to Buy: You can ALSO pick up this Kammock system via REI right here (members qualify for $22+ savings PLUS free shipping).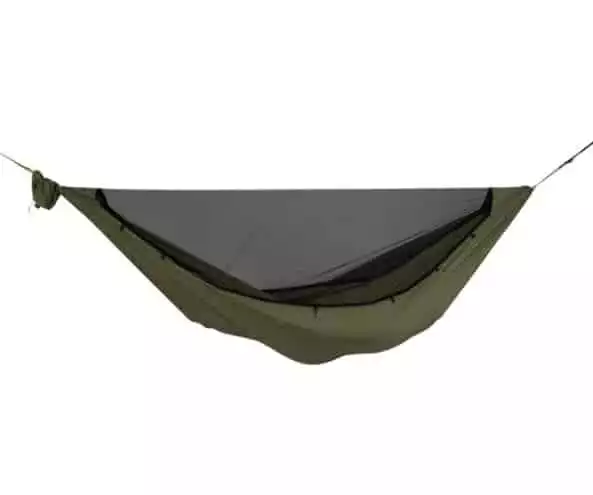 Zippered Hammock Bug Net | HammockGear
This hammock features a symmetrical gathered-end design that allows you to comfortably lay in any direction. The body of this hammock is built with a single layer of durable nylon fabric that is specially woven to feel like natural fibers and is soft to the touch.
Check Price
We earn a commission if you click this link and make a purchase at no additional cost to you.
I stumbled across the Hammock Gear Zipper Bug Net Hammock after having trouble locating a hammock with a mosquito net during COVID. What a great find!
This zippered hammock tent features 11 feet of sleeping space and a well-designed symmetry from end to end.
Rated for up to 350 lbs and standard with quadruple stitched suspension, this durable hammock is BUILT TO LAST for hammock camping. The zippered net makes it easy to use, without obscuring visibility (unlike many hammocks with mosquito netting).
If you just need the bug net (and don't need a rainfly), this is the best value hammock system here.
This is hands down the best camping hammock with mosquito net that I've found.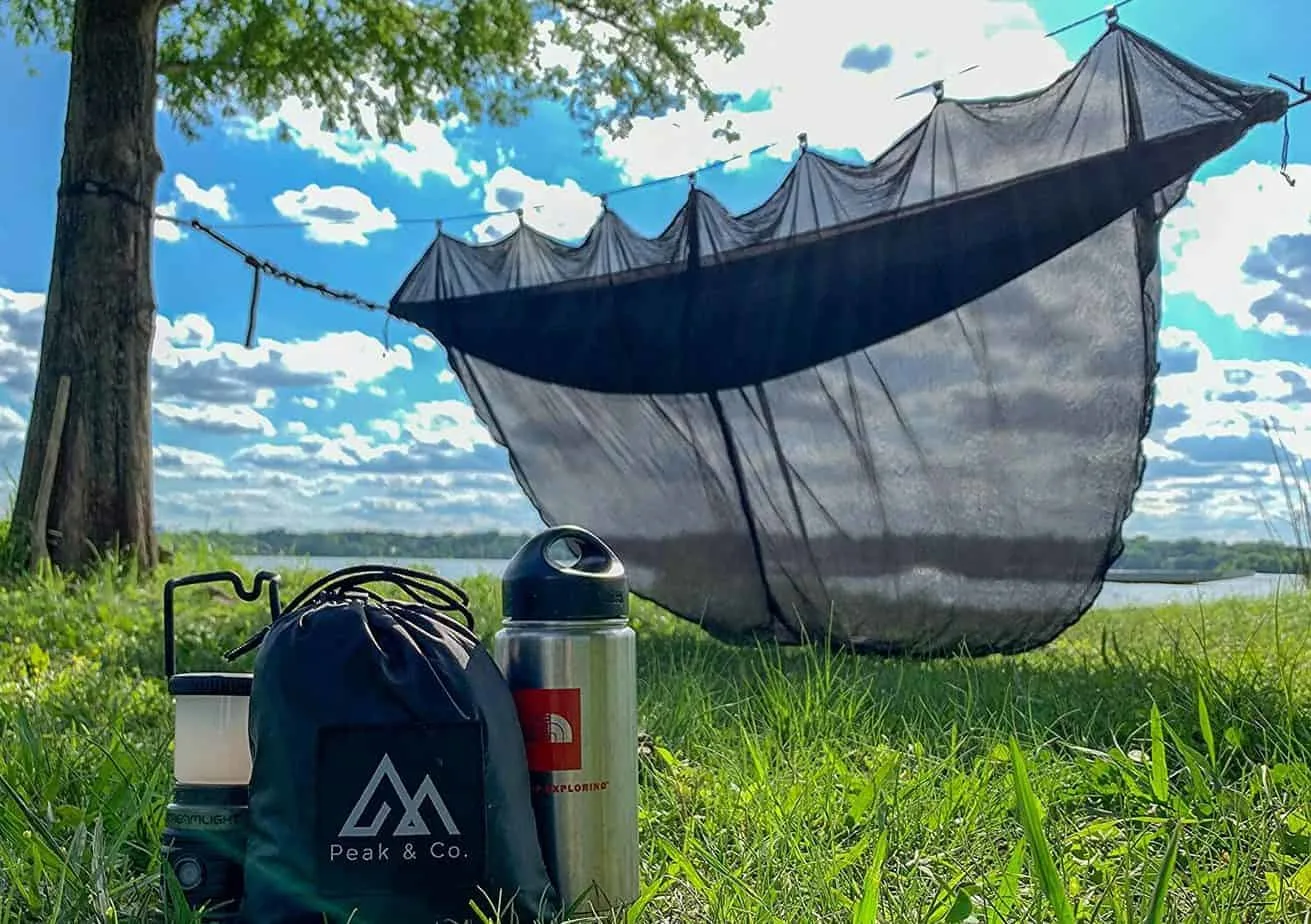 Hammock Bug Net Pros
Extremely durable material, built to last
Smartly designed bug netting for unobstructed 360-degree views
Best in class durable suspension for optimal comfort
Zippered removable netting
Handy side pouch for exterior storage
Hammock Bug Net Cons
A little bit pricey compared to the Amazon knock offs
Where to Buy: Head on over directly to HammockGear.com and this listing (note: only available directly from this retailer).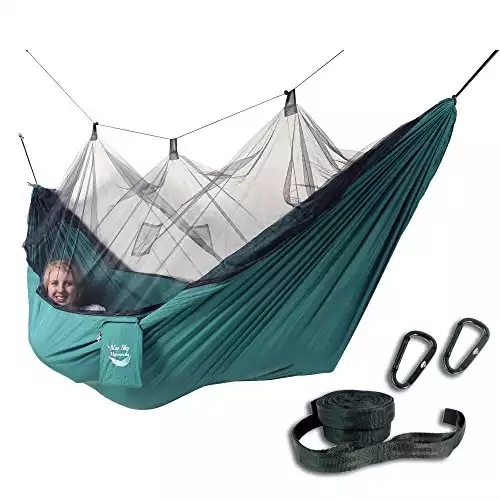 Blue Sky Outdoor Mosquito Traveler Hammock | Amazon
This hammock is constructed of the same high-quality nylon as the Couple's Double and the Single Ultralight, but is also equipped with an insect net that will prevent even the smallest pests from disturbing your rest. The insect netting contains 2,100 holes per square inch, so whether they be mosquitos, no see ums, ticks, gnats, sand flies, midges, or fleas, you can rest easy knowing that the Mosquito Traveler Hammock is protecting you from these pests.
Buy at Amazon.com
We earn a commission if you click this link and make a purchase at no additional cost to you.
This great hammock is one of the favorites on the list, and it is quite simply because this portable hammock (great for hiking) has a great number of holes in it to prevent bugs from coming in. It keeps out mosquitoes, gnats, and other small bugs with ease.
The hammock is relatively big and has just the right amount to fit one person comfortably. It has quite a large weight limit which makes it versatile.
The mosquito hammock (hammock bug net) can even fit two children instead of one adult. the Blue Sky hammock uses hooks and straps to construct, as opposed to rope and carabiners. This makes the hammock more comfortable than its contenders. Overall, it's quite a good option for an outdoor adventure.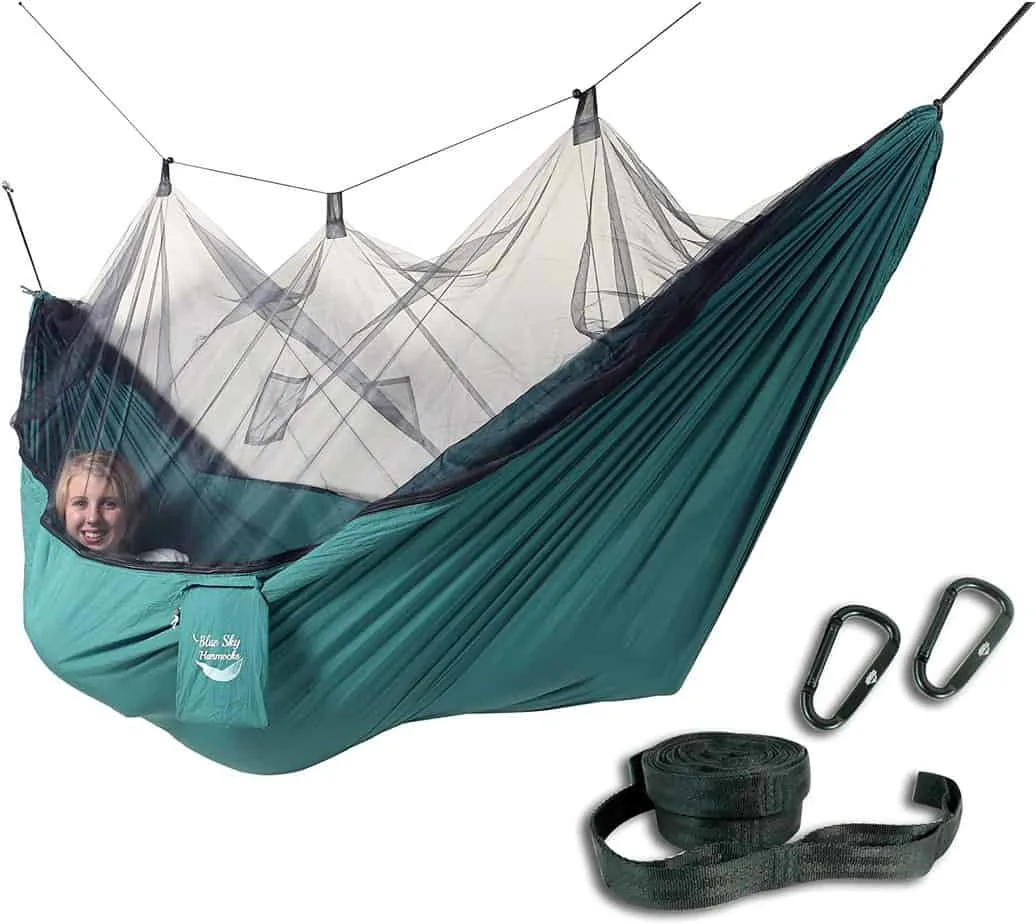 Camping Hammock Pros
Hooks and straps instead of rope and carabiners
Carrying case that is for many functions
Machine washable
Spacious
Small holes in the netting
Camping Hammock Cons
The bug netting cannot be removed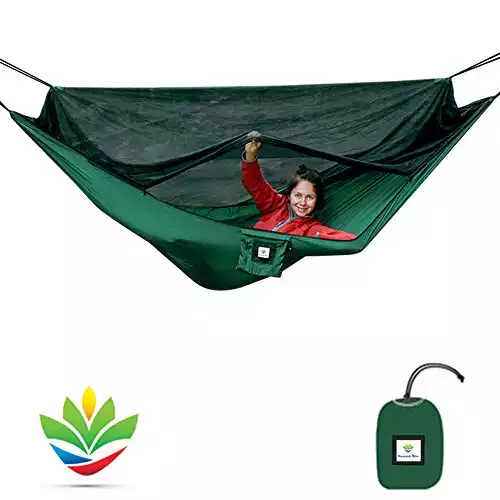 Hammock Bliss No-See-Um No More | Amazon
Change the way you camp forever with our No-See-Um No More Hammock Bliss - the ideal hammock when pesky insects are a problem. Our 2100 holes per square inch no-see-um netting offers the utmost in protection as the netting is so fine, even the tiniest creatures cannot penetrate including sand flies, fleas, gnats, midges, mosquitoes & no-see-ums.
Buy at Amazon.com
We earn a commission if you click this link and make a purchase at no additional cost to you.
02/14/2023 10:04 am GMT
This hammock was built for convenience. Even though it does have quite a price tag on it, the hammock is definitely worth it when looking at its many features. These features include 4 inside pockets and 4 utility loops which allow you to hang outdoor gear from your hammock without any fuss.
The hammock comes with a bag that also has a pocket for additional gear. It has a quick-dry function which is nice if you are caught in the rain. The ropes are also designed to reduce pressure on the points which makes the hammock very comfortable. It is quite large and fits 2 people.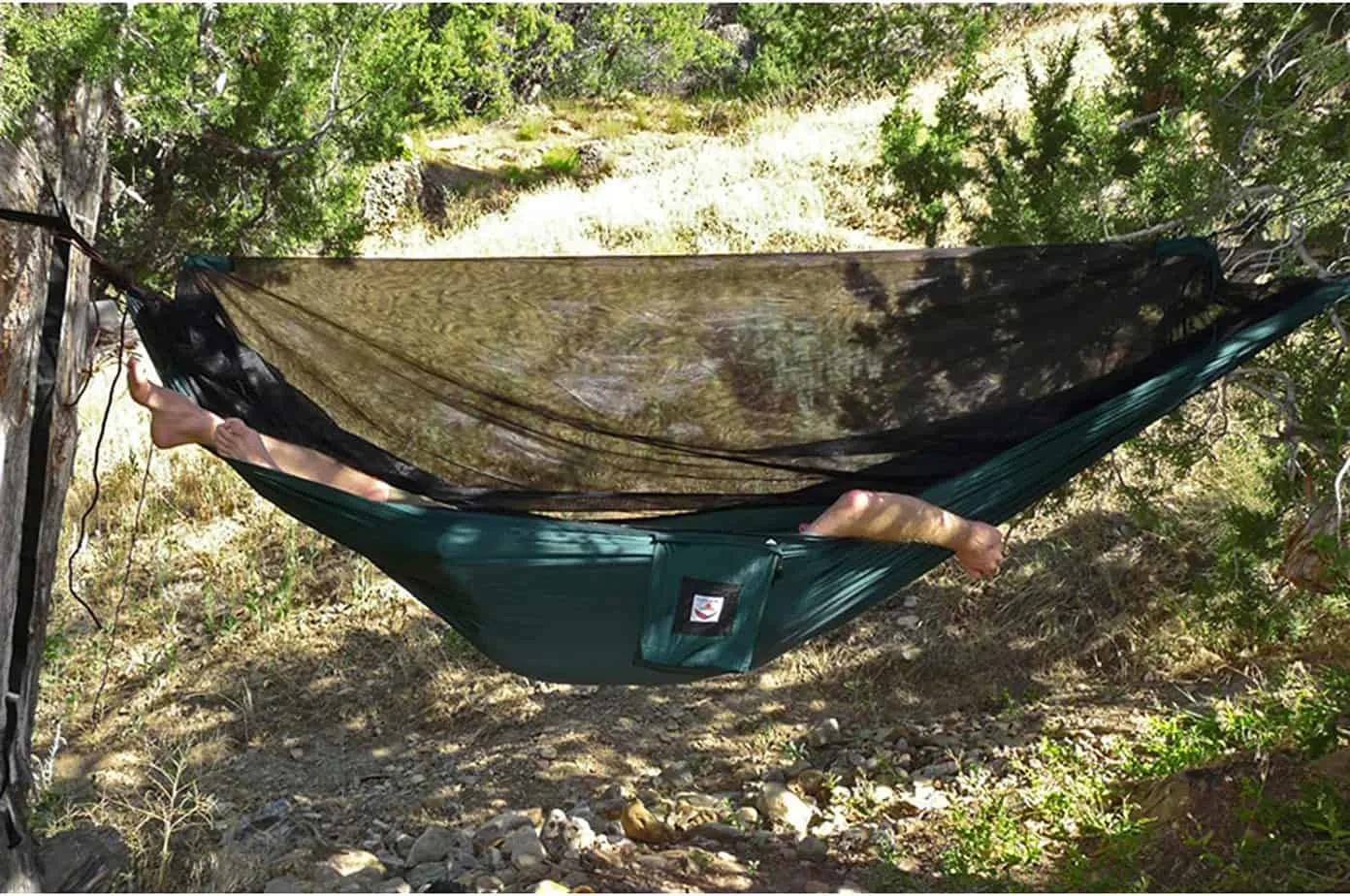 Camping Hammock Pros
Strong
Reversible
Quick-drying
Soft and breathable material
Lightweight
Camping Hammock Cons
Quite expensive
Better for just 1 person, even though 2 just fit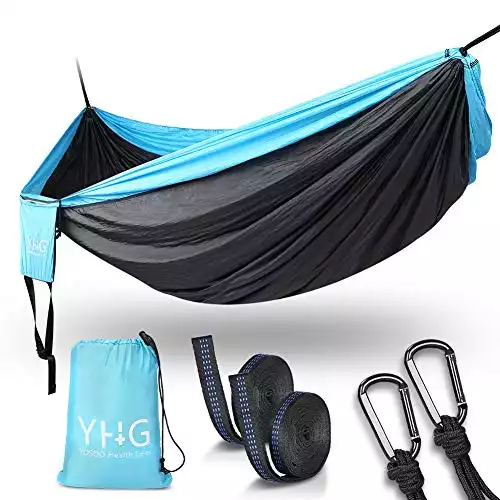 Yosoo Health Gear Portable Camping Hammock | Amazon
Are you still worried about no place to sit or lie in outdoors? YHG double hammock will be a better choice for you or your family. The camping hammock can give you percent comfortable outdoor space anywhere. It is sturdy, soft, fast drying and easy to set up or take down. Just try to enjoy life.
Buy at Amazon.com
We earn a commission if you click this link and make a purchase at no additional cost to you.
This hammock is designed for people that are looking for hammocks with mosquito nets on a budget. It has many features but at a lower cost. If you're a beginner at going outdoors with hammocks, this may be a good buy. It is light and very large.
You can fit in two people as it allows for quite a high weight limit. The net hole sizes are standard and protect well, and the hammock is also reversible. The hammock, unfortunately, does not allow you to suspend the mosquito net which means that you need to tie the ropes in a way that lets you suspend it.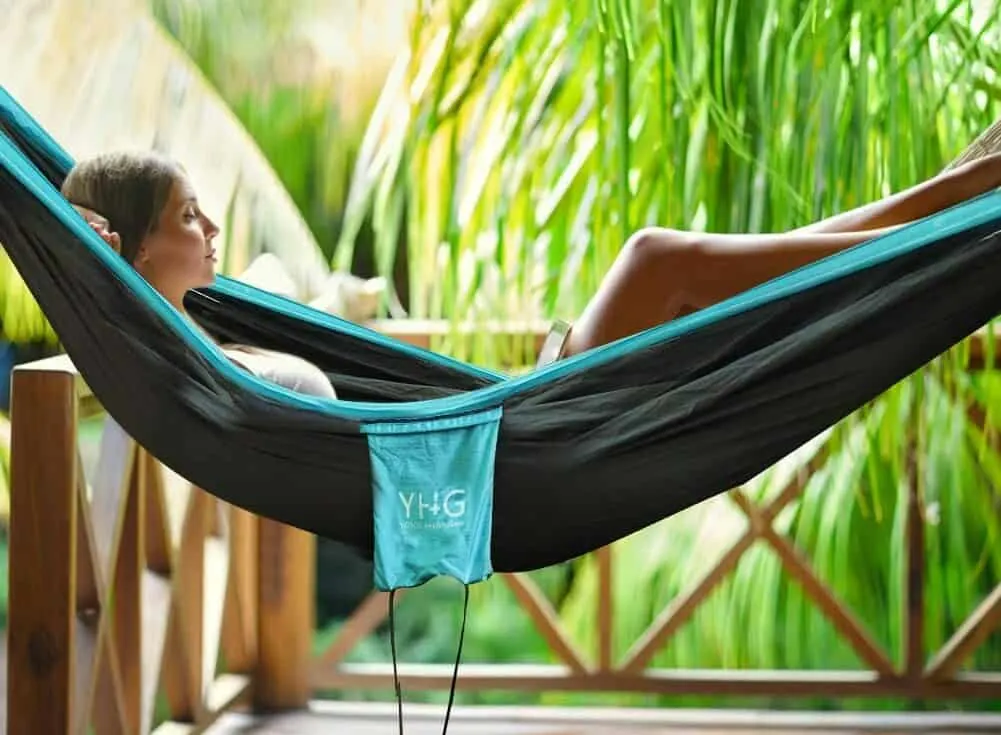 Pros
Quite large
Reversible
Double hammock
Soft and breathable
Lightweight
Cons
You cannot remove the mosquito net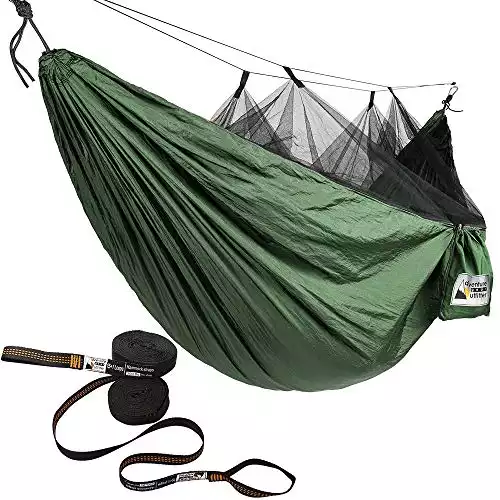 Adventure Gear Outfitter Camping Hammock | Amazon
Premium Designed Hammock - Built To Last. Includes Everything You Need To Start Backpacking, Camping , Or Just Relaxing In The Backyard. Strong hammock designed to hold 1 person up to 400lb.
Buy at Amazon.com
We earn a commission if you click this link and make a purchase at no additional cost to you.
This hammock is great for the outdoors but doesn't have too much that makes it unique. The only different feature is the elastic mosquito net. This design is quite clever as it allows you to stretch the net without it ripping.
The hammock also comes with tree strap attachments that let you attach it to the trees for hammock camping easily, giving you just the right amount of support. If you are looking for a reasonably priced hammock with a mosquito net that does the job, this is it. You can use this hammock if you're looking to be in the wilderness for more than a few days too.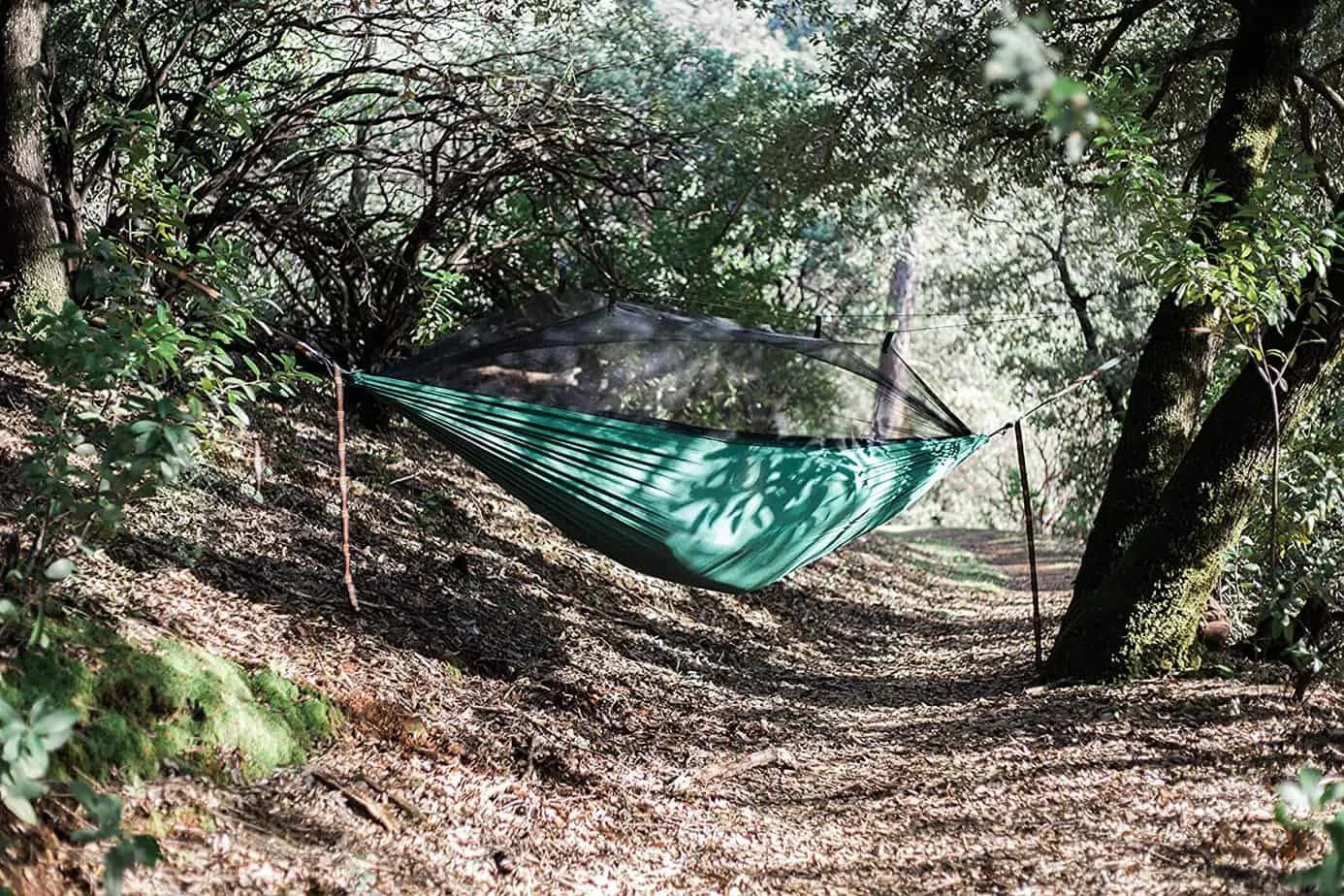 Pros
Lightweight
Easy to construct
Free tree straps
Packs very small
Elastic net
Cons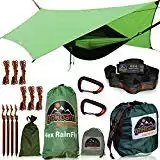 This is the last hammock on the list, but it is most definitely not the least. The GoRoam Single Hammock is one of the most versatile hammocks out there.
It is very strong and is known to be one of the best choices amongst serious outdoor campers and hiking enthusiasts. If you are a serious camper, this is the hammock for you. It fits people that are short or tall, which is a rare feature.
The hammock is also very comfortable, being made of breathable nylon. It can hold more lbs than most hammocks out there which means that you can sleep in the hammock with most of your gear next to you if you need it.
It has its suspension system, and it has a carrying bag which makes moving around very easy. The mosquito net is held up with a shock rope that gives you more space when you are inside and asleep.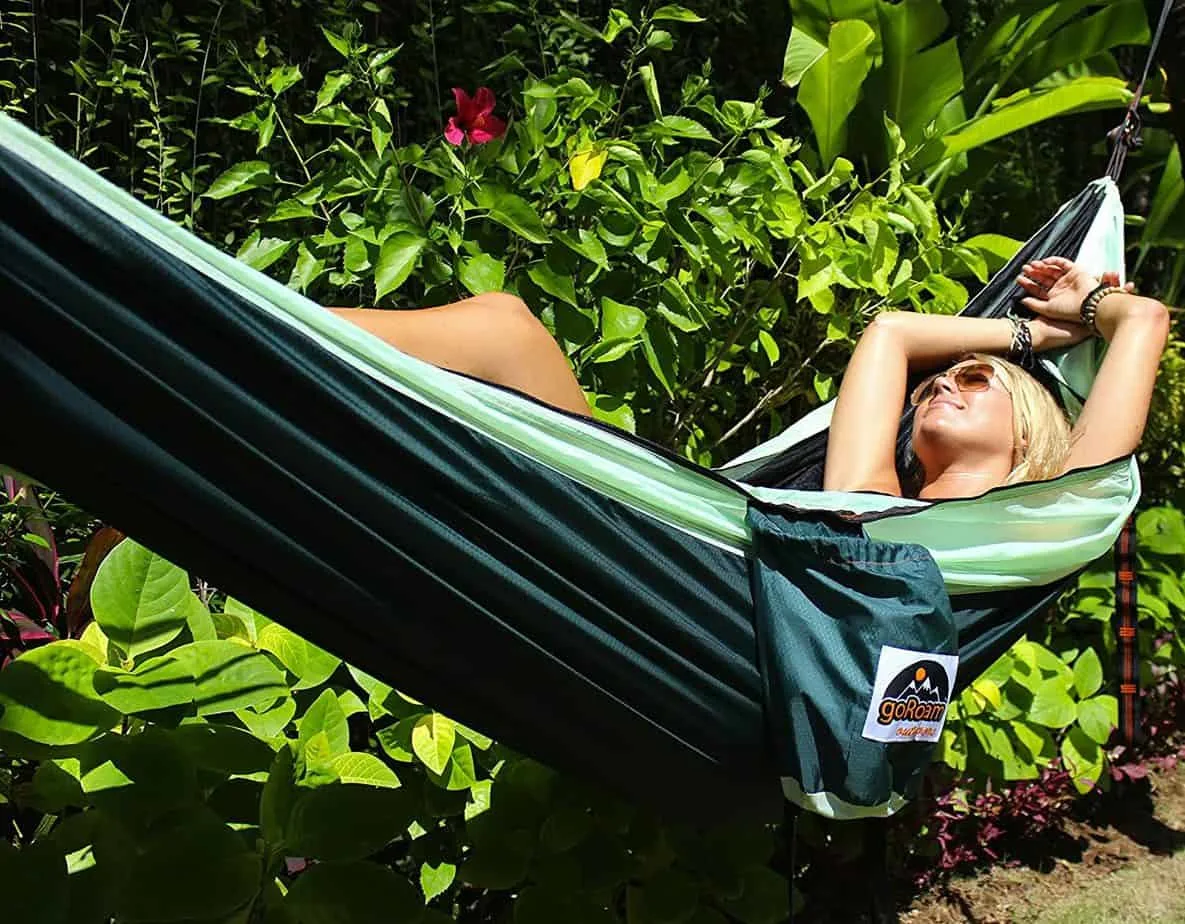 Pros
Lightweight
Super strong
Has an amazing weight limit
Excellent suspension system
Mosquito netting held by shock rope
Comfortable
Long and wide
Cons
Mosquito netting is not as fine as other hammocks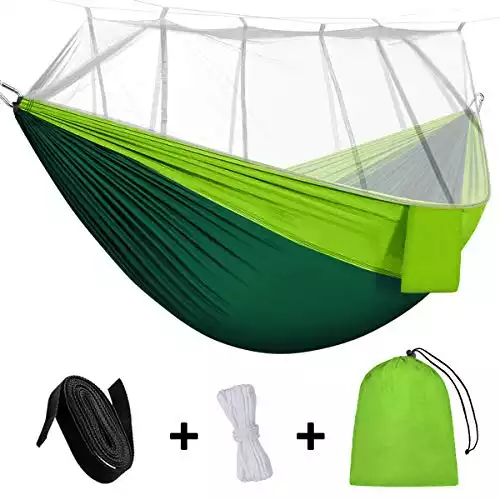 Rusee Mosquito Net Outdoor Hammock Travel Bed | Amazon
Comfortable and breathable cotton fabric canvas feels very close to a beach towel, so you don't get too hot while laying in the hammock. Easy to clean with some soap and water.
Buy at Amazon.com
We earn a commission if you click this link and make a purchase at no additional cost to you.
02/14/2023 09:14 am GMT
This hammock is meant for casual use, and we thought it best to add it to the top 10 because it is different from the others. This hammock was designed for short camping trips or even to just hang out in your backyard.
So if you're looking for something very durable and strong, this may not be the mosquito hammock to buy. It is made of parachute nylon and can hold up a decent amount of weight too. The Rusee is quite short though, so bear this in mind if you're quite tall. It is quite a fun hammock and is quite comfortable for sleep under the stars.
Pros
Lightweight
Made of parachute nylon
Has a good weight limit
Durable
Comes with a carry bag
Cons
Not ideal for tall outdoor enthusiasts
Ideal only for casual use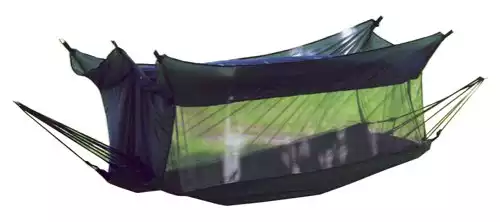 Texsport Wilderness Hammock with Mosquito Netting | Amazon
Texsport offers a wide array of outdoor products, but the company is particularly well-known for its hammocks. Its first model, the padre Island, was released nearly 25 years ago, and Texsport continues to produce durable, comfortable options for lovers of outdoor relaxation.
Buy at Amazon.com
We earn a commission if you click this link and make a purchase at no additional cost to you.
This hammock is one of the most unique hammocks on the market at the moment. It is ideal for campers that travel to mosquito-filled land, and this is because the netting works exceptionally well. The mosquito net almost fully covers the hammock, which ensures that no insect can get in, no matter how small it is.
The top of the hammock is made of nylon that is fire retardant. It has steel rings on either end, and the hammock can carry a fair amount of weight but not as much as others. The hammock is made of nylon, and the bed is a cotton canvas, to add to the comfort factor.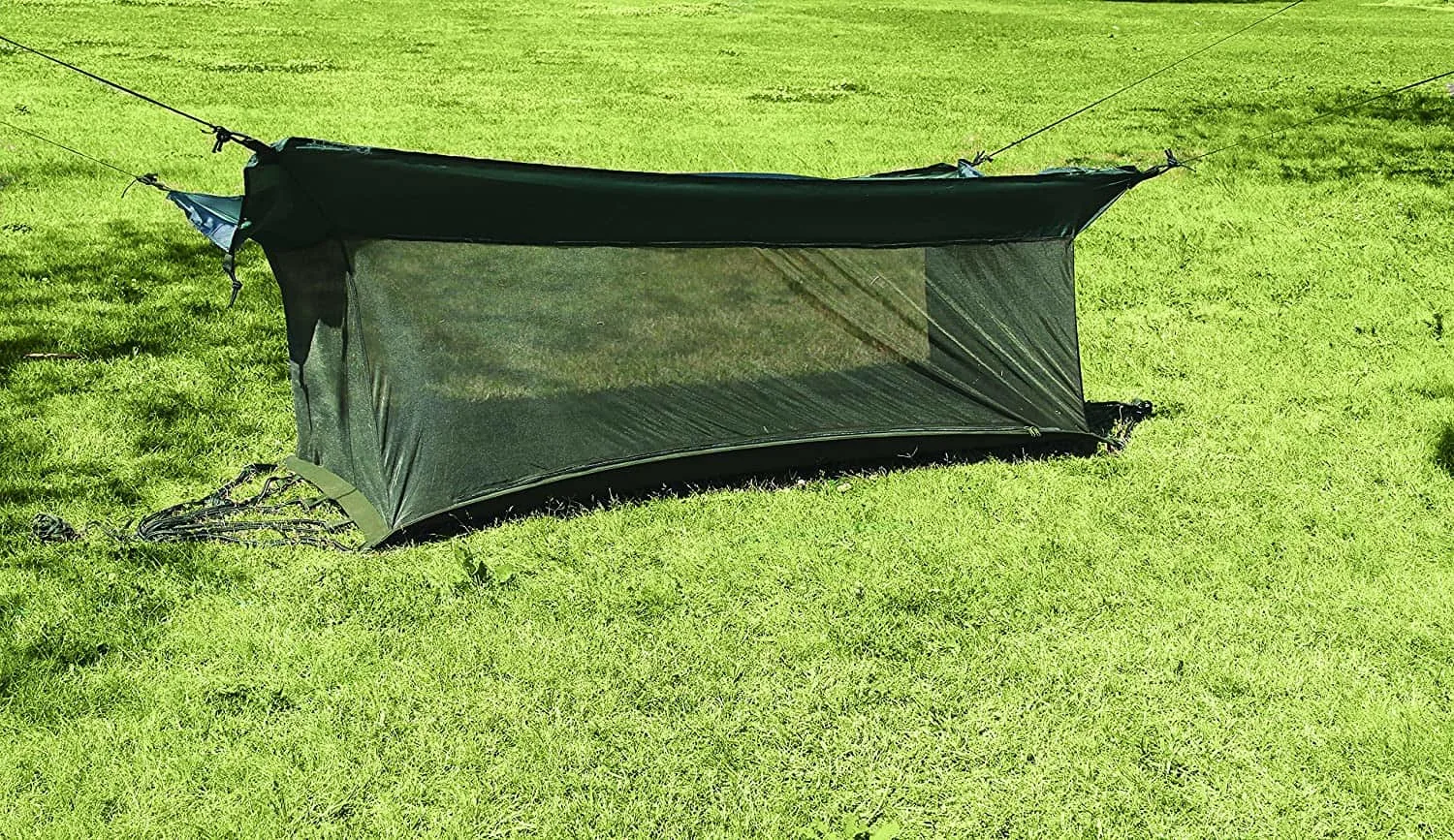 Pros
Lightweight
Made of nylon and cotton canvas
Mosquito netting wraps around
Comfortable
Cons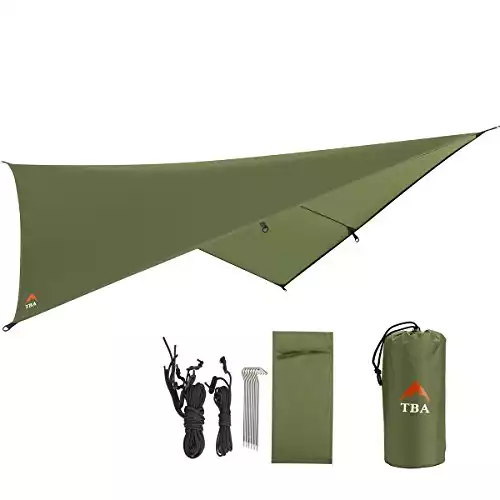 TinyBigAdventure Eclypse II Rainfly | Amazon
You can take this rain fly anywhere because it's super light (just over a pound) and folded up it doesn't take much space at all so it's great for backpackers and campers. It's 10'X8' coverage makes it bigger than a standard hammock shelter so you and your gear will be completely covered. And it will last longer than other rain flies because we got rid of the usual grommets.
Buy at Amazon.com
We earn a commission if you click this link and make a purchase at no additional cost to you.
This hammock is ultralight and compact compared to the others (ultimate ultralight hammock). It may be lightweight, but it is also extremely strong. This means that it can hold quite a bit of weight (good weight capacity) and it is made of heavy-duty ripstop nylon, which makes it more durable.
The triple-stitching pattern helps the hammock keep strong even if you are using it often, over longer periods of time. The model has its own suspension system, and the hammock does not break under pressure. The hammock is easy to pack because it is so light. The mosquito netting also keeps you well-protected through the night.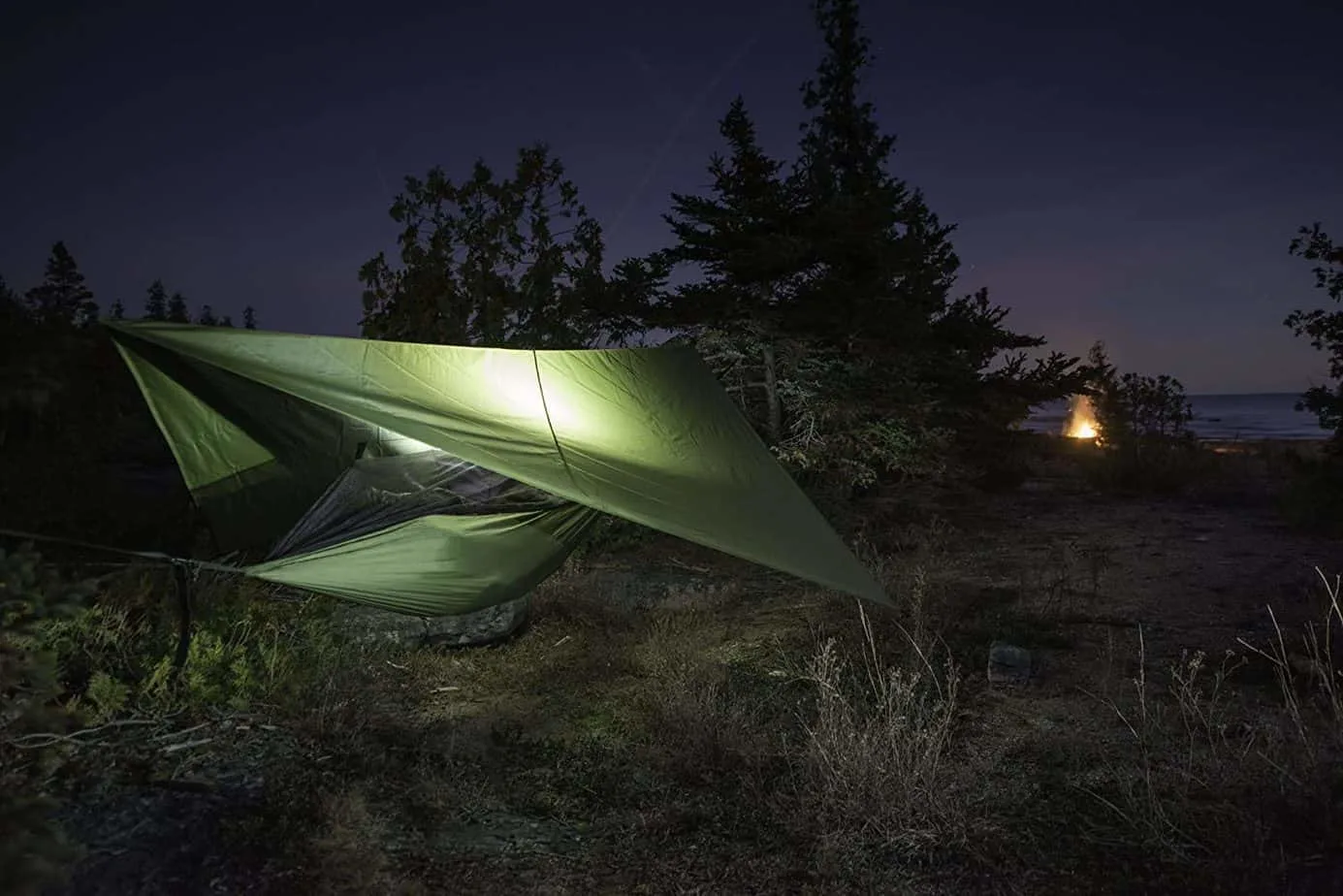 Pros
Super lightweight
Easy to construct
Has a good weight limit
Highly durable
Packs small
The suspension system is included
Cons
The straps come with the hammock but they may be too short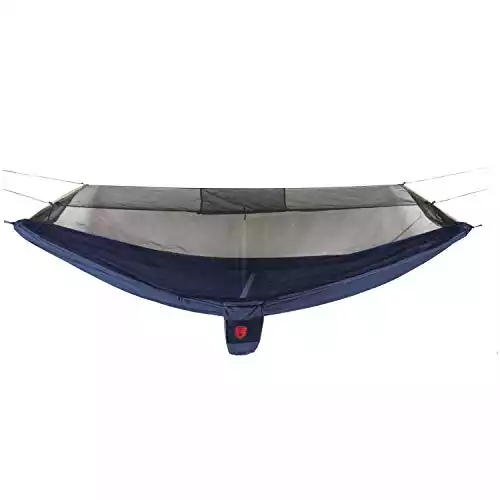 Grand Trunk Skeeter Beeter XT Mosquito Hammock | Amazon
This hammock is made from 100% parachute nylon (70D nylon) and has triple-lock stitched seams. It can endure the elements, so you don't have to, all while supporting a weight capacity of up to 400lbs.
Buy at Amazon.com
We earn a commission if you click this link and make a purchase at no additional cost to you.
This mosquito hammock is well-known and is great because of the smaller-sized holes that it has in it. This helps with protecting against gnats and other bugs. It comes with all the equipment you will need for the outdoors and is very simple to assemble. You can enjoy the required starter ropes and carabiners that come with the mosquito hammock too.
The model is quite large and can hold up to 2 people. It is made of nylon, and it is very durable. The one thing you have to consider with this hammock is the price. It is quite a bit more expensive than others in the market. No doubt high-quality, but at a price.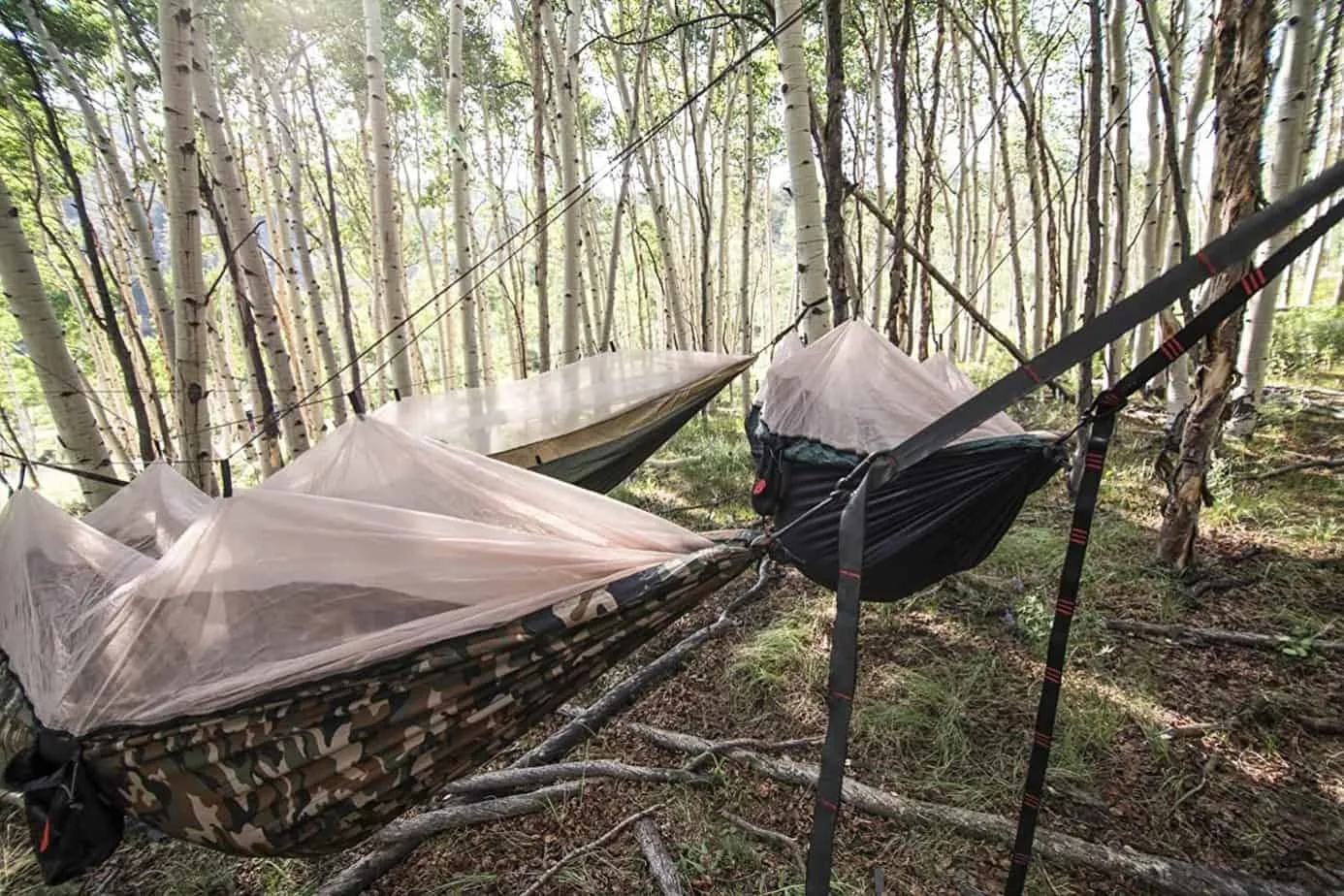 Pros
Versatile
Reversible
Simple to assemble
Large
Made of parachute nylon material
Double zipper for the inside and outside
Cons
Relatively expensive
Quite heavy
Where to Buy the Skeeter Beeter Pro: You can pick this one up at Amazon right here (frequently on sale).
Final Zip: Top Camping Hammocks with Mosquito Nets
And there you have it. These are the top 10 best camping hammocks with mosquito nets that are on the market right now. We have to say, overall, all of them are great in their way.
Most hammocks perform well and last long. They are very versatile, and the designs have been thought through cleverly. This means that as a camper you will never have to worry about the small things – most hammocks come with the correct suspension systems and assembly features. The nets are created smartly, to keep most bugs out. This is ideal for most environments, which means that you can use one hammock for many adventures.
What to Look for in a Mosquito Net Hammock
A hammock may be one of those simple devices that you buy, and you may think that there isn't much to think about when choosing one. However, mosquito net hammocks are quite complex and need to be checked for a few key elements before considering a purchase.
Such elements include things like weight, size, material, and strength. Seeing as a hammock lets you sleep above ground; you want something sturdy enough to hold your weight between two trees. Here are a few factors to consider when buying a mosquito hammock.
Essential Features
There are tons of mosquito hammock models out there, and you need to understand that you need to see which model works best for your needs before buying one.
For example, there are mosquito hammock models that can work with sleeping bag configurations, and others are made for lounging or sitting but not sleeping. Some models even fit two people. There are a few hammock models that you can find which we have listed below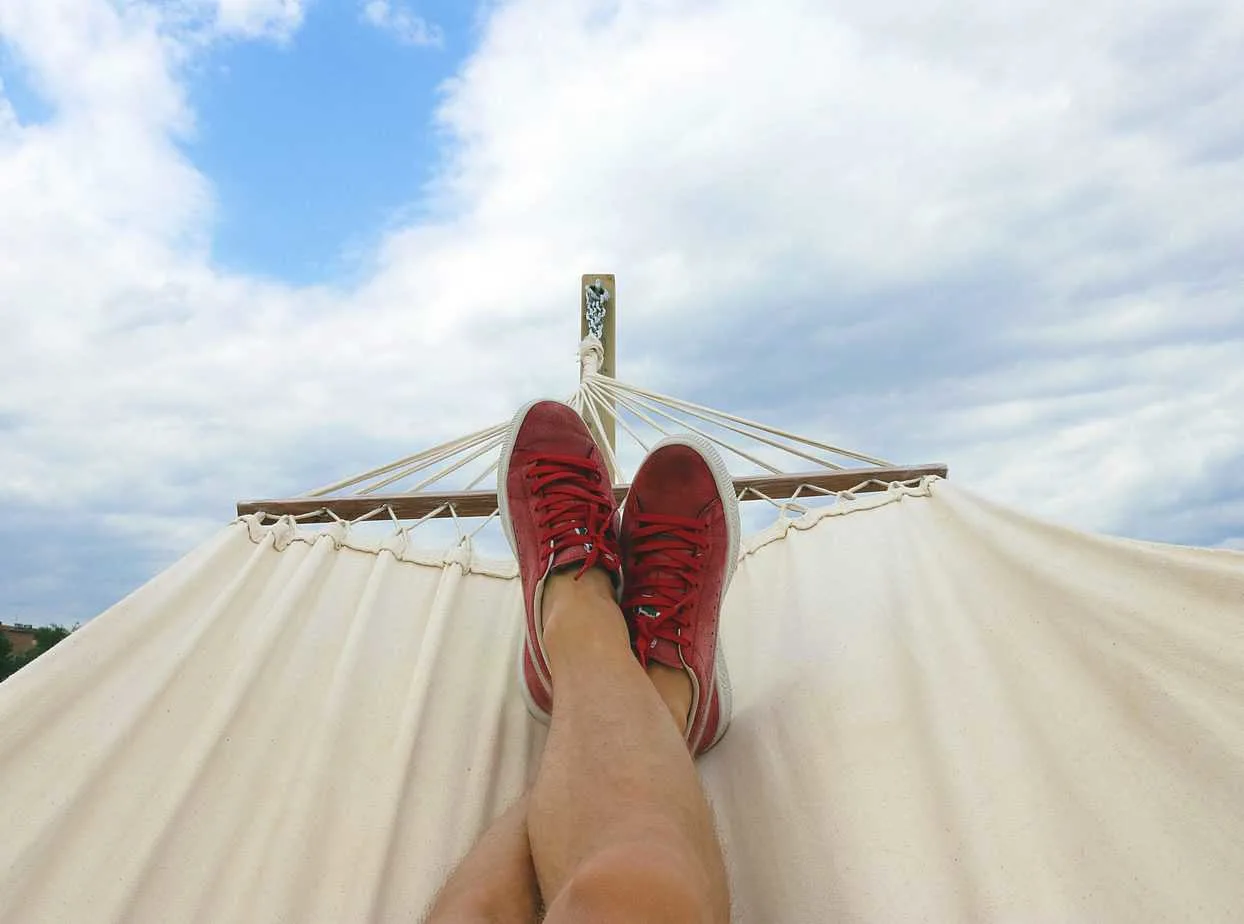 These are the best for day trips and/or where weight capacity is limited and every lbs count. They are light and hold weight for one or two nights, but they are not ideal for larger people or people that are on a camp for multiple nights.
These hammocks are great for longer trips. They are lighter than the parachute hammock options, and they still have a high level of stability and durability.
This is a single sleeper hammock that is durable and can support you for a few consecutive nights
This hammock can fit two people to lounge or sit in, but just one person to sleep in. They are wide and have high durability.
It's essential to see how much weight your hammock can hold. Everyone's weight varies, and the weight is directly related to how many people will be in the hammock as well as what it will be used for, that is, sitting, lounging, or sleeping. You don't want to have excess sagging or tearing at night outdoors.
Most mosquito hammocks have a label that tells you what the hammock's weight range is. This is your guideline, and you should not want to push that limit. Exceeding the weight limit can allow the hammock to tears.
Insulation You want to be able to keep cool in the summer months. This means that your mosquito hammock should be made of breathable nylon. However, in the winter, you will need an additional hammock underquilt or top quilt to keep warm. These are usually found as hammock accessories.
A suspension system is directly related to safety. The suspension is designed to help hold up the hammock and is usually sold with the hammock itself. If they are sold separately, remember to buy one. This will allow you to assemble the hammock much easier than without the help of nylon ropes, webbing straps, and synthetic tree slings.
These hammocks all come with mosquito nets, and it is important to remember that not all nets are the same. They vary and have different sizes of holes in them too. You will need to look at the "holes per square inch" number to know how large the holes are in the netting. The larger the hole, the more likely bugs, and mosquitoes will find their way into your hammock.
All mosquito hammocks will have holes that are too small for mosquitoes to come through, but some have holes that are so small that not even gnats can get in. This is the ideal situation when you need a hammock for camping outdoors in summer.
Consider if you will need a versatile mosquito hammock. You may find that the number of mosquitoes is quite low compared to what you thought they would be in a specific area. In this case, it would be ideal to try and have asleep under the stars without the mosquito net in your hammock. Having options is always great.
Note: Another item to check is the warranty conditions, specifically if a brand offers a lifetime warranty.
Hammocks vs Tents with Netting – Which one should you choose?
If you're looking to purchase a tent with bug netting or a mosquito hammock, it is important first to analyze where you would like to sleep. You have the option of the ground or the trees. So there are pros and cons to both, but we have listed a few differences that you should take into consideration below.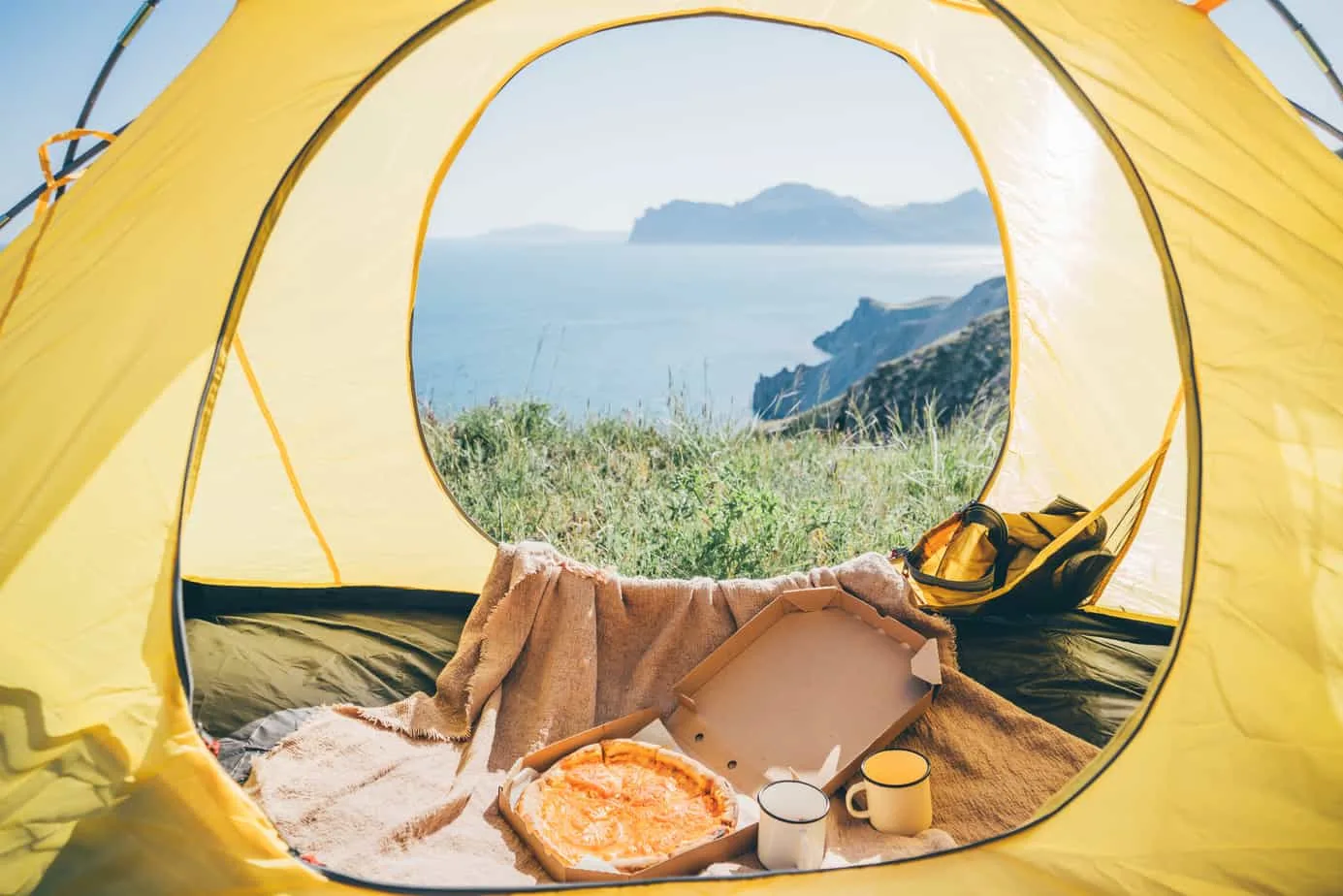 Tents are often bulkier and have to be carried separately, whereas hammocks can be folded and put into a stuff sack and a backpack.
Tents and hammocks weigh pretty much the same which is just under a kilogram, but hammocks are cheaper than tents if you're looking for something to help keep the mosquitoes out.
A sleeping tent is quite easy to assemble, but it needs flat ground whereas a hammock needs two trees that are close together which is often easier to find than large, flat ground.
You can definitely fit more people in a tent if you have a 4-sleeper or more. A hammock is smaller but can be used as a space to lounge, sit or just relax when you are making dinner or just sitting around the fire.
What netting material to choose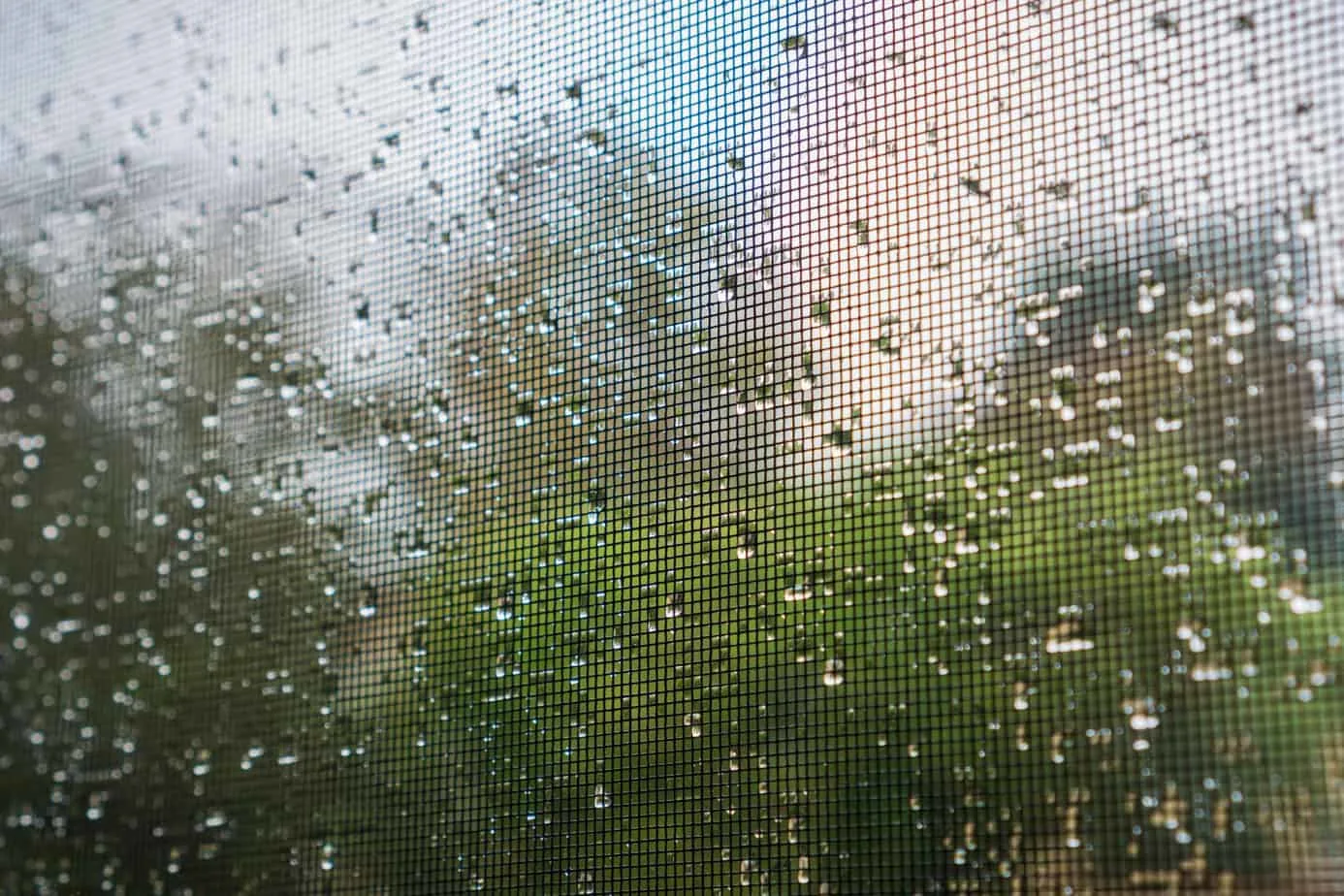 How big should the holes be?
When you are looking to pick your next mosquito net, try to get a type of netting material that has small holes. Having said that, you may not want a material that has the smallest holes because they often don't let you see out of your hammock, even if they eliminate bug bites.
The small holes will keep all the bugs away, but they do restrict you in other ways. If you are using your hammock in an area that is filled with no-see-ums and other very tiny biting insects, then you want to buy something with a very fine mesh. On the other hand, you may want something with slightly bigger holes if all you're worried about is horseflies and mosquitoes.
How strong and light should the netting be?
When you decide to choose a mosquito net, you want to search for the correct balance between netting weight capacity and strength. We always want to look for the strongest net, but strong means heavy and the heavier the regular hammock is, the more weight you have to carry on your back while hiking.
A lightweight mesh is much more portable and weighs less, but it is also less durable. You need to find a balance that lets you have a hammock that serves its function for you while being strong enough, but not too heavy. Remember that the last thing you want is tears in your mosquito net.
A Standalone Hammock Vs. A Built-in Mosquito Net – Which is better?
Another common issue is how to decide if you want a mosquito net that is entirely separate from the hammock, or if you want one that is built into the hammock. Either choice is not a bad one. But there are a few things to consider before making a choice.
Both options can protect you from bugs and insects, but they both have their pros and cons.
A built-in mosquito net sounds like the best option at first, but it is not always the best option for you. It is already a part of the hammock which means that you don't have to worry about adding it onto the hammock at a later stage.
But the built-in mosquito net also means that you cannot have a casual lay down without the net is in the way. You will have to sit on top of the net which could be quite uncomfortable and more importantly, it could damage the mesh. Hammocks with built-in mosquito nets also cover only the top of the hammock which means that it won't stop mosquitoes from biting you through the thin fabric of the hammock itself, unless, of course, you purchase a hammock with an all-around netting which is rare to find.
If you use a standalone hammock, you can have this netting go all the way around your hammock, and you will never have to worry about being bitten while you're on your adventure. A dedicated hammock mosquito net means that you can use the net when you want, and remove it when you want to. If you are going to an environment where you know it will be mosquito-free, you can even leave the net at home.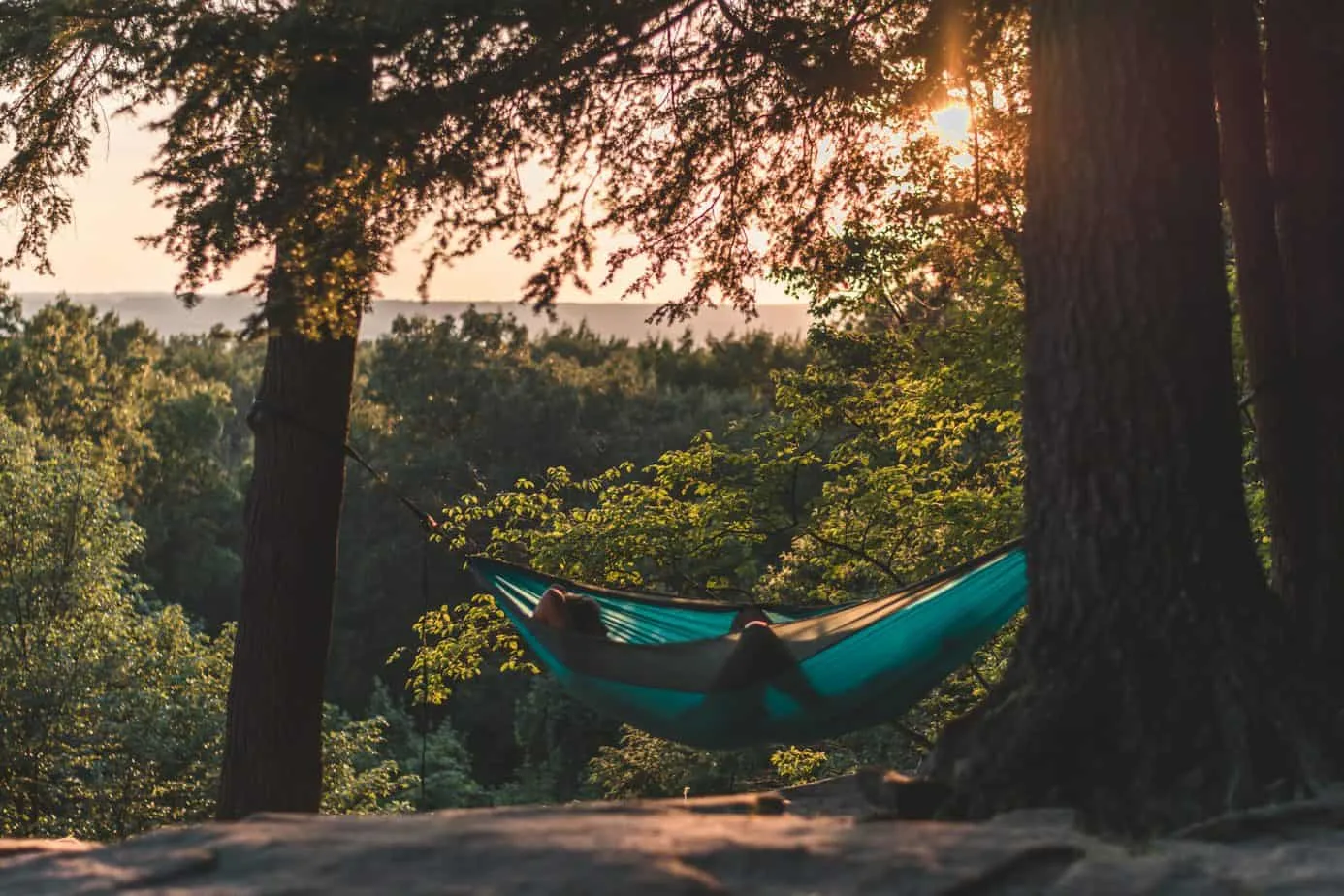 And there you have it, now that you know what each type of netting does, let's have a look at some of the products out there.
Our Mosquito Hammock Pick
Best Overall Choice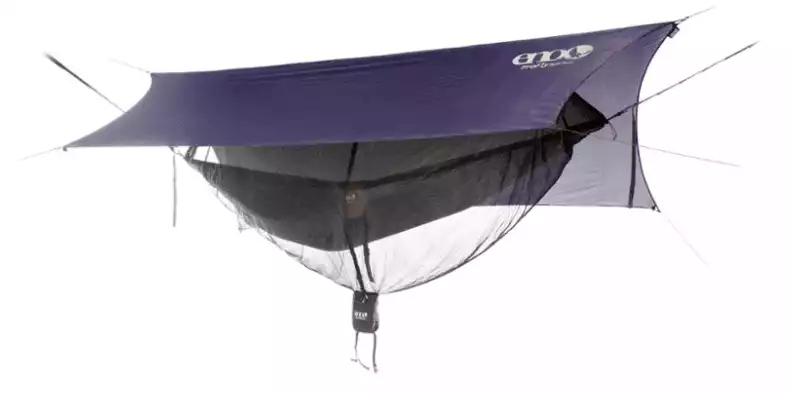 We Got the ENO OneLink System
ENO is simply the BEST brand for hammocks, including this all-in-one rainfly and bug net combo. Easy to set up, lasts forever, and fully customizable suspension system to find your perfect sleep zone.
Check Prices at REI.com
We earn a commission if you click this link and make a purchase at no additional cost to you.
There is one CLEAR winner in my view and that's the ENO OneLink all-in-one Hammock System. This ENO hammock designed specifically to keep mosquitos (and other critters) out, while ALSO being designed ergonomically so the netting is not awkwardly pitched.
So if you choose to purchase our best camping hammock with mosquito net pick or any others from this list, be sure to share your review with us. It is always great to hear from you.
We look forward to seeing what you have to say about your experience with one of these camping hammocks with mosquito nets. Enjoy, and we wish you a good night's sleep on your next camping trip!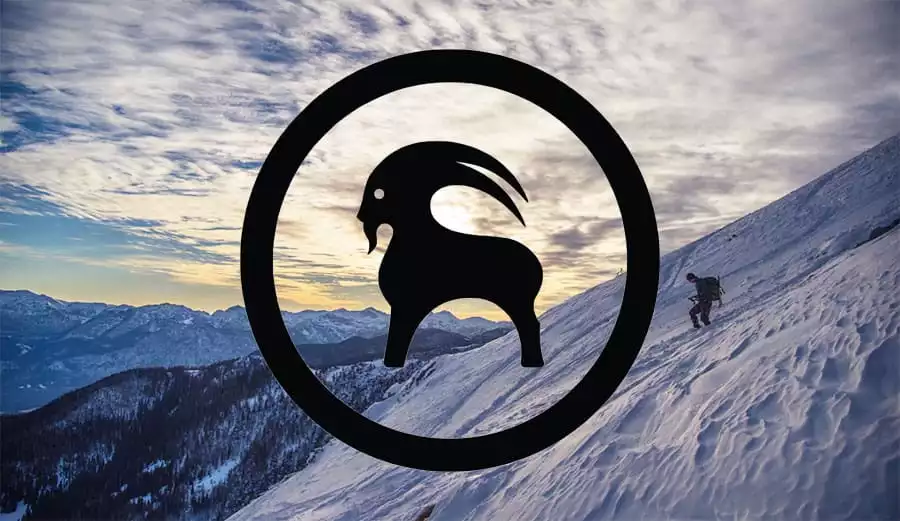 Discover an amazing brand: Backcountry
Outdoor gear and clothing from big brands to the small and undiscovered. Find everything you need for your next adventure at Backcountry.
Shop All Sale
We earn a commission if you click this link and make a purchase at no additional cost to you.
This Might Interest You: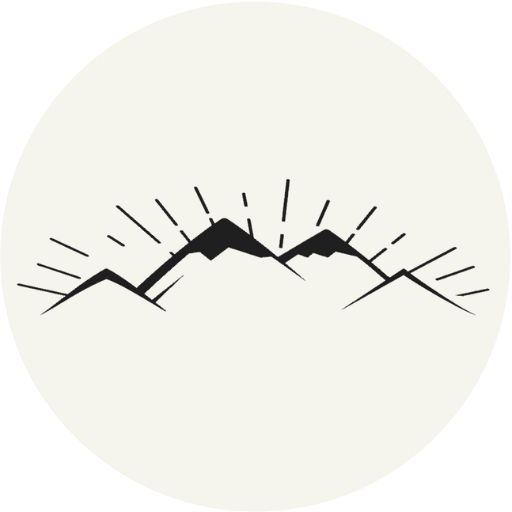 The All-Outdoors Guide team is comprised of enthusiastic experts that enjoy helping others that aspire to be better at outdoor fun. Part of that is making sure you have the right gear and information when it's time to go out and have fun. Some of our team have accomplished amazing feats like climbing 6000 feet to the top of mountains, others have explored every dirt trail they could find and we even have some people that have backpacked solo on various continents. No matter what our readers want to learn and do, our team is here to help them accomplish those goals.