Imagine you are away on an exciting camping trip and wake up to the sounds of raindrops bouncing off your tent walls. At first, the rhythmic beat is relaxing and comforting – until you feel the first drip of water hit you or look up and see water running along with your ceiling.
Having a failed seam on a tent is a sure-fire way of a great camp-out turning into a not-so-great experience. Thankfully it's easy to prevent leaks with a good seam seal and ensure your tent is ready for unexpected showers.
Bottom Line Up Front: If you just want my quick recommendation, I'd personally go with the Gear Aid Seam Grip Seam Sealer available here.
For the full story, you can continue reading…
While waterproof treatments, often known as DWRs, tend to last quite a while on the rainfly, sometimes seams can fail. This is due to raindrops easily bouncing or rolling off walls but tending to run along or sit on seams. Over time sealed seams may lose their effectiveness or taping may fail. Some outdoor enthusiasts may take extra precautions and reseal seams after every camping season is over.
Here are 3 reliable and easy-to-use tent seam sealers that can be found at most outdoor or sporting goods stores.
Best Tent Seam Sealer: Overall Picks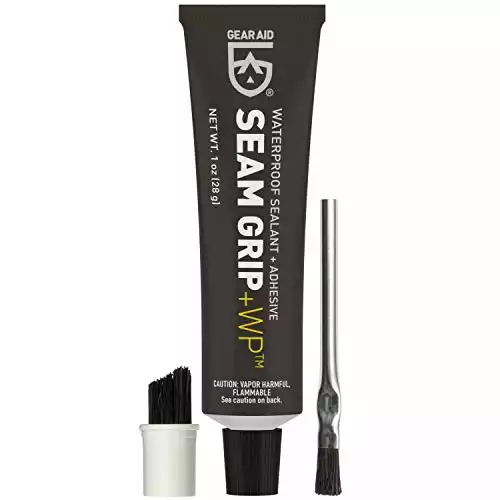 Gear Aid Aquaseal Seam Grip Seam Sealer | Amazon
Seam Grip WP is a waterproof sealant that keeps you and your gear dry. As a tent seam sealant, it works on all types of fabric including nylon and canvas. Wherever you go outside, take this handy seam sealer and adhesive with you, because you never know when gear will rip, leak or fall apart.
Buy at Amazon.com
We earn a commission if you click this link and make a purchase at no additional cost to you.
Up first is one of the best known tent/outdoor gear seam sealers on the market – Seam Grip by Gear Aid. If you really want a tried-and-true sealer that is easy to find, easy to use, and extremely reliable when properly applied, this is an obvious choice. It was even an Editors' Choice Gold Award winner for Backpacker Magazine.
Seam Grip is easy to use and comes in a squeeze tube. Simply get a bead started and slowly draw the tube across the seam to lay down a line.
Gear Aid recommends resealing with this product on the inside of the seam whenever possible, though many customers have still had good luck when the design of their tent forced them to seal from the outside. Gear Aid also recommends you wipe over seams to be sealed with isopropyl alcohol prior to ensure the best application.
This seam sealer is naturally most commonly used for resealing tents, but it's versatile enough for other purposes. You can use it to reseal backpacks, gloves, and similar types of gear that will be exposed to rain. The goopy consistency is also thick enough that you can use it to repair small holes, tear or punctures in your tent as well.
Seam Grip retails for about $7.50 for a 1 oz. tube. A 1 oz. tube is generally sufficient for resealing the tent fly and floor on a typical 2P tent. You can find this product in essentially any major outdoor store in the tent accessories section as well.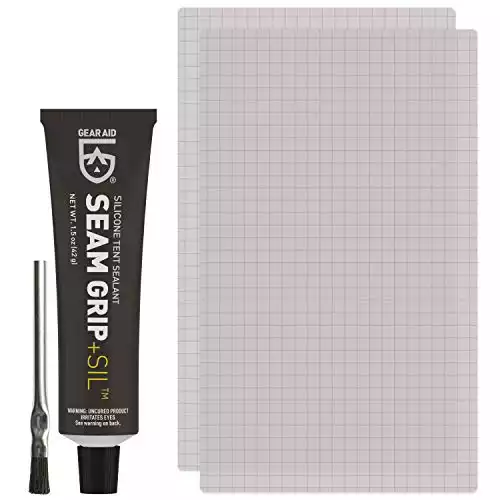 The second top choice for a seam sealer is Sil Net. This product is also made by Gear Aid and is the cousin to the ever-popular Seam Grip. Sil Net is a silicone sealant and is specifically designed for use on silnylon tents.
Silnylon tents often don't have fully sealed or taped seams, as most are made to be used for light or ultralight backpacking. Chances are you should check a new silnylon tent before your first trip and lay down some seam sealer just to be on the safe side.
The qualities of silnylon materials are great but normal sealants simply won't still. If you have a silicone-treated outdoor fabric of any type, you will need to use Sil Net to get a good stick. Aside from seams on tents, you can also use this sealant on any other gear. It is strong enough to be used for minor field repairs as well.
Sil Net retails for $7.50 for a 1.5 oz. tube. Similar to Seam Grip, one tube of Sil Net should be enough to thoroughly seal seams on the average 2 person tent. Apply it just as you would most sealers, by drawing a bead. This product does come with a small brush to allow you to smooth out the line and blend it. Chances are you can find Sil Net silicone sealer right alongside Seam Grip at most retailers.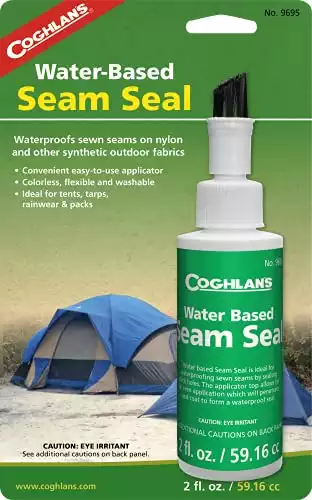 Coghlan's Seam Seal | Amazon
This waterproof seam sealer is colorless, flexible, and washable. It is environmentally friendly and works with nylon and a variety of other synthetic fabrics.
Buy at Amazon.com
We earn a commission if you click this link and make a purchase at no additional cost to you.
02/14/2023 02:54 pm GMT
Coghlan's tent sealer does a good job. It is a water-based sealer that can be used on polyurethane-coated fabrics. It works well with the included brush so that you can cover at most a small tent for two people without having to waste the product.
This water-based sealer can be used for waterproofing seams in camping gear. Its waterproof and flexible formula will hold tent seams together in extreme weather conditions. It comes in handy 2-ounce bottles for easy application. It's not just useful for tents! Virtually any waterproof camping gear can be fixed on the fly.
Coghlan's also is odorless, even immediately after applying. This makes it a good stop gap if you don't have a whole lot of time to refit on the trail.
It's definitely the cheaper (budget) pick in this category, coming in at less than $5 per tube.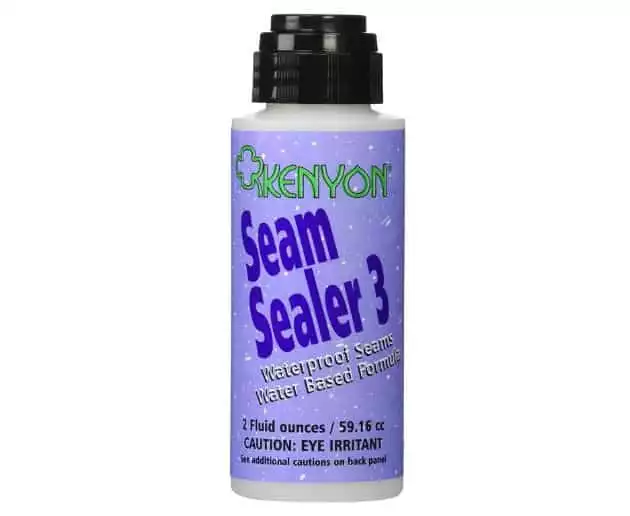 Kenyon Seam Sealer | Amazon
You cannot beat the Kenyon for value for money. It's a great size bottle, very easy to apply, safe, and works like a charm.
Buy at Amazon.com
We earn a commission if you click this link and make a purchase at no additional cost to you.
It is a water-based, urethane coated that waterproofs camping gear. This 2-ounce bottle has a tip to make it easy to apply.
It is an eco-friendly, water-based, non-toxic sealer, which is quite thin. The applicator allows you to apply the sealer precisely, but it's a little thin so it can easily go wrong.
It penetrates the fabric, seals all holes and forms a flexible and waterproof coating. It will form a clear film once it dries. It is visible, but not very obvious.
The Kenyon Seam sealer 3 was created by the makers of a simple and effective product. The Kenyon Seam Sealer 3 is a great product to have on hand for camping trips in adverse weather conditions.
5.

Coleman 2 oz. Waterproof Seam Sealer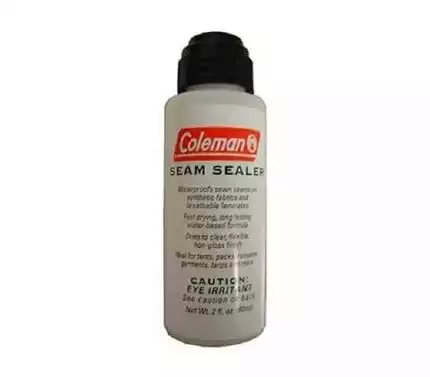 Coleman Waterproof Seam Sealer | Amazon
The water-based Coleman seam sealer dries quickly and clear for virtual invisibility. Plus, it provides a long-lasting, weather-resistant bond that is flexible and non-glossy. This tarp seam sealer is suitable for use on tents, backpacks and more. It's available in a convenient portable squeeze tube with a mess-free foam applicator.
Buy at Amazon.com
We earn a commission if you click this link and make a purchase at no additional cost to you.
02/14/2023 12:24 pm GMT
If you're in a bind and really need a reliable seam sealer but don't have access to an outdoor gear retailer then the Coleman Waterproof Seam Sealer is a great third option. Coleman-brand products are more likely to be found in stores like Walmart or K-Mart, even if the store has a relatively small camping section.
This sealer is urethane-based (urethane coating) and known for being very fast drying while still maintaining flexibility. Due to the ingredients, this product is not advised for silnylon or silicone-infused tents, so only go with this product if your tent is made of some other synthetic or laminate material.
Coleman has this sealer in a large bottle (vs the typical 1/1.5 oz tube) and has a brush. This makes application very easy and helps to prevent big globs of sealer. Those who've never resealed a tent may find this product easier for them to get a smooth application from.
The Coleman Waterproof Seam Sealer comes in a 2 oz. tube and retails for under $5 at most stores. The Coleman seam sealer may not be an award-winning product but it will definitely keep you dry when applied properly.
Other Runner's Up: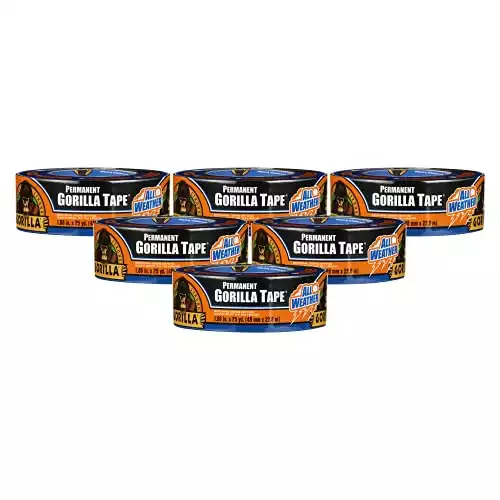 Gorilla All Weather Outdoor Waterproof Duct Tape | Amazon
Gorilla All Weather Waterproof Tape is an ideal solution for outdoor repairs. Made with incredibly strong, permanent, butyl adhesive and a weather resistant shell, this tape withstands even extreme weather conditions.
Buy at Amazon.com
We earn a commission if you click this link and make a purchase at no additional cost to you.
02/14/2023 04:19 pm GMT
How to Determine if You Need Tent Seam Sealant
The first step in resealing seams is to determine whether you really need to or not. If your tent fabric has unsealed seams then you should go ahead and use a seam sealer, but if your model has taped seams you may not if the tent has less than 2 years of use.
Look over the seams on the rain fly and floor to see if the seam tape is still glossy, smooth, and flat. Seam sealant tape can lift up over time and may need to retreat. This is especially true around areas of stress like the seam between the tent floor and canopy, on corners, and around any zippers.
Once you've determined that your tent needs some help, you will need to double-check whether the seam sealing product you've chosen should be applied on the inside or outside of the seam. This may depend on which side the original seam seal tape or DWR seal was used. Simply flick some water on the seam. If the droplets puddle up, the seal is on the opposite side. If the droplets bead up or roll away, you are probably on the side of the original seal.
After you know which side the original seal is on you can go ahead and remove it, if it's a DWR coating goop-type sealant. A toothbrush or other small, dense brush will help.
If your tent has taped seams it's best to try and maintain the original seam sealing tape as best as possible, only adding sealant to reapply the seam tape where it may have lifted. Once this step is complete you can pitch the tent and begin to apply the sealant.
Most seam sealer products are used the same way but might have minor differences in longevity, dry time, and application method. Always be sure to double-check the manufacturer's instructions before using the product.
FAQs
Here are some common questions that we get from readers:
How Long Does Seam Sealer Take to Dry?
Depending on the specific brand, tent seam sealer generally takes about 3-4 hours to fully dry. Monitor weather conditions, too. Dry arid Arizona heat accelerates the drying process versus moist and humid regions.
How Waterproof Should a Tent Be?
A "good" waterproof tent rating exceeds 3,000mm Hydrostatic Head. Most waterproof rating schemas are measured in millimeters (mm). Ideally, a true waterproof tent falls somewhere between 1000mm and 10,000mm. As you can see, a very broad range.
What this actually means is that a 1,000mm waterproof rating can sustain a 1,000mm funnel of direct water before it starts to leak. An umbrella, for example, is typically rated at 400mm but generally does not endure the same level of water abrasion that a bathtub floor of a tent might. This is why tents and tarps go hand in hand. Similarly, a waterproof jacket is generally 1,500mm and above.
Can You Use Duct Tape to Seal a Tent?
Yes, but technically duct tape is "water-resistant" not strictly waterproof, although you can find specially designed duct tape for water resistance like Gorilla tape. Over time, duct tape and gorilla tape will lose effectiveness. It certainly won't look pretty, but who cares if you are staying dry!
Final Seam: Finding the Best Seam Sealer for Tents
Once you've decided on a sealant, applied it to your tent, and waited the necessary dry time you should test the tent before your camping trip.
The easiest way to do this is to place a sprinkler by the tent to imitate rain. Try to aim the sprinkler in a way that the waterfalls on all sides of the tent. You'll want to test the tent for an extended period of time, around 2 to 3 hours, to really ensure your seals are tight.
Sometimes a sloppy seal may not leak for an hour or two, so don't make the mistake of spraying your tent with a hose for a few minutes, not seeing a leak, and assume you're safe.
My suggestion to validate a waterproof tent: wait overnight and then give it a good spray the next morning (also do this to test your tent before any trips).
Bottom Line: I'd personally go with the Gear Aid Seam Grip Seam Sealer available here if you are still struggling to decide.
Further Reading on Tent Fabric and Tent Waterproofing / Weather Proofing: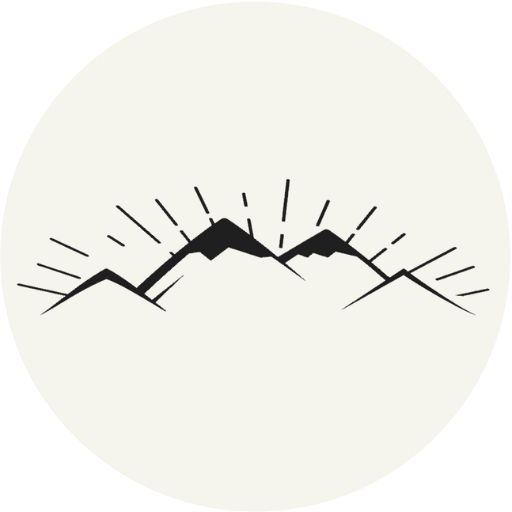 The All-Outdoors Guide team is comprised of enthusiastic experts that enjoy helping others that aspire to be better at outdoor fun. Part of that is making sure you have the right gear and information when it's time to go out and have fun. Some of our team have accomplished amazing feats like climbing 6000 feet to the top of mountains, others have explored every dirt trail they could find and we even have some people that have backpacked solo on various continents. No matter what our readers want to learn and do, our team is here to help them accomplish those goals.