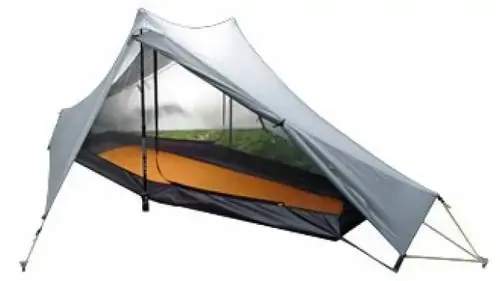 Backpacking and camping are enjoyable outdoor activities for everyone, but ultralight backpacking is a more serious venture that typically only the experienced outdoorsmen practice. Ultralight backpacking is really an art, considering how light savvy hikers can reduce their pack load.
While it may not be for everyone, ultralight backpacking has a strong community and is largely supplied by small businesses since big name brands don't often specialize in ultralight gear.
Tarptent is a small brand that is best known for designing some of the best tents/shelters for ultralight backpackers and thru-hikers. Despite being a small company they have quite a fan base and their tent models come highly recommended by most.
All of their products are designed and manufactured in the US as well as striving to use US-made materials as often as possible. They not only produce some extremely lightweight shelters but also used new, innovative designs to help set their products apart from the competition.
One of the most popular tent models is the Notch shelter. The Notch is their lightest weight double-walled shelter and has a unique no-pole design. Tarptent specifically made this shelter for hikers that already use trekking poles as the tent itself requires them to erect the tent.
The ability to use trekking poles in place of regular poles reduces pack load if you're already using trekking poles on your hikes.
This simplistic, sturdy shelter is extremely durable and stable, despite being so compact and light. It offers the perfect amount of space for a single person and their gear. Compared to other ultralight shelters the Notch is very well-priced and better designed.
If you're considering purchasing a new single-person UL tent, you should definitely consider the Notch shelter.
Tarptent Notch – Specs and Features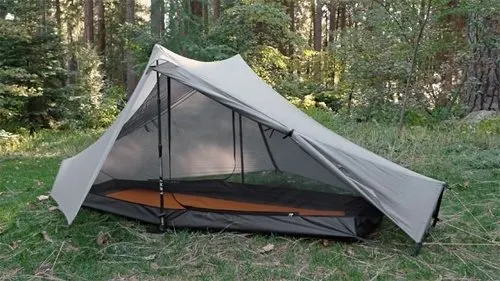 Before delving into the main advantages and possible disadvantages of the Notch, it's important to take a look at the details of the model.
Specs of the Notch:
Single person capacity
Made of 30 denier silicone-coated fabrics
Micro mesh keeps out bugs
Total Weight – 27 ounces
Fly-Only Weight – 9.6 ounces
Mesh Interior Weight – 9.6 ounces
Interior Weight – 11.1 ounces
Floor Dimensions – 34″ x 84″
Ceiling Height – 43″
Total Floor Area – 15.2 sq. ft.
Packed Dimensions – 16″ x 3.5″
Retails direct from Tarptent for $285 (For the latest prices and discounts, check here)
Main Features of the Notch:
Uses dual trekking poles for support
Ability to use optional adapters if pole setup is desired
Double-walled design with dual entry
Dual vestibules for gear storage and moisture control
Living compartment separate from vestibules and may be used solo
Impressive ventilation and moisture control
Wide panels allow for pleasant views of surroundings
PitchLoc folding corners allow for super-taut pitch
In-line line tighteners ensure quick pitch adjustments
Fast setup can be accomplished in just 1 minute with practice
Catenary-shaped ridgeline performs perfectly in storms and wind
Comes with four 6″ pegs for staking out
Comes with reflective guyline cords needed for setup
The Notch is a very simple tent for obvious reasons – in order to be ultralight any "extras" that aren't necessarily must be removed to conserve weight. That being said, Tarptent designed this model very well, focusing on the most important factors like a super fast, easy setup and effective weather protection.
This tent is so well-made it can even handle a light snow load without sagging, something any one person UL tents can't do.
Going off the feature list alone and seeing pictures of the tent in action are reason enough for many to invest in this tent, especially considering how competitively it is priced. If you're stuck between the Notch and another tent, here are some advantages and disadvantages to consider when comparison shopping.
Advantages of the Notch Tent

There are quite a few reasons why the Notch is such a popular model, but the main advantages and selling points can be summed up in the following three advantages.
Super Lightweight and Compact Design
The total weight of the Notch is just 27 oz which equates to just under 1.7 lbs. This is on par or less than many other single person UL tents. Keep in mind that the 27 oz weight is for the entire tent setup, not just the fly or some other downsized design.
While other single person tents may be able to get to this low of a weight typically it's only if using a quick setup with just the fly. For an entire double-walled tent a 27-ounce maximum is quite impressive.
The tent comes with a carrying case to make it easy to pack. When in the case it is rolled up to a size of about 16″ x 3.5″ diameter. This is compact enough for any backpack and could be attached to the outside of the pack as well, depending.
Very Small Footprint Ideal for Any Trail
The overall footprint of this tent is quite small, being just a little bigger than 84″ x 34″. This elongated, skinny design is ideal for pitching in small camping areas, right on trails, or even in dense woods.
If you're truly out in the backcountry and you must set up your shelter in the thick of it, you'll have a much easier time finding a spot for this tent compared to others that are wider. It also means finding a spot flat enough will be easier since you won't need as large of an area.
Extreme Weather-Resistance
The Notch tent is incredible weather-resistant. The tent comes unsealed but Tarptent includes a seam sealing kit. Once this is properly applied this little tent can handle an incredible amount of wind, rain and general stormy weather. It isn't a 4-season tent but if you happen to get a little snow while on a late fall hike you won't need to worry about sagging or collapsing. Also, Tarptent added No-See-Um mesh so when the weather is nice and you want to lift the rainfly you will still be protected from insects.
Disadvantages of the Notch Tent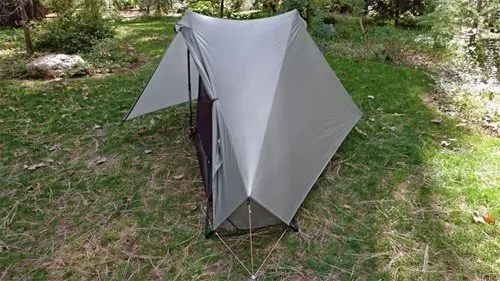 Despite all the good things going for the Notch there are a couple things to consider before purchasing to ensure you are buying the right model for your needs.
Does Not Function as a Freestanding Shelter
The Notch is not a freestanding shelter. It requires the use of trekking poles, as well as stakes to set up and neither, are optional. The reliance on stakes and guylines means trying to set up the tent on rocky or frozen ground is extremely difficult and perhaps impossible in mountainous regions. Keep this in mind if you hike in areas where you've had trouble with stakes before.
Best Suited for Experienced Hikers
The Notch can certainly be enjoyed by everyone, but it's true that it really is designed for the experienced hiker in mind. It's simplicity and minimalistic design might be a little too "sparse" for the new hiker that isn't familiar with UL hiking or requires a beefier tent. You may appreciate this tent's design more if you've had a few thru-hikes under your belt.
Overall Take: Is the Tarptent Notch Worth it?
Overall the Notch is a superb UL single person tent. It truly is made with the technical ultralight backpacker in mind and it really shines as a shelter for thru-hikes, whether you're brand new to the hobby or are a seasoned hiker that's tackled many treacherous trails.
It all boils down to the fact that the Notch is very well-made, priced right, and will keep you safe out in the elements. You'd be hardpressed to find a bad review of this model, and considering how uncompromising customer reviews of shelter are, this really proves that essentially everyone will be satisfied with this tent.
Further Reading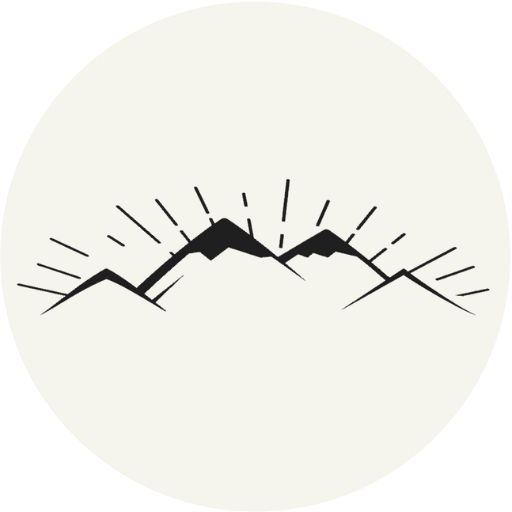 The All-Outdoors Guide team is comprised of enthusiastic experts that enjoy helping others that aspire to be better at outdoor fun. Part of that is making sure you have the right gear and information when it's time to go out and have fun. Some of our team have accomplished amazing feats like climbing 6000 feet to the top of mountains, others have explored every dirt trail they could find and we even have some people that have backpacked solo on various continents. No matter what our readers want to learn and do, our team is here to help them accomplish those goals.