With the slogan "Go Where You Gotta Go" it comes as no surprise that Granite Gear is all about helping outdoor enthusiasts explore new places or old favorites by supplying them with solid, quality gear.
The idea for Granite Gear was born in 1986 in Quetico Provincial Park by Jeff Knight and Dan Cruickshank. Knight and Cruickshank realized on that trip that there was a need for high-quality, more durable outdoor gear yet no company had stepped up to the place yet.
Granite Gear quickly gained traction and they are now a highly respected outdoor gear company known for their expertise in designing and constructing various types of equipment.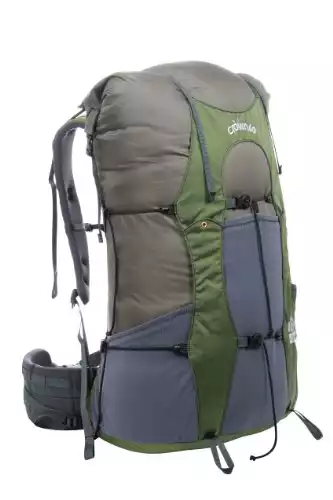 Granite Gear backpacks easily compete with major outdoor gear brand names and most models come highly recommended by customers.
A cult classic backpack of Granite Gear was the Vapor Trail. Despite how well the Vapor Trail sold and how many fans it gained for the company Granite Gear wasn't satisfied.
Instead of leaving it be they designed to take the idea of the Vapor Trail and added some impressive upgrades. This is how the Granite Gear Crown VC 60 backpack was born. This heavy-duty backpack is constructed with durable materials and has an innovative design that will impress any outdoorsmen.
Specs and Features of the Crown VC 60 Pack
The Granite Gear Crown VC 60 is the big brother to the Vapor Trail and has a much more impressive list of features. This backpack is tough enough to handle any backpacking trip yet is surprisingly lightweight for being a 60-liter pack. If you need something spacious, comfortable, and versatile the Crown VC 60 is a superb choice.
Here is a rundown of the basics you need to know about this model:
Retails for $199.95, regardless of purchasing options

Available in three colors – Black, Cactus/Moonmist, and Tamarillo/Blood Orange

Available in two sizes:

Regular – 18″ to 21″ torso and 26″ to 42″ belt

Long – 21″ to 25″ torso and 26″ to 42″ belt

Granite Gear allows custom sizing of belt and shoulder straps

Originally designed for Ultralight Multi-Day Backpacking

The regular size has 60 liters or 3,660 cubic inches of space

Long size has 65 liters or 4,000 cubic inches of space

Regular size weighs 2 lbs 2 oz

Long size weighs 2 lbs 4 oz

Pace features the Vapor Current (VC) frame for support

VC frame is lightweight and durable thanks to HDPE material

Frame is removable

Pack body made of 100D and 210D Cordura Nylon

Allows for top access via an adjustable roll top

The backpack has 3 extra stretch pockets

Does not comes with a rain cover

Can be used with interchangeable belts available from Granite Gear

Features Lineloc compression to stabilize backpack load

Hydration compatible with hydration tube ports and an internal reservoir sleeve

Can support loads up to 35 lbs in weight
This backpack is really a work of art so it comes as no surprise that it consistently ranks with 4 to 5 stars in customer reviews. While any backpacker will enjoy this model it really is most popular amongst experienced thru-hikers or ultralight hikers that travel at a fast pace. The Crown VC 60 is reliable, hardworking, and won't slow you down.
Advantages of the Crown VC 60 Pack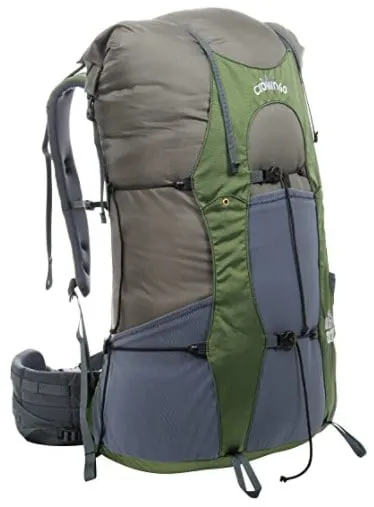 Going by the hundreds of positive reviews and extensive feature list it comes as no surprise that the Crown VC 60 has plenty of advantages over the competition. Here are just a few reasons why this model should be at the top of your wish list.
Vapor Current Suspension Is Stable and Comfortable
One of the major things that Crown VC 60 has that the Vapor Trail was famous for is its suspension and framing system. The VC in the Crown 60's name stands for Vapor Current, which is the same suspension system originally used in the Vapor Trail.
The Vapor Current suspension system consists of a specially molded back panel with built-in airflow channels to circulate air from top to bottom. It offers incredible ventilation and moisture control.
Nothing feels worse than your pack sticking to your sweaty back. The Vapor Current system not only increases airflow but also helps evaporate moisture in turn.
Extremely Durable Materials and Construction
Crown VC 60 is made up of some tough materials and is put together extremely well. The backpack body is made of 100 denier Sil-Nylon Hybrid Cordura. Granite Gear added 210 denier Nylon Cordura as reinforcement on areas of the backpack most prone to damage, such as the bottom.
Fabric aside, the frame of the backpack was chosen to be die-cut HDPE. This material is very lightweight but surprisingly strong, allowing users to comfortably carry a load of up to 35 lbs.
Customers that have had the opportunity to really put this pack through the wringer have found it to be able to handle being dropped, scraped, thrown, stepped on, or even used as a makeshift seat without damage. This backpack is also unlikely to stain.
Two Different Sizes and Customizable Harness for Perfect Fit
Far too many backpacks only come in one size which is problematic for obvious reasons. Even the average height adult man may be broader in the shoulders or small in the waist than others in that height range.
To ensure a spot-on fit and to reduce issues associated with poor fit Granite Gear makes the Crown VC in two different sizes – Regular and Long. In addition to the differences in torso fit, Granite Gear also made the hipbelt interchangeable so you may swap one size for another.
When you order your backpack you can state in the order comments when size belt and shoulder strap you need.
Disadvantages of the Crown VC 60 Pack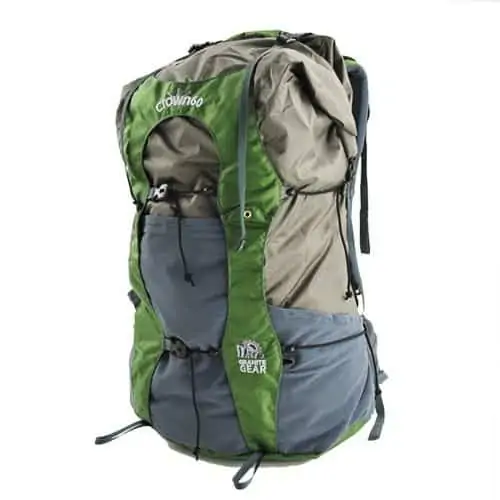 Before investing in any backpack you should consider what downsides it may have. While the Crown VC 60 is extremely well-made overall, it isn't without some flaws.
For the most part, the only two flaws that affect performance include:
Mesh Material on Pockets May Wear Down
While the Crown VC 60 is a super tough backpack, which is one of its above advantages, there is one spot where durability is questionable. The mesh side pockets are very stretchy and seem to be well made, but the constant use of the pockets (i.e. removing and replacing water bottles or gear) seems to wear the mesh itself down more quickly than you'd think.
The pocket itself still retains its compression, it's just the mesh of the pocket body that begins to develop holes. This issue is one to consider if you are planning on taking this backpack on an extended thru-hike and rely on water bottles.
Granite Gear Hipbelts Tend to Run Large
Customers that were already fans of Granite Gear may already be aware that their pack hipbelts tend to run on the larger side, even if you fall within the dimensions for the Regular or Large options.
Thankfully Granite Gear offers customization so you can plan ahead by purchasing a smaller-sized hipbelt. If you are planning a long thru-hike or are in the process of losing weight, you should consider buying a hipbelt a size smaller than you think you need.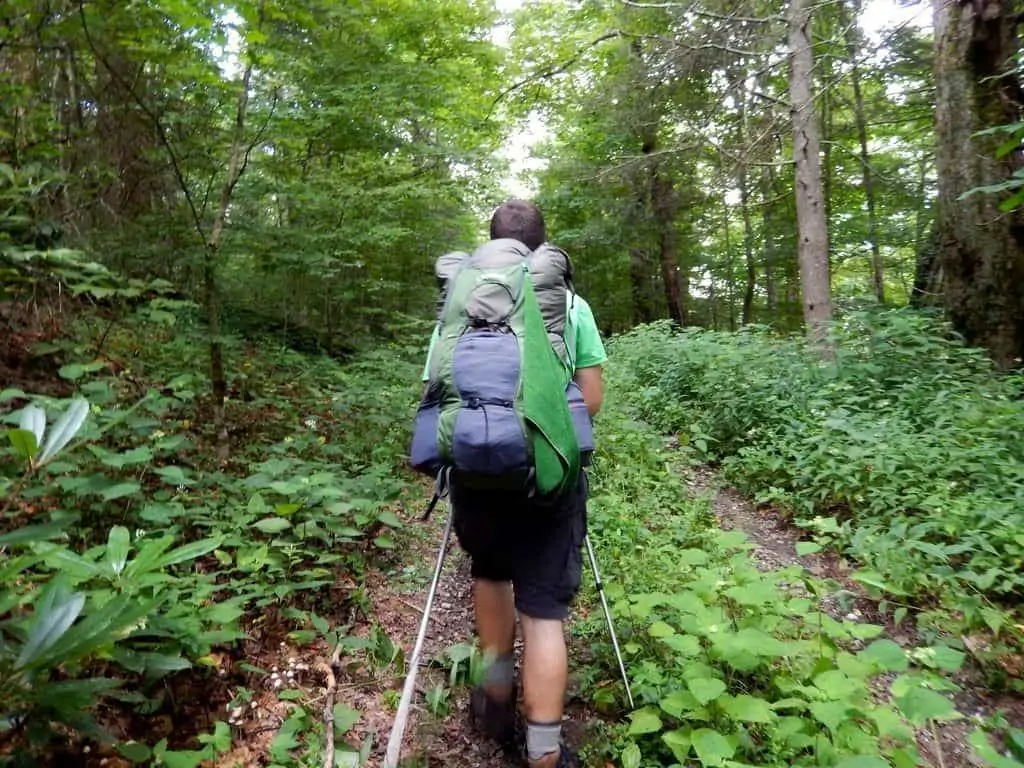 Despite these two disadvantages, the Granite Gear Crown VC 60 is still an excellent backpack for any hiker, but particularly those that are thru-hikers. The combination of a tough, compressible body, an innovative, comfortable suspension system, and the ability for harness customization make this backpack worth every penny.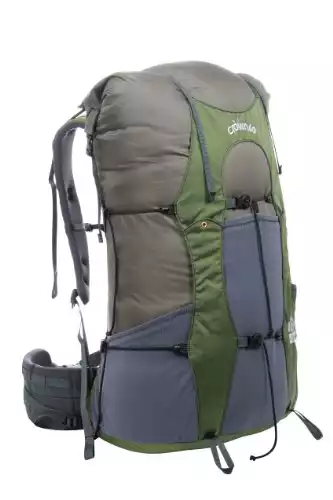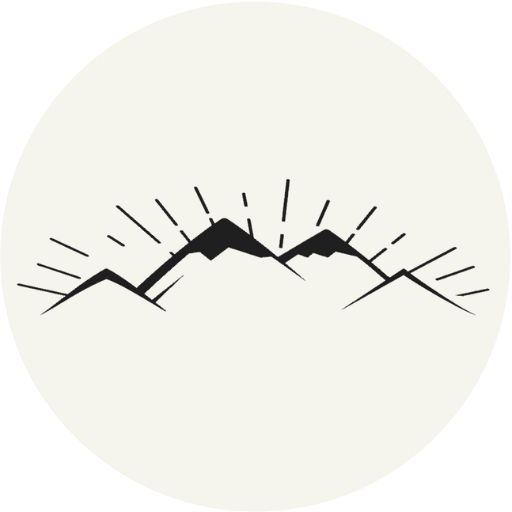 The All-Outdoors Guide team is comprised of enthusiastic experts that enjoy helping others that aspire to be better at outdoor fun. Part of that is making sure you have the right gear and information when it's time to go out and have fun. Some of our team have accomplished amazing feats like climbing 6000 feet to the top of mountains, others have explored every dirt trail they could find and we even have some people that have backpacked solo on various continents. No matter what our readers want to learn and do, our team is here to help them accomplish those goals.