Outdoor adventures will always have their ups and downs. While you get to experience the beauty of nature, you might need to sacrifice some trappings of modern life. However, a hammock lets you enjoy your time in the outdoors by providing a comfortable resting place that protects you from pests and natural elements.
A good hammock allows you to hang up on a tree or other similar structure, away from the dirt and mud of the forest floor and out of reach of unwelcomed guests. But a hammock is not worth it if it can't last long and deliver comfort. The Eaglenest Outfitters' (ENO) Singlenest and Doublenest hammocks are two of the best hammocks on the market. In this piece, we review the hammocks to see their similarities and which you should go for when you want to buy a hammock that will stand the test of time.
Main Differences Between ENO Singlenest vs Doublenest
The main differences between ENO Singlenest vs Doublenest are:
ENO Singlenest is perfect for solo travelers, whereas Doublenest can work perfectly for a couple.
ENO Singlenest uses less fabric, whereas Doublenest is heavier.
ENO Singlenest costs $59,95, whereas Doublenest costs $69,95.
ENO Singlenest can be updated with accessories for different types of weather, whereas Doublenest is more versatile when it comes to its uses.
ENO Singlenest
Features at a glance
Weight: 16 oz.
Material(s): Nylon
Folded dimensions: (Diameter x L) 3.5″ x 4.5″
Unfolded dimensions: (L x W) 9′ 4″ x 4′ 7″
The ENO Singlenest is designed to accommodate one camper. It is a versatile, durable, and lightweight hammock that's suitable for different outdoor activities. Despite the small size, the Singlenest offers a cozy place to snooz at night.
Weight
At 17oz. the ENO Singlenest is at the lighter spectrum of the market. Meanwhile, the hammock weighs considerably more when you add suspension or accessories such as a rain fly or bug net, although this will allow you to increase its usability in different weather conditions.
The hammock comes with high-quality aluminum carabiners, but you will have to buy straps or suspension as these are not included in the package. Also, the carabiners are light and will serve you for many years to come. It's lightweight, and you can pack it down to an extremely small size so it can fit into a small space in your backpack. The small weight and packability make transporting this hammock extremely easy.
Comfort
The ENO Singlenest is comfortable, but the small size means you may not enjoy a lot of headroom if you are very tall. However, what it lacks in comfort, it provides in durability and excellent balance of weight. You won't encounter any problems sleeping in this hammock, but you might want to get some add-ons like a rain fly and others if you are camping out in formidable weather.
Simplicity of Setup
The big problem with ENO is that they don't include the materials you need to set up their hammocks in the bag. Except for carabiners, you will have to get straps or suspension separately, and this can increase the cost a bit and also prevents you from setting it up immediately after delivery.
On the brighter side, the hammock can fit in in spaces that would be too small for a larger hammock, plus it's easy to hang due to its relatively smaller length. Setting up the ENO Singlenest is not rocket science, but you need to get suspension straps, as it doesn't come out of the box.
Durability/Protection
The ENO Singlenest is made from highly durable parachute nylon and sturdy triple stitched seams for enhanced durability in all conditions. The tough and stretchy nylon material is breathable, and the triple interlocking stitching helps maintain balance and stability.
The hammock can hold its own in any situation; whether scratching against tree barks, rocks, rain, snow, and others. The ENO Singlenest is built with longevity and durability in mind, and you won't be disappointed in its delivery.
Value
The ENO Singlenest provides a ton of value at $59.95, making it one of the most affordable quality hammocks on the market, although the price might be higher if you consider the fact that you will need to buy straps. The included aluminum carabiners are high quality, but it would be a better buy if the suspension was included.
Best Application
The ENO Singlenest is ideal for backpackers who intend to camp in warm weather. Its compact size makes hauling easy, and you won't get into trouble finding a suitable hanging platform. You can also use it for family camps and it makes an excellent piece of gear in the car.
Verdict
The ENO Singlenest offers excellent comfort and durability. It's super lightweight and will perform well for hammock camping. The construction is solid and long-lasting as it is made with military-grade parachute nylon and it is offered in a wide range of colors to satisfy your varied preferences.
Sleeping in the ENO Singlenest is a pleasure. It's the perfect hammock for 3 season backpackers, it's easy to set up and dismantle, and finding a suitable hanging spot won't be a problem. The hammock performs best in fair weather, but cold weather camping is also possible if you can invest in quality add-ons but that means additional weight.
The smaller width may make cold weather hammocking less comfortable. Also, the hammock doesn't come with suspension, but you can always order that separately or improvise. If it's not too cold and you are under 6′, this hammock is a great addition to your camping gear for a restful night's sleep.
What we like about the ENO Singlenest
Its compact and lightweight
It's affordable
Durability and comfort
Long-lasting and breathable material
Can fit into small spaces
Comes in a variety of colors
High quality attached carabiners
What we don't like
Not suitable for cold weather
Offers no protection against bugs and insects
Doesn't come with suspension, so you have to spend more money to buy straps
All in all, the ENO Singlenest is a great buy if you are solo camping. This hammock will serve you for many years to come. Its compact, durable, and worth every dime.
ENO Doublenest Hammock
Features at a glance
Weight: 19 oz.
Material(s): Nylon
Folded dimensions: (Diameter x L) 4″ x 5″
Unfolded dimensions: (L x W) 9′ 4″ x 6′ 2″
The ENO Doublenest (read full review here!) is definitely a favorite among hammock enthusiasts. The compact design makes packing it a breeze, and the extra space makes lounging or sleeping in the harsh outdoors a truly enjoyable experience, which is why multiple-season backpackers love it so much.
While the ENO Doublenest misses some of the trappings you find in premium models, it more than compensates for maximum comfortability and durability. If you need a hammock that delivers all the fundamentals, then an ENO Doublenest is the hammock for you.
Weight
As an experienced player in the outdoor recreation industry, ENO understands the importance of portability and durability, and this reflects in the construction and design of its hammocks, especially the Doublenest.
Despite the ample room it provides, the Doublenest weighs a mere 19oz, making it one of the more lightweight hammocks in the "Doublenest" category. The Doublenest comes in at 9'4″ by 6'2″ when unfolded. The attached aluminum carabiners are ultralight, and of the highest quality, you will find on any hammock in its price range. It's easy to stuff in your backpack and won't weigh you down after long treks or hikes.
The weight can considerably increase though if you add some upgrades like a rain fly and bug nets if you are going to camping in unpredictable weather or an insect-infested environment.
Meanwhile, the weight here doesn't include suspension or straps as you have to buy those separately since the company does not add it. For uniformity, you can buy ENO's Atlas Suspension System or its straps. The downside of this is that the weight will increase after adding the straps. But it's still less than anything that can get you sweaty or reduce your progress while on the move.
Comfort
The ENO Doublenest, like other hammocks in its size range, offers more comfort due to its length and width. Because it is made with parachute nylon fabric, the hammock is soft and cuddly against the skin, and cocooning in the depths of this hammock is an awesome experience.
The Doublenest offers remarkable stability when occupied by two people, whether they are lounging or sleeping, although it's more comfortable for two people to lounge in a hammock than to sleep because you require more wiggle space while sleeping.
If you need a hammock to spend quality outdoor time with your significant other, children, or family dog, the Doublenest is an excellent hammock for that job. If you intend to pack two people into this hammock at night, it will do fine, but it's best when only one person sleeps in it. You will enjoy the increased space and sleep like a baby.
Simplicity of Setup
Like the ENO Singlenest, the Doublenest doesn't come with a suspension system, but they sell these accessories separately. You can either buy straps from ENO or get an alternative. When you have resolved the issue of suspension systems, you won't have any trouble setting up the hammock. The Doublenest, however, comes with high-quality aluminum carabiners that are compatible with any suspension system you want to use.
Versatility
Unlike a single-user hammock, a product like the Double nest is highly versatile. It offers a vantage point to lounge comfortably while watching the sunset or reading a book. You can also sleep in it to enjoy gazing at the stars, cuddling with your loved ones, playing with kids or pet. There's a lot you can do with a double hammock which isn't possible with a single hammock due to the increased length and width.
You can increase the usefulness of the Doublenest by investing in upgrades to enable you to use it in different weather conditions and to prevent marauding bugs from spoiling the fun. It can accommodate a variety of sleeping pads and bags and can be used in cold conditions if you buy the appropriate upgrade.
Sleeping pads are absolutely essential in cold weather. If you are camping in even cool weather in your hammock, you will want to supplement with a sleeping pad. This allows you to be insulated between the hammock and the pad. The lack of insulation without a pad will eventually lead to a very unpleasant night in the wild.
Protection and Durability
The Doublenest is highly durable as it is made with top-quality parachute nylon and features triple interlocking stitching across the surface of the hammock. Under normal use, the Doublenest should last you for many seasons and comes with upgrades that allow you to use it in unfavorable weather and environments.
The Doublenest can't protect you against the elements or insects since it's an open model hammock. You will have to invest in a rain fly and bug net and the infrastructure to set it up, but it will be worth it. If you are camping in warmer weather, all you need is a sleeping bag or pad, and you will be fine.
You can also cocoon and get cozy in the Doublenest if you sleep alone in it since it has more space. Cocooning is also possible if you are sleeping in the Singlenest, but the Doublenest offers a better experience.
To enjoy your Doublenest, you should invest in ENO's OneLink Shelter System which includes straps, a tarp, and a bug net, making it primed and ready for any weather condition. And you don't have to carry the bigger bag if you don't need it.
The ENO Doublenest provides exceptional durability, and if you can afford it, the OneLink Shelter System offers full-spectrum protection against bugs and adverse weather conditions, excluding tornadoes and hurricanes of course.
Value
At $70, the ENO Doublenest is a bit on the high side. However, for the lightweight and highly durable, and intelligent construction of the Doublenest, it's worth the somewhat hefty price. The hammock will last you for several years with normal use, and you won't be falling through it since it can carry 400 pounds of weight, and the triple stitching ensure the structural integrity of the fabric. It's one of the best open model hammocks you can find in the market, although not the cheapest.
The ENO Doublenest is a top choice for good reasons. It offers far more comfort and is one of the best hammocks for lounging, sleeping, or playing with friends and families. The compact size and low weight mean it's easy to pack and transport.
Best Applications
The Doublenest is perfect for campers who want to share their hammock space with others. It's also ideal for people with large body sizes who love to have more wiggle space which isn't available in single-user hammocks. The increased room plus ease of use and compact size make it a great choice for campers who don't mind their hammocks open. It's also easy to upgrade, and the excellent nylon fabric makes sleeping or lounging a pleasant experience.
Verdict
The ENO Doublenest is a highly durable and comfortable hammock that has won the hearts of many outdoor adventurers. It's roomy, cuddly, well-designed, and easy to set up and dismantle. The lightweight aluminum carabiners are some of the best on the market and are available in a wide range of exciting colors and patterns. If you want a lightweight and roomy hammock that would stand the test of time, the Doublenest is a top contender.
What we like about it
It's roomier and more comfortable than single-user hammocks
Extremely versatile
May offer more protection against the elements due to the bigger size
Durable and long-lasting fabric and construction
What we don't like
You can't go wrong if you invest in the Doublenest. For comfort, quality, and durability, this hammock won't fail to deliver.
Comparison Between the Singlenest and Doublenest
Now that we know all the features and specifics of both the Singlenest and Doublenest, let's make a head-to-head comparison of both hammocks to see a clear winner.
Similarities Between the Singlenest and Doublenest
Both hammocks are ENO's flagship products, and they have practically the same characteristics save the difference in size.
Material
The first thing they have in common is the material. Both the Singlenest and the Doublenest are made with high-quality military-grade 70D parachute nylon. This material is one of the best regarding comfort, breathability, durability, and longevity. It's the main reason why it feels so great sleeping or snuggling up in these hammocks.
Construction
Another similarity between the two is that both are constructed with triple interlocking stitching which gives them immense durability. Many users of ENO hammocks testify to the resilience and durability of these hammocks even in extraordinary terrains.
The stitching will hold out in any weather condition and will still be intact even after several seasons of camping in the harsh conditions of the outdoors. Both are highly durable due to the material and stitching which helps you rest peacefully without the fear of falling through your hammock in the dead of night.
Compact
The Singlenest and Doublenest are both lightweight and can fit into the smallest pocket in your backpack. Plus, they both come with a stuff sack that you can also use as a storage pocket for small gear and things like your smartphone, headlight, water bottle, and snacks.
Cocoon
Both hammocks are cocoon styled, making them comfortable spaces to rest after trekking or hiking. All you have to do is draw the rucksack over the hammock, and it should help lock in some warmth while protecting you from bugs, although you may require a bug net to completely eradicate bugs or a tarp for inclement weather as both are open model hammocks.
Color Variations
ENO offers its Singlenest and Doublenest hammocks in a wide range of exciting colors and patterns, so you will have plenty of choices over what to pick when you decide to purchase any of the two.
Accessories
The only accessory that comes with both the Singlenest and Doublenest hammocks are the attached aluminum carabiners. These carabiners are of exceedingly high quality, and very lightweight you won't even feel them on your person. But don't confuse the lightweight for inferiority as these carabiners will outlast the fabric even under serious rough handling. But you have to buy a suspension system because it isn't included with these hammocks.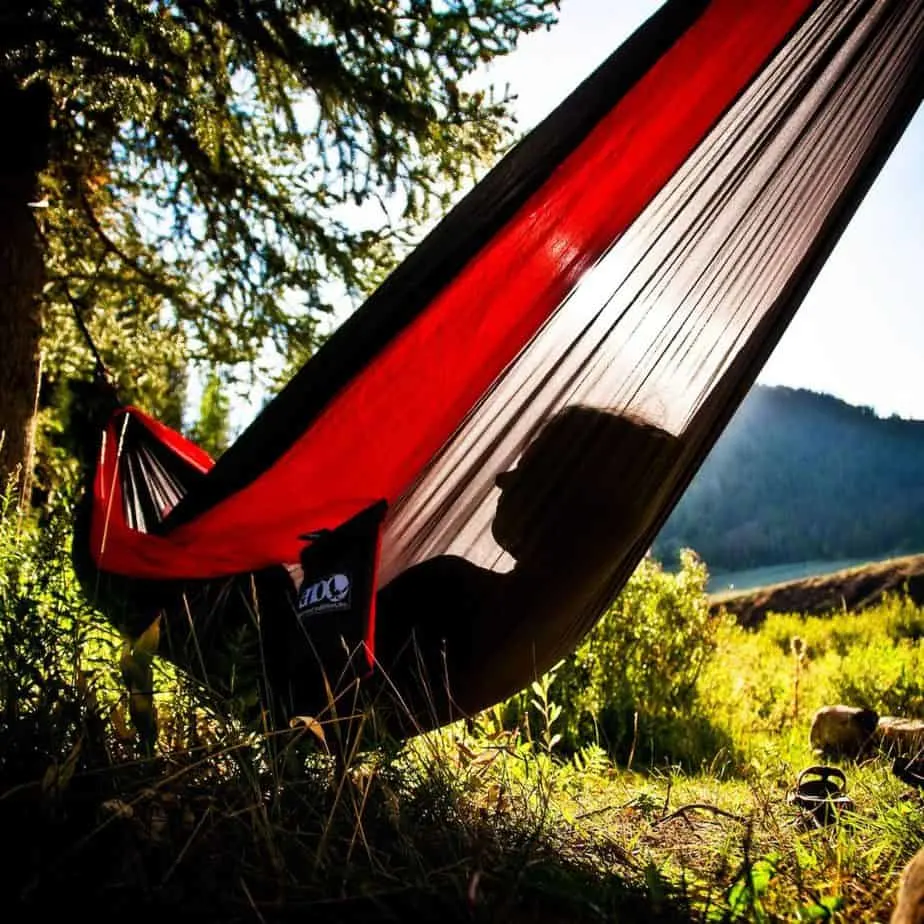 Weight
Both the Singlenest and Doublenest can support 400 and 600 pounds, which means they should be able to support the weight of 2 200-pound people comfortably. However, space constraints might not allow you to squeeze multiple users into the Singlenest despite having the capacity to carry the weight. Both hammocks have the same length, but the big difference lies in the width.
Differences Between the Singlenest and Doublenest Hammocks
Size
The main difference between the two hammocks is the number of people that can comfortably use them at the same time. The Singlenest and Doublenest both have a length of 9'4″, however, the Doublenest has a width of 6'2″ compared to the Singlenest's 4'7″.
The Singlenest is ideal for the solo traveler or camper who loves their privacy. The Doublenest may be designed for two users, but the extra space makes the hammock so homey and comfortable for the single user and an open and comfy place to snuggle with a loved one.
Regarding comfort, the Doublenest offers more room compared to the Singlenest, and you will only notice the difference when you try both. It doesn't matter if you are camping alone, you should consider the increased room and comfort which the Doublenest offers. It is worth the extra cash you pay for it.
The Doublenest is ideal for couples who like to lounge together. You can also sleep in it together, but that may not be as comfortable as you'd like. People who are 6′ and above and who are heavy-bodied should go for the Doublenest. On the other hand, the Singlenest is perfect for people under 6′ and below 200lbs. The cramped space of the Singlenest may hamper movement for a person who is over 200 lbs., making the Doublenest the ideal choice even for a single user.
Weight
The Doublenest is 2oz heavier than the Singlenest, but the increased comfort and larger room it offers is completely worth it. And the difference is negligible as the Doublenest can also fit into small spaces for transportation, and you won't feel any heavier by hauling it over great distances.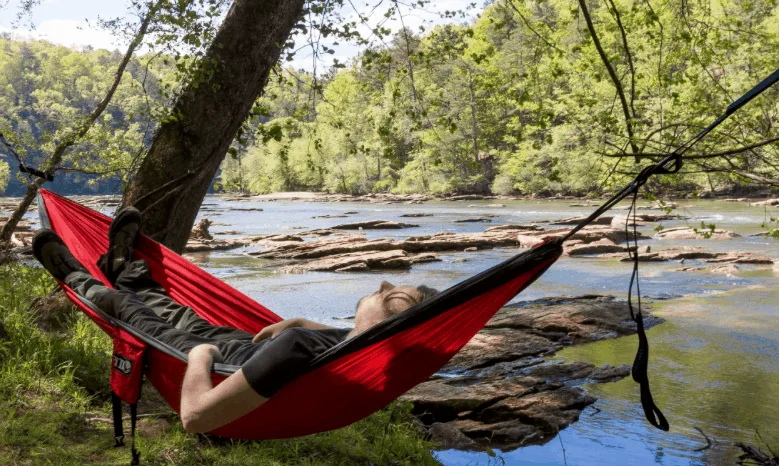 Amount of Fabric
The other difference between the two hammocks is the amount of fabric used in their construction. Since the Doublenest is designed to carry multiple users, it also comes with more fabric compared to the Singlenest designed for one person.
That's the reason for the weight difference, although the comfort and space which the Doublenest offers is greater than what you can ever get in a Singlenest.
Price
There is a small price difference between the Singlenest and Doublenest hammocks from ENO. The Singlenest costs $59.95 while the Doublenest goes for $69.95, a difference of $10. If saving ten dollars isn't a big issue for you, it's better to buy the roomier and more comfortable Doublenest. The extra room and additional space you will enjoy is far greater than the value of $10 in this situation.
Which Should You Buy?
If you are considering buying one of these hammocks, the best you can go for in any situation is the Doublenest. The two hammocks support virtually the same weight, offer the same level of durability and longevity, and are made from the same fabric, but you can't compare them regarding comfort.
The Doublenest is larger and offers more space to sleep, lounge, snuggle, and do whatever you like with friends and family. It's the perfect resting place when you are on a multi-season expedition, and you will have all the space you want to gaze at the stars under a clear night sky in the outdoors.
You should only buy the Singlenest if you are less than 6' and don't weigh much because a Doublenest will be overkill in some situations.
Final Verdict
The Doublenest is the clear winner between the two hammocks. While both are from the same parent company, the Singlenest doesn't come close to the Doublenest regarding comfort and accessibility. The Doublenest is also more versatile and can be used for a wide range of activities. While the Doublenest is a bit heavier and costs $10 extra, it delivers far more value and comfort when compared with the single user Singlenest.
Further read, The Best Camping Hammocks for Smart Campers!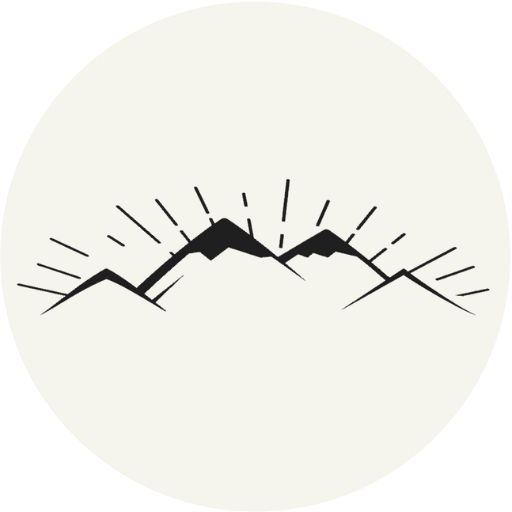 The All-Outdoors Guide team is comprised of enthusiastic experts that enjoy helping others that aspire to be better at outdoor fun. Part of that is making sure you have the right gear and information when it's time to go out and have fun. Some of our team have accomplished amazing feats like climbing 6000 feet to the top of mountains, others have explored every dirt trail they could find and we even have some people that have backpacked solo on various continents. No matter what our readers want to learn and do, our team is here to help them accomplish those goals.