One of the greatest pleasures for any dog-lover is the chance to take their beloved pooch with them on their adventures in the backcountry — and not just because you avoid the puppy-eyed disapproval when you're trying to sneak out the door without him/her or the subsequent guilt when you return from a long, happy day on the trails.
Beyond dodging the heart-wrenching hurt of your pooch's disparaging glares and doleful pouts, hiking with your pet offers a number of other worthy benefits: companionship, the chance to meet other dog owners, the sight of your four-legged friend reveling in an environment that's far more interesting than the local park or play area, and getting in a good bit of exercise for human and hound alike.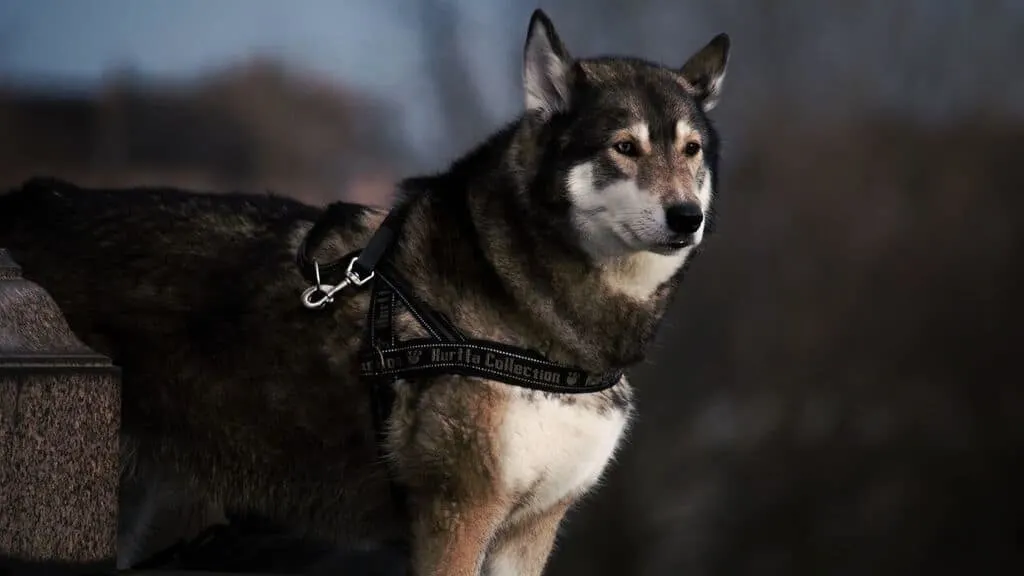 But covering rough terrain and being on the move for hours on end means that using a standard collar while hiking with your pet just isn't going to cut it, not without causing both of you a significant amount of discomfort and inconvenience along the way. This being so, kitting your canine out in something a little more trail-worthy — i.e a hiking harness — is your best bet for backcountry outings with your four-legged bestie.
In this article, we're going to guide you through all the ins and outs of hiking harnesses for dogs. We'll start off with a brief look at why a harness is a way to go and then move onto an in-depth buyer's guide and a review of our top picks for 2018.
Why do I Need a Hiking Harness for my Dog?
While many dog owners choose to hike with their pet on a traditional standard collar, there are several reasons that opting for a harness is a better, safer, and more practical choice.
The main benefit of using a harness instead of a collar is that harnesses significantly reduce, and in some cases eliminate, the amount of strain and pressure put on your dog's neck. Dog owners who have used a standard collar will have noticed their dog panting for breath when pulling on the leash, which is indicative of the collar drawing tight at the neckline and restricting their dog's airway.
A harness negates this problem by placing the tension on the dog's chest and/or shoulders, thereby making it not only a more comfortable option but maybe a safer and more humane one too.
For the human, a harness has its benefits too. Not only do most harness models reduce pulling, but many also use fitted chest and back plates that increase your control and a lift handle that lets you pick up your pup on steeper ground, to get in and out of the car, or in the case of an encounter with another, less cordial canine.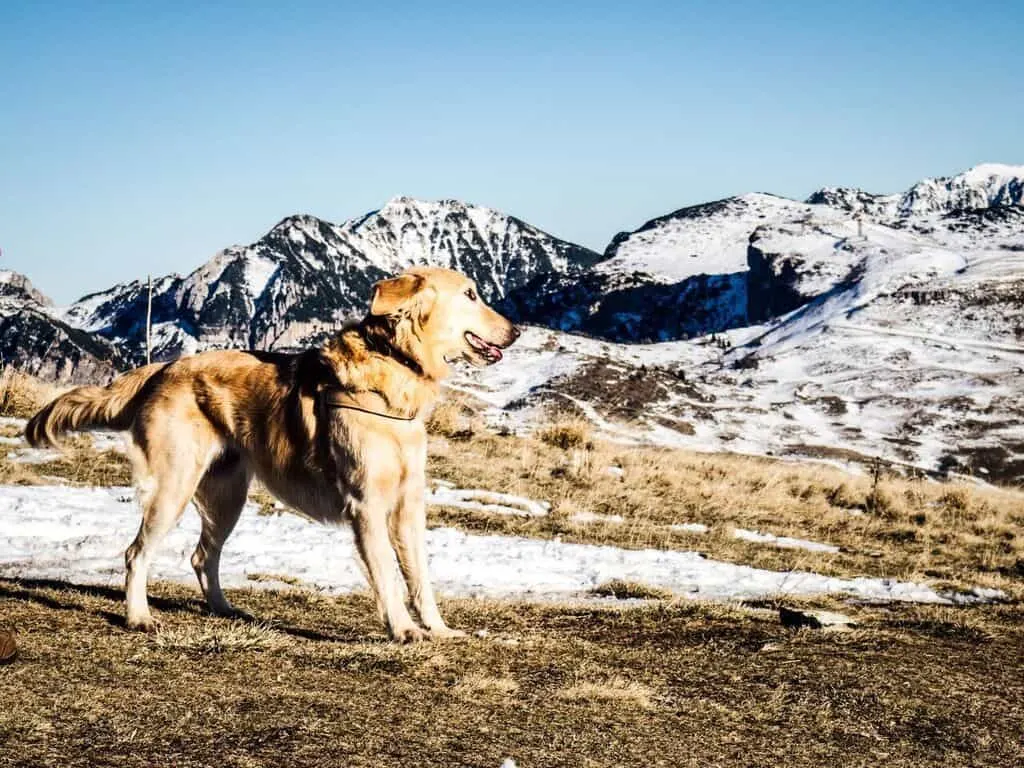 What to Look for When Choosing A Hiking Harness for Dogs Attachment Format — Front, Back, or Both?
Dog harnesses include either one or two rings for attaching a leash, situated either on the dog's chest, back, or both. Each format has its benefits and drawbacks, and the reasons you might decide on one style over another depend on your dog and how you plan to use the harness.
Front Attachment
The main attraction of front-attaching harnesses is that they discourage pulling. If your dog is a more robust breed or prone to pulling you along the trail rather than walking at heel, therefore, a front attachment will give you much more control.
Back Attachment
Back-attaching harnesses to clip onto your leash around a quarter to a half-way down your dog's back, starting from the neck. These harnesses give your dog much more freedom and control and are less likely to result in choking or the breathless panting that's ever-present with exuberant pups on standard collars.
While these harnesses are not the best choice if you have a large and powerful dog or a puppy that's still learning how to walk on the leash, once you've done some basic training and if you're sure that you can handle your dog's pulling, then this attachment is a more comfortable option.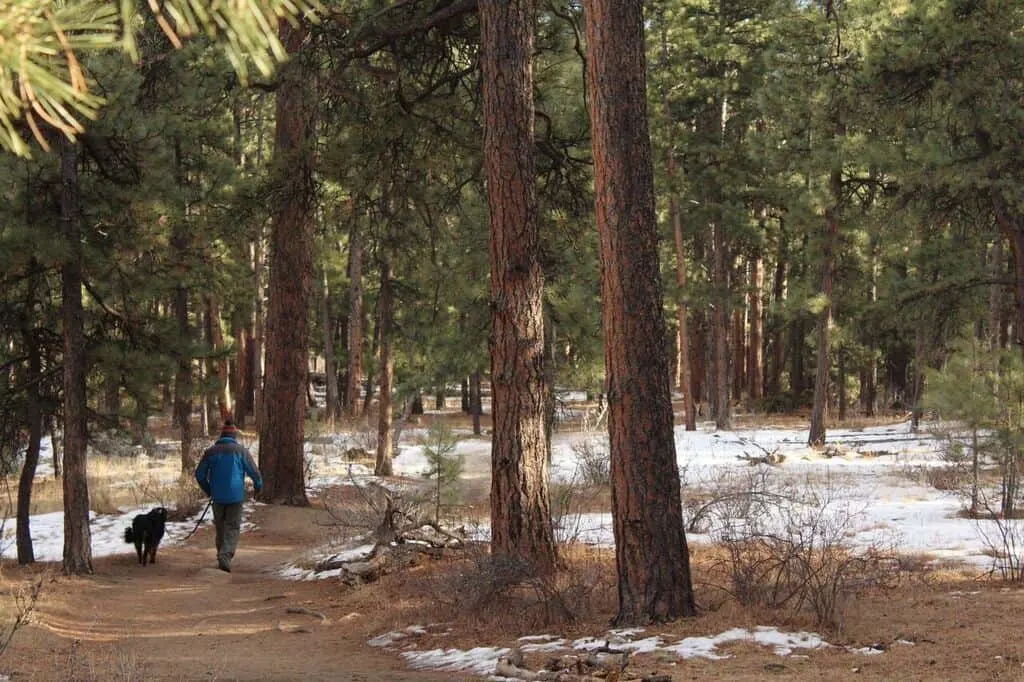 Both
Harnesses with attachment points at both the front and the back can be used with a double-ended training leash to spread the tension on the leash and give the owner more control.
Additionally, this format gives you greater flexibility and versatility by allowing you to change between attachment point in different situations, i.e. the front attachment when around other dogs, on difficult terrain, or any other time you want more control; the back attachment when you want to allow your dog a little more freedom.
Fit
Matching the size and fit of your harness to your dog is one of the most important considerations when buying a new harness.
A poorly fitting harness can cause your dog a lot of discomfort by chafing or digging in under the legs and shoulders, potentially resulting in sores that could keep your four-legged hiking companion off the trails until the wounds have healed (and you've found a replacement harness).
When buying your pet's harness, don't rely on the generic sizing ("Small/Medium/Large") given in the product description but take the time to take accurate measurements that match as closely as possible any given by the manufacturer. To do so, use a flexible (fabric) measuring tape to accommodate your dog's curves rather than a ruler or stiff aluminum, steel, or Tylon tape.
Most harnesses are adjustable, so your measurements don't need to be pin-point accurate, but be sure to take into account the space taken up by your dog's hair if it's of a particularly bushy or hirsute breed.
Also, don't be tempted to think that going a size up will solve the problem — adjustment points are intended for fine-tuning rather than wholesale jumps between sizes and oversized harnesses that could allow your dog to slip put out of the straps when pulling.
Harnesses with multiple adjustment points (such as the Kurgo Journey, Ruffwear Webmaster, and others featured below) provide more leeway and greater flexibility in terms of fit, and the only downside to this style is that they can take a little longer to get on and off.
If patience isn't a virtue you take much stock in but you'd still like the versatility of multiple adjustment points, choosing a harness with quick-release buckles will allow you to have the proverbial cake and it eat it too!
Material
The material used in your dog's hiking harness is important for three reasons: comfort, washability, and visibility.
When buying your harness, look for padded material around the neck and on the chest and back plates in order to maximize comfort, and/or softer or more flexible fabrics that will allow your dog more freedom of movement without suffering any chafing.
If you envision doing a lot of hiking in muddy or boggy terrain, choosing a harness that is easy to wash (machine washable is obviously preferable!) will save you a lot of time restoring your pooch's threads to their pre-hike sparkle after a day on the trails.
If you do a lot of hiking in winter months or either early in the morning or evening, then a harness with a reflective trim or reflective strips will enhance your dog's visibility when you let them off the leash and, therefore, potentially save you many minutes or hours blundering around in the dark trying to find them.
Bonus Features
A few additional frills and add-ons can greatly increase a harness's practicality and convenience. The most notable of these include:
Integrated pocket(s) — Ideal for storing snacks, poo bags, and ID tags
Quick-release buckles — A real time-saver if you're in a hurry and much easier to use with cold and/or wet fingers
Car seat belt attachment loop — Keeps your pup safe on the drive to and from your hike
Lift handle — Lets you pick up your pooch in order to negotiate steep, awkward, or troublesome terrain and moonlights as an "emergency handle" in case you and your pup should run into any angry, disobedient, or randy dogs while out on your wander
Got all that? Great! Now we know what we're looking for, let's get down to our review of the best hiking harnesses for dogs out there this year.
The Seven Best Hiking Harnesses for Dogs in 2018
Kurgo Journey Dog Walking Harness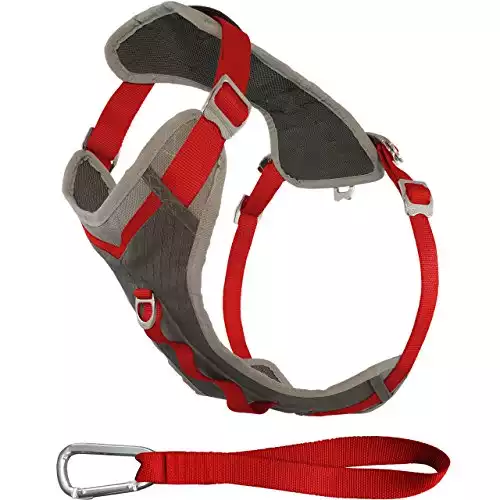 If durability and security are high on your list of "must-have" features, the Kurgo Journey may well be the harness for you (or your pooch, rather).
This heavy-duty harness boasts burly padding in the back and chest areas, durable materials, and a no-pull design that gives you more control over your dog. Other nice touches are the v-neck cut, which prevents your dog from choking, and a back handle that allows you to pick up your pet easily when getting in and out of the car or you're traveling on tricky terrain.
On the downside, this harness's thick material means it takes longer to dry out and makes it just little on the heavy side for smaller or older dogs.
Pros
Four adjustment points
Well padded
Added leash for use as a car harness
Machine washable
Very durable and hard wearing
Cons
Ruffwear Front Range Adventure Harness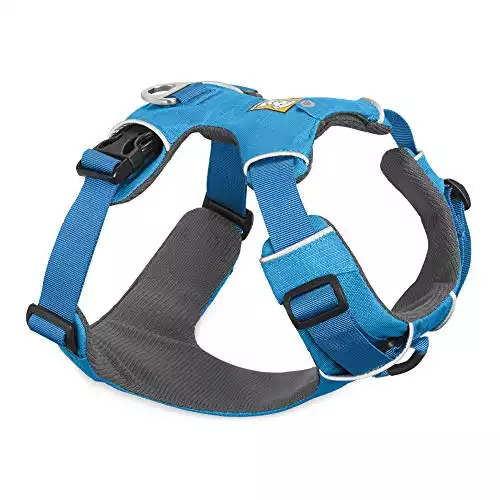 With lushly padded belly and chest panels and spongy, soft materials, the Ruffwear Front Range is perhaps the most comfortable harness in our review.
It also boasts front and back attachment points, side clips that make taking it on and off both quick and easy, and reinforced webbing to make sure it doesn't fray or lose strength in the areas that are subject to the most wear and tear. As an added bonus, this harness also features reflective trim for easy location in low light and a built-in pocket for storing ID tags or treats.
And the downsides? Other than the price, we're still looking!
Pros
Very comfortable
Easy to get on and off
Integrated pocket
Reflective trim
Quick-release clips
Cons
Urban Trail Adjustable Dog Harness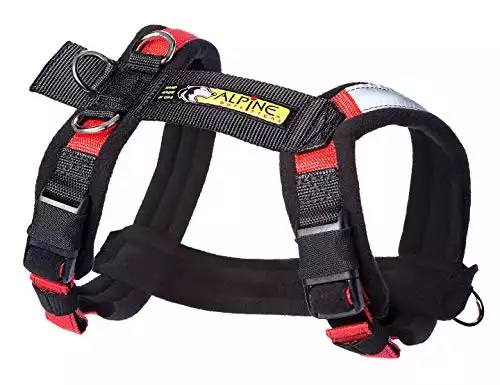 Why buy generic when you can buy custom-made? Urban Trail's Adjustable Dog Harness lays down the marker for its competitors by letting you choose every aspect of its design features — from the color and size to the placement of the lead attachment points.
Beyond the option of a custom build, this harness has a lot to offer. It's very light, and despite ample padding throughout remains light enough even for puppies or older dogs. Finally, even if your pup puts on a pound or so during the festive season, its handy adjustment points at the chest and neck are accommodating enough to make way for his or her excesses.
The only faults we can find with this harness are its price tag (can't we custom make that too?) and a long wait time for custom orders. If you can deal with those, this is a great harness that offers a solid, reliable build and good value for money.
Pros
Front and back attachment points
Comfortable, lightweight fleece padding
Can be custom-made to suit your dog
Adjustable at neck and chest
Cons
Pricey
Wait time for custom orders
Ruffwear Webmaster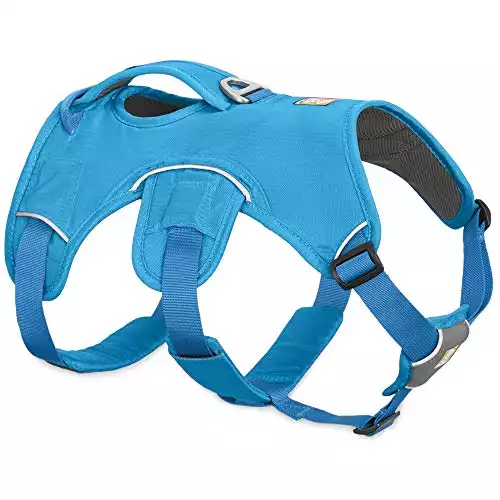 Durable, light, easy-to-clean, and made with soft materials that are lined with a reflective trim that lets you locate your pup in the dark, the Ruffwear's Webmaster is a harness that marries comfort and functionality in equal measure.
This very well-made harness also features two sturdy attachment points, a padded handle to ease lifting your dog up steep slopes or over difficult terrain, and multiple adjustment points. Last but not least, the straps on the Webmaster are padded to avoid chafing and come a close second behind those on the Ruffwear Front Range (above) in terms of comfort.
Pros
Comfortable
Reflective trim
Multiple adjustment points ensure a secure fit
Easy to clean
Lift handle
Cons
Straps are tricky to adjust
Hurtta Active Dog Harness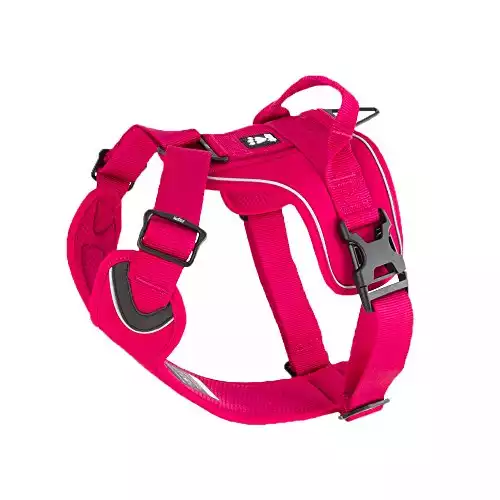 From one of the most popular brands out there for active dog owners, Hurtta's Active Dog Harness is a great choice for those looking to kit their canine out in a reliable, hard-wearing harness that can be matched with other products in the Hurtta range such as leashes and raincoats.
This harness offers a very comfortable fit and features multiple adjustment points that help to ensure you get that perfect fit. It comes in 8 color options and two of these include the potentially important feature of reflective stitching and neon fabric to allow you to locate your pup in the dark or low light.
It's not the cheapest option in our review but is just as practical as many pricier models and ticks every box that needs ticking.
Pros
Adjustable chest and collar straps
8 color options
High-vis options available
Flexible materials make it more comfortable
Cons
Kurgo Tru-Fit Smart Dog Walking Harness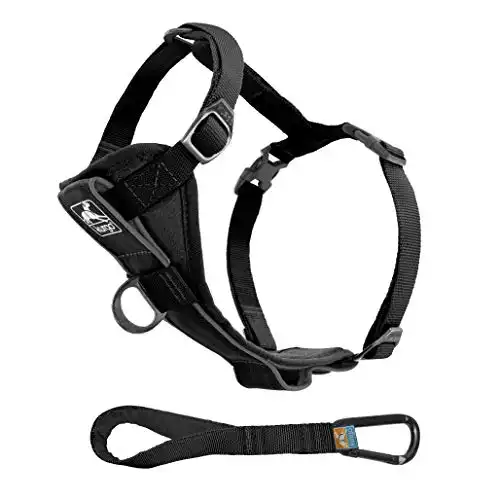 Kurgo Dog Harness
Check Price
We earn a commission if you click this link and make a purchase at no additional cost to you.
02/14/2023 12:35 pm GMT
If you happen to be a lover of all things fuss and hassle-free, the Kurgo Tru-Fit may well be the perfect harness for you and your pooch.
The Tru-Fit is a no-nonsense kind of harness that comes in five sizes each with five adjustment points. It's made with durable materials and uses a comfortable chest plate that is specially designed to prevent pulling by rotating when your hound tries to tug you around.
This design also reduces pressure on your dog's neck and limits choking by redirecting the pressure to the dog's chest and shoulders when your dog pulls, thereby making this a far friendlier option than other harnesses for owners whose dogs fall into the "lively" or "enthusiastic"(!) category.
One of the most lovable aspects to this harness is how easy it is to use — the plastic, quick-release buckles let you put on and remove the harness far quicker than many of its competitors and make it ideal for those days when you get home with a muddy pup that needs to go directly into the bathtub. As an added bonus, the Tru-Fit comes with a 10-inch lead with a loop that can be used with your car's seat belt to keep him/her safe while traveling to and from your hike.
Pros
Durable fabric
Easy adjustment
Car-safety seat belt loop
No-pull design
Quick-release buckles
Reasonably priced
Cons
A little short of padding on the straps
Quite heavy
Puppia Soft Dog Harness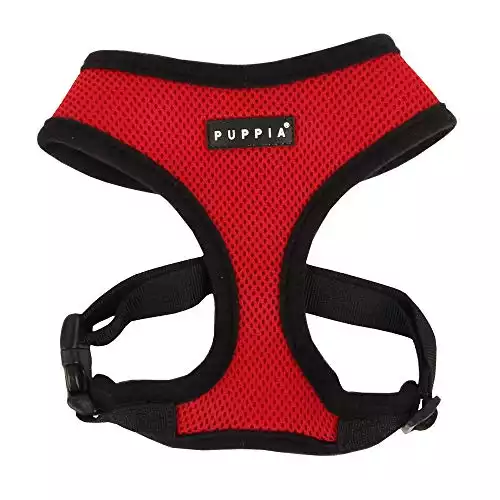 The unique selling point of the Puppia Soft Point Harness is the soft, stretchy fabric that is designed to fit close to your dog's body without chafing or restricting your dog's movement.
While this harness does have a few durability issues owing to its use of mesh materials and the tendency of the fabric to stretch with time, its one-piece design will appeal to many dog owners on the lookout for a low-maintenance, frill-free upgrade on a standard collar.
Before buying this harness, make sure you have done your measurements to perfection — as the harness is only adjustable in one place (around the chest), then shooting too big or small size-wise will mean you'll be contacting the returns department shortly after its arrival.
Pros
Very cheap
Padded collar area
Machine washable
Cons
Material expands and stretches with use
Stretchy material means sizing must be spot-on
Can't be machine dried
Only one adjustment point
| | | | | |
| --- | --- | --- | --- | --- |
| Harness Model | Attachments | Adjustment points | Features | Price |
| Kurgo Journey | 2 — front and back | 4 | Machine washable; well padded; super sturdy | $$ |
| Ruffwear Front Range Adventure Harness | 2 — front and back | 4 | Reflective trim; built-in pocket; lift handle; great padding | $$$ |
| Urban Trail Adjustable Dog Harness | 2 — front and back | 2 (neck and torso) | Custom made! | $$$ |
| Ruffwear Webmaster | 2 — front and back | 4 | Lift handle; reflective trim; comfortable padding | $$$ |
| Hurtta Active Dog Harness | Back only | 4 | High-vis options available; flexible materials allow greater freedom of movement | $$ |
| Kurgo Tru-Fit Smart Dog Walking Harness | 2 — front and back | 5 | Seat belt leash included; quick-release buckles | $ |
| Puppia Soft Dog Harness | Back only | 1 | Stretchy mesh material; machine washable | $ |
Conclusion
To the untrained eye, there may appear to be little difference between various types of hiking harness for dogs, but closer inspection reveals that a handful of subtle deviations from the generic norm can vastly improve a harness's suitability for your canine while on your backcountry adventures.
The most important of these deviations all make key contributions to a harness's security, comfort, versatility, and ease of use.
Basing our evaluation of performance in each of these categories, our review has found the Ruffwear Front Range Adventure Harness to outdo each of its competitors by a clear margin.
With multiple adjustment points, two attachment points, a handy lift handle, and excellent padding throughout, this is not only the most versatile and comfortable of harnesses we've yet to come across but also a top performer in terms of safety and convenience. In short, it's a winner for your woofer!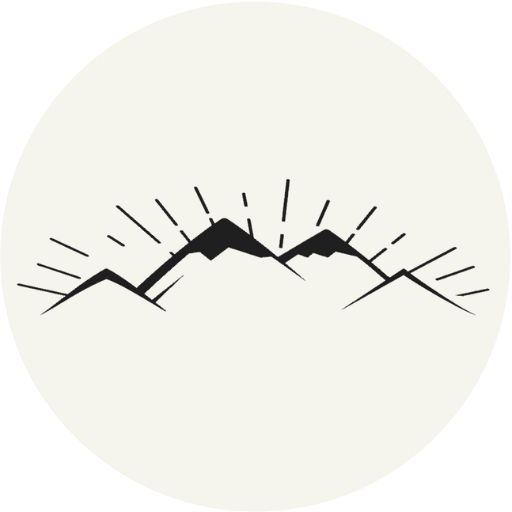 The All-Outdoors Guide team is comprised of enthusiastic experts that enjoy helping others that aspire to be better at outdoor fun. Part of that is making sure you have the right gear and information when it's time to go out and have fun. Some of our team have accomplished amazing feats like climbing 6000 feet to the top of mountains, others have explored every dirt trail they could find and we even have some people that have backpacked solo on various continents. No matter what our readers want to learn and do, our team is here to help them accomplish those goals.