Oboz Footwear for men and women's hiking boots was founded 10 years ago in Bozeman, Montana. The company got their name by combining the two things they loved most – Outside + Bozeman. Despite humble beginnings, Oboz Footwear is now available worldwide and has grown to be quite a household name in outdoor footwear.
They are not only known for designing and constructing quality shoes and boots, but many fans love them for their One More Tree partnership. For every pair of Oboz shoes sold, the company plants one tree. So far Oboz has planted over 1.5 million trees, and counting!
Oboz Footwear has quite the selection of different hiking boots but one of their long-time favorites is the Bridger Mid Waterproof, also sold from retailers as the Bridger BDry Hiking Boots. This boot has gained hundreds of positive reviews across Oboz's and retailer's websites. The BDry Hiking Boots have also been named 'Best for Backing' by Men's Journal and 'All-Purpose Champ' by Backpacker.
Design and Features of the Bridger BDry Boots
Oboz succinctly describes the Bridger BDry Boots as a nod to the classic hiking boot but with modern touches that are far from old-fashioned. The traditional leather hiking boot has been relied upon for decades by backpackers, hikers, hunters, and anyone else trekking around in rough terrain country.
Just as many seasoned hikers remember their first pair of "real" hiking boots, they probably also remember how uncomfortable these leather boots were at first. The Oboz Bridger is really the leather hiking boot with wide toe box you've always wanted, coupled with a classy look and high-tech touches for added comfort and durability that prevent blisters.
Here is a rundown of the specs of the Bridger BDry Boots:
Classic over-ankle, lace-up hiking boot
Men's Sizes 7 to 14, with half-sizes up to 11
The choice between Regular or Wide width (Wide 8-14 only)
Four color options – Sudan, Black, Scotch Down, and Shale Gray
The average weight of 2lb 6oz per pair
Upper – waterproof Nubuck leather
Lining – BDry waterproof membrane + nylon mesh
Midsole – Dual-density EVA foam
Support – TPU forefoot plate + nylon shank
Outsole – carbon rubber
MSRP is $175.00
The main design features of the Bridger BDry Boots include:
Waterproof Nubuck leather upper offers breathability and protection
BDry waterproof, breathable membrane technology lets moisture escape
Additional mesh lining wicks moisture and enhances Bdry ventilation
Excellent arch support and fit due to deluxe footbed design
EVA midsoles are lightweight but provide shock absorption
Nylon shanks and thermoplastic urethane forefoot provide further protection and torsion control
The thick rubber on toes and heels to protect leather upper
High-friction rubber outsole grips varied terrain easily, wet and dry (4mm lugs)
As you can see, Oboz really went all out to create a super versatile, comfortable boot that combines the classic beauty of leather with modern construction and materials to ensure maximum weather protection.
Let's get into some reasons why you might want to buy yourself a pair of Bridger BDry's.
Advantages of the Bridger BDry Boots
Bridger BDry's tend to rank as a 4.5/5 star quality day hiking boot on most retailer websites. There are a lot of little things to love about the Bridger's design, but most of the benefits can be summed up in these four factors.
Impressively Comfortable and Lightweight
Oboz notes that the Bridger BDry Boots have practically no break-in time and this rings true to customers' experiences. Not only are these boots incredibly easy and quick to break in, but some have found that they are more comfortable right out of the box than their old, broken-in leather boots.
These insulated boots really cup the heel and hold the foot in place well, without sacrificing comfort. They are also light enough that you won't experience foot fatigue on longer hikes.
Highly Water- and Weather-Resistant
As you'd expect from the name, the Bridger BDry Waterproof Hiking Boots are also weather-resistant (i.e. hiking through slushy snow). The Nubuck leather and nylon upper prevent any water from getting in, but the BDry membrane and lining inside help with breathability to prevent sweaty feet. This boot offers excellent protection from water but also is exceptionally ventilating for being (partially) made of leather.
Aggressive Sole Handles Tricky Terrain
The 4mm lug rubber sole of the Bridger BDry is a tad more aggressive than similarly designed mid hiking boots men's wear. The sole is made of high-friction rubber that grips terrain surprisingly well. Most wearers find it offers great stability over rocks and roots, wet ground, and stepping over fallen trees or hiking through brush. The sole is also thick enough that it isn't overly heavy but it will keep your feet protected while also offering some shock absorption.
Ideal for Beginner to Intermediate Hiking
These insulated boots are great for beginner and intermediate hikes. This doesn't mean experienced trail runners won't enjoy these, but rather that the Bridger BDrys is best for easy to moderately difficult hiking trails. They are light enough to be useful for casual weekend hikes, but comfortable and durable enough for weekend backpacking trips.
The Bridger BDry obviously has a lot going for it, but there are two things to consider before you go ahead and purchase yourself a pair.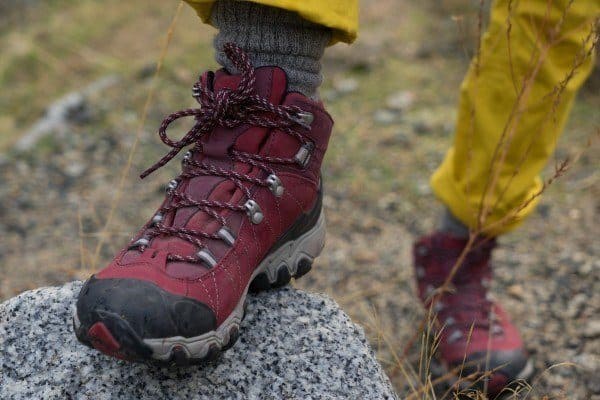 Disadvantages of the Bridger BDry Boots
All of the praise aside, sometimes negative reviews for the Bridger BDry are left by unhappy customers. Here are the shoe complaints commonly cited in these instances.
Not Ideal for Arduous Hikes
Perhaps the most common complaint of the Bridger's is from customers disappointed that their boots didn't hold up well. Some may have found that the boots ended up needing to be replaced after just a year while others ruined theirs during a single hike.
Digging deep you'll find that in the majority of these instances the wearer was probably putting some serious miles on these boots over difficult terrain. Remember, the Bridger BDrys aren't designed for thru-hiking or backpacking with a heavy load.
Can Be Warm for Hot Summer Hikes
It goes without saying that if a hiking boot can handle mild winter temperatures then it's probably going to be a bit too warm for hot summer days. Most customers do consider the Bridger BDry to be an all-season hiking boot, but be cautious if you live in a climate where temperatures are very hot.
The thickness of these boots is just a bit too much under these circumstances and even with thin, breathable socks you still might find them to be uncomfortably warm.
As long as you're aware of these two potential drawbacks, you'll be able to make the right decision if these boots are ideal for your needs or not.
Should You Buy a Pair of Bridger BDry Boots?
The average hiker will most likely love their pair of Bridger BDry Mid Boots and get plenty of use from them before needing another pair. As shown in this Oboz Bridger Review, they are comfortable for year-round use (save for the hottest days) and can be quite warm in moderate winter conditions when paired with quality socks.
The overall construction is long-lasting, but keep in mind that the Bridger BDry isn't designed for serious mountaineering or thru-hikes. Heavy use (multi-day thru-hikes, for example) might wear down the boot soles faster than you'd expect, leading you to be disappointed with your purchase. So long as you buy these boots with the understanding that they aren't highly technical mountaineering boots, you'll be happy with your purchase.
Overall the Bridger BDry Mid Hiking Boots are a wonderful example of Oboz quality of footwear. These are a perfect choice for amateur hikers or seasoned pros looking for a lightweight, comfortable hiking boot.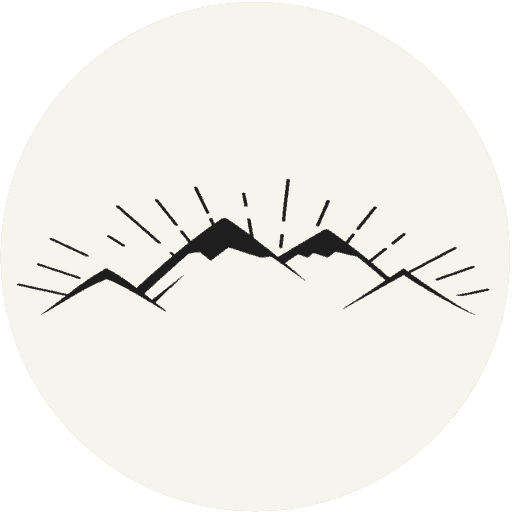 The All-Outdoors Guide team is comprised of enthusiastic experts that enjoy helping others that aspire to be better at outdoor fun. Part of that is making sure you have the right gear and information when it's time to go out and have fun. Some of our team have accomplished amazing feats like climbing 6000 feet to the top of mountains, others have explored every dirt trail they could find and we even have some people that have backpacked solo on various continents. No matter what our readers want to learn and do, our team is here to help them accomplish those goals.