Not long ago the only battery-powered gadget most campers carried was a flashlight. If you ran out of spare D cells you'd have to rummage for gear after sunset, and so your reading by firelight, but it wouldn't really have a massive impact on you.
Check out what you're carrying now, though. A cell phone is an everyday essential for most of us, and a useful piece of emergency gear too. Maybe you carry a digital camera to capture memories of the trip.
Your GPS handset is a vital source of information (although you should be carrying a map and compass as well). You might have an MP3 player for entertainment, too, and maybe even a hand-held games console or tablet.
Most modern electronics use rechargeable batteries, which means you don't have to carry a pocketful of spares around anymore. On the other hand the batteries are usually built in, so you can't carry a pocketful of spares.
It can make things tricky if you don't have anywhere to plug in your charger. The solution is a solar charger. Sunlight is available almost everywhere, and it's free. With the right charger you can take advantage of this to keep all your rechargeable devices topped up.
How to Judge a Good Solar Charger
Just a few years ago solar chargers were expensive and hard to find, but now there's a huge choice on offer. They're not all equal, though, and when it's your only way to keep essential devices charges you need to make sure you get the right one. Here are some of the key points to look for:
Storage capacity – Most solar chargers now come with a built-in power bank, and while not essential this is a very handy feature. Use the sun to charge the batteries, then plug your devices in when they need it – even if it's dark. Look for the highest storage capacity you can find.
Connection options – Power is no good if you can't access it. Some solar chargers come with a selection of connectors that should suit most devices – check before you buy to make sure it's compatible with all your gear. Others have USB ports on the power bank so you can just plug in your standard charging cables.
Weight and bulk – Storage batteries are heavy, so a good solar charger is never going to be weightless, but some are a lot lighter and more compact than others.
Ruggedness – There's no point in carrying a charger that will stop working at the first knock or splash of water. Outdoor activities can be tough on your gear; make sure you get a charger that's built to take it.
There are a lot of chargers to choose from, and it can get confusing; you need to know what features matter the most to you, then look for one that delivers them. Here are our top three picks; one of these will probably meet your needs.
Powertraveller Powermonkey Extreme
Features At A Glance
9,000 mAh capacity
3 Watt solar array
800mA max output current
Mains and USB charging inputs
5V and 12V output
The Powermonkey Extreme is a really heavy duty charging system. The first thing you'll notice is the solid, waterproof armored case; it's shock resistant and waterproof to one meter. Actually the first thing you're likely to notice is that it's in two parts.
There's the clamshell-design solar array, which opens out to reveal two panels, and then a separate power unit containing a 9,000mAh lithium polymer battery. That's one of the highest capacities you'll find – enough to charge a smart phone up to four times, or a tablet twice.
The power pack also has an LED display to show the charge level; instead of bars it gives a percentage charge from 1 to 99. There's a swipe on/off switch to prevent accidental activation.
The reason the power pack is separate is that there are multiple ways to charge it. The obvious one is to plug in the solar panels and leave it in the sun, but if you have access to a mains outlet or powered USB socket you can charge from those too.
That means you can leave the panels packed safely away when they're not in use. You can also just take the power pack with you if you're only planning a short trip.
The Powermonkey Extreme has a good selection of output options. There's a choice of nine tips, plus a USB cable and a female car lighter socket. One feature that really sets it apart is you also get a choice of output voltages. Most chargers can deliver 5 volts, which is enough for small devices like cell phones and iPods.
The Extreme also has a 12V option; this lets it power the car socket – so it will charge anything that plugs into a 12V socket – and also has the power to handle larger items like DSLR batteries. If you're a keen photographer this is probably the charger for you.
The Powermonkey Extreme comes with a Velcro strap, a protective pouch for the charging tips and a zippered carrying bag.
Verdict: Tough as nails and probably the most powerful solar charger on the market. A must for photographers, and an excellent choice for everyone else too. It's a bit pricey, but it's worth it for a premium, durable and versatile charger like this. Normally, it retails for $200, but I've had luck at this listing where it's just $109.
Creative Edge Solar-5
Features At A Glance
5,000mAh capacity
2W solar panel
Water and shock resistant
USB charging port
Twin USB outputs
Built-in flashlight
The Solar-5 from Creative Edge is a neat, compact one-piece unit encased in a layer of tough silicone armor. This protects it nicely against dust, water and shock; it can survive some rain or a few knocks, which are pretty much inevitable outdoors. It's about the size of a large smart phone, and because it's a one-piece unit it's no trouble at all to slip into your pack or pocket.
The two main components of the Solar-5 are its 1.2W solar panel and the 5,000mAh lithium polymer battery; that's enough capacity to charge an iPad most of the way, or top up your phone three or four times. If you get the chance to plug it into an outlet you can charge it that way, too.
It doesn't come with the same huge array of connectors as the Powermonkey but it does have two USB outputs. You can charge two devices at once, drawing 1 amp from each port, or use the right-hand port to charge a single device drawing up to 2.1A.
The Solar-5 comes with a USB to micro-USB cable and an Apple Lightning adapter, but you can simply plug in your device's own USB cable and you're good to go.
A neat extra feature of the Solar-5 is its built-in LED flashlight. Just tap the power button twice to turn it on or off. The charger comes with a carabiner so you can easily secure it to yourself or your gear.
Verdict: An attractively priced charger with good battery capacity and flexible charging options. It's also a much more affordable option than the PowerMonkey, coming in at just $27 here.
RAVPower RP-SCO2 15W Solar Charger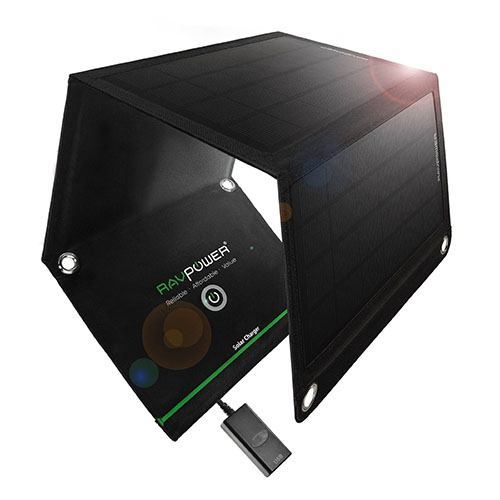 Features At A Glance
15W Solar array
iSmart technology for fast charging
Dual USB outputs
The RAVPower RP-SCO2 charger is a bit different from the other two; it doesn't double as a power bank, so there's no storage battery and you can only use it while the sun's up. Don't stop reading though because it does have some advantages of its own.
The most obvious is its size; it packs away into a flat package about 10×7.5 inches, but for use it unfolds into a huge four-panel array of solar generating capacity, able to convert a steady 3 watts of sunlight into electricity.
That power is available through twin USB ports, one with 1A capacity and the other 2A – and both of them can deliver their full current at the same time. If you want to charge tablets and phones quickly this product is very hard to beat.
This charger isn't as armored as the Powermonkey or Solar-5 but it still feels like a sturdy, weatherproof piece of gear, and the panels are sewn into a tough nylon case.
It's heavy enough that you can prop it up to catch the sun at the perfect angle and it won't blow over in a light wind. There are also four metal eyelets in the case so it can be hung from a tree to catch the sun, or even clipped to your pack – you can charge your phone while you walk.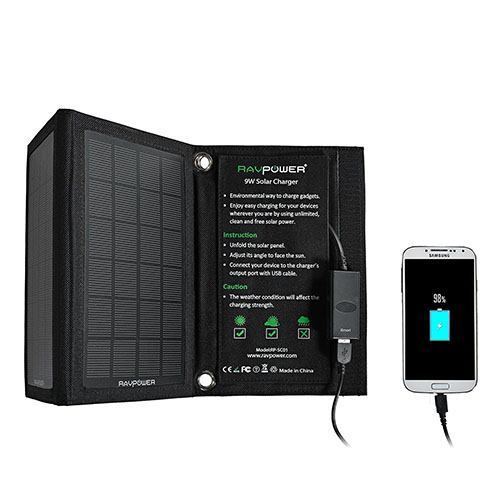 Some people might be put off the RP-SCO2 by its lack of a battery, but bear in mind that its huge output is easily enough to charge a separate power bank for use when it's dark. It's hard to argue with the sheer output of this charger.
It's also equipped with iSmart technology, which detects the exact capabilities of any device you plug in and tailors power delivery to charge it as fast as possible. That can cut charging times by up to a quarter. Overall this is a very powerful and capable product.
Verdict: Lacks a battery, but unbeatable for power output. The price point is also reasonable. It's less than $50 at this product listing.
Further read: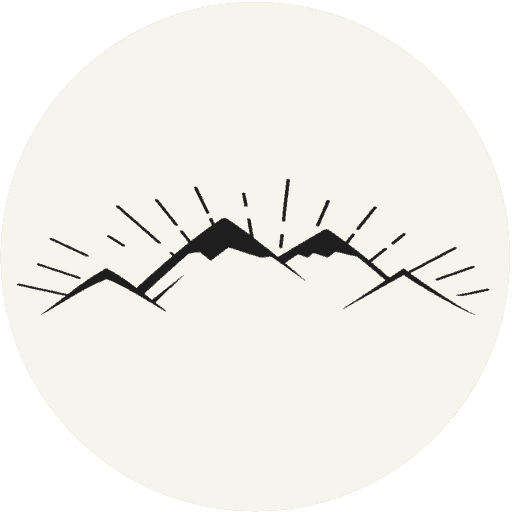 The All-Outdoors Guide team is comprised of enthusiastic experts that enjoy helping others that aspire to be better at outdoor fun. Part of that is making sure you have the right gear and information when it's time to go out and have fun. Some of our team have accomplished amazing feats like climbing 6000 feet to the top of mountains, others have explored every dirt trail they could find and we even have some people that have backpacked solo on various continents. No matter what our readers want to learn and do, our team is here to help them accomplish those goals.