The sleeping bag has long been considered pretty much the only option when it comes to where — or in what — we cop our nightly kip in the backcountry. These days, its dominance of the market in terms of outdoor sleeping solutions is such that merely making mention of alternatives is sure to raise a few eyebrows and invoke the question: "but what alternatives?"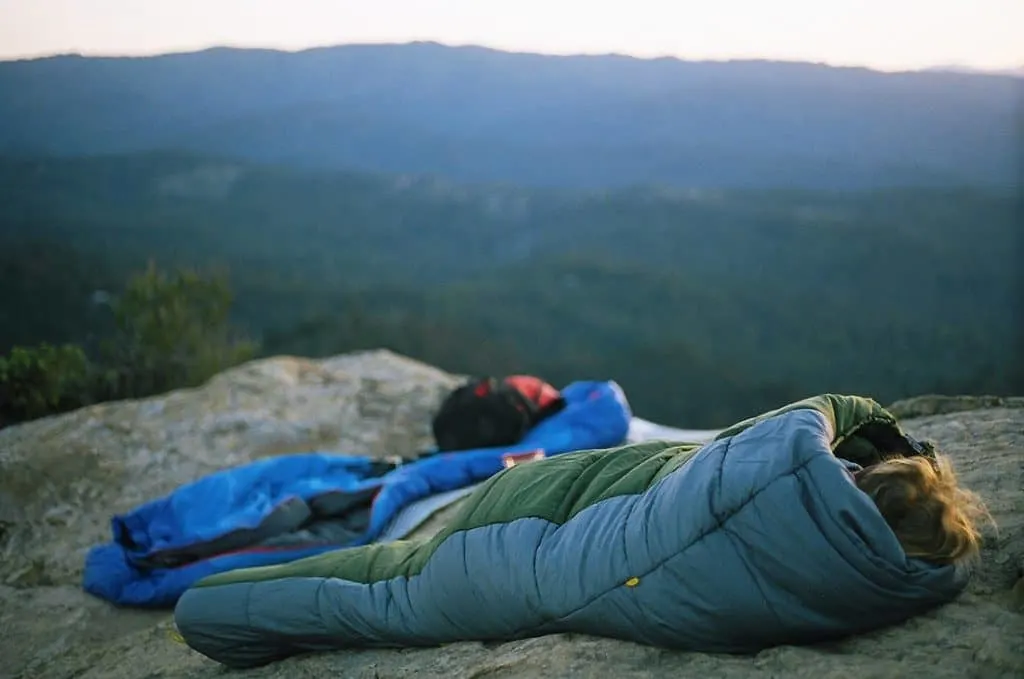 In this article, we aim to enlighten and inspire, bringing you the lowdown on a handful of feasible — and surprisingly attractive — sleeping bag alternatives. We'll start off with a look at the various options out there, then get down to an analysis of how they compare in terms of performance and efficiency and a review of the best options in each category.
Before all that, let's take a quick look at why you might want to consider an alternative.
Sleeping Bags: What's Not to Love?
The benefits of a standard sleeping bag are well-known and, generally speaking, much appreciated by campers around the globe: they're relatively light, not too bulky, and offer an excellent warmth-to-weight ratio.
Nevertheless, there are those of us who look upon the prospect of a night in a sleeping bag with as much relish as we do a visit to the dentists, owing principally to the following failings and flaws:
Restricted Movement
One of the most notable differences between a sleeping bag and our bed at home is the way the now ubiquitous mummy-style bag can make us feel like we're about to be led down a linoleum-floored corridor to an empty room with padded walls.
The straightjacket feel of mummy-style bags, indeed, isn't to everyone's taste. It may be largely responsible for their highly effective insulation and heat retention, but in terms of comfort and freedom of movement, it leaves a lot to be desired.
Condensation
Most sleeping bag users will be no strangers to the feeling of waking up in what feels like a used teabag rather than a high-tech product for which they've paid hundreds of dollars.
Whether sleeping in a tent or out in the open, the moisture produced by our bodies and contained in the ambient air means that the formation of condensation on a sleeping bag's surface is right up there with death and taxes as one of life's great (and galling) inevitables.
Although bags with DWR (Durable Water Repellent) finishes are available, buying one will set you back a further bundle of bucks and equates to, essentially, substituting condensation for cost.
Care and Maintenance
Getting the most out of your sleeping bag and ensuring it lasts more than just a few short seasons requires a touch of effort in the way of upkeep: regular washing, proper storage (out of the stuff sack and hung up in a well-ventilated room), and the reapplication of DWR treatments on water-resistant models.
For many, this addition to the already numerous hassles required for a camping kit's upkeep is one they would rather do without.
Cost
With some top-performing models costing upwards of $500, a sleeping bag usually represents the second largest cost — after a tent — for those building a camping kit from scratch.
For those who are regular campers and are able to see that price broken down to a few cents per night over many years, the outlay might not seem so unreasonable. If, however, you're a once-in-a-while kind of camper or investing only for a one-off trip, then it becomes far more difficult to justify dealing such a hefty blow to your bank balance.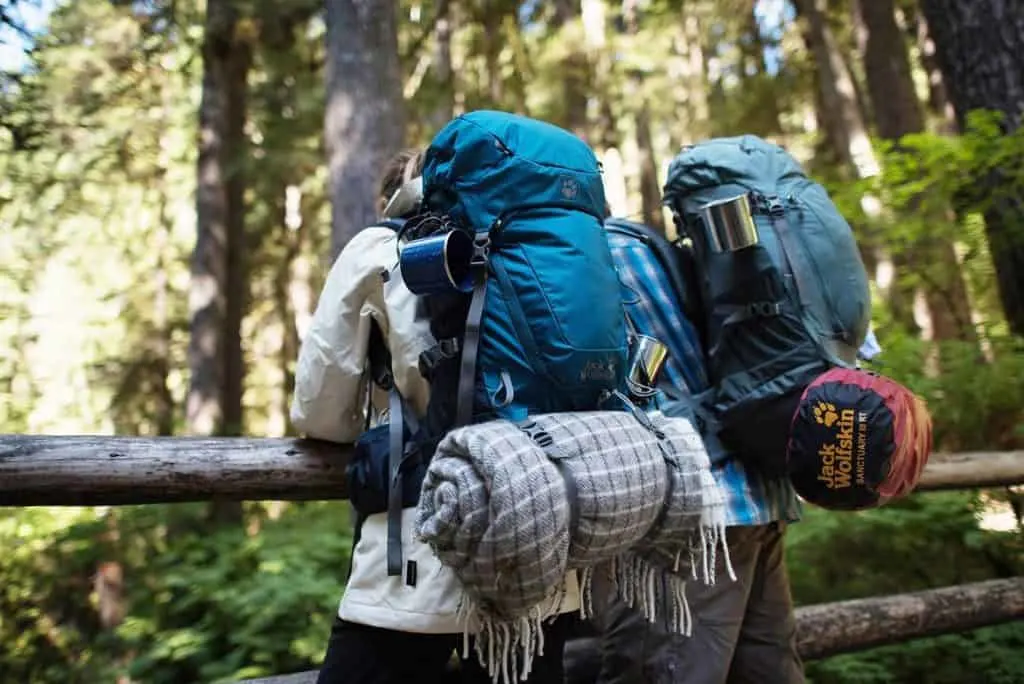 Weight
Although sleeping bags offer fantastic warmth for their weight, there's no getting around the fact that a good one can add anywhere from two to four pounds to our overall pack load.
For the budding sherpas and superhumans out there, this might not seem too much of an imposition, but for the rest of us something a little friendlier on our backs, shoulders, and thigh muscles would be very greatly appreciated.
On single-night trips, an extra pound or two in the pack might be overlooked as a necessary evil, but for long-distance trekkers, finding a lighter alternative could save you from running into leg fatigue just a few days down the trail or, perhaps, more importantly, allow you to pack a few more much-needed creature comforts of the candy, cake, or beef jerky variety.
What to Look For in a Sleeping Bag Alternative
To serve us well in the backcountry, a sleeping bag alternative must fulfill a number of basic criteria. The most important of these include insulation, weight, portability, and value for money.
Insulation
When buying a sleeping bag alternative, be sure to pay to attention to any temperature ratings (usually given as "low", "high", and "comfort"*) supplied by the manufacturer, and check that these will be sufficient for the estimated nighttime temperatures wherever you plan to do your camping.
In cases where temperature ratings are not given, be sure to plump for the warmer of any two options — getting a little too hot in the backcountry is much easier to deal with than getting a little too cold or, dare we say it, a dose of hypothermia.
While regular sleeping bags are hard to beat warmth-wise, the alternatives featured below should offer adequate insulation for the needs of most campers.
*Where the manufacturer only gives one temperature rating, this is usually the "comfort" rating, i.e. the nighttime temperature at which the bag will provide a comfortable night's sleep.
Weight
One of the benefits of standard sleeping bags is that they offer great insulation at a reasonable pack weight. That said, many campers are forced into overkill by buying a single, three-season bag — which may weigh in the region of four pounds — to use all year round.
While this will likely offer the necessary insulation for fall or spring outings, lighter weight alternatives such as those featured below could save you a lot of weight, reduce pack size, and eliminate the need to buy a second, lightweight model for the summer months.
Before buying a sleeping bag alternative, asking yourself a few questions will help you determine your parameters weight-wise:
How much am I willing to carry to ensure a comfortable night's sleep?
How much weight would I like to save on that of a standard sleeping bag?
Is the loss of insulation worth the associated loss of pack weight?
Am I more likely to be doing long-distance hikes where weight is a big issue or camping near where I park the car?
Portability
"Portability" refers to how easy it is to carry any given item of gear. One of the benefits of sleeping bags is that modern models are very compressible and not as unwieldy as those of days gone by. If buying an alternative sleeping system, matching this portability is crucial to making your choice both worthwhile and/or feasible.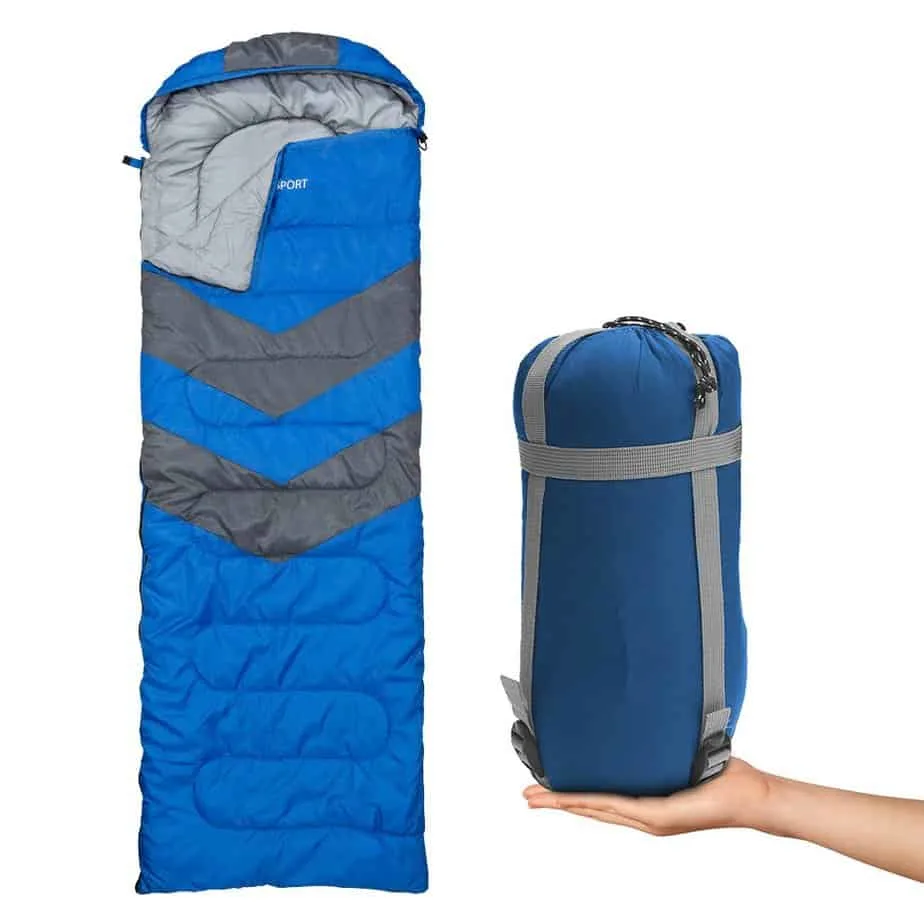 Portability is obviously a greater concern if you envision hiking deep into the backcountry or undertaking a multi-day thru-hike than it is if you are doing a single overnighter, car-camping, or setting up camp a short distance from where you park.
Value for Money
One of the main criticisms leveled by detractors of standard sleeping bags is the cost involved in adding one to your kit. With a solid but unspectacular bag potentially setting you back in the region of $300, the criticism is a valid one.
Finding an alternative to the standard sleeping bag that offers good value for money requires that the alternative offer, above all, an acceptable level of the attributes that sleeping bags offer the user — solid insulation, a good warmth-to-weight ratio, portability — at a better price.
Although a trade-off is likely with at least one of these features, the key to finding a practical alternative lies in striking a balance between what you are willing to pay with how much you are willing to compromise performance-wise.
The Best Sleeping Bag Alternatives
While certain badasses of the backcountry world like Bear Grylls might be able to forego a sleeping bag and simply hole up inside the remains of a cow or camel carcass, we wouldn't recommend it — most would-be bedtime improvisers who have tried will report having accomplished the "ass" part quite thoroughly without having managed to prefix the "bad" that would earn them kudos instead of contempt and ridicule. For the rest of us, the following nocturnal nests are more advisable (and hygienic!).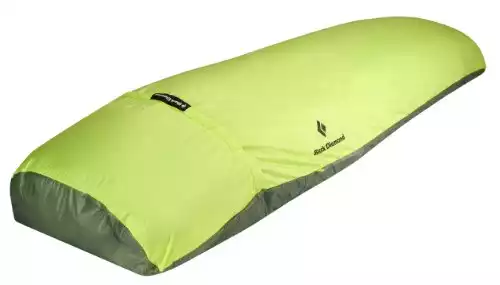 BLACK DIAMOND Twilight Bivy Shelter
This is ideal for an emergency shelter or as a sleeping bag cover. Built with a zippered entry across the shoulders, it's easy to get into and use while sitting up.
Check Price
We earn a commission if you click this link and make a purchase at no additional cost to you.
Usually used in combination with a sleeping bag, in warmer conditions a bivy bag could feasibly be used alone or with a lightweight quilt for those seeking to cut down on cost, weight, and pack size.
So, how is it done?
First up, get your hands on a lightweight, well-made bivy bag, ideally with some form of water resistance. The Black Diamond Twilight Bivy featured below, ticks all the boxes. It's waterproof, packs down to a tiny bundle, weighs in at a very pleasing 10.7 oz, and is spacious enough to accommodate you and your favorite teddy bear (bonus!).
Secondly, instead of undressing at night, keep yourself clothed and throw on an extra layer if necessary. For those camping in cooler conditions, your bivy bag could be used together with a fleece or down quilt to keep things cozy without busting your budget; for warmer climes, the extra layer of clothing alone could well suffice.
Pros
Cheap options available
Lightweight
Saves carrying a tent
Water resistant
Cons
For most will require additional insulation from a quilt or blanket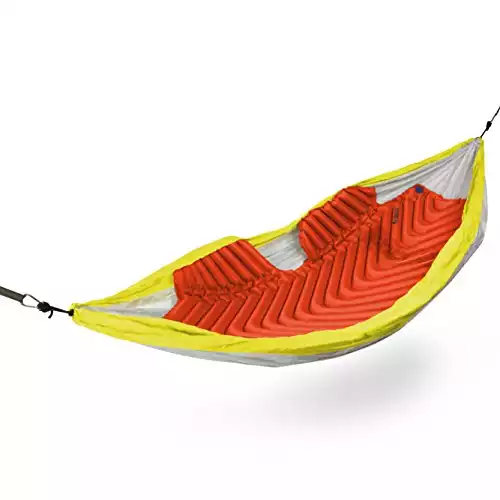 Klymit Hammock V Sleeping Pad | Amazon
The Hammock V is the first air pad designed specifically for all hammocks, giving the sleeper 180 degrees of insulation, significantly reducing the amount of lost body heat.
Buy at Amazon.com
We earn a commission if you click this link and make a purchase at no additional cost to you.
02/14/2023 01:44 pm GMT
For those who don't mind catching their Zs in a slightly airborne position, hammocking is a fun and practical way to do your camping.
While not offering the same insulation as a mid-range sleeping bag, hammocks such as the Klymit Hammock V are ideal for summer months and feasible in spring or fall (depending, of course, on where you are in the world) if used with a quilt.
For a super-deluxe insulated hammock, check out the Evolution Insulated Hammock, featured in the video below. It's heavy (3.5 lbs) and costs a small fortune, but for those determined to ditch the sleeping bag without sacrificing one iota of a sleeping bag's benefits, this may well be the way to go.
For those on a budget, the MagiDeal Ultra-Light is hard to beat. This option's a touch on the heavy (2.51 lbs) and cumbersome side too but offers three-season warmth, water resistance, ripstop fabrics, and outstanding value for money overall.
Pros
Lightweight option
(Usually) More affordable than most sleeping bags
Warm if used with a light quilt
Cons
Trees required to suspend hammock
Not as cheap as other alternatives on our list
A number of camping quilts have hit the shelves of outdoor stores in recent years and have quickly found a following of admirers on account of their practicality.
Lightweight, very cozy, reasonably packable, and much less claustrophobic than standard sleeping bags, camping quilts are almost a like-for-like replacement for sleeping bags that will appeal to those looking for similar insulation without the restrictive, sealed closure, or other possible annoyances such as stuck zippers and scratchy velcro.
The downsides? Well, they're not quite so packable and are obviously vulnerable to drafts should you kick a foot out or turn too much during the night. On the plus side, the lack of a zipper-sealed closure means it's much easier to cool off when need be.
For campers seeking a quilt that comes as close as possible to matching the performance of a sleeping bag but at a far friendlier price, the Thermarest Apogee 35 is a good place to start. This wonderfully cozy quilt isn't cheap, but packs a hearty amount of synthetic insulation, boasts a comfort rating of 40F, and can be secured to your sleeping mat to prevent drafts, thus eliminating one of the drawbacks of most other quilts. In a nutshell, it's a sleeping bag without zips…!
Truly budget versions offering slightly less performance and insulation-wise than out-and-out camping quilts are easy to find. Standard household fleece quilts or blankets will be adequate for campers in warmer climes and are ideal for use with bivy bags or hammocks.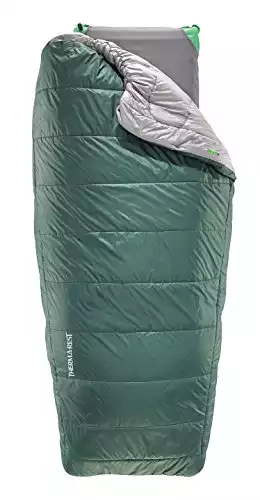 Pros
Solve the problem of claustrophobia
Very cozy and comfortable
Very packable options available
Cons
Drafty if you move around a lot in your sleep
Some models not a great deal lighter than sleeping bags
This relative newcomer to the outdoor world is one that's sure to only become more popular in the coming years. Using a similar design to sleeping bags but with a zip-free opening, integrated comforter quilt, and far more roomy interior, backcountry beds probably come closer than any other backcountry sleeping format to matching the sort of comfort you get from your bed at home.
The problem? Many of them go a long way matching the weight of your household bed, too! Generally speaking, these are a luxury option that offers lots in the way of comfort but, due to their weight and pack size, not quite so much in the way of convenience, particularly in the case of those venturing far from the roadside.
Fortunately, lighter-weight versions of backcountry beds exist. Models like the Sierra Designs Backcountry Bed 700 (see video below) is not too much heavier than a standard sleeping bag and are far easier to ventilate, much more spacious, and — for many — infinitely more comfortable
In short: great for the comfort-seeking camper, but not the most suitable option for long-distance backpacking or those who prefer a lighter carry.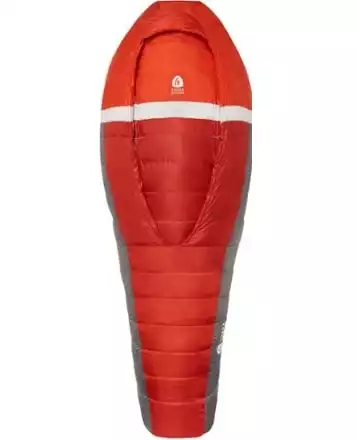 Pros
Incredibly comfortable
Ideal for car camping
Zipper-free!
Very spacious
Cons
Expensive
Heavy
Not the most portable option
Tarps
Offering the least insulation of all the options on our list, a tarp should only be considered as a sleeping bag substitute if used in conjunction with some other form of insulation such as a quilt or blanket.
Would-be buyers should also be aware that — if using the tarp as a wrap-around sheath rather than suspending it above you — avoiding a sweaty night will require creating openings in order to permit airflow between their body and the tarp's (highly) non-breathable material.
The bottom line: A bare-bones option suitable for the seriously hardened, gram-counting backcountry minimalist only.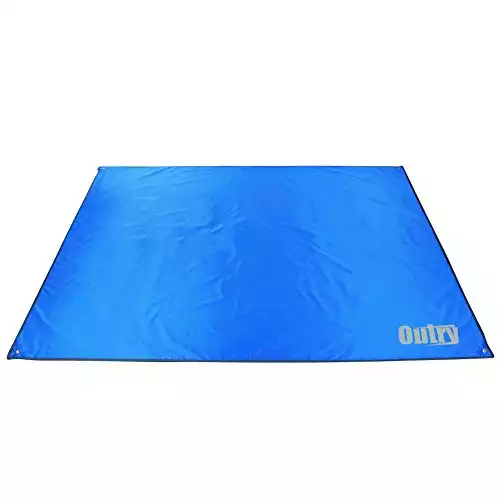 Outry Waterproof Multi-Purpose Tarp | Amazon
Made of 210D oxford fabric, which is ripstop and waterproof, can be used as tent footprints, hammock rain fly, picnic mat, ground cover etc.
Buy at Amazon.com
We earn a commission if you click this link and make a purchase at no additional cost to you.
02/14/2023 09:30 am GMT
Pros
Lightweight
Very cheap
Doable in warmer climes for those who don't mind sleeping in their clothes and want to keep pack size and weight to an absolute minimum
Cons
Lack of breathability
Provide minimal insulation (additional purchase of quilt or blanket required in all but very warm conditions)
Comparison Chart
The following chart uses a standard, three-season sleeping bag as the basis for comparison with the five types of alternatives listed above.
| | | | | | |
| --- | --- | --- | --- | --- | --- |
| Type | Model | Insulation | Weight | Portability/Size | Value for Money |
| Sleeping bag | Rei Co-Op Lumen 20 | Very Good: 31 degrees Fahrenheit EN comfort rating (3-season) | 2 lbs 11 oz | Very good: 8.4 liters (7" x 15" stuff sack) | Good: it's not cheap, to be sure, but could well be a once-in-a-lifetime purchase |
| Insulated Hammock | Klymit Hammock V | Good: adequate on underside but non-existent above — separate purchase of quilt or blanket necessary | 1.68 lbs | Very good: (4" x 8") | Good: A solid option for those who feel like a change of format, but not that much cheaper than a regular sleeping bag |
| Bivy Bag | Black Diamond Twilight Bivy | Very good: a three-season bivy that's waterproof and warm enough to use without a sleeping bag or other insulation in summer months | 10.7 oz | Outstanding: tiny pack size (3" x 5") | Very good: Light, portable, waterproof, bug-resistant and much less claustrophobic than a sleeping bag. Might, however, need a quilt to add insulation. |
| Quilt | Thermarest Apogee 35 | Very Good: 40F comfort rating | 1.8 lbs | Very good: 8" x 6" | Very good: Adequate insulation for most campers; reasonably portable and light |
| Backcountry Beds | Sierra Designs Backcountry Bed 700 | Excellent: 28F EN comfort rating | 2 lbs 8 oz | Good: 16" x 8.5" | Good: As pricey as comparable sleeping bags but much more comfortable and less restrictive of movement |
| Tarp | Outdry Multi-Purpose Waterproof Tarp | Nil. | 12.7 oz | Very good: 6.7" x 4.7" x 1.6" | Good (ish): Very cheap and light, but also severely lacking in insulation |
Conclusion
In the above analysis and review, we've seen a number of attractive backcountry shuteye solutions that skirt the well-known drawbacks of the conventional sleeping bag. From featherweight bivies to super-cozy quilts and backcountry beds, the alternatives are far more numerous and attractive than many of us might have previously imagined.
Of all the above formats, the one that will prove to be the most effective option for your future outdoor adventures will depend on a number of variables — your budget, when and where you do your camping, and, finally, your own personal preferences and needs.
However, in our pursuit of a truly portable, lightweight, affordable sleeping bag alternative that eliminates most of a sleeping bag's undesirable qualities without sacrificing too many of its more desirable ones, our research has found the bivy bag and quilt combo to edge it over the others.
Not only does this duo dodge the shrink-wrapped feel, scratchy zippers and velcro, clammy condensation, and princely price of a sleeping bag, it offers everything you could expect of an outdoor sleeping solution — comfort, spaciousness, adequate insulation, water and wind resistance — at a very reasonable weight.
Sound good? Well, it's about to sound a whole lot better…
By substituting your sleeping bag with a bivy, a tent is no longer necessary to provide protection from the elements. As such, if you happen to be an ultra-light adventurer or just not too fussed about having extra "indoor" living space while out in the wild, then this simple two-part setup could save you a handful of cash and pound or so of pack weight to boot.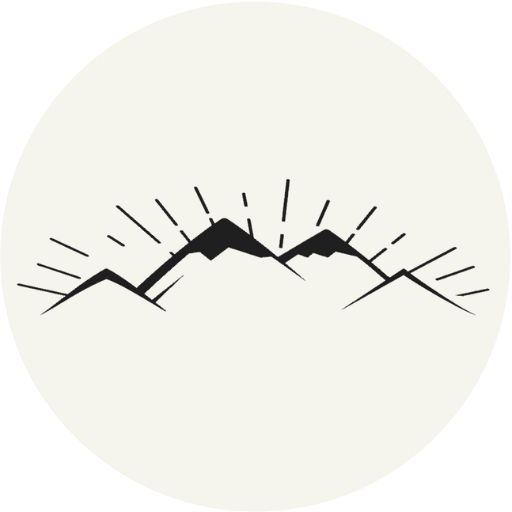 The All-Outdoors Guide team is comprised of enthusiastic experts that enjoy helping others that aspire to be better at outdoor fun. Part of that is making sure you have the right gear and information when it's time to go out and have fun. Some of our team have accomplished amazing feats like climbing 6000 feet to the top of mountains, others have explored every dirt trail they could find and we even have some people that have backpacked solo on various continents. No matter what our readers want to learn and do, our team is here to help them accomplish those goals.