Today, we are going to review the best Helly Hansen ski jackets you can buy in 2022.
Every skier or ski enthusiast will likely know the Helly Hansen brand. Helly Hanson is a Norway-based company that has been making winter apparel for the past 140 years. The company has come a long way from the oil skin linen jackets they used to make in the 18th century to the smart, lightweight ski jackets they sell today.
In this guide, we'll dive into detail on 6 of the best Helly Hansen ski jackets on the market, including factors to look for in a ski jacket, then give you a comprehensive review of each.
Below is a quick comparison of the 6 best Helly Hansen ski jackets:
Your jackets, sleeping bags, and hiking shoes all have either Thinsulate or PrimaLoft insulation. Check out our comparison of PrimaLoft Vs Thinsulate to help you decide which insulation material is best suited to your needs.
Best Overall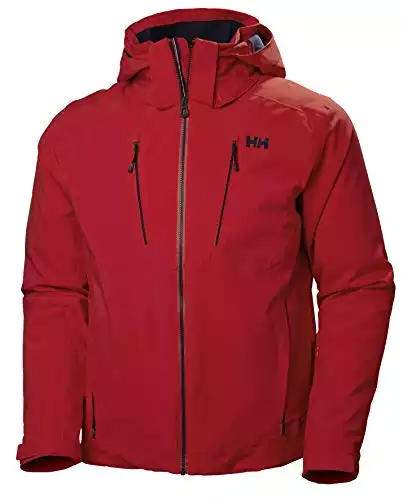 Things to Consider When Buying A Helly Hansen Ski Jacket
There are a few things you should know before buying your first (or next) Helly Hansen ski jacket. Below we have covered each aspect in detail.
Insulation
Insulation translates to the amount of body heat restored to maintain the body temperature. For that, you need thicker jackets in extreme winter conditions. Helly Hansen jackets are usually thick and rugged to keep your body warm.
One good thing about the Helly Hansen jackets is the versatility that they have to offer. They have all types of ski jackets, from lightweight and breathable to large jackets that protect you from extreme weather conditions.
Ventilation
Ventilation in a ski jacket is necessary to let excess heat out of your body. Some skiers tend to warm up real quick when going up and down on a ski course. Therefore, ventilation is equally as important as insulation as it helps regulate the body temperature and helps in off-gassing.
Most, if not all, Helly Hansen ski jackets are well-ventilated and come with zippered ventilation options built into the style and design of the garment. Good ventilation is necessary for skiers who sweat a lot during skiing, but it might not be as important for you if you are a cool skier.
Design and Style
Most ski jackets are durable, and Helly Hansen ski jackets are no exception. They are some of the most durable jackets you can buy that can withstand harsh weather conditions. I have a Helly Hansen ski jacket that I bought way back in 2012, and it has very little wear and tear.
One of the things that Helly Hansen excels in is that the jackets are durable and stylish. They make sure to keep their collection up to date to meet the new design trends. It is one of those brands which keeps you warm and dry while giving you some great style options.
Material
Ski jackets are used in rugged weather. If you have a jacket with inferior quality materials, the wear and tear will be noticeable after a few skiing sessions. In other words, you'll have to shell out money to buy a new jacket.
Helly Hansen is known for its quality materials. Though their jackets are more expensive than other brands on the market, you get premium quality materials that last a long time. They use the best wool, linen, and leather in their garments that provide both insulation and ventilation properties.
Budget
Today, you can buy a Helly Hansen ski jacket at a reasonable price as years of being in the game have allowed them to scale. That said, Helly Hansen jackets, on average, are more expensive than jackets from other brands.
However, not many ski jackets out there can match function and durability with style quite like Helly Hansen. These jackets come under the premium category and are for skiers who need a stylish, durable, and long-term investment.
When you're going downhill skiing or snowboarding, you need to have a storage solution that allows you to carry your essentials safely and comfortably. Here is our guide to the 5 best ski and snowboard backpacks you can buy in 2021!
6 Best Helly Hansen Jackets for Skiing
The Helly Hansen Alpha 3.0 Jacket is one of the best versatile jackets by the brand. This jacket can almost handle any rough winter condition. It is comfortable, durable, and comes in many different colors and sizes. It also has additional features which skiers will love, including a safe pocket to store your phone and other items.
This warm jacket has built-in 2-ply construction and 4-way full stretch fabric, making it easy for the skier to maneuver in hilly areas. It is made of suitable materials and is waterproof, breathable, and windproof.
The Alpha jacket has an H2 flow system that improves ventilation for hot skiers to give them optimal comfort and regulate their body temperature.
One problem many skiers face with jackets are the arms and elbows, as they tend to be either tight and short or loose and long. The Alpha jacket has a smart fit and I was able to move my arms around quite comfortably in it.
The jacket features PrimaLoft Gold synthetic insulation for the body and PrimaLoft Black Hi-Loft for the sleeves and hood for maximum insulation and to keep you warm at very low temperatures.
Another great thing about the jacket is there are plenty of pockets. It has a life pocket with insulation, 2 hand warming pockets, and a pocket for goggles.
The jacket has many features to consider, but it does come with a hefty price tag. If you have a reasonable budget, you should consider the Alpha as the best overall ski jacket.
Best Overall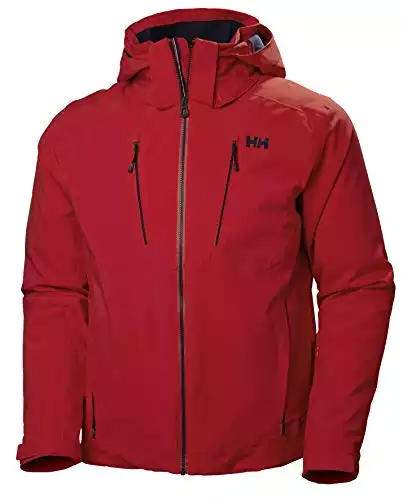 Pros
Well built and stylish design
Articulated arms and elbows for a better fit
Premium insulation
Many color options
Safety pocket with insulation
Cons
The Helly Hansen Fernie 2.0 is a popular ski jacket amongst freeride skiers. It is lightweight and built with textured fabric to give it both style and usability. Though not the best in class, the jacket has good insulation and comes with a rescue system built for emergencies.
The Fernie ski jacket has a 2-ply fabric construction and is made of weatherproof fabric, making it durable against harsh winter conditions. It has a helmet-compatible hood that can easily be adjusted to your fit.
The seams of the jacket are fully sealed to make it windproof and waterproof. It also has water-repellent technology that keeps the snow and moisture away from the surface of the jacket.
The Fernie jacket has great ventilation thanks to the H2 flow system. It also features a Pro Wool base layer for cold conditions. Combined with the mid-layer that features Life Stay-Dry technology, the Fernie keeps moisture away efficiently and gives extra warmth.
It is specifically designed for extreme winter conditions and is a must-buy for people looking for performance and comfort.
The insulated jacket has dual-entry hand warmers to keep the hands warm. It also has top entry hand pockets for storing items such as phones and more. The chest pocket allows you to keep your goggles and internal pockets add safety while skiing.
It has a sturdy cuff construction with Lycra wrist gaiters for better fit and to avoid any wind entering the jacket.
Another noteworthy feature that comes with the jacket is the RECCO advanced rescue system which is perfect for skiers who wander in hilly areas. It notifies the company in case of an emergency.
As mentioned earlier, this jacket does not provide a very high level of insulation. Also, it sometimes gets short on the waist for skiers which can become uncomfortable while skiing on uneven surfaces.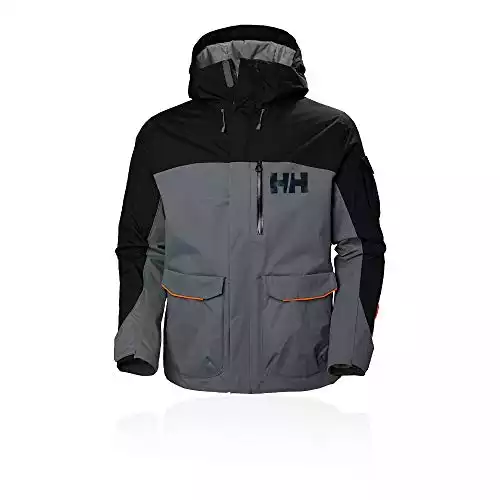 Helly-Hansen Men's Fernie 2.0 Jacket | Amazon
From the first to the last snow of the season, the Fernie 2.0 jacket will always be a freeride jacket to come back to. The Helly Tech Performance 2L fabric will guarantee to keep you dry and comfortable no matter what adventures you might face and a PrimaLoft insulation will keep you warm on colder days.
Buy at Amazon.com
We earn a commission if you click this link and make a purchase at no additional cost to you.
02/14/2023 01:29 pm GMT
Pros
It is great for freeride skiers
Comfortable and durable in extreme climates
Features the RECCO rescue system
Goggle sham
Lightweight
Cons
Not the best insulation
Uncomfortable on the waist at times
The Helly Hansen Swift Jacket is one of the best lightweight ski jackets you can buy today. This jacket is comfortable and reliable while being lightweight. This is an ideal jacket for moderate winter conditions as the insulation is not the best-in-class, but that's to be expected with a lightweight jacket.
The Swift jacket also has 2-ply construction with 4-way stretch fabric. It is built with a HELLY TECH fabric, which makes it windproof, waterproof, and breathable. It also has water-repellent technology built with the fabric to repel water and snow.
The jacket has articulated sleeves and elbows for mobility. Its extra features include a detachable skirt for making it lighter and an adjustable hood. The helmet-compatible hood makes it easy for you to keep warm and safe while skiing.
The Swift jacket also has plenty of pockets to carry your stuff around. It features 2 hand warming pockets, 2 pockets on the chest, a ski pass pocket, and a life-saving dedicated pocket enclosed in the jacket to mobile phones and other items. It also features wrist gaiters with thumbholes for extra grip while skiing.
This jacket also has a RECCA advanced rescue system for emergency responses in tricky situations. It is best suited for moderate winter weather and I would recommend this for resort skiers and backcountry skiers.
I would not advise the Swift jacket to be used in very cold or heavy snow conditions as it only provides a bit of insulation. The life pocket is also small, which can be an issue as most new smartphones are quite large.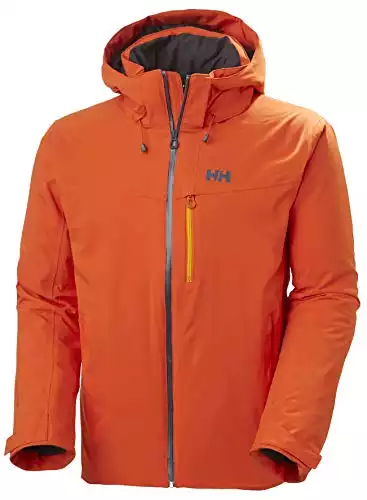 Helly-Hansen Mens Swift 4.0 Ski Jacket | Amazon
This feature filled resort ski jacket just became more comfortable, with a weatherproof 4-way stretch Helly Tech fabric, and more connected, with the innovative Life Pocket to preserve your battery life.
Buy at Amazon.com
We earn a commission if you click this link and make a purchase at no additional cost to you.
02/14/2023 01:19 pm GMT
Pros
Lightweight
Durable
Comfortable
Cons
Not ideal for very cold and snowy weather
Life pocket could be bigger
One of the most versatile jackets for women is the Helly Hansen Sundance. It's a great overall sports jacket with a casual style. It is a fully waterproof jacket that is also incredibly breathable. It is also lightweight and has a classy design. It comes in many colors ranging from Black to silk blue to white.
The Sundance jacket is built with HELLY TECH performance fabric with a 2-ply construction. It is 100% polyester which makes it water-repellent. The seams are well-protected and completely water-resistant and windproof.
The insulation used in the jacket is PrimaLoft which is suitable for cold weather. It also comes with adjustable cuffs. The adjustable cuffs can regulate the amount of ventilation needed in the jacket and can be altered according to your needs.
The collar is high and the hoodie is fixed, which can be beneficial for comfort along the neck. They also can be adjusted as per your needs.
The hand-warming dedicated pockets are zipped in this jacket, making it easier to store items that need to be protected from water such as mobile phones, earbuds, etc. There is also a safety pocket inside the jacket.
The Sundance jacket also comes with a chin guard as an added safety feature. The hem of the jacket is adjustable and it also has a waterproof zipper.
This jacket is suitable for light skiers in the spring or summer. It is not recommended for extreme weather. Also, there have been complaints that the size of the jacket is misleading, so ideally, you should get a size bigger than you normally would.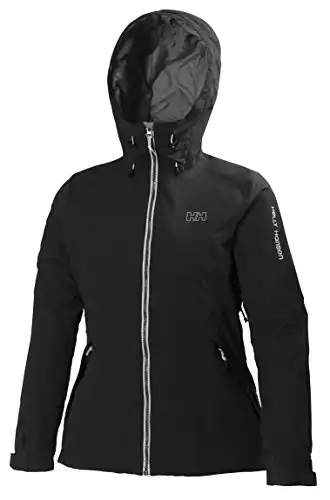 Helly-Hansen Women's Sundance Jacket | Amazon
Feminine athletic influences created this exceptional ski jacket. Helly Tech Performance 2L fabric, regular fitted and PrimaLoft insulation keeps the athletic snow sport enthusiast warm and comfortable during winter.
Buy at Amazon.com
We earn a commission if you click this link and make a purchase at no additional cost to you.
02/14/2023 12:54 pm GMT
Pros
Lightweight
Stylish
Adjustable collar and cuffs for manual ventilation
External pockets with zipper
Cons
Not for extreme weathers
Sizes are often misleading
Helly Hansen Spirit – The Most Stylish and Functional Ski Jacket
Another entry for women is the Helly Hansen Spirit Jacket. It is also a lightweight jacket that effortlessly combines comfort with style. The jacket is waterproof and has great insulation despite its non-bulky build.
The Spirit jacket is also built with HELLY TECH performance fabric. It features a 2-ply build with the fabric, making it waterproof, windproof, and durable. The seams of the jacket are sealed for better performance. It is made from 100% polyester on the outside, making it water repellent.
The Helly Hansen Spirit is highly breathable with ventilation under the armpit, neck, and waist to keep your hot areas ventilated and dry. It is tested to keep you dry and ventilated even in extreme situations.
It has 2 zipper pockets on the side, one pocket on the sleeve, and one more pocket inside the jacket. The jacket's cuffs are adjustable and have articulated sleeves, which makes it a better fit even for people with small heights.
The collar is hooded and adjustable. The jacket comes with a chin guard for added safety. Another great thing about the jacket is that it has wrist gaiters to make it more sturdy and avoid incoming air entering for better temperature regulation.
The Spirit jacket comes in many colors to choose from. It can be worn on occasions too. The only downside of this jacket is that it is not suited for extremely cold weather.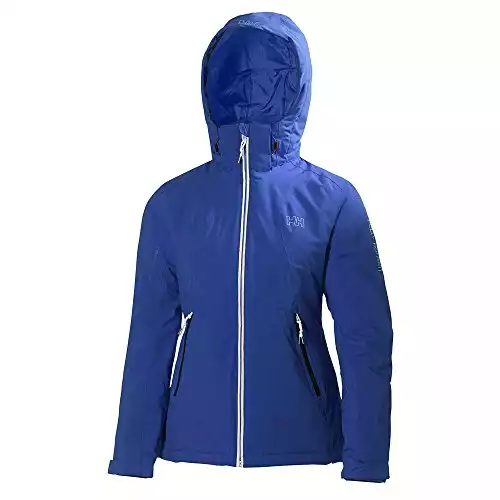 Helly Hansen Women's Spirit Jacket | Amazon
Get on the slopes in this fully featured waterproof, breathable, fully seam sealed ski jacket. Fully insulated with Primaloft thermal protection for winter squalls, or while waiting for your friends on the slope.
Buy at Amazon.com
We earn a commission if you click this link and make a purchase at no additional cost to you.
Pros
Lightweight
Comfortable
Adjustable cuffs and collar
Ventilation in all hot areas
Cons
Not for extreme cold weathers
Last we have the Helly Hansen Blazing Jacket that is a favorite amongst downhill skiers. This jacket is made of 100% polyester. It is waterproof and water repellent like the other entries in this list, but what makes it a mountain champion is that it's not just lightweight but also well-insulated.
The Helly Hansen Blazing is made up of HELLY Tech performance fabric and features a 2-ply stitch. The jacket is durable and windproof thanks to the material and stitching quality.
The jacket has a 2-way stretch which makes your movement easier and comfortable.
The Blazing jacket has an elastic wrist gaiter made of polyester. The wrist gaiters come with thumbholes which completely cuts off any wind entering the jacket. It also has a fixed hood and high collar for extra protection from strong winds.
The Helly Hansen Blazing is a very breathable jacket. The insulation is top-notch thanks to the PrimaLoft insulation that maintains warmth within the jacket without adding any extra weight.
There are ventilation areas on the front, on top of the chest pockets. It has 2 more external pockets on both sides that act as hand warmers and a zipper pocket on the chest, which can be used to store keys and other items.
The Blazing jacket also has a pocket for storing precious items which require more safety. The best feature is that it also has an earphone duct which is a pleasant surprise.
One downside of the jacket is that it is a little too tight on the waist. That could be a bit of a problem when you're skiing in tricky spots.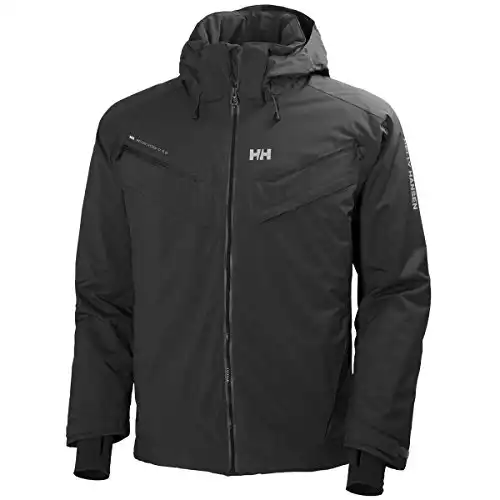 Helly-Hansen Men's Blazing Jacket | Amazon
This insulated ski jacket is a true on mountain companion. Classic alpine styling coupled with PrimaLoft insulation and a breathable, waterproof Helly Tech Performance stretch fabric to keep you protected at all times.
Buy at Amazon.com
We earn a commission if you click this link and make a purchase at no additional cost to you.
Pros
Lightweight
Excellent insulation
Award-winning ventilation
Cons
A little tight on the waist
You'll not just need good ski jackets to keep you warm and safe on the slopes. A good ski mask can make a world of difference, especially in snowy conditions. Check out our list of the 4 best ski masks you can buy today for maximum warmth.
Frequently Asked Questions
Question: Can a Helly Hansen ski jacket be used for hiking?
Answer: Helly Hansen jackets are durable and designed to withstand extreme conditions. They are waterproof and weatherproof, making them perfect for hiking trips when the temperature dips. However, I would recommend going for a jacket that is lightweight for your hiking trip so that you carry as little weight as possible.
Question: Can Women wear men's ski jackets?
Answer: Yes, women can wear men's jackets. The men's ski jackets usually feature a broader shoulder and a thicker waist. If that is not a problem, you can wear one.
Question: Are there any other good ski jacket brands?
Answer: Helly Hansen jackets are considered premium ski jackets, but they do come with steeper price tags. North Face ski jackets are quite good, in my opinion, and worth looking at.
While you're here, also check out our review of the Arcteryx Sabre AR Jacket, one of the best ski jackets out there.
Conclusion – Which Helly Hansen Ski Jacket Is the Best?
Best Overall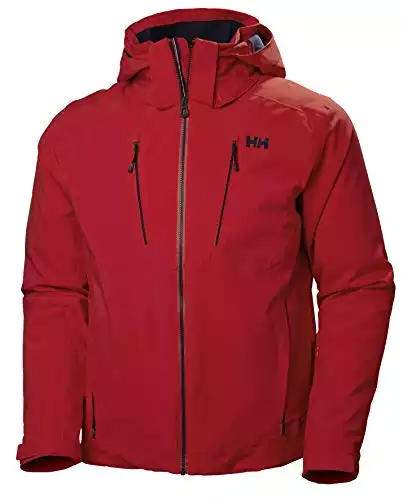 All the Helly Hansen ski jackets we have covered here are durable and weatherproof. Choosing the best ski jacket from these 5 would depend on the weather conditions you are subjected to and your use.
In my opinion, the Helly Hansen Alpha Ski Jacket is the best overall jacket that most types of skiers will love. Yes, the price tag is a little hefty, but if you can afford it, then go for the Alpha ski jacket. If you experience more moderate winters, the Fernie 2.0 ski jacket is a good choice for backcountry skiers that comes at an affordable price.
For women, the Helly Hansen Spirit Ski Jacket is a great choice that combines comfort and safety with style. Not many ski jackets out there can keep you warm, comfortable, and looking at your best on skis.
At the end of the day, it all comes to your personal preference, weather conditions, and most importantly, your budget. That said, one thing you can rely on is the quality of Helly Hansen ski jackets. As I mentioned, I've had one for nearly a decade, and it's only shown little signs of wear and tear after years of skiing in all types of weather conditions.
We hope this review helped you find the best Helly Hansen ski jacket for your needs. You can also check out all the guides, reviews, and comparisons we have on different types of jackets for skiing, hiking, and other outdoor activities!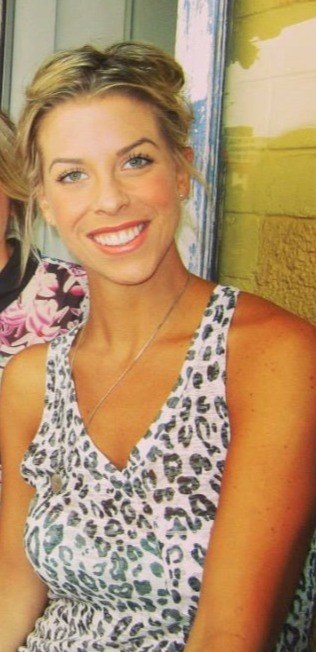 Jodie Chiffey loves the outdoors. If you aren't sure where to find her, check the nearest dirt trail. She loves being outdoors and spends a good deal of time reviewing products like clothing, footwear, and other outdoor gear.
Jodie is a full-time blogger who reviews a lot of the products for us. She writes many of our backpacking gear reviews, outdoor skills advice, and information, and helps visitors find the best destinations for backpacking, camping, hiking, and a lot more.
If Jodie's friends have a travel or outdoors question, they know who to ask and that's why we featured on our website. Now you can get the same great advice her friends enjoy, so you know where to go and what gear to take with you.