Arc'teryx is one of the world leaders in outdoor wear. Its products are top of the line, and anyone who loves exploring knows their products are built for quality.
The company was named after the first bird on Earth, the Archaeopteryx lithographica. Although its name is a mouthful, the creature's fossil was discovered with the first feather in existence. This creature was the core part of the development in the transition of animals from land to sky. The brand Arc'teryx was created to represent this idea of accelerating evolution in the outdoor wear industry.
Arc'teryx started in the Coast Mountain Range of Canada, which on average has 178 days of precipitation per year. They believe in testing their products every day to get get the perfect design. In order to clearly define what you're looking for, Arc'teryx makes it easy by using several different brand labels on their clothing lines.
The jackets we will be looking at today all utilize the Skiing and Snowboarding label, meaning they were specially built for these activities.
Types of Arc'teryx Ski Jackets
Based on your level of skiing, Arc'teryx breaks down their ski jackets into four categories.
Resort
Arc'teryx's Resort collection is for those of us that want to have a relaxing ski session. You're not too worried about extreme conditions, because a toasty cup of hot chocolate is always less than 20 minutes away. That being said, these jackets are built for warmth. They're an all-in-one system that doesn't require multiple layers or confusing setups. They're good to go right off the shelf.
Freeride
If you like to take your skiing to the next level, Freeride jackets are for you. Perhaps you like to stick to the advanced routes in resorts or ride in the backcountry every once in a while. That being said, these jackets increase their flexibility and breathability to get you a more well-rounded product.
Touring
For the creme of the crop skiers, these jackets are for you. They're built to withstand the most difficult conditions and are extremely breathable for when you're hiking gear up the mountain. Most of these jackets are built as shells, so they pair well with some type of down insulation jacket inside them- they're not stand-alone products.
Designer
For the skier that likes to come out in style, the Designer line is for you. Arc'teryx will often pair with fashion designers to create jackets that stand out and are built for performance. These jackets are Arc'teryx's most expensive products, but they're worth the extra cash if you like to be that rare breed that looks stylish on the slopes.
Factors to Consider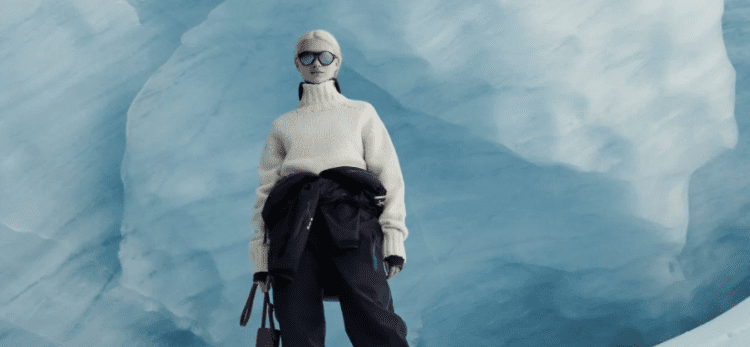 Insulation
The first factor to consider when looking at ski jackets is how insulated it is. Does it retain heat, repel wind, and keep you cozy? All important factors to consider when looking for a ski jacket. Arc'teryx collaborates with Gore-Tex in some of their jackets, but not all of them. If you're looking for pinnacle insulation performance, look for the Gore-Tex label.
Water Resistance
The next most important thing to look for in a ski jacket is water-resistant. On a perfect day, flurries of snow wouldn't be an issue. But no matter how lucky you all, everyone gets stuck in the snow eventually. Water-resistance is also important for when you fall or even sit on the snow. It will always find a way to leak in if you're not prepared.
Breathability
Breathability is a factor to look for if you're into more physically enduring skiing. For example, hiking up a mountain in the backcountry, hitting some moguls, or weaving between the trees. All these activities exhibit an enormous amount of energy, and if your jacket isn't breathable, it'll start to get sweaty inside. And when sweat gets cold, it makes you even colder.
Weight
The final thing to look for is weight. While many folks don't mind the extra weight, especially if you're prone to falling, there are many people who like to keep their setups as minimalist as possible. This is especially important if you're into touring, where carrying extra gear becomes more important.
Build Quality
Since skiing is such an active sport, one little brush up against a tree or even a small tumble can put your new jacket to the test. Whenever you're in the market for a new ski jacket, read as many reviews as you can about people's experiences. The stronger the material, the longer your gear will last. And if you're paying a pretty penny for the jacket, I'd hope it would last you a few years.
Best Arcteryx Ski Jackets Guide
Since Arc'teryx has over a dozen jackets released, especially for skiing, I'm going to break down the top 4 jackets for both men and women to make your choice a little easier.
Men
Macai LT (Resort)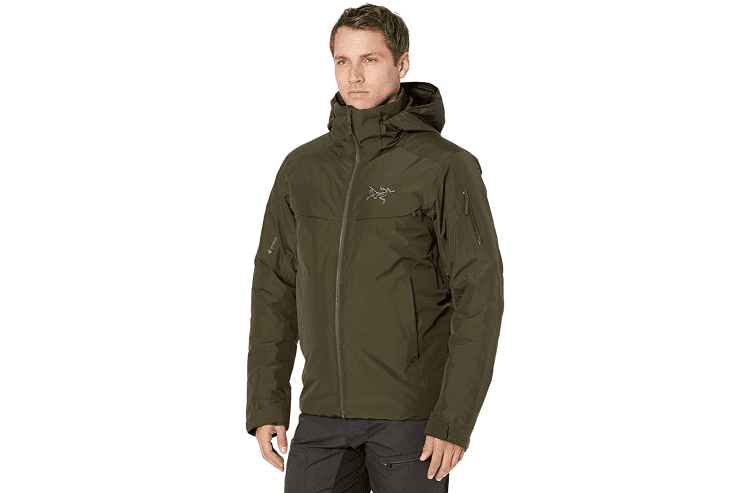 The Macai LT is the lightweight version of the Macai jacket. It still packs a solid punch against the weather and is a fully capable jacket featuring less bulk. The jacket features responsibly sourced down insulation and has a Gore-Tex lining to help protect against wind and water.
To top it all off, the jacket has a solid pocket system for organization and can fit a helmet inside its hood with their StormHood™ technology. My philosophy with lightweight versions of jackets is that they're always worth it. You can always add more thermal insulation layers inside the jacket if it's especially cold out.
Sabre AR (Freeride)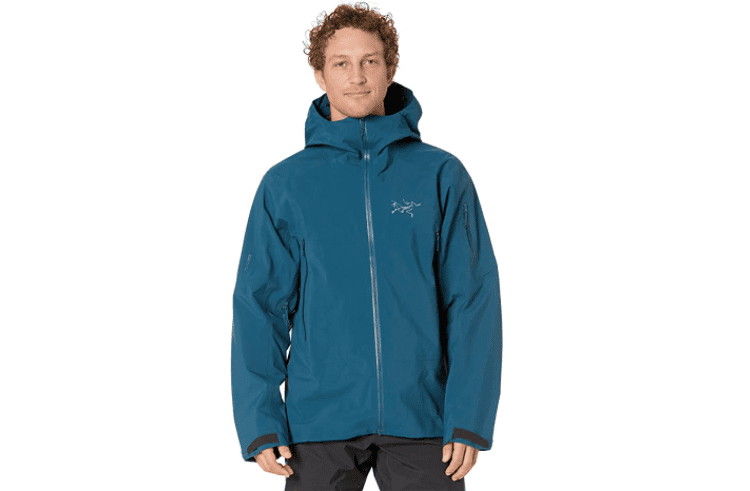 Stepping up the game a bit, the Sabre AR is perfect for those who want a little of everything. They enjoy the resort days, but also like to push their limits in the backcountry. It's got a nice balance of insulation and breathability and has WaterTight™ zippers that can be opened or closed to allow for more ventilation.
The jacket also has a powder skirt to help assist you in deeper ascents. My favorite part of the jacket is that it locks in with the Sabre AR pants, which creates a complete waterproof system across the body. The jacket comes in five distinct colors- Black, Blue, White, Yellow, and Light Pink.
Rush (Touring)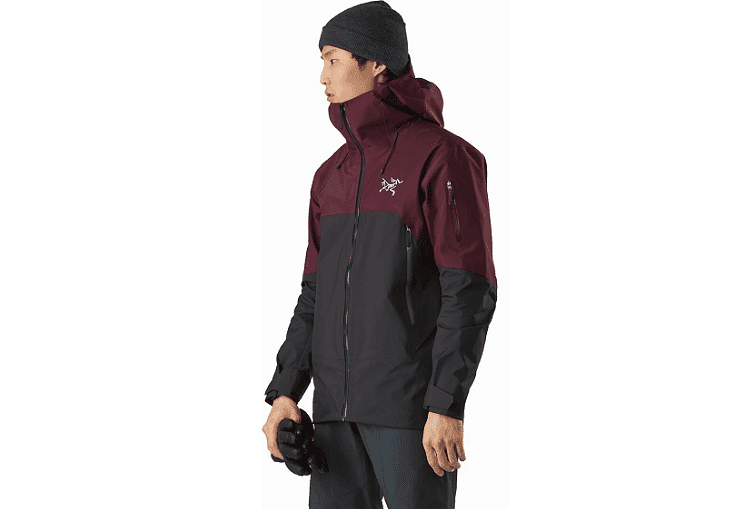 This top-tier Arc'teryx jacket is for those who want the most flexibility in the touring world. Compared to their other Touring ski jacket, the Rush comes out on top. It's got Gore-Tex Pro infused in its lining, giving it the most rugged protection available on the market.
It's also got StormHood™ technology to fit a helmet underneath, and WaterTight™ technology for ventilation zippers. Since this jacket is a shell, you'll need to pair it with some type of thermal and/or base layer below. But if you're looking for the best system for flexibility on the mountain, the Rush jacket and its 6 color options are a clear choice.
Overall JL Sander + (Designer)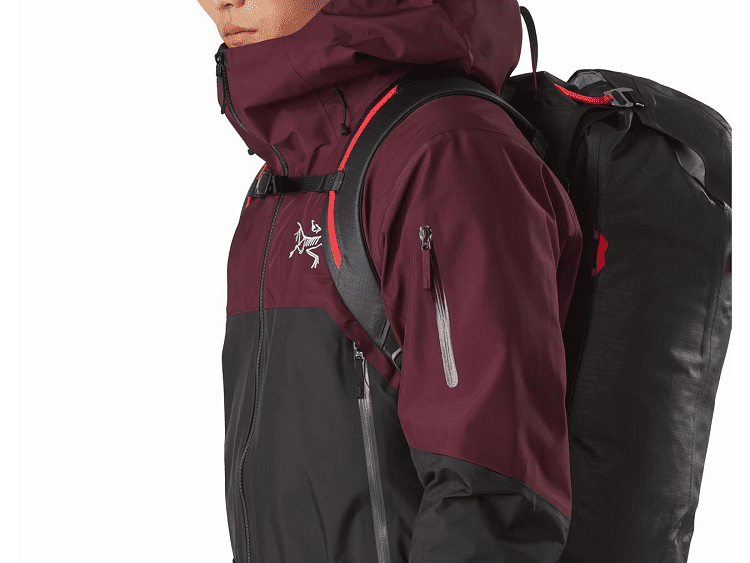 This "jacket" is a complete overall system that encompasses pants and jackets. Designed by JL Sander, this progressive jacket will give you that extra "umph" that distinguishes you from everyone else on the slopes.
But it's not all about style- this complete system has Gore-Tex Pro, the same technology that's in the Rush Touring jacket, making it the strong contender against the elements. It's also got accessible storage and a great system for internal storage. If you're looking to go all out on the mountain, this jacket is for you.
Women
Andessa (Resort)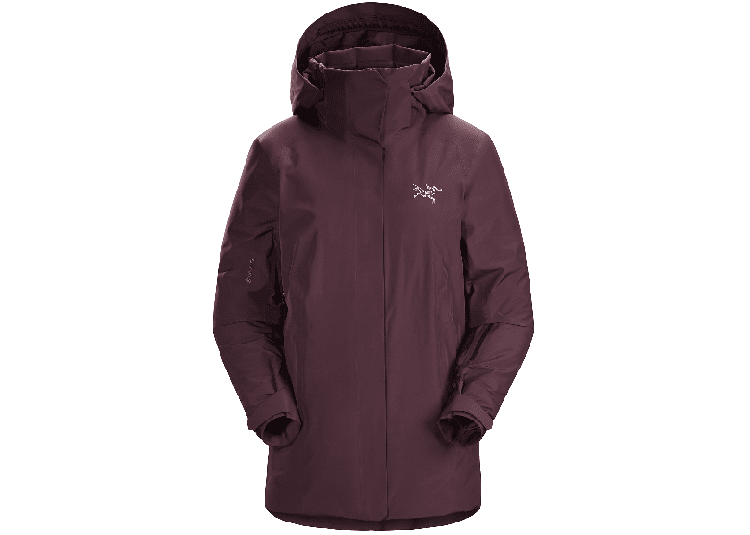 If you're looking for a premium ski jacket to keep you warm on the slopes, the Andessa is for you. Built with 750 Fill European Goose Down, its special Composite Mapping technology will keep you warm, even if the inside gets wet.
To protect you from the outside, it's also built with Gore-Tex liner, to provide a nice outer layer to protect from the water and the wind. To top it all off, the jacket has an extended skirt in case you decide to wake up early on a powder day and an insulated hood that's designed to twist with your head.
Sentinel AR (Freeride)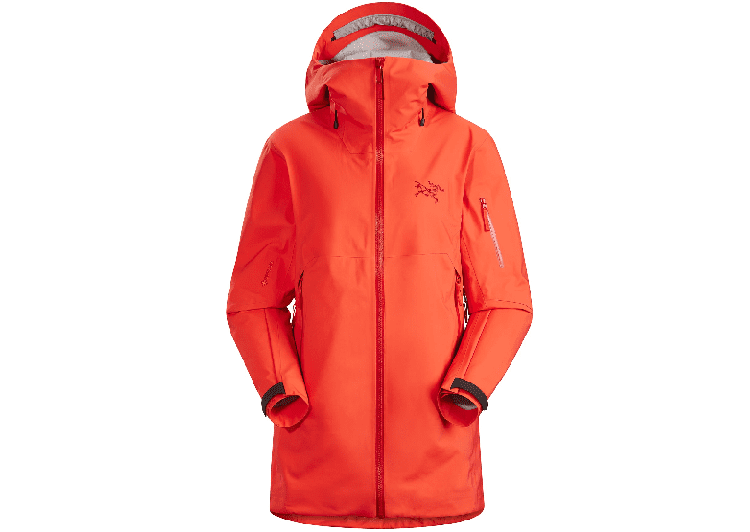 If you're ready to take your skiing to the next level, I recommend the Sentinel AR jacket. It's an all-in-one jacket that's perfect for mellow days at the resort, or high-intensity days in the backcountry.
The jacket is specifically designed to give you a superior range of motion and has several WaterTight™ ventilation zippers to give you airflow if needed. My favorite part about this jacket is that it can combine with the Sentinel AR pants to give a secure snow-proof system throughout your body.
Sentinel LT (Touring)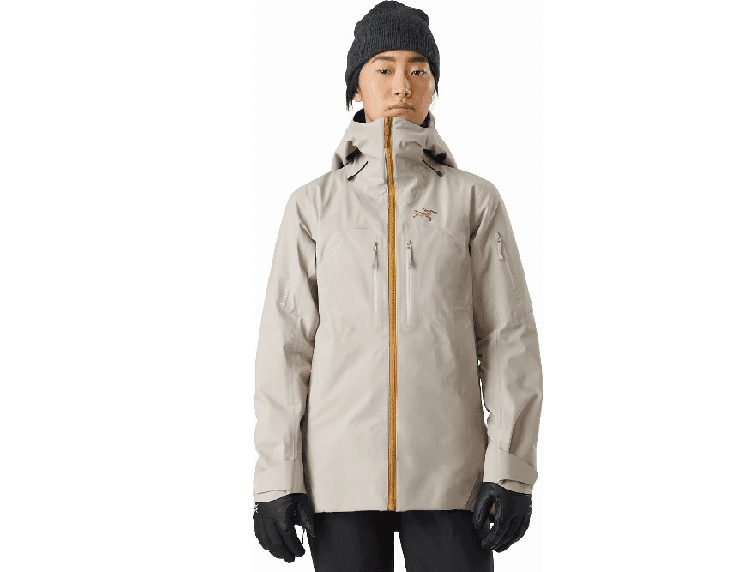 If you're looking for a ski jacket that gives you maximum flexibility of motion in the field, the Sentinel LT jacket is for you. The light outer shell is specifically designed with Gore-Tex C-Knit, which gives you top-of-the-line breathing technology when you're climbing mountains and zooming down cold cliffs.
It's also got an extra-long cut for those insane powder days where you're absolutely buried in it. If you're looking for true flexibility, this jacket is for you.
Parka JIL Sander+ (Designer)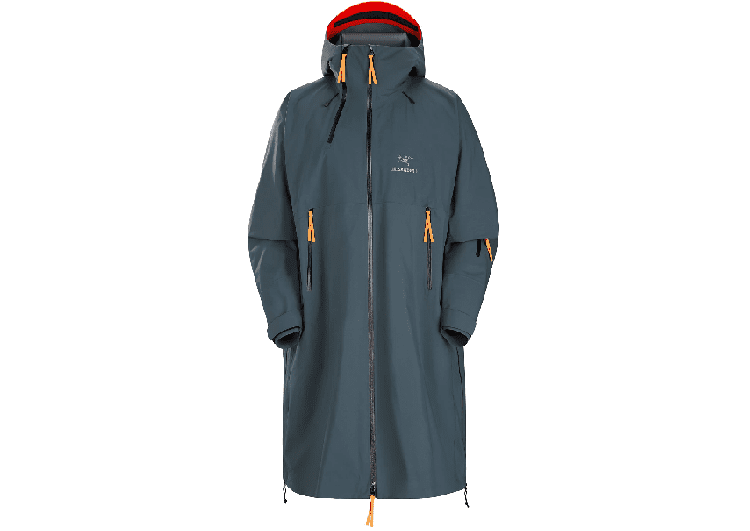 The final jacket I recommend is the Parka JIL Sander. It's a complete designer jacket with a super long cut to stand out and make a statement on the slopes. Nowadays, ski jackets can look too technical, but not with this brand collaboration.
JL Sander knows how to make a jacket that is stylish but also holds up. The ski jacket features top-of-the-line Gore-Tex technology and impeccable organization for holding your gear on the slopes.
FAQs
Question: Should I Buy a Shell Jacket or a Fully Insulated Jacket?
Answer: This depends on what type of skier you are. If you want a system that can be modified based on the conditions, a shell jacket paired with a base layer and insulation layer can provide flexibility at a higher price. But if you're looking for an all-in-one system you can just throw on and hit the slopes, a fully insulated jacket may be for you.
Question: Is Arc'teryx Sustainable?
Answer: Arc'teryx is one of the most sustainable outdoor retailers on the market. They utilize Fair Trade products, use Low Carbon Solutions, commit to Outer Peace, and have an entire market of Used Gear.
Question: Does Arc'teryx have a Lifetime Warranty on its Products?
Answer: No, it does not. They have what is called a Limited Warranty, which is based on the practical lifespan of a product. Check their Product Service page to see the warranty time for a specific product, based on standard usage.
Question: Why is Arc'teryx Expensive?
Answer: Arc'teryx prides itself on having the best-designed products on the market- and the fan base to prove it. Anyone who's owned an Arc'teryx jacket can attest to the fact that they are rugged, warm, and hold up extremely well against the elements.
This is due to their passionate employees, who have experience in the outdoors and design products they know they would love.
Question: What is Gore-Tex?
Answer: Gore-Tex is a respected and well-known breathable and waterproof material. It was invented in 1969 by Wilbert and Robert Gore, and it is able to repel liquid water while allowing water vapor to pass through it. In the outdoor industry, the company is known for collaborating with quality companies.
Top Arc'teryx Ski Jacket Choice
The Sabre AR Jacket for Men and the Sentinel LT Jacket for Women
Both of these jacket styles fall under the Freeriding category, for good reason. They're the most well-rounded jackets available and can suit your needs if you want a chill day on the slopes or an intense backcountry session. Both jackets also pair with their respective pants to form a true snow-proof layer.
I also love the features of these jackets. Since they're both made with Gore-Tex, have huge hoods, and waterproof zippers, you're basically set with top-of-the-line insulation. Top it off with a bunch of stylish colors, and it doesn't get much better than that.
Whatever ski jacket you choose to go with, there's no going wrong. Arc'teryx is an incredible company across the board, and you'll spend many years getting every ounce of use out of their products.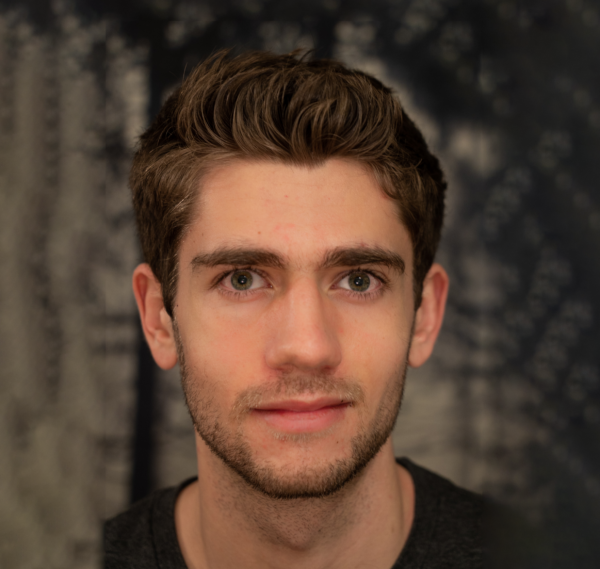 Nicholas is an adventure photographer who's been traveling North America for the past four years shooting landscapes from Washington all the way down to El Salvador. His passion for photography and the outdoors started in Colorado, where he grew up exploring its vast mountain ranges. Today, he hopes to share his lifelong experience with the outdoors with others and hopes to inspire people to explore more.