Backpacks are essential when taking on an adventure. They make your equipment easier to carry, allowing your hands to remain free. They keep your belongings organized, helping you to grab your emergency kit quickly if the need arises.
If you're on the hunt for adventure and looking for the best backpack to accompany you, look no further. Arc'teryx backpacks are some of the best when it comes to outdoor gear travel backpacks. As we unpack the best Arc'teryx backpack options, I'm going to discuss their most popular backpacks, their quality, and their features so that you can walk away with the backpack that suits you best.
Arc'teryx Backpacks Selection Criteria
Customer Reviews –

All the Arc'teryx backpacks on our list are based on customer reviews that ranked the product 3.5 stars and up. I trust the feedback of people who have paid money, tested out a backpack, and honestly reviewed it.

Pricing –

I've listed backpacks that cover a range of prices so that you can pick the one that matches your budget best.

Durability –

I value high-quality material and will only recommend durable backpacks that will last for decades with the right care.

Features –

All backpacks listed here have beneficial features that stand out from the average backpack.

Comfort

– A backpack will spend hours at a time on your shoulders and back, so it needs to be comfortable so as not to cause pain to your body.
Arc'teryx Brize 25 Backpack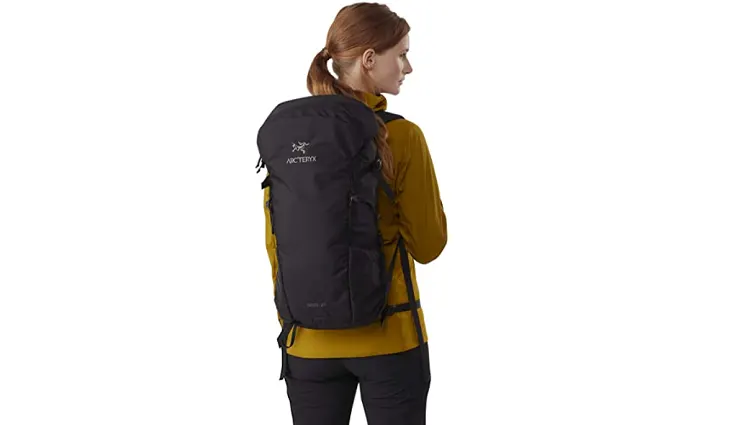 Design and Features
This Arc'teryx Brize 25L backpack is durable and ready for your next adventure – or trip to the gym. On long day walks or hikes, this backpack will protect you from discomfort with its harness padding that is not too thick yet highly secure. The back panel allows great airflow, and the straps are padded well.
The Brize 25L backpack is fairly small (Height: 55cm, Width: 25cm, Depth: 15cm) and has two compression straps on either side. The 25L capacity will only be substantial for about a day, making it perfect for shorter hikes but not ones that progress past that.
Although it looks small, it surprisingly packs in quite a lot, and you'll find that it can store about a week's worth of clothing – depending on how you pack and what you're packing. It's highly versatile, so you can take this backpack away on trips, to the gym, and on the trails. I also love the security that this backpack has with its zipper closure and internal security pocket.
There are deep pockets on either side of the backpack that allow you to carry large water bottles without worrying about them falling out. Deep pockets are a must in a hiking backpack, yet there are still backpacks that don't have them.
Unfortunately, this Brize backpack isn't waterproof, so you'll need to pull its rain cover over it for protection. You find this backpack in two colors on Amazon – Dark Mirai and black.
Pros
Versatile

Padding isn't too thick

Zippered closure and security pocket

Deep side pockets
Cons
It is not waterproof without a rain cover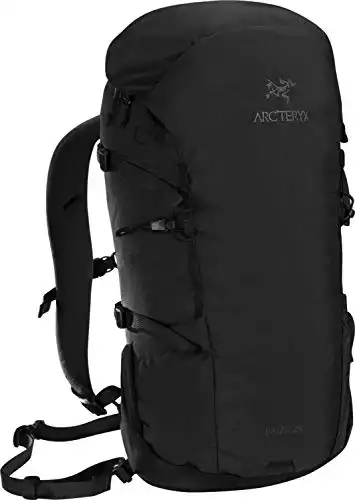 Arc'teryx Arro 16 Backpack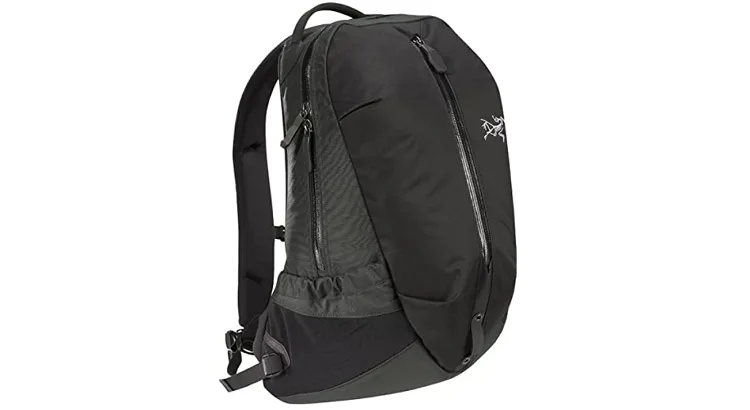 Design and Features
The Arc'teryx Arro 16 Backpack is the size of a more typical backpack, making it easier to use on a day-to-day basis. Although smaller than most other Arc'teryx backpacks, it still offers high-quality materials and durable nylon fabrics.
This backpack is so lightweight and padded that you can wear it all day without discomfort. It's perfect for moving around for work meetings or college classes. It has a laptop sleeve and zippered pocket to protect your valuables. However, I'd love to see more organizational compartments to store your phone, charger, etc.
Although it's not the best hiking backpack available, you can still use it for shorter hikes or walks thanks to its chest and waist straps, security, built-in bladder compartment, and tube port. It has two side pockets. However, they look short, and I don't think my big water bottle would be secure in either of them.
I appreciate the watertight zippers on the outside of the bag, making it weather resistant. It's reassuring knowing that all my belongings won't get soaked as soon as the rain starts to fall. This bag comes in colors Carbon Copy, Black, and Fortune on the Arc'teryx website and has a price of around $150. It is also available on Amazon.
Pros
High quality and durable materials

Weather-resistant

Lightweight and padded

Zippered pockets

Watertight zippers
Cons
Not enough organizational compartments

Short side pockets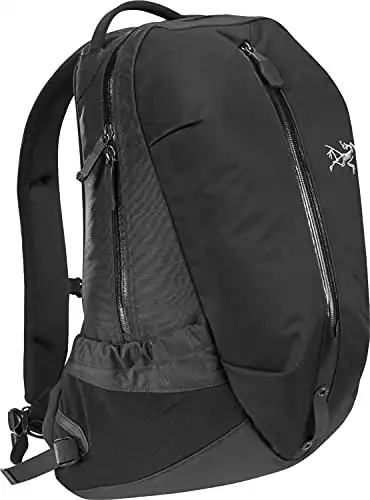 Arc'teryx Rush SK 32 Backpack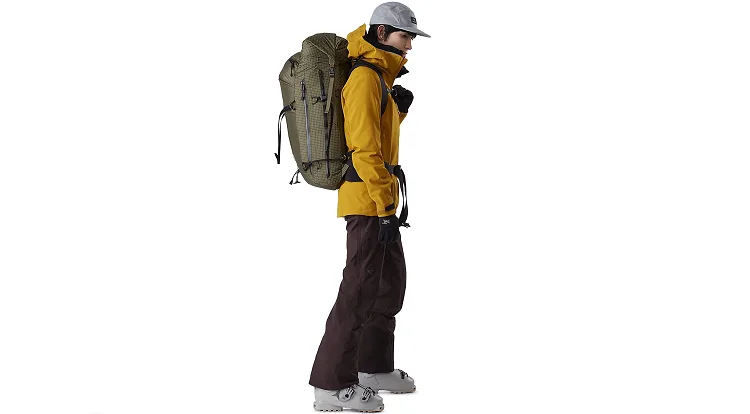 Design and Features
Made with skiers and snowboarders in mind, is the slim Arc'teryx Rush SK 32 Backpack. This backpack is one of the best ski backpacks because it is incredibly lightweight, weighing only 2 pounds 2.2 ounces. It has tapered seams and full-length watertight zippers, making it resistant to the weather conditions that skiers and snowboarders face.
This backpack also comes with a back foam panel and customizable straps that you can attach your skies to. The waist strap is so padded that you'll be comfortably strapped in even without thick clothing on. However, due to the streamlined design, this backpack drops slightly in overall comfortability.
I love the backpack's white interior, the various straps, compartments, and helmet carrier. I also enjoy the convenience and quick access to the top compartment, excellent for storing your phone, goggles, or keys in.
One thing that I think this backpack lacks is a port for a drink tube. I understand that tubes freeze when out on the slopes in freezing conditions. However, it could've had a port that could be snapped closed if not needed. Without one, the backpack becomes less versatile.
You can find the Rush SK 32 Backpack on the Arc'teryx website in colors black and Tatsu and at a price of around $220.
Pros
Incredibly Lightweight

Weather-resistant

Many straps and compartments

Helmet carrier

Comfortable padding

Top compartment for quick storage and access
Cons
No tube port

Slimline design lowers comfortability
Arc'teryx Alpha AR 35 Backpack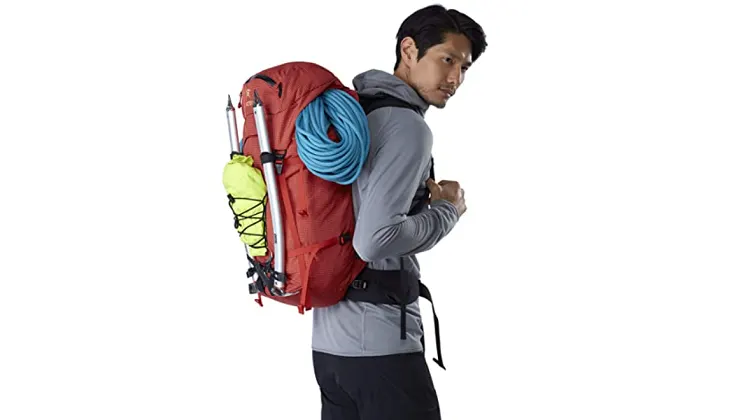 Design and Features
An excellent quality backpack for a variety of outdoor adventures is the Arc'teryx Alpha AR 35 Backpack. This backpack is lightweight but sturdy and can pack a lot into it without leaving you in discomfort. It also has many straps, allowing you to attach your gear and skis to it.
This Alpha Backpack has a nylon lining, zipper closures and is very durable. It won't easily tear when rock climbing, even with it being dragged up the rocks. It comes with gear loops on the hip belts as well as a top strap to secure your rope.
You'll find this backpack to be comfortable, roomy, and functional. It also holds up well in harsh weather. Your gear, clothing, and food won't get wet regardless of the snow, sleet, or rain. One thing I don't enjoy about this backpack is the new buckle system. It takes a bit of time to get used to and can be quite a challenge to use with your gloves on.
This backpack comes in the colors of Dynasty and Pegasus, and you can purchase it for around $190 on the Arc'teryx website.
Pros
Excellent quality and durable

Versatile

Lightweight but sturdy

Comfortable

Many straps

Weather-resistant
Cons
Arc'teryx Blade 20 Backpack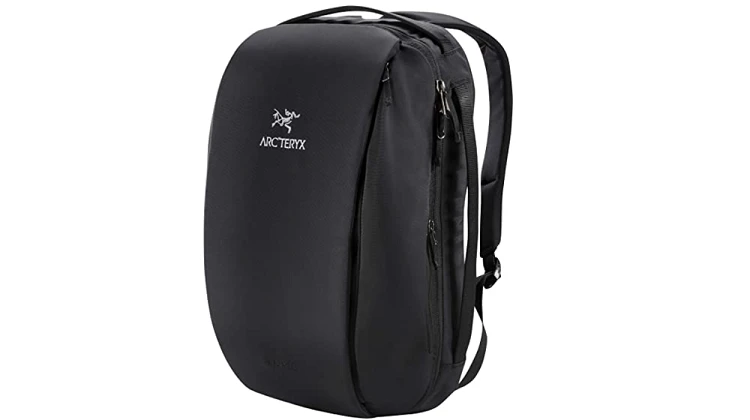 Design and Features
If you love organized backpacks, the Arc'teryx Blade 20 Backpack is for you! This minimalistic style, aesthetically pleasing backpack with a unique design has a 20L capacity. It's not a climber's backpack because it won't be able to hold all the required gear, but it can be used for a single-day hike, cycling, traveling, for school, and even for work.
Thanks to all the versatility it offers, you can carry this back to the gym in sports clothes or to the office in smart clothes because it can be carried as a briefcase. With the black exterior and interior, it'll fit into any environment. However, the black interior does make it harder to see inside the backpack, which can be frustrating when needing to find something quickly.
This Blade Backpack has a 15″ laptop sleeve and many compartments to keep things organized in. I love the little "secret" pockets that I can stash my money and important documents into.
As with all Arc'teryx backpacks, this one is durable and well-padded, adding comfort and allowing you to use it for long periods without feeling aches and pains in your back and shoulders. It is also weather resistant.
One thing I would've liked from this bag is a water bottle holder. I never feel comfortable storing my water inside a backpack, especially when my laptop is in there, in case of leakages. It's too risky, and it also prevents easy access to my water bottle because I'd have to unzip it and open it up before reaching my bottle.
You can find this backpack in the colors Nocturnus and black for around $150 on the Arc'teryx website. It's also available on Amazon.
Pros
Good style and design

Very versatile

Many compartments

Organized

Well-padded and comfortable

Weather-resistant

Durable
Cons
No water bottle holder

The black interior makes it hard to see inside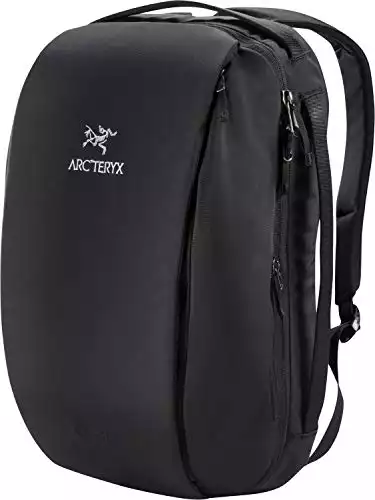 FAQs About Best Arc'teryx Backpacks
Question: Are Arc'teryx Backpacks Comfortable?
Answer: All the backpacks from Arc'teryx are built like tanks. The company somehow manages to make all the backpacks extremely functional yet incredibly comfortable. You could easily take most Arc'teryc backpacks on a several-day hike and feel secure and sturdy with all your resources inside.
However, you should always carefully select a backpack for whatever activities you plan on doing, as that will give you the most optimized option.
Question: Does Arc'teryx Make the Best Backpacks?
Answer: While Arc'teryx makes incredibly high-quality, long-lasting, and versatile backpacks, they have fairly strong competition. Arc'teryx never started as a backpack brand to begin with but rather as a material technology brand.
Backpack brands, such as Osprey, are specialist backpack brands that put all their business resources into making top-performing backpacks. Arc'teryx backpacks do a good job competing with these, but you'll find a larger variety of great backpacks from Osprey.
Question: What is the Best Arc'teryx Backpack for Hiking?
Answer: From the backpacks I've mentioned above, the Brize 25 is the best choice for hiking, thanks to its bladder compartment and tube port. It's durable, lightweight, and waterproof once the rain cover is applied. It also has deep pockets for extra water storage, allowing you to enjoy your hike for longer. Although this bag looks small, it's highly versatile and can pack a lot into it.
Question: Can I Wash My Arc'teryx Backpack?
Answer: Yes. You can wash all Arc'teryx backpacks with soapy, lukewarm water. I'd suggest you hand wash it instead of putting it in a washing machine as that has the potential to cause damage to the backpacks.
You can then leave it to air dry. However, try not to leave the backpacks in direct sunlight for too long as that will wear them out.
Conclusion
Once you've read through all these features of each backpack, you're going to need to make the decision on which one to get. If you're looking for versatility, I'd recommend getting the Brize 25. It's the perfect backpack for all activities, indoors and out. However, you may be limited by its size.
Arc'teryx is an expensive brand, so you may be looking for something more affordable. The Arro 16 and Blade 20 are your two budget options. Just keep in mind that they're better suited for daily use as opposed to adventure activities.
The Rush SK 32 is undoubtedly the best backpack for snow sports such as skiing and snowboarding. It has the most streamlined design and is the lightest backpack on this list. However, you compromise comfort for the lighter weight.
Finally, the Alpha AR 35 is an all-purpose backpack that is functional in most settings. Whichever one of these backpacks you choose, know that they all have dozens of good customer reviews, high comfort levels, and boast several great features. They also all follow the Arc'teryx standard of excellent durability.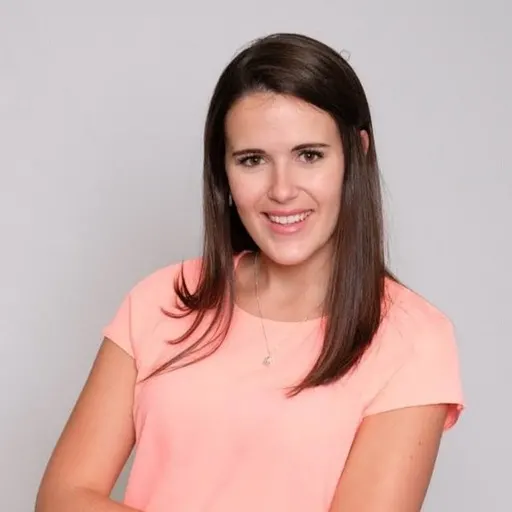 Keri-Beth is an outdoorsy South African freelance writer. She loves camping, hiking, and wandering in nature. She knows how to navigate in the wild and she'll show us how to get there. In her spare time, she enjoys photography and going on other adventures with her husband, who is a professional drummer.