Outdoor activities and outrageously bad odors tend to go hand in hand. From stinky socks to burst food containers and dirty cooking implements, the potential for stinking up our backpacks is very high, and "odor-rich" is about the politest euphemism that could be applied to most packs given just a few overnight trips in the backcountry.
These odors are all very well if all we have to worry about is offending our camping companions or unsuspecting partners intent on doing a good deed by throwing them in the laundry, but when we're out in bear country (or wolf, coyote, or cougar country, for that matter) the potential consequence of those unseemly scents (and even the less unseemly ones) takes on a whole new dimension — one, we regret to add, that could be downright deadly.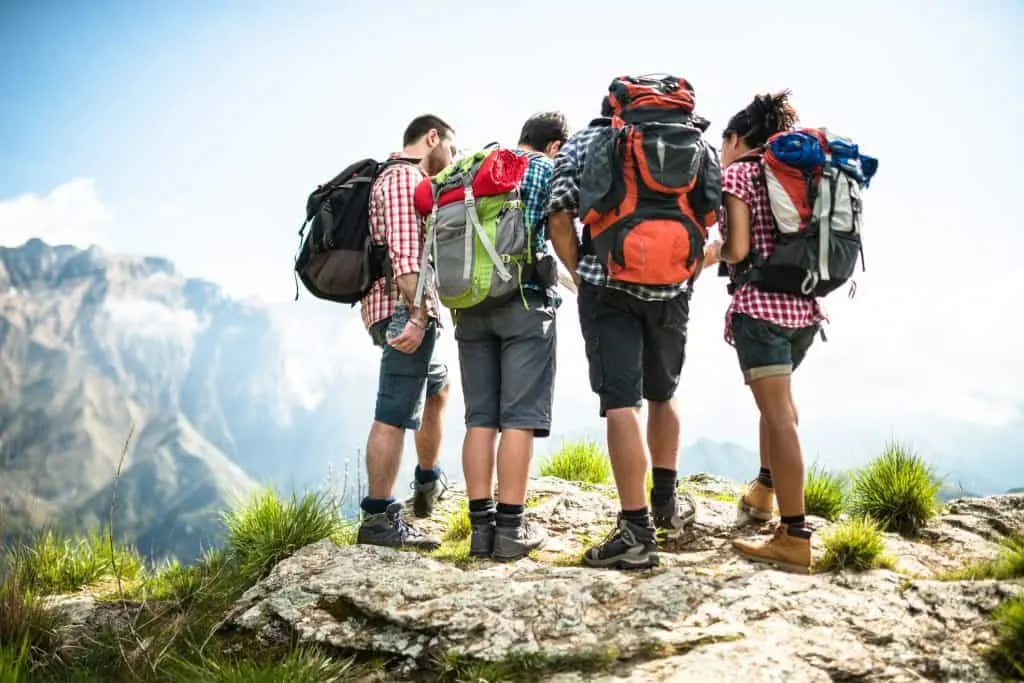 So, just how do we get around this conundrum when the contents of our packs refuse to grant our wish that they rein in the rancidness? And how do we stop our peanut butter and jello sandwiches sending out aerial dinner invitations to every hungry beast within a five-mile radius?
Enter the smell-proof backpack!
"The what?", you might ask. And with good reason.
In this article, we will answer the above question by taking you through all the ins and outs of smell-proof backpacks, from the key components of their construction and must-have features right through to a review of our top picks for 2018.
What is a Smell-Proof Backpack?
Although the name itself leaves little to the imagination, the science and design features that go into the construction of a smell-proof backpack are not quite so obvious.
Most smell-proof packs look like standard hiking or EDC backpacks but use a carbon filter lining and enhanced zipper and closure system that significantly limit the amount of odor that escapes from the backpack's contents.
This scent-smothering capacity is intended to deter animals like bears, wolves, coyotes, pine martens, and cougars, all of which enjoy a far more advanced sense of smell than humans and can be drawn to the contents of your pack — food, laundry, and other scented items alike — from up to 20 (!) miles away. Scary!
Do I Need One?
Backpacking in bear country is no time to be casual or less than ultra-cautious in your prep and gear choices. Though you could feasibly make use of bear canisters available in many regional and national parks or try your luck with the age-old trick of tying your edibles in a tree 50m or so from where you make camp, the following considerations might just convince you of the benefit of getting your hands on a smell-free backpack:
You can still take the above precautions and not worry about any odors that are lingering in your pack's fabric being traced by a hungry bear's notoriously powerful nostrils
Many hiking trails and wilderness areas do not have beer cans. Carrying your own bear can will increase the weight of your pack load by at least an additional few pounds. Are you going to get a good night's sleep knowing you haven't taken every precaution possible?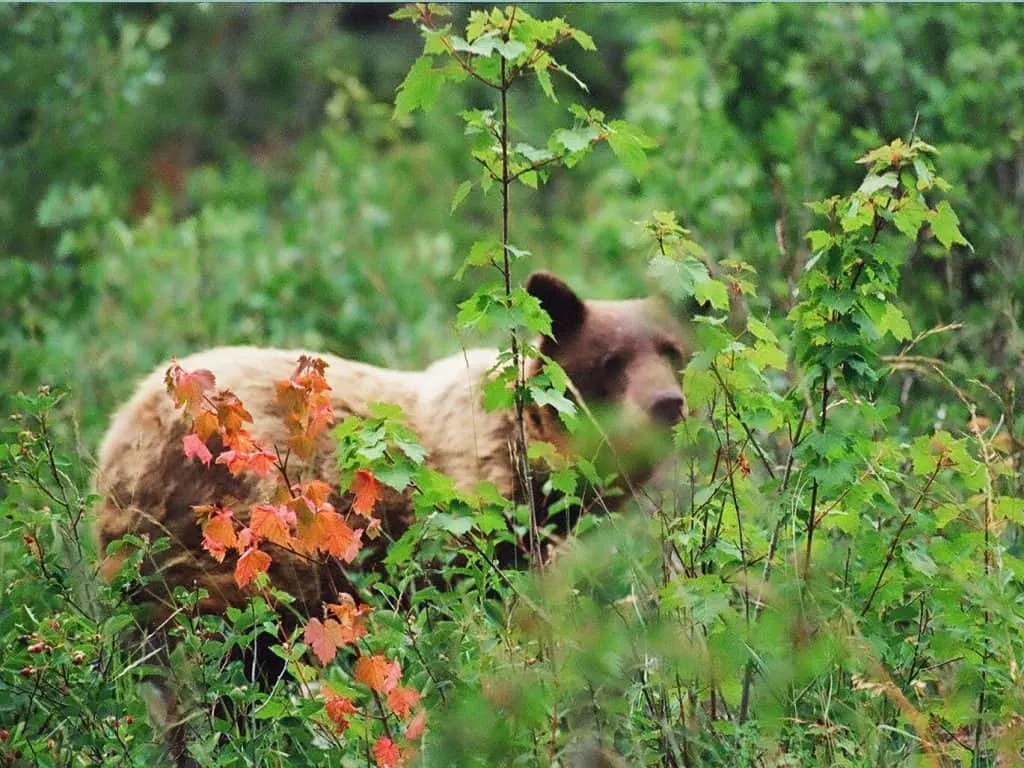 The Disclaimer: What to Beware of When Buying a Smell-Proof Backpack
Just as buying a helmet for cycling or rock-climbing doesn't mean you're sure to return home from your ride or climb in one piece, carrying your food and foul-smelling gear in a smell-proof backpack is no guarantee of safety.
Even when using a smell-proof pack, a variety of other measures are required to reduce the risks of attracting peckish members of the animal kingdom, and having a smell-proof pack in itself shouldn't be seen a license to take a more lax approach with regard to other elements of safety.
What to Look for When Buying a Smell-Proof Backpack
As with standard backpacks, smell-proof models come in a variety of shapes, sizes, and formats, all with varying specs, levels of effectiveness, and aspects that will either appeal to or put off prospective buyers. Below, we've chosen the most important factors to consider before hitting the checkout.
Budget
Asking yourself a short series of questions should help you decide how much you are willing to spend on your pack:
Do I really want to pay up to $200 for something that I might only need or use a few times a year?
Do I want to scrimp on something that could potentially be a lifesaver?
Are all of the added (and cost-increasing) frills such as waterproofing, stylish design, and added interior compartments necessary, or do I just need a simple smell-proof pack that will do the bare essentials (no pun intended!)?
Size/Capacity
As with your budget, answering a few simple questions can facilitate the process of choosing the right size of a backpack for your needs. These are the most important:
How long is my average camping trip?
The longer you spend on the trail, the bigger your backpack will need to be in order to store extra food, clothing, and other supplies such as fuel for stoves or lanterns, and batteries. The following table provides a rough estimation of the capacity of the backpack required for varying trip durations.*
| | |
| --- | --- |
| Trip duration | Backpack Capacity |
| Overnight | 25-40 liters |
| Weekend (2-3 nights) | 30-50 liters |
| Extended (3+ nights) | 50+ liters |
* the above estimations do not take into account the extra gear required for activities such as hunting or kayaking, or for traveling with kids.
Given that most smell-proof backpacks are under 40 liters in capacity, the best solution when camping with friends is to split the gear between packs/carriers, with one member of your party carrying more "scent-rich" items like food and dirty laundry (we recommend separating the two inside the pack!) and another carrying all other clothing and camping items.
Some Tips for Estimating Required Capacity
If you're unsure about what capacity of the pack you need, the following tricks and tips should help you decide:
Layout all of the gear required for a backpacking trip (food included) and use an old pack to get an idea of the capacity required. If you don't have another backpack, you can use a trash bag (if you know the capacity in liters) to give yourself a rough idea
Be sure to check the central well/compartment in any backpack will be big enough for larger items such as your tent, sleeping bag, or tarp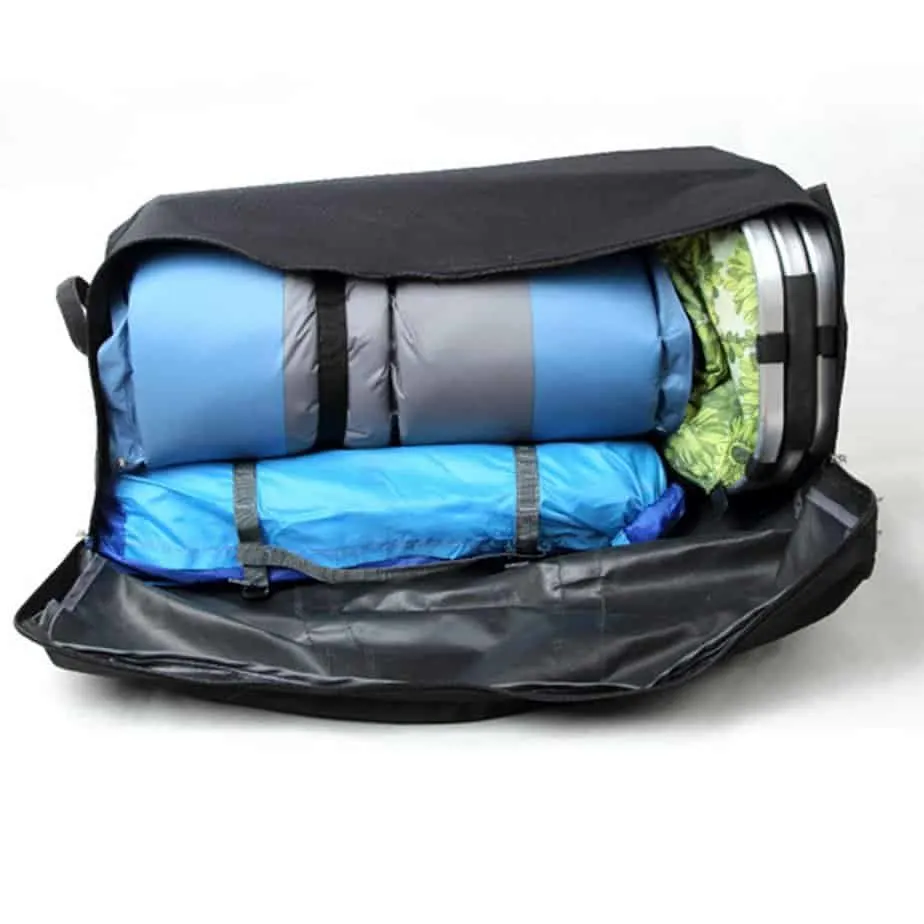 If in doubt about the size of pack you need, err on the large side rather than the small side. While some will say that this increases the temptation to pack unnecessary gear and adds to the pack's weight, it's better to be able to throw in extra items if need be than have to leave out others that might come in useful while you're away
Use compression bags to minimize the bulk of your load and help keep things organized. If you can color-code the bags (and remember which is which), all the better!
Effectiveness
In order to be effective, a smell-proof backpack has to truly live up to its name. As with other boasts or claims made by manufacturers for their products — waterproof, breathable, quick-drying, etc. — the adjectives are usually employed rather loosely and each item will offer varying levels or degrees of effectiveness in their claimed proficiency.
With regard to smell-proofing, the most important factors determining a pack's efficiency in keeping in our gear's assortment of odors are its materials, construction, and closures.
Materials
The most effective material in terms of smell-proofing a backpack is an activated carbon lining. These work by trapping scented molecules inside the pore structure of the carbon.
An effective pack's lining should be complemented and reinforced by at least one — but preferably two — additional layers.
The inner of these two layers should ideally be made of some form of cotton, nylon, or polyester mesh (or a blend of all three) that is tough enough to withstand the pressure or odd scrape from your pack's contents. The external layer should, ideally, be made of resilient nylon (300 Denier and upwards) in order to protect the inner layers.
Closures
The construction and closures of your pack can provide an additional barrier that prevents the leakage of any scent not captured in the carbon lining. Different packs feature different forms of closure, but dual (or "double") zippers, layered zippers, air-tight roll-up closures, and double-velcro closures are all particularly effective.
Comfort
Not many other items can ruin your time on the trails like an uncomfortable backpack. Whether it's chafing at the hip or shoulders, gear items inside the pack poking you in the kidneys and spine, or a sticky, sweaty back panel that's lacking in ventilation, hauling your gear for hours on end can become sheer torture if even just one aspect of a pack's usual comfort-enhancing components isn't up to scratch.
The elements most essential factors contributing to a pack's comfort — and those you should look out for when buying — include the following:
Adequate padding on the pack's shoulder waist straps
A cushioned or suspended-mesh back panel (some cheaper models use uniform-girth back panels instead of contoured foam padding)
A cushioned/padded hip belt
Good load distribution (weight shared evenly across your shoulders, back, and waist)
Ventilation in the back panel to allow for airflow between your body and the pack's material
A chest strap to stop the pack from bouncing around while you are on the move
Fit — make sure the pack is the right size for your torso or can be adjusted
Features
Certain features can elevate your backpack from meh to a minor miracle of backcountry carry solutions. The most notable of these include the following:
Compartmentalization
One of the greatest contributors to a pack's practicality is the type of storage it features. While some packs use large central compartments which are great for bulkier gear items like tents, this often leaves very little in the way of additional compartments in which you can store different elements of your kit which you want to keep separate, such as wet gear, breakable items, and food.
Compartmentalized systems are also great for those who like to keep their kit well organized and to be able to locate things in a hurry and/or without removing the rest of the contents of their pack.
In terms of organizational efficiency, whether you need a pack that divides its overall capacity into a number of smaller pockets and compartments or with a single, larger central compartment will depend on the dimensions of your other camping or backpacking gear.
Waterproofing
While most smell-proof packs don't feature quite the same waterproofing capacities as regular hiking packs, many include a waterproof lining or external layer with a DWR (Durable Water Repellent) finish that is more than adequate for fending off light showers.
It's worth noting, however, that most smell-proof backpacks with solid waterproofing normally cost a lot more than those without. For those working with a tighter budget, one way around this is to get your hands on a simple backpack rain cover, which will do the same job as a waterproof lining but at a fraction of the cost.
Now we know what we're looking for, it's time to turn our attention to our selection of the best smell-free backpacks currently on the market.
The 5 Best Smell-Free Backpacks for 2021
Omerta Smell Proof Carbon Filtered Bag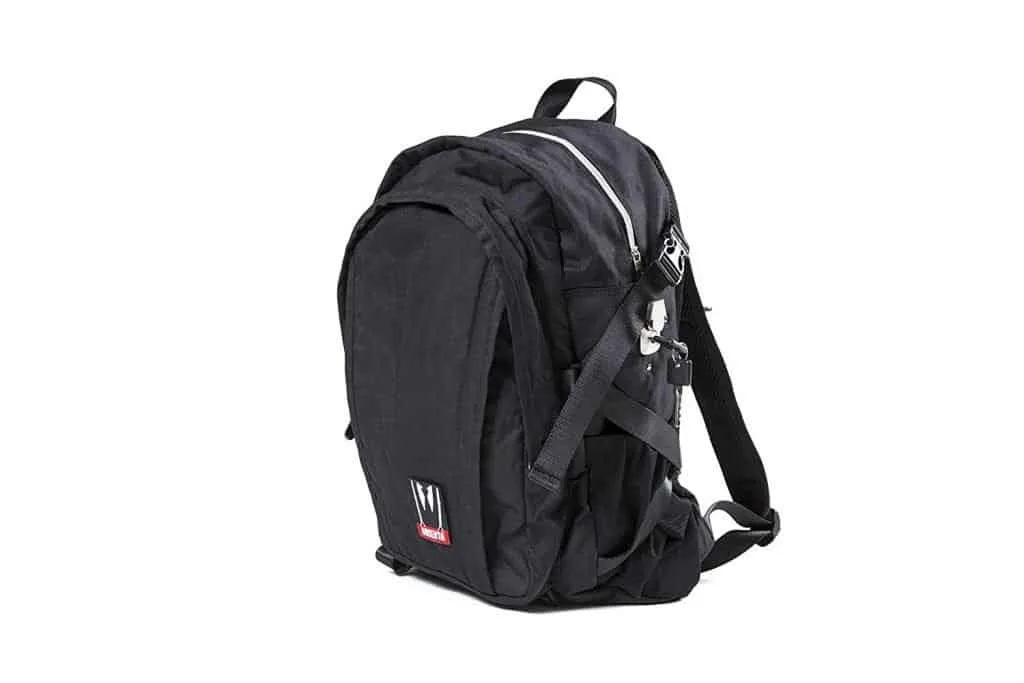 Rugged, durable, highly effective, and comfortable enough to carry all day without any aches or pains, the Omerta Carbon Filtered Bag does just about everything you need a smell-proof backpack to do…
…with a catch.
The catch? With only 13 liters of storage in a single central well, this isn't the ideal choice for those looking to carry larger items or stay out (and safe) on the trails for multiple days.
In a few words: a small but very effective bag that's ideal for gram-counters or single-night trips.
Pros
Very well made
Effective carbon lining
Dual zippers
Easy to reactivate carbon molecules (10-minute spin in the dryer)
Durable materials
Weighs just over 2 lbs
Cons
Expensive for such a small pack
Too small to store larger items (max height 17 inches)
Skunk Rogue Backpack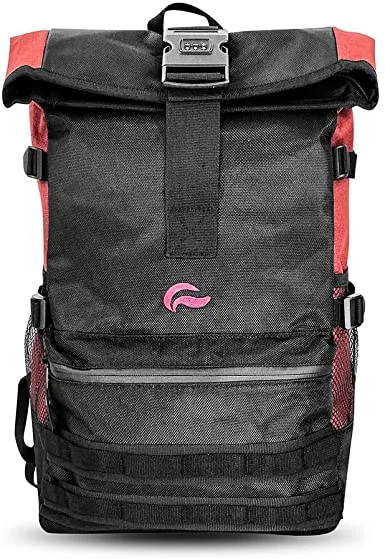 With a maximum potency premium carbon lining and a double-velcro, stuff sack-style rollover closure, the Skunk Rogue means business when it comes to securing scents within its robust and stylish outer layer. With 28 liters of storage, this is also a good choice for those spending only one or two nights in the backcountry and looking to isolate their smellies from their not-so-smellies.
On the downside, this pack is a little too small for multi-day excursions, has a hefty price tag, and isn't as comfortable as other options when carrying heavier loads.
Pros
Three color options
Relatively spacious (28 liters)
Ideal for single overnight trips
Very effective odor-proofing
Minimal but effective cushioning in back panel
Very easy to load and unload
Cons
Very expensive
Could do with a little more padding in shoulder straps for heavier loads
Not entirely waterproof
Skunk Hybrid Backpack/Duffel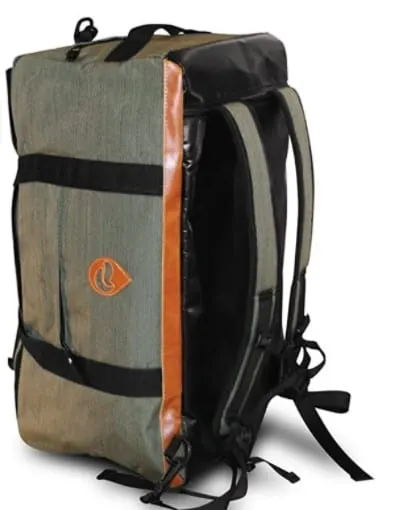 Why have one layer of protection when you can have six? For those who believe that if a job is worth doing then it's worth doing well, the Skunk Hybrid is a pack that truly talks your language.
This pack foregoes some desirable details like contoured cushioning in the back panel and numerous internal compartments, but more than makes up for these failings with its very thorough approach to odor-retention and incredibly solid, reliable construction.
Importantly, this is also the largest pack in our review and as such is ideal for those who envision spending more than just one or two nights out in the backcountry.
Pros
Six-layer (!) construction
Very spacious (37 liters)
Versatile — can be used as a backpack or a duffel
Front opening
Rubber-coated, smell-proof zippers
Comfortable shoulder straps
Cons
Minimal cushioning in the back panel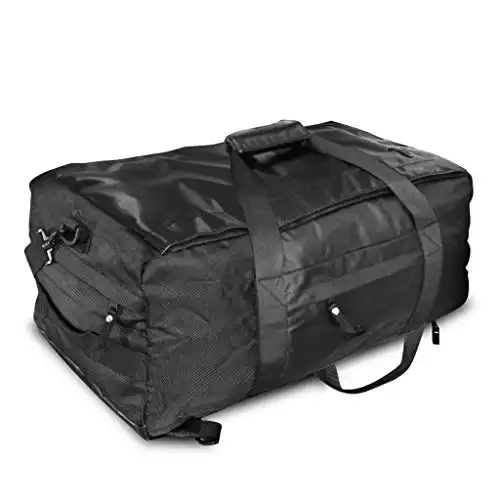 Skunk Vatra Rollup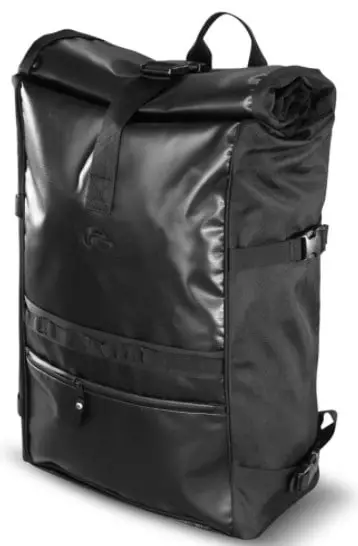 Another high-capacity pack that boasts most of the benefits of the Skunk Hybrid pack (above) but in a slightly more comfortable shape and format, the Skunk Vatra will appeal to those who want all the protection they could possibly ask for in a pack that feels like a regular hiking pack.
With triple-layer protection, double-velcro closures, excellent waterproofing, and a tough, durable outer layer, this pack comprises all the design features and quality we expect of Skunk products and leaves very little room for complaint. All in all, a high-performing, very well-made pack that offers good value for money despite its hefty price tag.
Pros
Three color options
Large central compartment
Two peripheral pouches
High-quality construction
Waterproof
Effective
Very durable materials
Roll-up closure
Adjustable height straps
Adequate padding in back panel and shoulder straps
Cons
Pricey (but still good value for money)
Cookies Fantastic Voyage
This very stylish little pack would win many admirers even without the added bonus of smell-proofing. Beyond its looks, this wonderfully named pack also boasts a reasonable degree of functionality — double zippers, sturdy 600 denier nylon materials, and enough water resistance to deal with the odd light shower.
On the downside, this pack's smell-proofing is composed entirely in its double-zipped closures and, as such, it's a far less effective container of scents than the other items in our review.
In a nutshell, this is one for those more concerned with aesthetics than performance and effectiveness.
Pros
Suitable for storing more than just cookies (!)
Double zippers
Stylish, old-school nylon and faux-leather design
Separate storage for smaller items
Reasonably priced
Made with very durable canvas
Water-resistant
Cons
Small capacity (22 liters)
Not as smell-proof as other items in our list owing to lack of carbon lining
Comparison Chart
| | | | | | |
| --- | --- | --- | --- | --- | --- |
| Model | Capacity | Weight | Effectiveness | Comfort | Value for Money |
| Omerta Carbon Filtered Bag | 13 liters | 2.05 lbs | Very good: dual-zipper closures and active carbon lining | Excellent | Decent: very effective but loses points on account of stingy capacity |
| Skunk Rogue Backpack | 28 liters | 3.2 lbs | Excellent: uses carbon filter in conjunction with thermal lining, interior mesh, and rubber-backed nylon | Very good | Good: slightly short on capacity but highly effective |
| Skunk Hybrid Backpack/Duffle | 37 liters | 2.9 lbs | Outstanding: six-layers of protection including carbon and an antimicrobial lining | Good: short on rear-panel padding but otherwise nicely cushioned | Good: very expensive but offers peerless protection in return |
| Vatra Rollup | 35 liters | 2.6 lbs | Excellent: uses carbon filter in conjunction with thermal lining, interior mesh, and rubber-backed nylon | Very good: adequate cushioning on both shoulder straps and back panel | Very good: highly effective, comfortable, and offers ample storage for most |
| Cookies Fantastic Voyage | 22 liters | 2.3 lbs | Decent, but lacks carbon lining | Decent: lacks cushioning on straps and back panel but is okay with lighter loads | Decent, if you're more concerned with fashion than functionality |
Conclusion
Choosing a smell-proof backpack for your adventures in the backcountry is a tricky business. With so many variables to take into consideration and so many worthy options on the market, a few hours' research can leave us no closer to getting our hands on the goods than when we started.
In the above review, we've narrowed down the long list of top-performing smell-proof packs to 5 of the best currently out there.
Though each of these packs offers various endearing qualities and attributes, we found one to be the standout winner in terms of capacity, weight, effectiveness, comfort, and versatility: take a bow, the Skunk Vatra Rollup.
The Vatra isn't cheap, granted, but is far more effective than other smell-proof packs in its price range, boasts enough storage to be used for single overnighters or multi-day trips, and all in all, oozes the kind of quality you can really rely on to keep the critters out and the odors in.
Further read: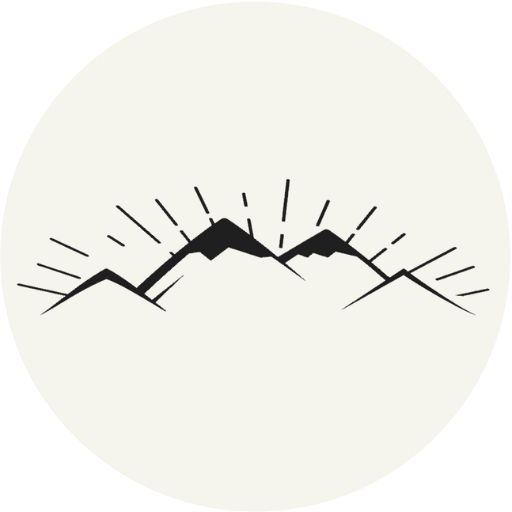 The All-Outdoors Guide team is comprised of enthusiastic experts that enjoy helping others that aspire to be better at outdoor fun. Part of that is making sure you have the right gear and information when it's time to go out and have fun. Some of our team have accomplished amazing feats like climbing 6000 feet to the top of mountains, others have explored every dirt trail they could find and we even have some people that have backpacked solo on various continents. No matter what our readers want to learn and do, our team is here to help them accomplish those goals.