Gift shopping can be tricky, especially when the person you're shopping for is interested in activities like camping or other outdoor adventuring. Rather than buying silly gag gifts or something boring like a jacket you can instead buy them a functional but awesome present for their next trip to the backcountry.
Here are the 5 best unique camping gifts that will surely be appreciated.
#1 Selk'bag Sleepwear
A sleeping bag doesn't have to be boring. You can find plenty of odd sleeping bag designs for the casual camper, like a slice of pizza or a shark, but these are hardly durable or warm. There is one unusual sleeping bag design that is sure to get some odd looks but without sacrificing warmth and comfort- the Selk'bag.
Selk'bag Sleepwear is a brand specializing in the anatomical sleeping bags you wear. It's essentially a sleeping bag onesie.
There are 5 models available: the 5G series in Original, Lite & Kids and the Marvel character series in Adult and Kids. The 5G Original would be the best choice as a gift for the average adult camper. It comes in 5 colors and is warm enough for temps down to 37F.
Features of the 5G Original include:
Removable booties so you can wear your regular shoes while outside the tent
Improved anatomical fit and lighter weight
Kangaroo pocket on the front to keep hands warm or store your phone and other small items
Built-in leg vents allow breathability if you feel too warm
The baffled design prevents cold spots
Made of a ripstop nylon DWR treated shell
Dual zippers for easy entry + no-snag zipper tape
The built-in hood is insulated for warmth
The thermal collar on head and neck keeps out drafts
Comes with a stuff sack for portability and protection
Available in sizes S to XL, which will work for anyone from 4'6″ to 6′ 4″
A Selk'bag is a great choice as a gift that will get a laugh but also isn't a waste of money. These bags have quite the fanbase and are a great alternative to traditional sleeping bags. Kids especially love the design and the Marvel character options are perfect for the person who is a fan of Spider-Man, Iron Man, Hulk, or Captain America.
#2 Jammock Jeep and Truck Hammock
For the Jeep or truck owner, the Jammock be a wonderful gift to give to any outdoor enthusiast. This hammock offers enough space for a nap and a place to lounge while hanging out at the beach or at a concert without leaving your vehicle.
The Jammock is a super heavy-duty vehicle hammock that is actually made from a common material used for trampolines. There are webbing straps securely sewn to each corner, with the end of each top corner strap having steel buckles. These buckles are used to cinch the straps on the bottom corners to attach the hammock down onto the roll cage.
With this design when you lay into the hammock the body fabric stretches but the webbing remains taut. This gives you an armrest and also functions as a bit of a block to prevent you from rolling out of the hammock.
For the Jeep Jammock model, specs include:
Useable size of 47″ x 24″
Made of 1000D Cordura Nylon
Total length with webbing is 10′
Webbing is 1″ Nylon
Tension lock 1″ aluminum buckles
Recommended for users up to 350lbs
The truck Jammock's differences include:
Useable size of 5′ x 5′
Webbing straps are 13′ in length
The Jammock is only appropriate if the person has the proper vehicle but if they do it's safe to say they will really enjoy this gift. It is really an excellently designed piece of gear and is also 100% American-made. If you want to give your friend a present that is both a luxury and practical, and support a small business, check out their website for more information.
#3 BioLite Wood Burning CampStove Bundle
The BioLite CampStove has been a popular stove for a while now and the bundle is an excellent gift idea for any camper, whether they enjoy cooking or not. There are cheaper camp stoves on the market but they don't have the huge advantage of being able to charge your phone.
To use all you need to do is gather up sticks and small bits of wood, creating a small fire in the stove. It only takes a few minutes to boil 1 liter of water. For charging a phone you will need to keep a strong fire burning for about 20 minutes to get about an hour of pure talk time.
Obviously, you will need to burn for longer if you want to text, check email, play music, etc. You can also charge batteries and other lamps with the stove.
Comes with the BioLite CampStove and KettlePot, a grill, and a LED light
Allows you to boil water, cook, grill, and charge USB compatible tech devices
Holds 1.5 liters of water and boils in 4 to 5 minutes
Grill large enough for about 4 hamburger patties
BPA-free
Dimensions are roughly 13.5″ x 10.5″ x 7.5″
Weighs 7 lbs 2 oz
For everything you get with this stove it is an incredibly good deal. The entire bundle is a bit on the heavy side but perfect for car camping. If the person you are buying for is a backpacker, no worries- they can just take along the CampStove by itself.
#4 Nomad Collapsible Hot Tub and Coil
Rather than buying individual gifts for your camping-addicted family or group of friends, investing in one big gift for everyone to enjoy may be a better option. Why not splurge on a bit of luxury with the Nomad Collapsible Hot Tub and Coil combo?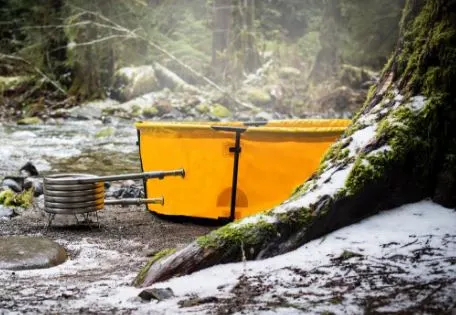 Features of the hot tub:
Made of 18 oz vinyl walls and 24 oz vinyl floor
Dimensions – 60″ diameter top x 56″ diameter bottom x 24″ wall height
Available in red, yellow, or black color
Features of the heater coil:
Made of 1.25″ stainless steel with dimensions of 8″ x 14″ (14″ x 14″ with legs)
Will heat full tub of water in about 2 hours in 50-60F temps to proper hot tub temp (104F max)
Includes a universal through wall adapter kit
Can be heated with propane or wood
The Nomad hot tub and heat coil combo weighs roughly 50 lbs altogether and breaks down to fit into a 14″ x 16″ x 30″ duffel. Nomad does recommend using a Honda WX10 portable water heater to make filling and emptying the tub extremely easy and fast, in about 15 minutes.
If you do purchase this water pump (sold separately) it will add about 12 lbs of weight and you will need a larger duffel.
Even the most diehard minimalist camper will enjoy spending time in the great outdoors soaking in your personal hot spring of sorts. It is big and heavy, definitely a car camping gift, but for special events and weekends away the Nomad is quite a treat.
#5 Monopoly: National Parks Edition
Sometimes a simple gift is the best kind and who doesn't love board games? If the other gifts aren't in your budget but you still want to give a fun gift, the National Parks Edition of Monopoly would be a wonderful present. Although the game rules are the same as regular Monopoly, there are some twists that are sure to make any outdoor enthusiast smile. Some differences include:
22 national parks and natural wonders to purchase and trade
Build ranger stations and tents on purchased parks
Classic tokens replaced with a tent, bison, camera, canoe, hiking boot, and a ranger hat
When purchased from a retailer, a portion of the price is donated to the National Park Foundation
Recommended for ages 8+ and a group of 2-6 players
Monopoly: National Parks Edition is beautifully designed and just as entertaining as educational. With the properties and various action cards, there are over 60 national parks mentioned. Additional game for matching animals to their proper park habitat.
All of the action cards also are related to outdoor activities. This gift would be great for taking along on a camping trip or just playing around a fire in the backyard. Gift-giving doesn't always have to be such a hassle. Even the pickiest outdoorsman will enjoy receiving any one of these 5 gifts.
Further read: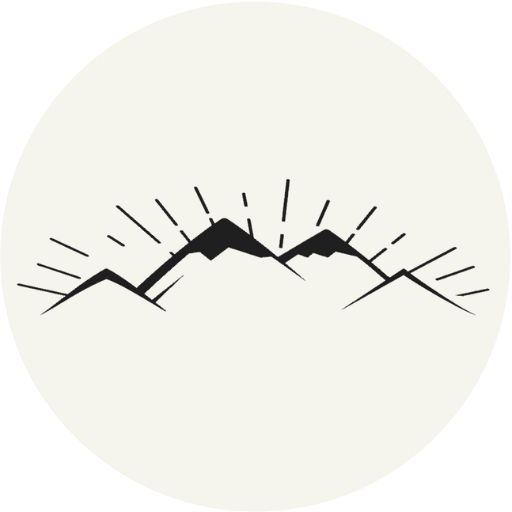 The All-Outdoors Guide team is comprised of enthusiastic experts that enjoy helping others that aspire to be better at outdoor fun. Part of that is making sure you have the right gear and information when it's time to go out and have fun. Some of our team have accomplished amazing feats like climbing 6000 feet to the top of mountains, others have explored every dirt trail they could find and we even have some people that have backpacked solo on various continents. No matter what our readers want to learn and do, our team is here to help them accomplish those goals.